Grave Matters – The Greater Bukit Brown
In land-scarce Singapore, the four cemeteries within Greater Bukit Brown are at risk of redevelopment. ELENA TAY explores the dilemma of conserving this plot of land and its significance to the country's environment and cultural heritage.
BY
Elena Tay
Videographer
Hype Issue #58
Published on
November 20, 2023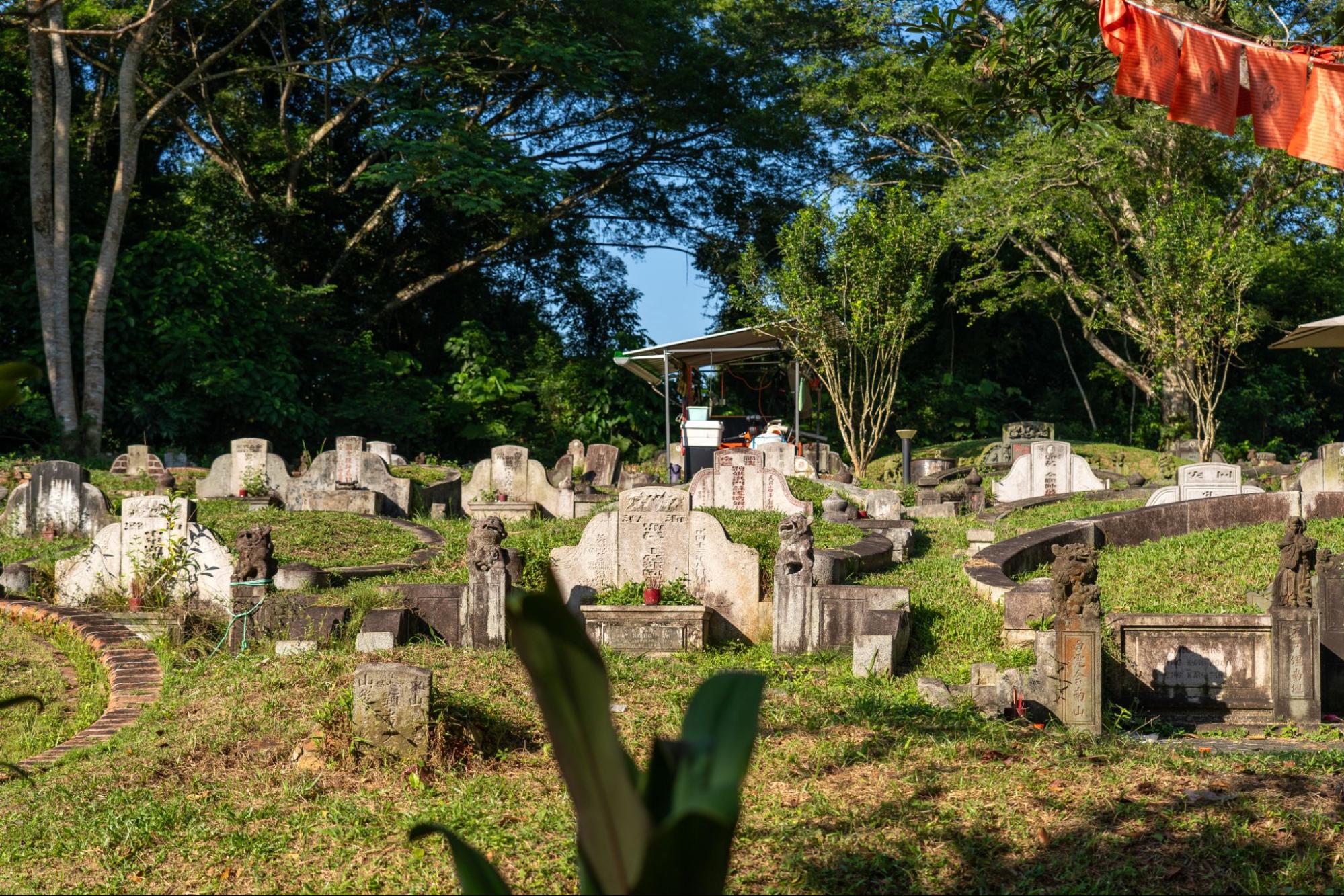 The gravestones at Bukit Brown Cemetery – some of which have been recently visited by descendents. Photo by Elena Tay.
To make space for its growing population, SIngapore introduced the New Burial Policy in 1998, limiting a burial to 15 years. This makes it inevitable for graves to be exhumed or cremated in the long run.
Consequently, existing cemeteries like Bukit Brown Cemetery have become overgrown and forgotten, sparking debates on the importance of preserving such burial grounds.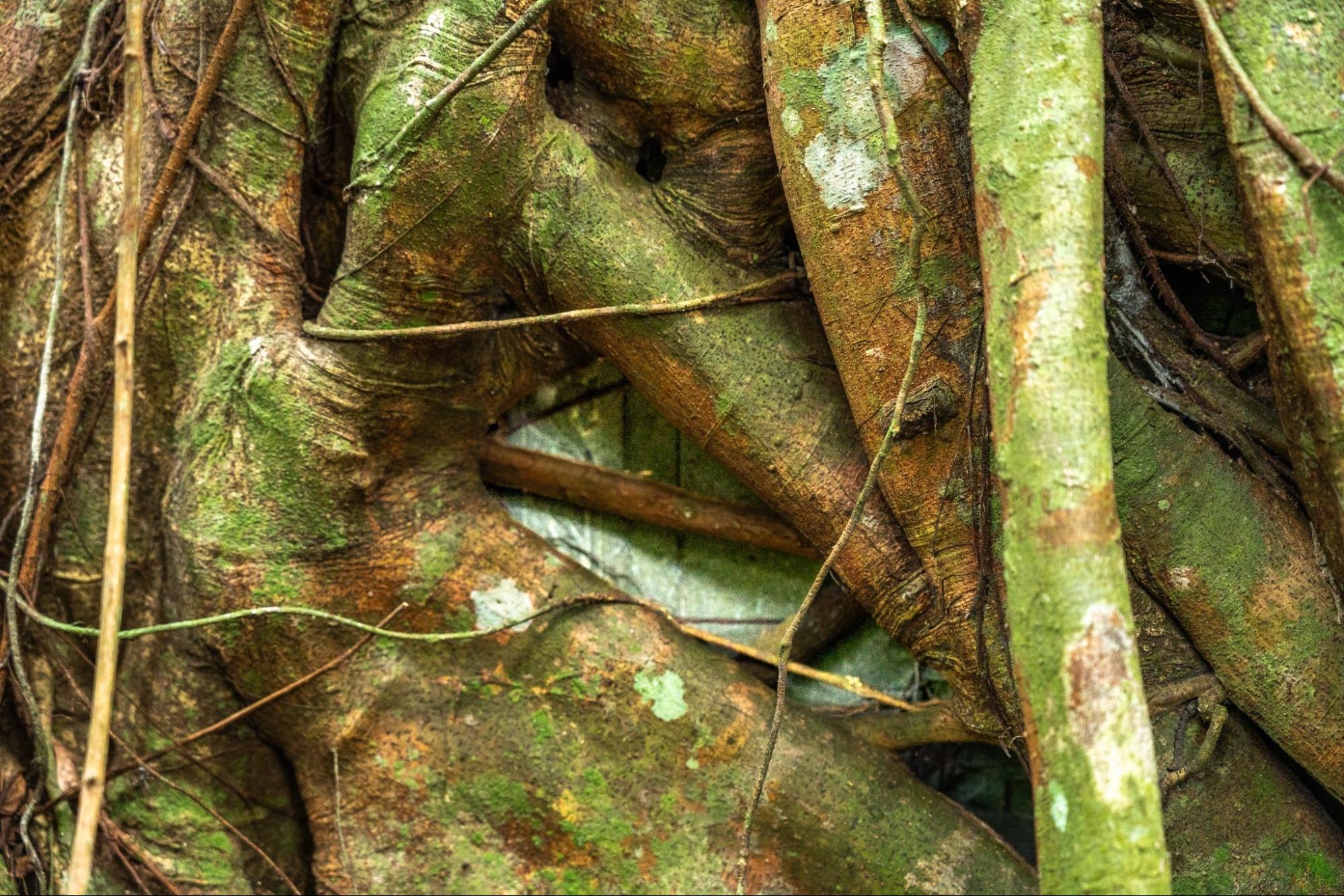 With tree trunks wrapped around it, this gravestone has become barely visible over the years. Photo by Elena Tay.
The Facebook group, 'Heritage Singapore – Bukit Brown Cemetery', has gathered 9,815 members to date. Established in 2012, the group advocates for the conservation of the abundant heritage and ecological value within Greater Bukit Brown.
"[Bukit Brown Cemetery] is a place that represents the stories of our early pioneers and their contributions to Singapore. It's a space which represents an important green lung for Singapore and [is] ecologically diverse," Peter Pak Yew Guan, 50, project manager at the National Library Board and an admin of the Facebook group, said.
In 1922, Bukit Brown Cemetery marked the inauguration of the first Chinese municipal cemetery. To meet the growing demand for more Chinese burial grounds, the municipal government opened Bukit Brown Cemetery, where one did not require communal affiliations to be buried.
Notable pioneers located there include Ong Sam Leong, a successful businessman, Lim Chong Pang after whom Chong Pang Village and Chong Pang Road were named, and Khoo Seok Wan, a poet and prolific literary figure. 
Following its closure in 1973, it has been gradually reclaimed by the surrounding forest. Today, it's bordered by three cemeteries, Seh Ong, Lao Sua (Old Hill) and Kopi Sua (Coffee Hill).
Leong Kwok Peng, 66, a volunteer with the Nature Society, said, "The forest provides a very good environmental service, [it] provides oxygen, cools down the temperature, and is beautiful. All these combined makes Bukit Brown valuable in [an] ecological and green sense."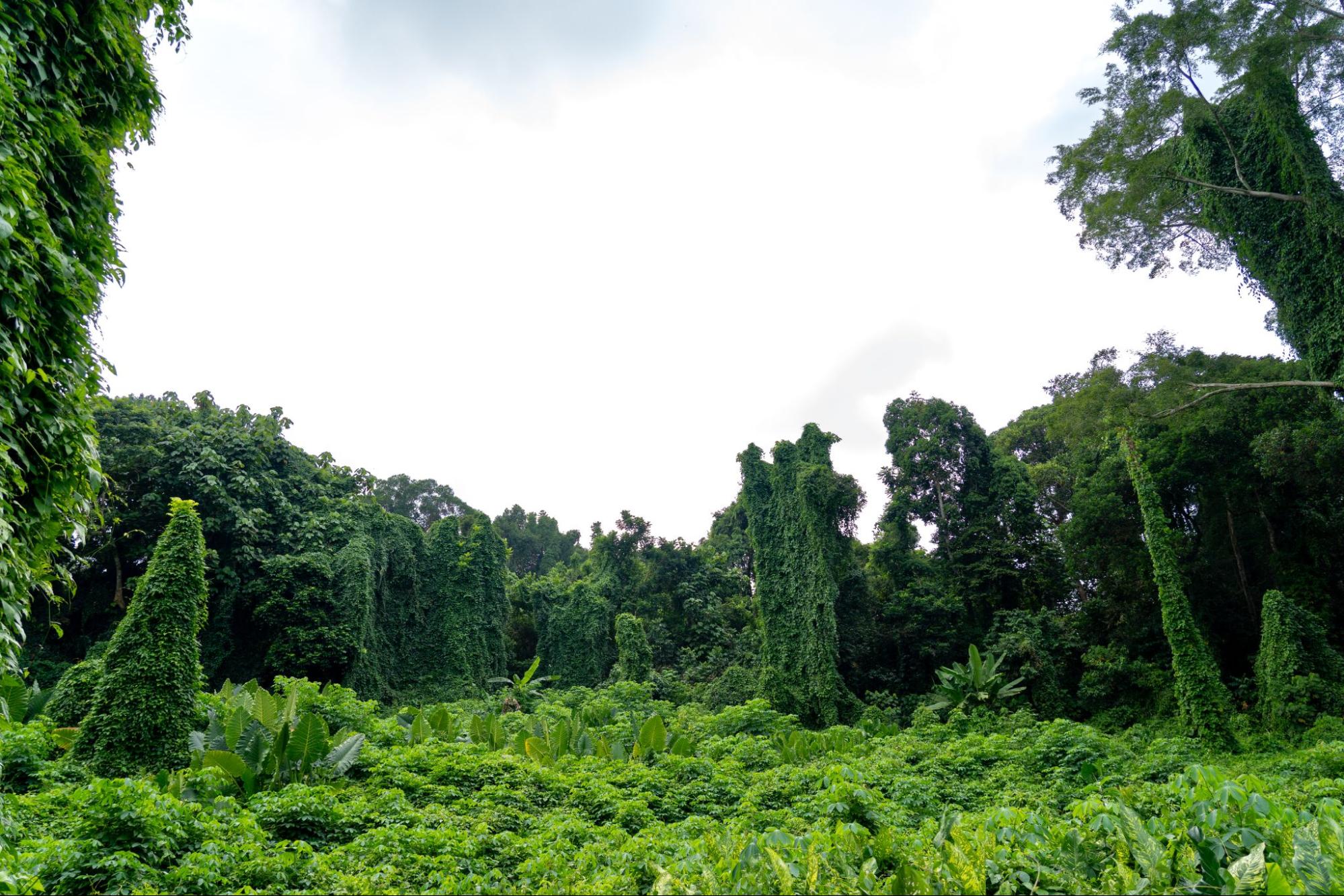 The 'Avatar' trees that lie at the heart of Bukit Brown Cemetery. Photo by Elena Tay.
Back in 2011, it was announced that a dual four-lane road would be constructed to alleviate traffic congestion along Lornie Road and the Pan-Island Expressway during peak hours. The road would cut across Bukit Brown Cemetery, impacting 5000 graves in the vicinity.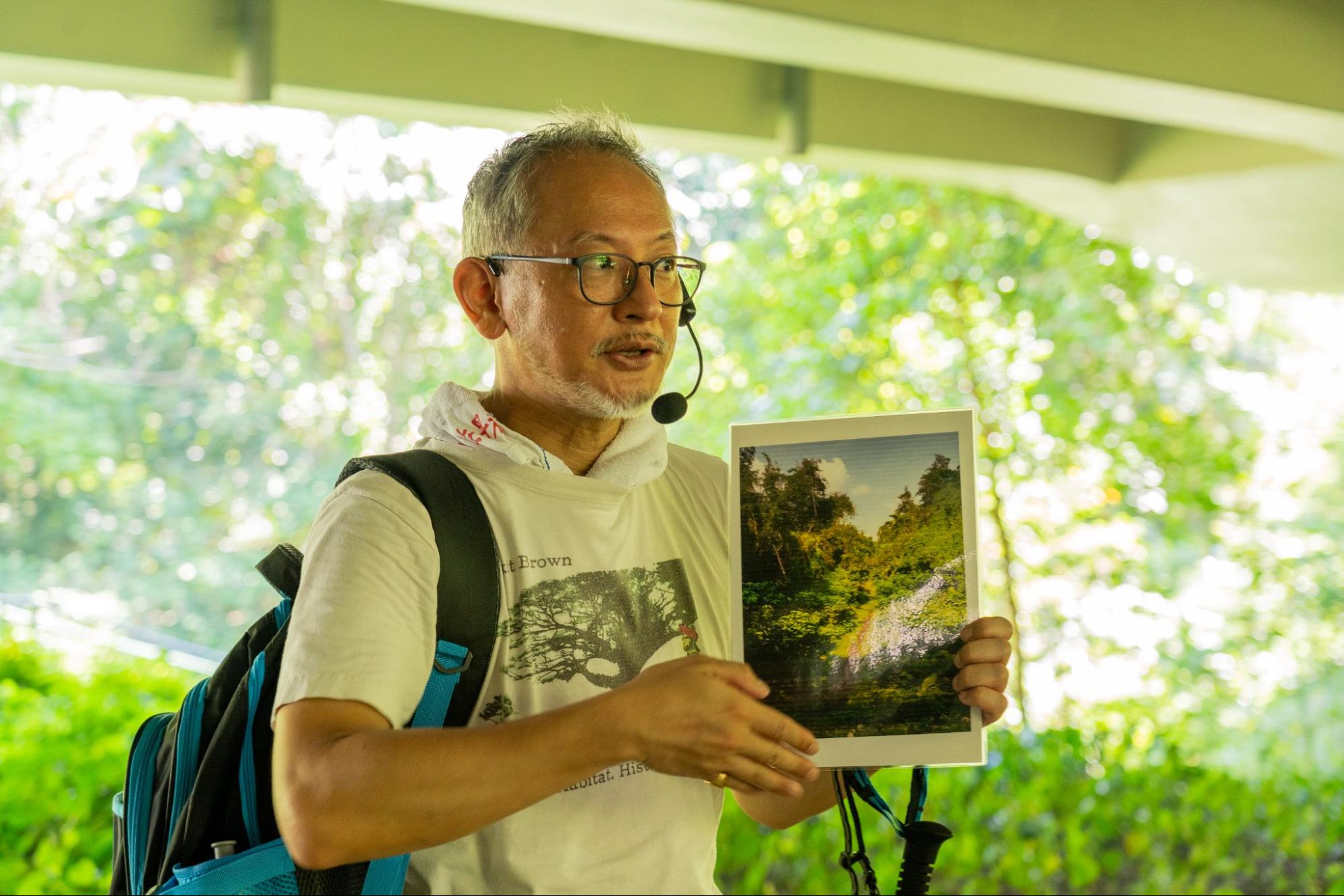 Professor Koh showing what the river looked like before the eight-lane expressway cut across it. Photo by Elena Tay.
In response, a collective of individuals began advocating for the preservation of Bukit Brown Cemetery. Their efforts came in various forms, ranging from volunteers conducting guided tours, writing blog posts to document graves, and assisting descendants in locating their ancestors' graves.
Darren Koh, 55, Associate Professor from the Singapore University of Social Sciences's School of Law is among these individuals, offering free guided tours at Bukit Brown Cemetery. He said, "I'm doing it to try to save Bukit Brown, and to show people that it's not [just] a stone. It's not stones and bones, but heritage."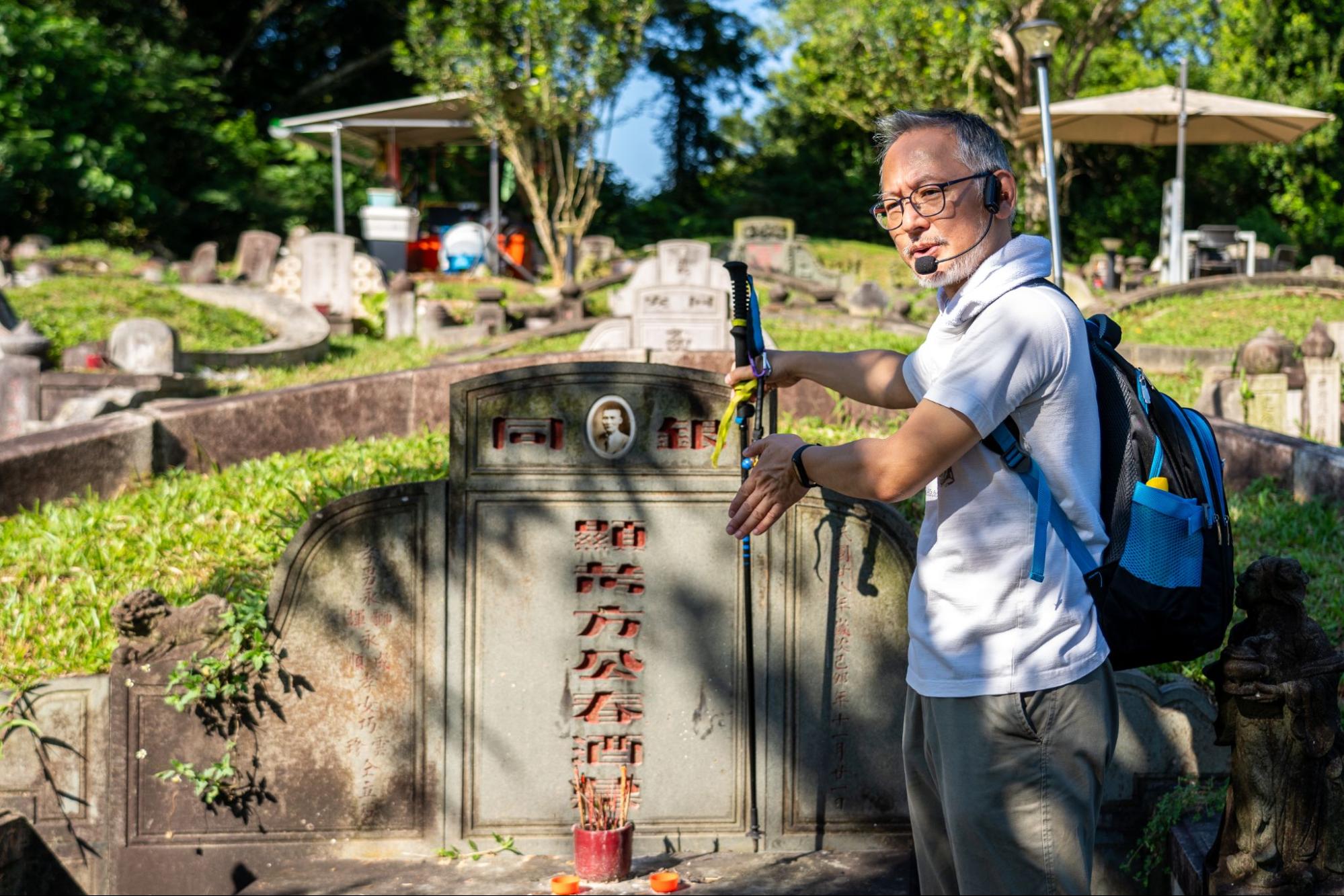 Professor Koh explaining the differences between Hokkien and Teochew gravestones in one of his guided tours. Photo by Elena Tay.
Other individuals like Raymond Goh, 59, pharmacist, accompany Mr Pak and do their part by visiting the cemeteries at Greater Bukit Brown, cleaning them up, and helping descendants who are looking for their ancestors' resting grounds to pay their respects.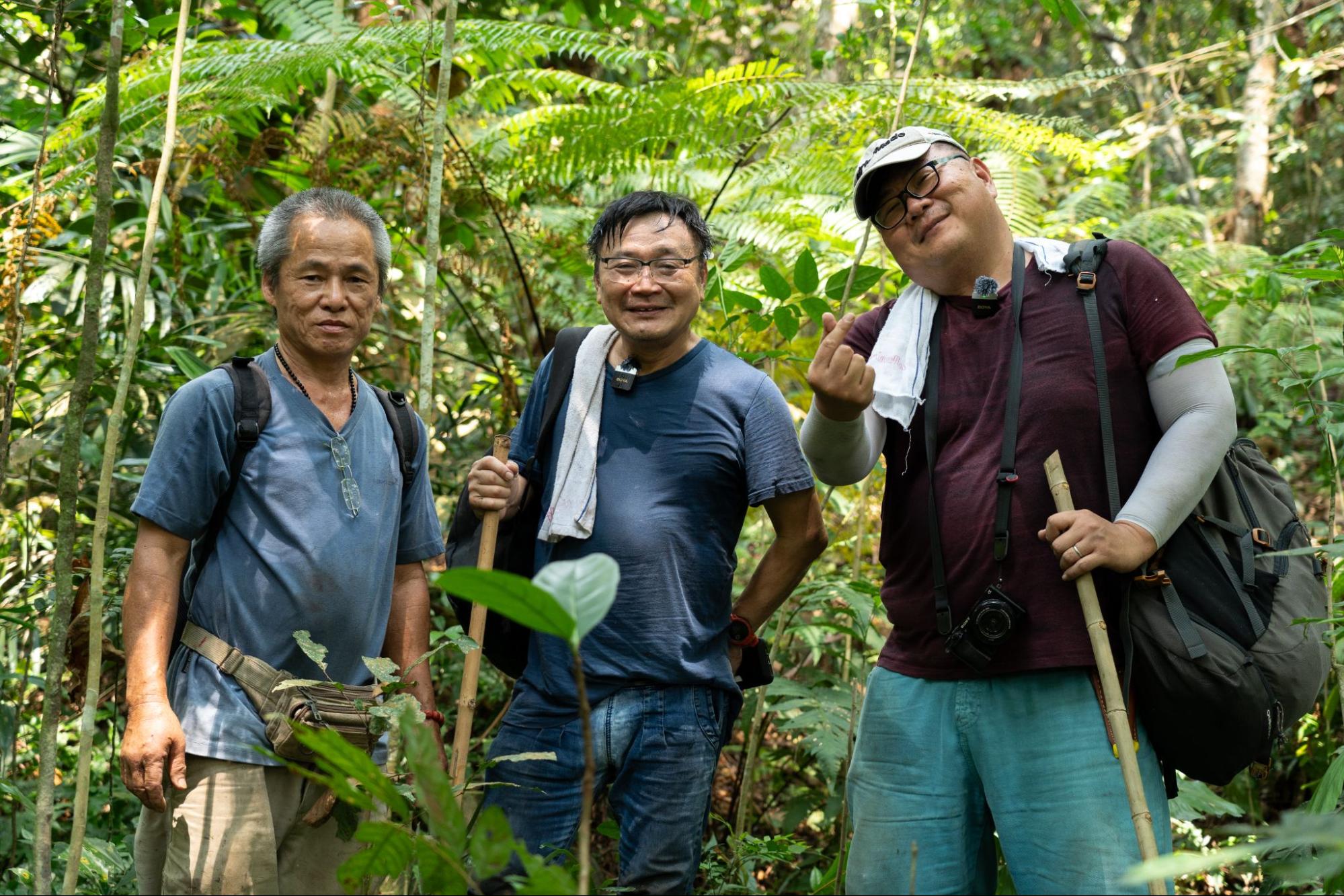 Mr Soh, Mr Goh, and Mr Pak after making their rounds at Lao Sua (Old Hill). On this weekend, they braved a horde of wasps to clean and document tombs. Photo by Elena Tay.
Alongside these efforts, Mr Pak also runs a blog, the Rojak Librarian. Initially created in 2004 to share his life experiences, Mr Pak transitioned to blogging about the dead in 2013. He now utilises his platform to write autobiographies of the pioneers buried in areas like Bukit Brown, Ipoh and Choa Chu Kang. 
This has also turned into one of the communication channels that descendants can use to contact Mr Pak for assistance in locating their ancestors' tombs.
One of the reconnected descendants, Lilian Wong, was unaware of the existence of her great grandmother's tomb since the ancestor had passed away before her mother was born. Ms Wong only discovered the tomb after coming across Mr Pak's blog and managed to reunite with her ancestors with Mr Pak and Mr Goh's help.
In 2023 alone, the pair has already reconnected six or seven descendants to their ancestors.
Despite the efforts put into preserving the heritage and ecology of Greater Bukit Brown, the Ministry of National Development (MND) announced in 2013 that Greater Bukit Brown has been earmarked for possible land use allocation in Singapore beyond 2030.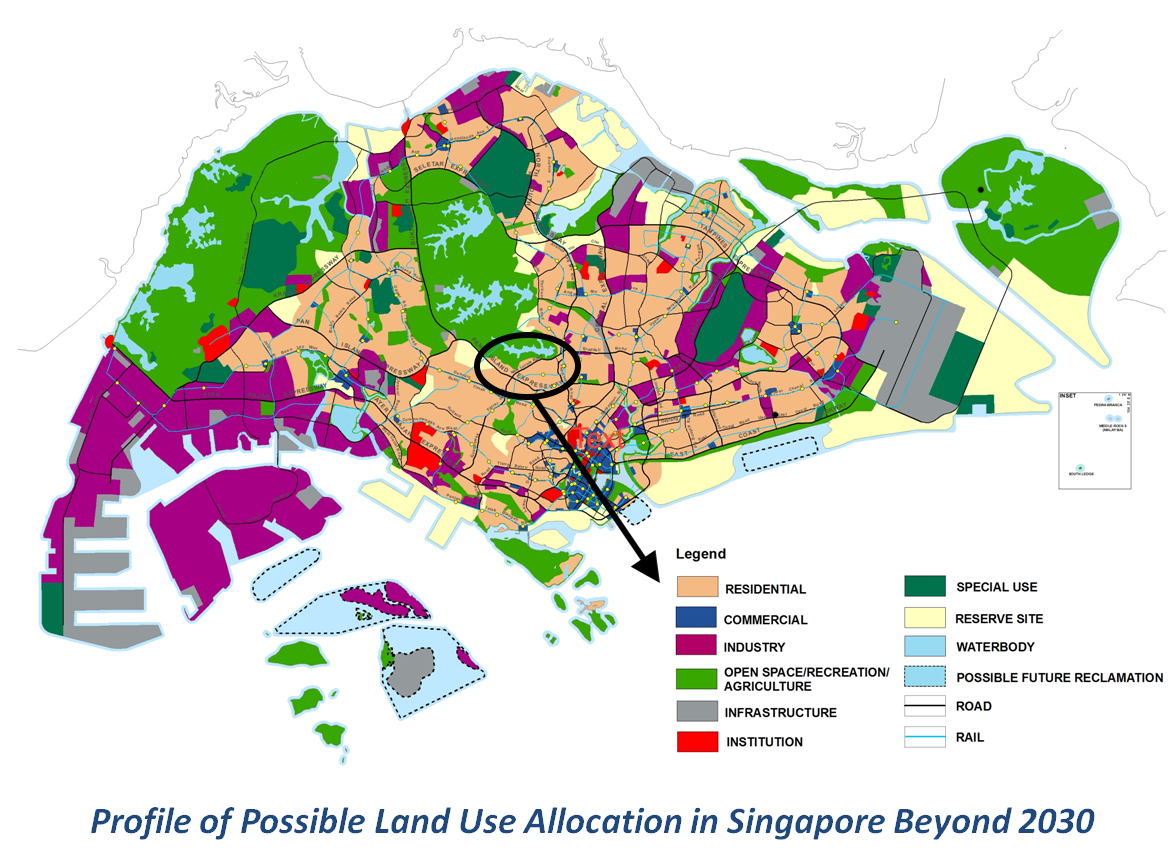 Greater Bukit Brown being labelled as a possible residential area in the future. Image taken from MND.
However, according to the latest Master Plan 2019, the Greater Bukit Brown area has been   classified as "Cemetery" instead of "Residential".
"It's a collection of memories and it connects and ties you to a different place, in a different time. It's who we are, where we came from," Professor Koh said, emphasising his strong advocacy of the preservation of Bukit Brown Cemetery.
It is still uncertain whether Greater Bukit Brown will be cleared entirely, along with the stories of Singapore's pioneers and its rich ecological diversity.