The Charm of Conveyer Belt Sushi
ERNEST YEN explores the history of Conveyor-Belt Sushi, and how it has become a firm favourite in our increasingly varied food culture.
BY
Ernest Yen
Social Media Manager
Hype Issue #57
Published on
August 21, 2023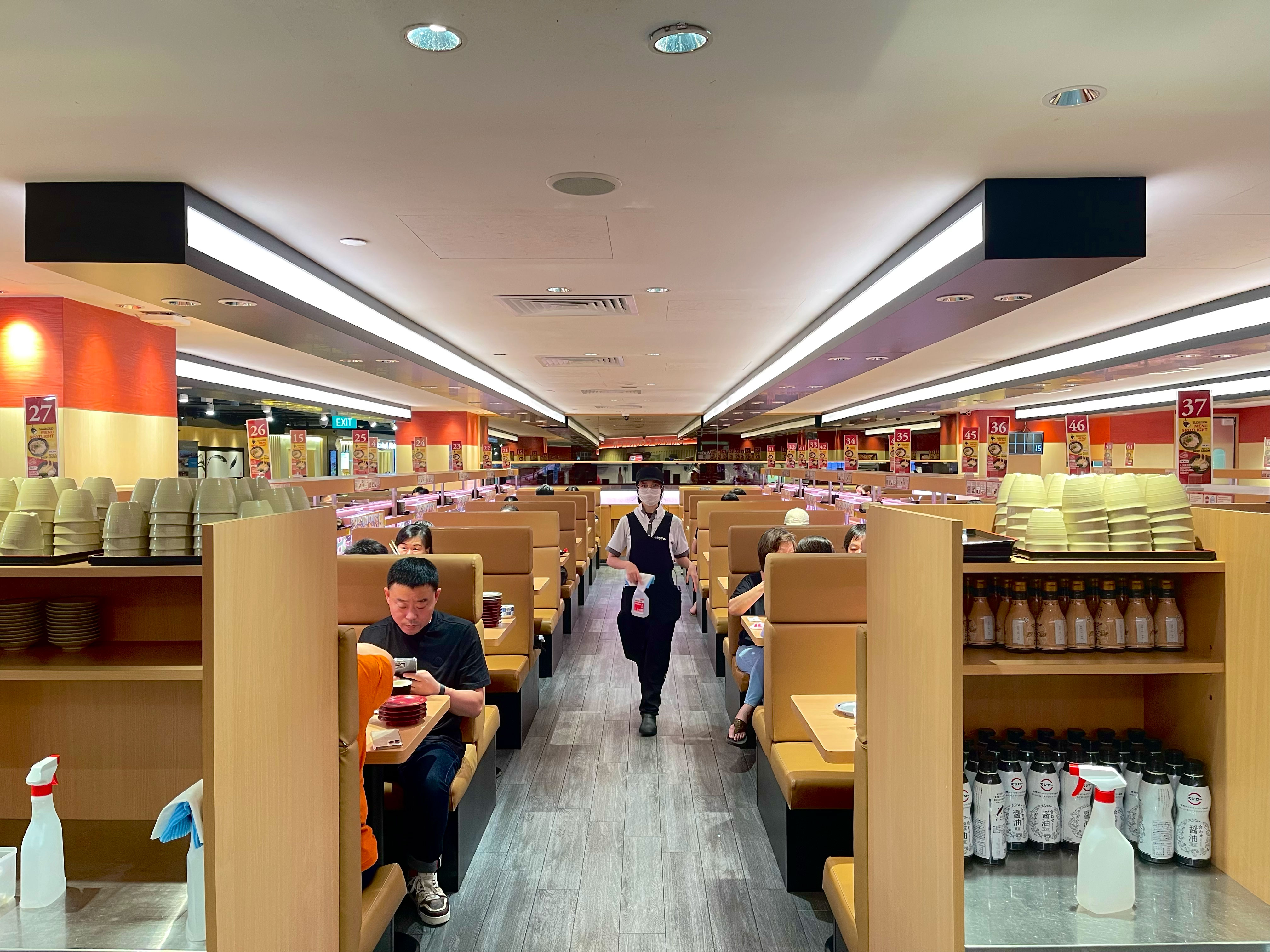 Sushiro is one of the most popular Conveyor Belt Sushi Chains in Singapore. Photo by Ernest Yen. 
Step inside any shopping mall in Singapore, and it's highly likely that you'll come across a brightly lit store with a conveyor belt full of different plates of sushi revolving around the restaurant.
Welcome to Kaiten-Zushi, also known as Conveyor Belt Sushi in English.  Here, a continuous stream of sushi plates gracefully travels around the restaurant on a conveyor belt, offering you the freedom to choose and savour any plate of sushi that appeals to your eyes. 
Due to its affordability and diverse sushi selection, "Kaiten-Zushi" has gained popularity in Singapore, attracting customers young and old who frequently line up at well-known chains such as Genki Sushi and Sushiro. From Sashimi to Aburi-style, there's always a sushi option to suit everyone's taste.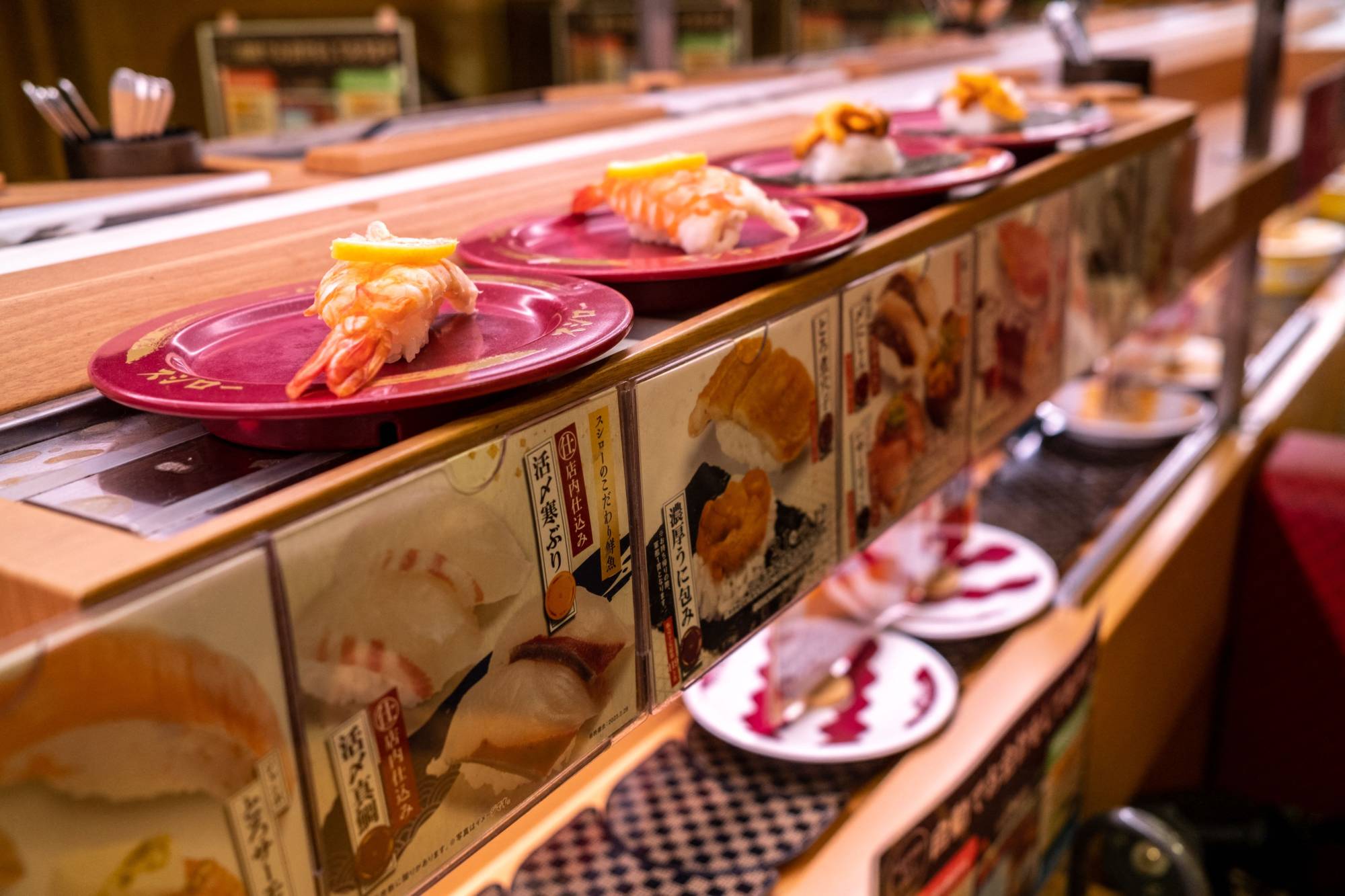 An example of sushi on a conveyor belt system at Sushiro. Photo Credit: The Japan Times
Nakeisha Lye, an 18-year-old who frequents Sushiro Singapore, says that"the variety of sushi (moving by) is what makes it interesting. It gives you a sort of tingling anticipation to grab the ones you want before they are taken by others."
She finds the sight of different sushi passing by on the conveyor belt thrilling, and she feels compelled to try different varieties of sushi because seeing the dishes up close in real life is more appealing than just looking at menu pictures.
Sushi has historically been an expensive treat in Japan. It was only when conveyor-belt sushi was invented that it became a truly affordable and convenient meal for the masses.  
The question is, how did this charming concept come about?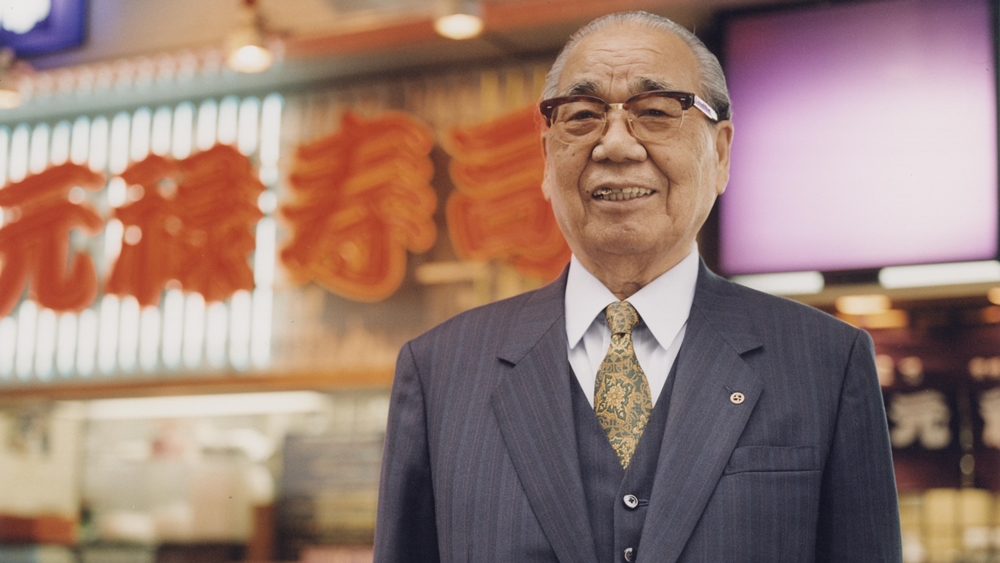 Yoshiaki Shiraishi, the creator of "Kaiten-Zushi", commonly known as conveyor belt sushi. Photo Credit: @JapanGov on Twitter. 
"Kaiten-zushi", which directly translates to "rotating sushi", was the brainchild of Yoshiaki Shiraishi (1914-2001). According to the Discoverist, he was managing a small sushi restaurant in Osaka all by himself and wanted to find an easier way to serve his sushi. In 1947, a surprising source of inspiration emerged for Shirashi when he visited an Asahi Beer Brewery. Watching the seamless movement of bottles on the factory's conveyor belts sparked an inspiration within him, prompting him to spring into action.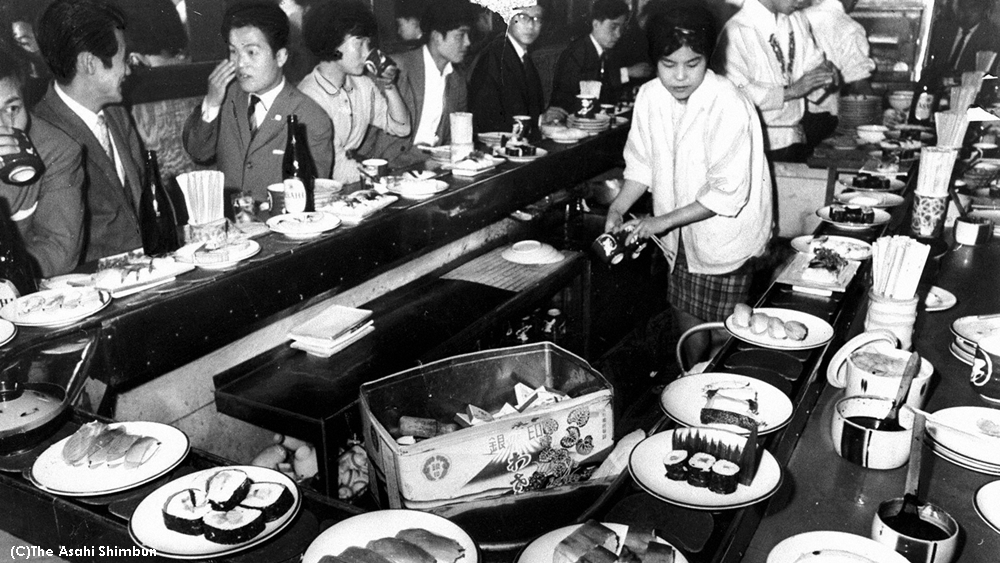 Mawaru Genroku when it first opened in East Osaka back in 1958. Photo Credit: @JapanGov on Twitter
Teaming up with a machinist, Shiraishi adopted this innovative concept and opened his first "Kaiten-zushi" restaurant, Mawaru Genroku in 1958, and the rest is history.
Jefferson, 39, an Assistant Manager at Sushiro Singapore mentioned that Singapore's fast-paced lifestyle and desire for affordable yet high-quality meals have played a significant role in the popularity of conveyor belt sushi
"It also helps that our menu is not stagnant, as we make an effort to bring what the customers want and constantly add new dishes and sushi for our customers each month," he added.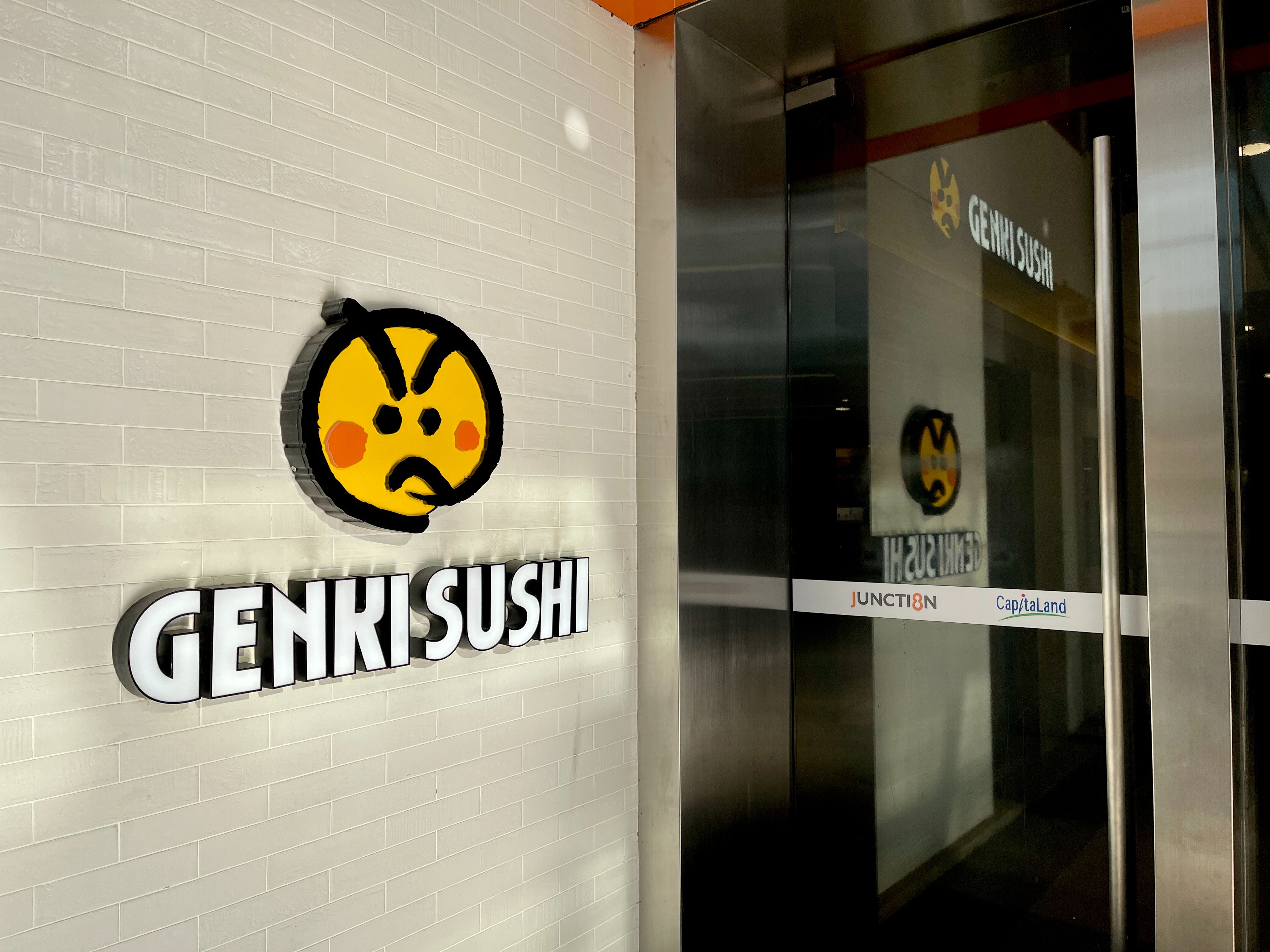 Genki Sushi outlet at Bishan Junction 8. Photo by Ernest Yen.
Genki Sushi has surprisingly been a leader in Singapore's Conveyor-Belt Sushi scene for longer than expected.
A study published by the New Zealand Journal of Asian Studies in 2001 revealed that sushi had been present in Singapore since the early 1960s due to the influx of Japanese expatriates and that Genki Sushi actually entered the Singapore market back in 1993. There was even an outlet at Changi Airport back then!
Daniel Goh, 26, fondly recalls how Genki Sushi ignited his passion for sushi when he was a kid.  "Truth be told, I never really ate sushi before until Genki first opened at Bugis all these years ago," he said.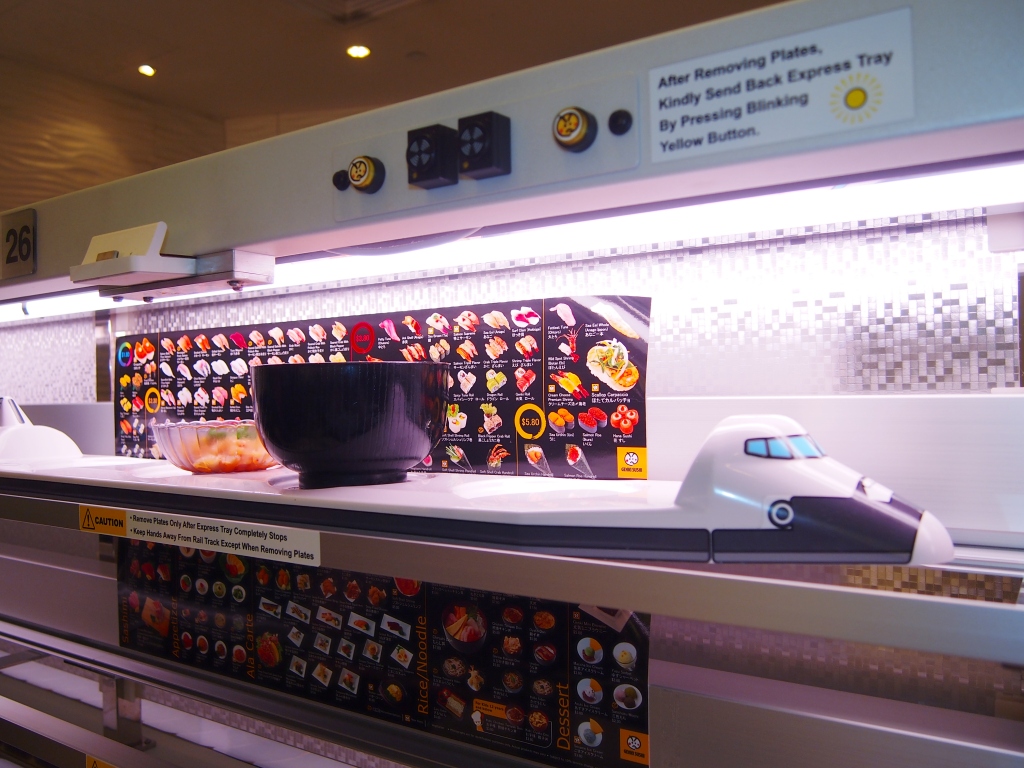 Genki Sushi's unique conveyor belt delivery system, with trays shaped like Shinkansen, a high-speed train from Japan. Photo Courtesy of Thoughts on Air. 
He added that their unique conveyor belt delivery system, with trays shaped like the iconic Shinkansen high-speed train from Japan, added an element of fun and novelty to the dining experience, which appealed to the younger him.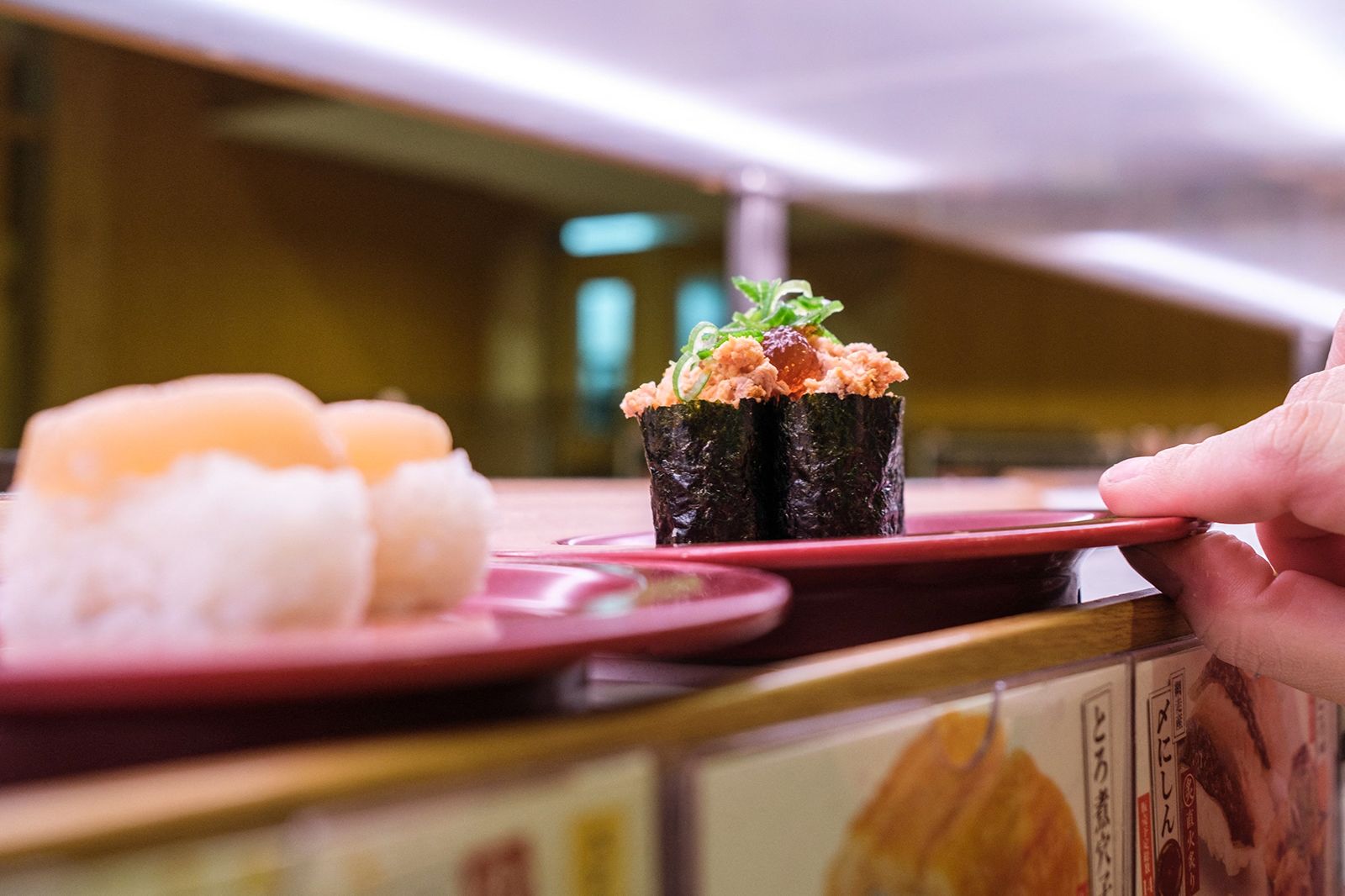 Sushiro uses an automated system to detect sushi plates on the conveyor belt. After traveling for 350m on the conveyor belt, the plates will then be automatically discarded to preserve sushi freshness for customers. Photo Credit: The Cable News Network (CNN).
However, a significant challenge faced by these restaurants these days is the mishandling of sushi plates by customers.  
Jefferson explained that they frequently observe individuals and families touching or picking up plates of sushi from the conveyor belt, but instead of consuming them, they return the plates back to the belt. 
"It's obvious as we are the ones arranging the plates on the belt," he pointed out.
Unfortunately, there is no concrete way to tackle this behaviour. "It's frustrating, but at the end of the day, we can only explain to the customers nicely and return the sushi to them or just discard it entirely," he said.
Despite the occasional challenges, "Kaiten-zushi " has become an integral part of Singapore's culinary scene. 
"Since it's so affordable, you might as well try everything! Get one of every dish, and you might find some gems!" Daniel said.
Likewise, Nakeisha said,  "Give conveyor belt sushi a shot! If you haven't tried it, you're missing out if you don't."