I Wish I Knew: Essential Travel Tips for Youths
Since 2023, with pandemic restrictions eased, the tourism industry has regained momentum. ISABELLE NG shares 4 travel tips you need for a perfect trip.
BY
Isabelle Ng
Deputy Editor
Hype Issue #57
Published on
July 24, 2023
Before Covid-19 hit, I fondly recall the moments spent in my secondary school classroom, hanging out with my friends and eagerly discussing our highly anticipated graduation trip overseas. Alas, we all know what happened in late 2019…
Now that the pandemic is behind us, it's time to start envisioning your long-overdue graduation trip, or a quick self-care getaway. Here are four curated travel tips for your perfect trip!
Tip 1: Decide on the purpose of the trip
Is it a trip to unwind and relax by the ocean? Perhaps you're looking to explore some extreme sports like jet-skiing or wakeboarding?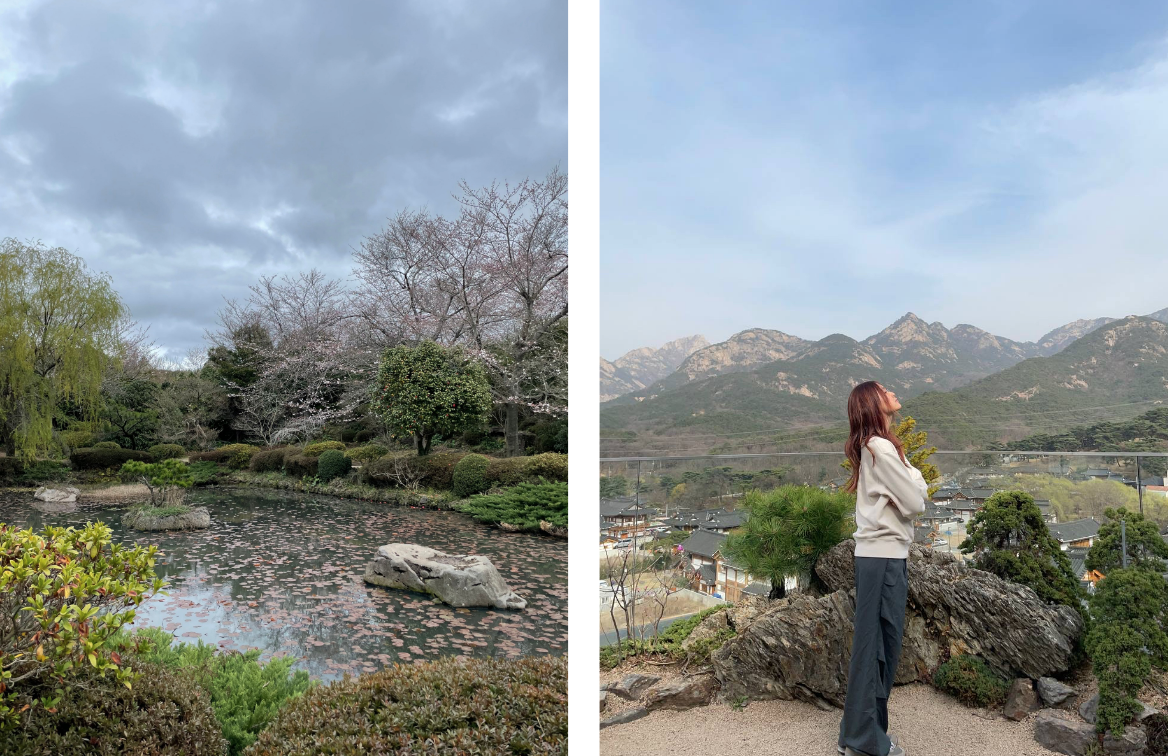 During a recent trip to Korea, I focused on casual sightseeing, taking a break from city life. The left picture shows blooming cherry blossoms while the right picture is from my visit to Eunpyeong Hanok Village. Photos by Isabelle Ng.
Regardless, it's important to decide on the "vibe" of the trip you're going for, especially when travelling with friends so that you can avoid conflicts. 
Having clear motivations before choosing the destination is instrumental in igniting the spark of excitement when you finally say, "Yes! Let's head to …". 
Tip 2: Don't underestimate itinerary planning
It's always when something unforeseen happens that we think to ourselves, "Oh I could've done [insert hindsight wisdom here] to prevent this from happening."
To minimise mishaps, always plan a detailed itinerary. It's essential to include budgeting, location details, transport and accommodation. Trust me when I say Google Sheets will be your best friend!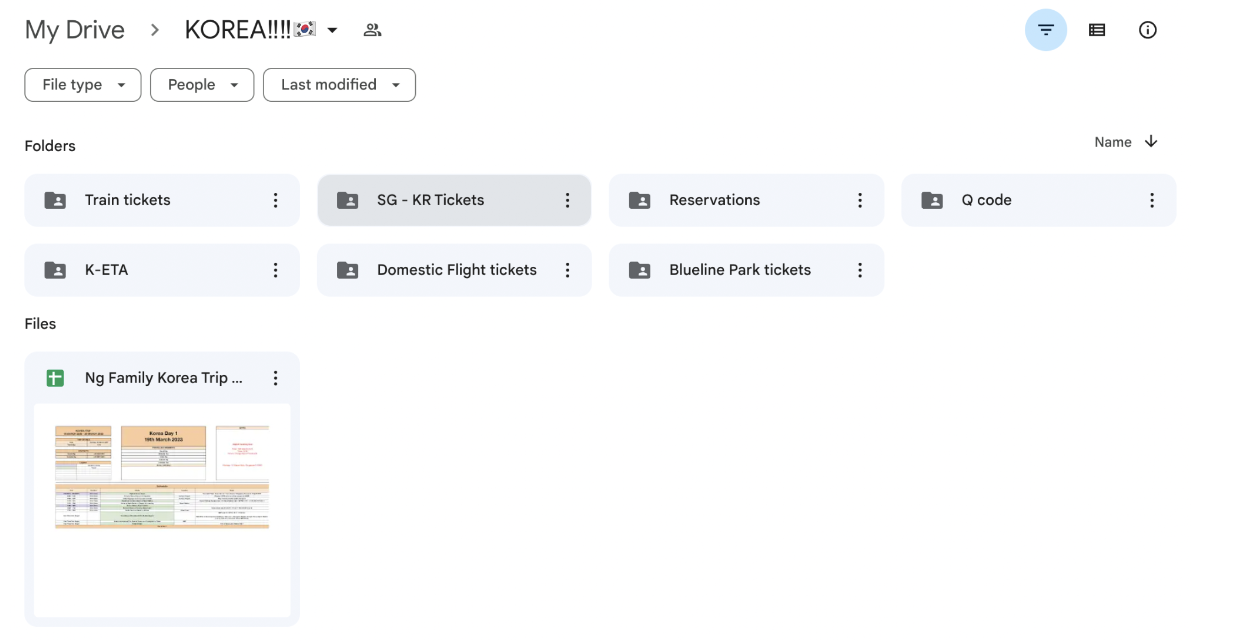 Pro-tip: Compile all important documents needed for your trip in a Google Drive folder for easier reference and sharing. Photo by Isabelle Ng.
Alongside the must-have categories, remember to include backup options in your itinerary for peace of mind during your trip.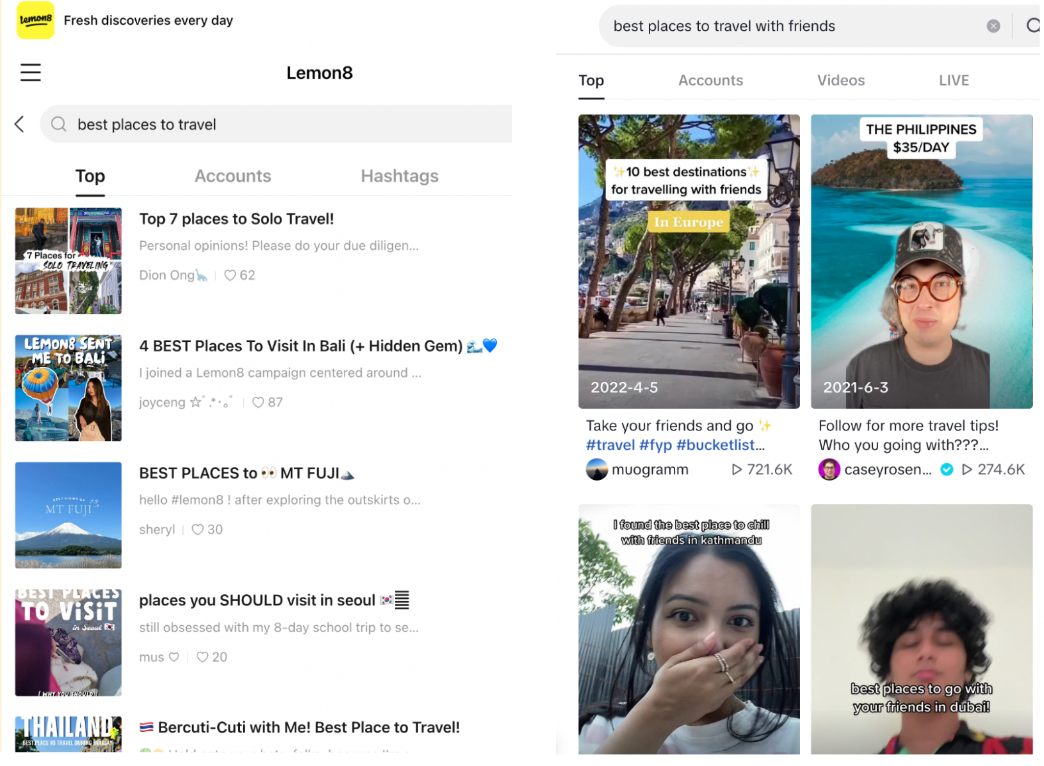 Search results on both Lemon8 (left) and Tiktok (right) when asked about the best places to travel to with friends. Photos by Isabelle Ng.
Looking for travel inspiration? Look no further than social media!  Authentic reviews are abundant as users happily share their personal experiences online. Popular apps like Tiktok and Lemon8 have become valuable tools for today's youth, revealing hidden gems and lesser-known hotspots recommended by fellow travellers! 
Tip 3: Deciding on the dollars
Money matters can be intimidating for youths like us, especially since we might not all have a fixed cash flow every month. However, planning your budget based on your itinerary and trip purpose can make it less daunting.  
Separate your big-ticket expenses from your daily allowance. If you have specific items to purchase overseas, allocate an appropriate budget for them and separate this from your regular expenses. This makes it easier for you to keep track of how much you're spending and avoid going over budget.
Don't forget to set aside an emergency fund of roughly 25 per cent on top of your current budget! It's always better to be prepared than to feel helpless without enough funds in a crisis.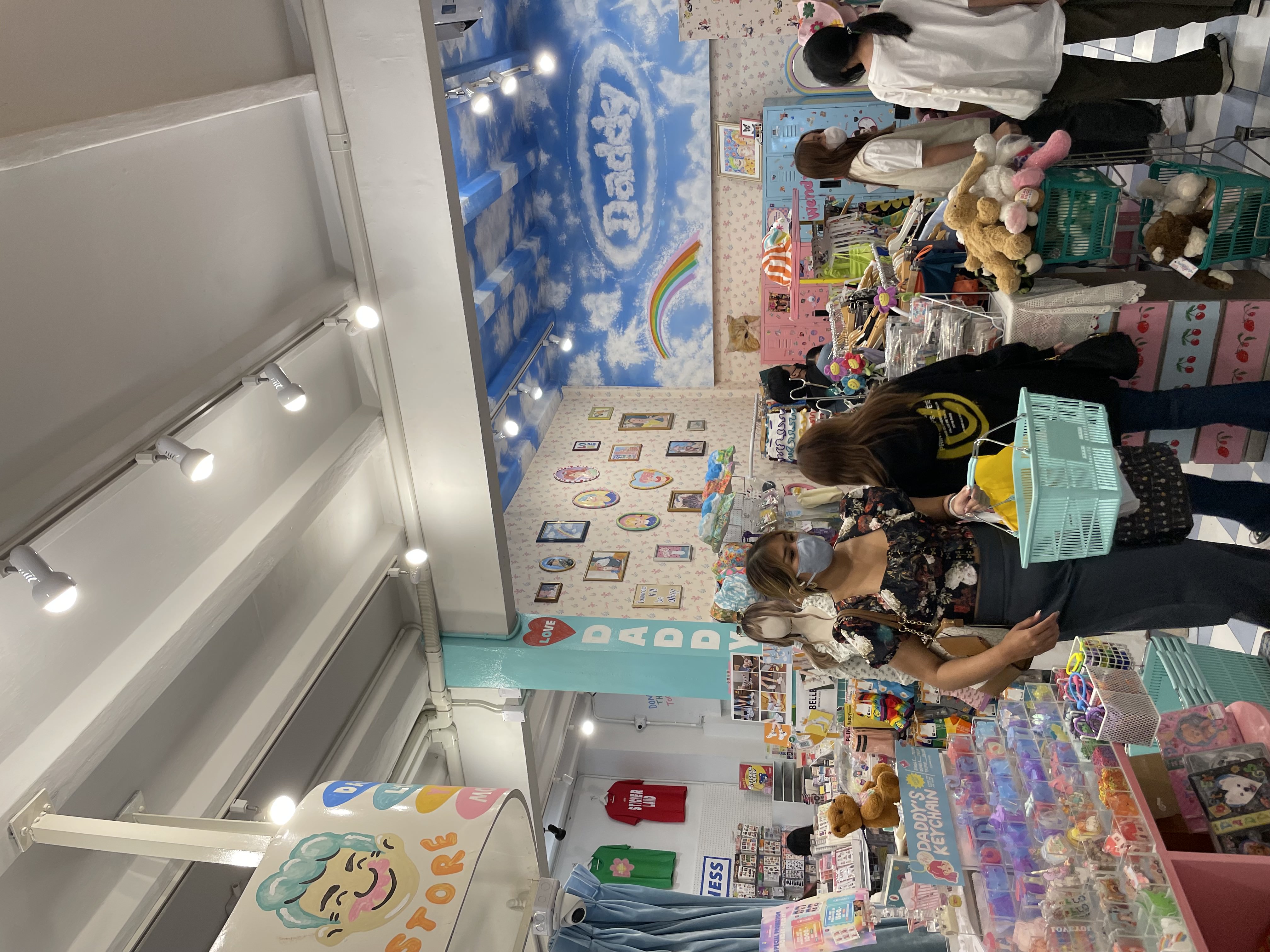 I really love shopping, so I do understand the pain of not getting an item you really like especially when you're overseas! Here's a picture of a cute store, "Daddy and the Muscle Academy", I went to in Bangkok, Thailand. Photo by Isabelle Ng.
Consider investing in a travel card! Travelling with large amounts of foreign currency is inconvenient at best, and at worst makes you a target for crime. Travel cards are an excellent solution to handle your money. These cards often offer additional perks, such as better currency exchange rates, the ability to freeze the card from a phone app for added peace of mind, and even the ability to earn flight miles! The Youtrip card and Wise Debit card are popular choices among Singaporean youths. 
Tip 4: Don't be a "Blur Sotong"
Before heading to any country, always conduct thorough research. Familiarise yourself with the culture, traditions, and norms of the country to show respect to your hosts. As the saying goes, "When in Rome, do as the Romans do."
Keep an open mind, as cultural habits can be interpreted differently in various countries.  For example, in Asian countries like Japan, slurping noodles is seen as a sign of enjoyment and of appreciation to the chef. Trying this in a Western culture though, might land you in hot water.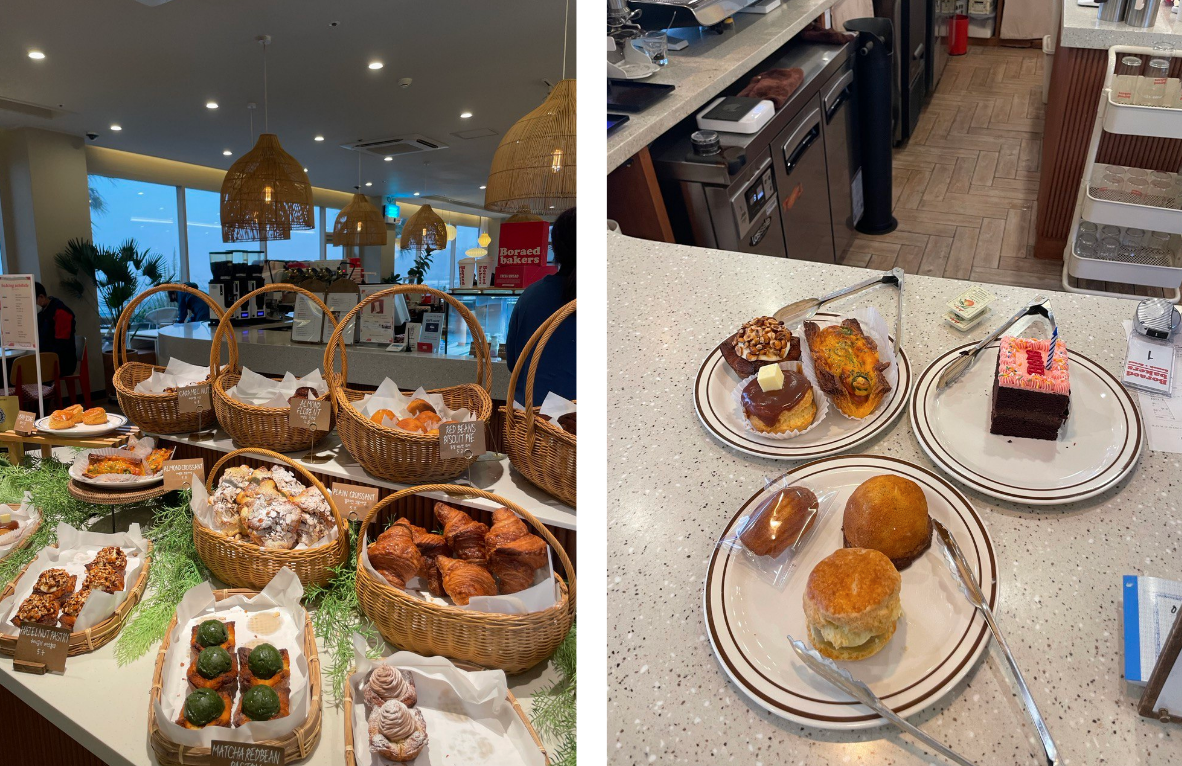 When I was in Korea, I was surprised by their self-service café culture where customers are able to pick their pastries before payment. Unlike Singapore, where you order from the counter and the staff will serve it to you after. Photos by Isabelle Ng.
Embrace mistakes as opportunities to learn. Politely explain that you're a tourist and new to the area, and most people will be understanding and willing to teach you the proper norms! 
When visiting countries with languages you're unfamiliar with, translation apps such as Google Translate or Papago are real lifesavers.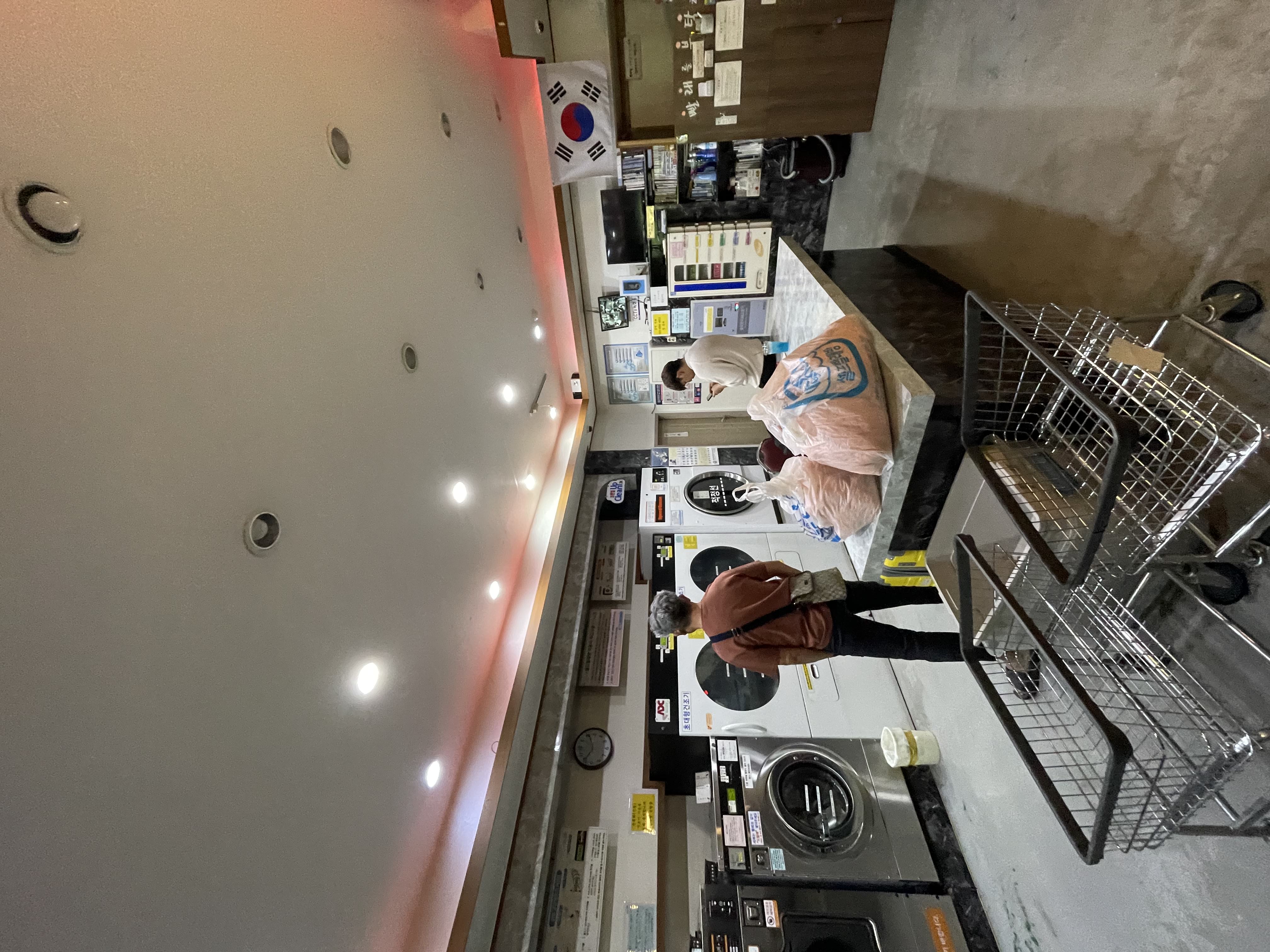 Speaking of language barriers, here's my first time in a laundromat overseas! It was nerve-wracking trying to figure out the machine settings in a foreign language. Photo by Isabelle Ng.
If you've made it this far, congratulations! You're now ready to embark on your exciting journey overseas, armed with all the essential travel tips! 
Remember, travelling is all about making memories and enjoying new experiences. Don't get caught up overthinking about potential mishaps. Instead, cherish the fresh perspectives and breathe in the unfamiliar sights and sounds. You'll never know if a surprise awaits!