Igniting Artistic Dialogues: Unveiling Mr Lim's Visual Treasures
Join CHARLIZE KON at the hidden gem in Haji Lane, Mr Lim's Shop of Visual Treasures, where captivating artworks come alive, sparking curiosity and igniting conversations.
BY
Charlize Kon
Lead Design
Hype Issue #57
Published on
July 3, 2023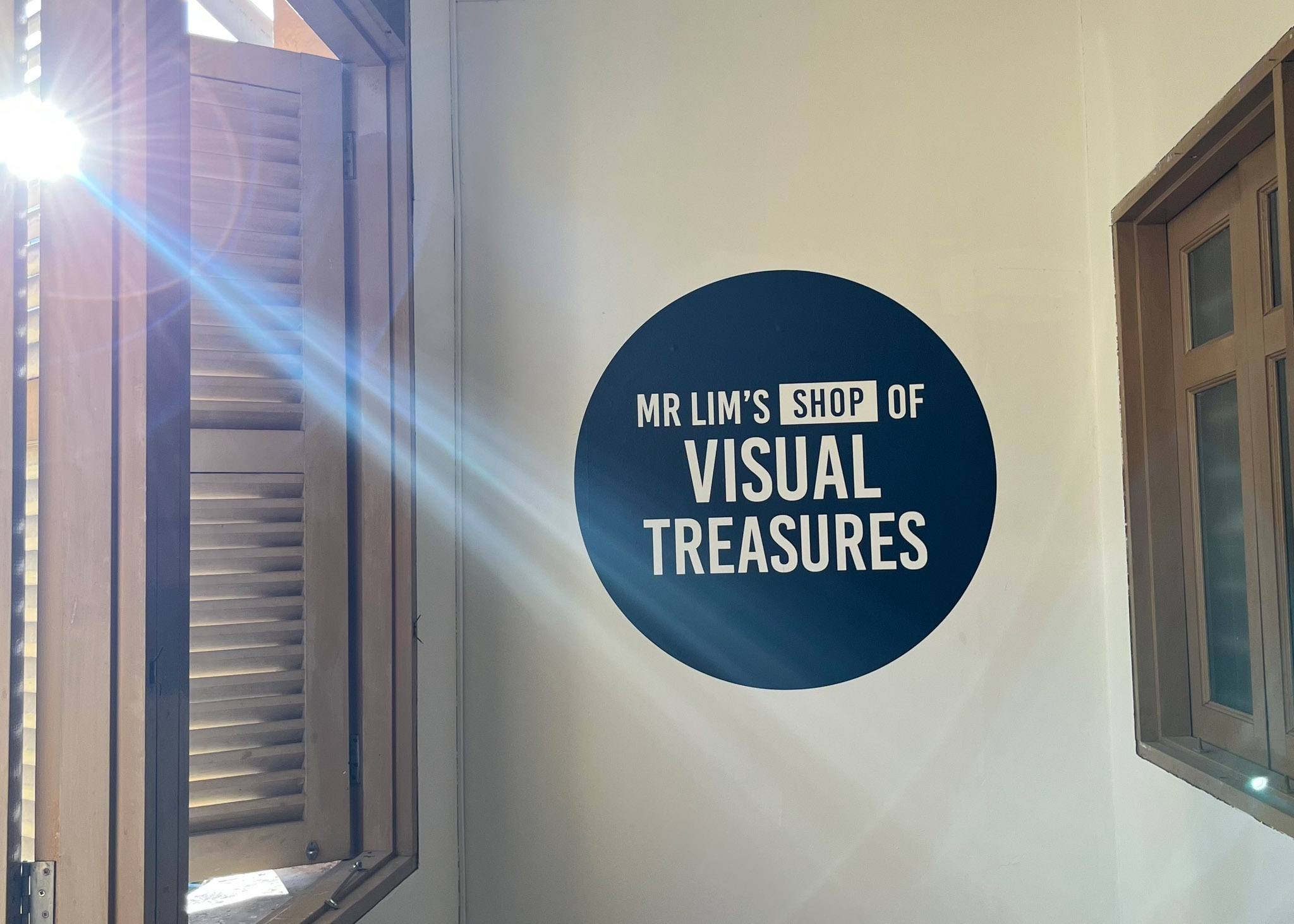 The hidden gallery is located just up the narrow stairs of Mr Lim's Shop of Visual Treasures. Photo by Charlize Kon.
Tucked away within the vibrant Haji Lane in Singapore, an unassuming storefront beckons to passersby. Welcome to Mr Lim's Shop of Visual Treasures, a hidden gallery that reveals a world of captivating curated art pieces!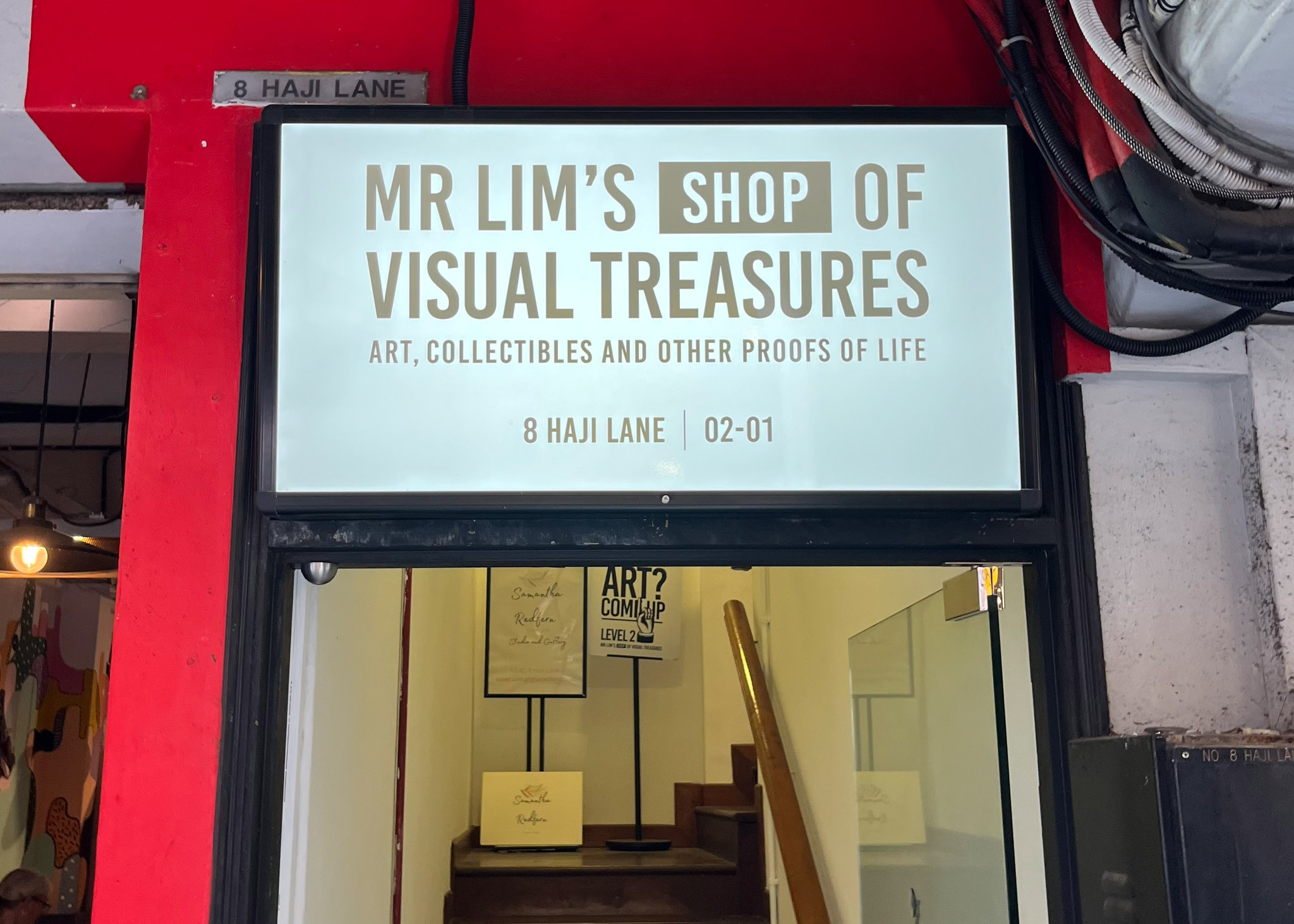 Keep a look out for this signage as you walk along the vibrant street of Haji Lane. Photo by Charlize Kon. 
This charming gallery, lovingly curated by owner Mr Lim Chiao Woon, is a sanctuary for art enthusiasts and curious individuals seeking unique and thought-provoking pieces.
"I have been collecting art for over 20 years, everytime I travel." "[It got] to the point where Changi Airport was like a bus stop to me," Mr Lim jested.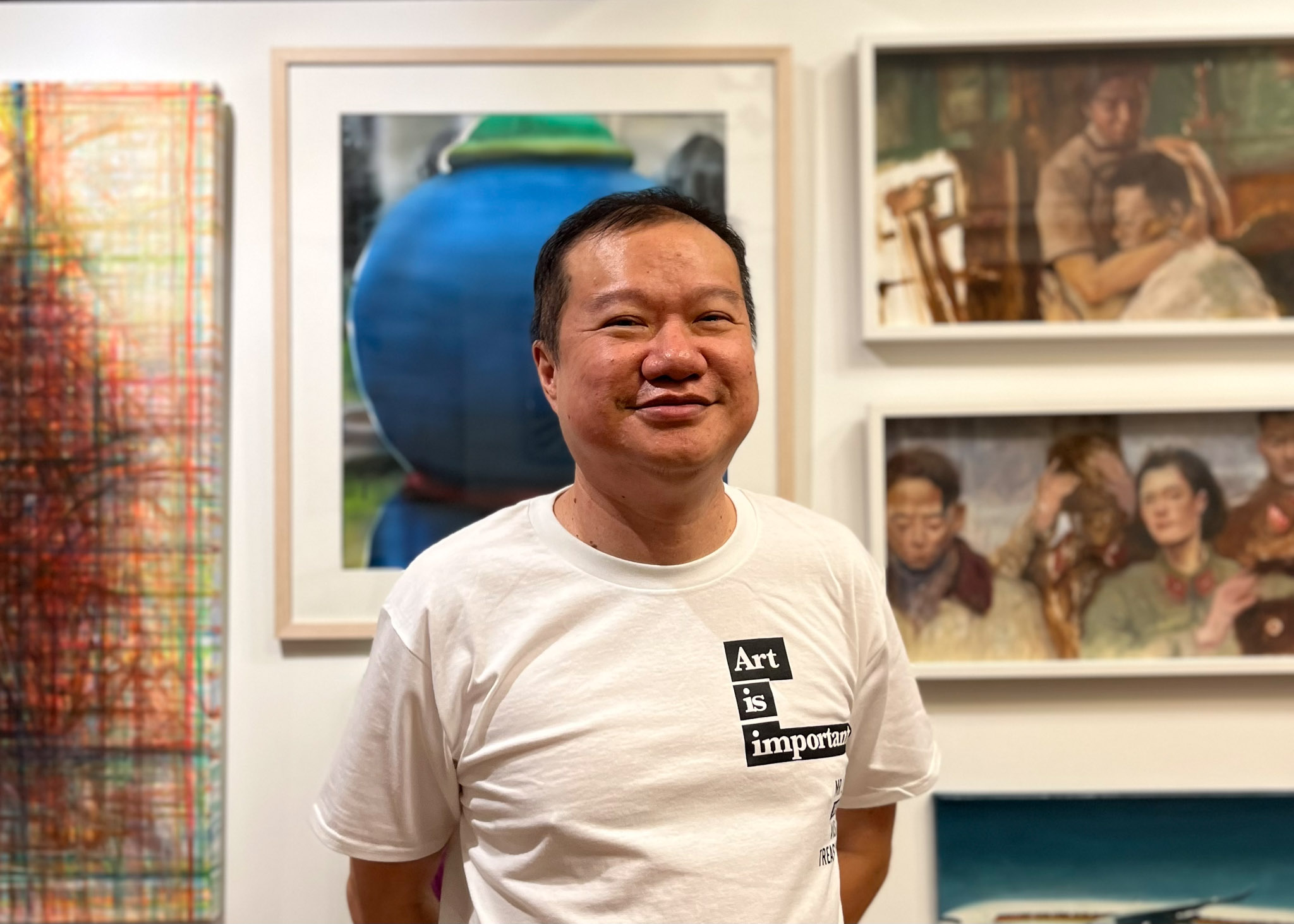 Mr Lim in his personalised crew shirt, that he designed himself. Photo by Charlize Kon.
After being diagnosed with lymphoma cancer in January 2021, he made a life-altering decision to prioritise a more relaxed lifestyle. Departing from his demanding corporate job as a regional creative director of 24 years, he embarked on the journey of establishing his own shop.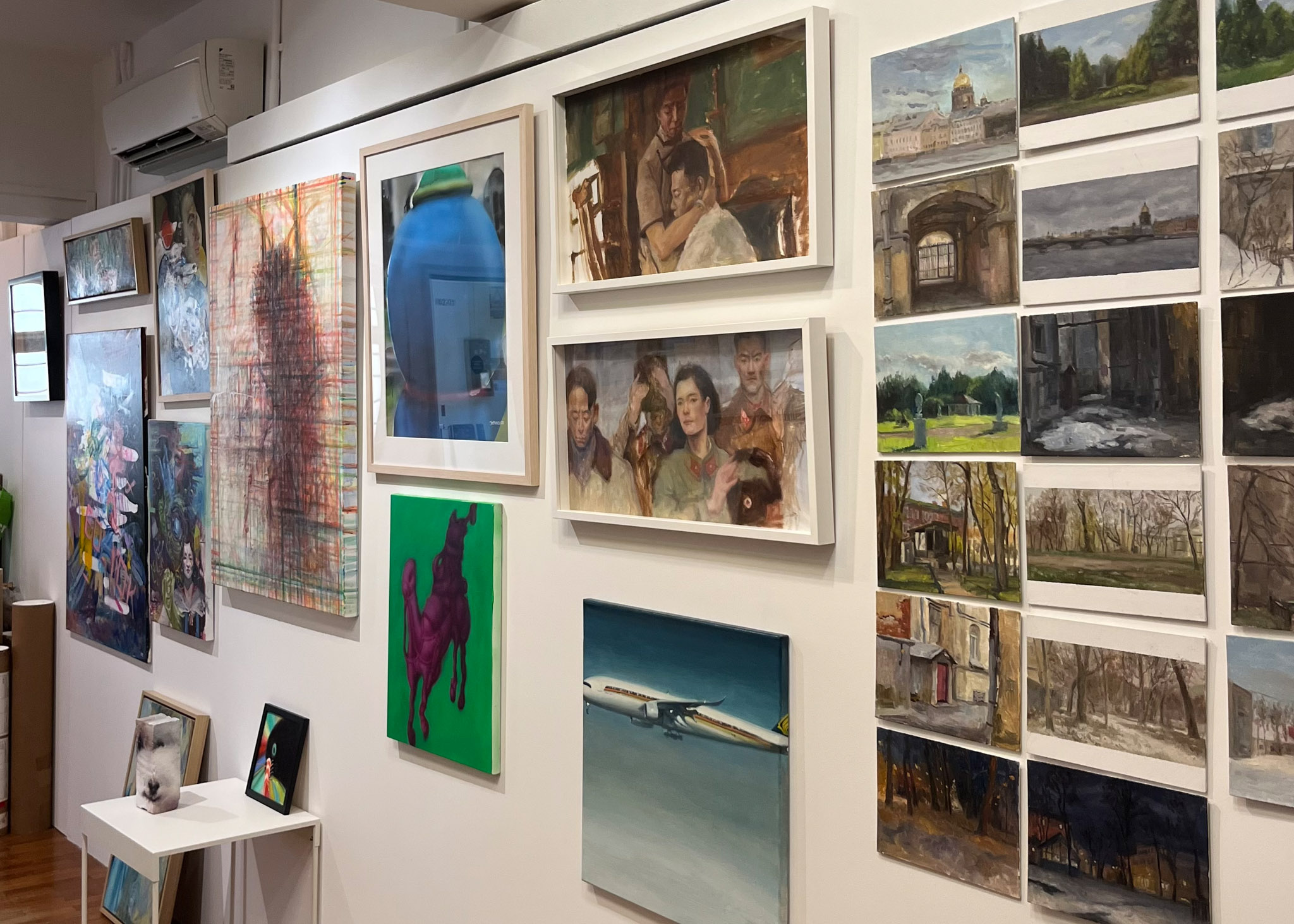 Mr Lim started his retail space in Tanglin Mall before shifting to the present Haji Lane space in February 2023. Photo by  Charlize Kon.
Mr Lim shared a desire to contribute to society whilst also finding fulfilment and joy, musing that art allows him to be in a workplace where [he] can see and talk about art all day and all night."

Upon entering  the gallery shop, you will be greeted warmly by Mr Lim, who will eagerly guide you through the mesmerising art pieces adorning the gallery walls.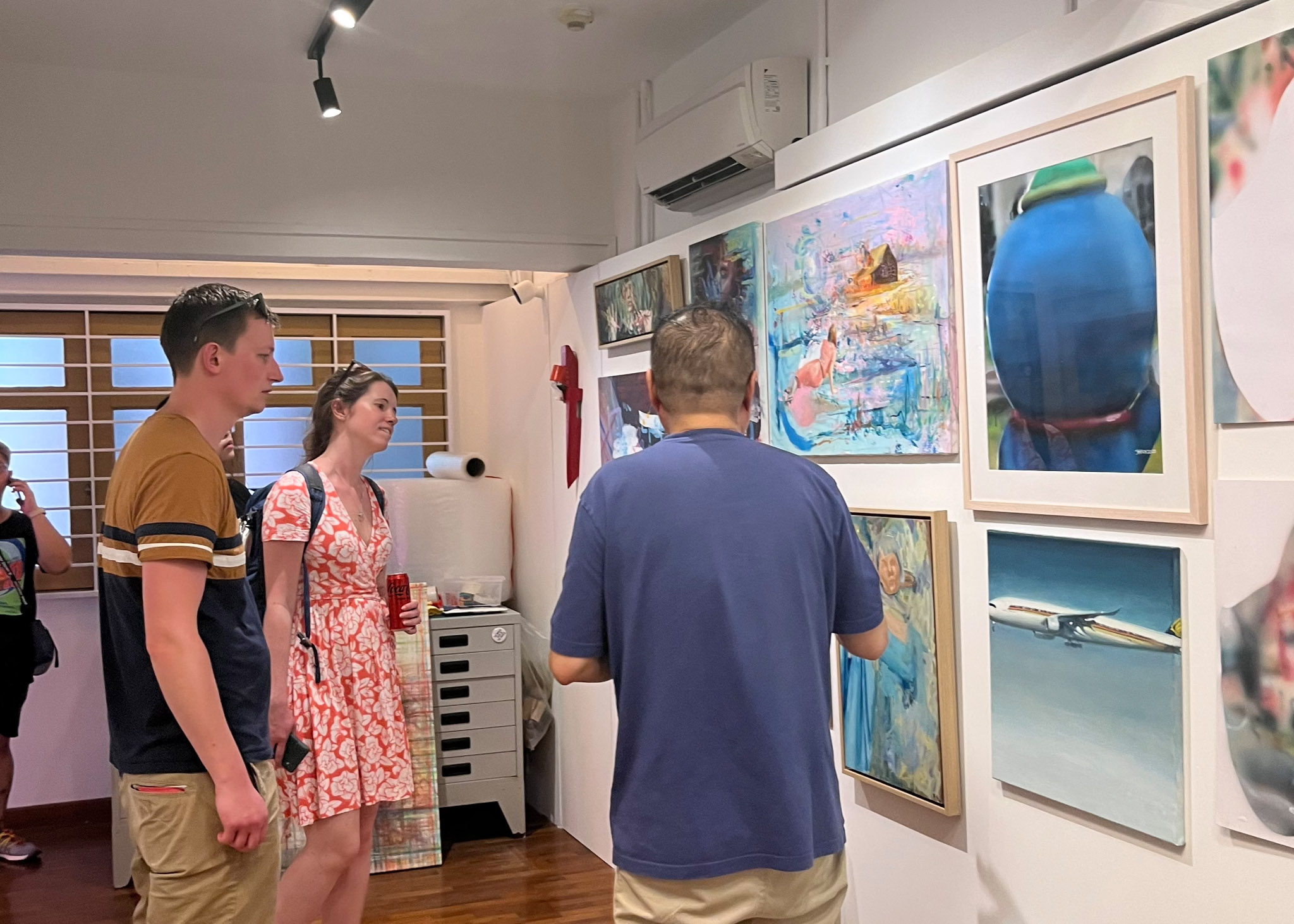 Mr Lim enthusiastically guides the visitors through the curated art pieces in his gallery store. Photo by Charlize Kon.
Mr Lim explains that the concept behind his gallery ship aims to blend luxury and affordability. He envisions a space where everyone who comes in can find an art piece to appreciate and collect, fostering accessibility to all.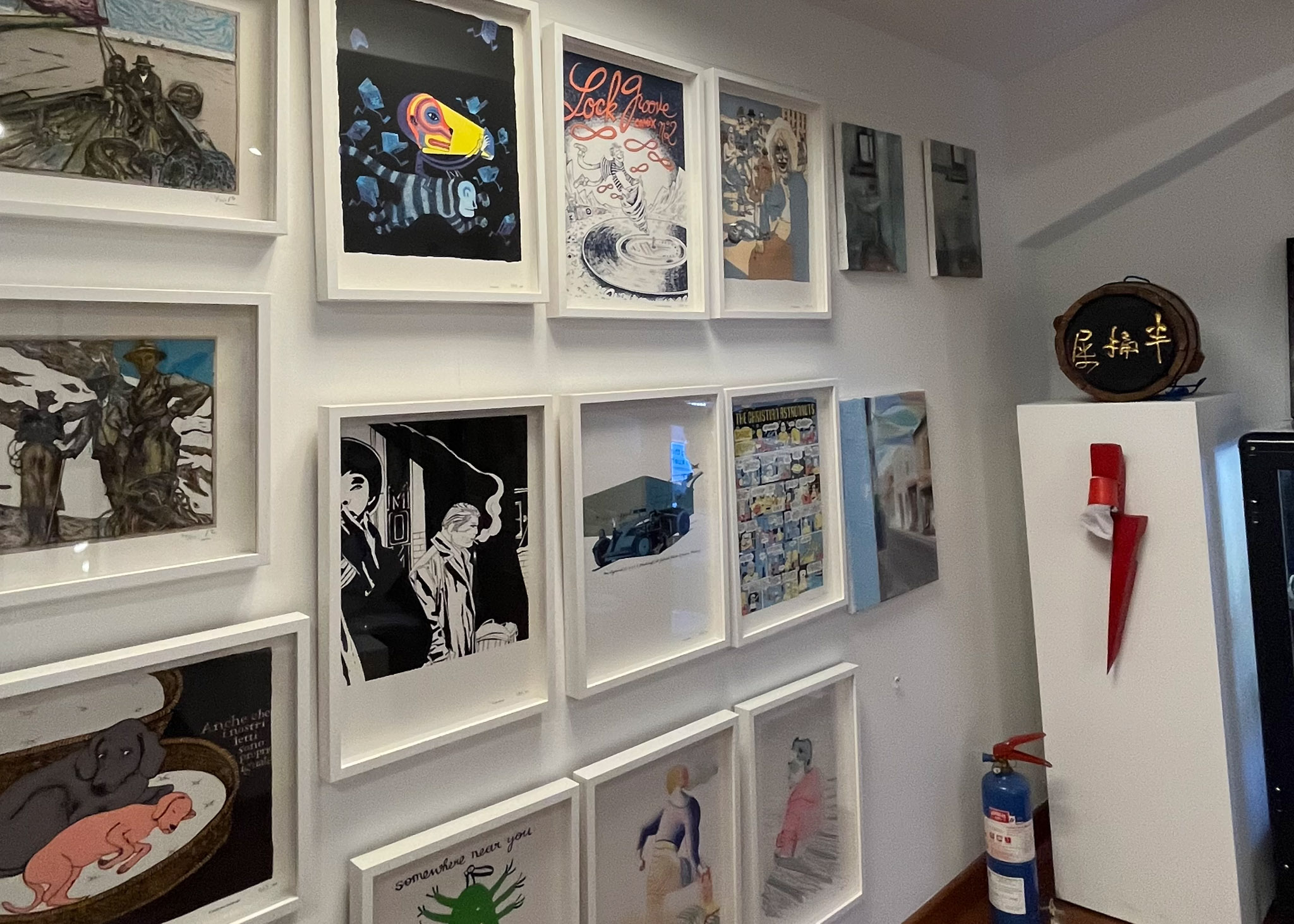 A selection of Art pieces that are displayed on the 2nd level of the gallery shop. Photo by  Charlize Kon.
Walk with me as I experience him sharing insightful backstories and interpretations of each piece. The art truly comes alive and captivates me in a way that surpasses mere visuals, owing to the intimate conversations he shared with me.
Mr Lim and the visitors engaging in a conversation over the art pieces displayed. Photo by  Charlize Kon.
Mr Lim expressed his aspirations for the gallery shop, stating, "I hope to get everyone interested and active in art, sparking conversations among locals like how England football fans talk about football. It is hard, but I will try.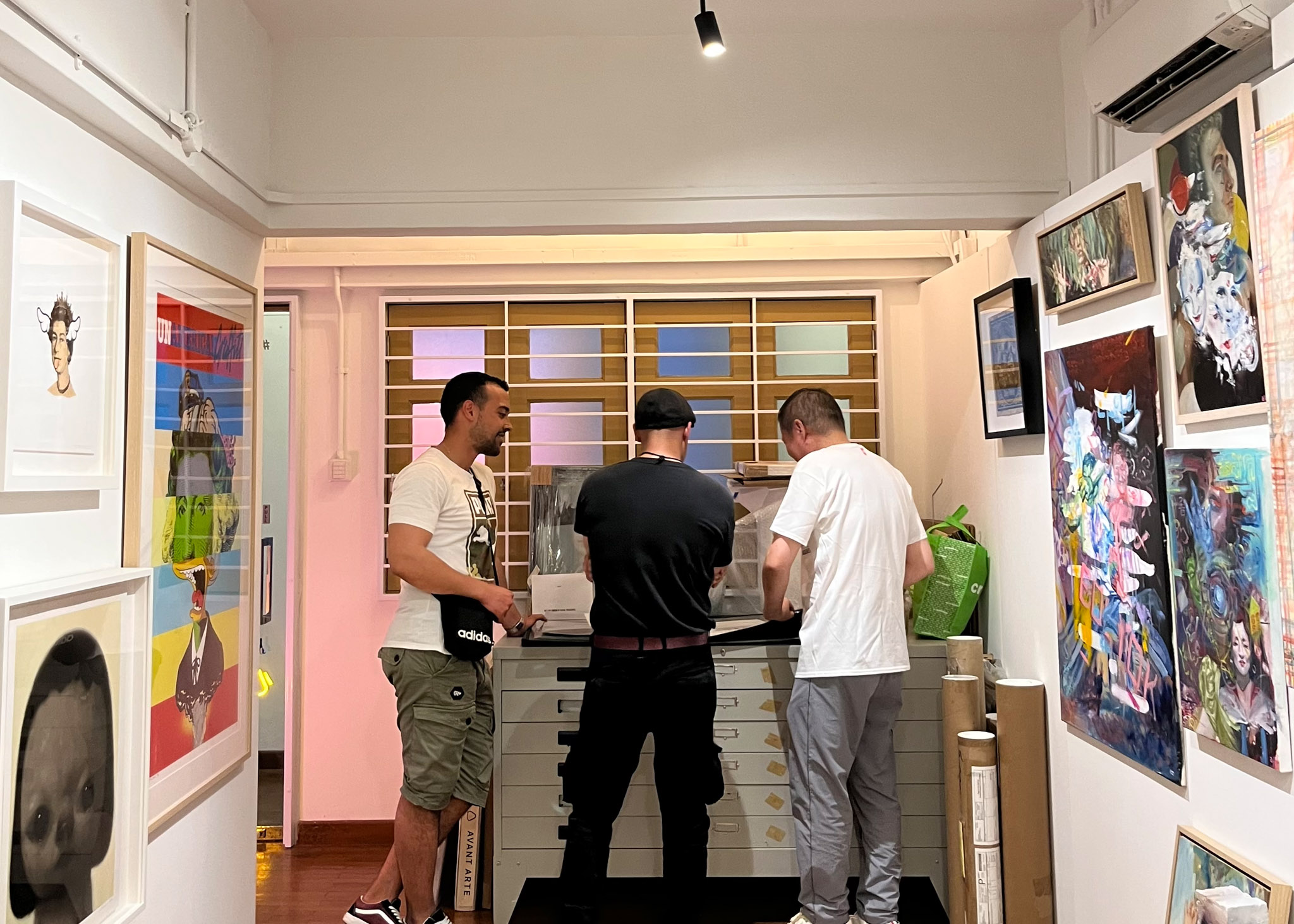 Mr Lim sharing perspectives about his art pieces with a graffiti artist and art enthusiast from Greece. Photo by Charlize Kon.
As I looked through the gallery, an unusual  object on the floor which was covered with a trash bag piqued my interest. Mr Lim explained that he would only unveil the artwork in his upcoming group show event, FOOLS,  in July. 
He will be hosting the FOOLS group show in his gallery shop from Jul 22 to Aug 6, 2023. Tang Dawu and Cheo Chai-Hiang are the leading artists, and a selection of approximately 15 to 20 curated art pieces will be showcased.
He aspires for his gallery and the FOOLS show to be inclusive spaces, not only for young artists but for all Singaporeans to visit, learn, and feel comfortable with art.
 "Conversations are very important. People shouldn't feel afraid to go into galleries, enjoy themselves and spend some time standing and imagining," Mr Lim said as he emphasised the importance of engaging in conversations surrounding art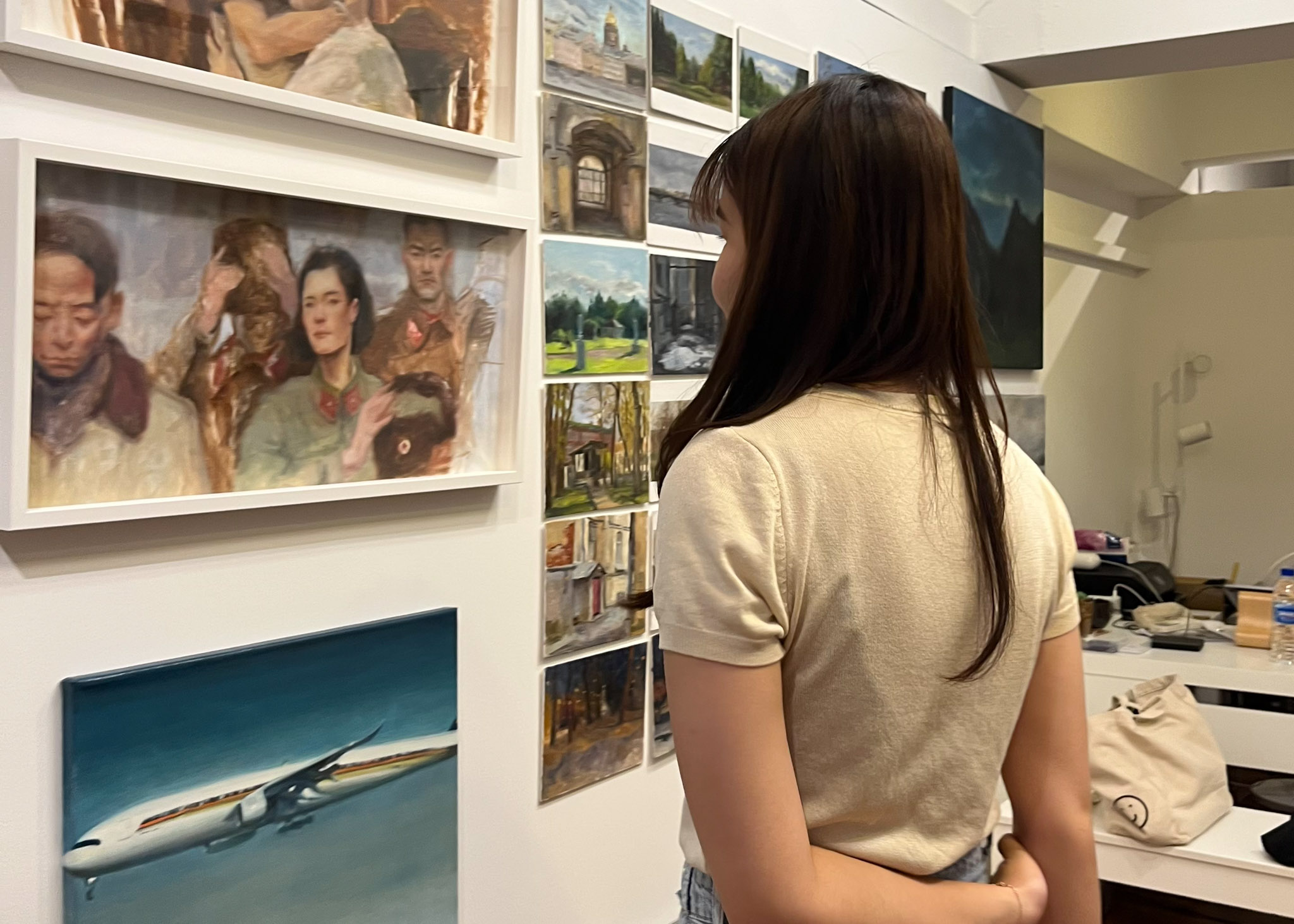 A visitor admiring the art pieces in Mr Lim's Shop of Visual Treasures. Photo by  Charlize Kon.
In addition to supporting established artists, Mr Lim also nurtures emerging talents, offering  them an opportunity  to showcase their work and gain recognition.
Mr. Lim, when discussing his selection process for artwork displayed in his gallery shop, shared that he has about three to five artists daily approaching him, seeking assistance in selling their paintings. When considering their work, he first assesses its quality and uniqueness. Additionally, he pays attention to their level of passion, as he is drawn to individuals who possess an immense dedication to their craft. Finally, if the artists demonstrate exceptional talent but are in urgent need of support, he is eager to lend a helping hand.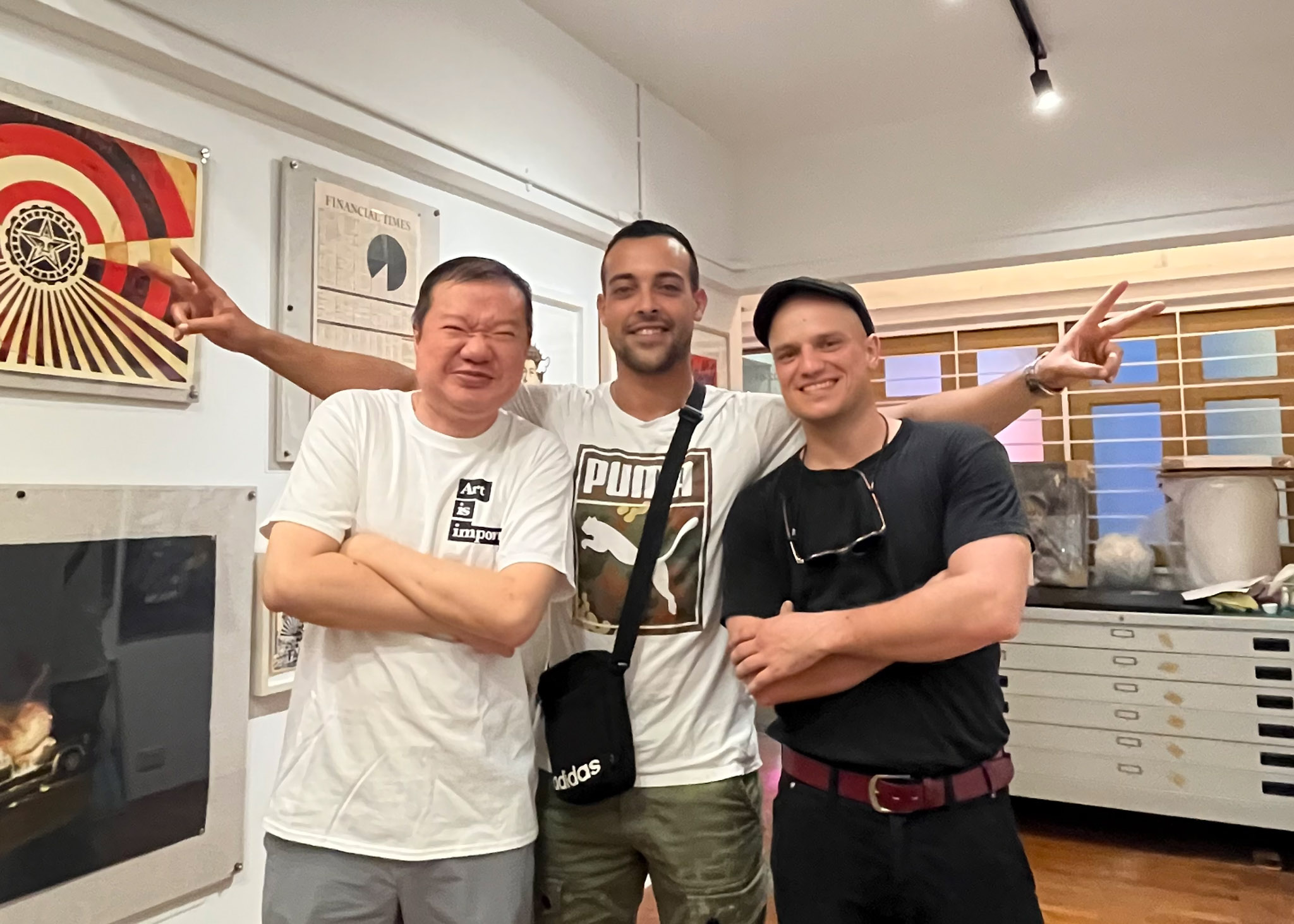 Mr Lim and his visitors from Greece forged a connection over art through their conversations in the gallery shop. Photo by Charlize Kon.
Mr Lim encourages youths in Singapore to learn more about the art scene. "It is a personal journey; you have to go into this rabbit hole. The more you are exposed to it, the more you will understand the spirit and [that] you can have that spirit too," says Mr Lim.

Whether you are a seasoned art enthusiast or are just beginning to explore the world of art appreciation, the experience at Mr Lim's Shop of Visual Treasures is one that is truly special and filled with warmth.
Check out Mr Lim's Shop of Visual Treasures Instagram and Website!