Up Your Fashion Game: 6 Ethical Style Tips
Fashion today is not just about looking good, but also about making conscious choices that contribute positively to the environment and society. SITI NADHRAH spoke to two fashion enthusiasts who revealed their top ethical fashion tips.
BY
Siti Nadhrah
Deputy Editor
Hype Issue #57
Published on
May 24, 2023
Thrifting has become more than just a pastime; it's a cultural phenomenon that has captured the hearts of many, especially Gen Zs. However, not everyone is on board with this ethical culture. Some are skeptical, while others don't know where to start.

To find out, I spoke to two influential fashion figures who shared their unique perspectives and insider tips on the exciting world of secondhand fashion. From thrifting treasure hunts to upcycling masterpieces, find out how you too can embrace the trend with confidence and creativity!
Nicole Chin, @chinchilla.vintage on TikTok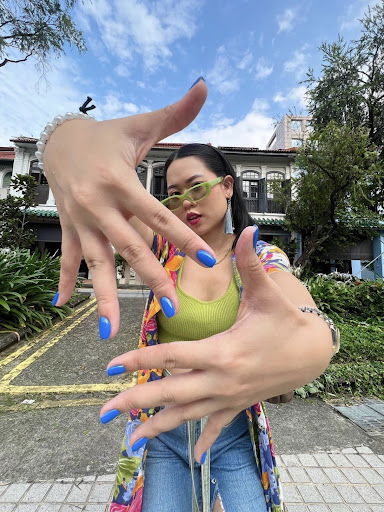 Nicole's style and creativity when it comes to sustainable fashion make her an inspiration to many. Photo by: Nicole Chin.
Meet Nicole, the sustainable fashionista with a TikTok following of over 59k. Her signature style of second-hand fashion is not just a trend for her, but a way of life that she has embraced for 14 years! Growing up, Nicole's wardrobe was filled with pre-loved clothes from her family members, which made her comfortable with wearing secondhand apparel.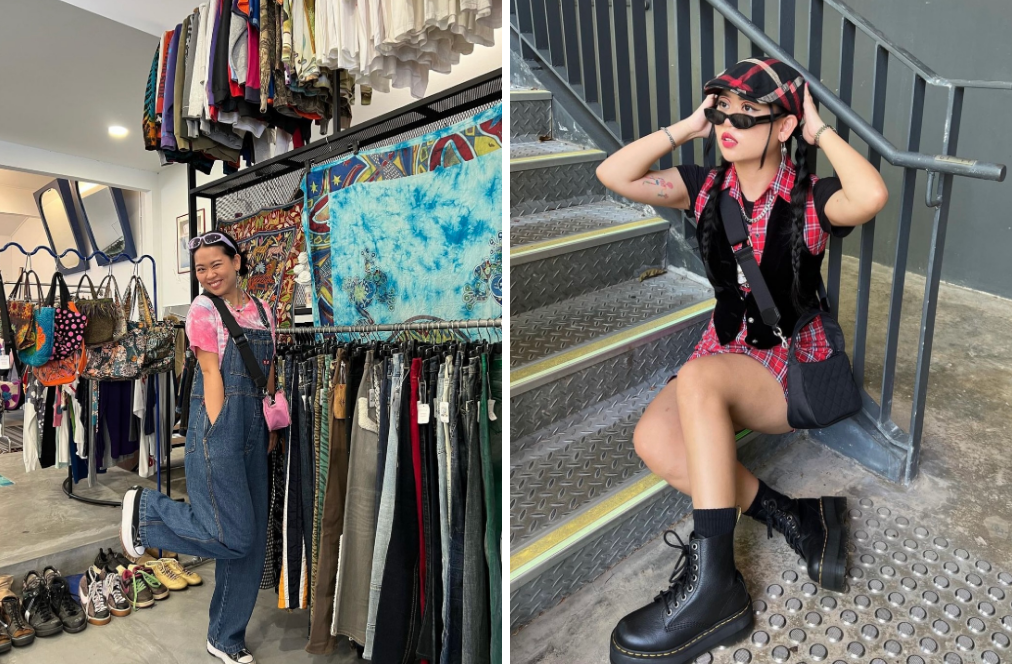 Nicole's wardrobe mainly consists of thrift store finds and hand-me-downs, which she has creatively styled into trendy and stylish outfits. Photo by: Nicole Chin.
Nicole's philosophy on fashion is centred around the idea of conscious consumption. Instead of giving in to impulse buying, she asks herself a few questions before making a purchase – Can I find a thrift version of this item? Do I need it? Am I buying it just because it's 'on-trend'? 
Unlike traditional retail stores, finding the perfect item can take time. However, it's better to wait for the next thrifting trip rather than settle for something that doesn't fit your needs!
Here are three tips from Nicole to get you started:
1. Thrift something you already like to wear
It's easier to embrace second-hand items that are similar to what you're already comfortable wearing. For instance, if you love cargo pants, try finding a thrifted pair in a different colour and slowly incorporate more second-hand pieces into your wardrobe.
2. Thrift items you've been wanting to try
Second-hand items are inexpensive, allowing you to experiment with different trends. For instance, if you've been eyeing a tiered skirt, find one for $3 and give it a try. If it doesn't work out, donate it again or pass it on to a friend. Take small steps outside your comfort zone!
3. Start small with thrifted accessories
If you're not quite ready for second-hand fashion, accessories are a great place to begin. Try searching for vintage sunglasses, necklaces or bags. Adding accessories can effortlessly elevate any outfit and tie everything together.
Nicole said, "Don't stress and have fun with it! Take time to learn about the fashion industry's impact on our planet, and you'll gain a deeper understanding of sustainable fashion."
Leah Shannon, @mizchiefmagikk on TikTok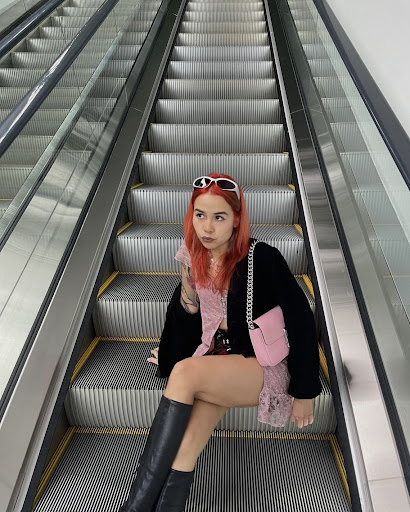 Leah's distinctive style of blurring the lines of masculinity and femininity makes her a fashion icon to many. Photo by: Leah Shannon.
Leah's journey into the world of thrifting started with her sister's introduction, revealing the exciting possibilities of this realm of fashion. While she occasionally bought second-hand items from people, it wasn't until she filmed a vlog in Johor Bahru that she started regularly shopping at thrift stores.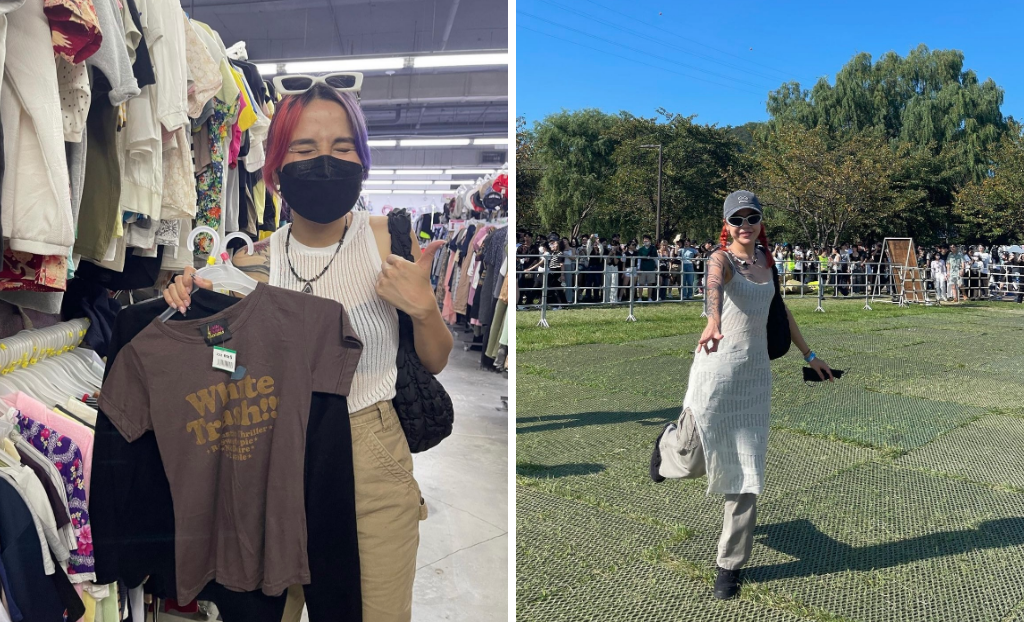 At the thrift store, Leah enjoys discovering one-of-a-kind graphic tees (left). Leah combining a thrifted pair of cargo pants with a dress to create a unique outfit (right). Photo by: Leah Shannon.
For this stylish individual, incorporating thrifted items into her wardrobe isn't about separating them from brand new pieces. Instead, she focuses on whether the thrifted item complements her outfit and adds a unique touch to her style. She appreciates the one-of-a-kind nature of thrifted pieces, which ensures that her outfits are always unique!
According to Leah, thrift shopping can reveal a treasure trove of unique finds, but size-inclusivity can sometimes be an issue. Unlike conventional retail stores that stock a variety of sizes, thrift stores may have a limited selection that does not cater to all body types.
Here's Leah's tips on how to maximise your thrift finds: 
1. Customise your thrifted finds
Transforming your pieces doesn't require any special talents, only a dash of imagination! With just a pair of scissors, you can crop a shirt or tuck it in to give it a sleeker look. You can also use belts or shoelaces to create a more form-fitting silhouette.
2. Explore new ways to wear your clothes
Repurpose your outfits by thinking outside the box. Consider wearing a skirt as a top or layering it underneath a dress for added versatility. Don't be afraid to get creative – try tying the sleeves of a long-sleeved top around your body to create a trendy tube top!
3. Invest in unique pieces
Avoid buying basic items that you could find in any retail store. Instead, look for one-of-a-kind pieces that can inspire an entire outfit, such as a vintage graphic tee or a statement bralette!
According to Leah, fully embracing the thrifting experience involves stepping out of your comfort zone and exploring different styles of second-hand shopping. It's about being open to new possibilities and discovering hidden gems that can add unique character to your wardrobe. 
Don't be afraid to mix and match, experiment with different textures and patterns, and most importantly, have fun with it! So, why not embark on your unique thrifting adventure?