Jason Chua: The Beng with a big heart.
Join ZHAO JIAMIN as she speaks with Jason about his journey as the 'Beng' who cooks.
BY
Zhao Jiamin
Publicity Manager
Hype Issue #56
Published on
April 21, 2023
The Singlish term 'Ah Beng' is stereotypically used to describe men who are intimidating, have hooligan-like behaviours, and are usually heavily tattooed. To some, being labelled as an Ah Beng comes with a negative connotation, but this self-proclaimed 'Ah Beng' has defied all odds and turned his 'Beng-ness' into a way of life.
Jason Chua, 31, who is also well-known for his comedic content on Tiktok, is the mastermind behind the aptly-named restaurant Beng Who Cooks.
While for most of his life, Jason has been labelled as an "Ah Beng", it isn't a term he shies away from. He is indifferent to the negative stereotypes of "Ah Bengs" and what others think of him. In his words, "I don't give a f*ck and I won't change people's views of Ah Bengs. They can think of me as rude if they want, I don't care."
At age 15, he had dreams of being a chef, but he put those aside while he pursued a career as a professional boxer. 
However, he realised that his ambition to be a boxer could not be fulfilled as he intended. "In Singapore, being an athlete means that you won't earn as much as desired,"  he claimed. In 2018, he decided to give up his boxing career and pursue his childhood dream of becoming a chef.
"Being an Ah Beng means one has to be brave enough to take risks," says Jason. He decided to take a leap of faith and sign a three-year lease  at Hong Lim Market and Food Centre, to launch Beng Who Cooks' inaugural outlet.
Beng Who Cooks started its operations with an experimental kitchen concept, with a menu that is switched up every three months. For those first three months, it seemed like only Jason's family and friends supported his hawker stall. There were even strangers who muttered under their breath walking past wondering how long the stall would last. After the three-month mark, strangers' orders finally started coming in.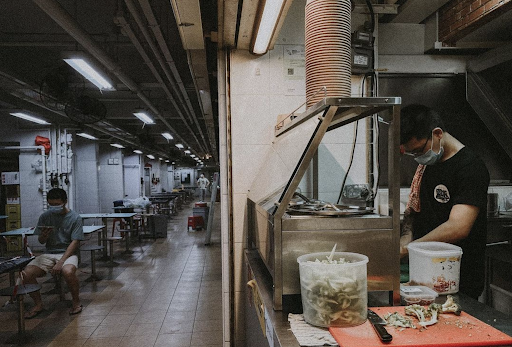 Jason Chua, preparing for the opening at his old hawker store at Hong Lim Market back in 2020. Photo By: @bengwhocooks on Instagram.
When the Covid-19 pandemic struck in 2020, business came grinding to a halt. Despite his business being severely affected, the COVID-stricken Jason launched the Beng Who Cares Foundation with his ex-business partner. This passion project came about after the duo witnessed those around them struggling with their finances during the circuit-breaker period. 
Their first project offered free food to anyone in need with no questions asked. During those tough times, anyone who struggled to put food on the table was able to get free food from Beng Who Cooks just by sending them a direct message on Instagram. Their generous efforts  led to them being recognised in the President's Volunteerism & Philanthropy Awards in October 2020.
"I'm always for the youths. Anything that is youth-centric or in any way can help troubled youths, I will do it,"  Jason says. He has since been hosting school talks and even conducting workshops to teach children how to cook.
At Beng Who Cooks, around 90% of Jason's staff are young people. He adds  that his staff have their own backstories and insecurities, and when hiring, he does not look at resumes, but rather at the fundamentals, like a willingness to work.
When asked about his upcoming plans for the foundation, Jason shared that he has plans to bring 40 or so underprivileged kids to Universal Studios Singapore.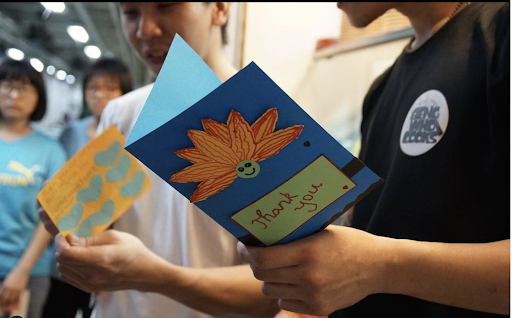 A thank you card that Jason and his business partner received at the end of a workshop they conducted with non-profit Club Rainbow. Photo By: @bengwhocooks on Instagram.
While running his hawker business, Jason started to get restless. So when his three-year lease at Hong Lim Market  ended, he wanted to take things to the next level. This led to the opening of the Beng Who Cooks restaurant at 39 Neil Road.
At the new restaurant, things were even harder on Jason and his staff; they frequently spent around 14 to 16 hours at the restaurant daily. Their non-stop hustle paid off, though, when customers started coming in.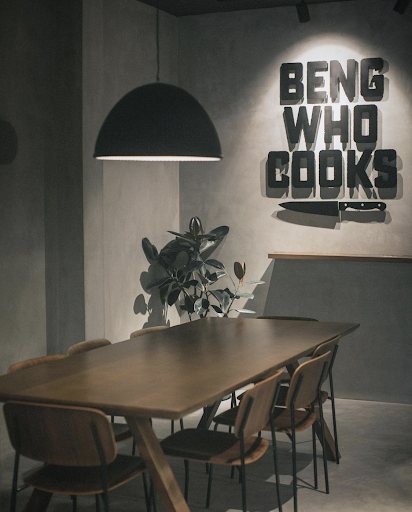 The interior of the Beng Who Cook restaurant at 39 Neil Road. 
Photo By: @bengwhocooks on Instagram.
After realising that TikTok was able to reach a wider audience than other social media platforms, Jason then decided to hop onto the app. He figured that he could show his comedic side by uploading funny content. This helped to attract more diners — there were people who came to his restaurant just to see him in person! Tiktok provided him with new opportunities, and attention that would have been difficult to attain otherwise.
"I don't see myself as an influencer. Actually, I used to hate the word 'influencer', but just by uploading videos on TikTok, my restaurant's revenue increased by around 20 per cent – 30 per cent, so I continued posting," explains Jason.
After the expiration of the contract, Beng Who Cooks at 39 Neil Road eventually closed its doors in late October 2022. Even on the last day of his restaurant's operations, Jason did not forget his passion in helping youths. 
Jason held a joint fundraiser in collaboration with two other restaurants, Kizuna and Nothing But Cheese Burger (NBCB), where $3 of every order was donated to help at-risk youth.
Despite the closure of the restaurant, Jason is still uploading content to his social media accounts, from recipes to simple lifestyle content. For those wondering if you can still try out the food from Beng Who Cooks, there's something brewing; just head over to their socials and find out!