Pearl's Hill Terrace 03-27: A Haven for Creativity, A Labour of Love
Inside a historic former police academy in Chinatown lies a young film buff's community effort to bring young creatives together. ASHLEY WONG sits down with Daryl Cheong to discover the story behind the man and his unique co-working space, 03-27.
BY
Ashley Wong
Deputy Editor
Hype Issue #56
Published on
April 25, 2023
Picture this: me in the wee hours of a Saturday morning back in January, DJing through the night at a friend's college party. Exhausted, I caught wind of a presumably relaxing way to end my night: yet another party, but one where I was promised we would be 'simply talking and Ashley could DJ for us if she wanted'. 
It was at Pearl's Hill Terrace, a historic former police academy, now better known to me as Singapore's fledgling mecca of the new creative class. A gaggle of friends from Nanyang Technological University (NTU) promised fast food, amusing conversations, but most importantly for me, a chance to finally see the unique community space where they often gathered, 03-27 in the flesh. 
K-pop music was blasting through a speaker on the studio floor. Daryl Cheong, 23, was working on something on his laptop that seemed so important, that he seemingly locked himself within an inner "glasshouse" in the studio to enter a deep focus.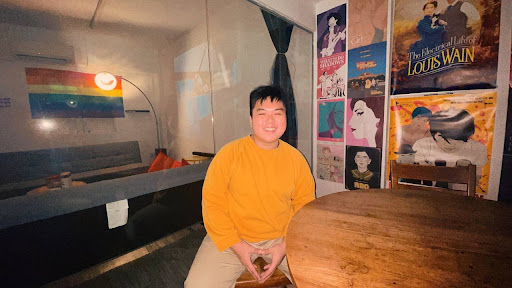 Daryl Cheong, founder of 03-27, a community haven for young creatives, located at Pearl's Hill Terrace. Photo Courtesy of Daryl Cheong.
That was the first time I'd ever met Daryl — I was struck by his presumed intensity, but the thought was quickly put to ease. He was perhaps the most effortlessly amiable guy I've met to date. The arthouse movie posters splattered on the walls of 03-27 were our conversation starter, and we chatted into the night about his greatest passion: Film. 
Who is Daryl Cheong? He'd leave an impression on anybody — currently a second-year undergraduate at NTU, Daryl is reading for a degree most might consider unorthodox: He majors in English Language with minors in Modern Languages (Thai and Tamil) and Entrepreneurship. Most notably, he's the founder of 03-27, a peaceful and inclusive sanctuary for underprivileged creatives to focus and develop their work.
Being fulfilled creatively in multiple facets of his life might just be his lifeblood. While juggling a demanding school schedule, Daryl still makes the almost two hour journey from NTU in Pioneer to Pearl's Hill Terrace in Chinatown every other day; particularly to spearhead 03-27's new community film discussion effort, Blind Boars. Daryl is also a private tutor for a wide array of subjects like English and Literature, teaching from primary school to JC levels to support himself and the space financially.
Today, I found myself climbing the storied stairs of Pearl's Hill Terrace and meeting Daryl again for a session of Blind Boars at 03-27. This area thrives as a hidden-gem hub of small businesses and freelancers who are mostly arts-based: Think tattoo studios, 35mm photo development labs, and indie fashion labels. 03-27's location in Pearl's Hill is then self-explanatory — tucked in a corner of the third floor, a nondescript hunter-green door stood still, stickered plentifully with PayNow QR Codes and curious post-it notes left by friends.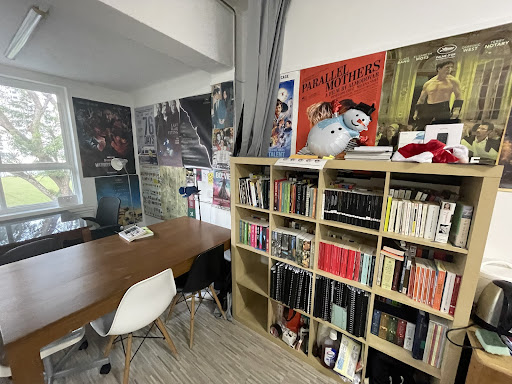 Film and literature takes centre stage in the interior of 03-27. Photo by Ashley Wong.
Stepping into 03-27 was like stepping into an artist's home. Tasteful selections of film posters and a mini-library of literature, ranging from French classics to philosophy volumes, decorated the space. Sofa-beds and bean bags invited me to lounge and ponder my next great novel idea. There was even a pantry area and refrigerator stocked with drinks and food, which Daryl kindly insisted was free game for me, or for anyone who used the space. 
The idea for 03-27 came to be when Daryl got "sick and tired of university" — it was draining his mental health, energy, and time. 
"This led to a feeling of existential nausea — if I wasn't able to get my sh*t together about my dreams, I felt like I would've lacked the time and opportunity to pursue them after graduation," he explains.
Unlike many of his peers, the resources available to Daryl were limited. "As an only child, there's only so much time I have to play around and try to navigate a career out of my passions," he says. He decided mid-way through his semester that he had to put together something that could put himself one step closer to realising his aspirations. "I was lucky to have the support of friends!"
Who mainly populates 03-27? There is a unique mix of people who use the space — mostly Daryl's friends and their friends, five of whom pay a monthly amount determined by the individuals to have unlimited access, as the space currently operates on a pay-as-you-can basis. "I even have professors interested in using the space for pre-semester meetings,"  Daryl adds. He also uses the space to host his tutoring sessions.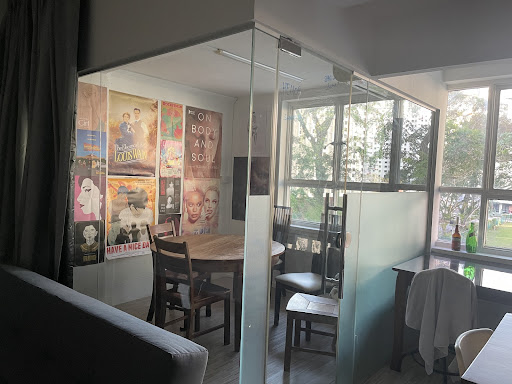 The small glass enclosure that the author dubs a "glasshouse". Tuition classes are often held here. Photo by Ashley Wong.
I asked what inspires his approach to life and business. Daryl then reminds me that the term 'inspire' suggests an "epiphany or transcendental motivation".
"I'd like to be that noble, but unfortunately, I'm still driven by realistic and necessary concerns. Since my family is not well off […] and my network is limited to go far in the industry of my dreams, I'll need to create those opportunities myself. My approach is really just guided by what needs to be done," he says.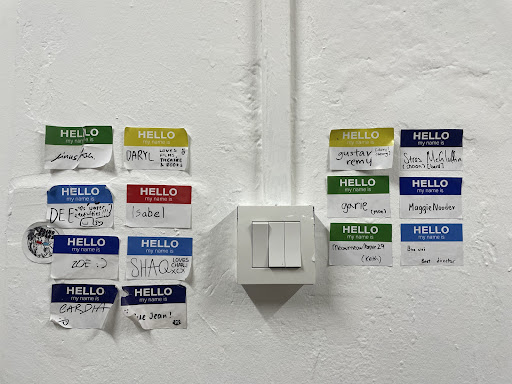 Some of Daryl's closest friends, who visit often, leave their mark on the premises. Photo by Ashley Wong.
The art of cinema is Daryl's main passion. He aspires to join the film industry after graduation. After being exposed to the Singapore International Film Festival (SGIFF) in junior college and having been given the chance to write for its youth jury criticism programme, he built upon his original love of theatre to an obsession for the silver screen. 
He remembers his original passions — first aspiring to be a teacher, then a game maker. "I loved creating worlds and stories," he says, eventually tying this common thread to storytelling in film. 
"After being exposed to theatre and film, that was when I thought, this is a very fun thing to do," he says, reminiscing on his childhood memories of watching TV dramas from TVB, the legendary Hong Kong television broadcasting company. 
This is why 03-27's new focus has been sculpted towards film and a wider appreciation of the art form. "To keep me focused on this hope of a community space, I recently started the Blind Boars programme to help promote discussions on film and eventually, other art forms. Conversations about art is what 03-27 could be!", he elaborates.
I asked for his thoughts on the Pearl's Hill community increasingly being occupied by creative types. "I too assumed that I would be in an arts enclave, but it turns out that it isn't!" He shares the floor with accountants and small businesses, where everyone is decidedly friendly. 
"I've made friends with the entire row here, and they know that it's a struggle to open arts-related businesses," he explains.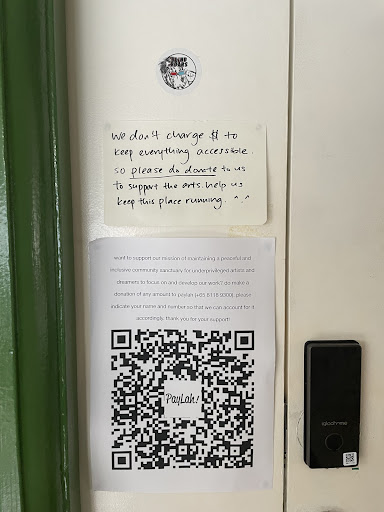 Pay-as-you-wish stickers surround the door of 03-27. Photo by Ashley Wong.
He shares the struggles he faces with 03-27. Adopting a pay-as-you-can system where a majority of its users are students, Daryl says, "I don't think the space gives me money — the whole thing is an investment. If it inspires something in people, it's more than enough for me. I don't expect to make money." He pays off rent mainly with his income from tuition teaching.
"I recognise that this is entirely dependent on the integrity of the people around me, but I think it's much better to germinate faith and trust in people," he says.
"Any one of us who dreams of creating knows that the process can be isolating, lonely and demoralising. It is my hope that with a community space, aspiring artists can find comfort in creating work together — to know that the arduous process they embark on need not be one that they take alone!" 
03-27
195 Pearl's Hill Terrace
#03-27
Singapore 168976
Open 24/7
Contact @blindboars on Instagram for more information
.