Revisiting Haw Par Villa: the world's most unique theme park 10 years later.
The iconic Haw Par Villa has long been one of Singapore's most eccentric attractions, but the Chinese mythology theme park's popularity has dwindled over the years. CELEST TEO revisits the landmark to explore how it has changed.
BY
Celest Teo
Editor-in-Chief
Hype Issue #56
Published on
April 24, 2023
Anthropomorphic animal statues, graphic sculptures depicting death and torture, and a hell-themed museum. These aren't descriptions of a horror movie — in fact — they're just some of the interesting sights you will spot in one of Singapore's most iconic, but perhaps forgotten attractions: Haw Par Villa.
The name Haw Par Villa may bring back vivid memories for some. The eccentric theme park, which was opened by the founders of Tiger Balm back in 1937, is widely known as a spot where parents would take their children to scare them into obedience and filial piety. Tiger Balm is widely recognised as the world's leading analgesic heat rub, with many associating the famous brand with Haw Par Villa.
I have vibrant flashbacks of visiting the iconic Haw Par Villa in my childhood. Back then, the colourful walkways of the park were filled with visitors of all ages admiring and gaping at the bold statuettes that adorned the eight-and-a-half hectare space. Now, its pathways are significantly less busy, with thin layers of dirt coating the statues.
The most exciting part of Haw Par Villa that still lingers in my mind, even after a decade, is the intriguing 10 Courts of Hell exhibit, a tunnel-shaped museum containing graphic dioramas of humans undergoing various forms of torture, as a punishment for their sins committed on earth. Different sins had different punishments: wasting food meant sinners had their bodies sawed into two, while cheating during examinations led to having one's intestines and organs being pulled out. 
There's an irony in the fact that the theme park has been largely catered towards families and children — the uncanny, frightening appearances of the statues and graphic nature of their main exhibition might be deemed too disturbing for the young and perhaps, even for some adults. 
I decided to revisit the unorthodox Singaporean theme park that invigorated many with its quirky yet haunting attractions to see how it had changed over the years shortly after its 2022 revamp.
Haw Par Villa now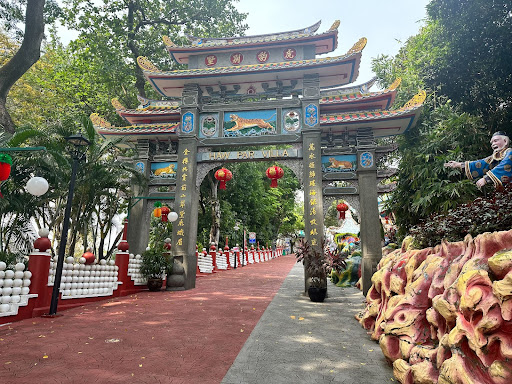 The grand entrance of Haw Par Villa used to wow me back when I was a child, and even now, it still managed to invoke a sense of wonder. Photo by Celest Teo.
Stepping back into the sprawling walkways of Haw Par Villa some ten years since my last visit was exciting. The grand gate adorning the entrance was exactly as I had remembered it — the huge pagoda-shaped entryway donned majestic sculptures of tigers while Confucian-themed statuettes decorated its sides. The very spectacle of the entrance still lets passers-by know that Haw Par Villa isn't just any regular park. 
Walking deeper into Haw Par Villa exposed me to rows of walkways studded with statues, while tinny traditional Chinese music played over speakers. Despite it being peak visiting hours for most other tourist attractions on a Sunday afternoon, the park was relatively empty, with only a handful of individuals and families scattered around. 
I spent a good amount of time wandering around the grounds of this seemingly forgotten theme park, taking in the elaborate sculptures depicting tales etched in Chinese folklore and mythology.
Aside from the famous statues that Haw Par Villa is known for, the space contains mini pagoda replicas and lakes, furnishing the park with even more vibrancy. There were also spots where visitors could purchase small goods like bubble blowers and fish food. Unlike theme parks that vigilantly look out for customers that do not pay for their items, Haw Par Villa adopts an honour system for payment — visitors are to drop the specified amount of money into an 'Honesty Box', with nothing but their own conscience to stop them from copping free items, perhaps a tongue-in-cheek reminder to what happens to dishonest people in hell.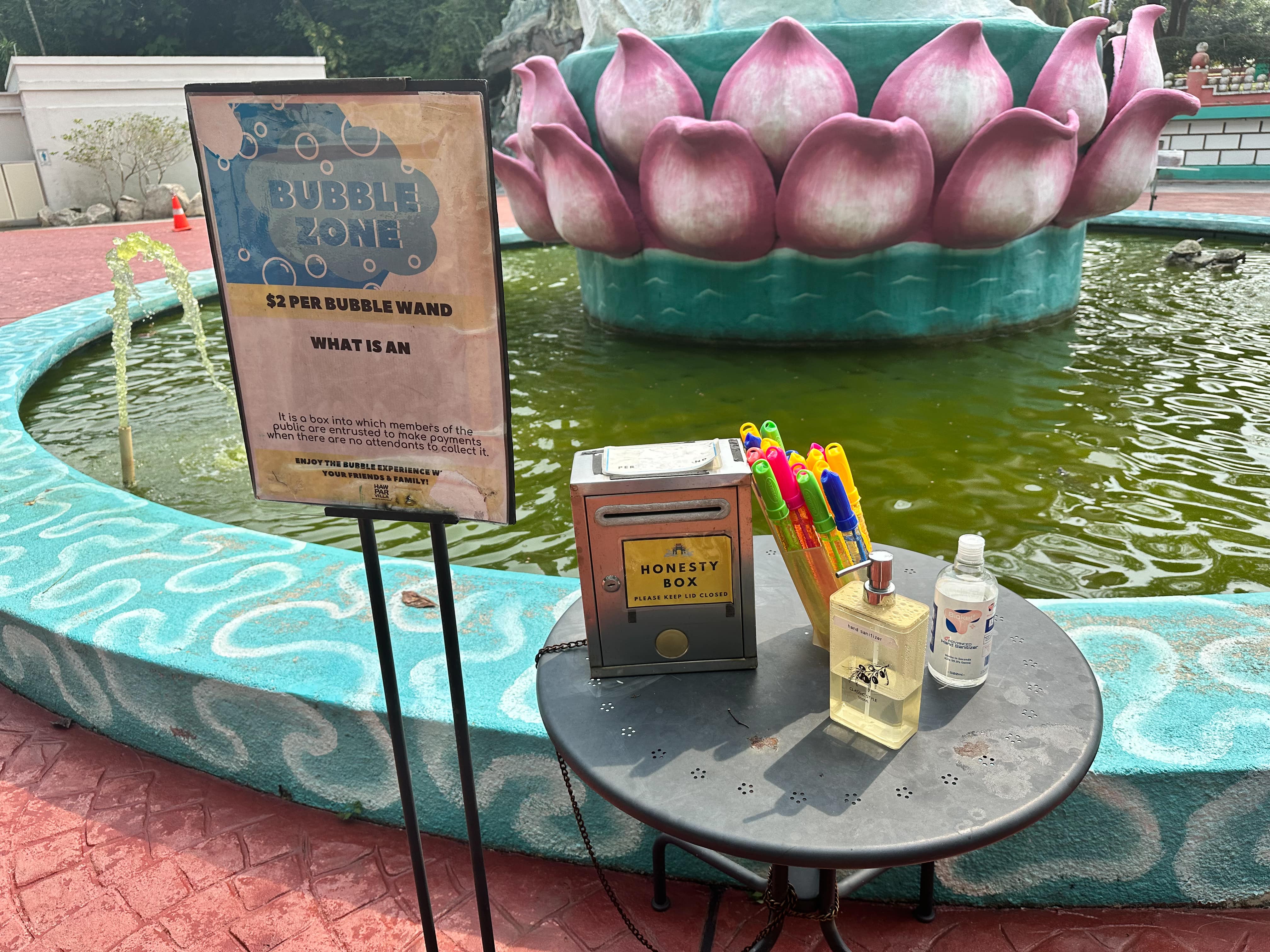 A handful of 'Honesty Boxes' were scattered throughout the park, where visitors are expected to pay for items on their own accord without being monitored. Photo by Celest Teo.
Despite the novelty and entertainment I got from walking around the space, I could not ignore the fact that the park was strikingly emptier than it had been all those years ago when I first paid a visit.
The most notable change is that the famed 10 Courts of Hell exhibition has now been paywalled and merged into a new attraction, Hell's Museum. For $18, visitors of Hell's Museum will get to explore the death-themed exhibition, depicting different belief systems around the world when it comes to death and dying. This also means that non-paying visitors will no longer be able to feast their eyes on the famous Courts of Hell dioramas that scarred many young children back in the day into being strait-laced goody-two-shoes.
While I was eager to properly explore the ins and outs of the new Haw Par Villa and revisit some childhood memories, the $18 entrance fee was enough to turn me away temporarily. Unfortunately, my wallet decided that it wasn't the day to pay a visit to Hell. 
As I wandered the grounds of the park, I approached fellow visitors to find out more about their experiences and why they chose to spend their weekend at Haw Par Villa.
Laakha, a 23-year-old visitor, lives near Haw Par Villa, but had never checked out the park before. She says: "Haw Par Villa is very different from a lot of attractions in Singapore because there are so many colours and sculptures."
Ruby Ha, 37, a tourist from the United States, visited Haw Par Villa with her husband and baby. She cites the famous Tiger Balm name as the reason for her visit. "I think the park is very unique, but I wouldn't say it's attractive to visit. A little more upkeep is needed."
Finally, I spoke to Karen, a young woman in her twenties who had visited Haw Par Villa with a group of friends. They had initially planned to go shopping, but decided to check out the park after walking past it.
Karen believes the lack of publicity and marketing efforts in making Haw Par Villa a well-known spot might be its hubris. "Even for Singaporeans, I think we all don't know about this place, it's not attractive enough for us to come often as compared to other attractions that are offered in Singapore."
Karen's statement certainly piqued my interest as I thought about Haw Par Villa's diminishing significance in Singapore's entertainment landscape. With many of my peers electing to spend their time in shopping malls or other more commercialised attractions, I could not deny the fact that Haw Par Villa's glory days are firmly behind it.
Should children be encouraged to visit Haw Par Villa?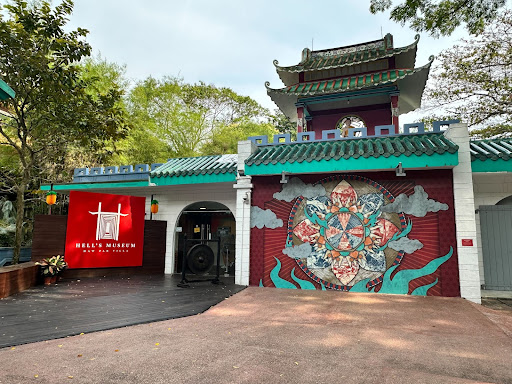 The new Hell's Museum contains the infamous 10 Courts of Hell exhibition that has 'traumatised' many generations of children. Photo by Celest Teo.
The bulk of the buzz around Haw Par Villa revolves around the fact that it is a popular spot for parents to bring their young children to in hopes of scaring them into obedience. However, the ethics of this are questionable, as kids are subjected to explicit recreations of violence and death. I can still remember being exposed to graphic statues of beheaded, bleeding men outside the 10 Courts of Hell. Even if you chose not to enter the exhibition space, it was difficult to avoid uncomfortable and startling dioramas all around the park.
Eugene Chua, 22, a full-time National Serviceman (NSF), reflects on his own experience visiting Haw Par Villa as a child in 2007. 
"I remember seeing various people being tortured in ways like being boiled alive, having their tongues cut out, being impaled and skinned. I was told that they were sinners. My parents told me that if I did anything bad I would go to hell and suffer for all eternity." 
Eugene reminisces on the intense fear that he felt after the visit, adding: "I cried because I thought my entire family was gonna be tortured in the depths of hell after we die. 
I prayed for a long life so we could delay penance and I prayed for God to be merciful to us and promised to be a better person." 
As the 10 Courts of Hell exhibition is now paywalled and the statues in the public outdoor area are significantly less frightening, it might now be less 'traumatic' for young ones to visit. Even so, Haw Par Villa is still not a spot that many children would be interested in visiting in this modern age.
Karen also gives her take on Haw Par Villa's lack of appeal towards children, saying: "The statues may seem a little scary to kids and the information isn't very kid-friendly. I don't think kids will be able to comprehend what they are reading."
What does the future of Haw Par Villa look like?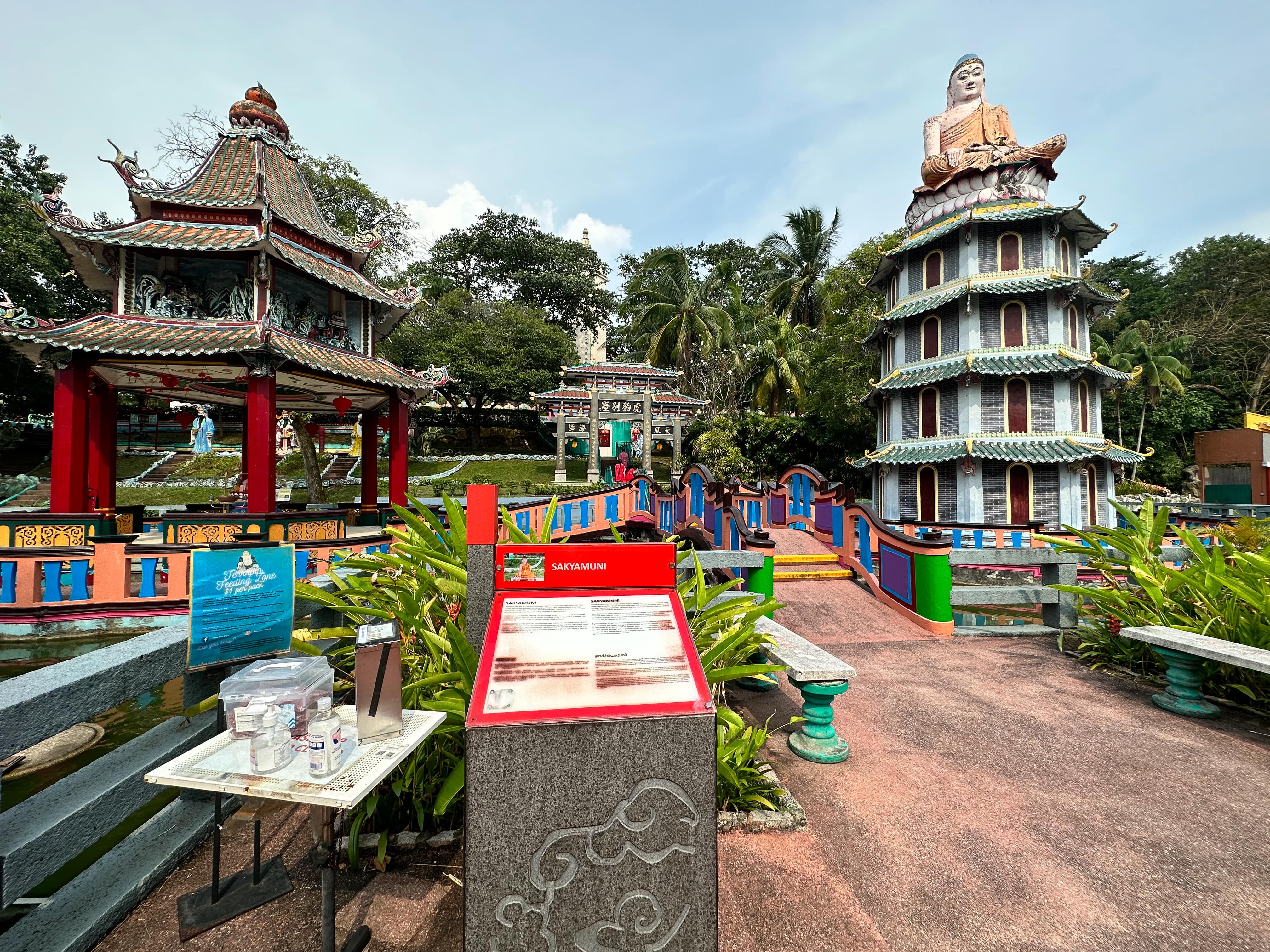 Haw Par Villa has changed lots over the years. What will the future of this theme park be? Photo by Celest Teo.
With the growth in commercialised attractions such as Universal Studios Singapore and Gardens by the Bay, Haw Par Villa's significance as an entertainment spot has undeniably diminished. Back in 1984, it was voted as one of the top three most popular attractions in Singapore. Today, some Singaporeans do not even know of its existence. 
For a period of time, the park also operated on a loss, being unable to break even for many years back in the 1980s. The park had even incurred losses of $31.5 million dollars by 1998.
Haw Par Villa has undergone multiple admission fee changes and renovations since its initial opening in 1937, with the most recent being a nine month-long revamp from 2020 to 2021. 
However, even after the revamp, Haw Par Villa's popularity is still nowhere near where it was back in its glory days. 
Laahka says: "it's the kind of place that you visit once and then you don't really want to come back because it's going to be the same." 
The future of one of the world's most unique theme parks is uncertain, given its dwindling success and struggles to regain the interest of modern day Singaporeans. Despite being an important and historical reflection of Singapore's culture, it is hard to determine whether the park will be able to thrive and maintain a reasonable profit margin as time progresses.
Personally, though I myself have not visited Haw Par Villa in years and can't call myself an avid supporter of the park, I've always found it fascinating how one of the world's most interesting theme parks was located right here in Singapore. I love Haw Par Villa and its unique, whimsical nature, and the thought of it shutting down is one that I personally cannot fathom.
Regarding the importance of Haw Par Villa and its importance to Singapore, Eugene says: "I do think that it is culturally significant to a sect of beliefs and it does offer some philosophical introspection to it as well."