No Ragrets? It's time to ease your regrets.
Some tattoos are only Skin-Deep. Mistakes have been made, now it's time to undo them. For those who regret getting a tattoo, there are now multiple options for covering them up without having to go through painful laser sessions.
Follow ZHAO JIAMIN on the journey of concealing regrettable tattoos.
BY
Zhao Jiamin
Publicity Manager
Hype Issue #56
Published on
April 21, 2023
People cover up tattoos for many reasons: a tragic end to a love story, a poorly done piece of art, or a faded old tattoo. Some may choose to temporarily cover them with concealers, but that process might be time-consuming, and you'll have to find the perfect concealer with full coverage and in a shade that matches your skin tone. A more permanent alternative is to get a tattoo cover-up instead.
An iconic scene from We're the Millers where Scotty P. shows off his tattoo. Photo taken from We're the Millers.
A tattoo cover-up is a process of covering or reinventing your unwanted tattoos into new, attractive pieces. 
Most tattoos are coverable, depending on their size and placement. With that being said there are also tattoos that are harder to cover, so to avoid disappointment it is advisable that you go for a tattoo consultation before deciding on the design. 
There are many types of cover-up tattoos: complete coverage, creative reinvention, and blast overs.
Complete coverage refers to tattoos that provide coverage over your older tattoo. They are larger pieces meant to cover the tattoo underneath.  
Creative reinventions, on the other hand, allow you to reinvent your tattoo by incorporating its elements into a new, different piece.
Finally, Blast overs are just new pieces tattooed above the older tattoo, and are not meant to provide coverage. 
Now you might be thinking: "Should I laser it off or not?" Different people have different preferences: some may wish to have it lasered off, while others prefer to live without the scars. This is something that you should discuss with your tattoo artist, who will be able to advise you further.
Finding a reputable artist
After deciding to get a cover-up tattoo, you may be perplexed as to which artist to choose. Many people will go on Instagram and look at the works of different artists, as well as their specialisations and reviews before making a decision. 
When you have made up your mind on which style of cover-up tattoo you want to go for, it's important to keep in mind whether the artist's style fits your desired vibe. An artist specialising in the traditional Japanese style wouldn't be the best fit for your anime tattoo, for example.
Reviews are definitely your best friend; you'll be able to know the experience others have had with the artist and get a general overview of what the process will be like. 
If you're looking to go the cover-up way, it's very important to engage an artist who specialises in cover-ups, as they have experience dealing with covering tattoos of different sizes and will definitely be able to find the best solution for your cover-ups.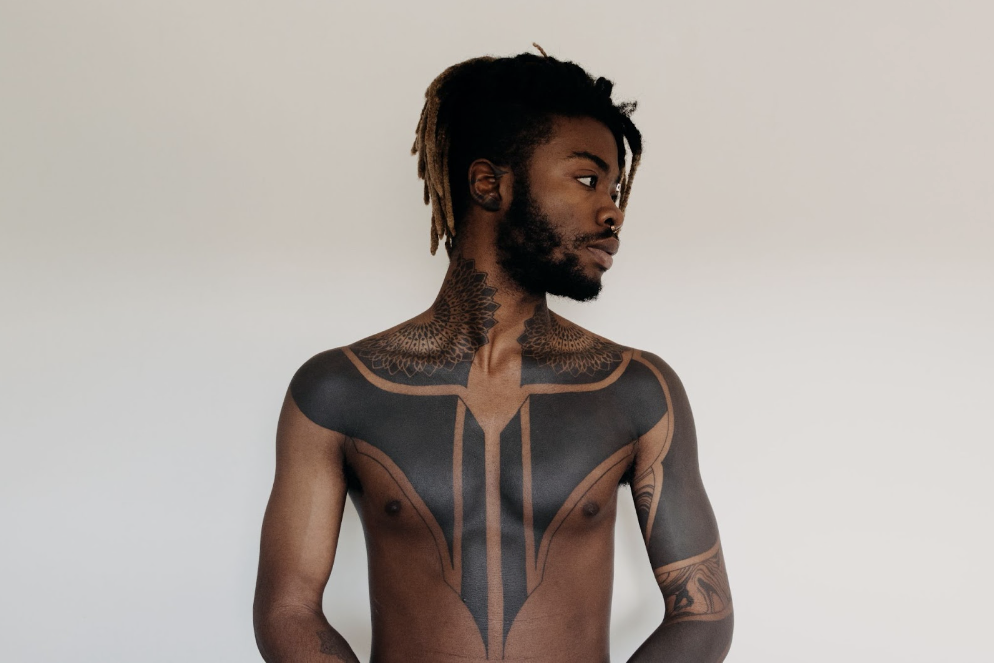 A black-out tattoo piece designed and done by Simon Teigeiro. Photo taken from Unsplash.
Designing your tattoo
There are certain limitations when it comes to designing a piece for cover-ups. You have to ensure that the tattoo not only covers the ink beneath,  but also flows well with your body. You will also have to keep in mind that if you decide to go for a coloured tattoo as your cover-up, you will have to go with darker colours in order to get better coverage.
Black-out tattoos are one of the popular tattoo styles that people go for when covering up a tattoo. A black-out tattoo is when a large portion of your body is fully filled in with solid black ink, effectively covering your old tattoos.
Agatha (not her real name) got a tattoo in early 2019 from an artist that was new to the field; she got one off her flash sheet, which is a selection of pre-made designs. They are usually cheaper than a custom tattoo.
"Back then, I wanted something cheap and cute. [The tattoo artist] was clearing tattoos off her flash at a lower cost, and I felt that I just had to get something done from her, so I went ahead and got emojis tatted on my ankle."
She had no idea the tattoo would later smudge into an unrecognisable shape. Agatha deeply regretted her choice and decided to reach out to a different tattoo artist for help. 
After a consultation, she was presented with two solutions: As the tattoo was relatively small, she could choose to have it completely covered by a bigger piece, or to simply merge it with a newer piece. She chose the former and booked a session with the artist.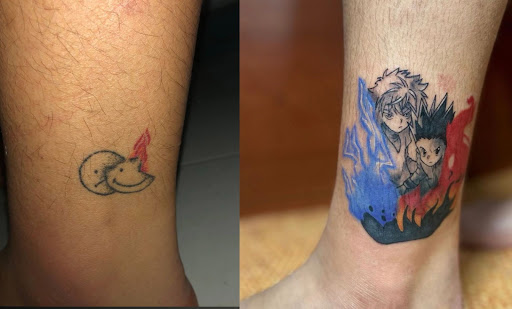 Agatha's complete coverage, cover up tattoo. Photo courtesy of Agatha.
"This is a mistake that could've been avoided if I [had just gone] to a more reputable artist in the beginning instead of the cheaper option. It's definitely an expensive lesson learned, but I'm really happy with the current cover-up I have now."
With technology, everything is possible. Long gone are the days when you had to live with a skin full of regrets. 
If you no longer fancy your tattoo, just cover it up!