The Busker with Big Dreams: Meet Singapore's Youngest Musical Sensation
At the tender age of nine, musical prodigy Lyla Ng has made her mark on Singapore's busking scene. CHLOE WONG chats with the young talent to find out how she made a name for herself.
BY
Chloe Wong
Publicity Manager
Hype Issue #56
Published on
March 21, 2023
Most pre-teens today would be indifferent upon hearing the band name 'Guns N' Roses'. But for the pioneers who have lived through the age of iconic rock, Lyla Ng's jamming session with the drummer of Guns N' Roses in November 2022 is an opportunity they could only dream of. This is just one of the various experiences that has given the nine year old a foot in the music industry.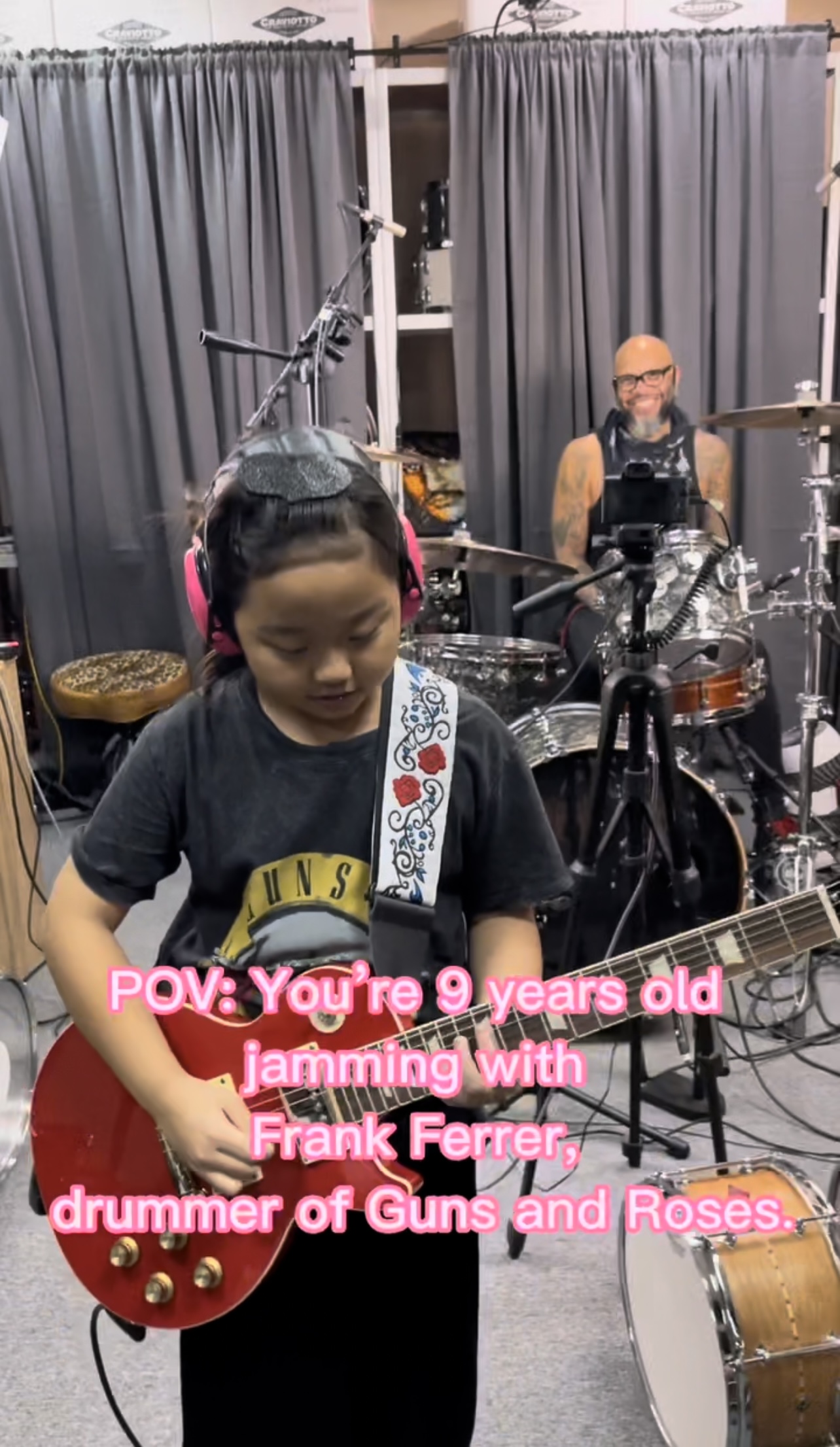 Lyla met and jammed with Frank Ferrer, the drummer of Guns N' Roses, in 2022. Photo courtesy of Eric Ng.
Lyla embarked on the first step of her musical journey with learning the piano at the tender age of five. She subsequently picked up drumming and singing at six, followed by the guitar and songwriting at seven. Three years later, she has added the keyboard, bass, and ukulele to the list.
Her father, Eric Ng, 48, is no stranger to the local music industry. Throughout a career in music that has spanned 25 years so far, he became a chart-topping songwriter and music producer working with the likes of artistes such as A*Mei, Sandy Lam, Tanya Chua, Sungmin from Super Junior (Korea) and more. He is also the founder of Funkie Monkies Music, a music publishing/production/talent management company, and The Songwriter Music College, a college that offers diplomas to singer-songwriters and music producers.
"I got inspired when I saw my father perform with Wakin Chau (veteran Hong Kong-born Taiwanese singer), and I would watch his videos everyday after that," Lyla says. As seeing other people perform always captivated Lyla, it naturally sparked her interest in music and pushed her to master different instruments.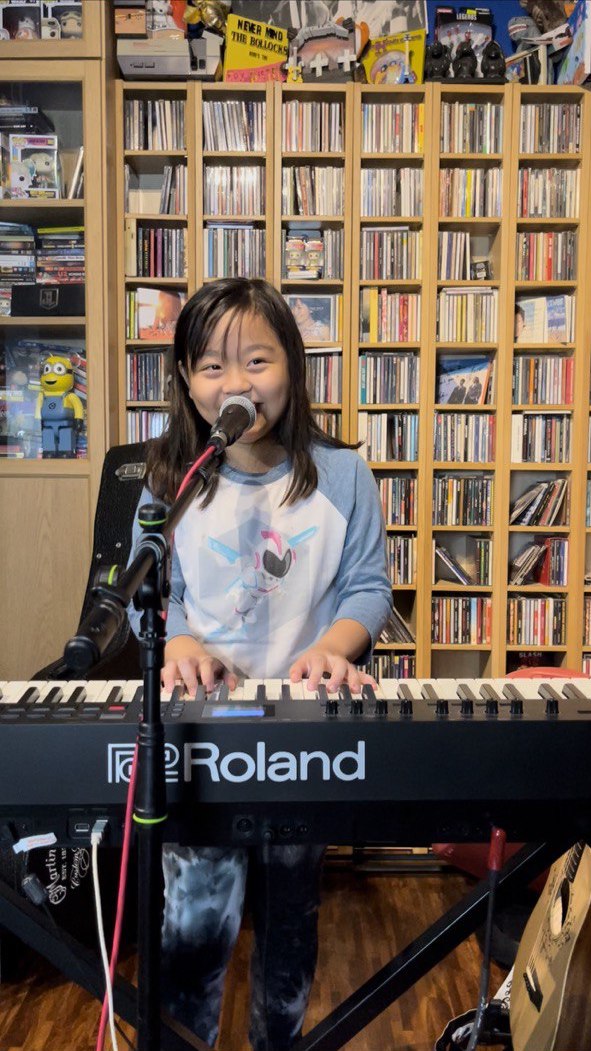 Lyla continued to pick up different instruments as she progressed in music. Photo courtesy of Eric Ng.
While Lyla might have caught the music-loving bug from her father, Mr Ng initially did not expect her to follow in his footsteps. It came as a pleasant surprise when she expressed her interest in music — he supported Lyla as she ventured into playing different instruments.
He describes the initial stages of teaching Lyla as "sometimes frustrating" as there was a lot of trial and error involved. But with the help of the teachers in his music school, he gradually took up the role of being her guide rather than her teacher.
"Parents are not always the best teachers to teach their children certain topics," Mr Ng says.
As Lyla has progressed in her musical pursuits, her parents have been actively growing her online presence by managing her Instagram and TikTok accounts. They often post her song covers and live performances, showcasing her remarkable talents at a young age to a greater audience.
Within just five years of playing music, Lyla has written four songs. She composed her most recent song, 'Skate All Day', in 2021, about her skateboarding hobby. Lyla dedicates authentic and heartfelt songs to her family, friends, and even to meaningful causes like International Women's Day — the inspiration behind 'GIRLS!'.
Fast forward to November 2022, Lyla attained her busking licence and became Singapore's youngest busker. She began busking on the streets of Orchard Road, drawing in passers-by eager to sneak a peek at the young talent, with her euphonic voice and melodic command of her instruments.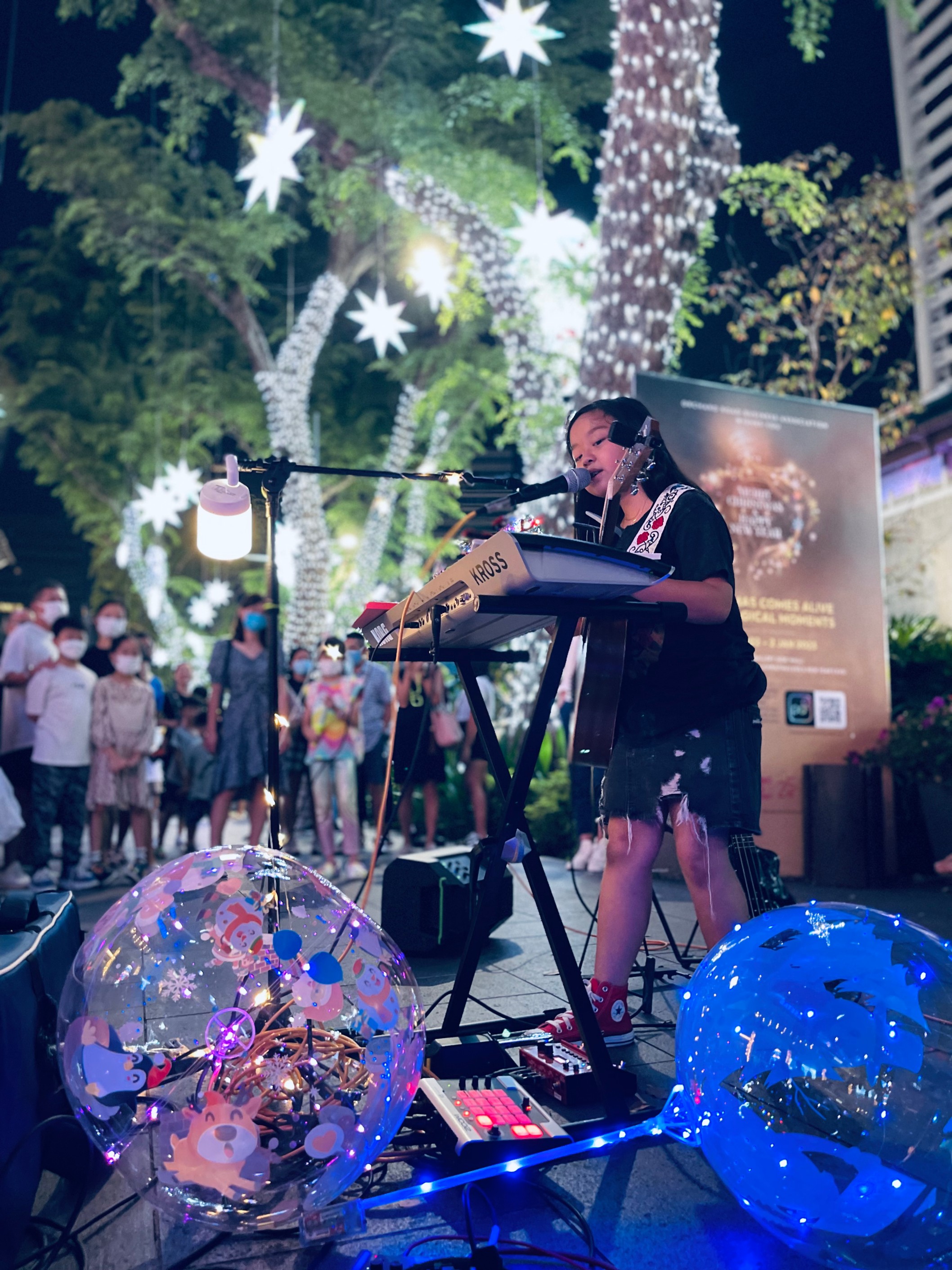 Anyone who comes down to watch Lyla will be able to sense her unmatched energy from a mile away. Photo courtesy of Eric Ng.
When asked about how she feels performing in front of an audience, Lyla says: "I was a bit nervous at first because there were many strangers that I didn't know, but after a while I got used to it."
She recalls many friends and family members showing up to support her during her first busking performance, which significantly helped to calm her nerves. As her videos started to go viral on social media, her talent reached the eyes of Ms Low Yen Ling, the Minister of State for Culture, Community and Youth and Minister of State for Trade and Industry, who also gave her a special visit on this occasion.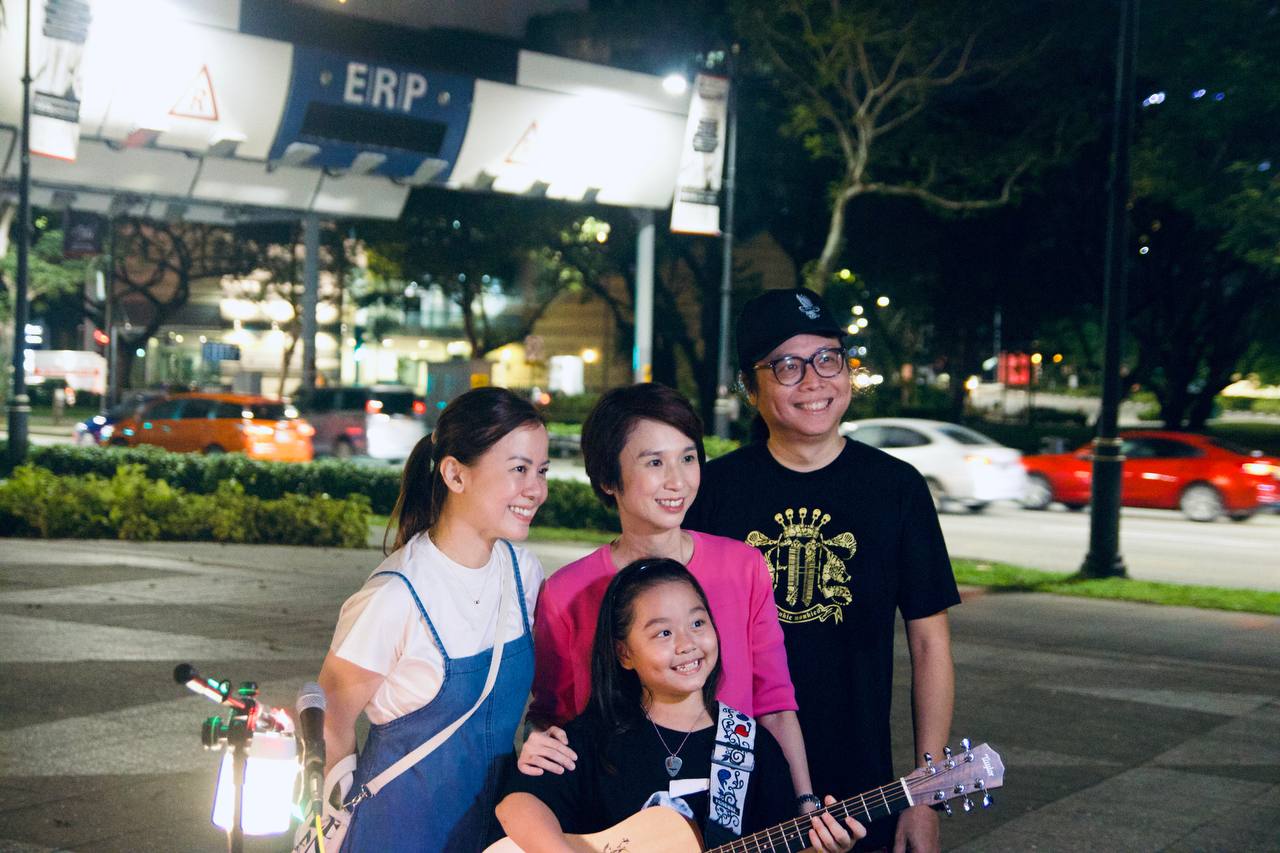 Ms Low Yen Ling (middle) with Lyla and her parents during her first busking performance. Photo courtesy of Eric Ng.
Lyla performs a variety of song genres when she busks, from pop to alternative rock to Chinese Pop. Her usual setlist includes mainstream hits like 'Shake It Off' by Taylor Swift and 'bad guy' by Billie Eilish, two tracks that always get the audience singing along.
Just two months after her busking debut, Lyla turned into a local sensation. On top of the large crowds she attracts on a regular basis, she has garnered more than 7,800 followers on TikTok and 670,500 views on her most-watched video up till today.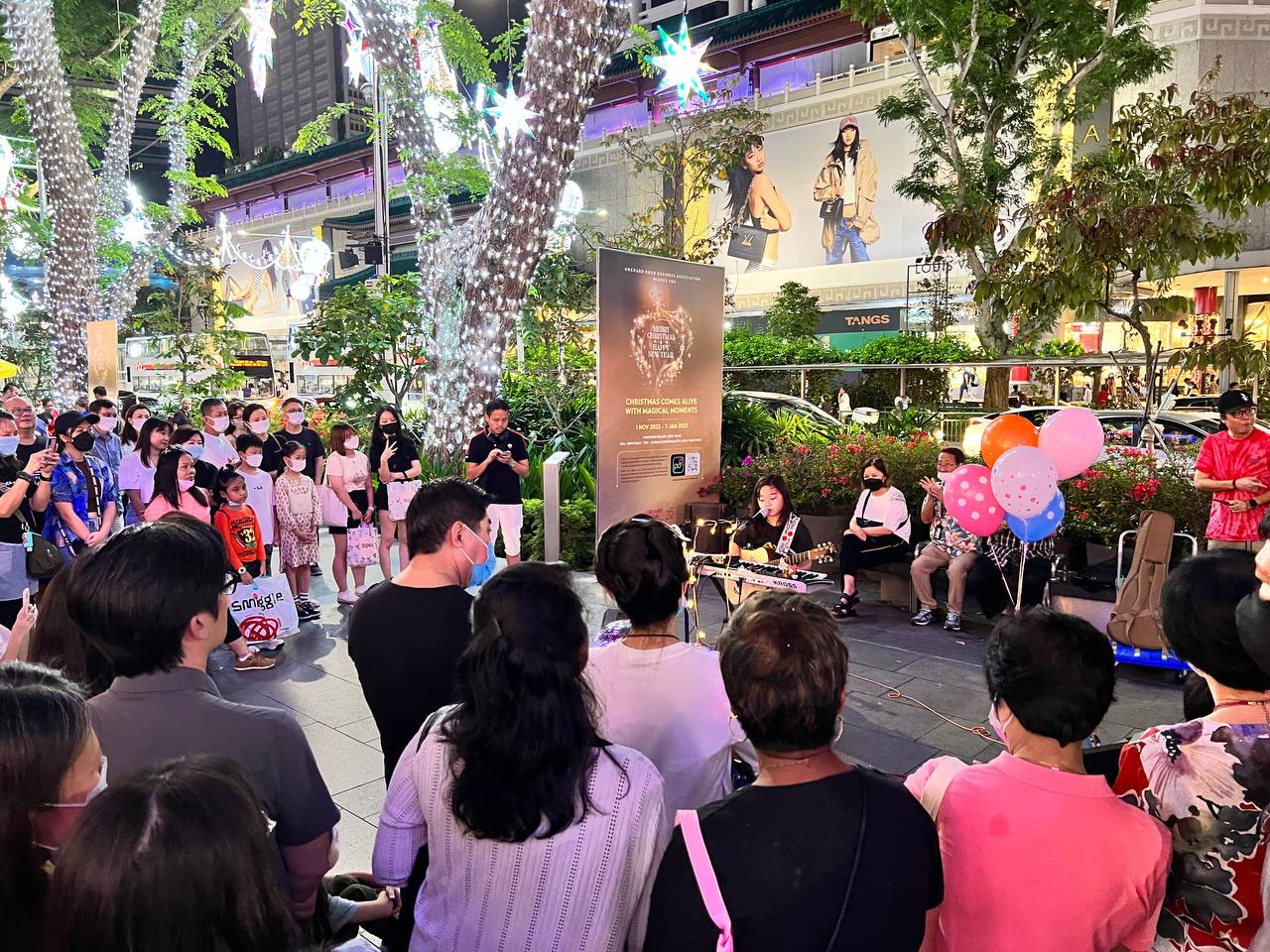 Lyla routinely busks in the town area, where passers-by always stop in their tracks to watch her perform. Photo courtesy of Eric Ng.
Lyla shares that taking up music and busking has helped her in different aspects of her life. Apart from building the confidence to perform in front of an audience, she has also improved in her command of Chinese and English languages.
Likewise, her father taps on her passion to teach her important life lessons. "There are a lot of life skills involved in performing: being nice to people, performing to strangers, and how to react in different situations," says Mr Ng.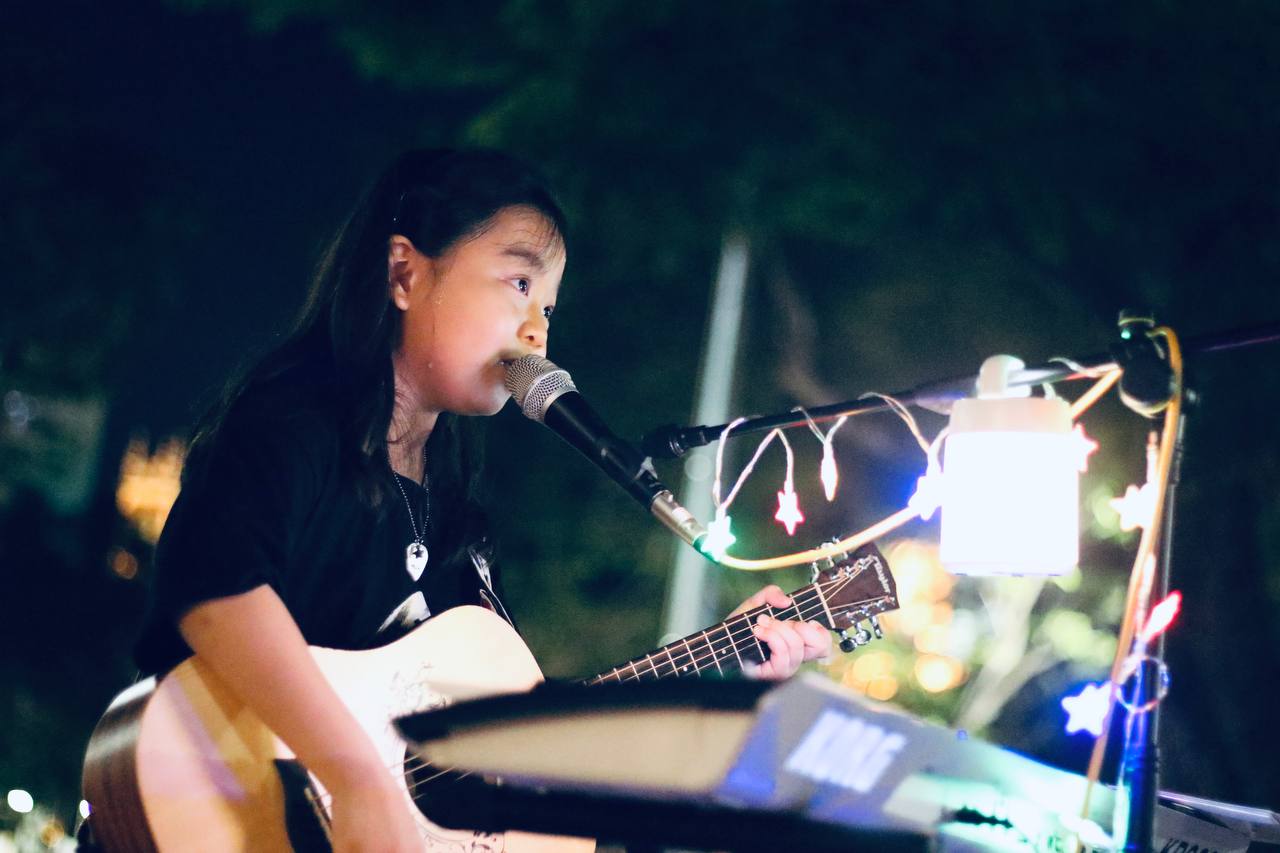 After just three months of busking, the nine-year-old no longer fears performing in front of large crowds. Photo courtesy of Eric Ng.
When it comes to guiding Lyla, Mr Ng emphasises the fact that he gives her a choice. "I always tell her there's a difference between being good and great, there's a difference between ordinary and extraordinary. But the word 'extra' means that you have to make an extra effort compared to other people," he says.
He also tells Lyla that if she just wants to be a hobbyist musician playing casually, at her level, she is already good enough without practice — the choice is hers.
Mr Ng strongly believes that passion has to come from children instead of their parents. There are instances where the parents of his students at The Songwriter Music College are more interested in music than their children. He advises other parents not to impose expectations on their children to like the same things they do.
In addition, he attributes a majority of the process to teamwork. He says it's not just about "throwing your kid into some class and then hoping for the best". If a child really seeks to improve, it has to be through teamwork and support between the child, parent, and teacher.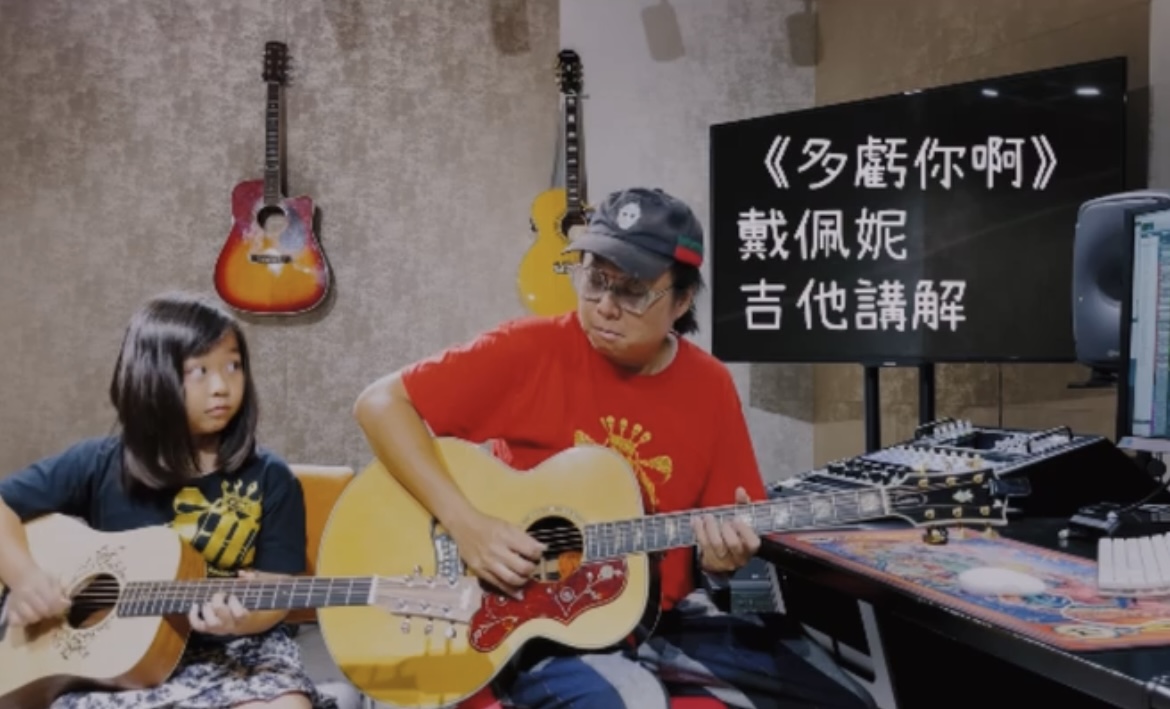 Mr Ng consistently practises and plays music together with Lyla. Screenshot taken from Eric Ng's Instagram.
As of now, Lyla has plans to continue performing and possibly pursue a career in the music industry. "I don't know how long I'll be doing it, but I'll do it for as long as I want and I can," she says.
Mr Ng expresses his full support for his daughter should she choose to continue down this path. While the music industry isn't the most predictable, he recognises that it can be a very rewarding experience once you find a position in the industry. 
In Lyla's words: "If you want to do something, just do it. You have nothing to be scared of because I'm sure there's somebody out there who will support you."
Follow Lyla on Instagram for more updates on her busking schedule.