From Fans, With Love: Why K-pop Fans Make and Collect Fan Support
'Fan support' is a longstanding part of K-pop culture, and many K-pop fans make a whole day out of redeeming fan-made merchandise given out at concerts and fan events. As a newbie to K-pop, GWENNETH TEO heads down to two concerts to find out what the buzz is all about.
BY
Gwenneth Teo
Editorial Admin Manager
Hype Issue #56
Published on
March 1, 2023
Even before I got into K-pop, I often listened to my friends talk about the K-pop concerts they were soon attending. They weren't talking about the shows in particular, but instead about collecting free fan support — various fan-made items that feature members of a certain K-pop group, often given out by fans to other fans at concert venues or cafes. It sounded like an exciting hive of activity that any fan could partake in. But I wondered, even after becoming a K-pop fan myself, why do fans willingly give out the items they made for free?
An opportunity presented itself for me to find out: Two of my favourite K-pop groups, ITZY and Stray Kids, were going to perform in Singapore. Given that these two acts were among the first few K-pop concerts in Singapore post-pandemic, I was excited to finally take part in a large social gathering and witness the hype for myself.
I found myself at The Star Vista for ITZY's concert on a cold Saturday afternoon in late-January, weaving among throngs of people donning official merchandise. Many were holding on to various items like banners, headbands, and fans, each of which depicted an individual member from the K-pop quintet. All these are fan-made merchandise, also known as fan support. Passionate fans make and distribute these tokens either for free or at a low price.
Fan support creators situate themselves around the concert venue and regularly send updates about their locations on Twitter or Instagram so interested fans can find them. 
While some creators require fans to show their tickets to redeem their product, some give them out without qualms, like 19-year-old Marsya. At The Star Vista, she was giving out free photostrips and photocards of Yuna and Yeji, members of the group. While she has given out items at fan events in cafes before, this was her first rodeo doing fan support at a concert.
Marsya prefers to give out her products for free as it removes the hassle of having to track her earnings and stock. While this means she incurs costs, she believes that it's worth it.
"It's the experience that counts. It's rewarding to do this because when I give my products to people, they are very happy, especially when they find out it's free," Marsya says with a smile.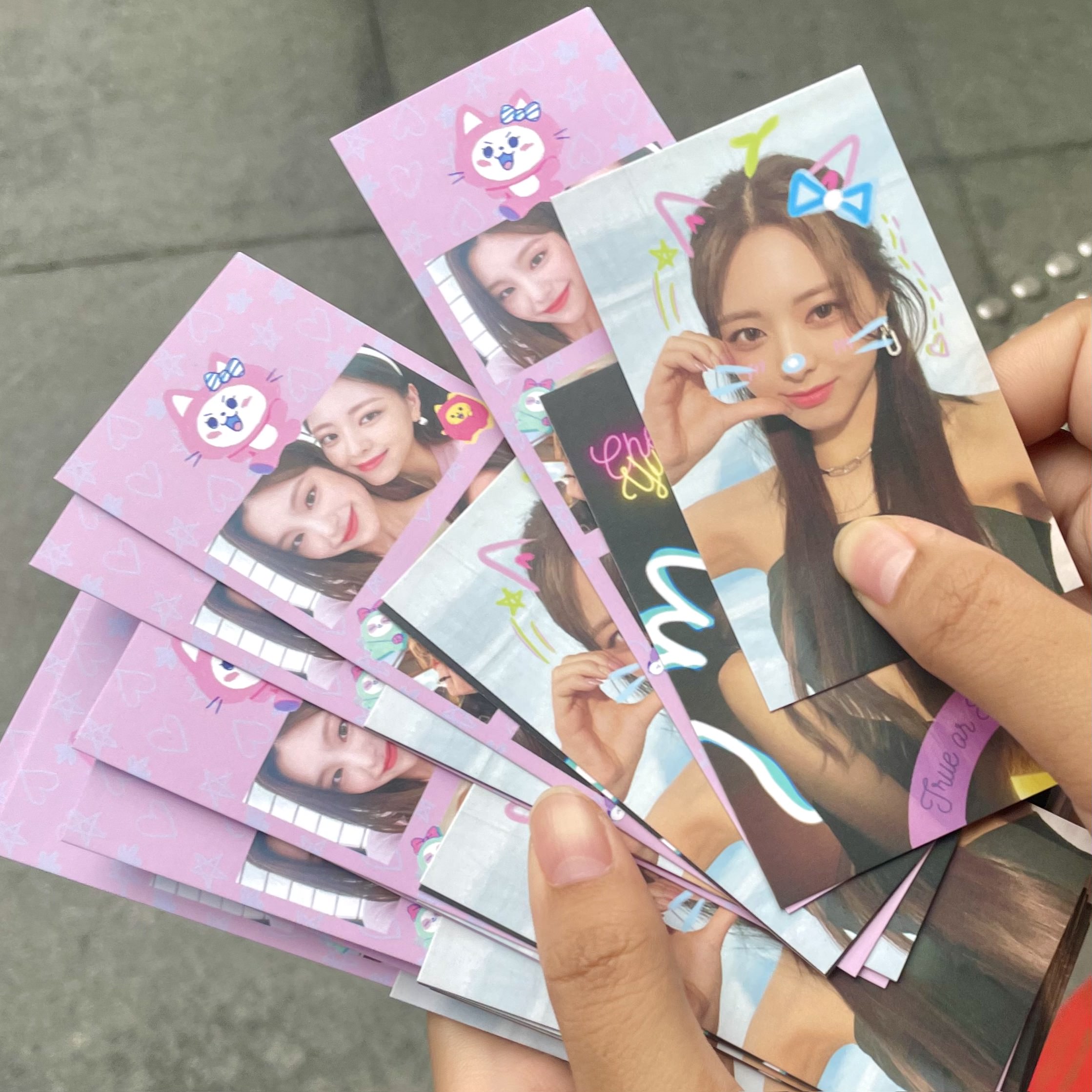 Marsya gives out free photostrips and photocards that she designed herself. Photo by Gwenneth Teo.
Fan-made merchandise lets K-pop fans participate in the festivities without breaking the bank. With official tour merchandise priced anywhere from $40-$100, the cost can be a deterrent, especially for younger fans.
"Some merchandise [offerings] are too expensive, but fan support is free. Collecting them is very fun and it really enhances the whole concert experience," says Alythea Koi, 13. She, along with her friend, Cassandra Ong, 16,, have been K-pop fans for a long time, but the ITZY concert was their first K-pop concert.
"It's very fun," says Brian Chua, 16. "I like that I can hold the banners up during the concert for the [ITZY] members to see." He and his friend, Vernice Hoon, 16, both first time K-Pop concertgoers, arrived early to The Star Vista to collect various fan-made merchandise.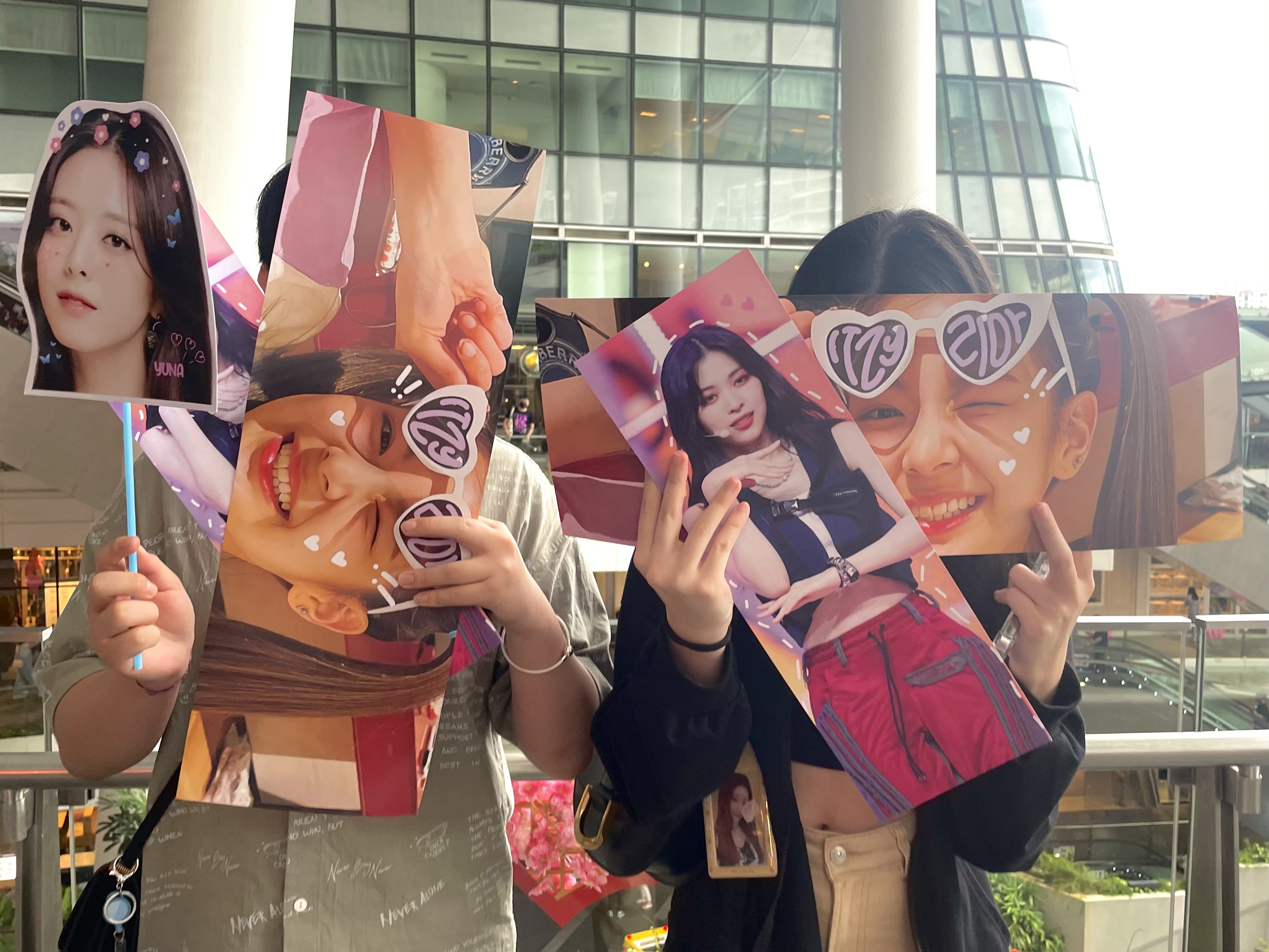 Fans I spoke to unanimously described collecting fan-made merchandise as a fun and memorable experience. Photo by Gwenneth Teo.
While the ITZY concert officially kicked off at 6PM, the fan activities began long before then. When I arrived at The Star Vista at lunchtime, there were already a considerable number of fans of various ages and genders walking around the mall to collect fan-made products. Every concertgoer I walked by had their hands full, and most were holding on to a fan-made banner. Surprisingly, most creators who were giving out their fan-made merchandise announced on their social media accounts that they had run out by mid-afternoon — a testament to the popularity of fan support. 
The same phenomenon repeated when I arrived at the Stray Kids concert at the Singapore Indoor Stadium in early February, which took place on a rainy and equally cold Sunday afternoon. By the time I got to the venue, three hours before the concert commenced, most fan support merchants had already declared that their stocks had cleared. The heavy rain was no deterrent — there was still the hustle and bustle of fans walking around the venue to buy or collect merchandise. In fact, I found most fans seeking shelter in the nearby Kallang Wave Mall with small bags of fan support in tow.  
Here, I witnessed an even wider variety of fan-made items being distributed: small and medium-sized stickers, illustrated tickets printed over glitter paper, and even bandanas. Most redemption methods were the same: walk up to the creator, show them that you've followed their account, and they'll pass you the merchandise they are giving out. The items that I had paid for and pre-ordered before the concert had even been packaged neatly with care.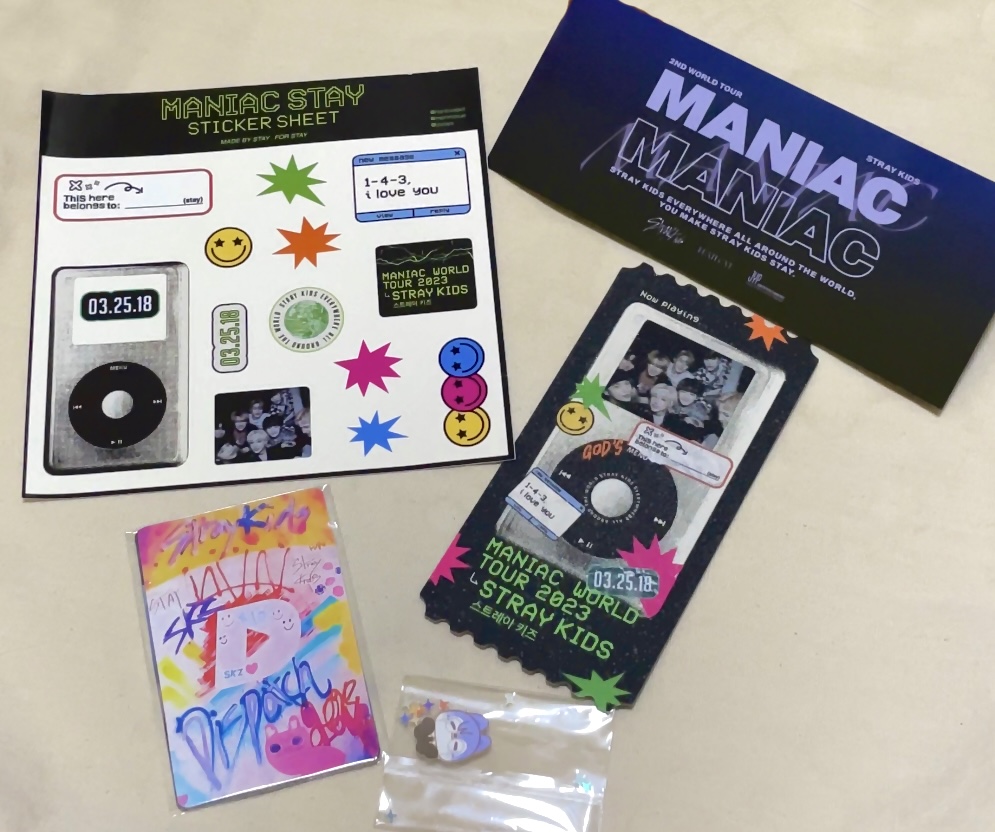 Fan support can come in vibrant and creative forms, from stickers and photocards to illustrated tickets, which fans can keep as concert souvenirs. Photo by Gwenneth Teo.
Behind the scenes, creators personally oversee the whole process, from designing, sourcing manufacturers, to figuring out the logistics of distributing their products. For products which require more creative input, like illustrations and drawings, it gets more tedious.
Rachel Seng, 19, uses software like Procreate, Adobe Illustrator, and Figma to design her merchandise. A novice at creating fan support, her passion first sparked when she saw the fan support at K-pop group SEVENTEEN's concert here in October 2022. At the Stray Kids concert, the polytechnic student was selling a fan pack containing a photocard and illustrated tickets at the price of $4. She was also selling another fan pack with a banner included, for $8. Rachel also oversees her brand's marketing efforts, including designing social media collaterals that attract fans to buy her products.
"It's a fun hobby, but it can be stressful sometimes. I feel like it helps me grow in my skill sets. How I look at it, your fan support account is basically like a brand and you must know how to market it well to sell or promote yourself, and also to gain trust in your consumers and or community," says Rachel. 
Rachel takes inspiration from multiple sources when it comes to designing for a certain group's concert. She references their past music videos, album concepts, as well as the concept of the concert itself. As K-pop idols very often share photos of themselves online, it is not hard to find high-quality images to use as part of a design. For many fan support creators, their creativity is the only real limit.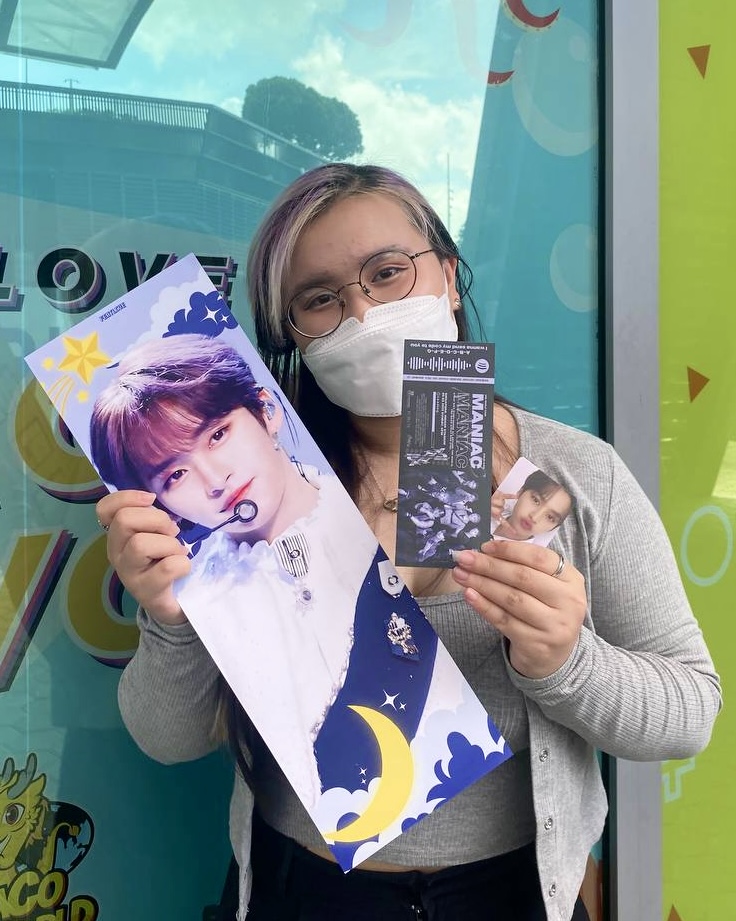 Rachel with the fan support merchandise that she personally designed, which include a banner, photocard, and illustrated ticket. Photo courtesy of Rachel Seng.
After immersing myself in two days' worth of fan activities, I can say I understand the hype now. For Western concerts, the process is usually like this: arrive at the venue, attend the concert, go home. But with a K-pop concert, there's a whole routine. Fans dress up and reach the venue in the morning, even though the concert only starts in the evening. Getting to the venue and hunting for merchandise you want immerses you into the concert experience and gets you excited for the show. It is an exciting challenge to scroll through social media and bookmark  posts of fan support that you want, and then later scavenge for even more at the venue to see what you can find. I've met incredibly kind creators who do not hesitate to give out their items to anyone who wants them, and always with a smile.
I can feel love in the air even before a K-pop concert begins. It's nice that so many fans decide to devote time and money into making things related to their favourite groups and share them with other people, all because of pure passion for their community and their treasured artists. Looking at crowds of fans and seeing just how many are holding on to a wide variety of fan-made merchandise elicits a sense of wonder and delight within me. 
These fan support items may be small, but they represent something much deeper: we were all brought together by our love and admiration for our favourite K-pop groups. It is a warm, lovely feeling that I do not want to forget any time soon.