Ryan Sim, Entrepreneur, Father of Mamastore
EUGENE CHUA speaks to Ryan Sim, the 22 year old Juggling Multiple Ventures as Co-Owner of Mamastore, Clothing Brand Creator, and Freelance Photographer
BY
Eugene Chua
Web development Manager
Hype Issue #56
Published on
February 15, 2023
If you had told 10-year-old Ryan Sim that in another 10 years, he would be the co-owner of his very own clothing brand with a brick-and-mortar storefront, he would have probably scoffed at the idea.
"Starting a business wasn't something I thought I would ever do. My aspiration when I was younger was always to become a chef," says the 22-year-old.
And while he did try to make his dreams come true, he soon realised that being a chef was probably not the best path for him. It was in secondary school that his love for photography blossomed, and using his photography portfolio, he managed to secure a place in Ngee Ann Polytechnic's Mass Communication course through the school's Early Admission Exercise (EAE). 
There, his love for media, marketing and entrepreneurship grew, laying the foundation for his  brainchild, MAMA, to be born. But the MAMA brand wasn't always imagined to be what it is today.
MAMA was started by Ryan and his friend Lionel Chien, also 22. It all began in 2019 when Ryan and Lionel had some clothes that they were hoping to clear, but neither of their personal Carousell accounts was making much progress. To try and turn their luck around, they decided to create an Instagram account to sell their clothes and named it Mamastore, a fun variation of mama shop, a reference to the Singlish term for ethnic convenience stores.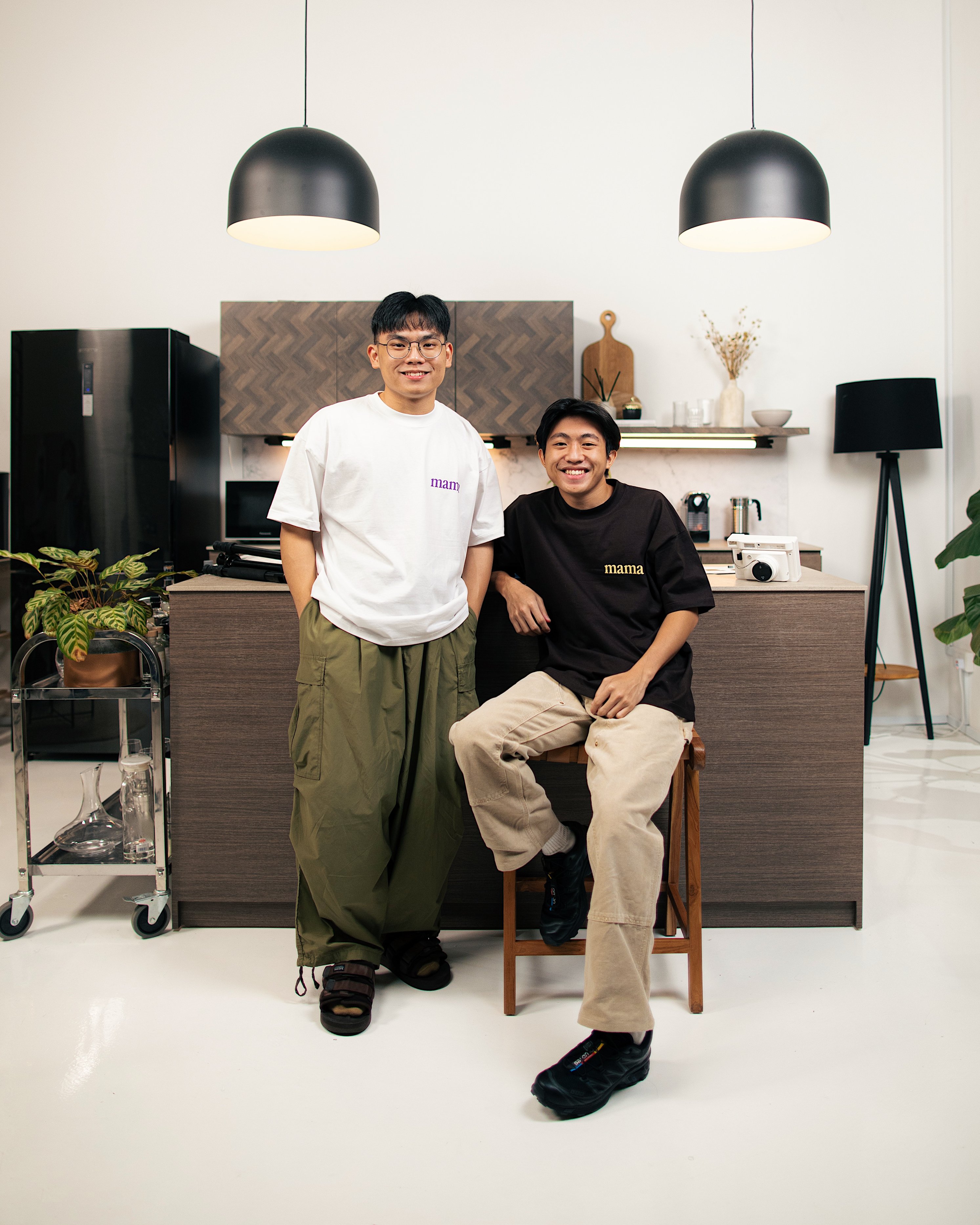 Ryan and Lionel(From left), modelling their MAMA brand crew neck t-shirts. Photo courtesy of Ryan Sim
With the photography skills Ryan had honed, they rented a studio and did a shoot for all their clothes, and featured it on their Instagram page. The launch was a resounding success and seeing the potential in the store, they decided to take the plunge and source a vintage clothing supplier. That was the point at which Mamastore became a proper online vintage clothing business.
From there, they committed to growing Mamastore, doing so well that they decided to rent a physical store in Queensway Shopping Centre one year later. They held three events in two months, all of which were very well received, with customers even queueing up early for their events.
"MAMA had become much bigger than we ever thought it would be," Ryan said. It was then that he sat his team down and shared his dream of creating his own line of clothing. The team got to work and designed their first-ever MAMA brand T-shirt, wearing it as a team uniform during the last of their three events.
Little did they know how sought-after their shirts would become. During the event, many in the team were approached by customers asking if the shirts were for sale. Seeing how popular the shirts were, they planned to print more and sell them in their store. However, the Covid-19 pandemic struck, which resulted in MAMA closing their Queensway outlet and shifting their T-shirt launch online. Even with no physical event, their T-shirt launch was highly successful and all 160 pieces sold out within the hour. 
The team continued to design and release their MAMA brand clothing, but as well as it was going, they felt that it wasn't something they could sustain long-term. It felt like the end for the MAMA brand until Qimin, a member of the team, suggested they create pieces "with a deeper meaning". That was how 'MAMA campaigns' was born. They began creating pieces in line with their campaigns, which ranged from cyclists' road safety to family. To date, the team has released seven MAMA brand pieces, all of which were in high demand.
Skipping ahead to 2023, with life being more or less back to normal, Ryan and Lionel decided to rent a space in Queensway Shopping Centre once again, this time just opposite their previous unit. Fresh from their grand opening on Feb 11, 2023, MAMA will be running a monthly vintage clothing event (on the first week of the month), followed by a MAMA Campaigns launch on the third week of every month.
With such a hectic schedule planned for 2023, Ryan credits his small but tight-knit team for making it all possible. As a big part of MAMA Campaigns is production, Ryan didn't want to outsource the job to anyone else as he wanted "full creative freedom" over what he made. Instead, he began to look within his circle of friends, bringing in people who believed in what he was doing. Now Ryan is proud to say that he has a team of seven, keeping Mamastore and MAMA campaigns running smoothly. "What we have today at MAMA is a combination of all of us and I'm really thankful that they are in this with me," says Ryan.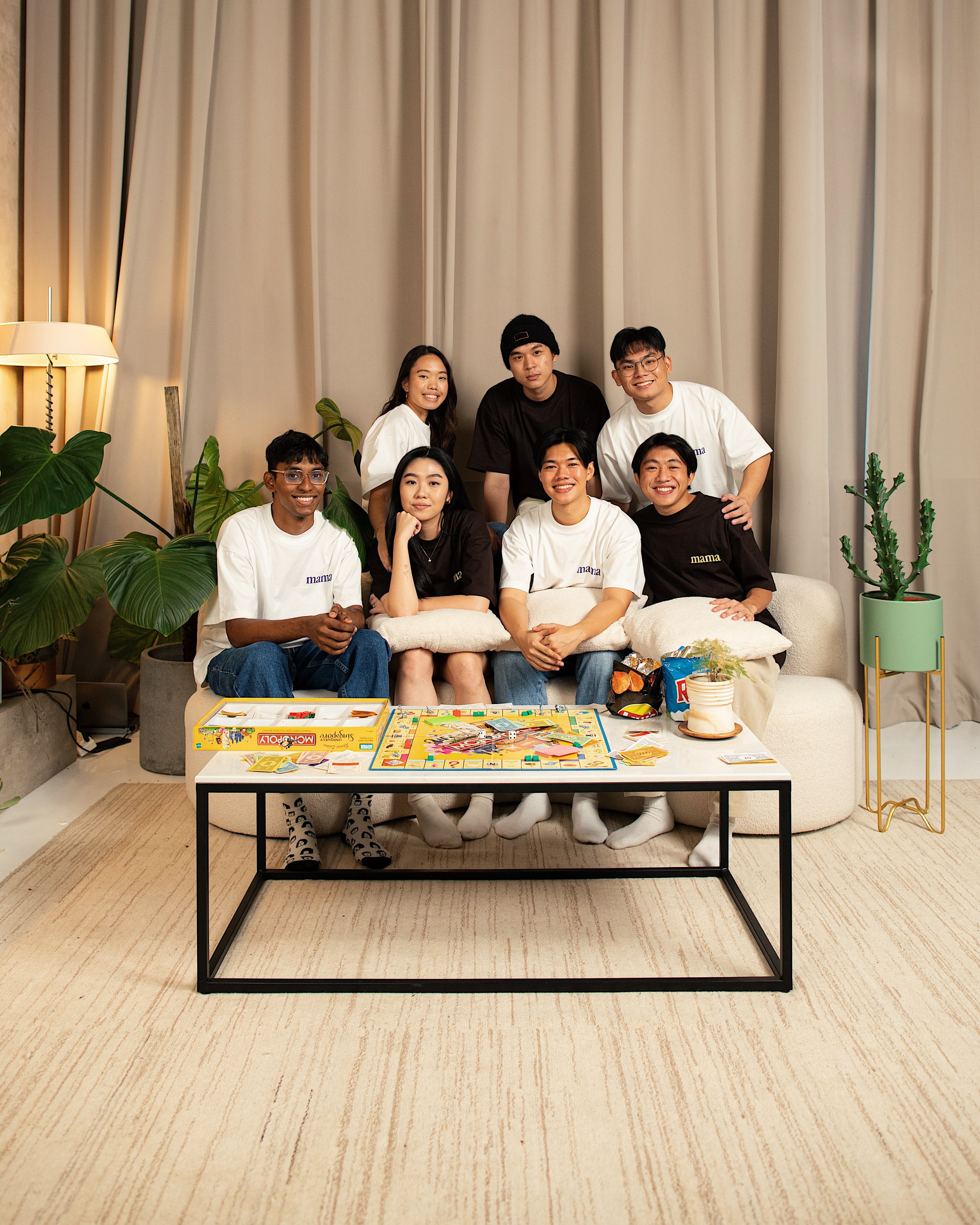 The MAMA family: From left; front row: Peter, Nadine, Matthew, Lionel. Back row: Rachel, Qimin, Ryan. Photo courtesy of Ryan Sim
Apart from his team, there are two other people who also have a strong impact on his life. 
Right opposite the old Mamastore at Queensway sat a quaint little tailoring shop, run by two elderly seamstresses affectionately addressed as Auntie Belinda and Auntie Patricia by Ryan.
Although they were neighbours, it was a while before Ryan worked up the courage to introduce himself to them. The ice broke when he offered them cookies that he had baked for one of his events, asking if they could act as his taste test guinea pigs. Even after moving out of Queensway, he continued to visit them during his free time, and he eventually approached them to ask if they could teach him sewing. "At that time, I had this idea of sewing my own upcycled bags with the MAMA logo and launching it as a new product," Ryan says.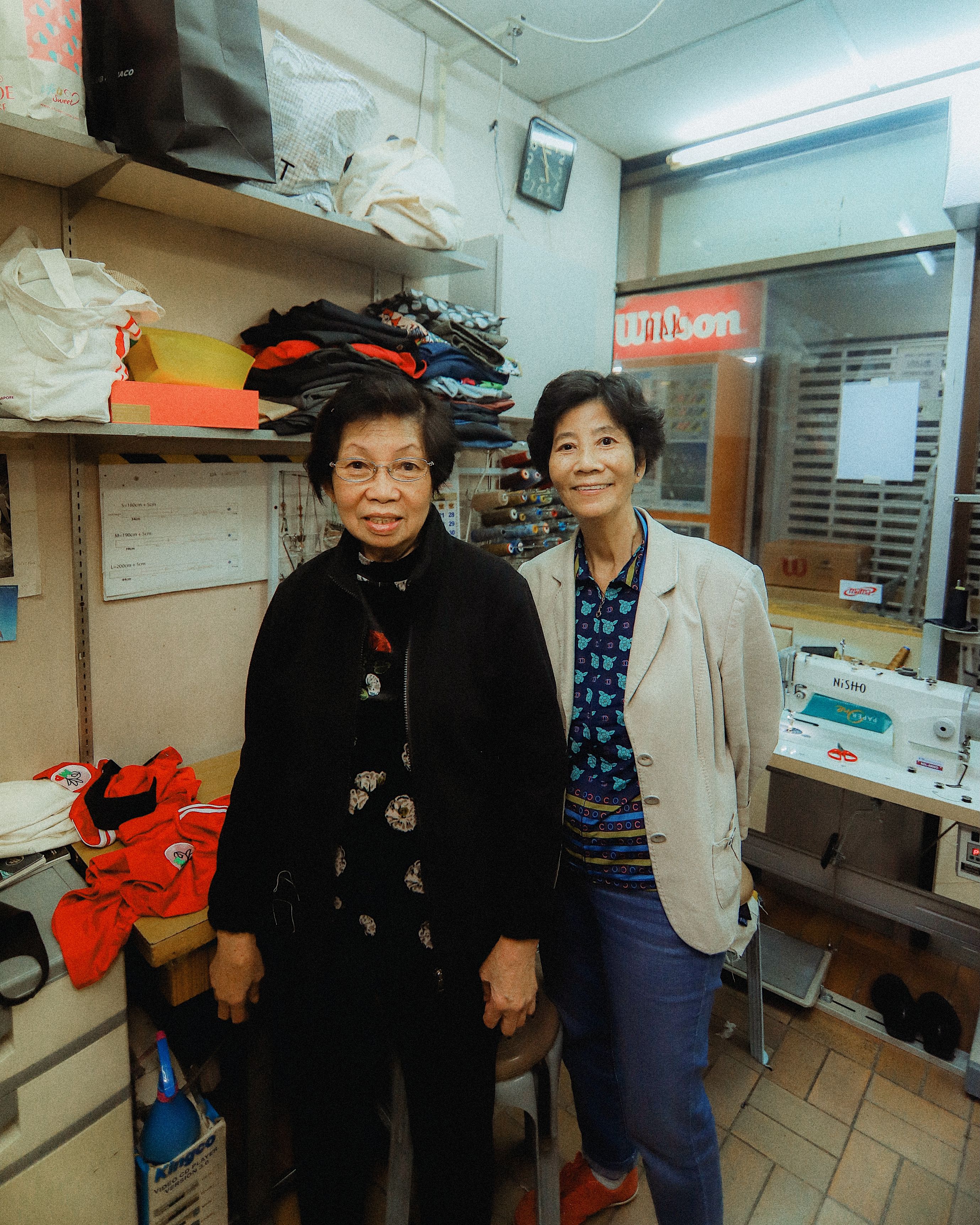 Dubbed the "Queensway Aunties", Auntie Patricia and Auntie Belinda (from left), at their tailoring shop in Queensway Shopping Centre. Photo courtesy of Ryan Sim
He visited the ladies almost twice a week for the next three months, learning the ins and outs of sewing. "From then it really felt like they had become part of my family," recounts Ryan. After mastering the basics, he spent a month sewing the bags at home, but his relationship with them never faltered. 
"If I didn't visit them for more than two weeks, Auntie Belinda would start texting me and telling me to come over," Ryan shares. He eventually invited the two aunties to celebrate his birthday in 2022 and that was when they met his family. He recalls how happy he felt when he saw them getting along with his grandparents. 
Looking back at one of his most memorable experiences with the Queensway aunties, Ryan shares how he went viral on TikTok. During one of his usual visits to Queensway, Auntie Belinda asked Ryan why he had taught them how to use Instagram and Facebook, but not TikTok. 
Ryan said: "After showing them my account, Auntie Belinda commented, 'Why never post us leh?' So I went home and made a TikTok to send to them." Thinking nothing of it, he continued going about his day, only to get the shock of his life when he saw that the video got 50k likes in an hour. The video currently has over 400k likes on Tiktok.
With that video being his first experience with going viral, Ryan was amazed at the impact it had. He recounted incidents where people at Queensway would approach the aunties for a picture. He also joked about telling the aunties to be careful not to scold anyone, lest they go viral again, only this time for the wrong reason.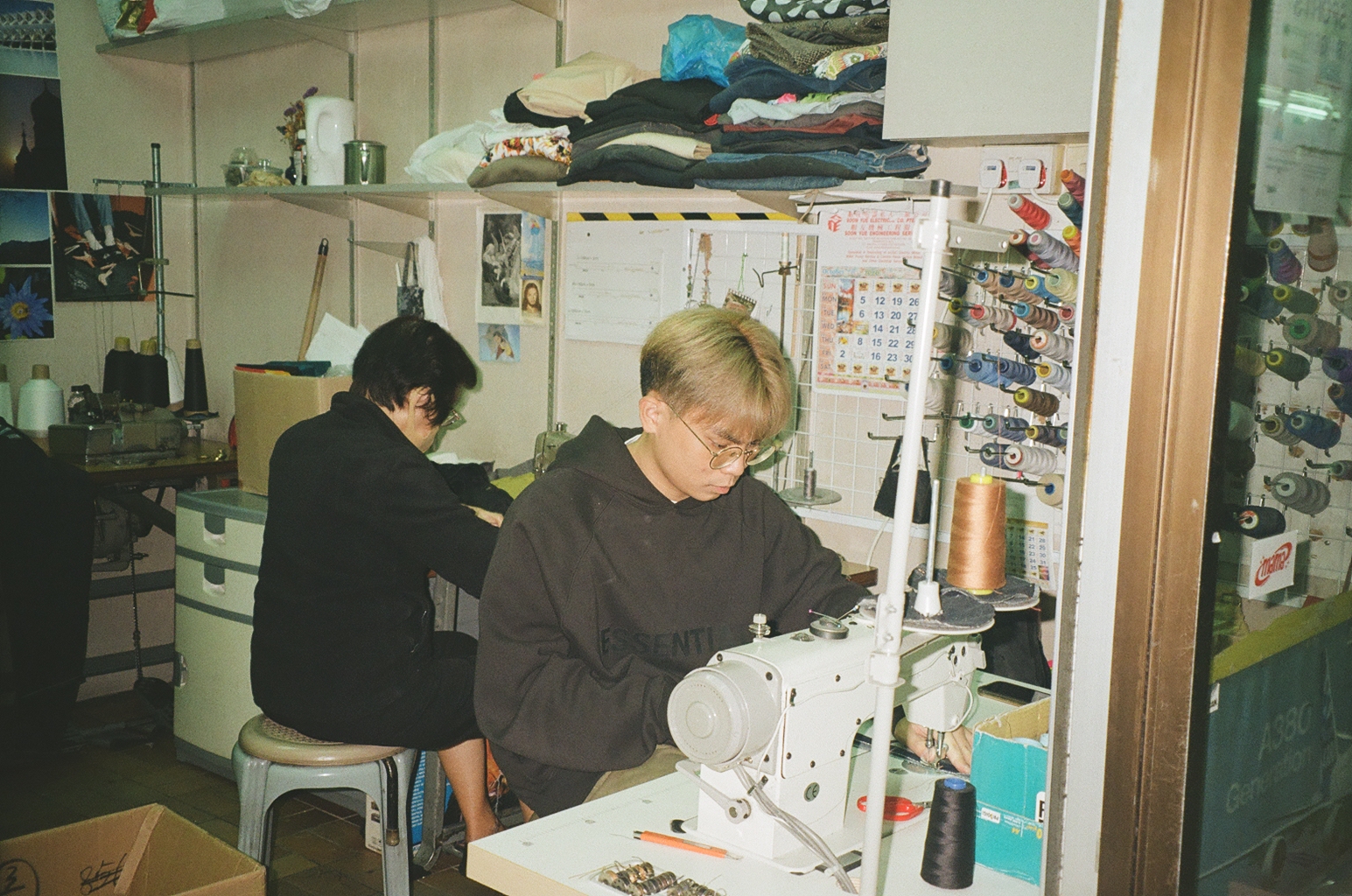 After taking a crash course in sewing from the aunties, Ryan proceeded to piece together 40 upcycled bags, saving two of them for the Queensway aunties. Photo courtesy of Ryan Sim
Like every successful business venture, there are countless sacrifices made behind the scenes that people might be unaware of. For Ryan, he had to give up his work-life balance ever since he started MAMA. While he was still completing his polytechnic diploma, he had to juggle his assignments alongside running the business with Lionel. 
Since enlisting, he has spent most of his book-outs either working on growing MAMA or on his freelance photography gigs. "Sometimes working is a drag, but when I look back, I also realise that I'm doing what I love, so there's really nothing for me to complain about," he comments. He hopes that by working hard and building a reputation for himself now, he will have a solid foundation to work on his passion full-time.
One trait that Ryan credits for getting him this far in life is "kindness". Although people might say that it's hard to be kind when running a business, Ryan believes there is more to life than being the best or most popular brand. 
Being friends with the owners of vintage clothing stores LOOP GARMS and STAKEOUT, he models his mindset after theirs, which is to simply be kind to people. Be it collaborations with other brands or agreeing to interviews, the team at MAMA is always happy to help others. His hope is for MAMA to be a brand that "welcomes collaboration", giving people the opportunity to create with them. 
Speaking to other aspiring entrepreneurs, Ryan shares the importance of being genuine when doing business. "People can tell when you don't have good intentions, so always be kind to everyone," Ryan advised.
Mamastore had its grand opening at Queensway Shopping Centre on Feb 11. Check out their Instagram page for more information.