Do Singaporeans Really Appreciate Art?
EUGENE CHUA explores the local arts scene to find out if there is really room for the appreciation of arts amid the bustling metropolis that is Singapore.

BY
Eugene Chua
Web Development Lead
Hype Issue #56
Published on
January 18, 2023
When you think of arts and culture, some places that might come to mind are Paris, Italy, London, and Japan. Singapore, one of the top financial hubs in the world, is more known for its rigorous education system, which prioritises efficiency over creativity.
Despite Singapore not being recognised for its arts scene, our multicultural society has created an art style to call our own. Unlike European art which focuses on visuals and performance , Singaporean art embraces more aspects. Historically, the majority of physical art in Singapore was derived from Nanyang art, which is heavily influenced by Chinese culture. Early Chinese immigrants brought in calligraphy, porcelain, and sculptures from China. Over time the art styles of the Peranakan, Malay and Indian cultures, to name a few, were infused, creating something new and unique.
Nanyang art is a form of artistic expression that was practised by migrant Chinese painters in Singapore from as early as the 1920s. Although the Nanyang style has prominent Chinese art attributes, it also has European influences. The Nanyang style evolved into forms of expression that incorporated not only European influences, but also those from the melting pot of cultures and popular artistic styles in Singapore.
This type of evolution has also been seen in the way that art is promoted in Singapore  in the numerous efforts to encourage local appreciation for the arts in recent years. This can be seen from the slew of art exhibitions happening throughout the year. In the spirit of Singapore Art Week, happening from 6–15 Jan 2023, I visited the Singapore Biennale and the Light to Night festival to get some insights from visitors.
Singapore Biennale 2022 named Natasha 
As its name suggests, the Singapore Biennale is an international contemporary visual arts exhibition held every two years. It aims to promote Singaporean art and culture to the world, boost the art and creative industries in Singapore, and provide a platform for locals to experience art. This year, the event is titled 'Natasha', and will be held from Oct 16 2022 to Mar 19 2023 across multiple locations in Singapore. 
I headed down to their exhibit at No. 22 Orchard Road and was presented with a minimalistic interior lit by fluorescent tubes, giving the place an almost clinical feel. The exhibit spans two levels, displaying oil paintings on canvas and digital art pieces. It was less crowded than I had anticipated for a Saturday afternoon. Albeit a small exhibition, I had expected more than a handful of people scattered throughout the entire building.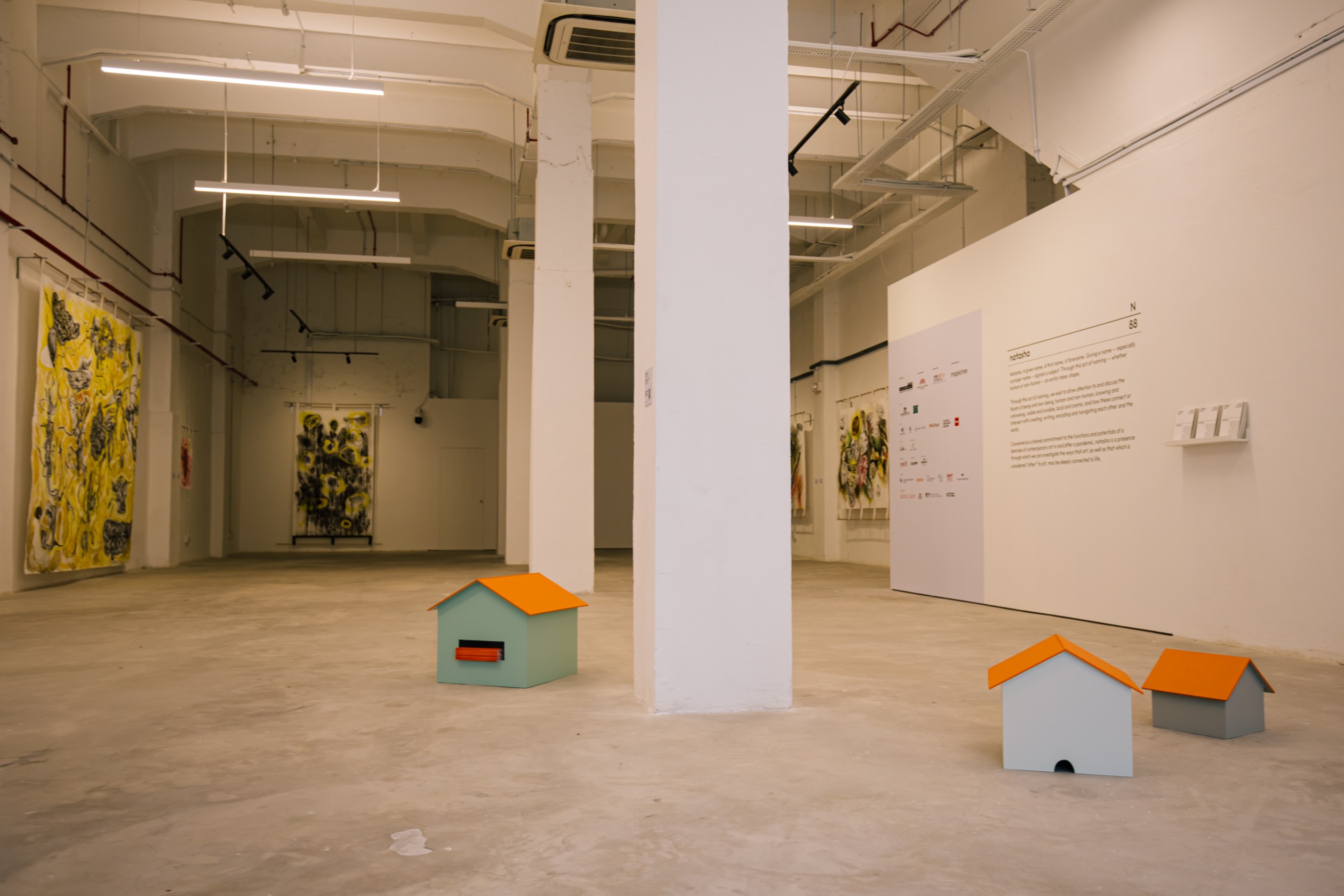 Exhibition View of No. 22 Orchard Road, part of the Temasek Shophouse extension, as part of Singapore Biennale 2022 named Natasha. Image courtesy of Singapore Art Museum.
The few visitors that I crossed paths with were in a contemplative mood, which amplified the rather still and sombre ambience. 
"The pieces might look like just scribbles of paint, but once you understand the inspiration behind them, you can interpret them in your own way," says Jia Xuan, 21, a final year polytechnic student who hopes to pursue a degree in Fine Arts at the LASALLE College of the Arts after graduating.
She also shared that there is more thought that goes into every art piece than people think. "Exhibits like this also help me to learn the more technical side of art. Things like the type of canvas, as well as the paint used, whether it's water or oil based, are all factors that will affect the final result."
After my first dabble into the contemporary art scene in Singapore, I realised that what I knew about art was extremely superficial, and jumping into the deep end made it hard for me to really appreciate the pieces. For people who want to get into the arts, I would recommend starting off with more accessible  art exhibitions before jumping into those featuring more abstract pieces.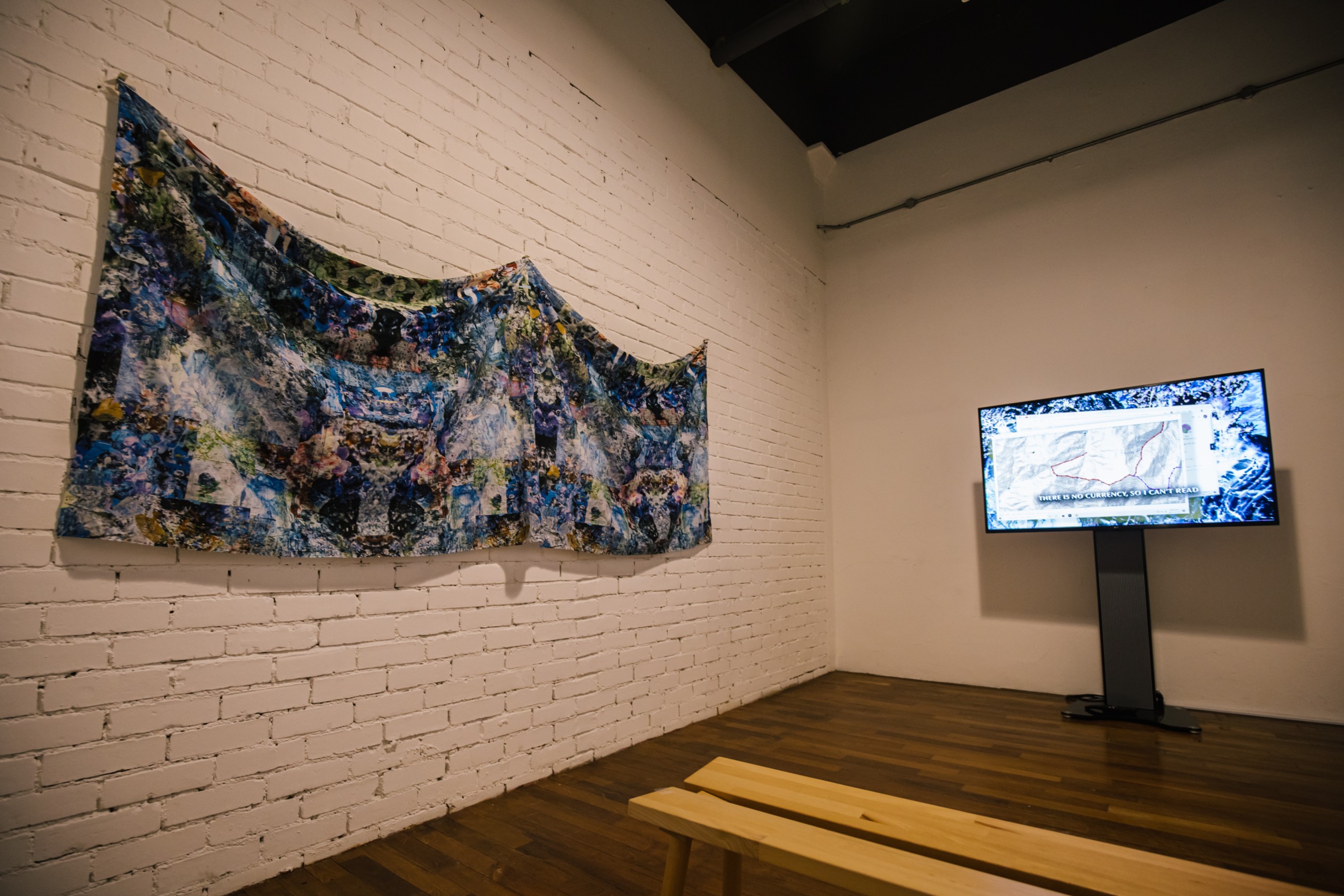 Light to Night Festival
My second foray into the local arts scene saw me visiting the Padang to check out three art installations that are part of the Light to Night Festival 2023. Happening from 6–26 Jan, the festival showcases both local and international artists as they display their work at the district-wide visual arts festival.
Walking towards the Padang, I was mesmerised by the light shows that were being projected onto the face of the National Gallery.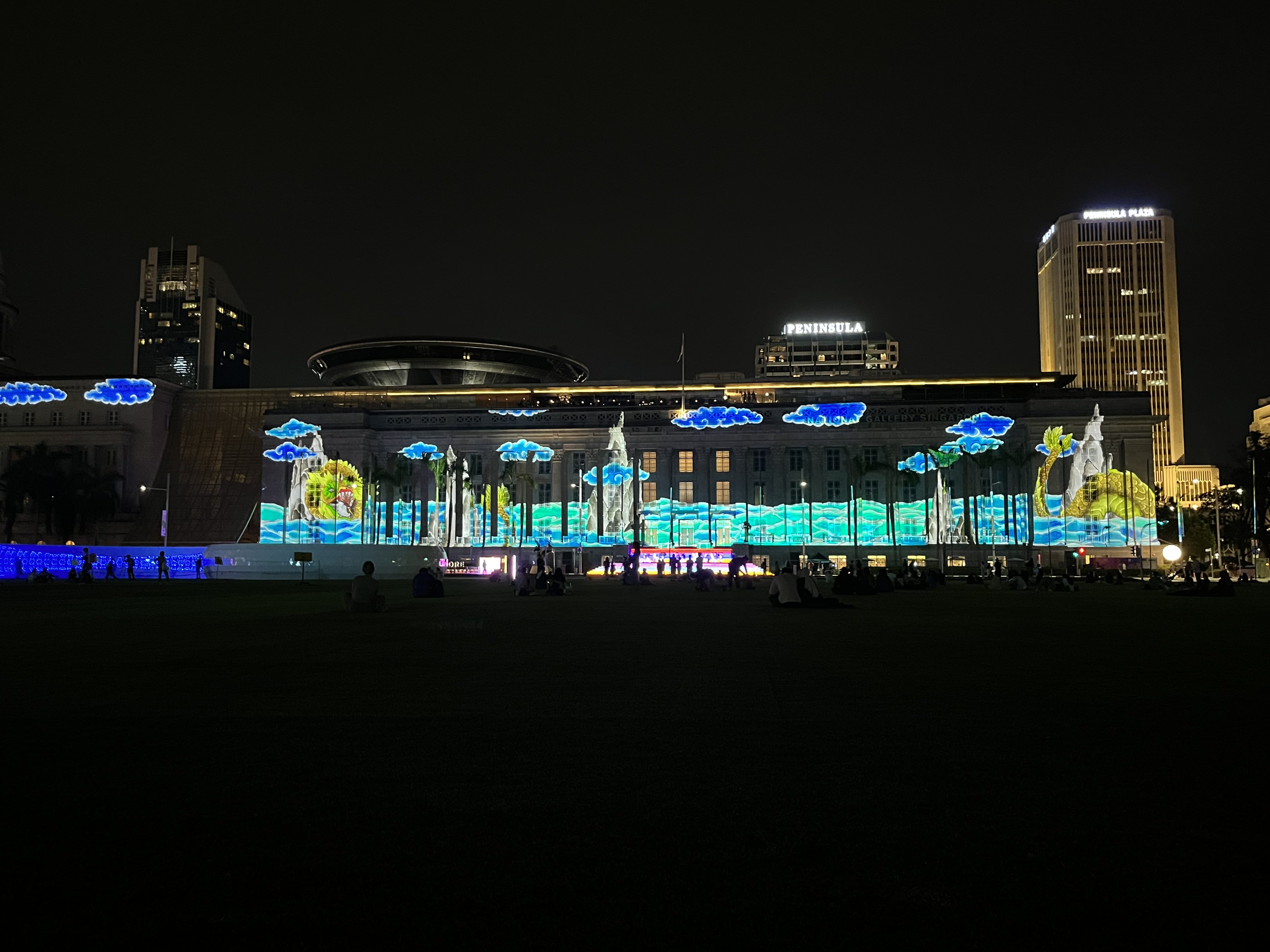 The face of the National Gallery is transformed into a canvas for a series of captivating light projections every night over the duration of the Light to Night Festival. Photo by Eugene Chua.
The field in front of the National Gallery was scattered with young people lounging on the grass, in awe of the light projections — Yen Yen, Botanica and Residual Memory of the Walls, just to name a few. Just a stone's throw away at The Arts House, another captivating light display, Dreamer, left the audience enthralled.
Looking at the visitors, I observed that most of them were either couples or friend groups who were variously talking amongst themselves or hunting for the best photo taking spot.
"The light show is something that I always look forward to, I like the abstract aspect of it. But beyond that, I don't really understand the meaning and thought that goes into the artwork," says Jerald Tan, 20, a local junior college student.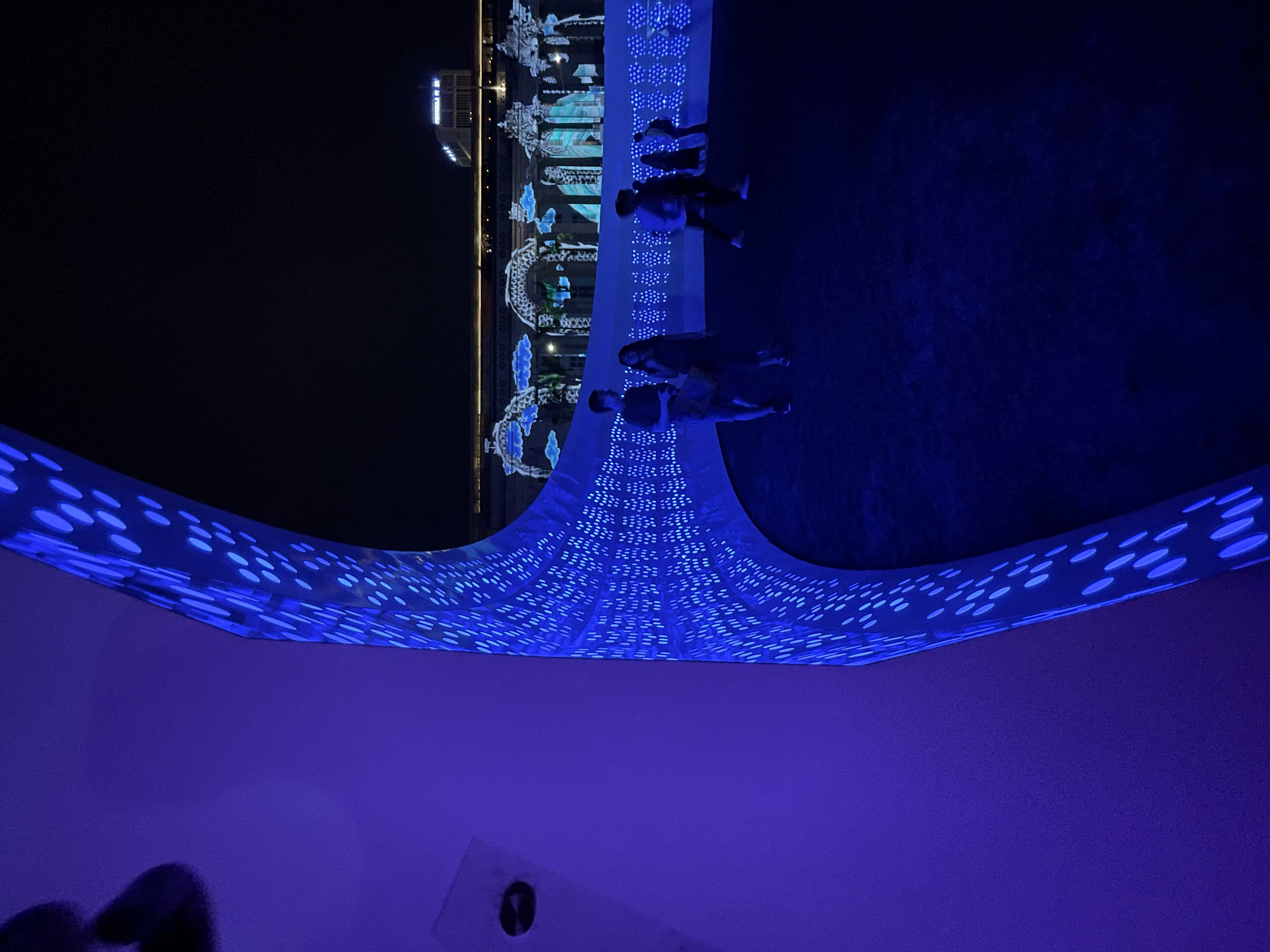 'Hearing Padang' is one of three art installations at the Padang. It consists of two curved structures which create an acoustic experience by allowing sound to travel from one end to the other. Photo by Chloe Wong.
"To me, it's just something new to do [in Singapore] and not much about the art," he added.
To try and understand Singaporeans' differing attitudes towards art better, I started at our roots: the Singapore education system. To try and understand how Singpaoreans might have developed differing attitudes towards the arts, I decided to start at the beginning, with the Singapore education system
The Cambridge O and A-level examinations offer art subjects to assess students' skills and knowledge from an artistic perspective, but most of us would agree that there's a limit to which students can experiment with their innermost artistic expression in a rigid academic setting.
Putting a grade on subjective topics like art could curb the creativity of students. With everyone having different interpretations of art, being marked down for having a different style to the teachers grading the work could deter students from exercising their creativity to the fullest. Ultimately, this system could end up at odds with government efforts to foster students' passion for art and instead potentially discourage them from pursuing their interest.
According to a survey conducted by the National Arts Council on the public's perception of art in 2021, only 16 percent of respondents cited their passion for art as the reason for attending physical or virtual exhibitions. Meanwhile, 42 percent of respondents did not purposefully engage with local art at all.
Another interesting point to note is that those among the public who had engaged with arts and culture in their childhood expressed greater interest in and held a more positive attitude towards the arts. This goes to show the importance of exposing children to art during their formative years.
Benedict Leong, 37, a freelance sculptor and master potter, mentioned that there have been significantly more initiatives by the government in recent years to expose Singaporeans to art, but lamented that there is still more to be done in the education sector.
"If the appreciation [for the arts] is not cultivated from a young age, our museums and art galleries will remain merely as places people go to pass time," Mr Leong says.
All in all, there have been great strides by the government to foster a greater appreciation for the arts scene and it is working slowly but surely. Incorporating art into our education system from a young age with an environment that cultivates creative exploration unbounded by grades, will further encourage artistic expression from Singaporeans.