Blast from the Past: Uncovering Youths' Obsession with Vintage Culture
We've all been taught to appreciate our heritage from a young age, but what has sparked teens' recent interest in all things vintage? CHLOE WONG investigates whether youths truly see vintage culture in a sentimental light.
Photo courtesy of Nicole Chin
BY
Chloe Wong
Publicity Manager
Hype Issue #56
Published on
January 8, 2023
Growing up, the only impression I had of 20th century trends was from my parents' photo albums and antique collections. Yet in recent years, I've started to see almost identical pictures of young people donning leather jackets and bell-bottoms on my social media feed.
Vintage culture has found its way back into our lives. But in a digital age where Gen Zs hide our true personalities behind an online facade, I can't help but question our intentions behind embracing vintage culture. Do we genuinely seek to preserve it, or is it solely another aesthetic trend for some?
The resurgence of businesses in vintage fashion and analogue devices is proof of our generation's yearning for a nostalgic presence beyond our past. 
Ashley Wong, 19, owner of vinyl record store Wildflower Wax Co., says: "We are the first generation to inhabit both physical and digital spaces. I find that very interesting because we have two sides to us, and we're always trying to find each other halfway."
As a vinyl collector herself, Ashley feels that today's youths want to collect memories that they can form intangible, emotional relationships with, but also be able to hold in their hands.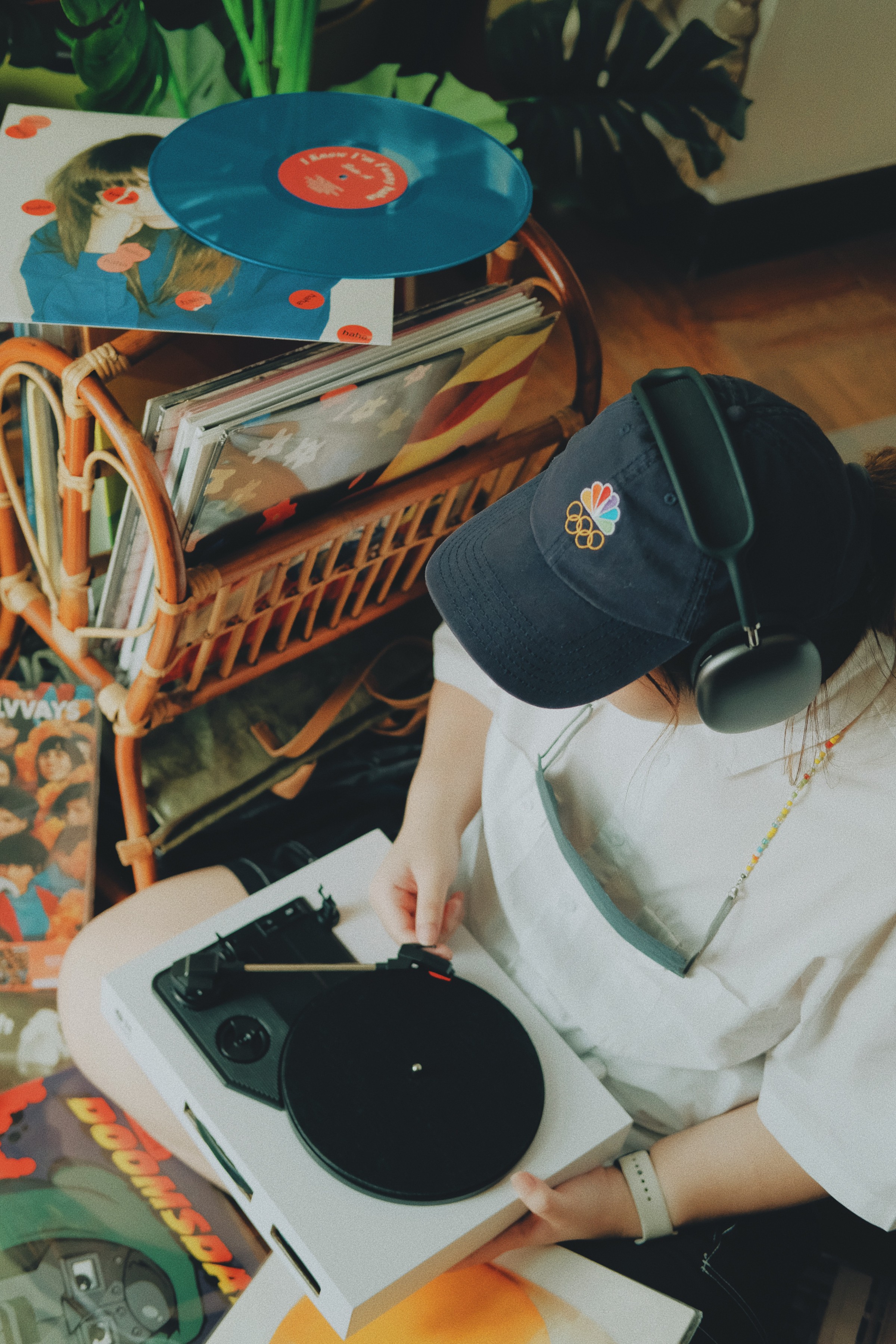 The resurgence of vintage and the thirst for nostalgia in general is something that Ashley holds very dear to her heart. Photo courtesy of Ashley Wong.
Just like film cameras and retro game consoles, vinyl records have begun to serve as a medium through which young people escape the inauthentic, digital world that we live in — as ironic as it may sound. Such physical objects offer an outlet for us to engage in our interests, and at the same time connect with them in a nostalgic sense.
For others, adopting vintage culture has become a unique way to express themselves with statement pieces. This is most evident in vintage fashion, a progressively common style for youths in recent years. Popular vintage fashion trends in Singapore include 90s flared jeans and corset tops, as well as graphic tees and cargo pants from the 2000s.
"I love that no one else will have the same piece as me, and that I can express myself using bright colours from the 60s to early 2000s," says Nicole Chin, 27, a local vintage fashion enthusiast.
Ms Chin also adds that since many vintage clothing items are deadstock, each piece is rare, of good quality, and somewhat a relic of the past. This raises another advantage of vintage items: their sustainability. The durable nature of vintage fashion reduces the need for fast fashion consumption.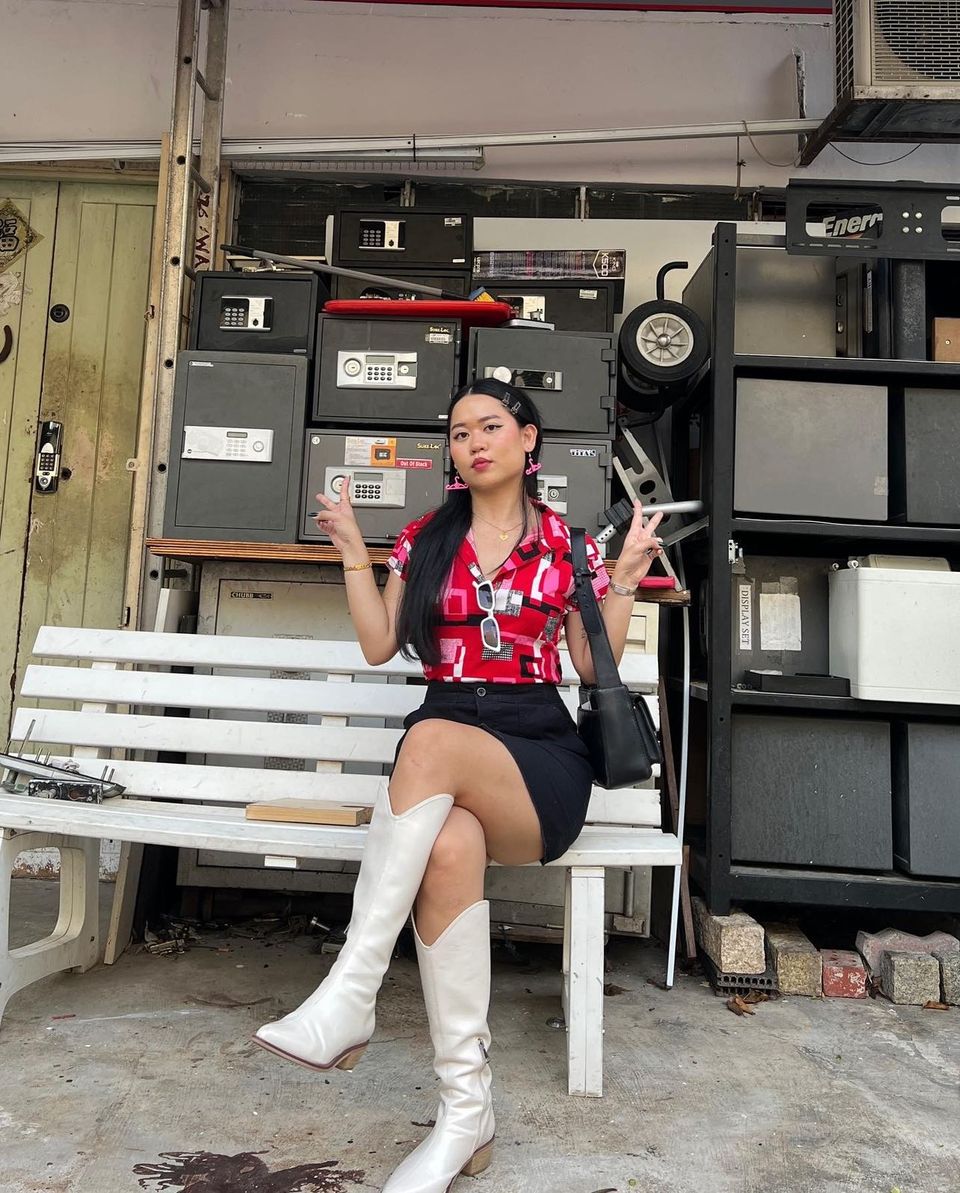 Ms Chin wore hand-me-downs from her relatives when she was younger and realised vintage clothes lasted way longer, hence she always tries to shop vintage when thrifting. Photo courtesy of Nicole Chin.
Admittedly, stepping into vintage thrift stores feels like a breath of fresh air for myself after scrolling on apps like SHEIN and ASOS for hours on end. Ms Chin says: "Secondhand and sustainable fashion is becoming more common and accepted, which is great for the environment as there will be less consumption of fast fashion."
It goes without saying that our generation will continue to preserve vintage culture in Singapore. Unfortunately, the motivations behind this may not always be gratifying.
Whether it's due to the fear of missing out or striving for an admirable social image, a considerable number of teens tend to hop on trends mindlessly. At some point, it becomes less of an appreciation for vintage culture and more of a cool style that helps them gain popularity.
Ashley observes that this behaviour is evident in her customers as well, saying: "Gen Zs want to be seen with vintage movements of the past, but they'll never take second glances at my Japanese rarities or 70s funk section — just straight to Cigarettes After Sex!"
Ashley started Wildflower Wax Co. as an extension of her music writing and taste, but she's been stocking more mainstream pop albums, which she doesn't usually listen to. Photo courtesy of Ashley Wong.
She cites other examples of how Gen Zs started wearing oversized vintage shirts and Carhartt trousers practically overnight without considering the fashion language that they were adopting. YouTube comment sections on legacy artists like Queen and The Beatles are also rife with sayings like "I was born in the wrong generation!".
This is a typical display of our youthful desire to associate ourselves with the vintage lifestyle. We hesitate to fully understand the values and perspectives behind the culture — instead, we rush to portray it as part of our personality.
Nevertheless, this doesn't mean that Gen Zs will continue to have the same outlook on vintage culture, nor is it representative of all youths' mindsets. Youths in this day and age are indeed impressionable, but they're also open-minded and willing to learn.
I believe Ashley speaks for most young vinyl collectors when she says: "​​Despite its rising popularity, the relationship that collectors have with vinyl is still quite genuine, sentimental, and very inspired."
If there's one thing our generation can do, it's to educate ourselves on the history of vintage practices and change our attitude towards it. I used to wonder: What will happen to future generations if ours is so fixated on living in the past? In retrospect, I would rather hold on to high hopes that the revival of vintage culture won't just thrive in Singapore, but also reinvent our future.