Adding a Singaporean Twist to Perfume-Making Workshops
ZHAO JIAMIN visits Scentopia for a custom perfume making session and documents her experience.
BY
Zhao Jiamin
Publicity Manager
Hype Issue #56
Published on
December 13, 2022
If you're looking for a personal scent that screams you and those on the shelves just don't do the job, why not try making your own? 
Located near Siloso Beach, on Sentosa, is Scentopia – Singapore's first augmented reality perfume-making experience. Scentopia was founded by Mrs Prachi Saini Garg in 2022, the name Scentopia is a combination of "Scent" and "Utopia". With over 200 fragrances, it's truly a cornucopia of scents. They stand out from the other perfume workshops as they are the only perfumery that works with local ingredients.
Before the perfume-making session, I was quite sceptical about customising a personal scent that I would enjoy based on my personality, as I've always used perfumes that were off the shelf. However, I decided to keep an open mind and true enough, it was an experience to remember. 
Scentopia is a seven minute walk away from  Sentosa Monorail's Beach Station. Alternatively, you could take the beach shuttle available at Beach Station and alight after two stops, at "Opp Siloso Beach Resort"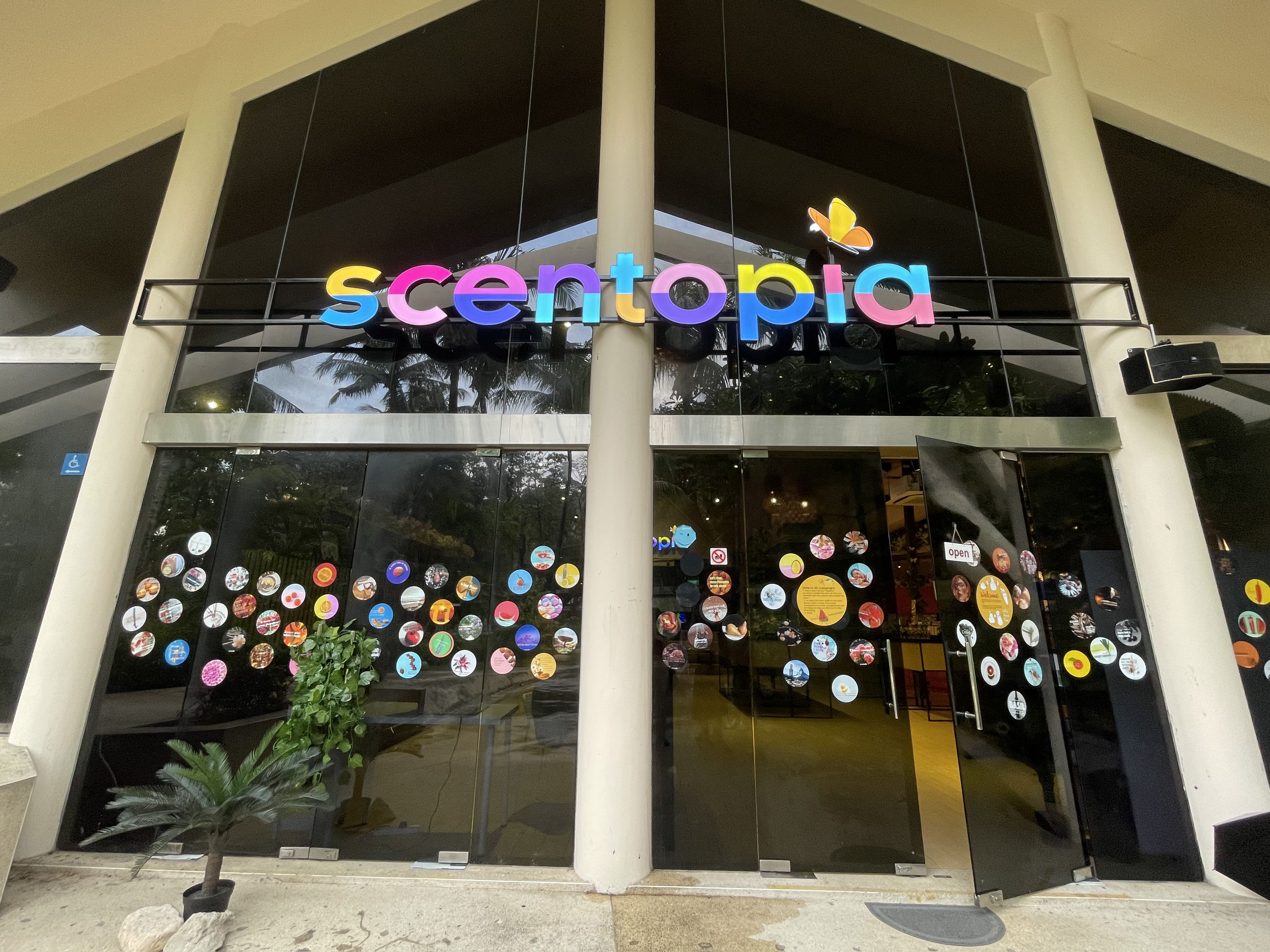 Scentopia's colourful entryway draws many people in. Photo courtesy of Chloe Wong.
Perfume Tour
Upon entering, my guide, Mitrah, brought me around the store. I was first introduced to the scent library. Each panel included a description of the scent, as well as a QR code that, when scanned, brought the scent to life in an AR mode where I was able to see a 3D image of the ingredient.
Mrs Prachi added that all the oils in Scentopia are infused with orchids native to Singapore. Additionally, the oils have scent notes of therapeutic orchids native to Asia, making all their oils suitable for aromatherapy.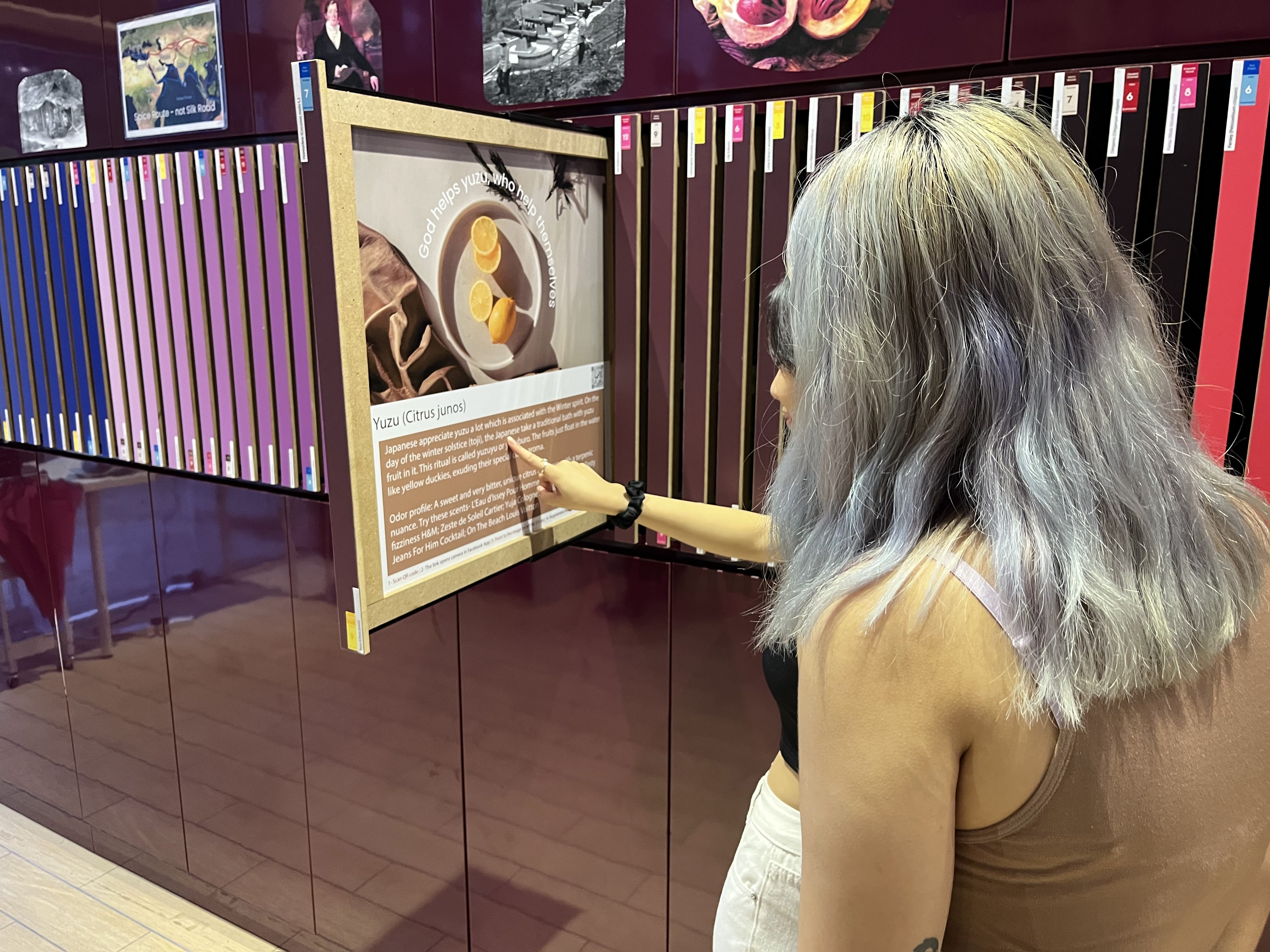 The panels of information feature the many ingredients used for the different scents in Scentopia. Photo courtesy of Eugene Chua.
The tour also included the history of the perfume-making industry in Singapore. I also learned that we do not smell from our noses; we in fact sense scents with a part of our brain called the olfactory bulb.
Workshop 
At the start of the session, I was asked to complete a personality quiz with 10 questions that suggested the category of scents that matched my personality. There are a total of five scents (citrus, fresh, floral, woody, and oriental), and according to the test, my personality leans towards the citrus and floral scents. 
I was then brought to a wall of perfumes for scent selection. There were a total of 120 scents suitable for both men and women. I was given the choice to put on headphones for an audio guide, or to simply explore the scents on my own. I decided to go with the audio tour to get a more in-depth understanding of each scent.
This is where the personality test came into play. I headed over to the citrus and floral section first and realised that it was true: I definitely preferred those two scents over the rest! I could choose up to 10 scents to be included in my perfume.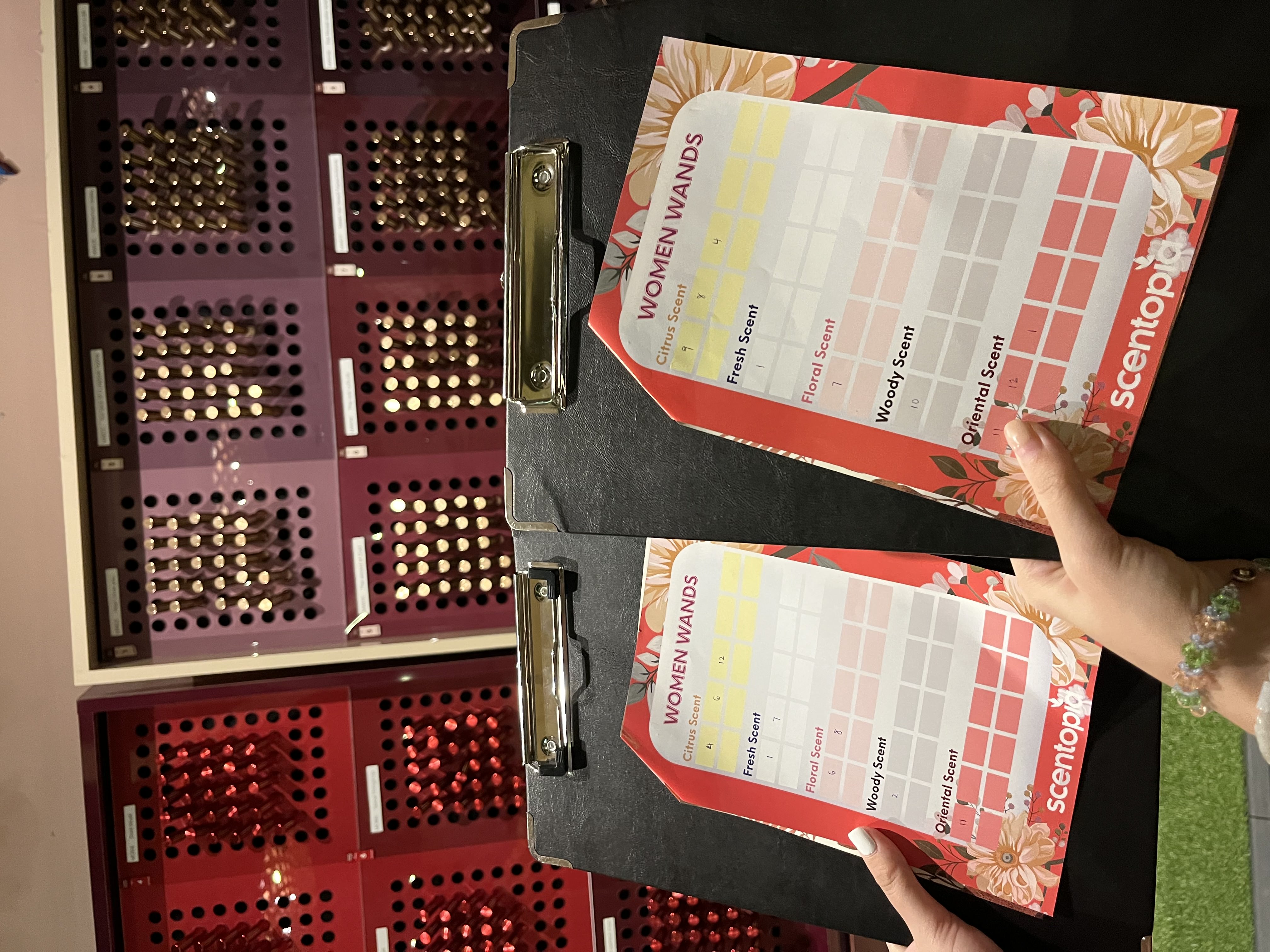 The pamphlet that I used to list the scents I liked. Photo courtesy of Eugene Chua.
I then proceeded to the second half of the workshop, where I got to test out the selected 10 scents combined. Mitrah passed me a cup of cotton to combine the scents in: all I had to do was pump the scents into the cup.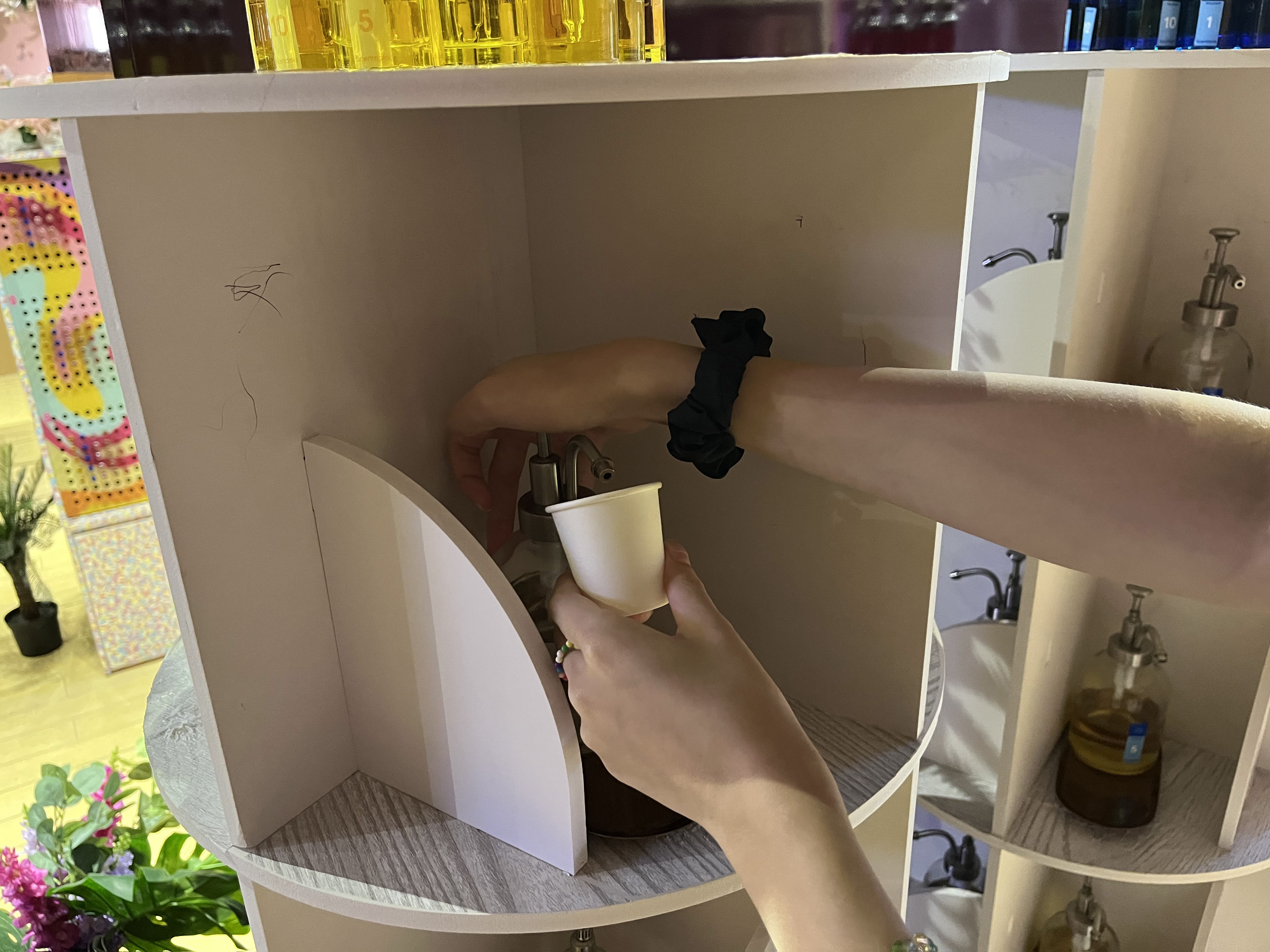 The second station is where I was able to combine the scents and get a gist of the end product. Photo courtesy of Eugene Chua.
After combining the scents, I soon realised there was a distinctive scent that I did not like. Fortunately, Scentopia allows you to make changes to your combination once. I sought Mitrah's aid to find out what went wrong, and  we went scent by scent to find out what the issue was.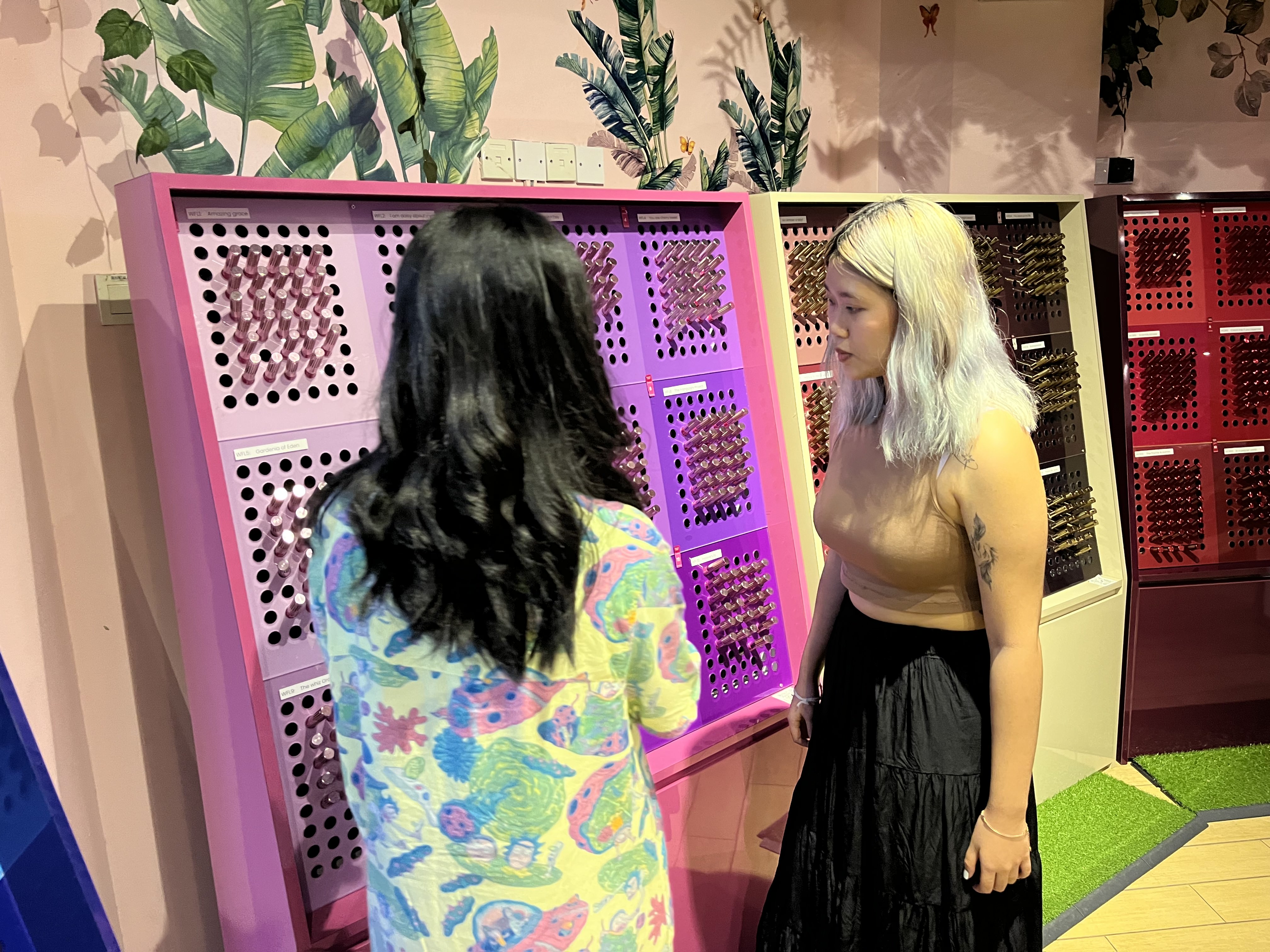 Mitrah recommended other floral scents to me to replace the scent I did not like. Photo courtesy of Eugene Chua.
We soon found out that the root cause was one of the floral scents. Mitrah was able to tweak my combination to my preferences by removing the scent and I was very satisfied with the end results. 
Then, I passed my personality quiz and the cup, now with 9 scents, to Mitrah, and she headed over to the counter to assemble my perfume. 
The finished product was then handed over to me in a bottle beautifully depicting recognisable landmarks in Singapore, such as Marina Bay Sands, the Singapore Flyer and Gardens by the Bay.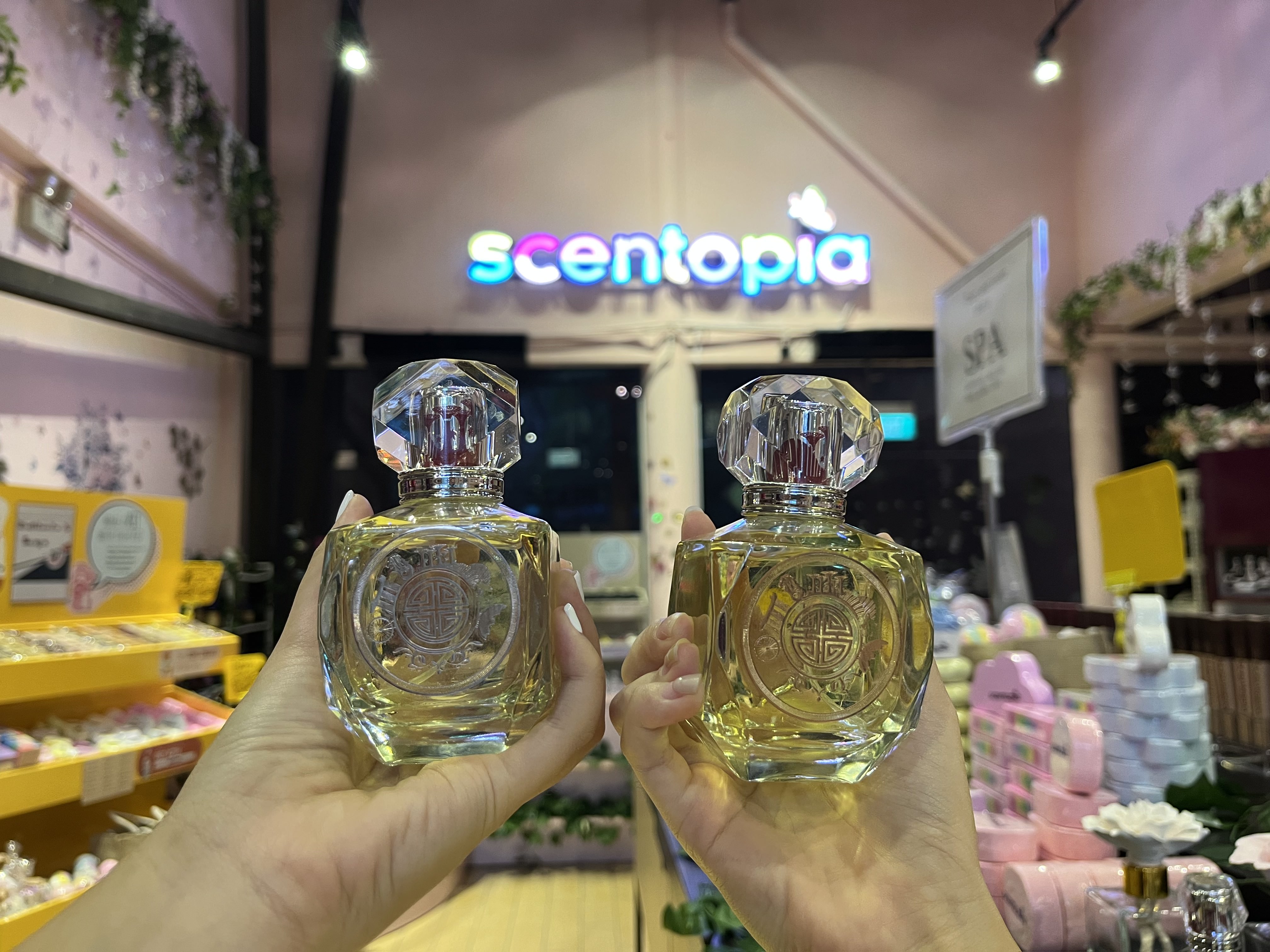 The finished product was a perfume that matches my personality. Photo courtesy of Eugene Chua.
I was really amazed by the end results, and loved how the 10 scents perfectly combined into a single aroma. I enjoyed how the sweet floral scent mixed with the refreshing fruitiness of the light citrus; the perfume turned out to be exactly what I wanted it to be. We ended the workshop with a tour of the gallery of ready-made perfumes,  including the iconic "Singapore Girl" perfume that was formulated back in the 1960s and sold under the Singapore Airlines brand. 
For those who are looking for a date idea or something wholesome to do, A perfume-making session at Scentopia is the perfect activity to consider. Scentopia's Perfume-Making Workshop costs $95 for 50ml or $125 for 100ml. That wraps up my experience at Scentopia and I would love to return to try out different scents. 
Address: 36 Siloso Beach Walk, Sentosa, 099007
Opening hours:11am-7pm Daily 
Price: Workshops start at $95 for a 50ml bottle 
Verdict
Overall: 5/5
Ambience: 5/5
Service: 5/5
Price: 4/5
This perfume-making session was sponsored by Scentopia.
Head over to our Instagram page, @hypesg, to find out how you can win a perfume-making session at Scentopia worth $125! 
Follow Scentopia: