Blonde, pink, rainbow: How we express ourselves through hair
CELEST TEO looks into why people are obsessed with dyeing their hair, and tries it for herself for the first time at NK Hairworks.
BY
Celest Teo
Editor-in-Chief
Hype Issue #56
Published on
December 12, 2022
While wandering around the country, amid a sea of black and brown-stranded heads, I occasionally spot glimpses of vibrant blonde, red, blue, pink and sometimes even multi-coloured hair. 
As someone who rarely experiments with new hairstyles, the concept of changing the natural colour of one's hair has intrigued me for years. In fact, cutting my hair has always been a fear of mine as I always worry about making big changes to my appearance — my hair has not been shorter than shoulder length since I was seven. The most I had done to my hair was to get highlights. Hence, I was interested to learn what compelled some to make drastic changes to their hair.
Lee En Qi, 18, is a student who started dyeing her hair after her O-Level examinations. In just two years, she has tried out a whopping seven different colours: brown, blonde, purple, red, pink, ash grey, blue grey and green.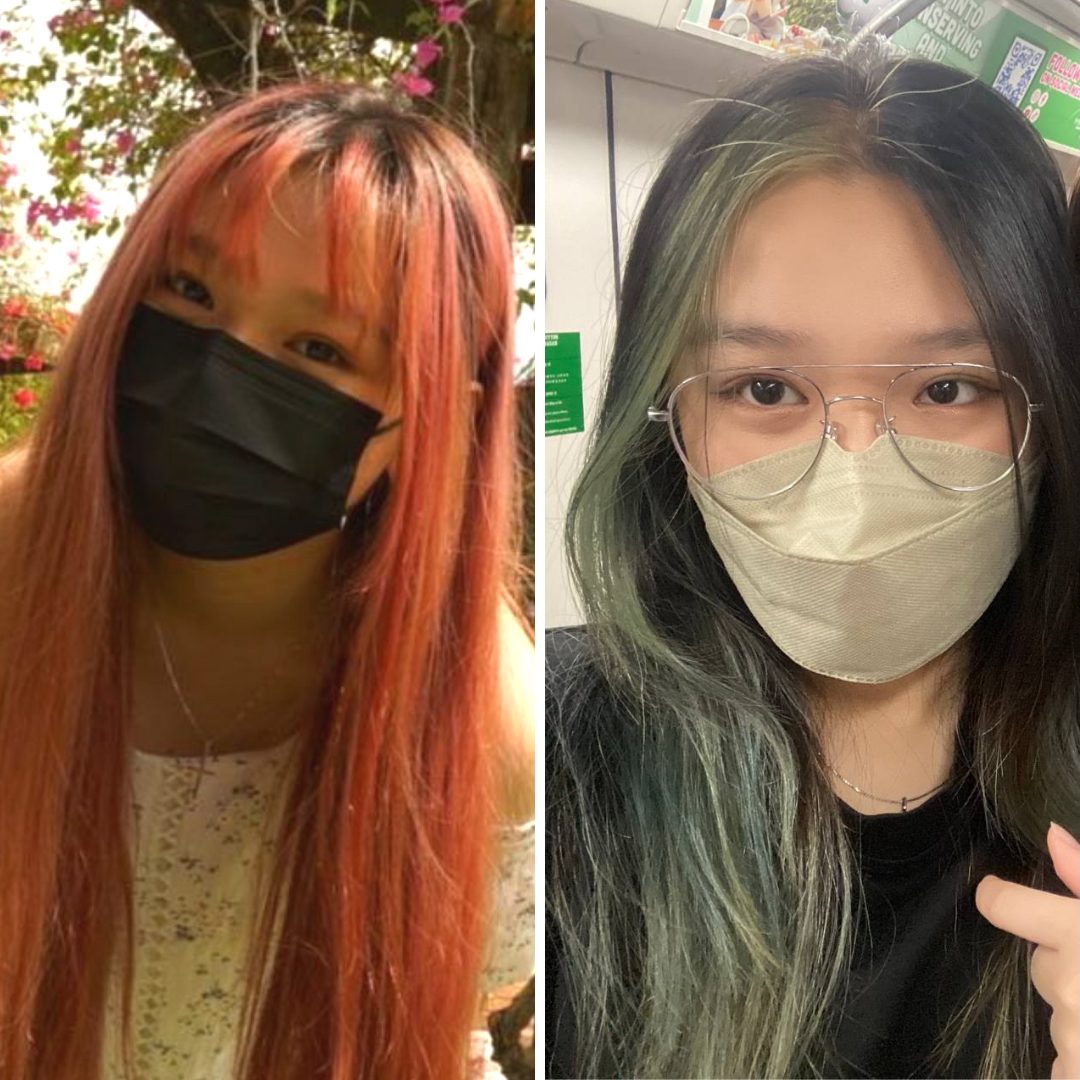 En Qi changes her hair colour frequently, with pink (left) being one of the colours she experimented with. Most recently, she has tried out a green streak in black hair. Photos courtesy of Lee En Qi.
En Qi dyes her hair often to try out different looks and aesthetics. In fact, her ever-changing hair colour signifies a new 'character arc' for her each time. In reference to her current black and green hair, she explains: "I was trying to go for a cool yet dark, gloomy mood with the green highlight on black hair. Green to me represents growth, peace and healing. So it serves as my colour for this season."
To En Qi, wearing a new hair colour helps express her individuality. "It helps me to give off the vibes I want to without me saying anything. Of course this can be done through clothes, but my hair is like clothes, it's an extension of me."
Having heard En Qi's perspective, I decided that it was time to take a leap of faith and finally try out a new hair colour. I paid a visit to NK Hairworks for a sponsored hair dyeing and treatment session, excited to explore a new way to express myself.
 My experience dyeing my hair at NK Hairworks
With multiple outlets islandwide, I was able to choose an NK Hairworks outlet that was most convenient for me. I headed in to their Plaza Singapura outlet for my hair appointment and to my surprise, I was asked to select from a menu of complimentary drinks, including options like lattes, teas and coffees. It was the first time that I had been served refreshments at a hair salon.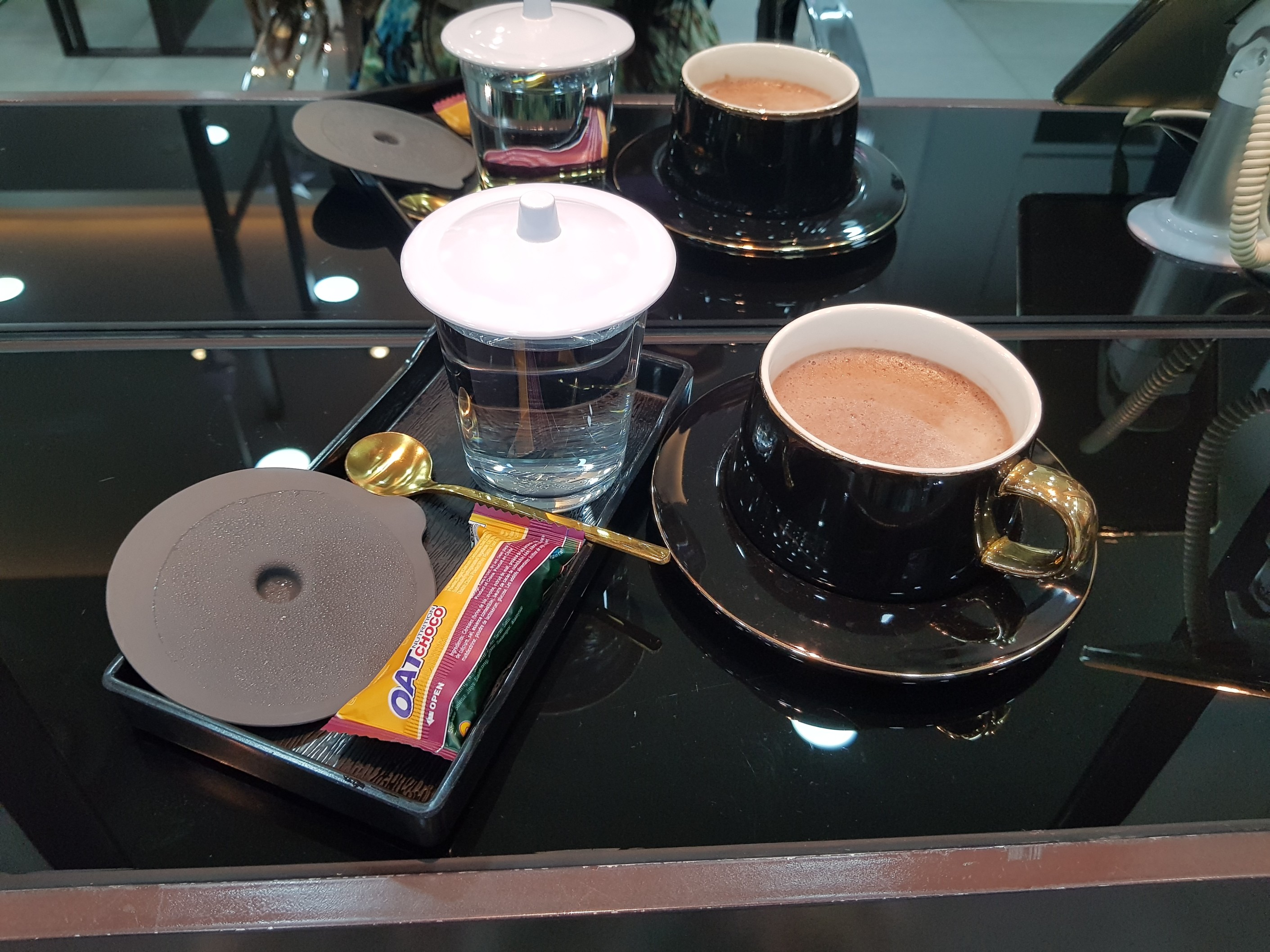 The perfect hair salon for the peckish — NK Hairworks served me a complimentary drink, water and a snack before my appointment started. Photo by Celest Teo.
Afterwards, I had a short consultation with a stylist, who gave me a few non-bleaching colour options to choose from. He informed me that my pre-existing highlights would still be visible after the dye job. I opted for the lightest colour available to make my hair look as different as possible without using bleach.
The dyeing session was efficient, and multiple stylists would help to apply the dye on my hair and check on the progress of the colour. After applying the dye on the bulk of my hair and leaving it to absorb for around 20 minutes, a stylist brushed the dye on to my scalp to dye my roots. I felt a very mild and tolerable burning sensation, but was not alarmed as I had been reassured that this was normal, especially for a first-time hair-dyer like myself.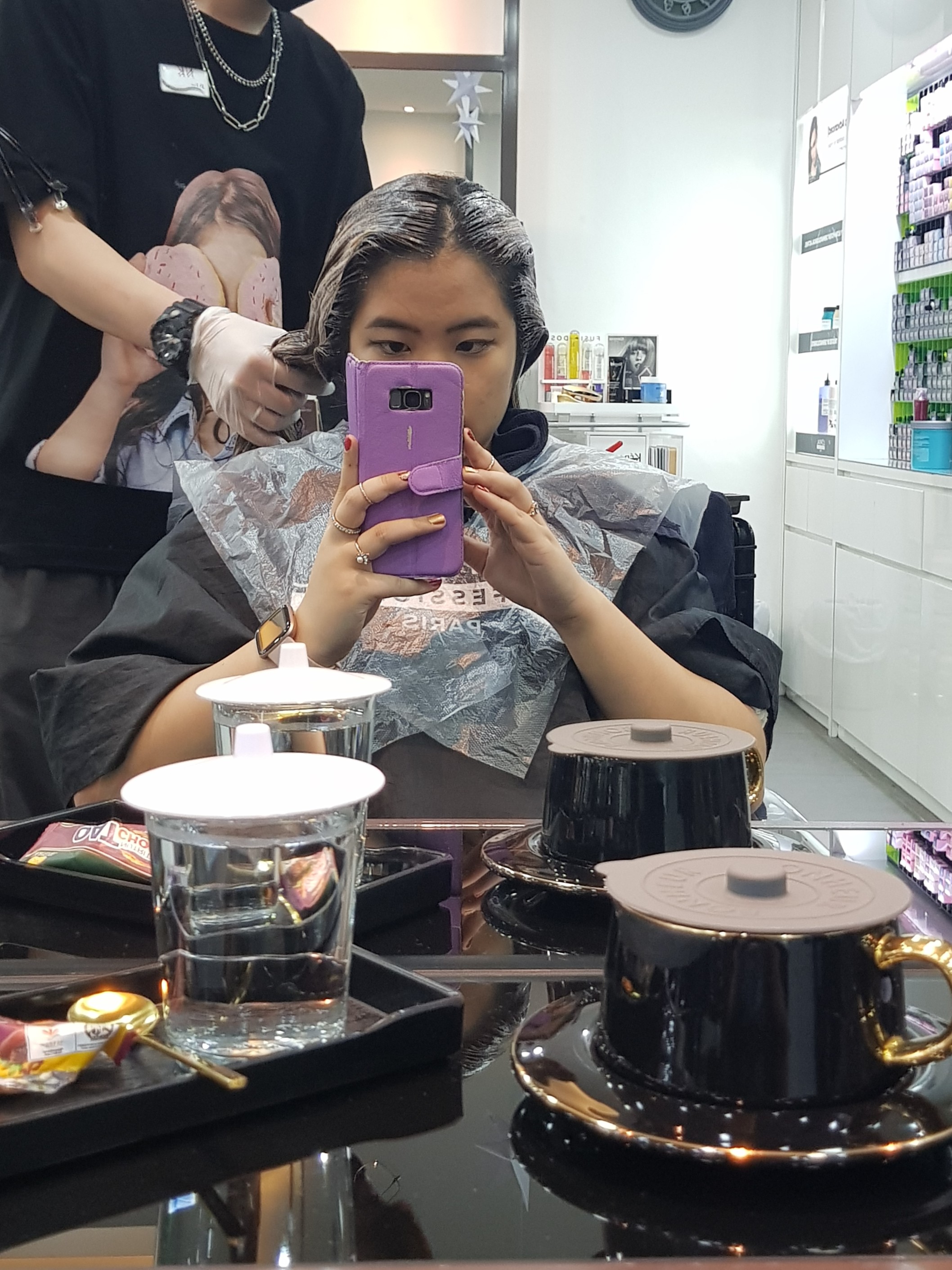 Hair dye was applied to sections of my hair, coating my strands fully. Photo by Celest Teo.
The dyeing process took around two hours, and afterwards, the stylists proceeded to wash my hair and apply a hair treatment to my locks to prevent them from being dry and damaged after the dye job. A cap was placed on my head, and my hair was gently steamed by a machine. 
After a final wash, two stylists blow-dried my hair, allowing me to finally see the results of the three-hour-long process. I was greeted by light, reddish-brown tresses, a colour that looked foreign yet fresh on me. It was certainly a different look, a breath of fresh air from the same old black hue I had worn for all of my life.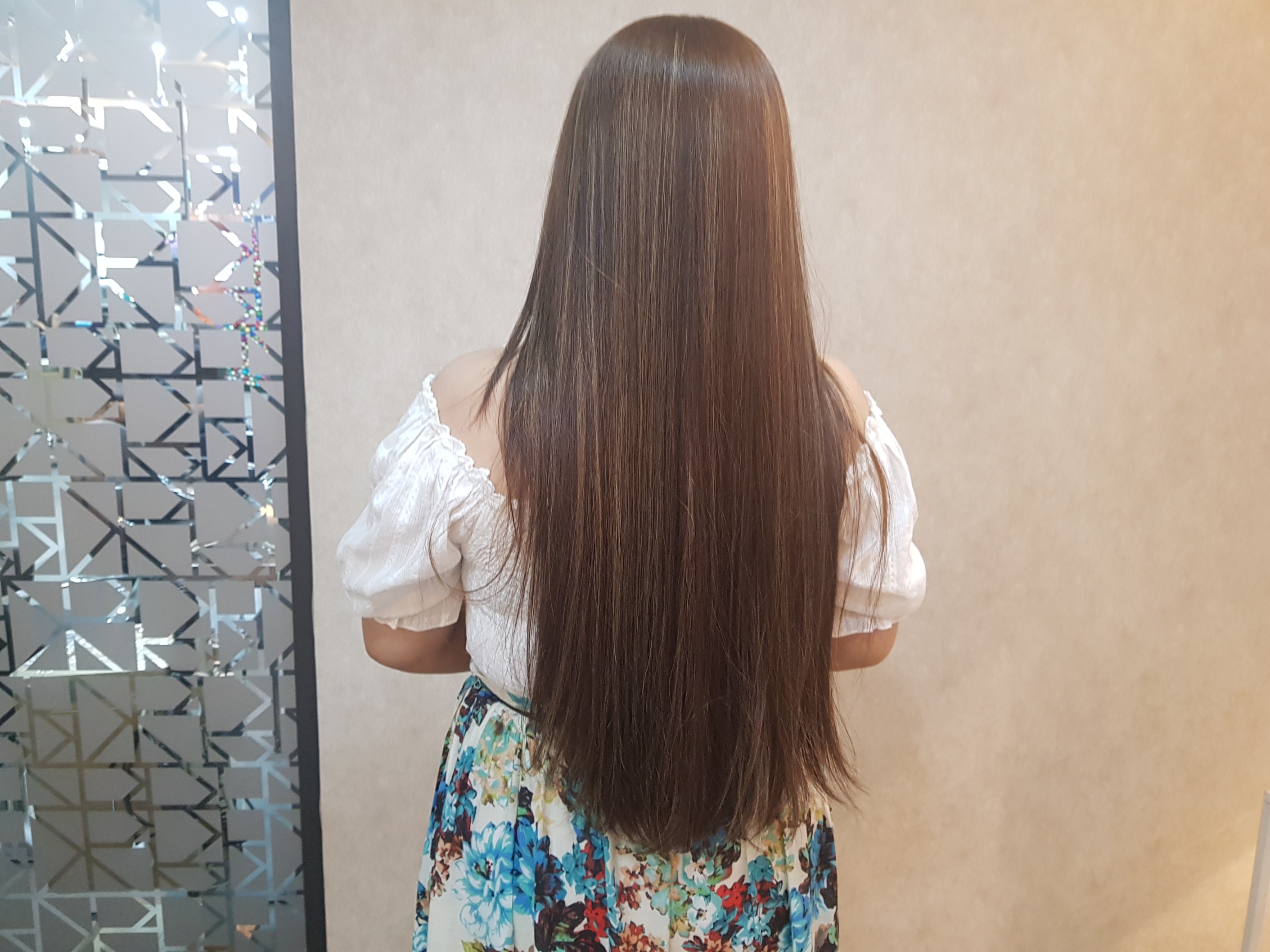 After three hours, my new hairdo was finally done. Photo by Celest Teo.
A professional's perspective on hair dyeing
As I admired my new look, I spoke to one of my stylists, Kevin Yap, who has been a hairstylist at NK Hairworks for 22 years. Prior to joining NK Hairworks, he worked as a hairstylist in Malaysia for 4 to 5 years before moving to Singapore. 
When it comes to the dyeing of hair, Mr Yap observes that the views of Singaporeans have evolved over the years. When he first started working at NK Hairworks back in the early 2000s, simple highlights and brown colours were more in trend, but today, pastel colours have become the most popular option. "The youngsters now," he says, "They like to play with colourful hair colours."
Mr Yap surprisingly reveals that older customers are also  more accepting of creative hair colours too. In the past, they would merely dye their hair to cover emerging white hairs. Now, some decide to dye their whole heads with lighter colours after covering their white hairs. 
Additionally, Mr Yap has encountered customers that frequently return to completely change their hair colours. When asked  why people choose to dye their hair instead of sticking to their natural shades, he says: "Your hair colour makes you look different. When your hair is dark, it may look like mei you jing shen (no energy), but when you colour your hair, you may look more fresh. Hair colour is like makeup."
One of the concerns that first-time hair-dyers may have is the problem of dryness and hair damage. Mr Yap suggests customers do a hair treatment after getting a fresh dye, so as to lock in the colour pigments and prevent their hair from drying out. For those who like dyeing their hair frequently, Mr Yap finds it important for them to get regular hair treatments after each dye job.
 Final thoughts
Getting my hair dyed for the first time was an exciting and fruitful experience. The stylists at NK Hairworks were professional and attentive, constantly checking up on me and my hair. 
Their refreshments were also a great touch. Aside from the complimentary drink served at the beginning of my appointment, halfway through my dye job, I was offered a selection of mini ice cream cones and jelly cups to snack on!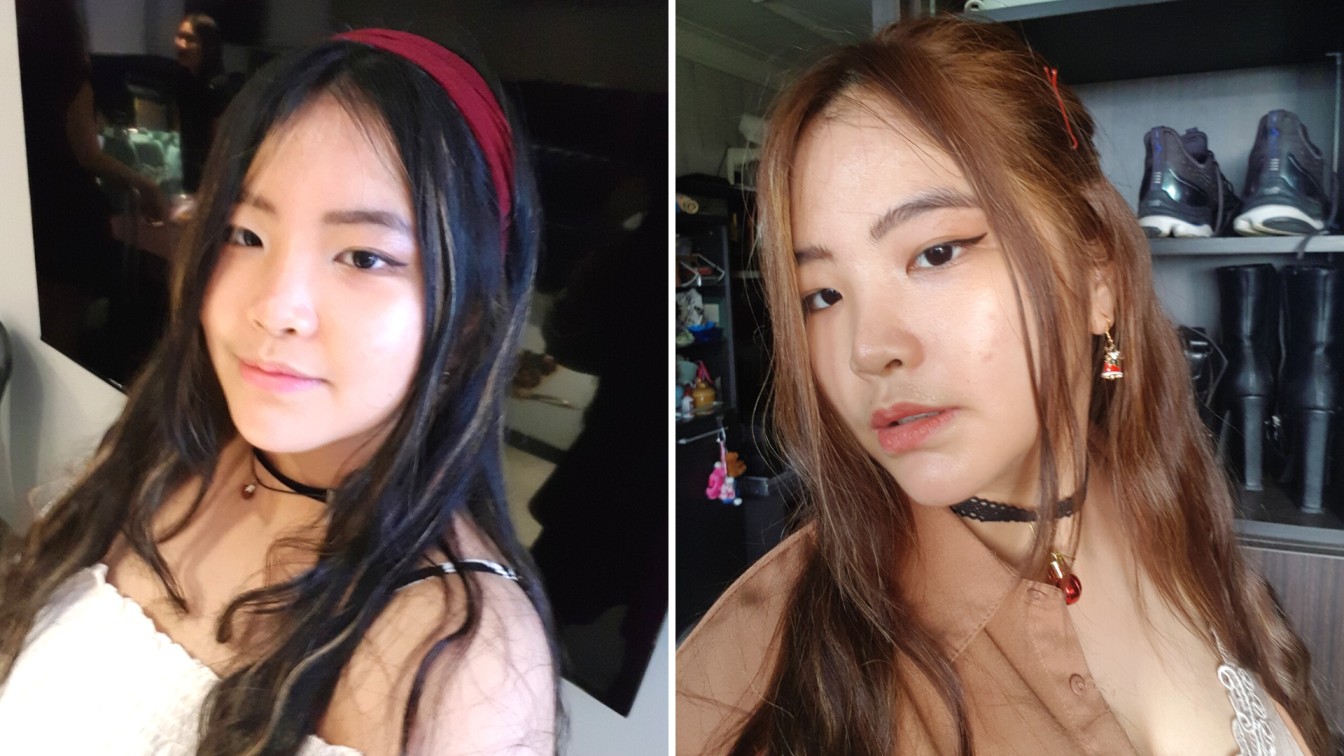 I went from having highlights on my lifelong black hair (left) to having coloured hair for the first time in my life (right). Photo by Celest Teo.
Trying out a new hair colour was initially daunting, but after all was said and done, I certainly don't regret it. Finally dyeing my hair and exploring the reasons why others frequently experiment with their hair colours has unlocked a newfound interest in me. Honestly, I feel tempted to try out an even bolder colour in the near future – Perhaps I'll bleach my hair bright green a la the Joker, or unlock my inner Rainbow Dash and don my very own multi-coloured mane.
After all, as Mr Yap said – I could always dye it back.
The hair colouring and treatment session was sponsored by NK Hairworks. 
 Head over to our Instagram page, @hypesg, to find out how you can win NK Hairworks vouchers for your new do! Additionally, those aged from 19 to 23 may get 30 percent off their total bill, terms and services apply.
Follow NK Hairworks: