In Symmetry: A Tale of Two Concerts
A newbie gig-goer meets a concert junkie. HYPE editors CELEST TEO and ASHLEY WONG attend back-to-back concerts presented by Symmetry Entertainment and reflect on their different journeys with live music.
BY
Ashley Wong
Celest Teo
Hype Issue #56
Published on
December 11, 2022
The opening act
Celest – The Newbie Gig-Goer
Despite having learnt music since I was four, I've never been much of a fan of attending concerts. Prior to mid-2022, I had never been to a concert. This was mainly due to the high costs of tickets and the way that my incredibly short attention span kept me from focusing on the performers. Given how I came from a music band performance co-curricular activity in school, my lack of experience with live music is truly ironic, but I suppose I could attribute my lack of interest towards concerts to the fact that I did not grow up with many live musical performances supplementing my upbringing. 
Music has always felt more like something to enjoy in the background while performing another task, be it playing light classical music while studying, or blasting upbeat tunes while breaking a sweat at the gym. Hence, attending concerts never had much of an appeal to me, unless the performers were people that I was a fan of, or that I knew personally. 
When I was given the opportunity to attend a proper concert for the first time, I decided to jump at the chance to experience a musical performance with a live audience.
Ashley – The Concert Junkie
As Jimi Hendrix once said, music is my religion. And concerts have been worship sessions: being a near weekly ritual, I could never get enough of them. Be it $10 stamp-X-on-your-wrist shows at ice factories, or modern classic acts at mid-size venues in Singapore, concertgoing has always been an indelible part of me. 
With my extensive passion for music, I couldn't imagine a life without it until I reluctantly had to; when live events paused for almost two years during the pandemic. Cherished independent venues like The Substation and Lithe House shuttered during this hiatus, leaving gig obsessives like myself yearning for the next time we could bump bodies in the mosh pit. 
So imagine my happiness when live music events slinked back into action midway through 2022. A show every weekend quickly turned into a show every other day to make up for lost time. I was hot on the heels of gigs, club events, DJ nights, or really, anything that involved sounds coming out of a speaker. The word "no" disappeared from my vocabulary when live music was involved.
Concert #1
Ashley
Last Dinosaurs: Live in Singapore
17 November 2022
I stepped into the deep purple glow of *SCAPE The Ground Theatre. The intoxicating scent of the smoke machine mixed with spilled wine on the floor made me smile – I knew that this was going to be a good night. Australian indie-rock darlings Last Dinosaurs were playing on their triumphant return to Singapore after a solid three years of touring hiatus.
Starting as a moderate fan of Last Dinosaurs, I grew into a huge one through their latest album, and was buzzing to hear the new tracks on stage. Seeing artists translate new material live is always an exciting spectacle, and it allows me to appreciate their artistry more.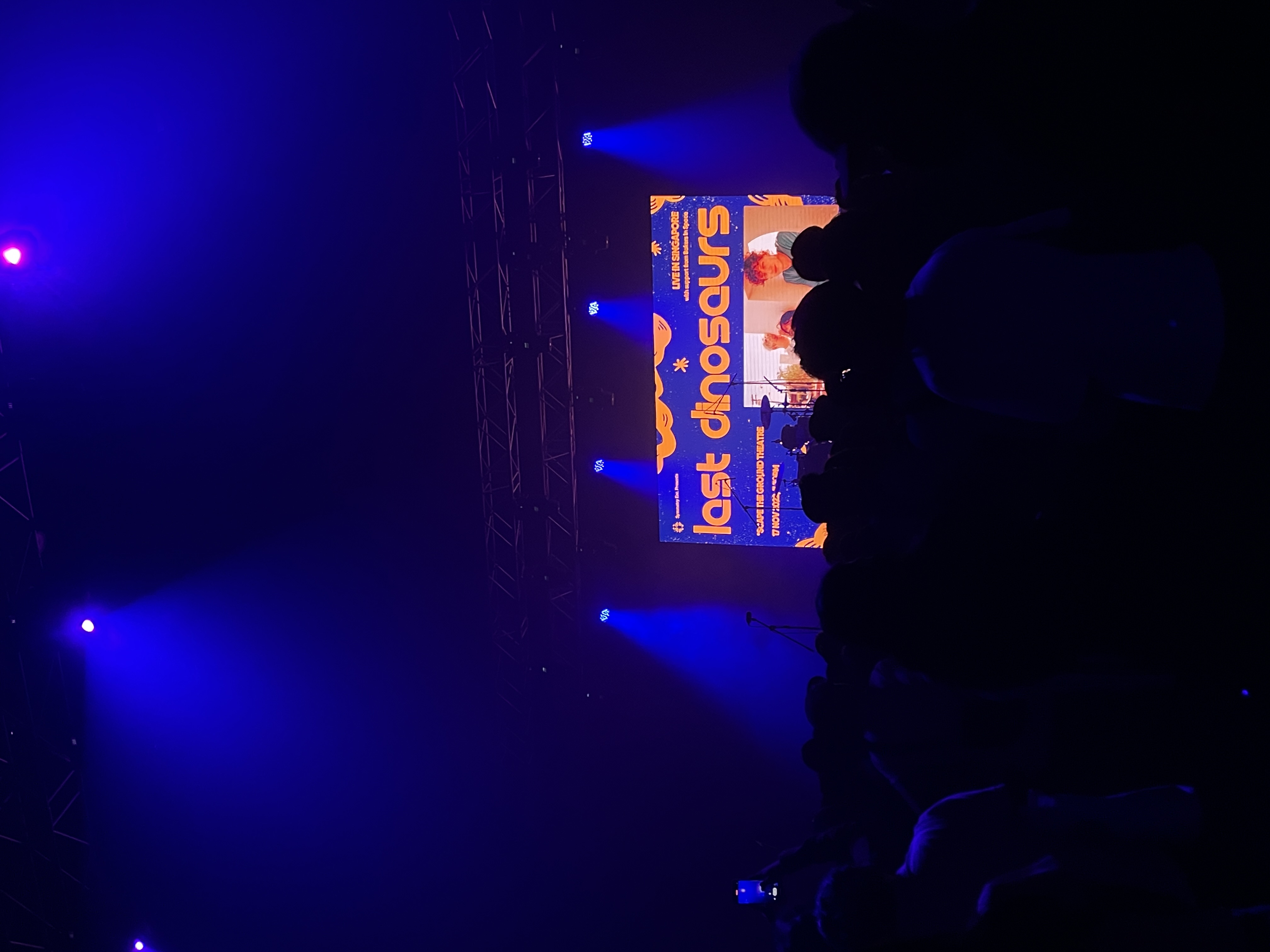 The visuals that welcomed the audience at Last Dinosaurs: Live in Singapore. Photo by Ashley Wong
Opening act Bakers in Space took the stage, charming the audience with songs like "Mute" and "Citrus". A respected local rock outfit, their sound was not derivative from the Dinosaurs, and hyped the crowd up for what was soon to come.
After 30 minutes, Sean Caskey, the blond-haired frontman of Last Dinosaurs, appeared on stage to rapturous applause, followed in short order by the rest of the band. My over-enthusiastic cheering and stomping was probably heard by the security guards who looked over with much surprise. But to me, it didn't matter who was watching – I was in my zone!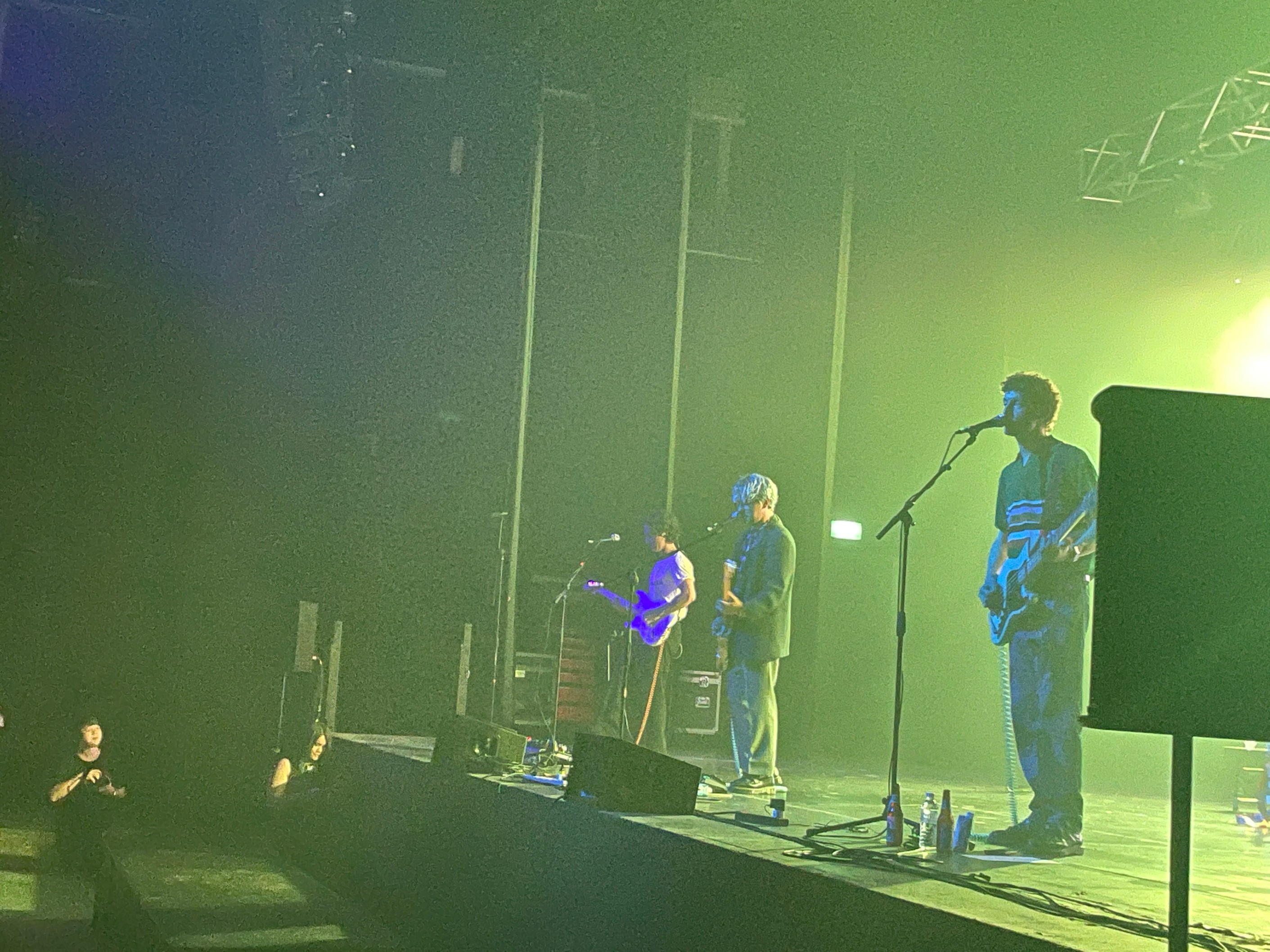 Last Dinosaurs, deep in the glow of the stage, performing their first few tracks to an unyielding audience. Photo by Ashley Wong
Speaking as an audiophile, the sound system of the venue had room for improvement: the bass response was muddy and vocals were suppressed at best. But these worries were quickly quelled when Lachlan Caskey, the lead guitarist, started us off with the opening riff of "Put Up with the Weather!", lifting the audience on their feet.
A cursory glance around the venue showed me an interesting mix of concertgoers: amongst the mostly Gen Z crowd, I spotted millennials in office wear scattered around, perhaps overjoyed with their decision to spend their Wednesday night at a live concert. The sight made me cheekily wish that rocking out mid-week would, too, be my imminent future.
Nigel Lopez, partner at Symmetry Entertainment, shares his thoughts about the crowd's composition. "The Gen Z audience came in after Covid, and during those two years there were zero live shows, so they're clearly hungry for that experience," said Mr Lopez. 
He additionally elaborates on Symmetry's decision making process for booking acts: the act must be able to draw enough of a crowd to make it worth the time and effort from the team. 
"We base this off their local streaming statistics and general understanding of the band's reach across the crowd here in Singapore." 
But most importantly? Mr Lopez is constantly on the lookout for bands with the "Symmetry Sound". "If we like the music, we believe they will put on a fantastic live experience for the audience," he adds.
It was finally time for my favourite song, "Auto-Sabotage", off their latest album "From Mexico with Love". Brothers Sean and Lachlan swapped positions on the stage, as they often do when performing new material. As the new album was barely released two weeks before the concert, it felt like I was the only person who had already learnt all the lyrics.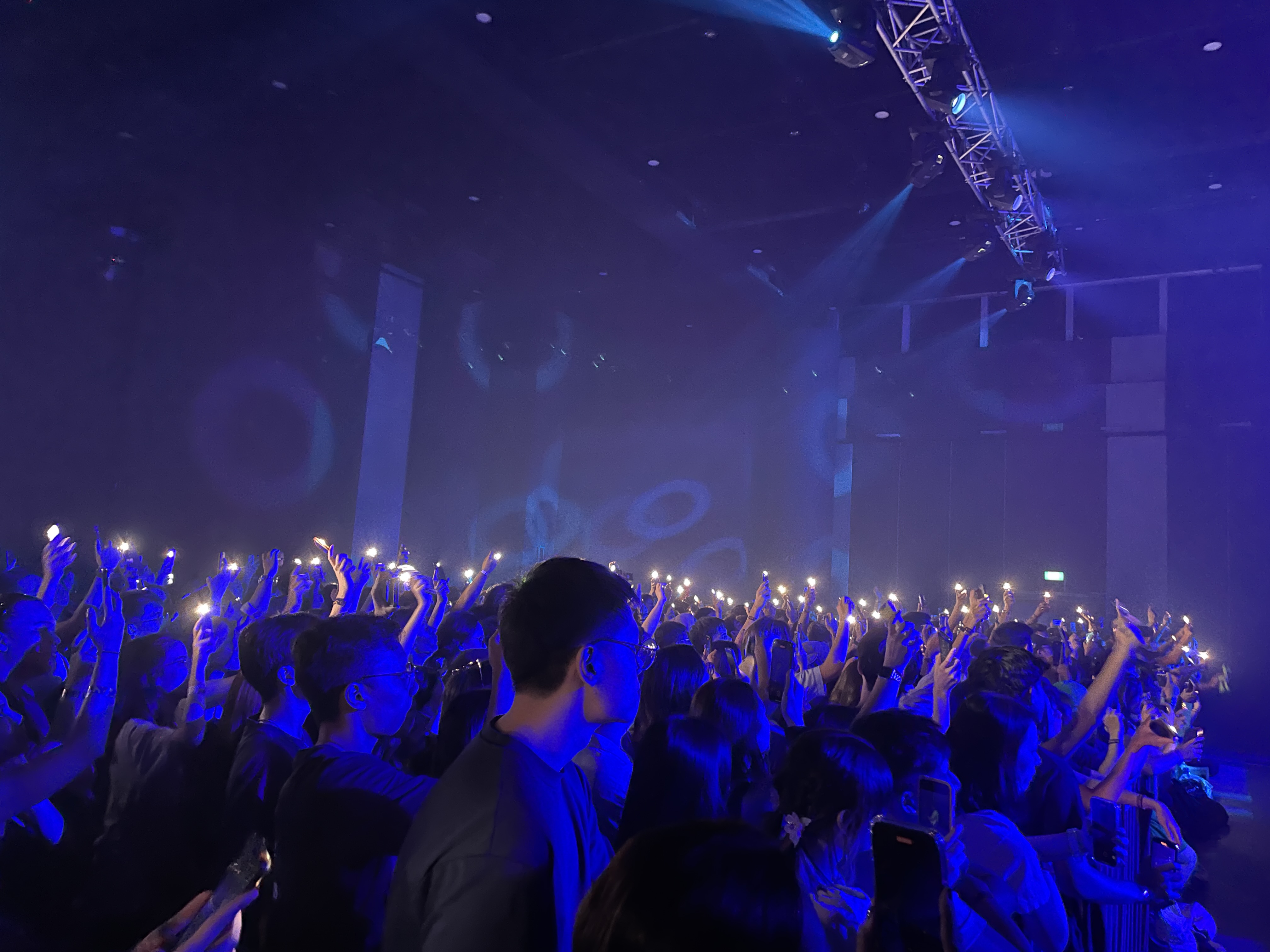 The hazy scene of *SCAPE The Ground Theatre, with the audience deep in enjoyment, waving their flashlights when instructed by the band. Photo by Ashley Wong
Crowd favourites like "Apollo", "Eleven" and "Zoom" kept the audience charmed and the ground shaking. Taking a beat, Sean addressed the starstruck concertgoers. "We love performing in Singapore because it's so refreshing to play to people who don't look like us… it's very special," he said to loud cheers. Lachlan chimed in from stage left, expressing his excitement to be back after three whole years.
The band continued with a killer selection of around ten more songs until it was time to conclude the night. Sensing the impending chants of "encore, encore", Sean cheekily mused: "I know this is the part where we turn the lights off and you think it's over, we go backstage for 5 minutes, and you pretend you don't know we're going to play a few more songs for you." 
He suggested that we save our breaths, and instructed the band to play the final song they had prepared: the Hawaiian-flavoured hit "Honolulu". The lights on the stage turned a tropical yellow, allowing us all to bask in that mood and end the night on a good note.
Concert #2
Celest
joan: Live in Singapore
23 November 2022
I have been to a few gigs in which multiple small local bands have performed one after another, but Symmetry Ent granted me my first ever larger scale concert experience, with the American alt-pop duo joan being the headlining act. 
As I stepped into The Ground Theatre at *SCAPE, I was enveloped in a cloud of mist filling the space. The theatre was dimly lit with violet lights, and fans crowded toward the front of the stage.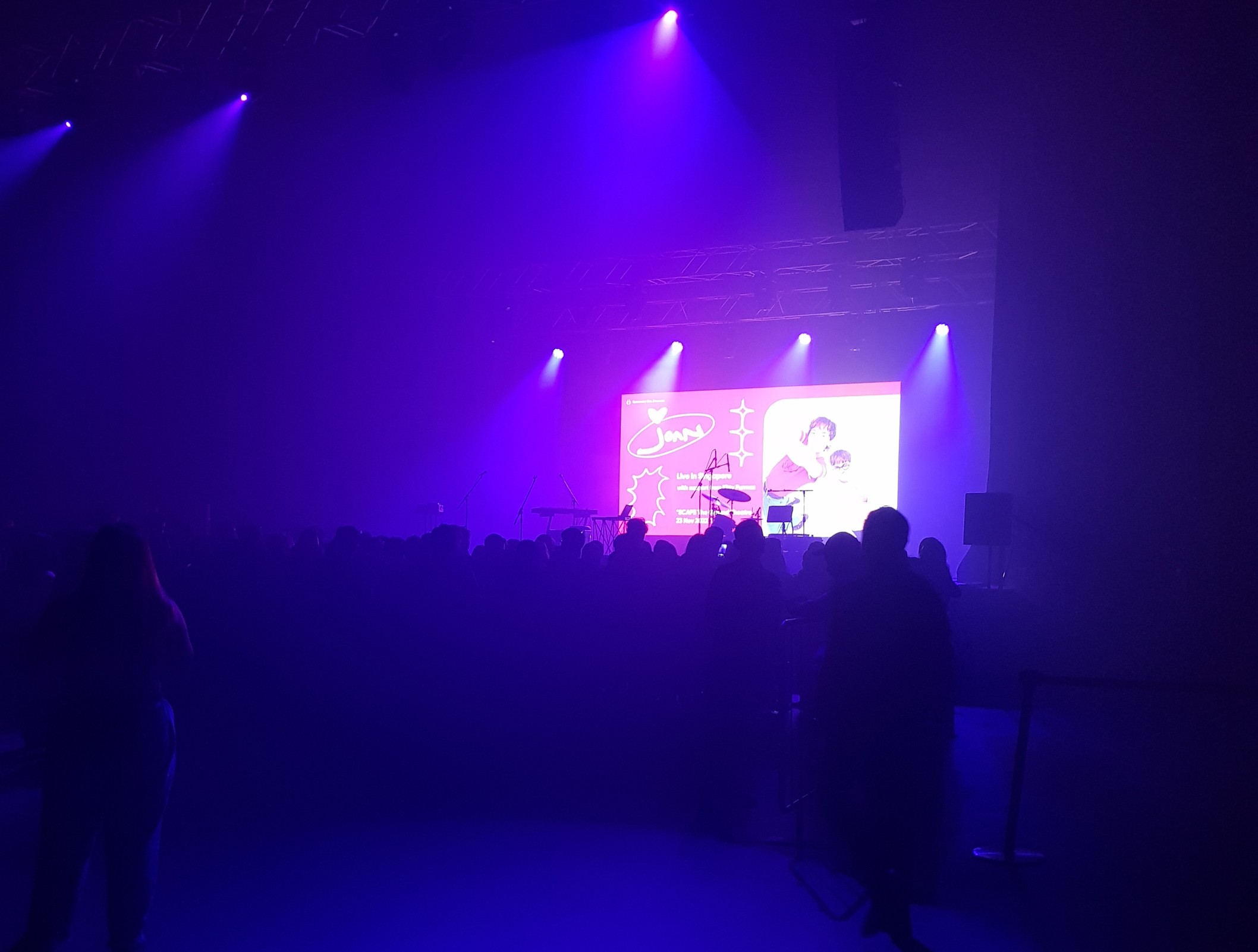 While The Ground Theatre at *SCAPE was definitely smaller in size compared to other music venues, it was spacious enough to fit over 450 people. Photo by Celest Teo.
The audience was first serenaded by joan's opening act, Kitty Purrnaz, a Singaporean indie-pop artiste. The moment Kitty started her performance, the lights in The Ground Theatre sprang to life with vibrant, colour-changing hues emitting from the lights overhead.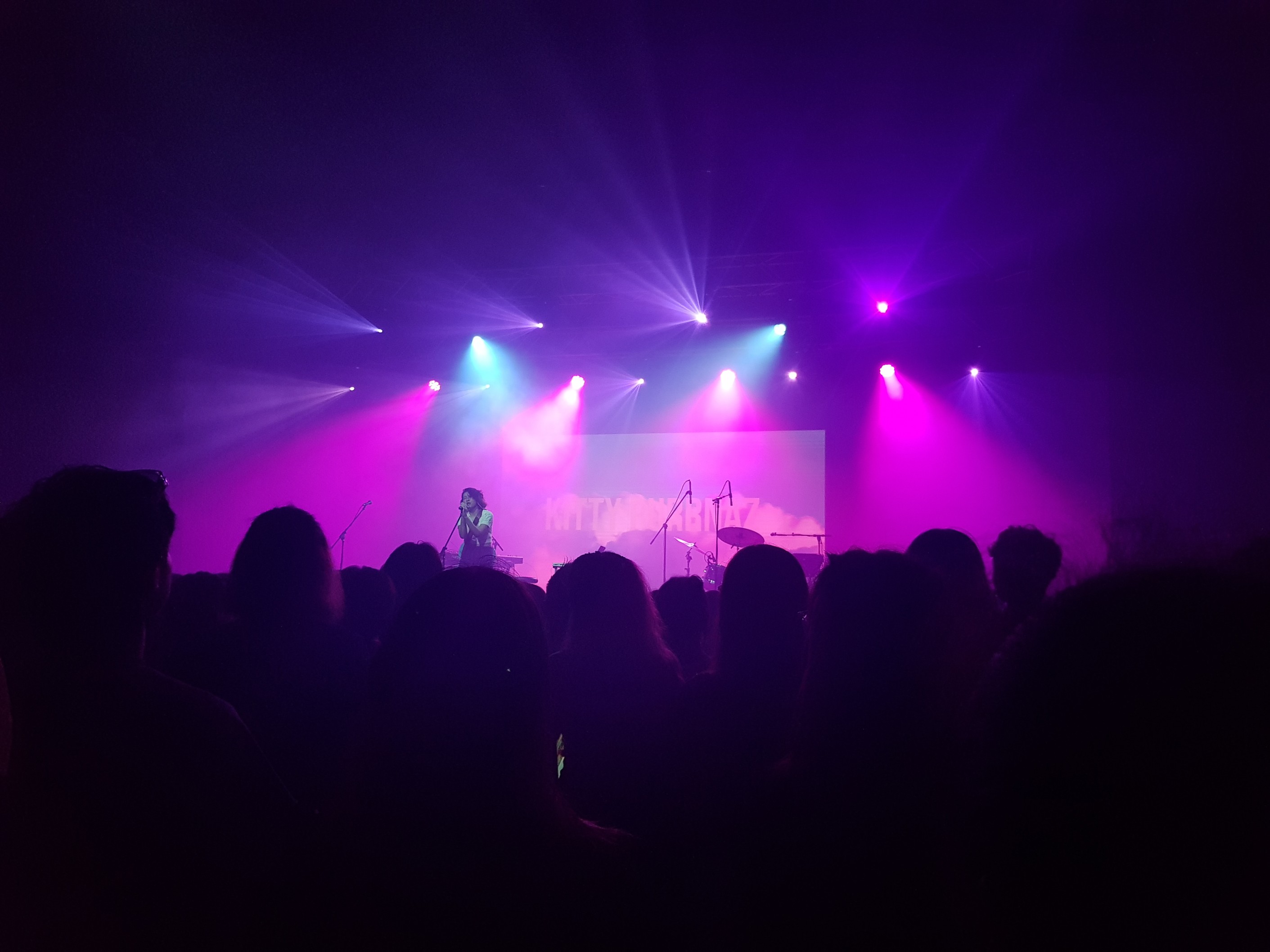 The opening act, Kitty Purrnaz, took to the stage to perform while the lights sprang to life. Photo by Celest Teo.
The thing that instantly stood out to me during Kitty's performance was the impeccable sound quality in the space. Every word spoken and sung into the microphone rang clearly throughout the space without feedback or distracting reverb. The backing tracks all had the same high quality as the vocals from the microphone, making me feel like I was listening to the studio-recorded versions of the songs.
Kitty's vocals were also incredible. She effortlessly stayed in tune throughout her opening act, with a gorgeous vibrato decorating her notes. At one point in the performance, she switched from performing with a backing track to singing an acoustic piece with just her guitar. Everyone was captivated, and I adored the supportive energy that the audience exuded, cheering and interacting with her. 
After Kitty left the stage, there was a short break before the screen came to life once again to introduce the headlining act, joan. The audience cheered in excitement as the band members, Alan Benjamin Thomas and Steven Rutherford, took to the stage, breaking into their upbeat 2021 single, 'something special'. Engaging visuals played on the screen behind joan, with lyrics and accompanying illustrations displayed in perfect sync with the music.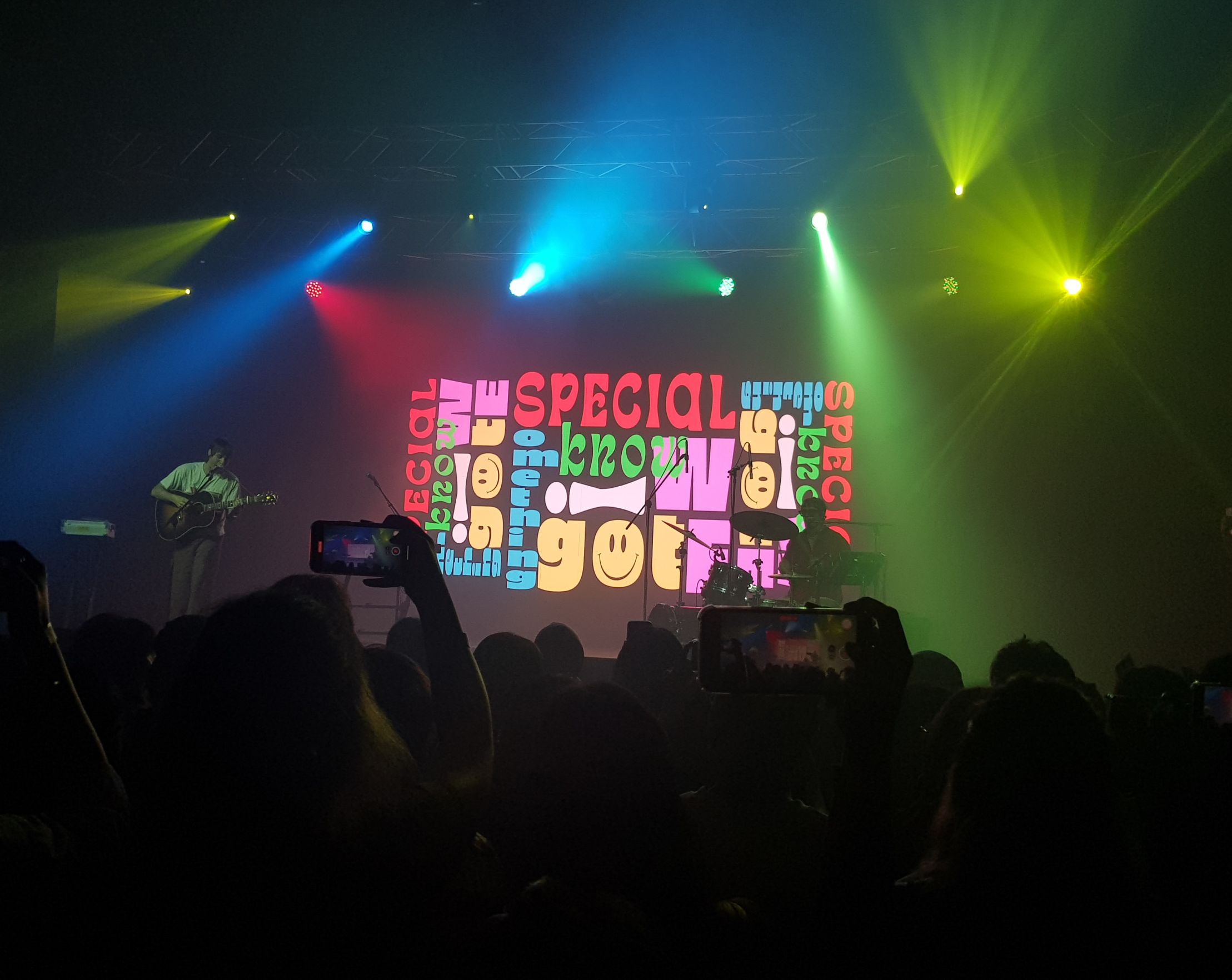 joan's opening song, 'something special', captivated me with its engaging visuals. Photo by Celest Teo
The performance went on succinctly, with joan performing one song after the other with no breaks in between. Given the similar chill, indie-pop vibes of each song, joan was able to transition seamlessly between tracks. The lighting would change colours and directions to fit the mood of each song, which I liked. Each song also had its respective accompanying visuals, allowing me to enjoy an even greater level of engagement.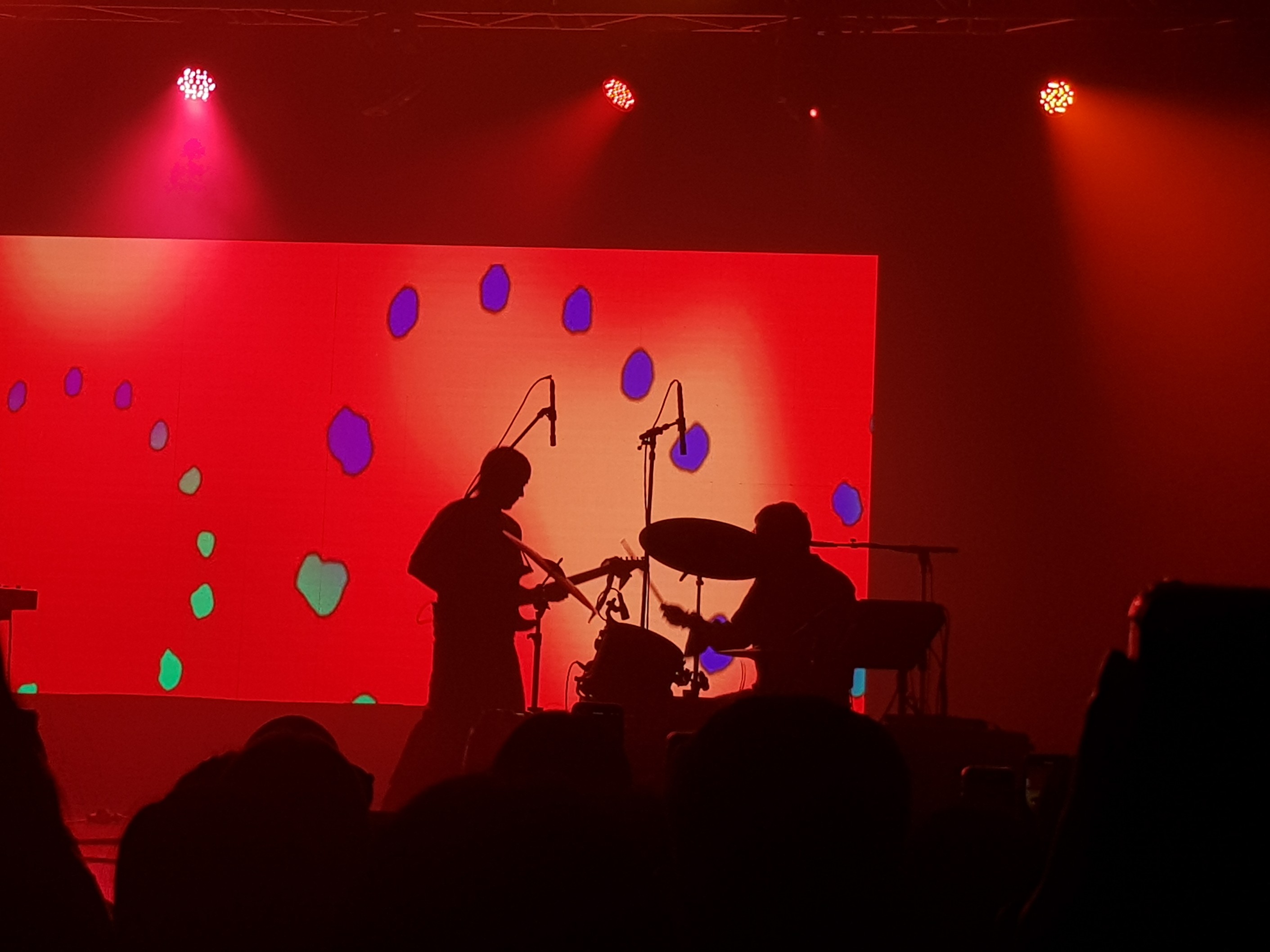 Each song was accompanied by its own unique background visuals and lighting. Photo by Celest Teo.
There was a brief technical hiccup in which the screen stopped displaying the visuals and showed an error message instead, but the issue was quickly fixed and did not affect the performance at all, showing the backstage team's efficiency and adaptability.
After more high energy songs like 'come over', 'one more touch' and 'flowers', joan settled into an acoustic set. To match the energy of the set, the lights in The Ground Theatre became dimmer and the spotlight illuminated joan, bringing more focus to their gentle instruments and calm vocals. I could even notice the addition of a slight reverb to the microphone, giving the vocals a bit of a dreamier feel, which set the tone better. The mood shift from their previous upbeat sets to the acoustic set was prominent, and it immersed me even deeper in the performance.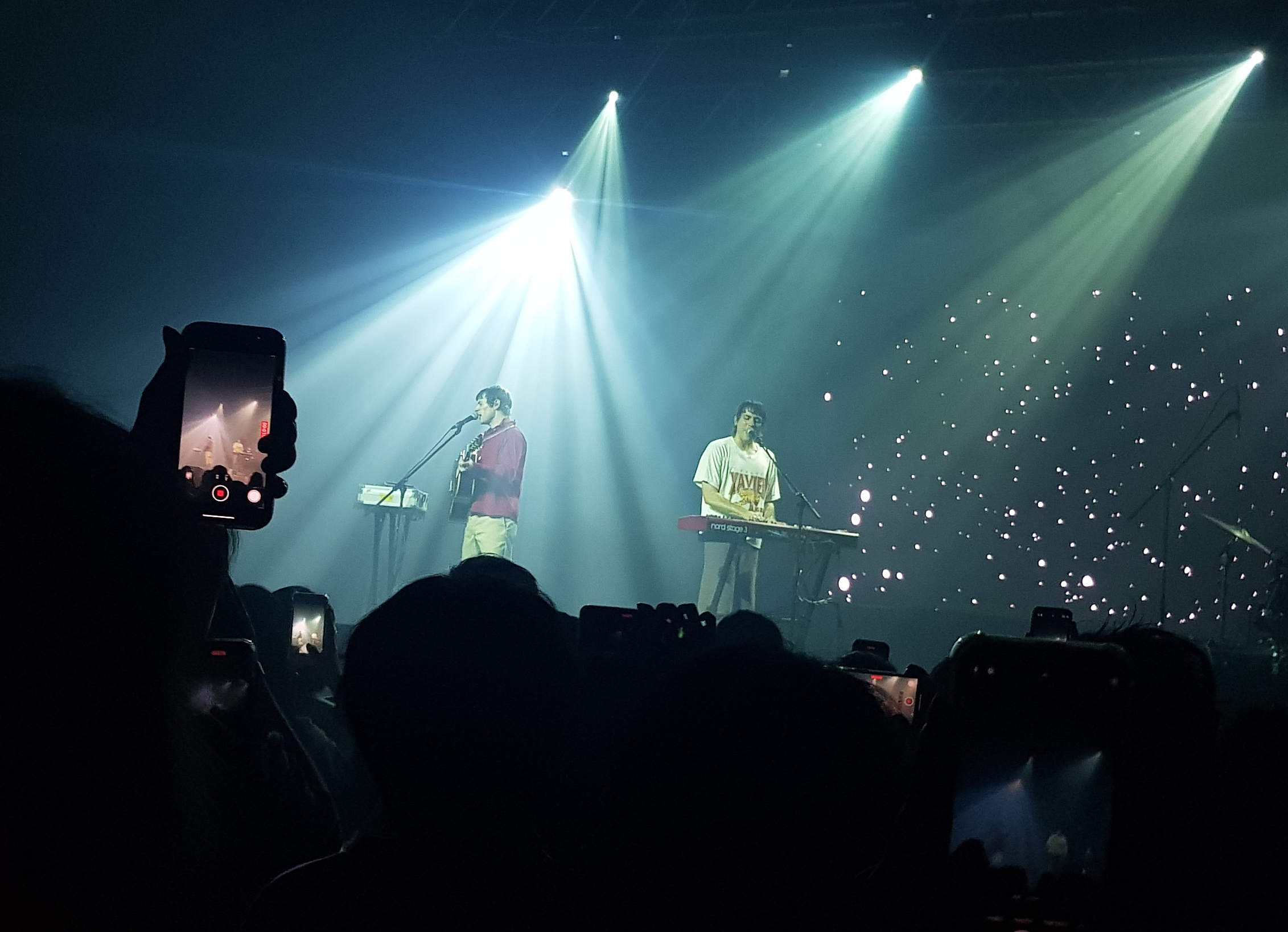 joan's acoustic set had a much dreamier and gentler atmosphere, making the performance feel more intimate. Photo by Celest Teo.
Soon after, joan resumed their high energy songs and the vibrant lighting once again sprang to life, indicating the end of the acoustic set. The audience jumped and cheered, with many singing along to the songs while filming on their phones. 
The entire performance lasted a little over an hour, and the sound quality never once let up. I was incredibly impressed with the technical aspect of the show, as each minute detail had clearly been thought through and was well-executed. The performers themselves, joan and Kitty Purrnaz, delivered spectacular performances. Their enthusiasm to be on stage was evident, and the energy from the audience certainly helped with that too.
Including the opening act, the whole concert lasted for around two hours, which I found to be a reasonable duration. I have attended gigs that lasted for four hours, so joan's concert did not make me feel overwhelmed or tired. 
All in all, I enjoyed the concert and the effort put into making the show engaging and visually appealing was apparent, such that even a non-concert goer like myself felt captivated. 
Afterwards, I spoke to a fellow audience member about the concert. Jared Quek, 20, was a student who had also just experienced his first live concert.
Despite not having previously known who joan were, Jared detailed his positive experience at the show, saying: "I had a great time vibing to the live music, and was glad to discover new musicians and their work."
Jared also complimented the production of the concert, praising its immersive nature. "I found myself lost in the moment several times throughout the performance. I was thoroughly enamoured with the event from start to finish."
The closing encore
Celest 
I am grateful to Symmetry Entertainment for providing me with my first proper concert experience. I went into the concert unsure of whether I would enjoy myself as I wasn't sure if it could capture my attention for long enough, especially since I had not been familiar with the performers prior to the show. However, now that I have experienced it first-hand, I would certainly like to attend more concerts to properly soak in the music and atmosphere.
Fellow convert Jared agrees with the sentiment, expressing his newfound appreciation of live music. "Aside from the thrill of seeing and hearing your favourite musicians in the flesh, the electrifying energy of being in a crowd is incomparable to any other method of enjoying music. I have never been a doubter [of live music], but after this experience, I am fully convinced."
Ashley
I'm most often found at local independent gigs, where everyone knows each other. The performers are my friends, and the venue tries to fit 150 in a space meant for 50. To catch an international act for the first time in quite a while was exhilarating and reminded me why I fell in love with live music: being in a space with your favourite artists at their very best, in a environment packed for the senses, elevating them to the highest level possible.
Mr Lopez reminisces on his personal favourite Symmetry concert – "Camp Symmetry", a 2013 music festival that brought over four thousand people to Gardens by the Bay. Indie darlings like Mew, Explosions in the Sky, and The Cribs performed for this one-night-only affair. On the Camp Symmetry team was Mr Lopez, at the time still an Arts Business Management student at Ngee Ann Polytechnic. "It was an insane dream come true," he enthusiastically adds.
When it comes to live music, I certainly don't need much convincing to go for seconds. As a full-time student, it's increasingly been about how much escapism I'm desiring on a given weekend. Luckily for me, I am quite the hedonist.
HYPE would like to thank Symmetry Entertainment for media passes to joan: Live in Singapore.
Follow Symmetry Entertainment