Turning Tides for Blind Boxes
CHLOE WONG explores the resurgence of blind boxes in Singapore, and speaks to blind box enthusiasts to find out more.
Photo courtesy of POP MART Singapore
BY
Chloe Wong
Publicity Manager
Hype Issue #56
Published on
December 7, 2022
At the mention of childhood toys, many of us may vividly recall the rows of gashapon machines lined up outside a HDB mama shop. Some might have called it a ritual to take a peek and even shake the machines in hopes of obtaining the sacred capsule we were eyeing.
Fast forward to 2022, blind boxes have taken the nation by storm. Utilising the same concept as gashapon, blind boxes encase mystery toys which are usually part of a collection or series.  Collections are based on cartoons or original designs, and typically feature rare figurines, also known as secret figurines, that are harder to find than others. Although blind boxes originated in Japan in the 1980s, these addictive packages only regained popularity among Singaporeans early this year.
Wendy Huin, 30, an avid toy collector who has collected more than 1,000 blind boxes to date, says: "I feel happy that there are more collectors nowadays. Back then when I first started collecting [blind boxes], I would say that around me, there weren't as many collectors."
A major player in this market and a name that blind box fans know all too well is POP MART, an industry-leading pop culture and art toy company founded in 2010.
In an interview with a POP MART Singapore representative, she shared that POP MART offers consumers a full suite of collectibles, through unique designs and product innovations featuring various exclusive IPs (Intellectual Properties).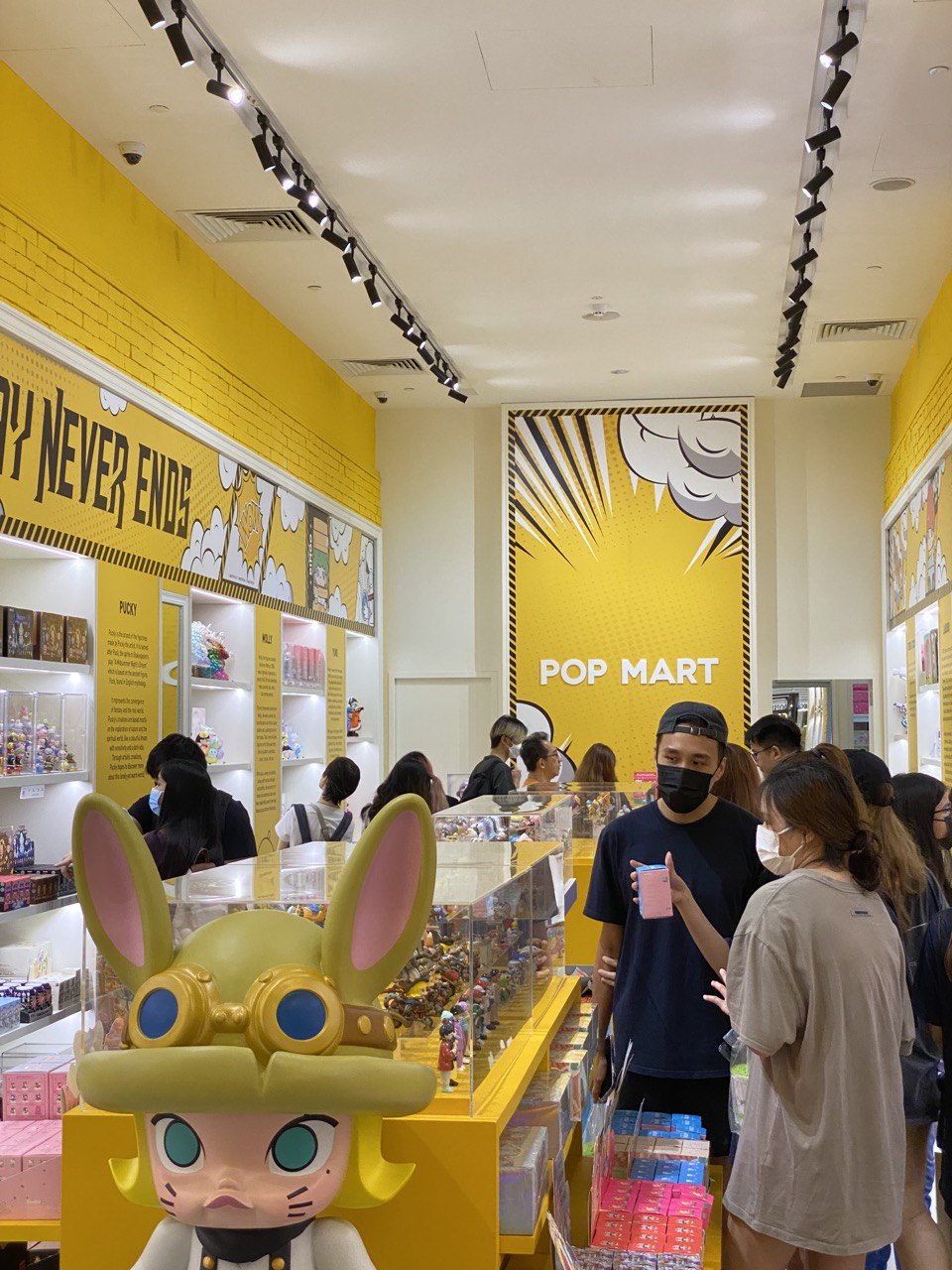 Walk into any POP MART store and you will be greeted by boxes of intricately designed figurines, stacked upon each other. Photo by Chloe Wong.
The crowd that constitutes a majority of POP MART customers would be young Singaporeans, many of them students. "The stores used to be empty, but now it's so crowded to the point where I have to push through people," says Charlene Chua, 19, a polytechnic student who has been buying POP MART blind boxes since late 2021.
As the brand's fanbase grows, its team feels motivated to bring in even more Singapore-exclusives to serve their local fans. 
"We are very thankful for our POP MART fans' continuous support, seeing us through from a pop-up store to having our eighth store (coming soon) in Singapore, and we hope to be able to serve our fans better and bring them more collectibles that they love from POP MART," says the POP MART Singapore representative.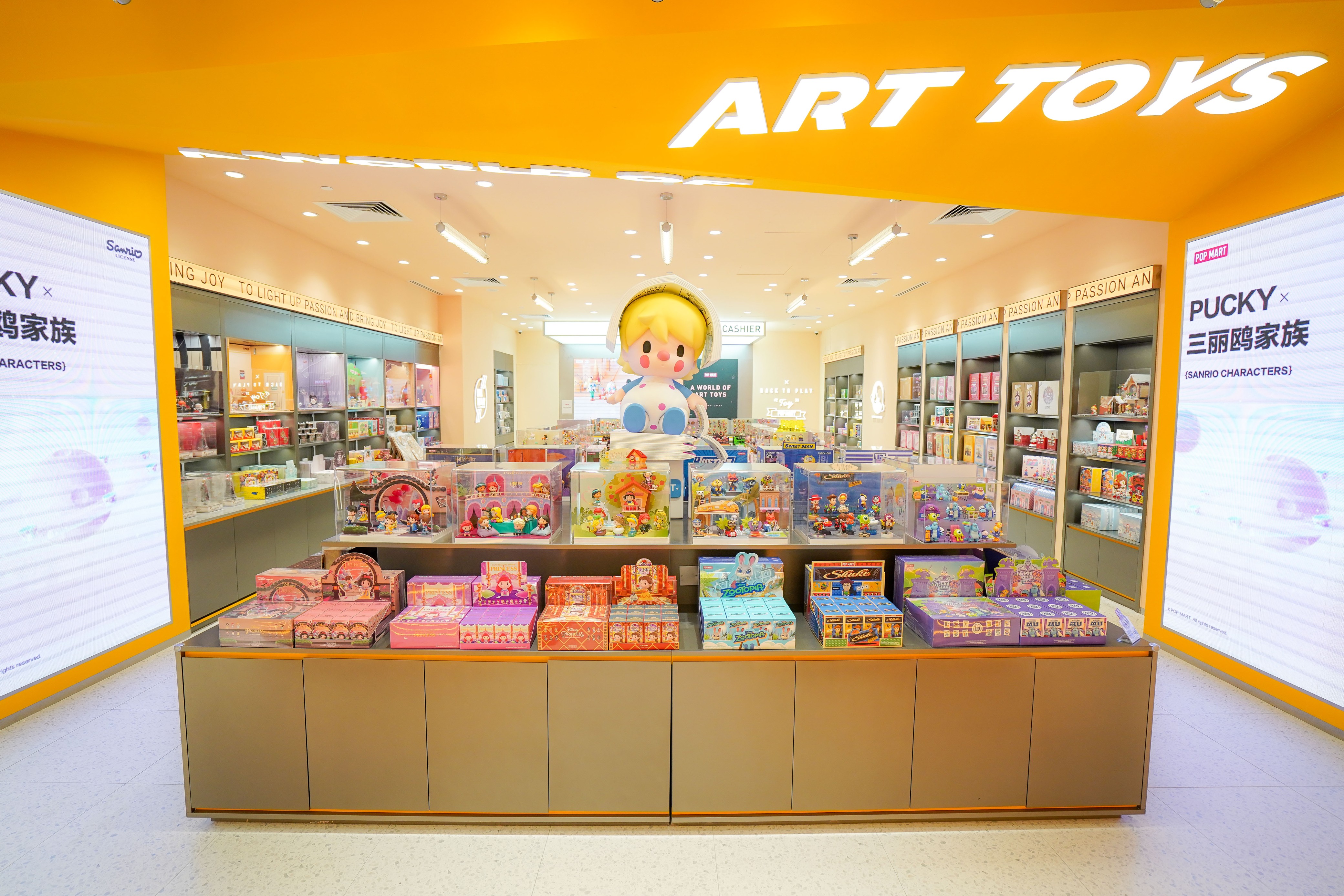 POP MART recently opened its seventh store at Lot One on Nov 25, 2022. Photo courtesy of POP MART Singapore.
Those who do not buy into the blind box trend may question its appeal, but to a growing number of collectors, it means more than just spending money on toys. 
"It's always a surprise in a box, you don't know what you're gonna get. If you manage to get the figurine that you want, or even better, a secret, it's like double happiness," says Wendy. As a Toy Story fan who spent her childhood collecting McDonald's and Pez Dispenser toys, Wendy finds joy in putting her figurines on display, even if it's only for her eyes.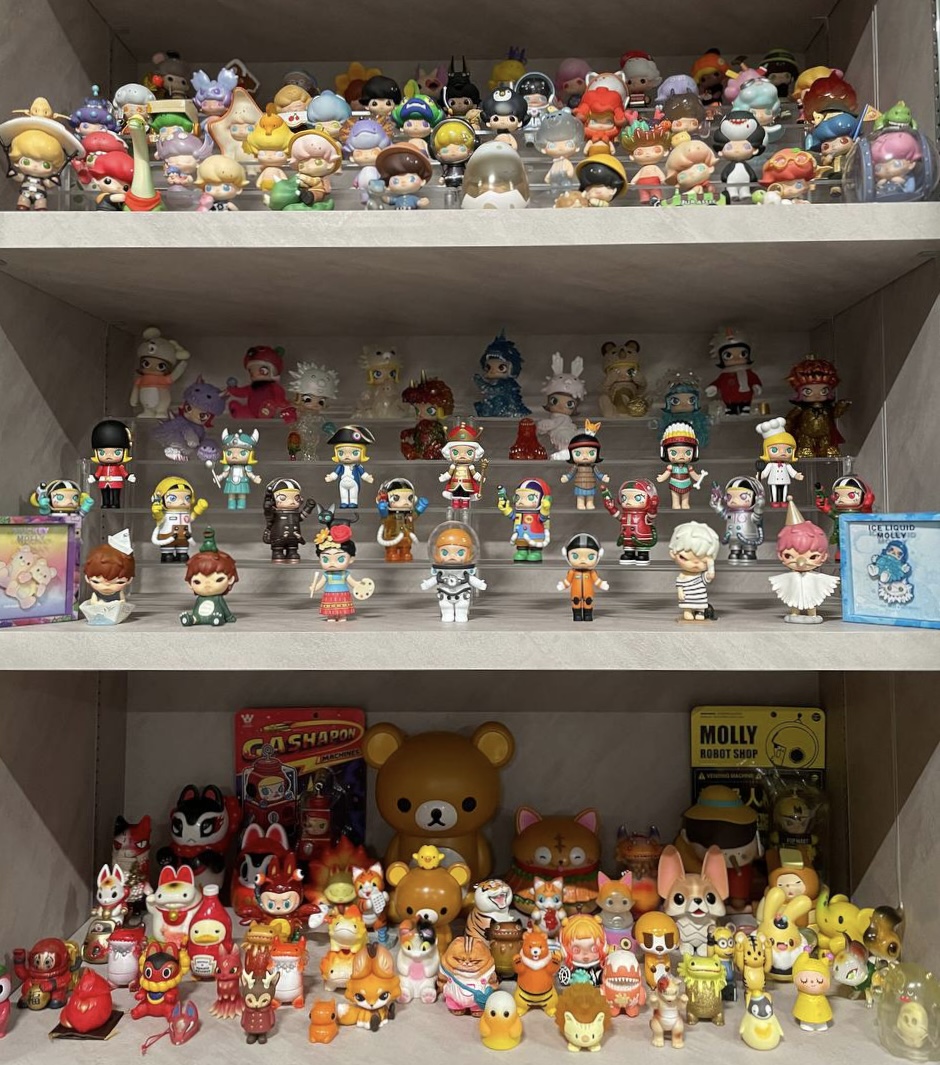 A selection of Wendy's blind box collections. Photo courtesy of Wendy Huin.
Like any other figurine, blind box toys find a place in their forever homes and rarely see the light of day ever again. Nevertheless, people are seemingly more than happy to splurge on these timeless pieces. Perhaps the idea of having physical collectibles fulfils one with tangible experiences in an increasingly digital world. 
The anticipation and delight from unboxing these hidden toys is a shared experience among many blind box collectors. Charlene says: "It gives me a lot of excitement and thrill when I get to guess what is inside the box and [see] if I'll get the toys I really want."
So how exactly did blind boxes become this widespread in Singapore? One can likely attribute their virality to TikTok, an influential social media platform with 1.83 million Singaporean users aged 18 and above in early 2022.
Wendy describes TikTok as a platform that allows people to do unboxing videos, which could have contributed to the recent surge in blind box enthusiasts. 
For young Singaporeans who spend a good deal of their time on TikTok, the temptation to hop on the trend may be impossible to resist. 
"Every time people post their POP MART or blind boxes, it influences me to go and get the same thing," says Charlene. "It kept me really hooked on blind boxes because everyone was talking about [them], so I'm always reminded of [them] whenever I'm scrolling through TikTok."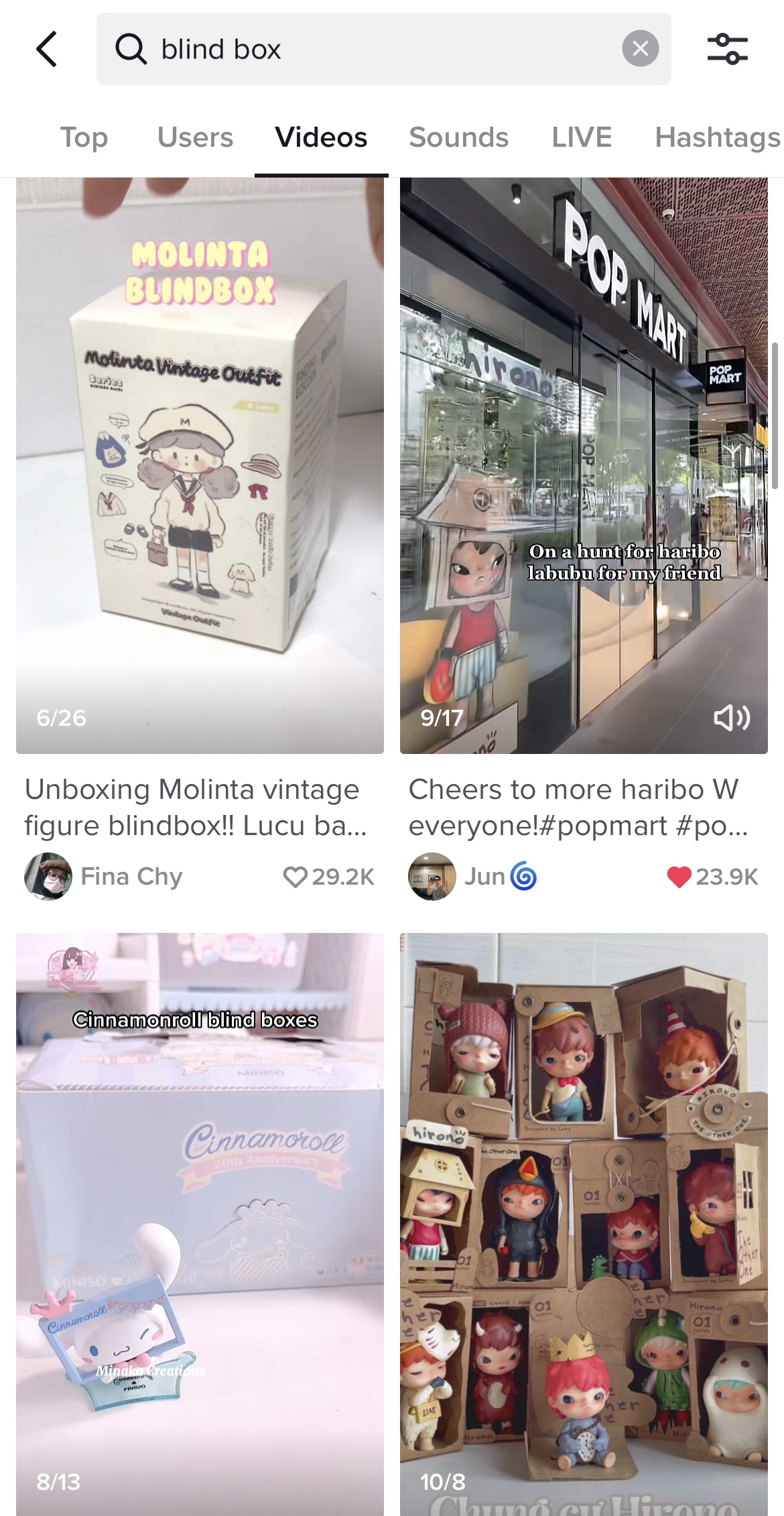 A simple TikTok search or scroll on the "For You" page will direct you to an array of blind box videos. Screenshot by Chloe Wong.
Blind boxes in Singapore range from $13.90 to $29.90 per box, with full sets available for purchase too. Having collected blind boxes since 2017, Wendy feels that the prices have increased a bit as compared to before.
Unarguably, the concept of unboxing mystery toys keeps buyers constantly coming back for more. It's unlikely that they'll stop purchasing them — at least not until they finally manage to attain a coveted figurine, or complete an entire set.
Wendy buys around 20 to 30 boxes a month, sharing that her most expensive purchase was a $359.90 Instinctoy Monster Fluffy "Fuzzy" Light.
"I would say it's worth the money, because I've been collecting them for so long now," she says. "Some of the series that you collect now might stop getting manufactured, so you'll feel like it's more special and precious. It's limited edition."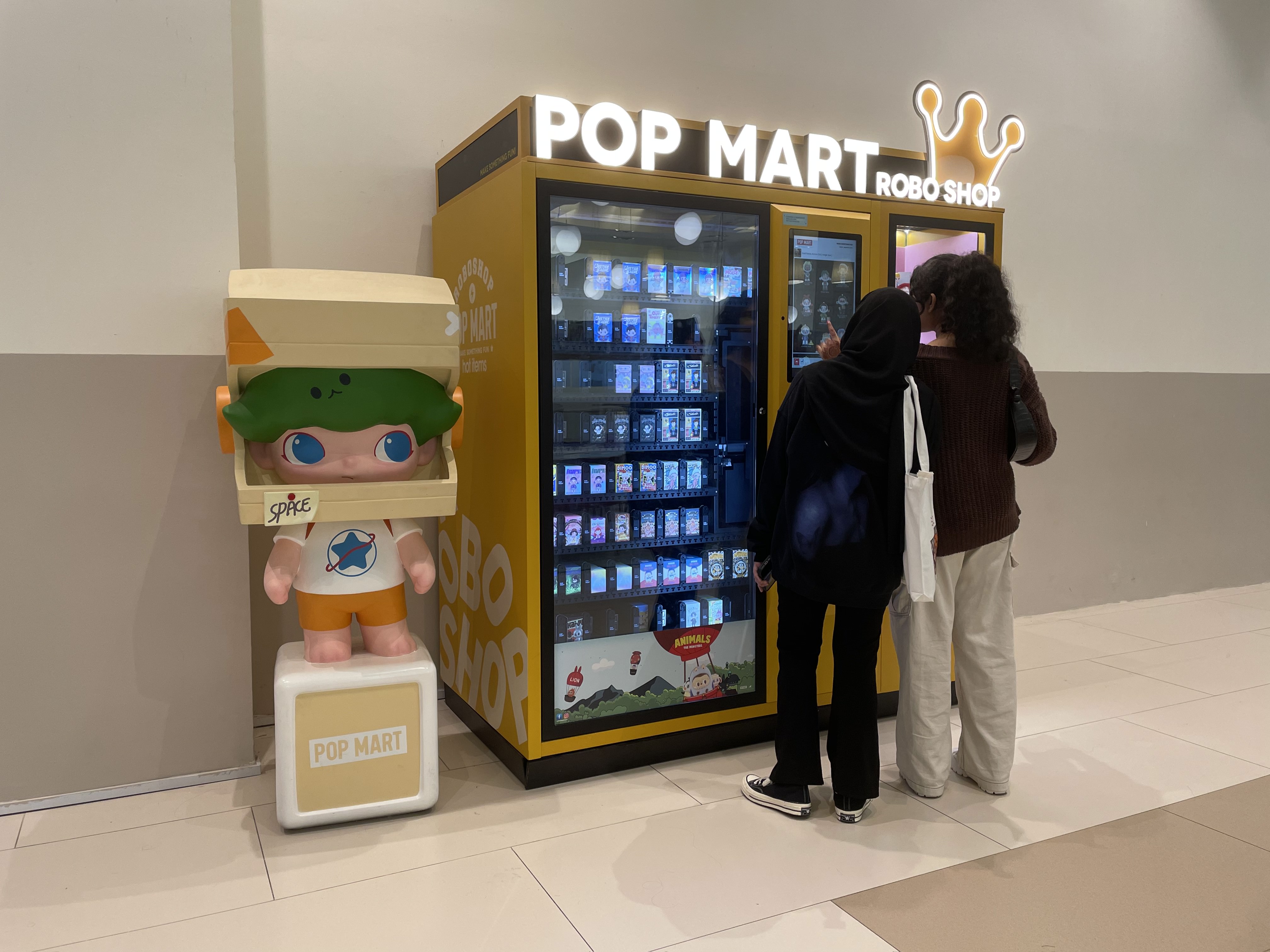 POP MART also sells blind boxes in vending machines, known as Robo Shops. Photo by Chloe Wong.
Charlene, who has spent an estimated $600 on blind boxes, also shares: "I feel like you're paying the artists for their work and creativity. There's no price tag to art and personally, I feel like blind boxes are a piece of art because they bring the artist's work to the form of a figurine."
Like any other addictive craze, it might be prudent for us to exercise discretion when purchasing blind boxes. Wendy and Charlene also advise other budding enthusiasts to set realistic budgets as they begin to invest in the hobby. While they are indeed captivating, a collection of these plastic figures could potentially amount to a large sum of money if one fails to limit their spending.