Adopt, Don't Shop: Are you ready for the responsibilities of adopting a pet?
When it comes to getting a new pet, we are often encouraged to adopt, not shop. However, what is the reality behind each adoption, and how does it differ from buying a pet directly from a pet shop? Follow ZHAO JIAMIN as she explores the adoption process.
BY
Zhao Jiamin
Publicity Manager
Hype Issue #56
Published on
December 5, 2022
During the Covid-19 outbreak, Singaporeans developed an interest in owning a pet, with some looking into the option of adopting. With more than 14 adoption centres islandwide, there are plenty of options available for an interested adopter.
However, the adoption process can be a rather arduous one, especially for new pet owners, and may take a much longer time as compared to simply purchasing a pet.
The adoption process vs the purchasing process
If you choose to adopt, you will have to be transparent about your living conditions, and interviews will be conducted in order to make sure that you're a suitable adopter. You may also be asked to prepare your home for the incoming pet before you are allowed to adopt so that the organisation or foster 'pawrents' can conduct house visits to assess your living conditions and decide whether your home is suitable for the pet. 
Jan David, 22, adopted a kitten in early 2022 after his girlfriend came across a Facebook post on kitten adoption. He describes the adoption process as a tedious one, as both he and his girlfriend had to undergo interviews, house visits, and even a test trial before Francess finally went home with them.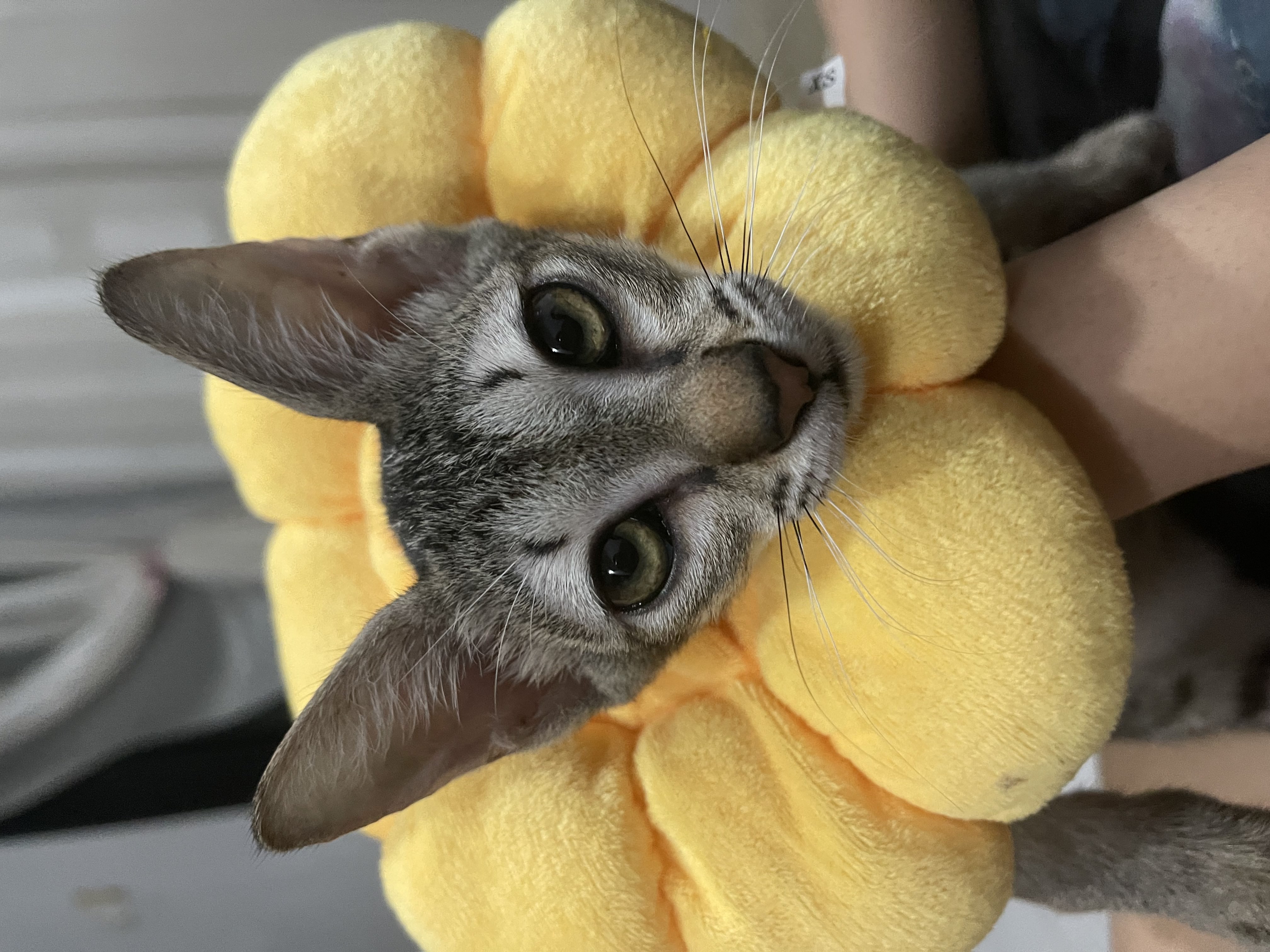 Francess in her new cone,used to prevent her from licking the wounds she sustained before she was rescued. Photo by Teu Kah Min
When asked how much he spent on adopting Francess, he says: "I spent about $250 to $300; her vaccination was already paid for by the shelter, but for her deworming and her visits to the vet for further check-ups after leaving the shelter was paid by me."
When you purchase a pet, on the other hand, a presale screening process is required before the retailer completes the Pet Purchase Declaration and you're cleared to bring your new pet home. Most pet shops ensure that the pets sold are healthy, microchipped, vaccinated, and ready for their new homes.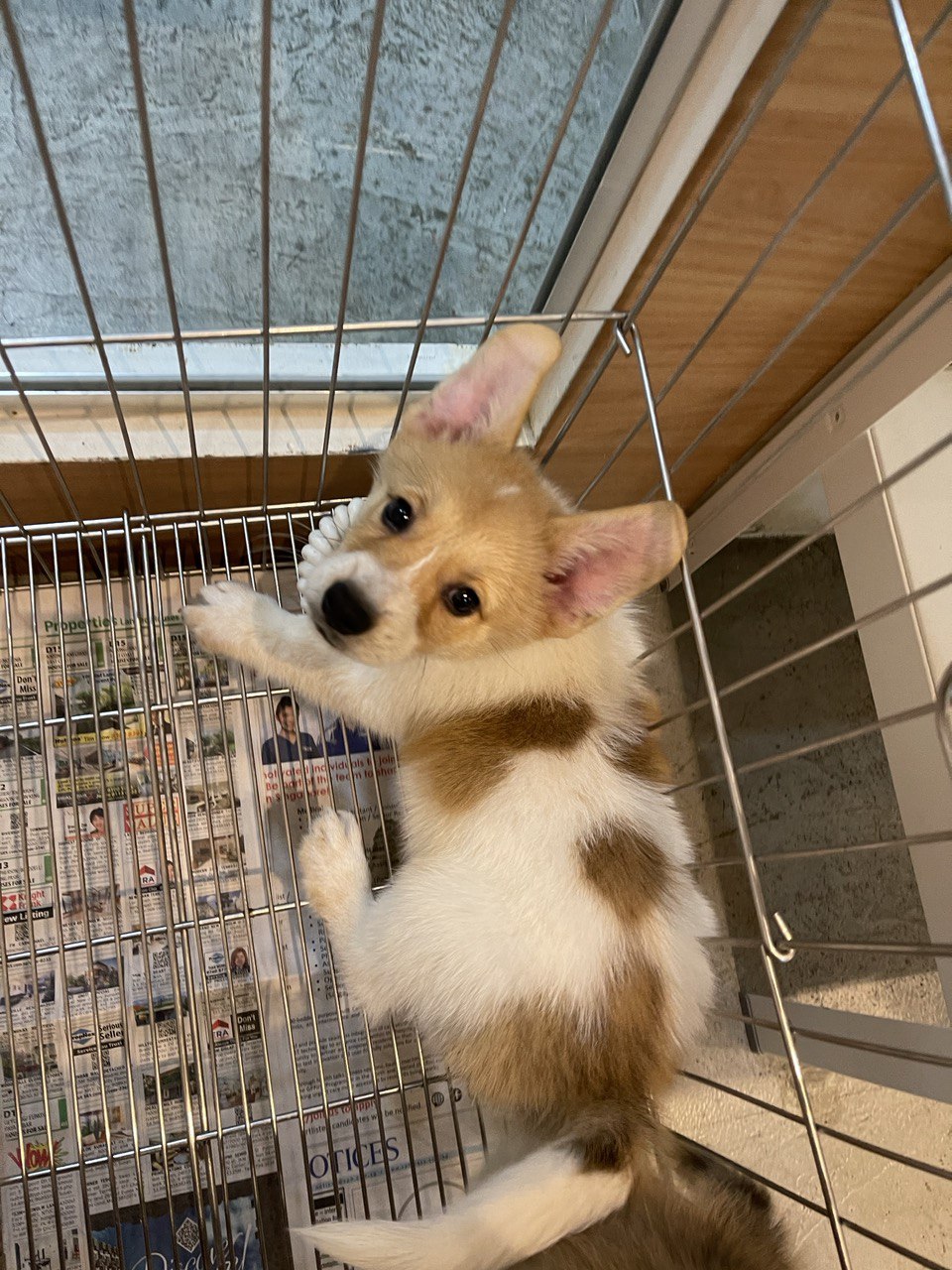 Kobi the corgi when he was up for viewing at the pet shop. Photo courtesy of Soon Hui Xuan
Shernice Chua, 21, a former pet shop assistant, feels that the difference between adopting and purchasing a pet is that you may not be able to experience the process of growing up with your adopted pet as adoption usually takes place when the animal is at an older age.
The risks of adopting a pet
Pets from adoption shelters might have a higher chance of having health complications.  When a pet first gets rescued, there is no proper documentation of their origin. Upon entering a shelter, they are treated for wounds, tested for diseases, vaccinated, and sterilised. Despite this, there is no way to know if they have any underlying medical conditions that display no symptoms.
Not all shelters know a stray animal's background, and although rescued animals are vaccinated and facilities are kept clean, they are still susceptible to diseases.
Shernice says: "When you purchase a pet from the store, it is more reliable as everything, from the paperwork down to where the pet is sourced, will be written in black and white. Pet shops also have stricter rules and regulations when applying for a licence from the Animal & Veterinary Service (AVS)." 
As compared to purchasing a pet from a reputable merchant, adopting one would mean that you would have to bear the hefty medical bills should your pet fall sick upon reaching your home.
Kobi the corgi on his daily walk at Jurong Lake Garden. Photo courtesy of Soon Hui Xuan
Vet bills can be very expensive, consultations start at $40 and can go up to $120 for 24-hour emergency clinics, you'll also have to bring your pets in for sterilisation, vaccines, health checks, and different treatments when they become ill.
Jan says: "Vet bills aside, I think you'll have to make sure you have enough time to bond with them and make sure their basic needs are met."
With that said, adopting a pet means giving them a second chance. They might have been abandoned, lost, or abused before arriving at the shelter. 
Giving a new life to these furry friends is no small feat, so make sure you open your home to them. With more than 14 places to adopt from, you're sure to find one that suits your home.