Elevate Your Fitness at Elevate Fight Lab
EUGENE CHUA experiences a Muay Thai group class at Elevate, coached by full-time polytechnic student Joshua Chee.
BY
Eugene Chua
Web Design Lead
Hype Issue #56
Published on
November 30, 2022
Blink and you'll miss it. Secreted in the bustling streets of Little India lies an unassuming stairway that leads to the Elevate Fight Lab gym. Founded during the peak of the Covid-19 pandemic in June 2021, Elevate Fight Lab is an up-and-coming Boxing and Muay Thai gym in Singapore offering both group classes and personal training for people of all skill levels.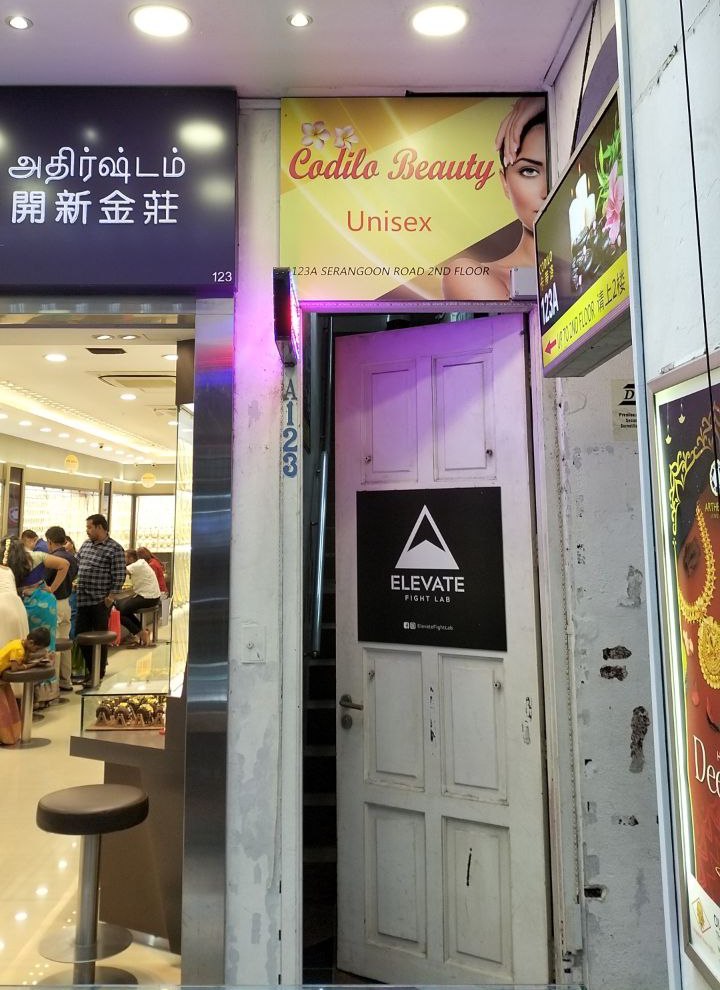 Sandwiched between a jeweller and a gold shop is a small staircase which leads to the Elevate Fight Lab gym. Photo by Eugene Chua
Elevate might be a relatively new and small company, but its team of dedicated trainers could rival that of any of their bigger competitors. When I heard that Elevate was holding group classes for students, I decided to give it a try.
Never being one with a penchant for combat sports, I was apprehensive going into the Muay Thai class. If that wasn't enough cause for concern, I had no prior experience and was afraid of falling behind. I've always leaned more towards conventional sports like basketball and volleyball. To me, the thought of punching a bag for hours on end could never hold a candle to a good game of basketball with friends.
The gym was clean and well equipped with all the necessary training tools. Photo courtesy of Chloe Wong
Stepping into the gym, I was greeted by a small but well-equipped training area. Before the class began, I spoke to Joshua Chee, 19, who works at Elevate as a coach while simultaneously being a full-time student. When asked about his journey in becoming a coach, he says: "I wasn't aiming to become a coach, I was more interested in fighting and competing in the sport as it was something I always wanted to do." Joshua added that he was presented the opportunity as he progressed and decided to take on the job as a side hustle.
We started the session with five minutes of skipping with a weighted rope. Though it initially sounded easy, by the end I was questioning my fitness. After a few rounds of stretches to loosen up our arms and legs, we ended the warm up with a few sets of push ups before beginning the lesson.
My fear of falling behind in class was for naught as each student had a different exercise to execute based on their skill level. While the more advanced students were assigned footwork and punching drills, I started with Muay Thai 101: How to stand. I learned that your stance is one of the most important things in Muay Thai as it allows the fighter to move and attack without getting caught off-balance. I spent the next 15 minutes trying to get a feel of the movements and learning to move around quickly while maintaining my stance.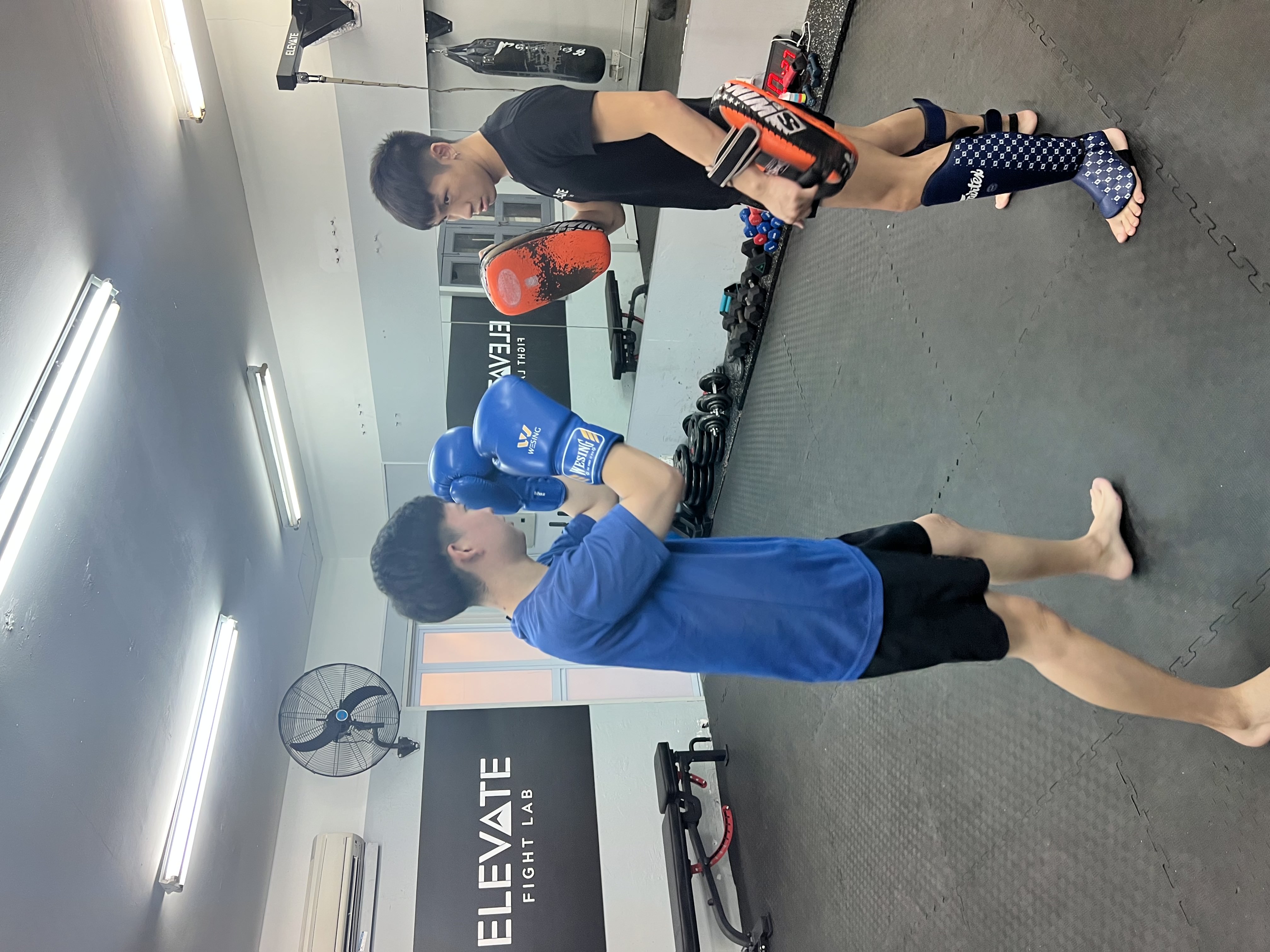 I learnt to hold the correct stance while moving and punching. Photo courtesy of Duncan Toh
"The beginning is always the hardest part, but once you get the hang of it, everything else will come to you naturally," says Duncan Toh, 20, who has been training at Elevate for close to a year. After just nine months of training, Duncan already has two fights under his belt and is training for his third.
After getting the basic movements down, I moved on to punching and kicking: the bread and butter of Muay Thai. Those of us who did not own boxing gloves were provided a set from the gym. Joshua took me through a few rounds of pad work, which is a training method used in boxing and martial arts to improve hand speed, reaction time and punching power. Through the pad work, Joshua taught me how to use my hips and minimise the energy wasted through unnecessary movements. Following the pad work, I was instructed to practice my kicks on a punching bag as Joshua went around coaching the other students. 
 Although I was training with a few other people, it didn't feel like a group class to me as Joshua was able to tailor each student's training to their different skill levels while ensuring that everyone received equal attention.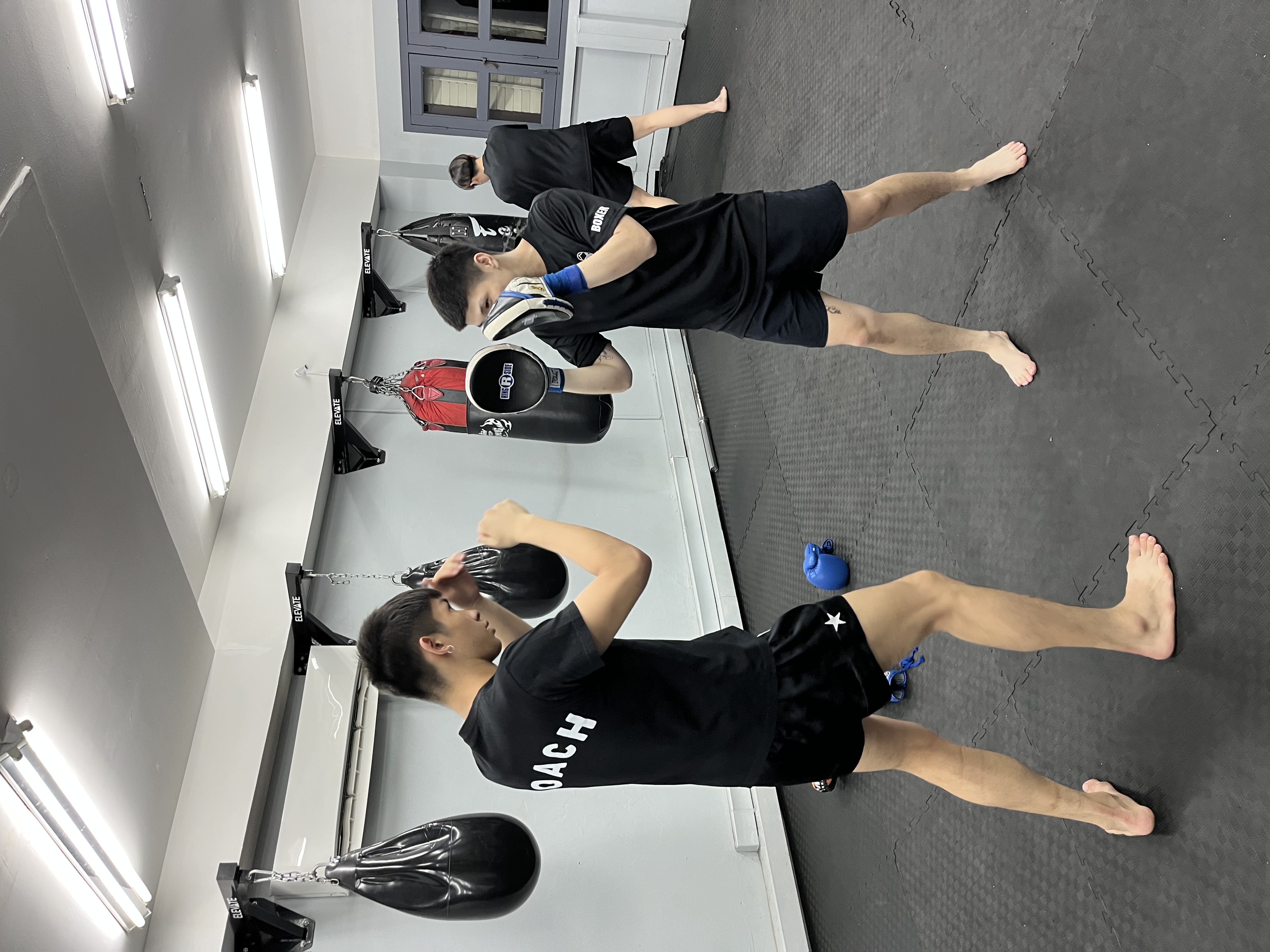 As I was doing my drills, Joshua was teaching the other students more advanced techniques. Photo by Eugene Chua
"I think this class is great for students like me because it's basically a personal training session but at the price of a group class, which is already more affordable than [classes at] other places," says Duncan.
For the last 15 minutes, Joshua gave me a simple drill which combined everything I had learnt that lesson, from moving to kicking. By then, I could already feel my muscles burning with every kick and punch. Thankfully, with the constant encouragement from Joshua, I soldiered through the pain and completed my drills.
 To end off the lesson, we did one last set of push ups, followed by a series of cool-down stretches. I was completely exhausted and dreaded the muscle ache that was sure to come the next day. The thought of training like this multiple times a week, while also coaching and studying full-time, filled me with a new level of respect for Joshua.
 "Like anything in life, it's all about sacrifice. It definitely gets hard at times but when the focus is there, you can look beyond temporary sacrifices for the bigger goal you seek," he says.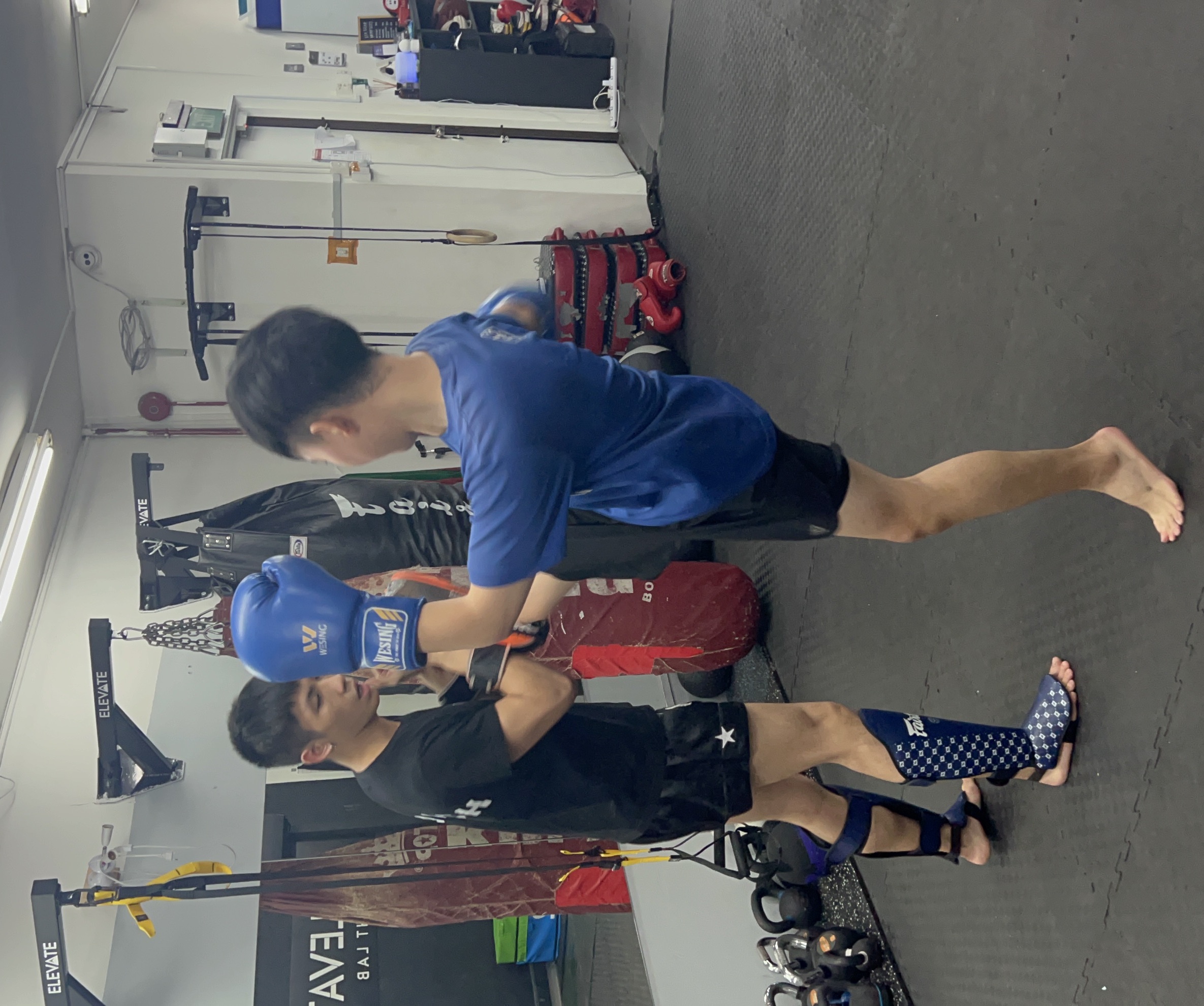 Muay Thai is a fun full-body workout for people of all ages and fitness levels. Photo courtesy of Duncan Toh
 For students who are interested in picking up Muay Thai or are looking for a way to keep fit, I would highly recommend Elevate's student Muay Thai class as it provides affordable lessons that are personalised for every student.
 "I would say life is full of uncertainties and taking up new things will always have an element of doubt or fear, but I would highly suggest going for it. Muay Thai changed my life and you never know how things will work out for you," Joshua says.
Information:
Name: Elevate Fight Lab
Location: 123B Serangoon Rd, Singapore 218028
Group class date: Sundays 7pm–8pm
Prices: Available on www.elevatefightlab.com 
For enquiries on group or personal training sessions, contact Joshua Chee at +65 9660 3574