Oh Shoot! Your Guide to Singapore's Photo Booths
Want an affordable and fun way to capture a fun day out with loved ones? Look no further than these three Korean photo booths across Singapore.
Story and photos by Gwenneth Teo.
BY
Gwenneth Teo
Editorial Admin Manager
Hype Issue #56
Published on
November 25, 2022
The term "photo booth" usually reminds us of the blue and white kiosks that were littered around train stations and malls, where one could take photos for their passport or identity card. But nowadays, you might recall something different. Photo booths are undergoing a modern day resurgence thanks to K-pop idols. In fact, you might have seen at least one Instagram post from a K-pop idol taken in a photobooth floating on your feed at some point recently.  
For many, a photo strip is becoming an affordable and convenient way to immortalise a fun day out with friends or with your partner. Photo booths have slowly but surely been sprouting up once again around Singapore, and I've taken it upon myself (and my wallet) to review some of them.
Here are the photo booths I'm reviewing below:
Life4Cut (Holland Village)

Photo booth in Beads of Bullets x Things I Luv (Orchard Gateway)

Solace Studio (Haji Lane)
I'll be reviewing the photo booths based on these criteria:
Variety of props and costumes

Picture quality

Price and payment method(s)

Convenience
Life4Cut Holland Village, Holland Piazza B1-01
 Life4Cut is located in the bustling Holland Village, at B1 of Holland Piazza. After walking past Chimichanga, take the escalator down and you'll be able to see it immediately. It's also open 24/7 and is pet-friendly.
 After entering, you will be greeted with a table filled with headgear, from simple headbands to elaborate cartoon hats. The unit has two identical rooms each containing a photo taking machine.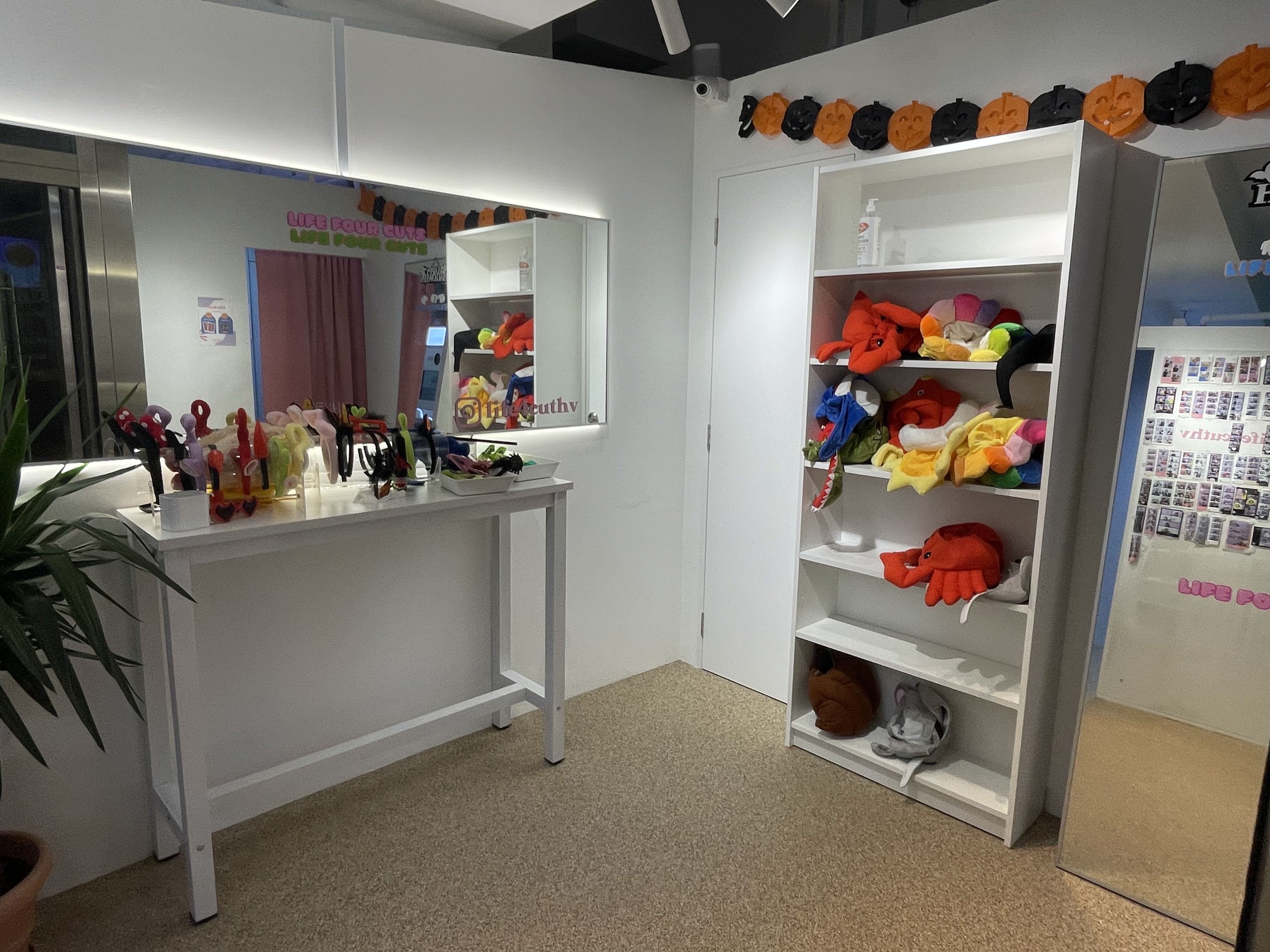 The common area is spacious and well-lit, with ample room to get ready and beautify yourself using the two mirrors.
 Photo taking process:
After pressing the screen to start, you can choose from two frame types: the classic four in a row strip for $10, or multi-frame for $12. Both options give you two strips. With the multiframe option, the photo sheet will be 4R size.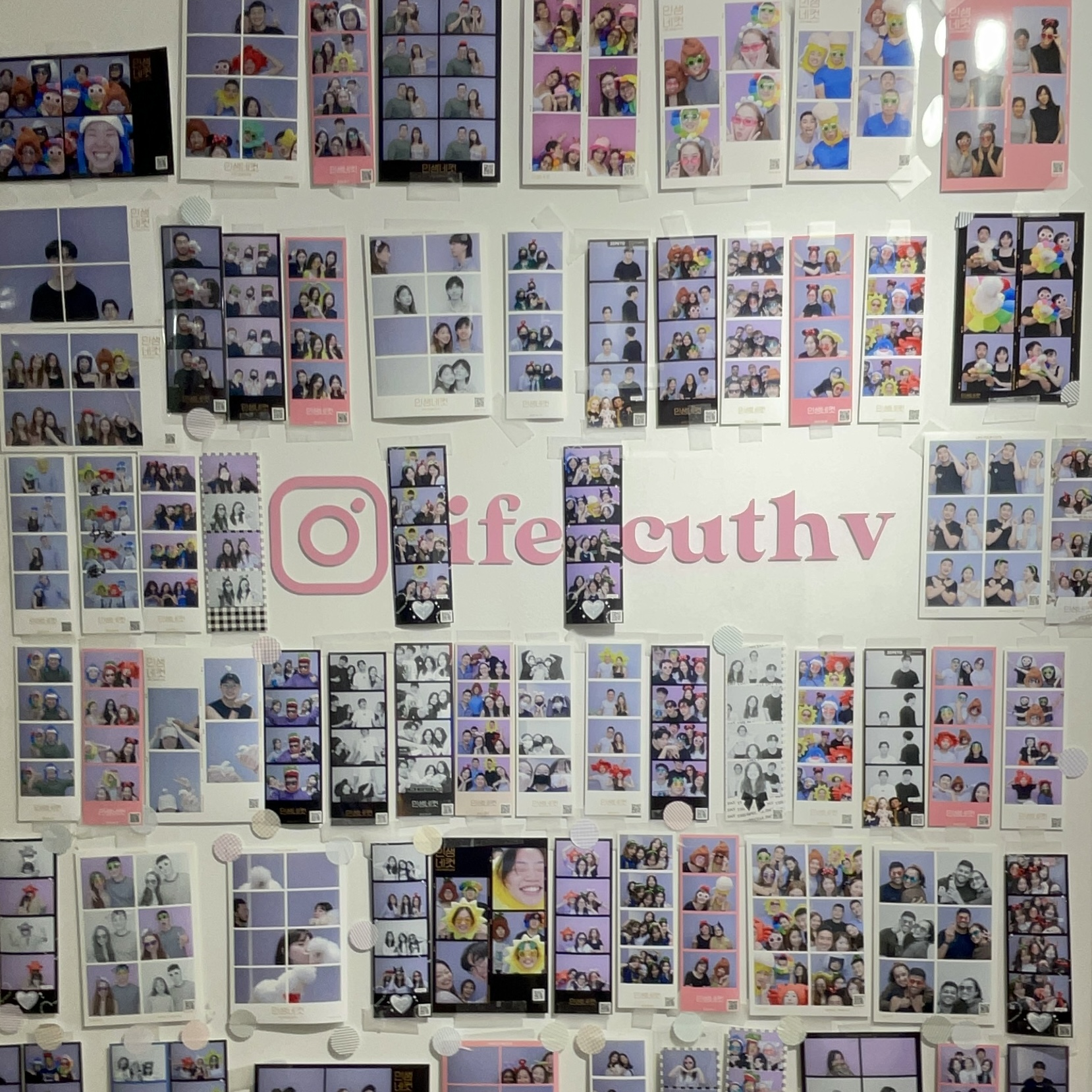 All the photo strip options are on display at Life4Cut Holland Village.
2. Select how many strips you would like. You're getting at least two, but if you have a bigger group, you can select in multiples of two from two to ten copies. Remember: extra strips cost extra! My group of four paid $20 for four strips.
3. Here, select the pattern of your frame. There are eight choices from solid colours to patterns.
4. Proceeding to payment: there are cash and cashless payments available, like PayNow and GrabPay. Huge points for convenience.
5. Once payment is processed, the photo taking starts. One photo is taken every 10 seconds, so if you and your companions want to wear different headgear in every frame, do prepare everything beforehand.
6. Smile! The photos are taken in a minute, and now it's time to select a filter.  You can pick from six filters. Here, you can opt to retake your photos, but only once.
7. Wait for your photos to be printed.
Final ratings:
Props/Costume: 6.5/10. The props are well maintained and in great condition. However, the options are limited to just shades and headgear.
Picture quality: 8/10. The quality of the photos are great, with no defects in colour or resolution. The date was also printed on the strips as a cute touch. However, the process of obtaining a QR code for the digital photos was unnecessarily complicated.

Price/payment method: 9/10. The photo booth offers a wide variety of payment methods. 

Convenience: 8/10. As long as you can find the escalator leading to B1 at Holland Piazza, you can find the photo booth. Since it's open 24/7, you can drop by anytime. 
I also dropped by their Bugis Junction outlet which has four photo booth rooms, and multiple racks of headwear and eyewear. There are also hanboks, or  traditional ethnic Korean clothing, available for use. And Life4cut Bugis Junction has one more small but special touch: free plastic sleeves for you to keep your photostrips safe. 
Life4Cut has three outlets islandwide, with the third one at Suntec Tower 4. Find them on Instagram at @life4cut_sg and @life4cuthv.
Beads of Bullets x Things I Luv, Orchard Gateway #02-05/06
Traversing the Orchard-Somerset stretch of malls might be a confusing venture for most. Located on the second floor of Orchard Gateway, Beads of Bullets x Things I Luv is easy to spot. The energetic Kpop music playing over the speakers in the shop provides a warm welcome. Kpop fans, you can also shop for albums and photo cards while you're here!
There's only one photo booth, so be prepared to wait if there's a queue. Personally, I did feel pressured to be quick as there were people behind me. The set up is simple, with a photo booth and a waiting area to queue and choose your props.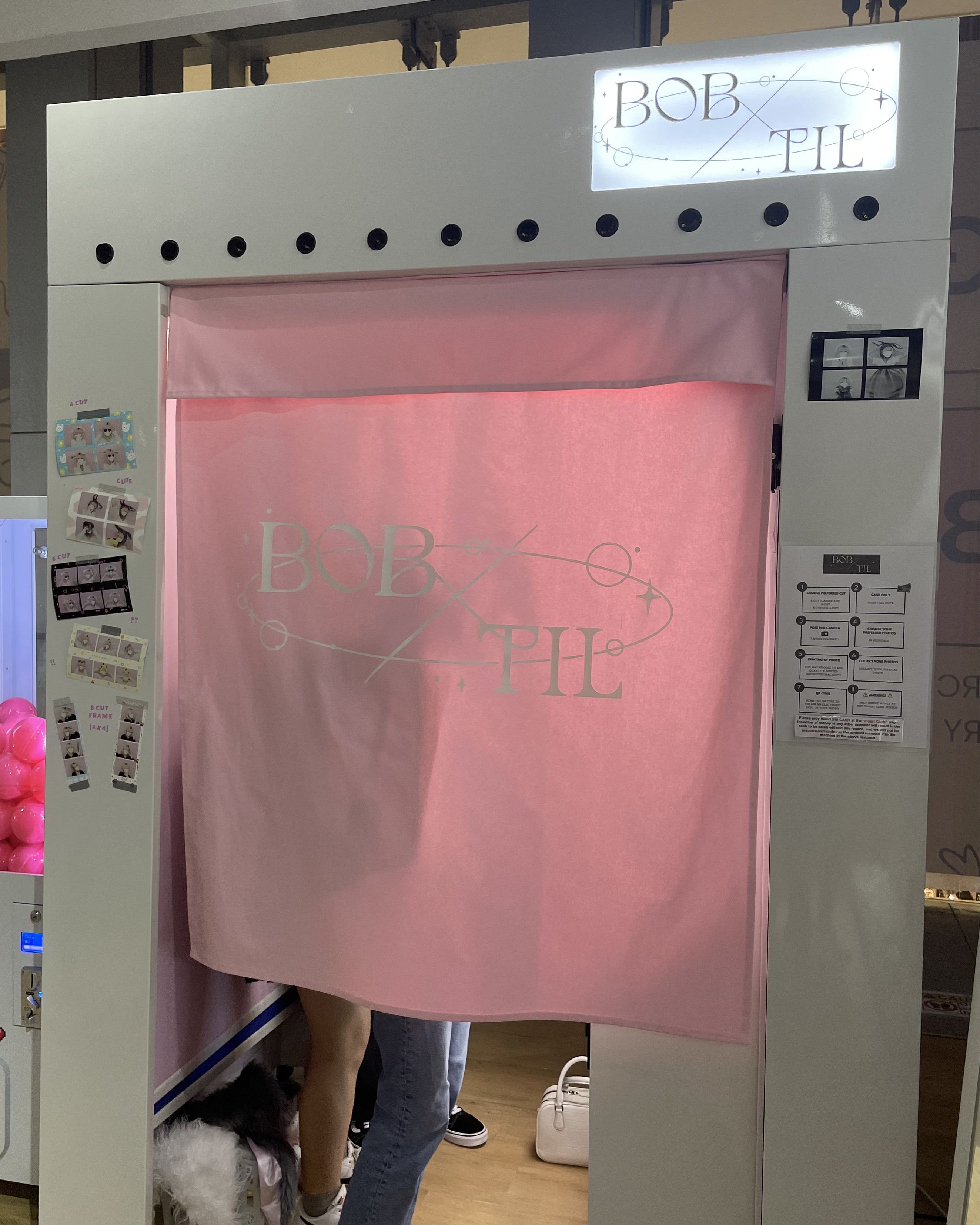 There are instructions on the right side booth so you can read about the photo-taking process. On the left are the photo strip options, so you can decide while waiting for your turn!
Photo taking process:
Upon entering the booth, you can pick from three frame styles, a 4-cut, 6-cut, and 8-cut. All options are $10. See the frame styles below: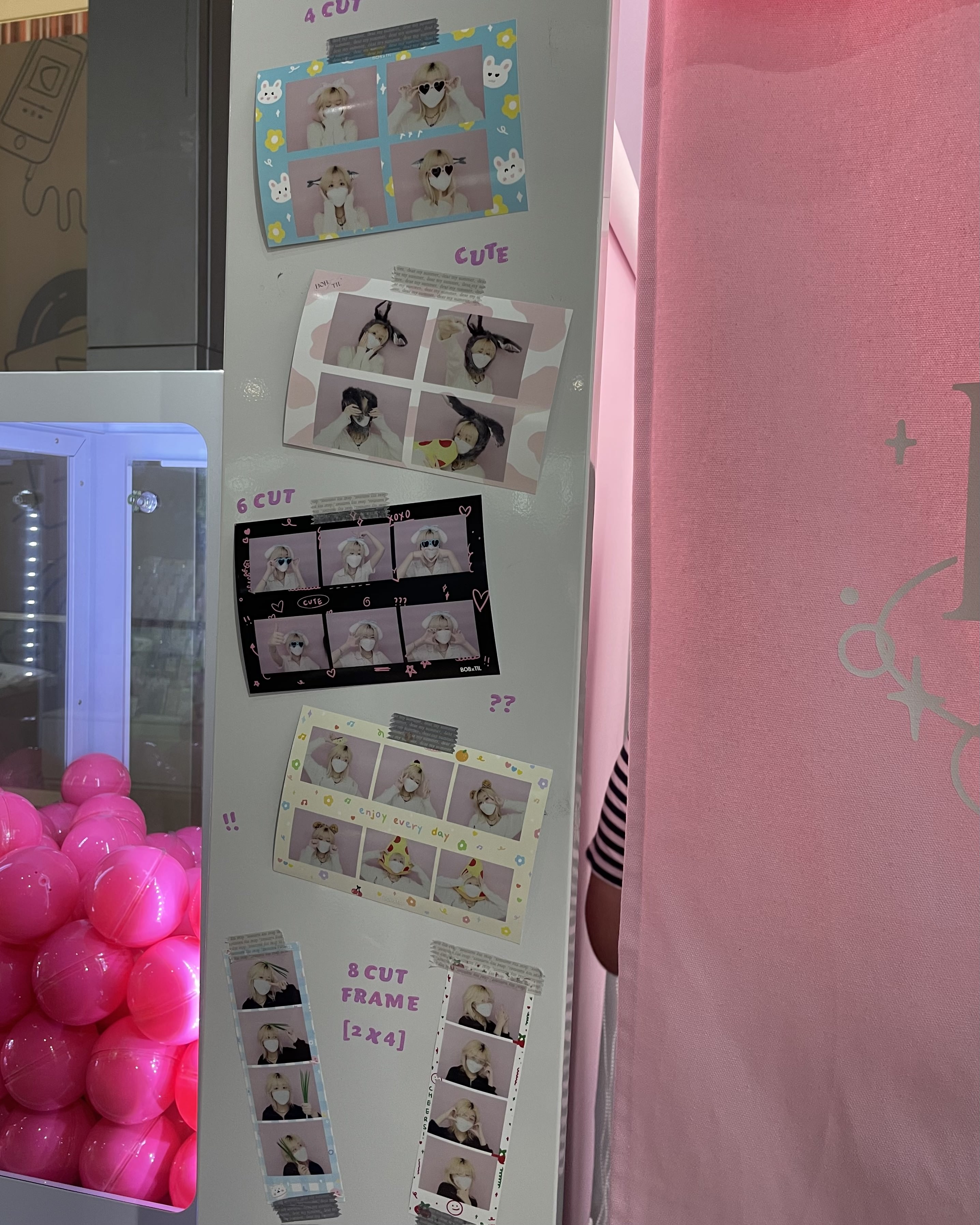 A closer look at the photo strip options — The 4-cut and 6-cut strips are 4R-size.
2. Insert your $10 note. The photo booth only accepts cash with no change, so ensure you have the exact amount. 
 3. Select your filter from six options. All the filters were quite subtle and akin to the camera filters on our phones.
 4. After selecting your filter, the photo taking begins! You can take up to seven photos. After you're done, pick the best ones to go on your photo strip. I like having the option to choose, instead of having to go with the first four frames I took. 
 5. Finally, pick your frame style. You can bounce around the six options to see which pattern you like. If you need extra copies, here's where you'll indicate that. A 4R-size 4-cut cost me $10. After you're satisfied, press the "Print" button!
 6. While waiting for your photo(s) to print, the screen shows a QR code that you can scan to download the digital copy of your photo strip.
Final ratings:
Props/Costume: 5/10. Though the props are well-maintained, there is a limited variety. (Edit: More props have been added since the writer visited the outlet. You can check out their updated selection of props here.)
Picture quality: 7/10. The quality of the photos are 720p. While not crystal clear, the quality is good enough.

Price/payment method: 4/10. Since the machine only accepts physical $10 notes, I had to run around Orchard Gateway to find an ATM. Who knew ATMs would be so hard to find when you needed them? 

Convenience: 6.5/10. While Beads of Bullets x Things I Luv is quite easy to locate since it's right above Somerset MRT, it might be a long wait even if the queue is short. When I visited, there were two groups ahead of me and it was a good 15 minute wait before it was my turn. 
Though the photo booth here is housed within a Kpop store and not a standalone unit like the other photo booths, it still offers quality photos with a commendable range of choice when it comes to frame designs and cut options. You can follow Beads of Bullets and Things I Luv on Instagram.
Solace Studios, 30 Haji Lane
If you're on Singapore Tiktok, then this place may ring a bell. Recently launched, Solace Studios has already gained an impressive following. Located at the bustling Haji Lane, the studio is easy to find as long as you're on the right lane. 
 The minimalist Solace Studios houses three identical rooms for photo booths. A quirk about this place is that it has hair-styling tools: a hair dryer and hair straightener for anyone to use. 
 Solace Studios is also pet-friendly. There's a container of props for your furry friends!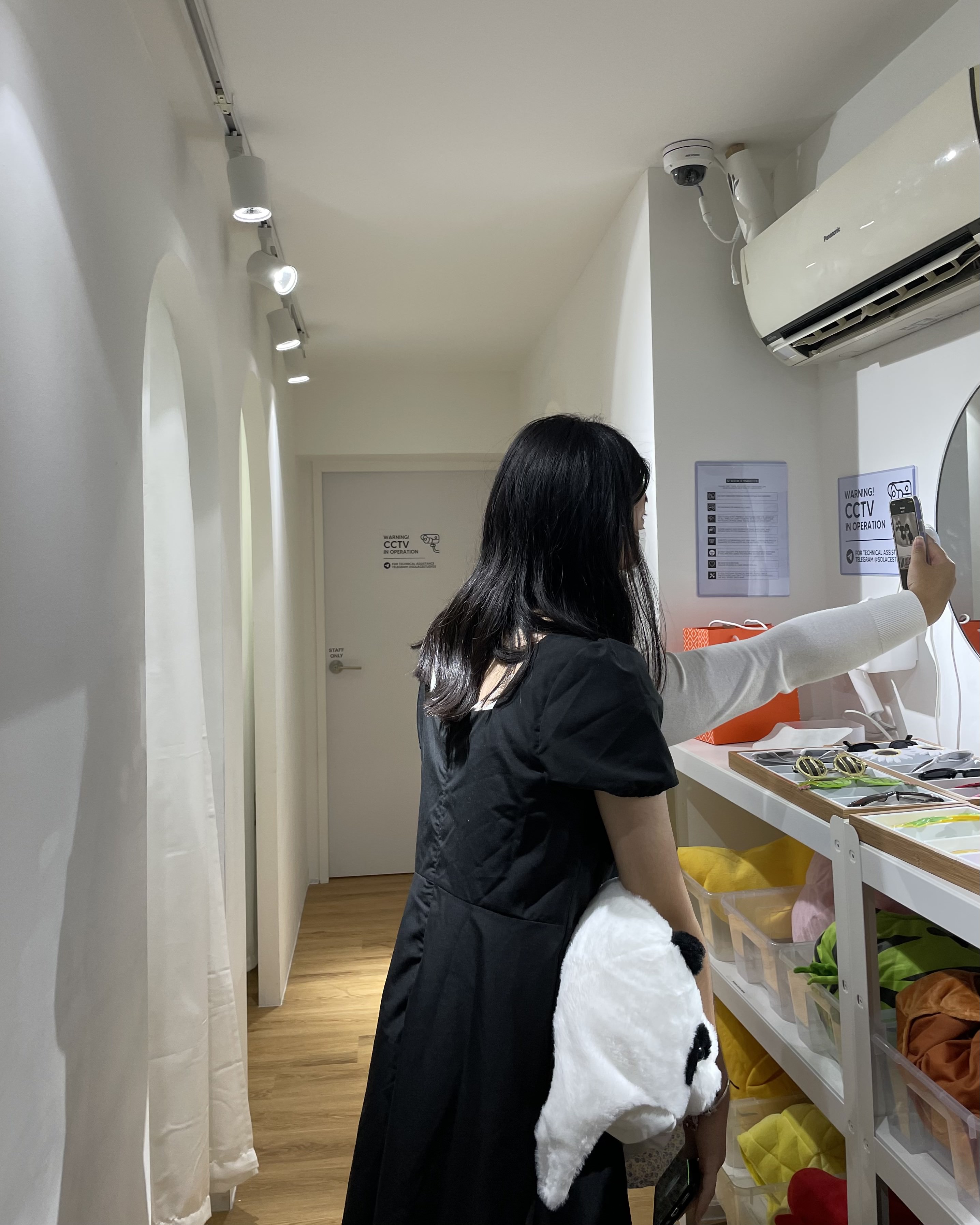 The common area of Solace Studios has a shelf filled with neatly arranged props as well as a mirror. There are three smaller rooms within the unit for photo-taking!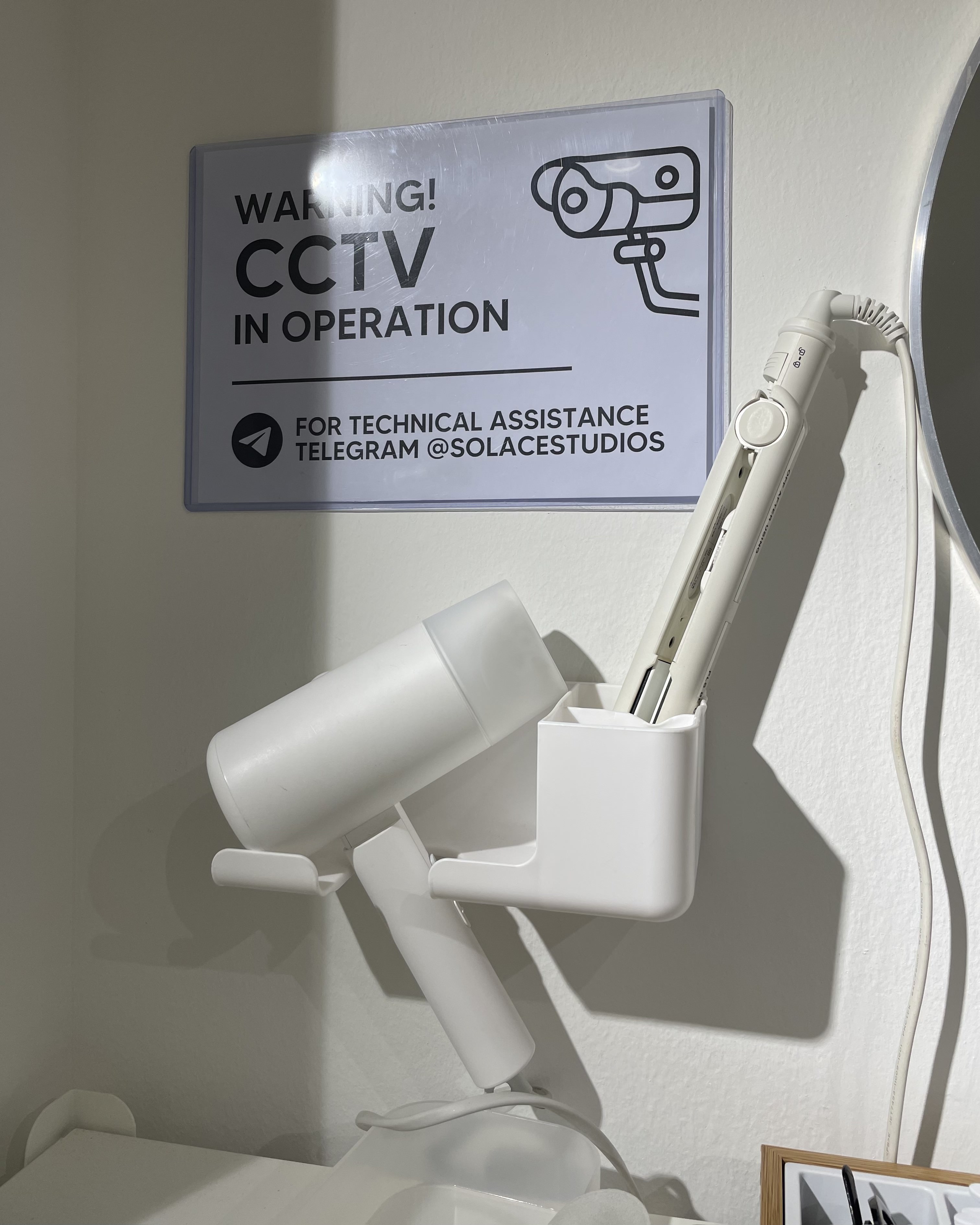 If hygiene isn't a major issue for you, feel free to style your tresses with the hairstyling tools available before taking your photos.
 Photo taking process:
Once you enter the photo booth room, you can select from three options on screen. It may be confusing, so here's the price list.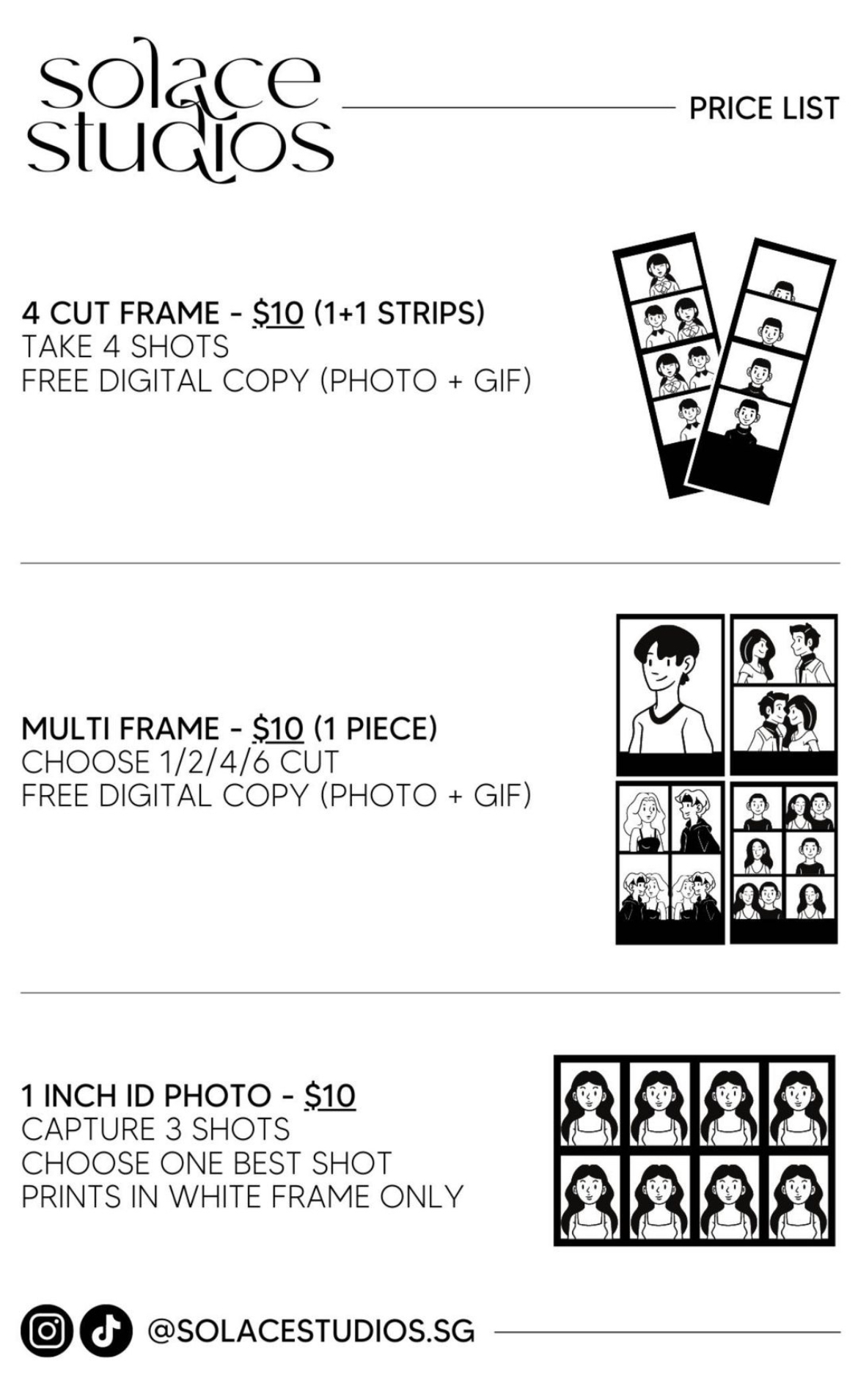 2. Select your payment method. You can pay with cash or contactless payment. I initially went with contactless payment, but the payment screen was confusing so I used cash.
 3. After the machine processes your payment, the 10-second countdown begins. Here's where Solace Studio's photo booths stand out: after each photo, you get to pick whether to keep the shot or retake it once more., I chose to retake my first shot because the camera only captured me from my neck up. For the rest of the photos, I stood on the stool provided in the room so my shoulders would be included in the frame. 
 4. After you're done with the photo-taking, you can proceed to choose your frame colour. All six options are in solid colour. Then hit "Print".
 5. While waiting for your photos to print, you are presented with QR codes for the digital and  GIF version of your photos. 
Final ratings:
Props/Costume: 9/10. The props are well maintained and in huge variety. There's even Singapore flags and Pride flags at your disposal. 
Picture quality: 9/10. The printed strip includes the date and time you took the photos.

Price/payment method: 8/10. Though the payment screen is confusing, there's still a variety of payment methods, which I appreciate.

Convenience: 7.5/10. It might be overwhelming stepping onto the colourful Haji Lane, but since it's a one-way street, you're bound to find the studio if you keep your eyes peeled. However, the lack of air-conditioning or fans in the photo booth rooms may be uncomfortable for some.  Either bring a mini fan or prepare to sweat.
You can find Solace Studios on Instagram and Tiktok.
Final verdict: 
 Each photo booth I went to had its unique charm. Beads of Bullets stood out with its convenience. Out of the places reviewed, this photo booth was the easiest to get to. I'm also a fan of their system where I can take seven shots and pick out which ones I want on my strip. 
 In terms of picture quality, the strips from Solace Studios and Life4Cut are close competitors, but the Life4Cut strips ultimately come up on top. Even though the individual pictures are small, they are still printed in vibrant colours and high resolution. The strip comes with a glossy finish too.
 For value, Life4Cut is the clear winner. There are many types of payment methods available, which guarantees that you and your photo-taking buddies are able to foot the bill. The payment process is also the most seamless out of the three photo booths. The price tag of $10 for 2 4-cut strips is standard for all three locations.
 For variety, Solace Studios is the most impressive. The hairstyling tools are a pleasant bonus. I was impressed with the wide variety of props available for both humans and pets. It was heartwarming to see that Pride flags were available as props, as the studio touts itself as an inclusive space on their Instagram.
 Though there are only a handful of photo booths in Singapore at the time of writing, I'm confident more will sprout across Singapore soon. 
 In this age of mobile phones and digital pictures, it's easy to forget how much significance a physical photo can hold. With photo booths, you can now own a tangible trinket that you can place anywhere, and stir up fond memories whenever you look at it.
 When you go out with loved ones next time, consider dropping by a photo booth for an everlasting souvenir.