Get to know Ms Sharon Ismail: Lecturer by Day, Actress by Night
Get to know Ms Sharon Ismail, the actress who has graced our TV screens, and who is also a lecturer in Ngee Ann Polytechnic. CHERYL JUAN chats with Ms Sharon to find out more about what got her started in her dual-career journey and how she juggles her fast-paced and demanding professions.
BY
Cheryl Juan
Section Editor
Hype Issue #55
Published on
November 6, 2022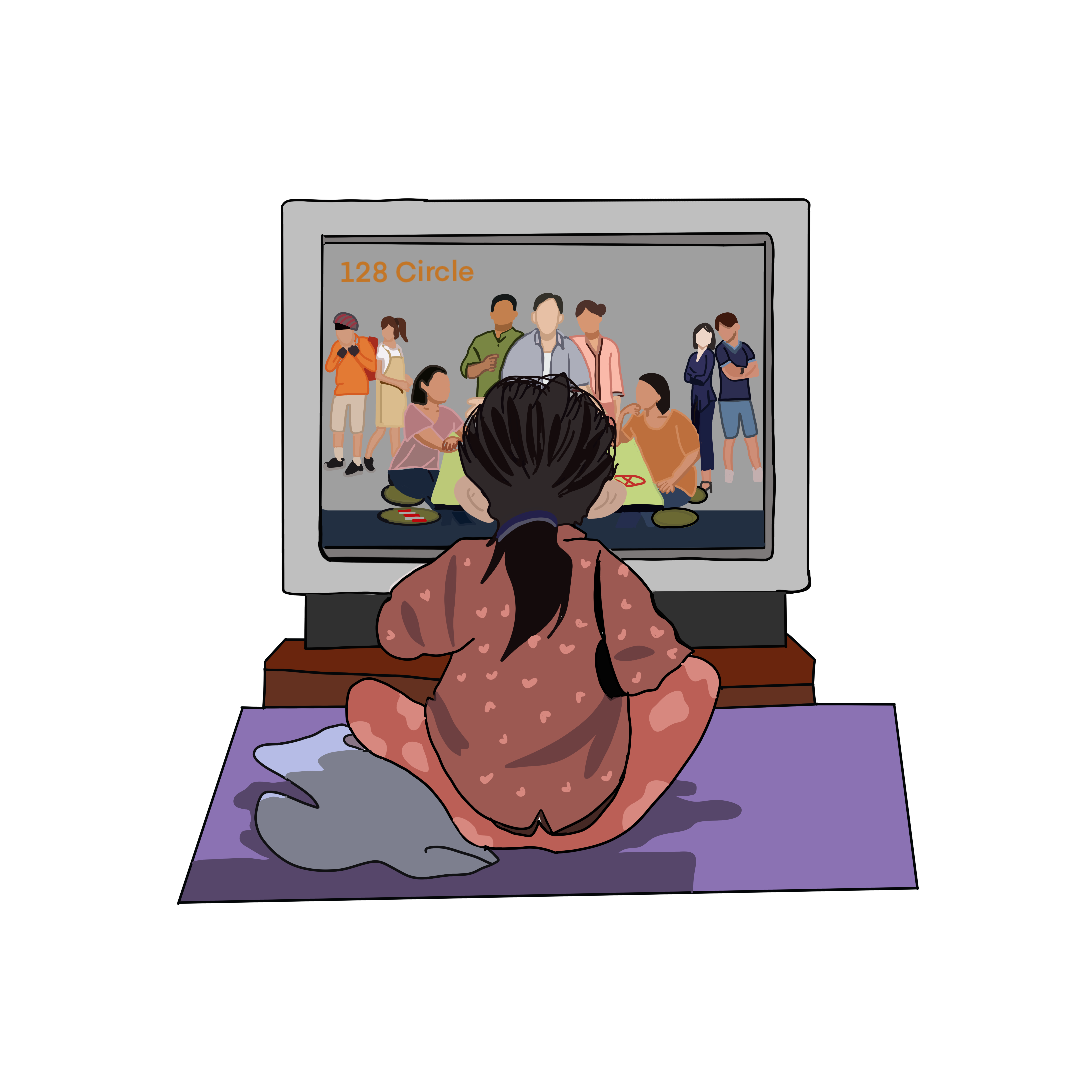 Having taught in Ngee Ann Polytechnic's School of Interdisciplinary Studies for four years before coming to the School of Film and Media Studies, Ms Sharon Ismail, 47, is a familiar face among many of the school's students. However, to some, her name and face might ring a bell elsewhere. 

If you are as big of a TV junkie as I am and keep up with the local dramas that air on television, these characters may sound familiar to you. From Deputy Superintendent of Police (DSP) Audrey Soh in Code of Law to Aishah, a Mee Rebus seller on 128 Circle, Ms Sharon gets into character and captures the essence and character traits of the roles she portrays, thus bringing her characters to life.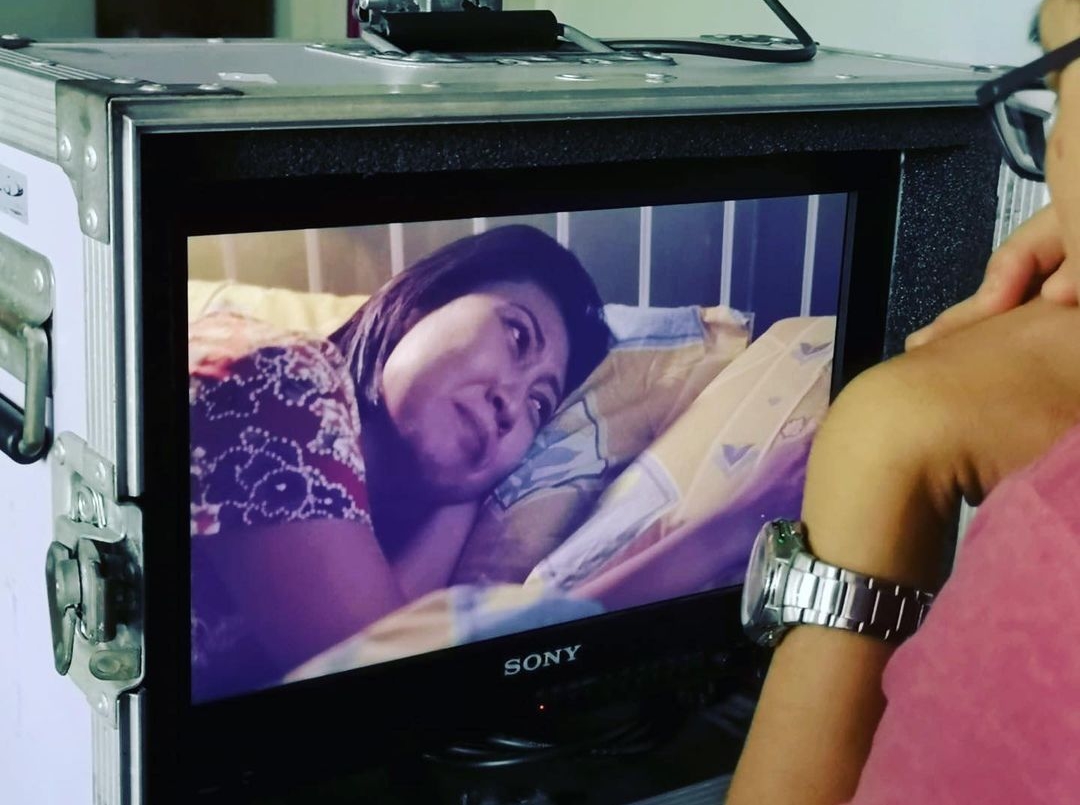 Behind the scenes filming of 128 Circle, where Ms Sharon plays Aishah, the Mee Rebus seller. Photo taken from @sharonismail on Instagram.
So, how did she get started in her acting journey?
Into the World of Drama and Acting
Growing up in a kampong until the age of 11, where most people worked blue-collar jobs, Ms Sharon acknowledges that there was "no such exposure to the arts in [her] family at the time" and she had a "rough-and-tumble childhood", with most of her playtime happening outdoors. 
"It was not 'til I enrolled in NUS (National University of Singapore) and happened to audition for Theatre Studies at the Faculty of Arts and Social Sciences that I really got involved in the arts. [It was] all thanks to a blond surfer-dude looking lecturer who poked his head out of his office hollering, 'Anyone here to audition for Theatre Studies?'," says Ms Sharon.  
Before she knew it, Ms Sharon was landing the female lead roles in Theatre Studies, and that was when she thought to herself: "Maybe I do have some talent for this acting thing". She was subsequently further encouraged by her English lecturer to take her talent to professional grounds. (Interesting side snippet: this same English lecturer was also Hugh Jackman's acting coach.)
Before long, she found herself auditioning for drama school in London, England, where she did her Masters in Performance Studies at the Royal Central School of Speech and Drama.
Her first professional theatre debut was in 1996 with a Malay language theatre company, Teater Ekamatra, where she starred in a play called Dhavusya. Ms Sharon took on the role of the queen, and she recalls scaling down the walls of Fort Gate at Fort Canning dressed in all-white, donning a long wig and in her own words, "looking like a Kabuki performer".
(Fun fact: Ms Sharon's husband actually recalls watching this play prior to their meeting and told his friend that he thought he was seeing things when he saw a woman who looked like a "Pontianak" (female vampire in Malay). Little did he know that this "Pontianak" would later become his wife.) 
Just one year later in 1997, Teater Ekamatra sent her for a screen test for a health and medical infotainment series on Suria (known as Mediacorp TV12 back then), where she landed her first series as a host.
"That gig resulted in my first acting role for Suria, called Sayang Semuanya. It's a family drama about six kids who had to fend for themselves after their parents died in a car crash. I was the eldest child, trying to keep the family together," says Ms Sharon. "I remember asking the director why he gave me the lead role without auditioning me, and he said it was because I was from Teater Ekamatra. Turns out, he was one of the original founders of the company before he stepped down and said if I landed a role with the company, that was proof that I could act."
That acting role earned her her first Best Actress in a Leading Role award at Pesta Perdana, Suria's annual television awards, of which she would go on to win three times in total over the years. Furthermore, her own bucket list item was fulfilled when Forensik, a spin off from the popular police procedural "Code of Law", started streaming on Netflix, an American subscription-based streaming and production company.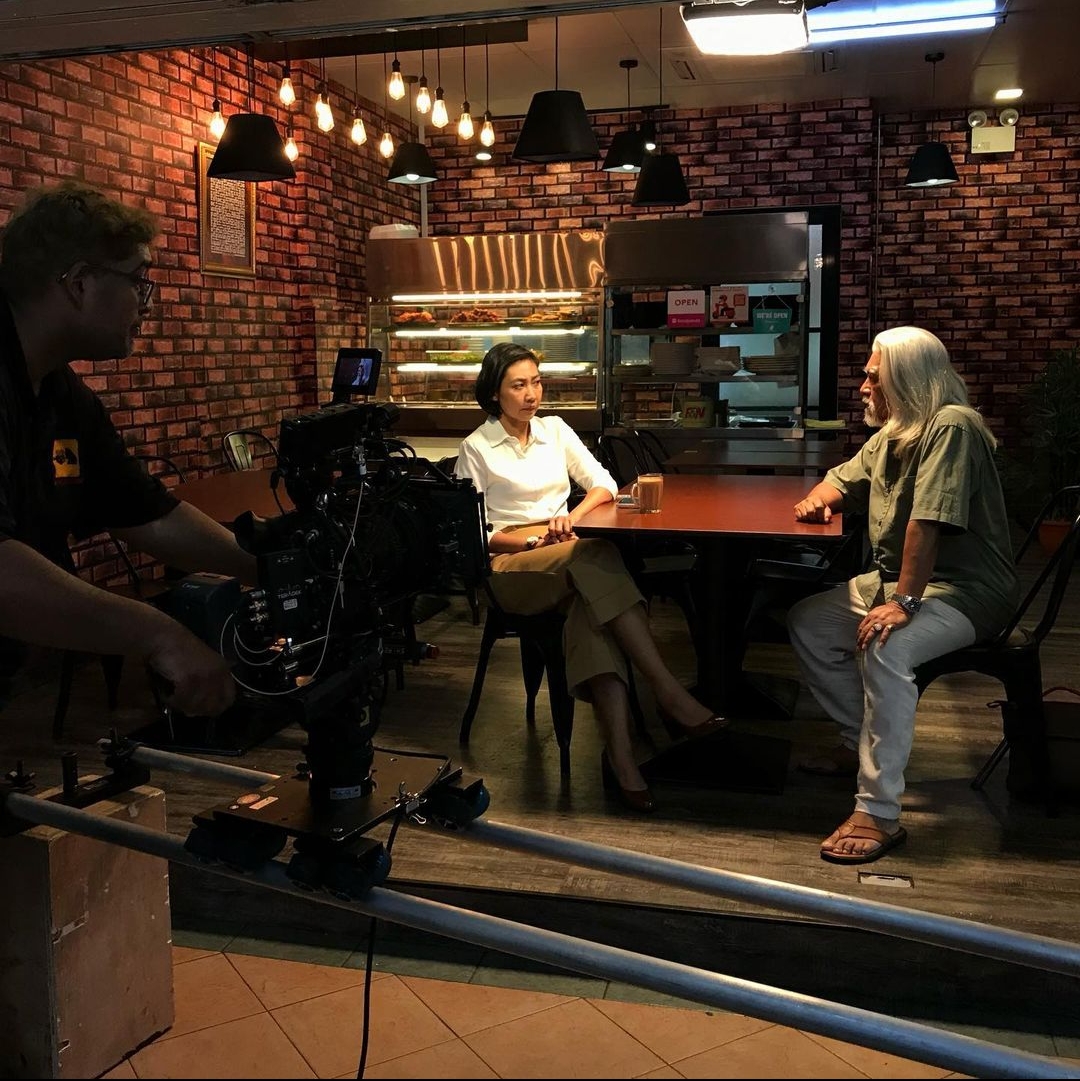 Ms Sharon says that the most fulfilling part of being an actress is how she is "given the privilege to step into the shoes of someone who's not me, whose stories I help tell, whose shoes I get to walk in, and whose life I get to breathe life into." 
Given the privilege to step into the shoes of someone who's not me, whose stories I help tell, whose shoes I get to walk in, and whose life I get to breathe life into.
Enabling Students for the Future
Ms Sharon's first venture into education was when she was an undergraduate in NUS. She taught speech and drama, as well as creative writing on a part-time basis at Henry Park Primary School and Raffles Girls Primary School under an arts enrichment company. 
"Good money and flexible hours, loved it," Ms Sharon says about her jobs at the time.
Fast forward to her teaching journey at Ngee Ann Polytechnic, Ms Sharon has been teaching here since May 2005, where she first taught communication, drama and poetry, popular culture and enterprise modules at the School of Interdisciplinary Studies until 2008. At the moment, she teaches at the School of Film and Media Studies and is our dear Media Entrepreneurship lecturer!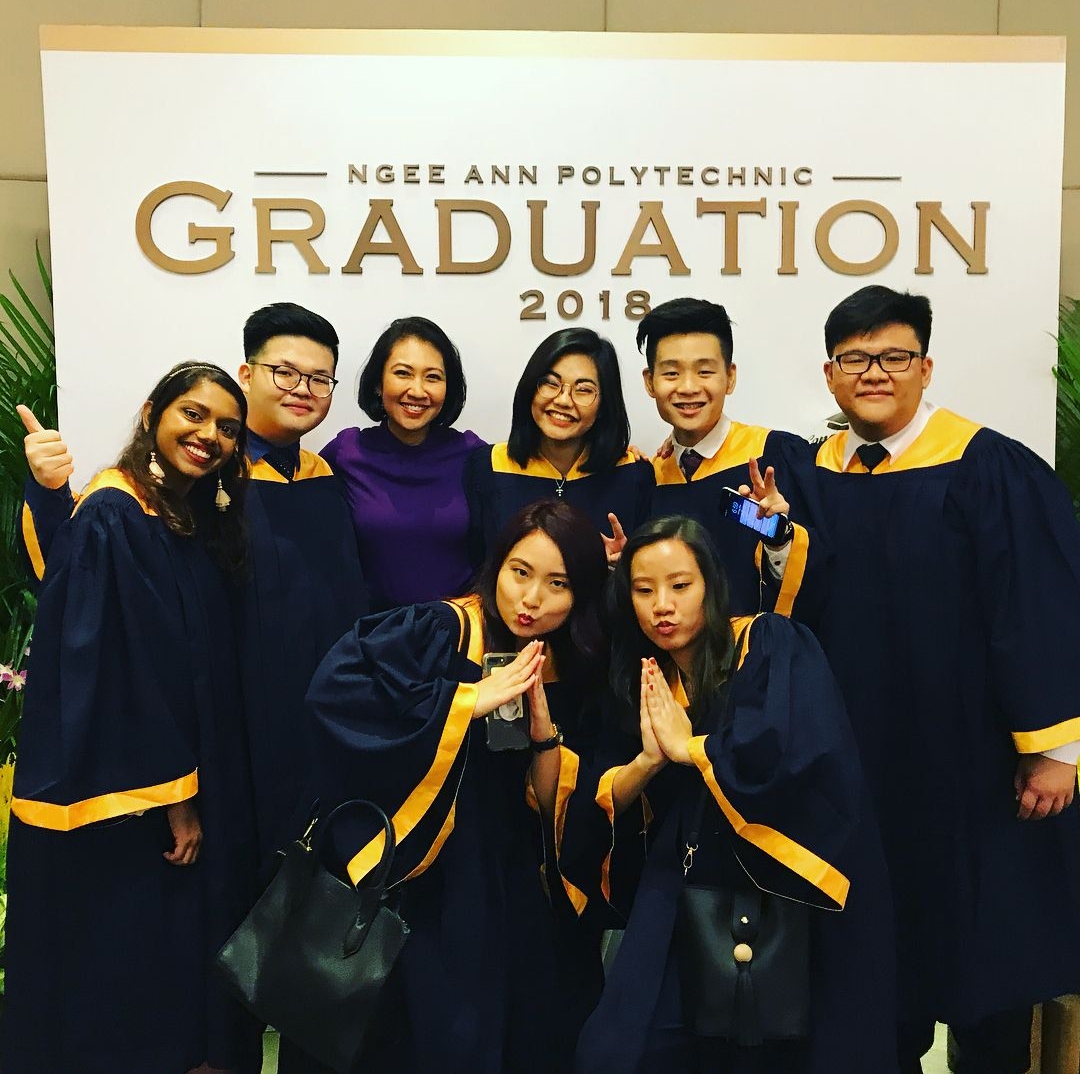 The Secret: Do it with Passion
Many of us are already swamped with handling just one project. So how does Ms Sharon juggle two demanding professions, yet do them with the high standards that she has set for herself?
In Ms Sharon's case, she mentioned that she's always been outside of her comfort zone, even at a young age.
With that, Ms Sharon naturally leaned towards making the most out of her days, keeping productive and doing the things she loves.
"I always had parallel career tracks since I graduated. It started with a part-time job as an undergraduate, and after I graduated, I wasn't sure I could land a scholarship to do my Masters, so I worked three jobs – day job as [an] arts programming executive at NLB (National Library Board), hosted TV (television) shows and worked as a research assistant for my professor on the weekends. That hustle never stopped, even after I landed a scholarship and a bursary for my Masters," says Ms Sharon. 
She even recalls years where she worked seven days a week, working at NLB from Monday to Saturday and hosting a 'live' morning show on Suria on Sunday mornings.
As much as she loved the media industry, she was as interested in the education industry too. Hence, being an educator became her full-time job, and since a part of being a media lecturer is to keep in touch with the media industry, being an actress doubles as a win-win.
As a student in her Media Entrepreneurship class, she has helped us to tap into our creative cells and has challenged us to innovate new media business ideas and concepts to help solve a problem or fill a gap in the market. I also appreciate how patient she has been in guiding us when it comes to simulating our own business companies, and teaching us to pitch in engaging ways. One can be sure to learn valuable skills as her student, and might also cultivate an interest in being an entrepreneur one day!
When asked for advice for anyone who plans to have a double career, Ms Sharon shares: "Know the reason WHY you want to do what you do: You're going to be hustlin' very hard to build your career, so [you] better know what drives you because that will keep you going in tough times. It will be your moral compass to help you make decisions, and it will keep you honest. It will also draw the right people to you, and I cannot emphasise this enough – the right people believe in you and set you up for success. They tell you what you need to hear, not what you want to hear. That's why I still love being a lecturer, I get to help future media practitioners on their journey, while still being a media practitioner."