DESIREE SEAH explores the fun of customising keyboards with different kinds of artisan keycaps.
A white maneki-neko artisan keycap sitting nicely in the middle of a keyboard. It is often believed to bring good luck to its owner. Photo by okeydokey.studio on Instagram.
BY
Desiree Seah
Editorial Admin Manager
Hype Issue #55
Published on
November 3, 2022
Perhaps one way to keep your work life a little more exciting is to place little working companions on your keyboard.
These little companions are called artisan keycaps – and they're the crown jewels that most custom keyboards feature. 
Artisan keycaps are mainly sculpted with resin or clay, and placed on key switches to add flair to a mechanical keyboard.
I spoke with the founder of okeydokey studio, Alicia Chan, 26, who also goes by Aly. She is a Singaporean artisan keycap maker who sells her unique keycap creations at okeydokey studio, available on Instagram and their website. The name of the business itself is a pun made from keys, and Aly is passionate about bringing her designs into the artisan keycap market in Singapore. 
"It's quite hard to say if this is a sustainable business," Aly says. "There was a peak during the pandemic where everyone was using keyboards at home and wanted to [customise] their keyboards."
However, Aly does think that artisan keycaps are a form of art after all, and that there will always be a market for them.
Many of the people who decorate their keyboards are gamers who want to add a special touch to their setup, but I believe that artisan keycaps should be further introduced to a larger crowd.
It is a very playful way to style up your keyboard and most importantly, they are easy to install as long as you have the right fit. Common mechanical keyboard switch types are the Cherry MX or the Topre. 
One custom-made resin keycap can cost up to about USD300 – but you don't have to spend that much to start your journey in artisan keycap collecting. A cursory search on e-commerce site Shopee boasts resin keycaps of all shapes and styles, starting only at SGD8.
The process behind moulding and sculpting a keycap from scratch is no easy feat at all. If the keycap's material is resin, the work becomes more difficult and tedious.
A cheaper alternative would be to purchase clay artisan keycaps, which have appealing and experimental designs too.
Aly says: "A lot of places sell clones of keycap designs and they are cheap, but it is morally wrong to buy from them."
"Behind every keyset, there are real artists."
The designing and manufacturing of these artisan keycaps go through many rounds of trial and error to perfect the quality of the keycaps. But once they are ready to go into production, some companies would copy the designs illegally and mass produce them to sell on shopping websites.
It is indeed heartbreaking to see the work of keycap artists being stolen and reproduced.
Aly tries to educate people on the authenticity of keycaps and the morally correct way to support the artists, but ultimately, the cheapest option is the best option in the eyes of many. 
She mentions some legitimate sites to purchase keysets from are CannonKeys or NovelKeys.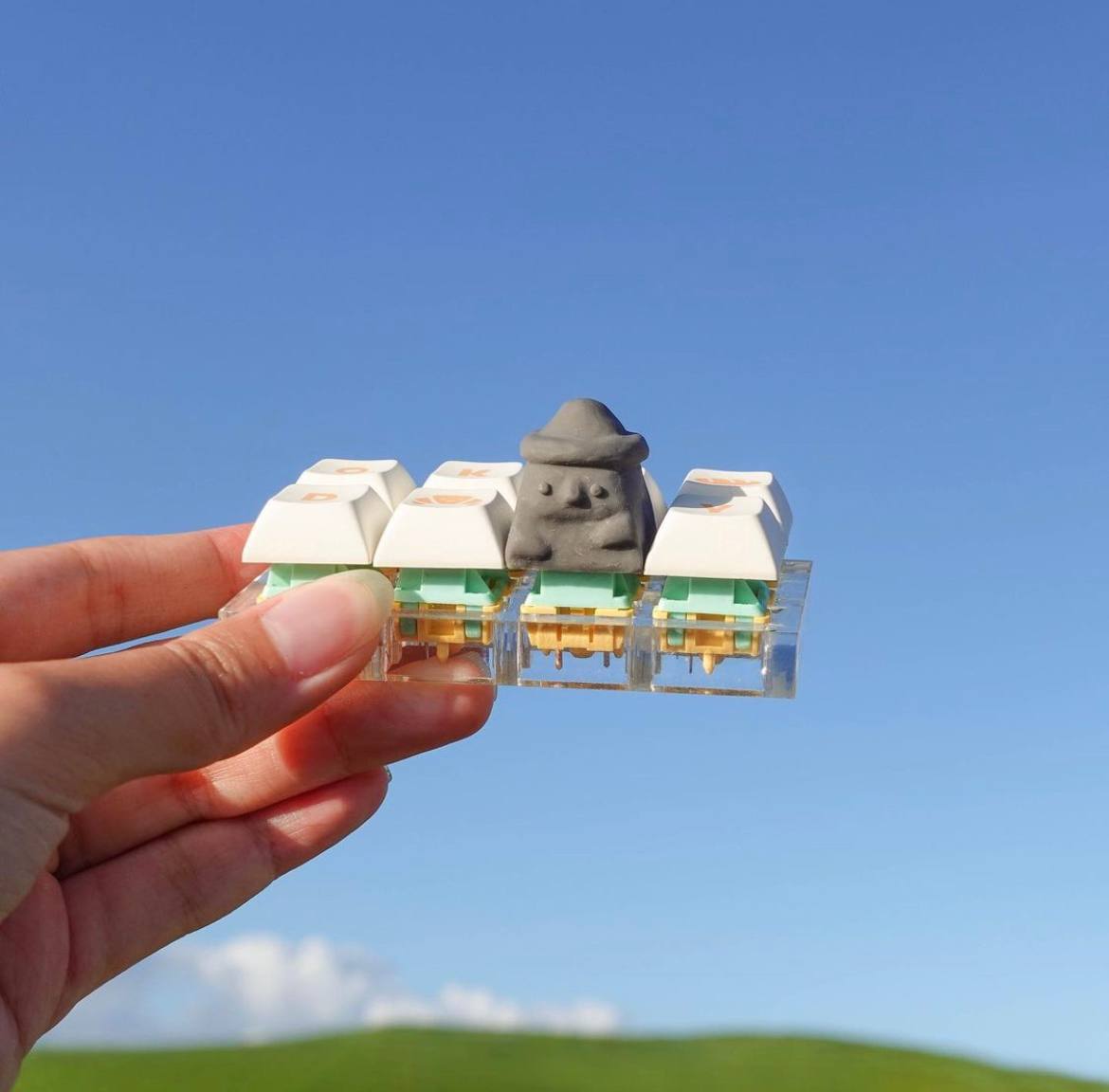 Dol hareubang, a stone statue that can be found around Jeju Island, made in the form of a keycap. This could make for a unique souvenir or gift to someone who misses Jeju. Photo from okeydokey.studio on Instagram.
The more creative the shapes and sizes these keycaps come in, the further away they should be placed from the alpha keys. Alpha keys consist of the alphabets, numbers, and some special symbols – the keys you use most often to type. 
As some artisan keycaps can be shaped differently from the standard keycap, they are usually placed on the top row of the keyboard (functions keys) or the easily recognisable keys like Shift, Esc, or Enter.
But of course, you can fit them in right where you want them. The freedom of customisation lies with your imagination when individualising your own keyboard.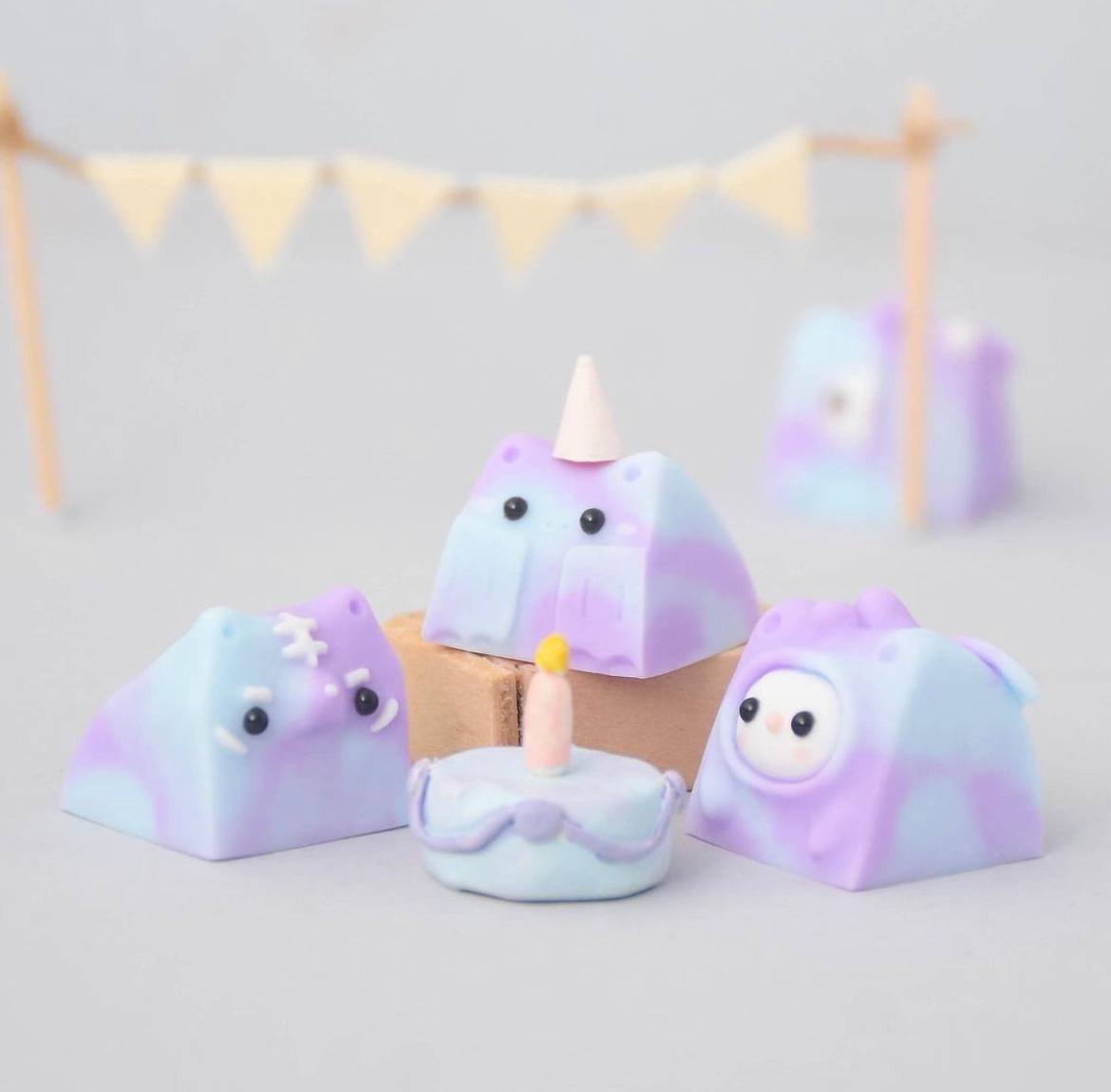 A birthday party of three: Spook, Stripes and Rex. Photo by okeydokey.studio on Instagram.
Anyone can start customising their own keyboard by simply looking for keycap artists and supporting their work by buying these adorable keycaps.
It's time to bring the party over to your own keyboard and start adding on these little friends.