Putting a Spin on Art Jamming
CHIN NGIOK SHUAN visits Motion Art Space, Singapore's first and only art jamming studio that lets physics create your artwork.
BY
Ngiok Shuan Chin
Sub-Editor
Hype Issue #55
Published on
October 31, 2022 
In the weeks leading up to my visit to Motion Art Space, I'd never felt an expressed desire to paint. I was never good at art in school, and painting was never something I found myself drawn to. 
It was only when a friend of mine brought me to an art jam – where the controlled environment and fixed brushstrokes, which gave me a pretty painting as the end result – that I was nearly driven insane. 
I'm someone who thrives on spontaneity and chaos, and I usually prefer going with the flow over planning out every single detail. The attention to detail that many art jams require to ensure a perfect piece of work wasn't ideal, but the clean-up and cost of equipment if I did everything myself turned me off the notion of wanting to do it at home. 
However, that art jam ignited a creative wildfire within me. Now, I was determined to find a place that would satisfy my current desires in an art jam, and I did: at Motion Art Space.

Motion Art Space prides itself on being Singapore's first art jam that uses a whole host of equipment other than the usual paint brushes and paints. Instead, the studio uses physics to capitalise on the lack of human guidance for the painting.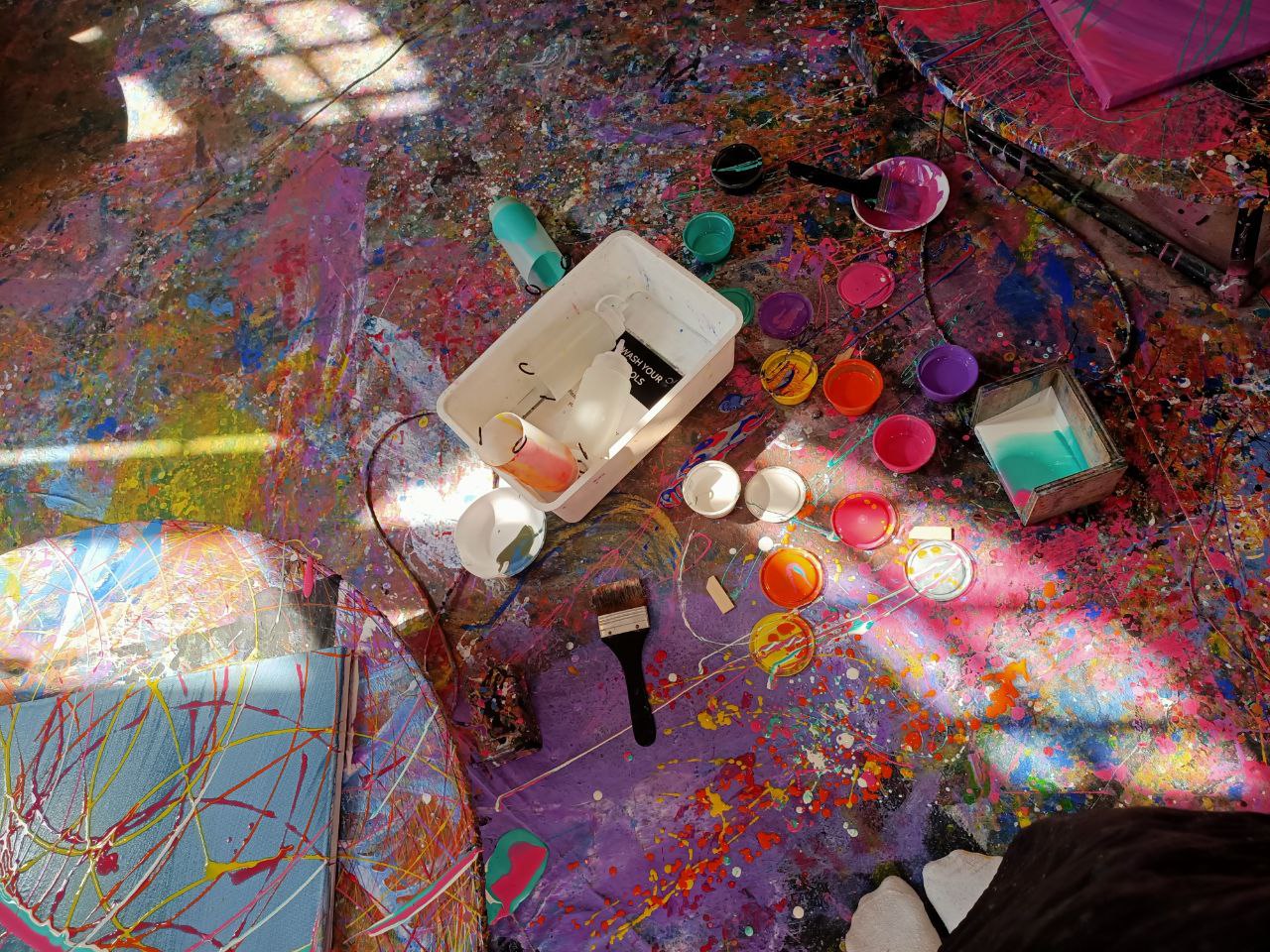 With paint brushes, trays, squeeze bottles, wooden chips and more, the array of equipment we were actively encouraged to try while painting promised us a messy yet exhilarating experience. Photo by Chin Ngiok Shuan.
My constant need of being in control can be overwhelming, so the thought of relaxing and letting art flow freely seemed very compelling. On top of sorting out that mental haze, art jamming also meant that I could potentially bring home a work of art to impress friends and family.
With all that in mind, I was sold! I took a fellow HYPE writer, Cheryl, with me to a session at Motion Art Space. 
I managed to get us the Couple Package. At $129, it gave us two art stations, two standard canvases standing at 45 centimetres by 60 centimetres, 10 different paint colours and a handful of equipment that we could use during the one hour session. 
Getting there wasn't too difficult. The studio is located a short walk away from Bugis MRT Station, and their Instagram page has instructions on how to get there fastest. 
Motion Art Space is nestled in a cosy shophouse environment, and located on the second floor. The stairwells are decorated with paintings, showcasing the creativity of the many others who have been here. 
While the outside of the studio is slightly darker due to the lack of light, the inside exudes warmth, and the white walls are covered with even more paintings, each section showcasing different colours and shades.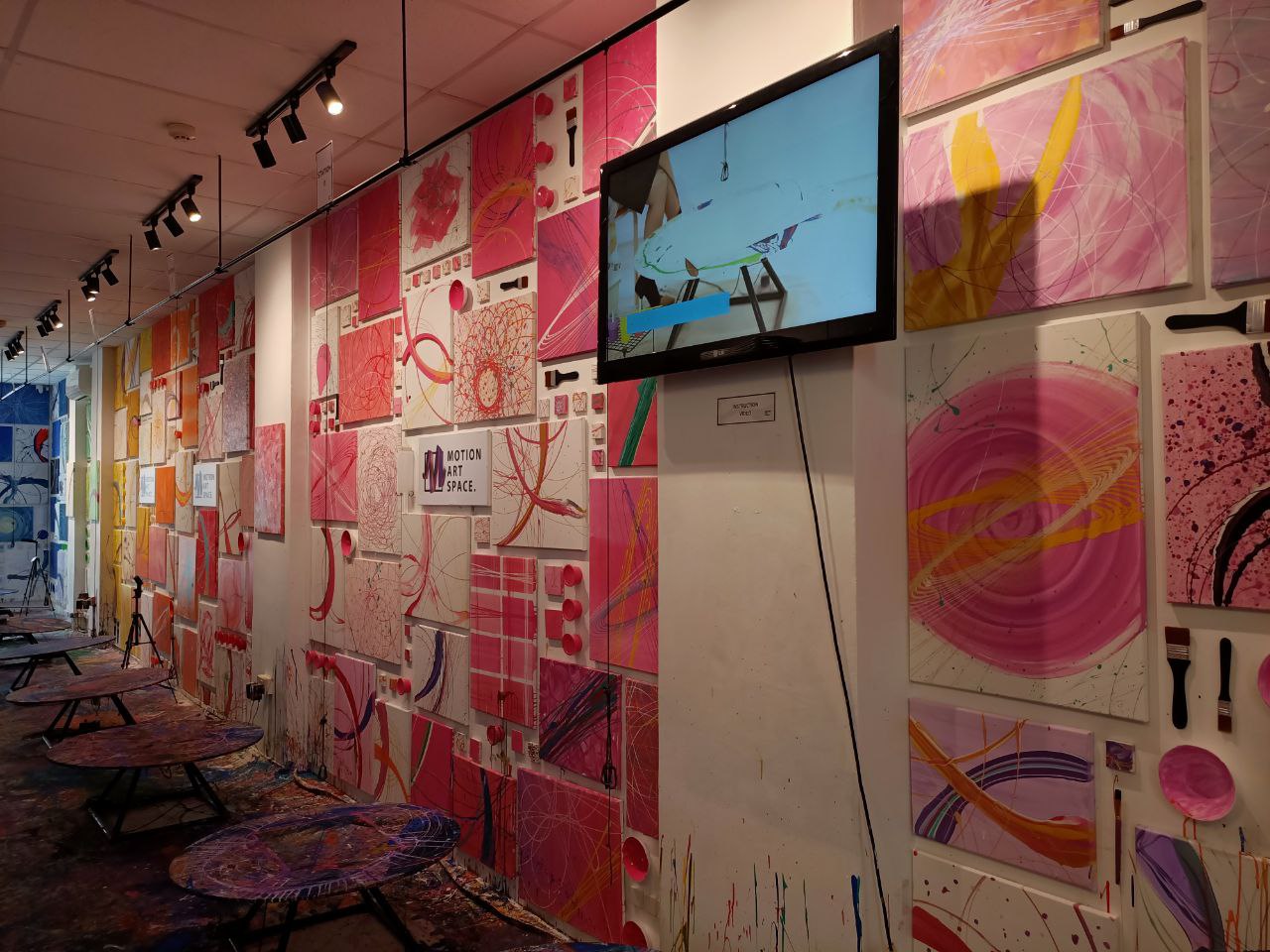 This is just one of the walls in Motion Art Space, and each piece helps give the studio its spunky personality. Photo by Chin Ngiok Shuan.
Inside, we were warmly welcomed by Ms. Ash Lee, the operations manager of Motion Art Space. As the session was only an hour long, Cheryl and I were quickly ushered to the back where we could store our belongings in lockers and get ourselves an apron to prevent paint spillage on our clothes. She also warned us that wearing socks in the studio was risky due to the possibility of walking onto wet paint, so take note if you want to try art jamming here.
Once we had everything stored and had donned our aprons, we were instructed to watch a quick two-minute video on how to operate our tools: from the adjustment of the cords that would hold our bottles and paint trays, to how to get a consistent paint flow going when we finally started on our masterpieces. While the video touched more on technicalities, Ms. Lee also gave us tips and tricks on how to achieve certain looks and patterns on our canvas before letting us get to work.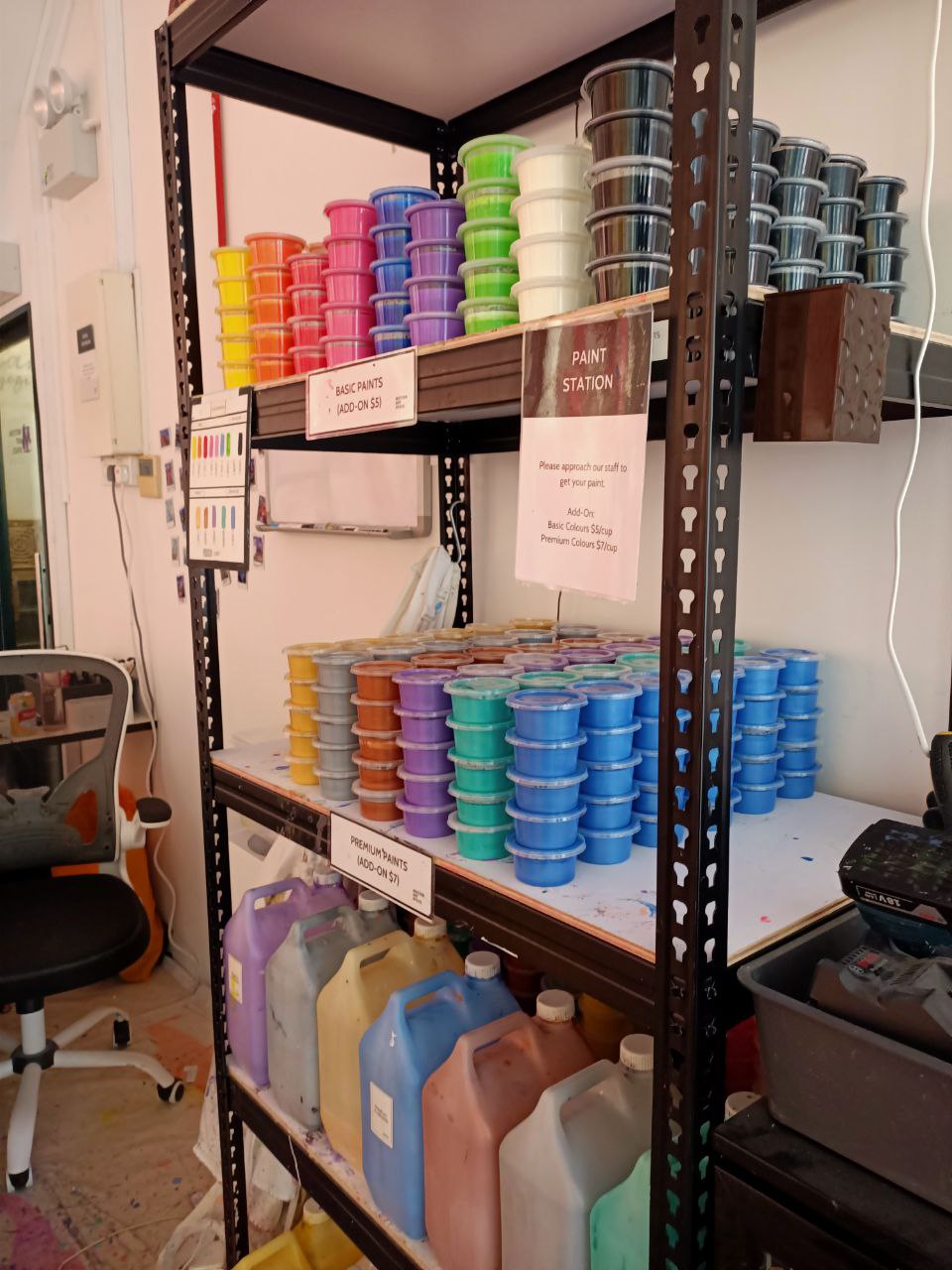 The selection of paint colours available gave us much to consider, and we took quite a while to choose what colours we wanted to express our current emotions with. Photo by Chin Ngiok Shuan.
Going into this, I had absolutely zero idea on what I wanted to create, and frankly, even after looking at all the other inspiration pieces hung on the walls, I still couldn't decide. But going with my instinct, I was pouring colours everywhere to create my canvas background. Cheryl, on the other hand, had a clearer vision of what she wanted to do, as she'd found an art piece with a background she wanted to try recreating.
As we started painting, using the squeeze bottles was a no-brainer as the hook attachments and open-bottom easily directed us on how to pour. However, Ms. Lee told us there was a technique to prevent stray drops of paint or inconsistent lines: let the paint drip for two seconds outside the canvas before letting the bottle go, and release the bottle parallel to the wall so that it wouldn't hit the wall. These steps could prevent the bottle's rebound, which ruins its motion. 
While my background was painted using tones of green and silver mixed under shades of blue and pink, I figured brighter colours would stand out better on top – and stand out, they did.
With the help of the squeeze bottles, I had red, orange and yellow lines that covered my canvas, and my joke of the day was that it started looking like an abstract linework of a pizza. Plus, the streak of pink, mint and white I created on a paint tray did nothing to make it look less like food.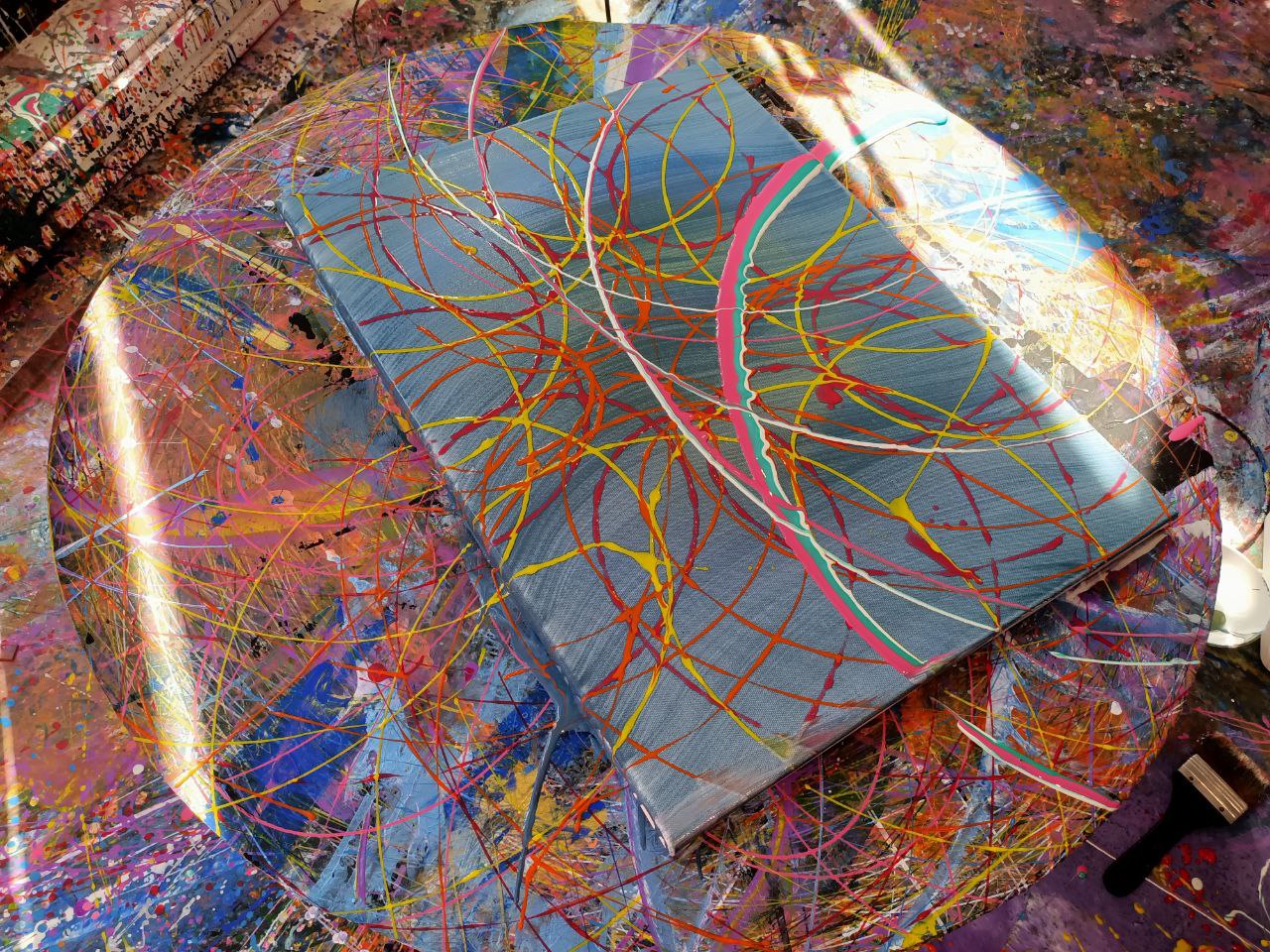 I went into the studio figuring that this could help me work through some emotions, but as it turns out, maybe I was just hungry. Photo by Chin Ngiok Shuan.
The paint tray was one of the more intriguing parts of the art jam. At the start, Ms. Lee had advised us to stick to just three different colours when using the squeeze bottles, letting us keep another three or so colours for the paint tray, but between Cheryl and I, we still had quite a lot of paint leftover in our bottles. We gleefully poured most of that remaining paint into our art trays.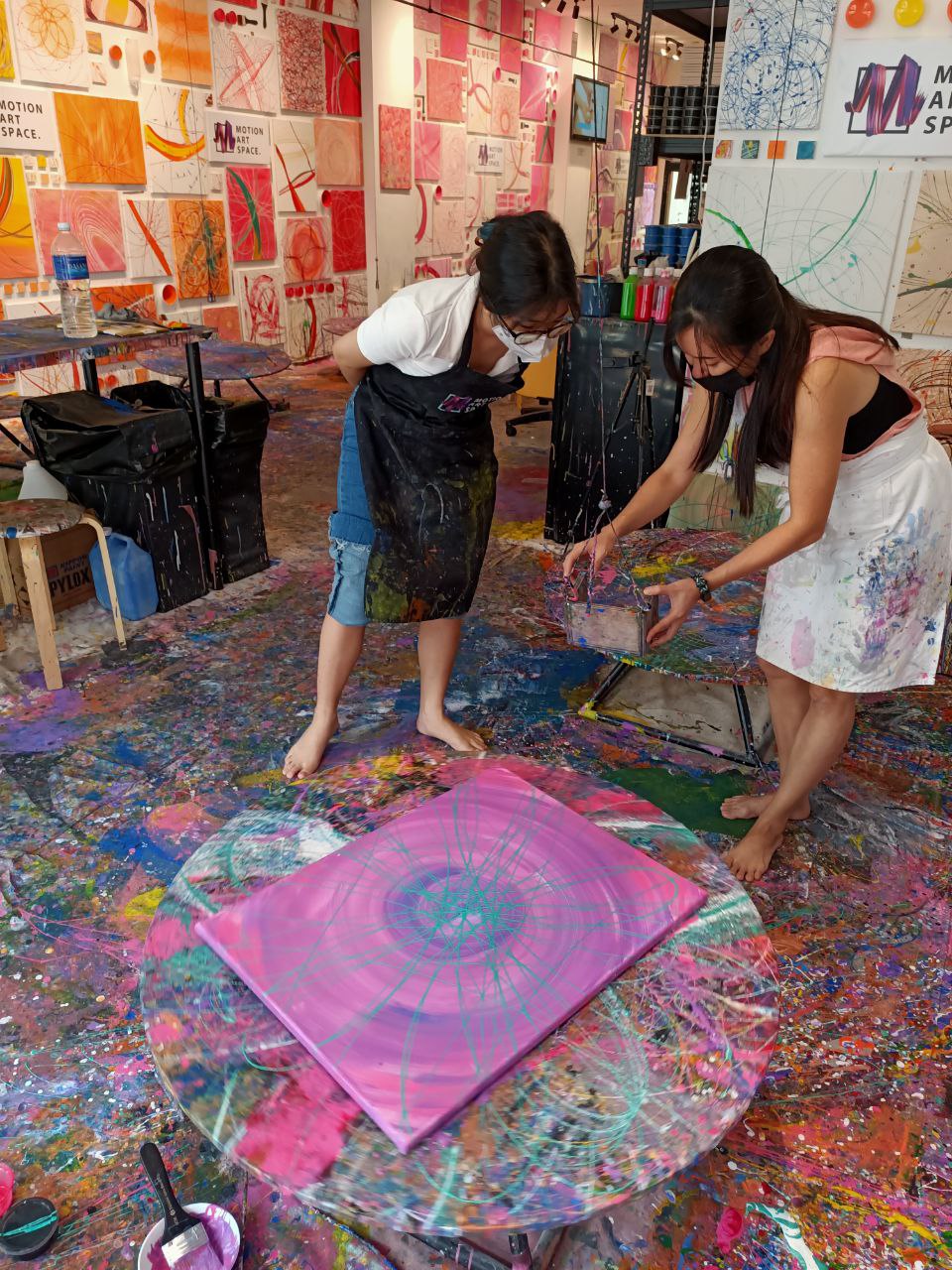 Ms. Lee gave us a demonstration on how best to use the art trays, making full use of physics and the laws of motion to help us create a truly one-of-a-kind painting. Photo by Chin Ngiok Shuan.
The trick to using the art tray was to pour the first colour into a corner before letting the second and third colours drip in from the opposite end of the tray. Releasing the tray over my spinning canvas on the table and watching the colours drip out onto my canvas was probably the most euphoric thing I'd felt that day, with a splash of colours to brighten up a moody landscape. 
The one hour passed without us even realising as Cheryl and I spent most of our time either focused on our art or chatting amongst ourselves. While we did not have to clean up the paint we spilled, we did have to wash up the bottles, trays and brushes that we used in the washing area provided at the back of the studio. It was here we could also wash off the paint that had splashed onto us during the process.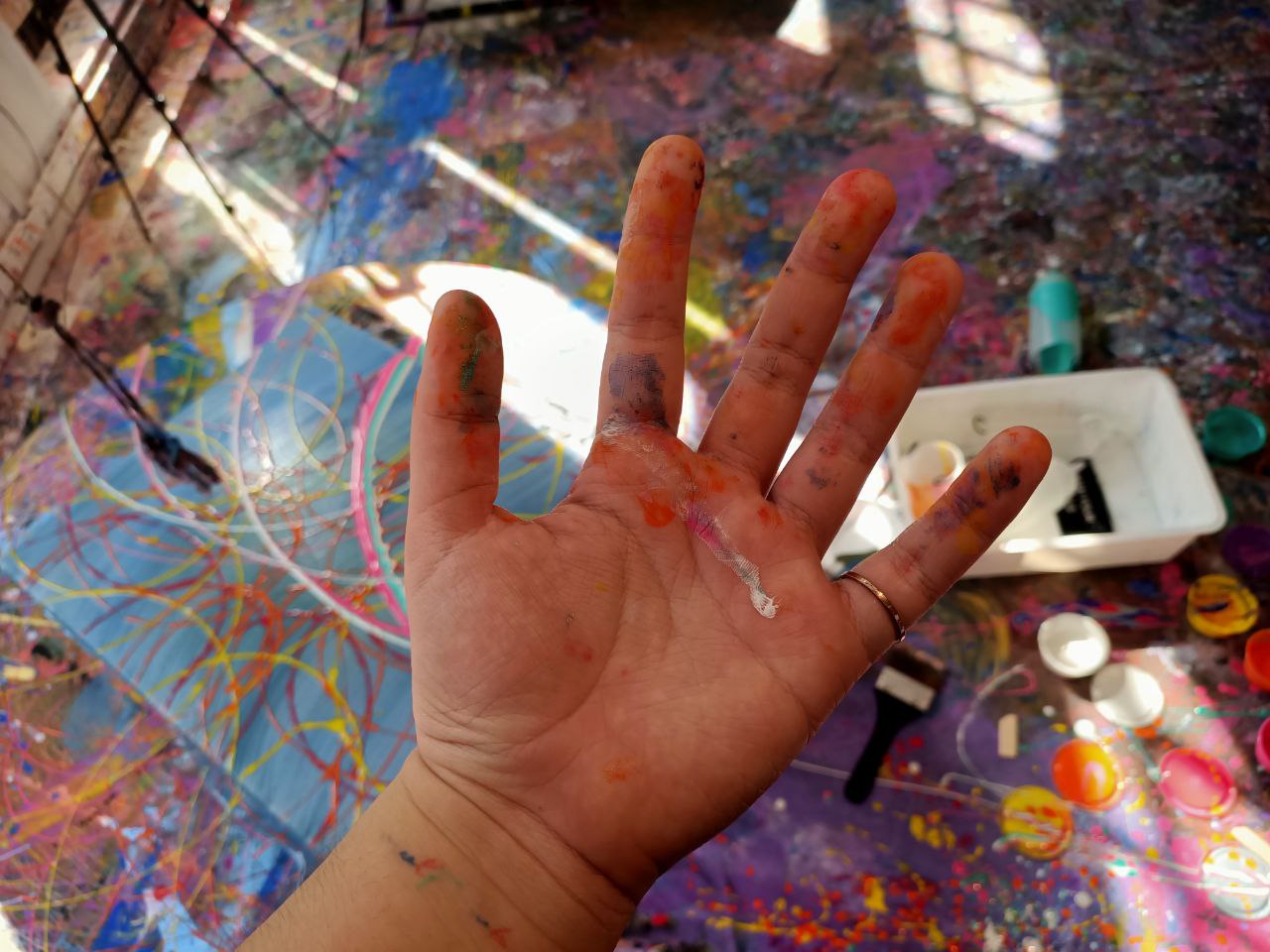 Ms. Lee gave us a demonstration on how best to use the art trays, making full use of physics and the laws of motion to help us create a truly one-of-a-kind painting. Photo by Chin Ngiok Shuan.
Unfortunately, due to the type of paint used, we had to wait for a minimum of three days for our art to dry at the studio before booking a timeslot to pick them up. I found it a little upsetting as I wanted to show off my artwork immediately. Nevertheless, both of us went home that day excited to see our final results, and it was definitely worth the wait in the end. 
"As this was my first time trying art jamming out, I wasn't sure what to expect or if my art would even come out looking good," Cheryl said. "However, this art jamming session was definitely fruitful and is definitely a great bonding activity amongst friends! And for a first-timer, I'd like to think my finalised piece of art came out pretty good!"
"I'd definitely go art jamming again. It's a soothing experience that allows one to destress from the stressors in life whilst being a great bonding activity," said Cheryl. 
Motion Art Space provided me with a sanctuary to unleash my inner chaos to paint, and the experience here was truly unique, albeit on the more expensive side, especially if you're a student. 
But if you'd like to unleash your creativity in a relaxed environment without having to stress about what step you should take next, or have a casual outing with friends or a partner, Motion Art Space is definitely the place for you. 
Information:
Information taken from Motion Art Space:
Name: Motion Art Space
Address: 36A Arab Street (Level 2), Singapore 199735
Opening hours:
Mon – Sat 10am – 9pm
Sun 10am – 8pm
Verdict: Overall: 5/5
Ambience 5/5

People 5/5

Price 4/5