Visit Everton Park: A Home to Cosy Cafes
Join CELEST THAM for a food tour as she visits three of the cafes and local businesses in Everton Park.
BY
Celest Tham
Section Editor
Hype Issue #55
Published on
October 27, 2022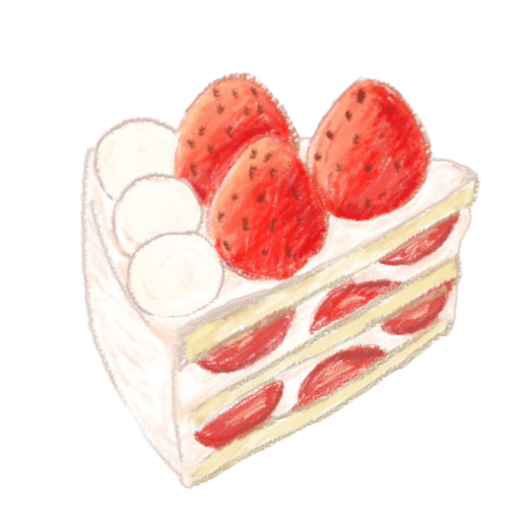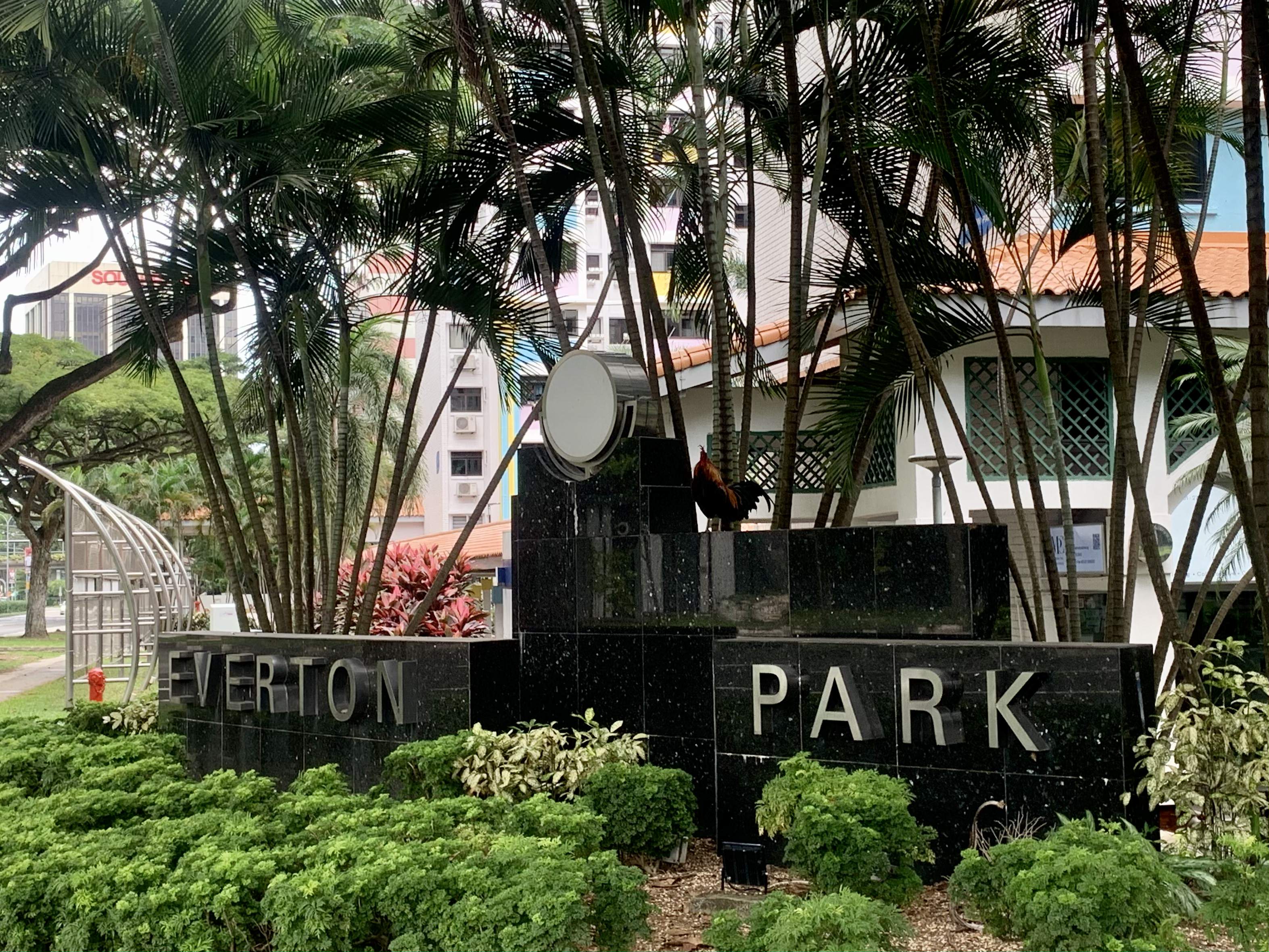 Located at the southwest corner of Tanjong Pagar, the quaint Everton Park is well known for its plentiful eateries. Photo by Celest Tham.
When talking about shops at HDB void decks, coffee shops or grocery stores used to be the things that would come to the forefront of my mind. However, a visit to Everton Park changed my perspective. 
Located near the Central Business District, Everton Park is one of the oldest residential areas in Singapore. At Everton Park, I can find suburban, nostalgic street views and inhale the aroma of lingering coffee, and that always entices me to visit again and while my day away. 
Here is my list of unexpectedly banging cafes that you could consider for your next food hunt in Everton Park.
1. Start with a lunch at Myo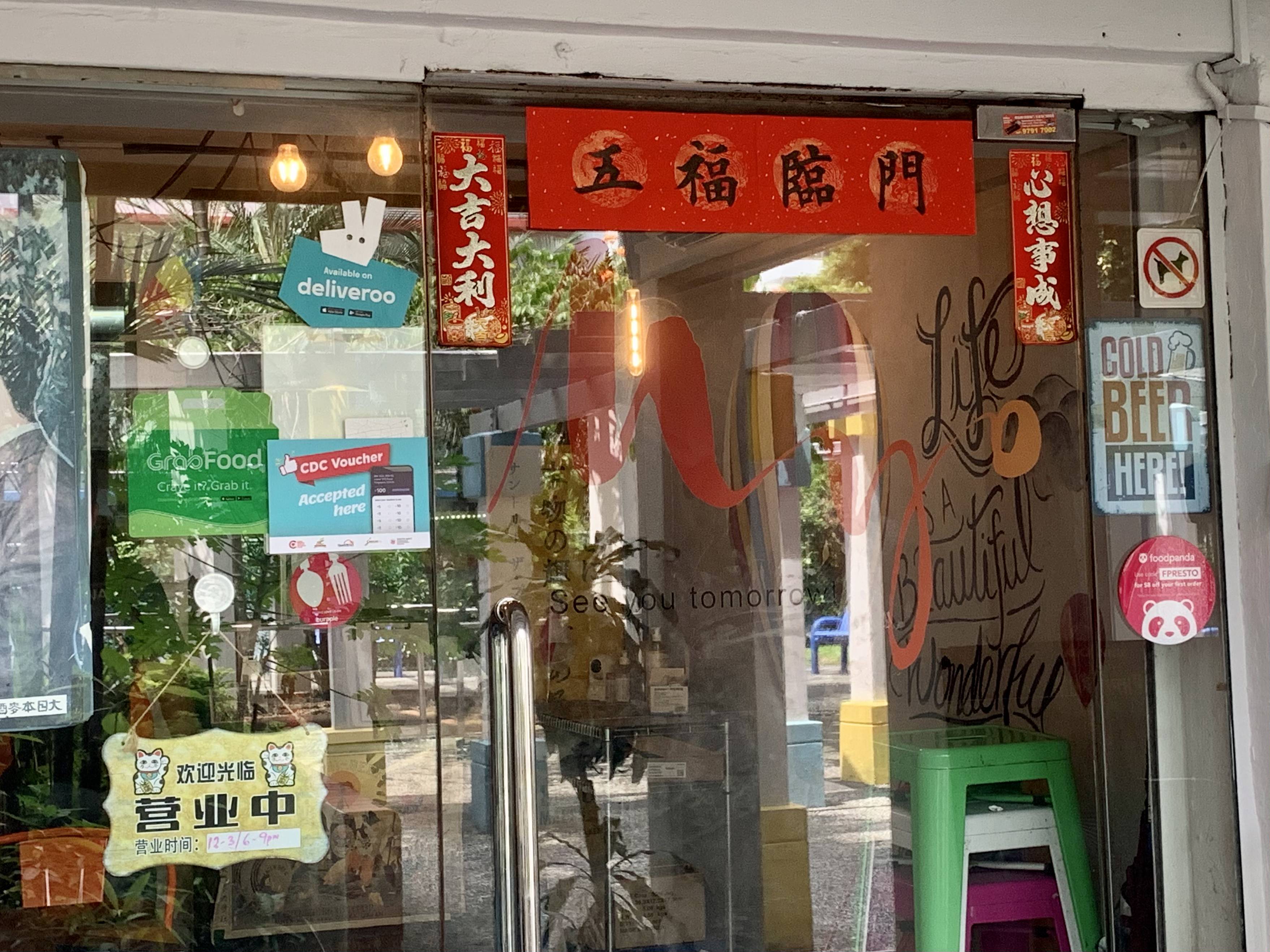 Myo has a nostalgic vibe that fits in well with the neighbourhood. Photo by Celest Tham.
Myo is "妙" in Japanese, which means wonderful. It is an Asian fusion restaurant specialising in Western and Japanese cuisines with a local twist. The first impression I got from Myo was its homely vibe. The dim lights, the humorous wall graffiti and the classic pop songs in the background all added up to a warm dining experience.
Myo serves drinks, sides and mains, including rice and pasta to complete your brunch. I had some of its popular dishes, the Japanese Garlic Rice Chicken Katsu Cheese ($13) and the Cajun Pacific Fish Mango Salsa Brown Rice ($11) during my most recent visit.
Perfect for garlic lovers, the Japanese Garlic Rice Chicken Katsu Cheese comes with garlic fried rice that nicely absorbs the fragrance of garlic, which is really savoury and appetising. According to one's preference, there are other meat options, such as grilled chicken or Wagyu beef cubes as well.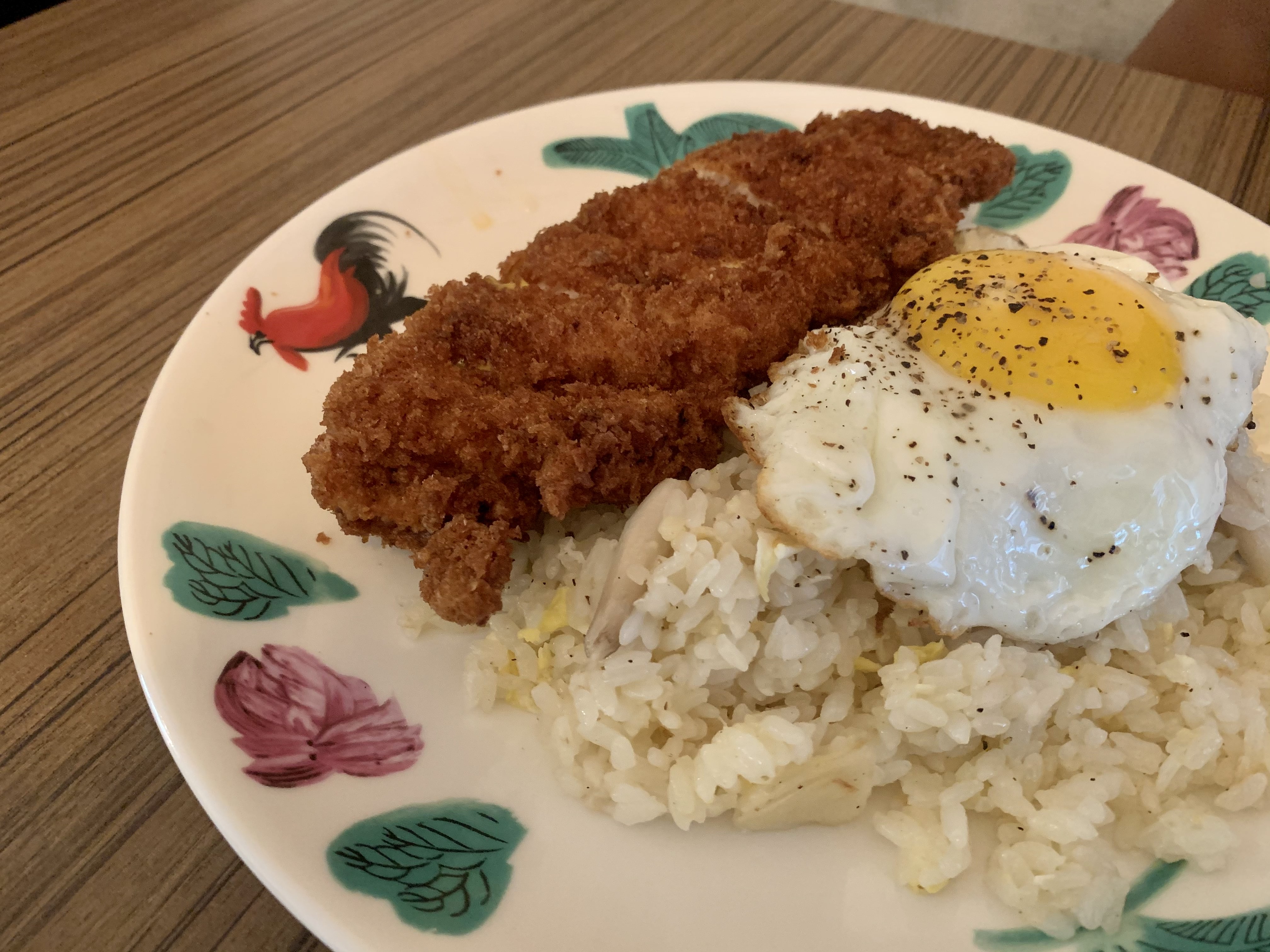 The Japanese Garlic Rice comes with a simple combination of garlic fried rice, fried egg and your chosen protein. Photo by Celest Tham.
What made the Cajun Pacific Fish Mango Salsa Brown Rice special for me was its harmonious balance of flavours. At first, I was hesitant seeing that the rice came with mango salsa, as sweet-tasting rice was not something I would have favoured. However, I was surprised at how great the mango salsa balanced out the saltiness of the fish. Moreover, with the generous serving of vegetables and fragrant brown rice, I found it to be a light and guilt-free meal.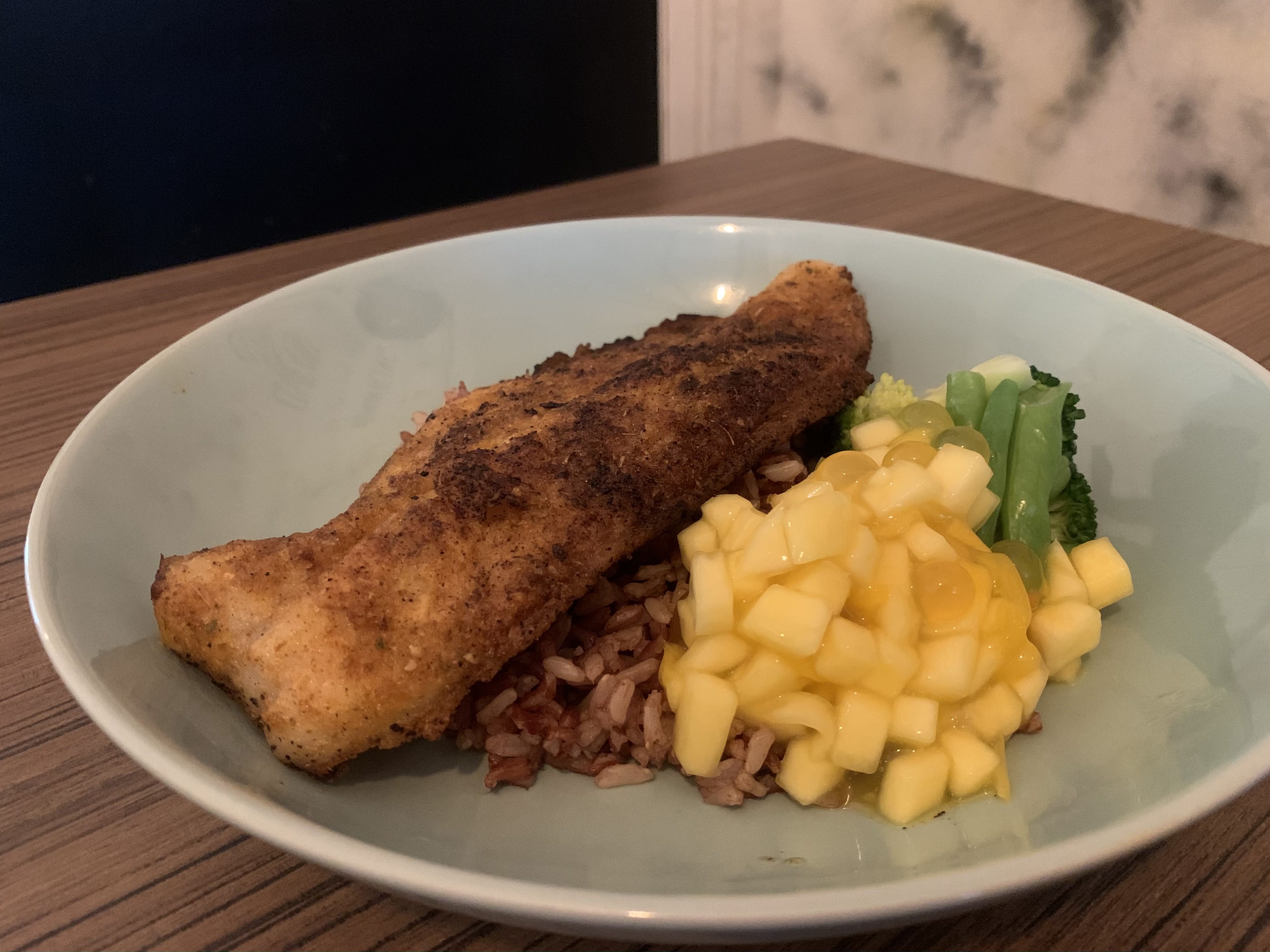 The Cajun Pacific Fish Mango Salsa Brown Rice at Myo. The mango salsa came with popping bobas, adding more surprise and variety to the dish's texture. Photo by Celest Tham.
With no Goods & Services Tax (GST) nor service charge, Myo is an ideal destination to enjoy fusion cuisine with affordable prices. One thing to take note is that Myo is often a full-house during office lunch hours, and with its limited manpower, it is best to avoid that period of time for a better dining experience
Information
Name: Myo
Address: ​​4 Everton Park, #01-42, Singapore 080004
Opening Hours:
Sunday – Thursday 12-3PM, 6-8:30PM
Friday 12-3PM, 6-9PM
Saturday Closed
Rating: 5/5
2. Take a coffee break at Nylon Coffee Roasters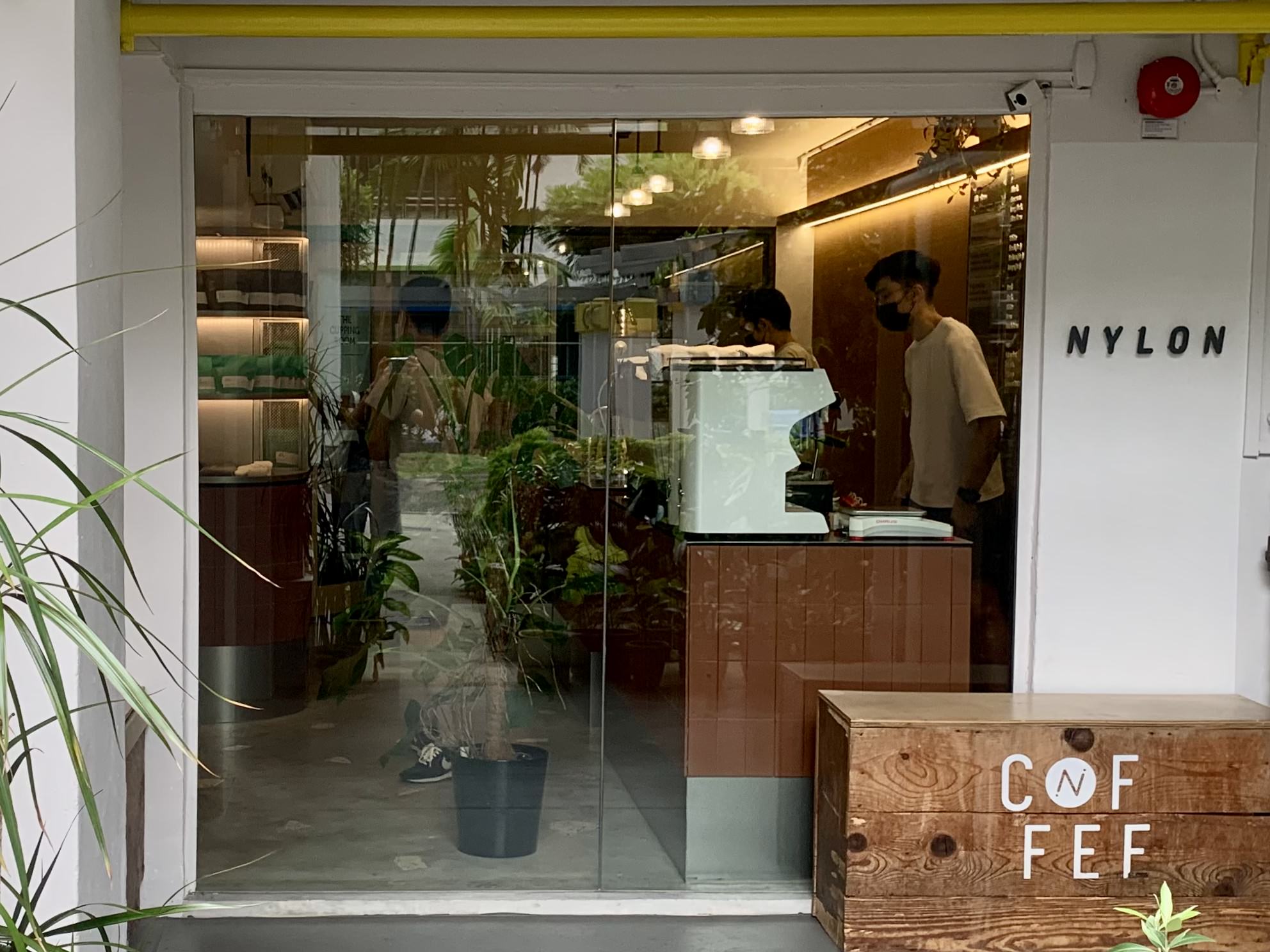 The simple all glass facade allows customers provides a non-claustrophobic feel even when the cafe is packed. Photo by Celest Tham.
Being one of the first micro-roasters in Singapore, Nylon Coffee Roasters is well-known among hardcore coffee enthusiasts. At Nylon, you can be assured of the quality of the specialty coffee as they are serious about their coffee beans. They travel far to hand pick the beans from farms and cooperatives. Whether you are a coffee expert pursuing an excellent cup of coffee or an amatuer looking to cure your food coma, Nylon Coffee Roasters is worth your time.
Nylon serves coffees at a relatively reasonable price, for example, their Espressos cost $3 while their Whites cost $4.50. Other than the signature menu, Nylon's filter brew menu is based on seasonal availability, which customers can always look forward to on their next visit.
Being a black coffee lover, I always order their Long Black ($3.50) with crema, which is the brown froth atop which helps give coffee a fuller flavour. Their coffee comes with a fruity taste and is smooth and low in acidity, allowing it to be aromatic and flavourful at the same time. Consider getting a Long Black if you prefer a more diluted Espresso experience.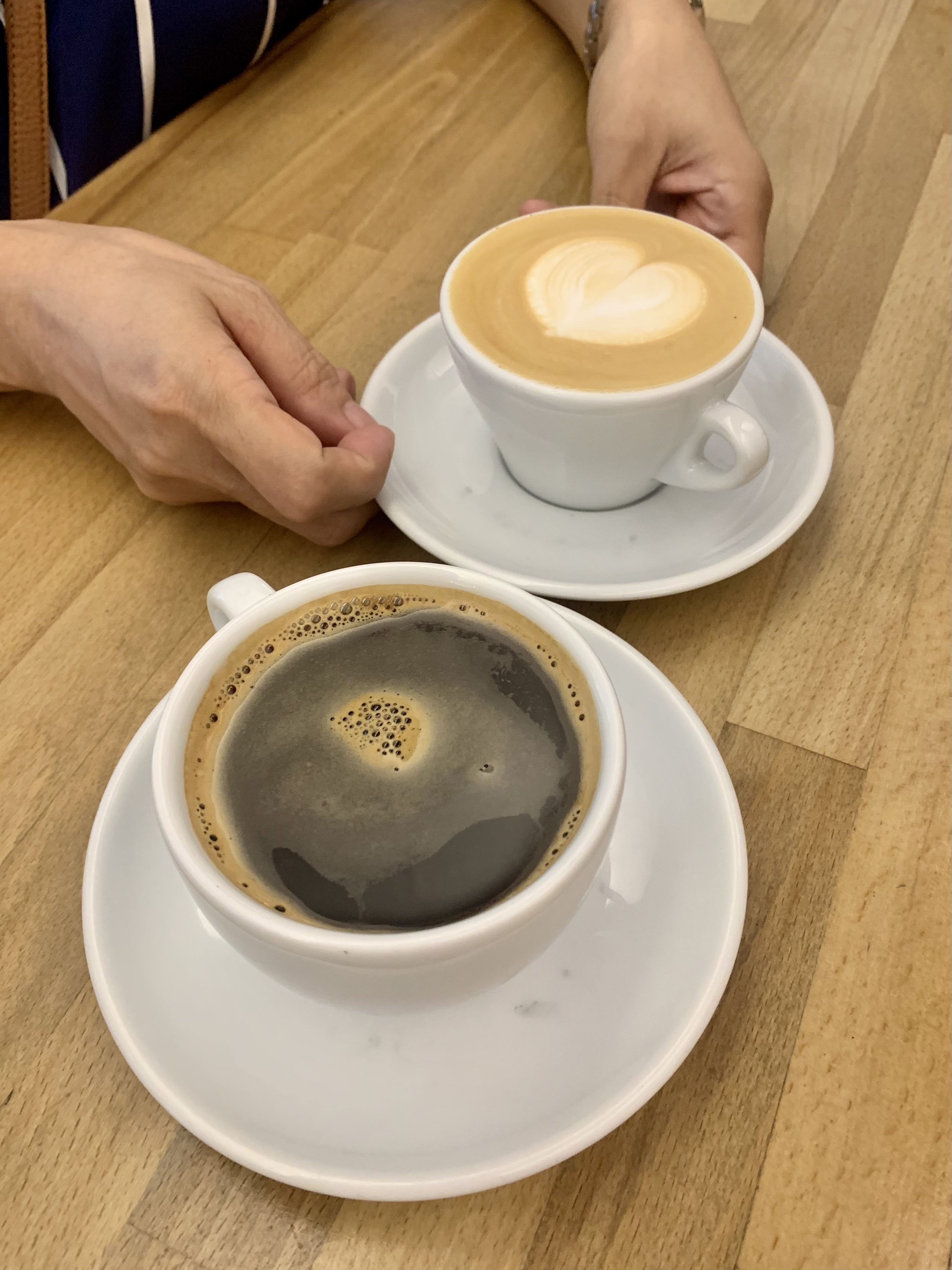 The Long Black and the White at Nylon Coffee Roasters. Photo by Celest Tham.
Another thing I like about Nylon is their service. The baristas will kindly and patiently give suggestions and check on customers' satisfaction, even though the small-scale outlet is usually at full capacity. Striking a conversation with their baristas may give you some insight on how to better appreciate your coffee, which was also how I started to brew my own coffee at home using their beans. Nylon also offers coffee subscriptions that come with privileges such as priority access to new bean selections. 
Information
Name: Nylon Coffee Roasters 
Address: ​​4 Everton Park, #01-40, Singapore 080004
Opening Hours:
Monday & Tuesday Closed
Wednesday – Friday 8:30AM – 4.30PM
Saturday & Sunday 9AM – 4:30PM
Ratings: 5/5
3. Satisfy your sweet tooth at The Better Half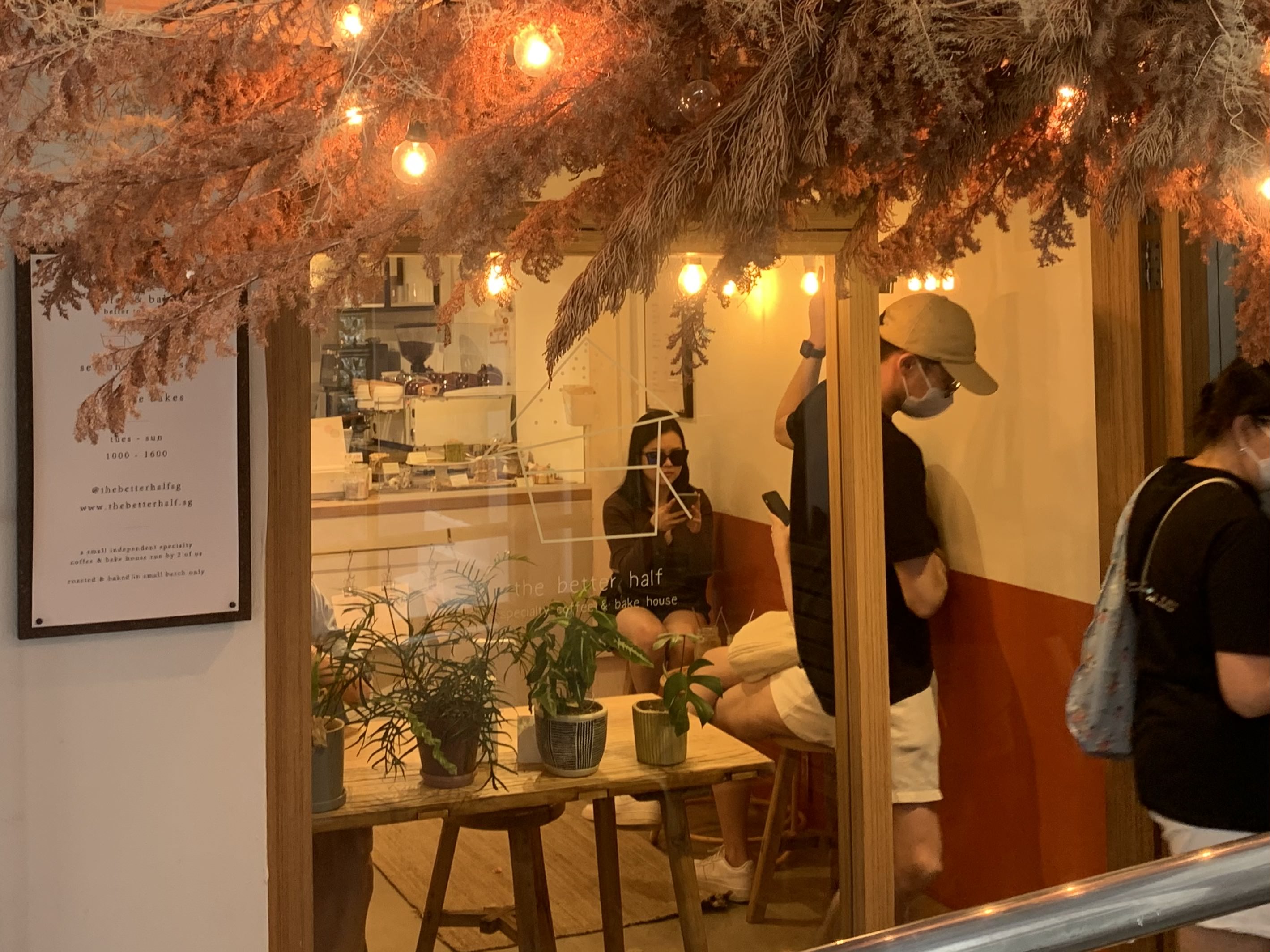 The Better Half has patrons that visit frequently, even on weekday afternoons. Photo taken by Celest Tham.
Quietly situated on the corner of a row of shops, The Better Half is known as a cosy and warm space that serves specialty coffee and artisan bakes, managed and run by a couple.
Amid the charming and irresistible cakes on display, I sought their recommendation for one that was less sweet. They suggested I try a slice of  the Rose Raspberry ($8), which was studded with flower petals and covered with pink frosting. The rose-scented cake was dense yet soft. I enjoyed how the flower petals, raspberries and pistachios matched perfectly with the raspberry cream cheese – it was not heavy at all. In fact, the generous two-layered serving made it a great pleasure to consume. Both the appearance and quality of the cake were on point.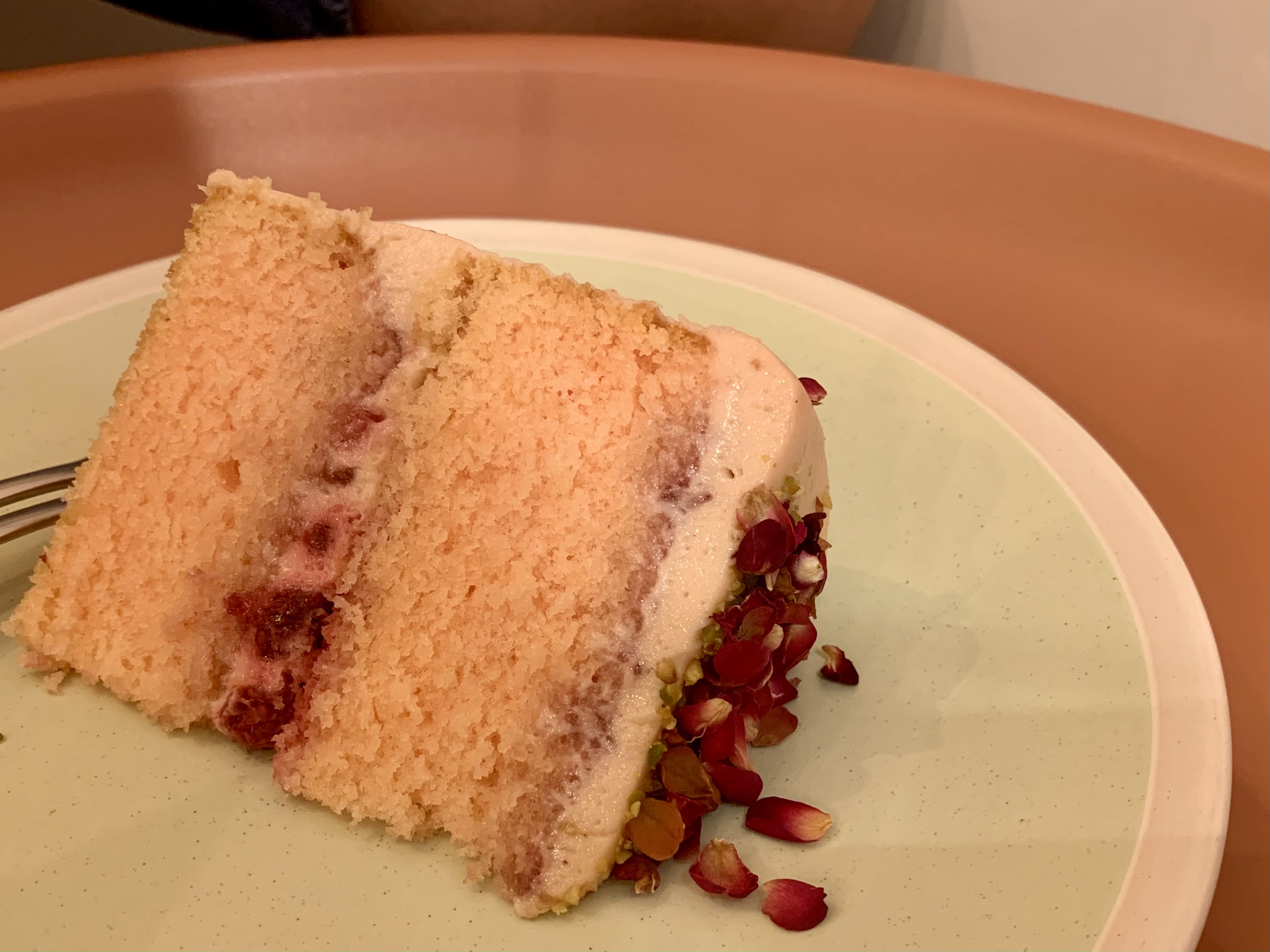 The Better Half bakes their cakes fresh in-house, and with its limited quantity, visiting earlier will grant you more options in flavours. Photo taken by Celest Tham.
Drinks wise, I tried the Iced Genmaicha Latte ($7.50) from their non-coffee menu. The fragrance of tea, blended with the aroma of the roasted brown rice kernel, completed the nutty taste of genmaicha. It was like a lighter version of a matcha latte. If the Java is more your thing, rest assured that the Better Half takes pride in their handmade coffee by taking in thoroughly selected beans to complement their bakes. They also shared that they have brought in a new selection from Peru.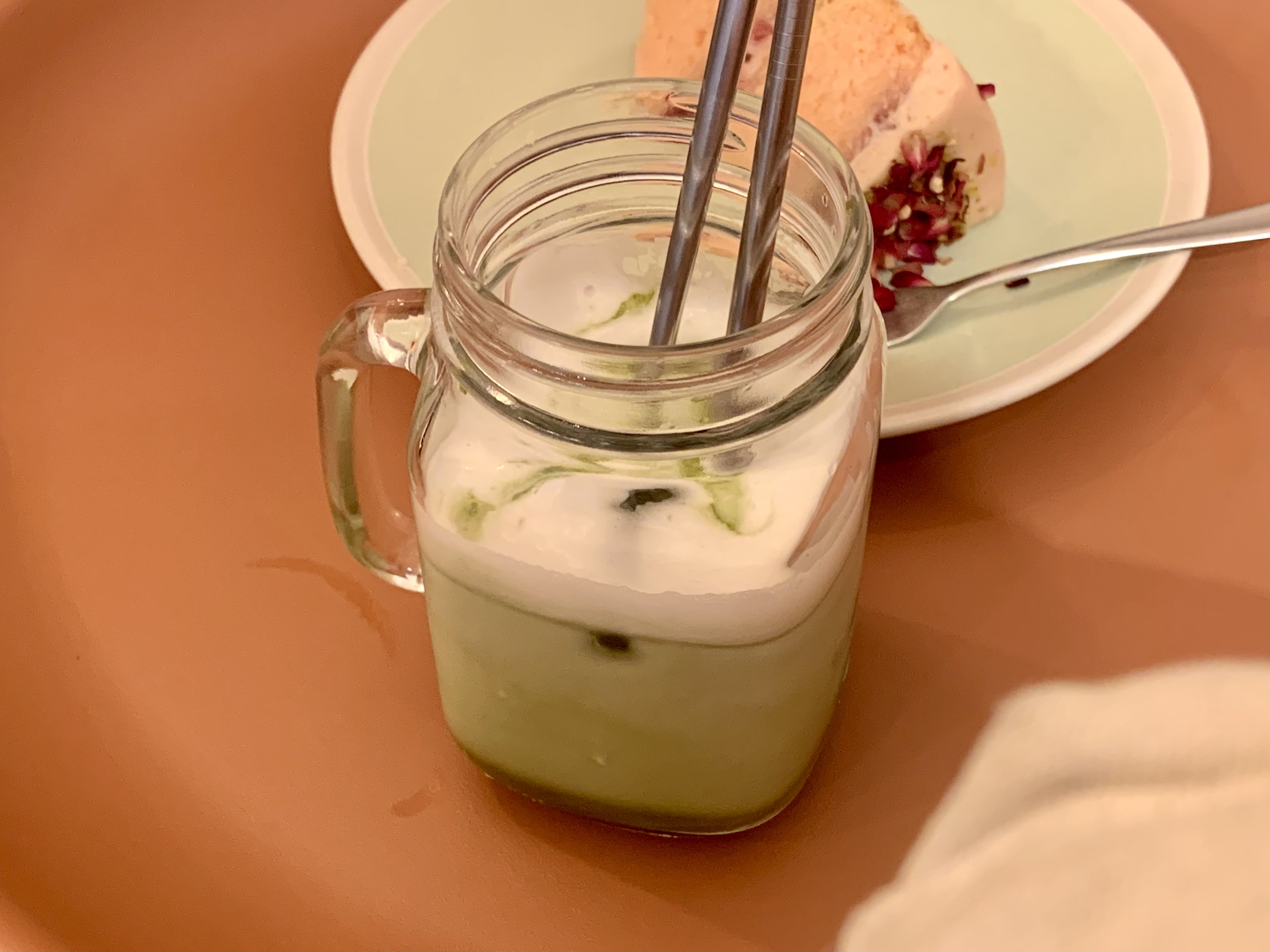 The Genmaicha Latte came with a slight bitterness, but was mellowed out when consumed with their bakes. Photo taken by Celest Tham.
Information
Name: The Better Half
Address: ​​1 Everton Park, #01-43, Singapore 081001
Opening Hours:
Monday Closed
Tuesday – Sunday 10AM – 4PM
Rating: 5/5
I have yet to cover gems like traditional Korean treats, a Japanese bakery, ice cream shops and many other food spots that can also be found in Everton Park. The wide array of food choices and Instagram-worthy shops are definitely not exclusive to Everton Park, but the warm hospitality of the devoted business owners makes Everton Park all the more welcoming and familiar.