MEGAN NICOLE YIN shares her experience of rug tufting at Studio An for the first time. 
BY
Megan Nicole Yin 
Section Editor
Hype Issue #55
Published on
September 19, 2022
Studio An is an experimental mixed-medium art studio, one of the first few in Singapore. Opened during the pandemic, they conduct various handcrafting workshops from paper making to rug tufting. It was founded by Ms Gloricia Shen who aims for people to freely express themselves through art in her cosy studio. 
The homey art space is also open to the public to rent for their personal creative projects. They also often sponsor and collaborate with schools to encourage creativity and art experimentation. Art school students who need to work on larger projects and face space constraints at school or home can also reach out to use the studio space at a low cost.
Studio An's studio is divided into a rug tufting and art space. Photo courtesy of Studio An.
With handcrafting activities such as pottery, crocheting, or even rug tufting trending on social media platforms such as TikTok, Singaporeans have been gaining more interest in experiencing these activities for themselves. 
Being an avid lover of trying new things, I've tried a variety of crafts, but my experience rug tufting at Studio An stands out as a clear favourite. 
HYPE was invited to a rug tufting workshop and I went with my fellow HYPE member Shae Lynn. The moment we exited the lift, we were greeted by an aesthetic studio space and Studio An's friendly staff who helped us with our registration. 
While you might think that a four-hour long evening workshop would feel draggy, we were having so much fun that time passed quicker than we thought. The four hour session is priced at $185 per person, with a practically unlimited assortment of colourful cotton yarns to make use of.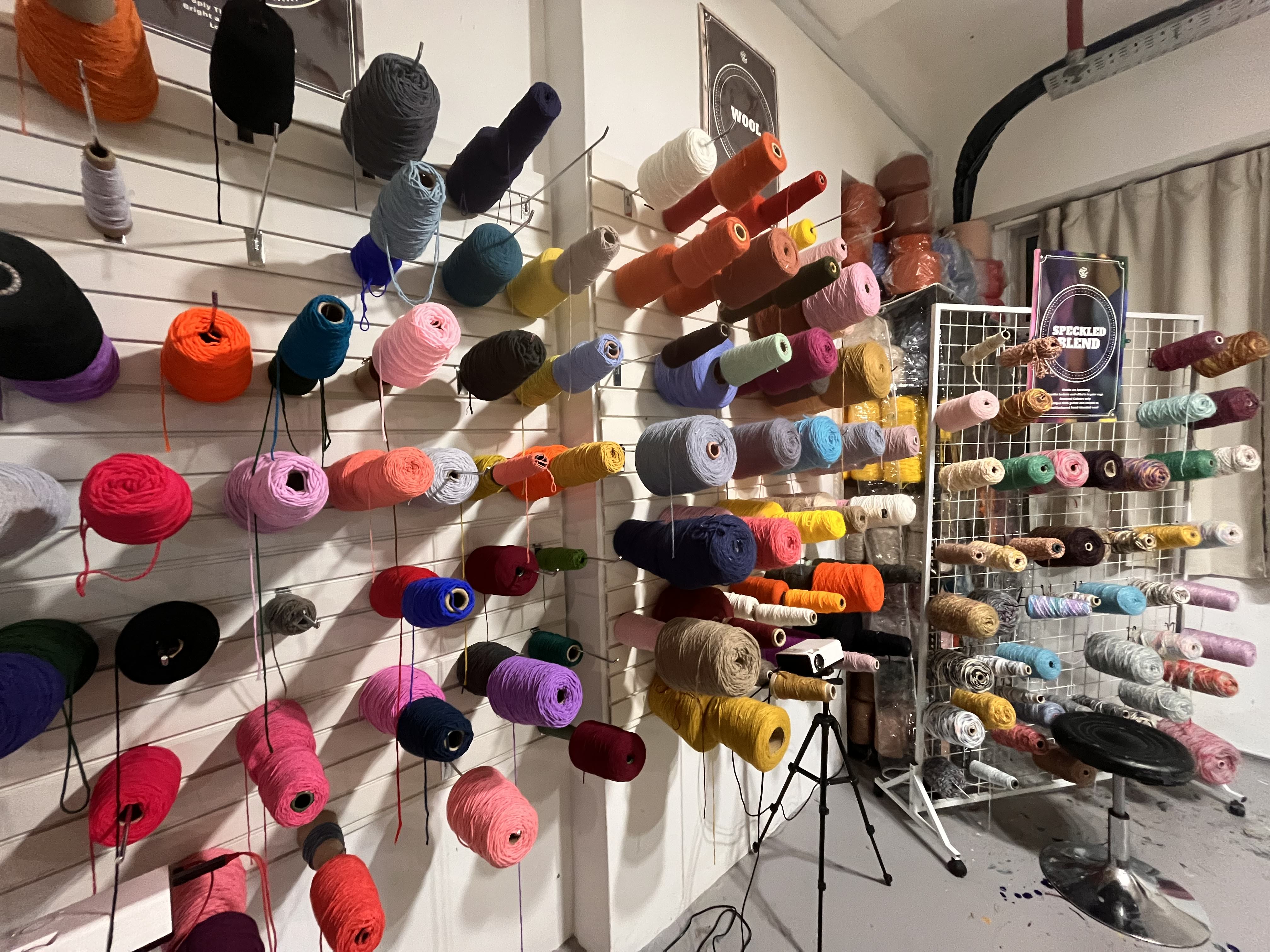 Studio An has a wide selection of yarn ranging from premium cotton to wool and wool blend. Photo by Megan Nicole Yin.
If you wish to use the wool and speckled yarn selection, you can top-up an additional $28. However, the staff told us that it's okay if an individual wishes to stick to cotton, as wool is more for people who prefer a different texture, or have a specific colour in mind. 
(Note: Speckled yarn is hand-spun and seasonal, only Studio An has it in Singapore. Also all yarns are 100% natural, safe for children and pets)
After we were guided through the yarn selections, we were given a wooden frame with a canvas for us to draw our rug designs and rug tuft on. I always thought rug tufting required you to draw the design freehand without any guidelines. But in fact, no art experience is required here. We connected our phones to a projector and projected our desired rug designs onto the canvas before tracing them out using a permanent marker. Of course, starting is always the hardest part. The staff constantly reassured us that we were tracing on the back of the rug so it was totally fine if our tracings were misaligned.
I recommend preparing a design before you come, one that preferably does not have small shapes around the edges as it might be a bit tedious to go round the edges at a beginner level.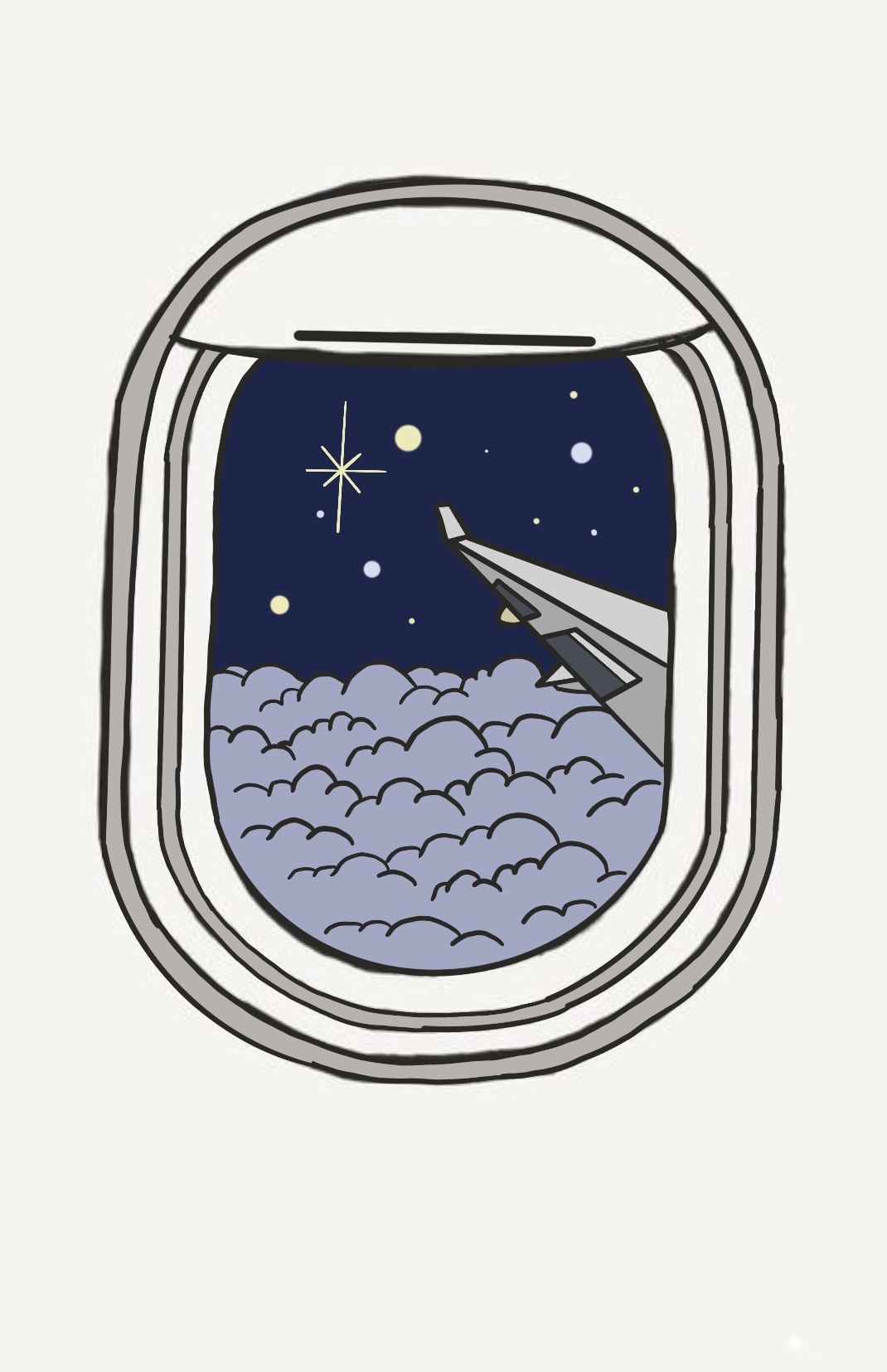 You can choose a design from the web and recreate it or draw one on your own. Photo drawn by Megan Nicole Yin.
We then came to the most exciting part – learning to use the tufting gun. I've heard a couple of friends who have tried rug tufting say that their arms really hurt from long hours of using the gun. However, it's really fun once you get comfortable with it. 
Studio An provides tutorials and trial runs with tips and tricks to ensure that you will be able to fully enjoy without any pain during the tufting session. With a lot of encouragement from the instructor, we finally managed to get used to holding and operating the gun.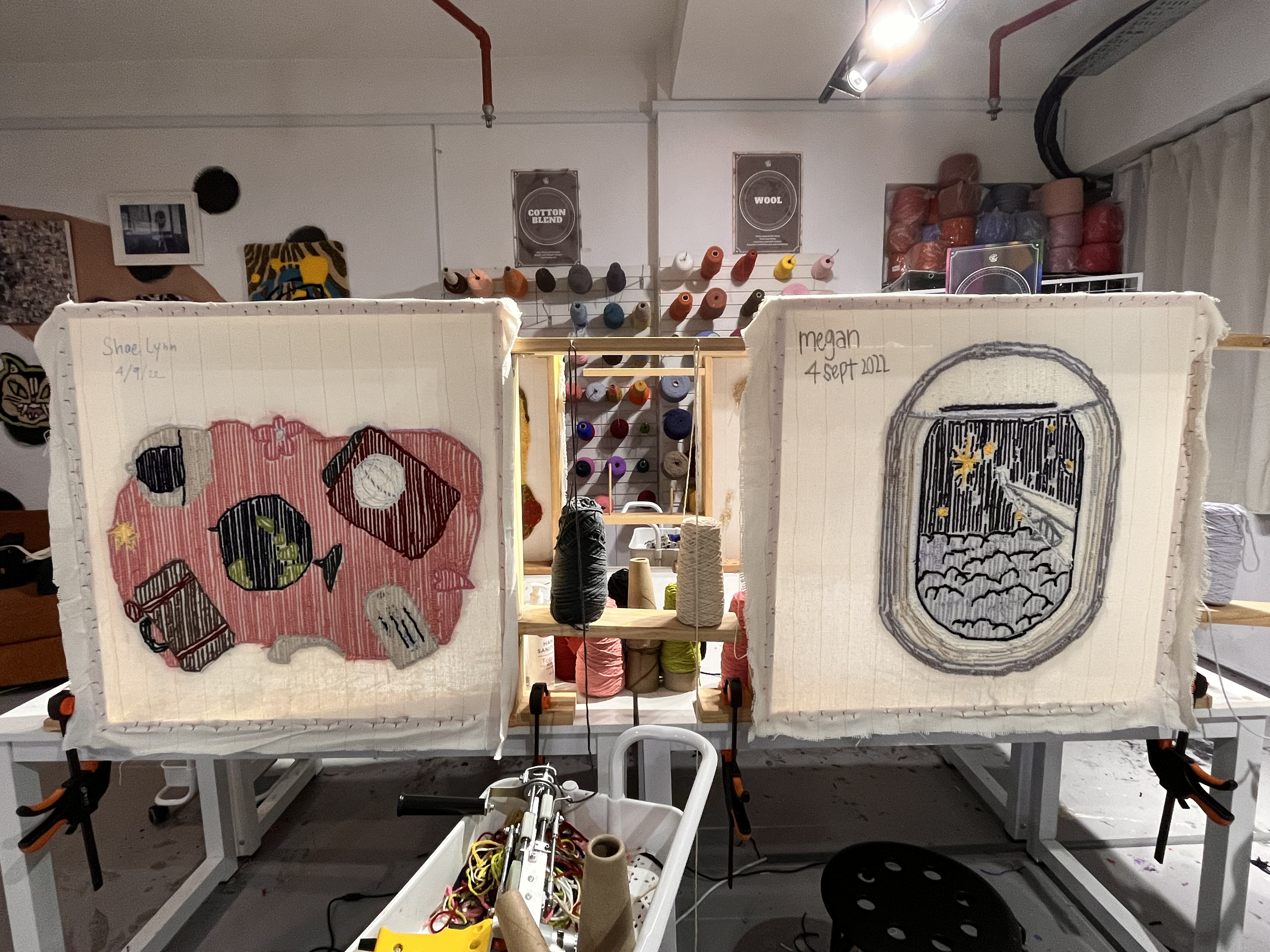 Shae Lynn and my completed rugs from the back. Photo by Megan Nicole Yin.
After the tutorial, we headed back to our canvases and started to choose colours to outline. The bulk of our time was used for outlining, and due to us falling behind schedule, we kept a tighter track of time. However, one thing I appreciated about my experience at Studio An was that they never once asked us to hurry to finish our rugs. 
We were then down to our final step, filling the empty spaces. I would say filling the rug was harder than I thought it would have been as we had to be consistent with the gaps. Towards the end of the session, we got a little tired and my rug ended up being a little messy. 
But whenever we needed any help with issues such as our yarn getting jammed in the tufting gun, or when we were unsure on how to go about filling the rug space, the instructor was there to guide us throughout the session. 
Once we were done, they told us that all the finishing touches like fixing up the holes in rugs (due to lack of pressure when tufting) and remaining gaps, and the final touch of finishing glue would be completed by the studio staff. We also could opt for our rugs to either have a free hook installation to create a hanging rug or to keep them as floor rugs. Shae Lynn and I both chose the latter. 
I truly recommend this activity to anyone who is looking for something new to try. This activity is actually more therapeutic than you might think, especially considering the music playlists at the studio – it was such a vibe. Rug tufting is one activity that you can either do alone, with a friend or a significant other. If you're prepping for a date, this could be the perfect one for you. 
This article is kindly sponsored by Studio An. Enter "Studioan20" upon checkout when booking a tufting workshop to receive a 20 per cent off a tufting workshop, valid till 1st March 2023. Visit https://www.studio-an.space/book/ to book a slot today. 
Information:
Name: Studio An
Address: 18 Kaki Bukit Rd 3, #02-19, Singapore 415978
Opening hours:
Monday to Tuesday: Closed
Wednesday to Sunday: 10:30am – 11pm
Bookings: https://www.studio-an.space/book/