Singapore Theatre is back again: The Fourth Trimester by Checkpoint Theatre
Amy Ang attends the newest play written by Ms Faith Ng, sharing her thoughts on the play and its writing. 
The theatre show, Normal, by Checkpoint Theatre in 2017. Pictured are Audrey Teong as Daphne (left), Julie Wee as Sarah (middle) and Claire Chung as Ashley (right). Photo taken from Checkpoint Theatre.
BY
Amy Ang
Publicity Manager
Hype Issue #55
Published on
Aug 10, 2022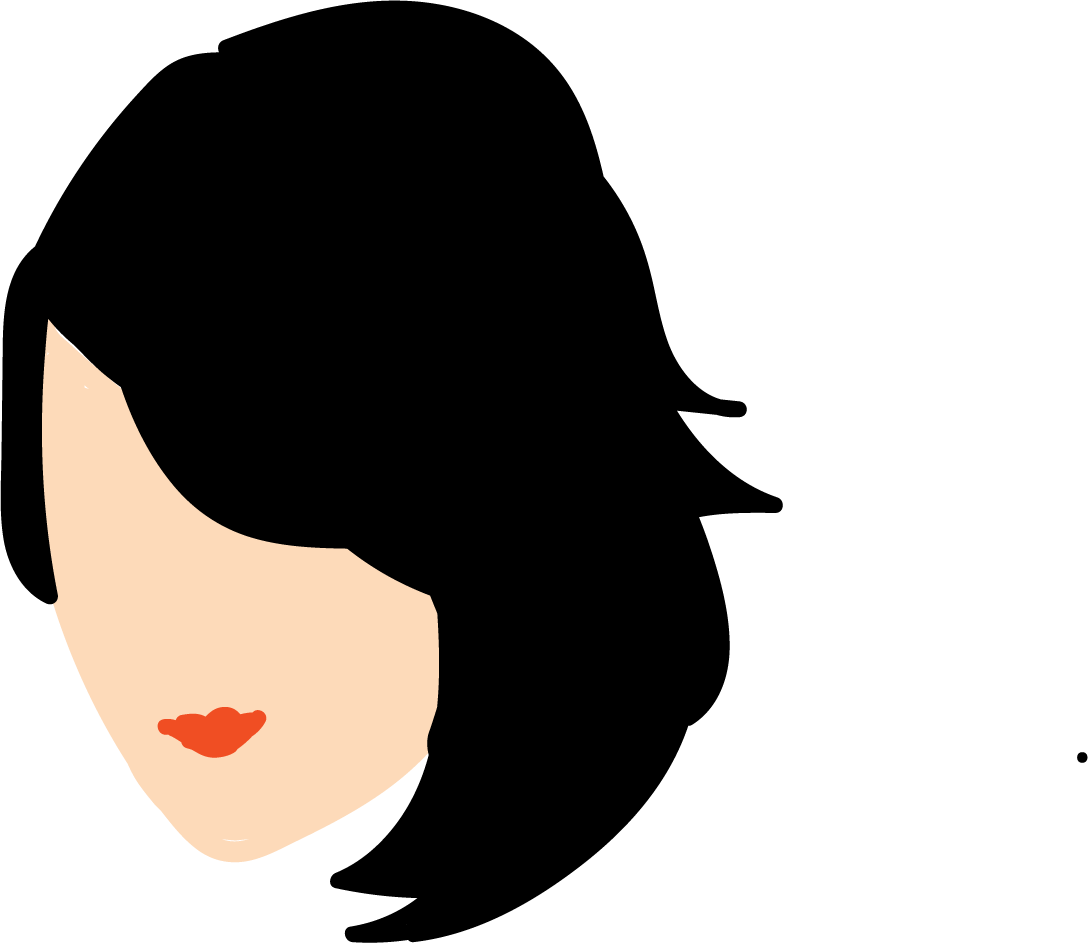 In 2017, I was a 14-year-old embarking on a journey to watch a theatre show named Normal, written by Ms Faith Ng and directed by Ms Claire Wong. Normal talks about students who are unable to fit into societal expectations of performing well in school and how the education system ends up breaking people down. 
When the show ended and the lights came back on, the only thing I could hear around me was the sobbing from my classmates. There were probably only one or two pairs of dry eyes in the theatre that day. On the bus back to school after the show, some of us started talking about it and cried even more from how impactful the show was. As students ourselves, we became more aware about the stigma and attitude on how every student is expected to become a certain way. We could also empathise when the show showcased the different treatments by teachers based on our aptitude and grades.
In my opinion, that was one of the most special experiences I ever had in secondary school. To this day, I still remember the unique backdrop, the background track using body percussion and also the message it brought to our minds about how students in Singapore are constantly pressured to be "normal."
With how Normal had impacted me in allowing me to reflect on the stress on students, it was without a doubt that when The Fourth Trimester was announced by Checkpoint Theatre, I would be booking tickets. I had originally gotten the 'Early Birds' Category Two tickets. But after HYPE Singapore reached out to Checkpoint Theatre for a collaboration to secure premiere tickets for a giveaway for our followers,  I ended up getting upgraded to Category One instead.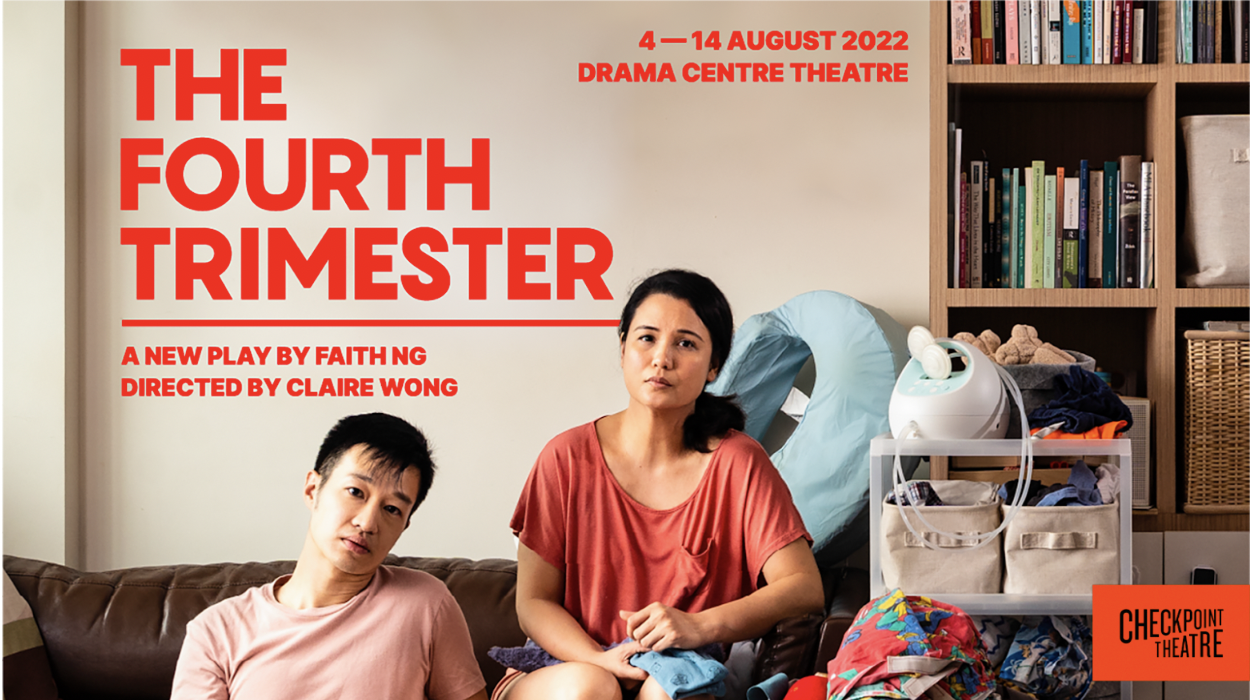 The poster for the show, The Fourth Trimester, by Checkpoint Theatre in 2022, featuring the characters Aaron and Samantha in their house. Photo taken from Checkpoint Theatre.
There are four main storylines in this show: 
Aaron and Samantha, the couple who just had a baby. Played by

Joshua Lim and Isabella Chiam.

Daniel and Lisa, a family of four who are secretly struggling even though their family is said to be picture perfect. Played by

Hang Qian Chou and Julie Wee

.

Johan and Sofia, who live next door to Aaron and Samantha, and are struggling to start a family of their own. Played by

Al-Matin Yatim and Rusydina Afiqah

.

Finally, Ann, younger sister of Lisa, an independent child-free woman in her 30s. Played by

Oon Shu An

. 
The show is estimated to be three hours long and true enough, when I went for the 8pm show, it ended at 11pm on the dot. Walking into it, I was afraid three hours would be too long (for reference, The Batman movie released in 2022 is 2 hours and 56 minutes long, and I felt myself drifting towards the later half). For those of you who have the same worries, fret not as it actually did not feel that long at all.
Before the show, I got to interact with The Fourth Trimester 's playwright, Ms Ng, and she told me while the length might seem overwhelming, many have told her the time just flew by. I soon found out that she was right. In fact, I wanted to watch even more towards the end. 
The show follows a similar concept to her earlier play, Normal, except that the stress of being normal and not being an outlier, now stems from parenthood instead of grades and studying. 
I won't spoil The Fourth Trimester for you, because you will not be able to have the full experience then. But, I will state that every character in the show is connected in some way, making it easier to remember the different characters. Usually, I have issues with remembering names and faces. But within the first introduction, it was clear who everyone was. The most memorable character was Daniel  due to Hang's excellent portrayal of his character who was so unappreciative of his wife that I felt the urge to go onstage to reprimand Daniel.
While the topic might seem focused on parenthood and family, you might wonder what else The Fourth Trimester really touches on. As someone who frequently reads up on marriages and the effect of having children on a couple, I've gained some knowledge on issues such as weaponised incompetence and how some women bleed for weeks after giving birth. I wasn't expecting a representation of these less well-known issues in the play, as not many people talk about them. 
However, this play doesn't only just touch on these issues. It also covers how society defines a woman's worth by her ability to take care of her child, as well as how being child-free might be stigmatised.
Each character has their own unique set of traits that you might see in yourself. Aaron is an academic who has a poor relationship with his parents, while Samantha is a new mother struggling to breastfeed her child. I was stupefied for a long time after finding out about Aaron's childhood and background because my close friend had the exact same upbringing, down to their mother having the same career as Aaron's did. 
Through Samantha, we get to know the stigma surrounding the ability of new mothers to breastfeed their children. As mothers are often expected to breastfeed their children, there tends to be a stigma against those who struggle with it, although about one to five per cent of mothers are unable to, according to an article by TheCut. 
With how tough motherhood can be, we also got a chance to look at the dynamics of a relationship change during parenthood both Samantha's and Lisa's relationships. The show touched on the inadequate amount of paternity leave for fathers in Singapore, which is at two weeks on its own and six weeks total if it is shared parental leave with the mother. 
The play also showcased what would be annoying to a mother: the constant questioning by men and the lack of awareness of what they can do for their wives. Evidently, seen through the eyes of Lisa's husband, Daniel, his words and conversations perfectly portray a man undermining the efforts of a woman doing household chores while taking care of a child. Sat in the audience, I contemplated the sacrifices a woman has to make when she becomes a mother.
While all these scenes about the difficulties of parenthood might make the show seem serious and solemn, the show is actually more comedic than you might think. It manages to balance out being serious yet comedic at the right time. During the serious conversations, there are momentary pauses that allow the audience to think about the actions of a character. But the intensity and discomfort brought about by the scene is then dissipated by a word or phrase that makes the audience burst into laughter.
The show is also relatable to any local audience that has been following the news, with mentions of topics such as the increased number of HDBs that cost more than one million dollars by Daniel, a real estate agent. He embarks on the true stereotypical role of  a 'hustle' man with his attitude towards work. Ann, an independent woman who is single and firmly child-free, is a refreshing take as the concept of being child-free is still a strange one to many of us who grew up with the idea that women need to have children. 
A strong contrast to Ann, would be Johan and Sofia, who are struggling to conceive a child on their own and play a crucial role in the play as well.
Ms Ng's ability to showcase the subtle nuances of life in Singapore is impeccable. On top of that, the execution of the play by director, Ms Wong, was incredible in allowing us to feel as if we were part of the conversation during the entire show. Every single cast member also did an outstanding job in portraying the characters they were given.
I'm hoping there might be a sequel to this show, called The Fifth Trimester for the toddler years. Hmm… one can hope. If you're keen to know more about Ms Ng's work, she does have a book that compiles most of her previous plays. 
If you are looking for a good play to watch to get back into theatre after two years of Covid-19, this show might be worth the while for you. It runs from 4 Aug to 14 Aug 2022, so you can still get your tickets while it's available. 
Information:
Name of play: The Fourth Trimester
Held by Checkpoint Theatre
Location:
Drama Centre Theatre,  National Library Building. 100 Victoria St, Singapore.
For bookings and more information: https://checkpoint-theatre.org/event/t4t/ 
Verdict:
Thought-provoking and modern. A must-see for many who are fans of theatre.5/5 stars
Experience: 5/5 stars 
Ambience: 5/5 stars 
For couples and friends?: Yes
Can I do this alone: Yes, it's a theatre show one can go alone for. 
Verdict: