Bigger and Better Than Ever, Live Events Are Back
AMY ANG joins Ngee Ann Polytechnic (NP) students for the pop-up event of Harry's Tiny House, the 987FM school invasion, the Minutetogreenit event and Ah Girls Go Army cast on campus.
BY
Amy Ang
Publicity Manager
Hype Issue #55
Published on
July 25, 2022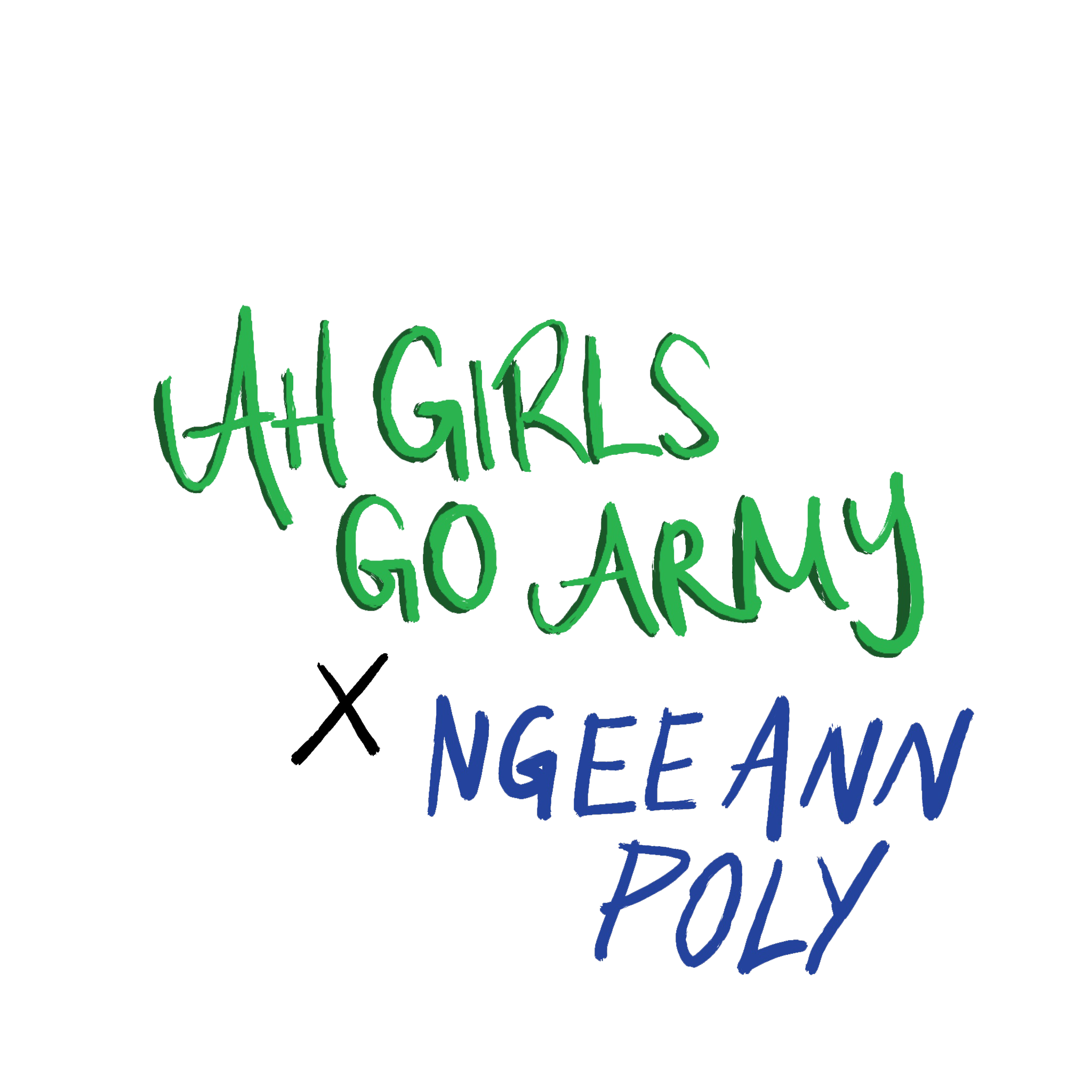 What would be the best welcome back to campus for you? With the ease of Covid-19 restrictions after two years, the students of Ngee Ann Polytechnic (NP) finally got to experience a variety of live events.
987FM visits Ngee Ann Polytechnic 
On Jun 30, 2022, Radio Heatwave organised a collaboration with 987FM and bubble tea brand, Milksha, for a school invasion in NP. Radio disc jockeys (DJ) Germaine Leonora and Avery Aloysius visited the Film & Media Studies (FMS) block at Level 1 (FMS Gallery) together. 
The duo are partners for their newest radio show, The Down Low, that plays on 987FM from 8pm to 12am every weekday. You might have seen them on TikTok, doing challenges with one another, as well as doing TikTok Lives during their radio show. Both DJs were also accompanied by Joakim Gomez, a veteran radio DJ who has been with 987FM since 2014, and who has also been the host for almost every National Day Parade since 2011. 
Naturally, everyone was excited to be able to see the Radio DJs up close in person. Our students also got to take part in a photo-taking session with the DJs and laugh along with their back and forth banter while sipping on their ice cold Milksha on a warm and humid day.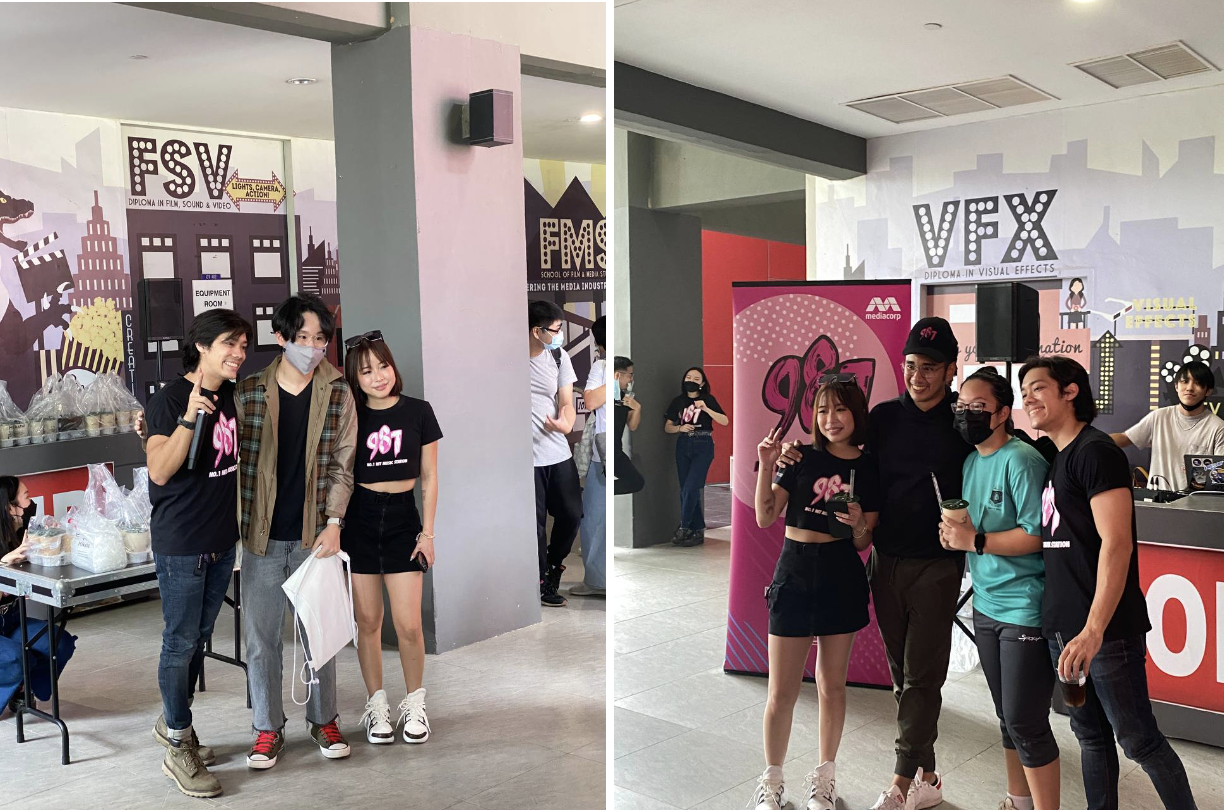 Avery Aloyisus, seen on the left and Germaine Leonora, seen on the right, taking a photo with a fellow student. Behind them, the bags of Milksha milk tea for students to take (left). Germaine Leonora, Joakim Gomez and Avery Aloysius taking photos under the FMS Gallery (right). Photos courtesy of Radio Heatwave.
Hopefully, the 987FM DJs will come back soon to Ngee Ann Polytechnic for another visit.
Ah Girls Go Army's Cast's Surprise Visit to Ngee Ann Polytechnic
Then, came the most talked-about local movie this year – Ah Girls Go Army (AGGA). As part of their promotional campaign, the cast of AGGA visited NP on Jul 7, 2022, right outside Makan Place. Before the event began at 12pm, it was announced through school channels that they would be visiting. Crowds formed before they even arrived. It was surely one of the craziest moments in NP since Covid-19 started. 
The crowd formed for the appearance of the following cast members: Glenn Yong, Xixi Lim, Yang Guang Ke Le, Samantha Tan, and Joshua Tan. The director of AGGA, Jack Neo, made an appearance as well. When they were introducing themselves, the screams of fans amongst the crowd could be heard loud and clear across campus. 
The cast members took part in a variety of activities, such as a push up challenge between Yang Guang Ke Le and an audience member and one where both Joshua Tan and Glenn Yong tried to do as many push ups as possible.  Another challenge was also done with the audience, to see who was able to say the longest 'Ah Girls Go Army Again' in one breath. 
The cast members also got to show one of the iconic moves featured in the movie called the 'casualty carry' where the recruits carried the casualties. If you've been following local show business news, you'll know the hashtag #Glenxi, which is the name for the duo Glenn Yong and Xixi Lim. The two fulfilled the fans' wishes by showcasing the 'casualty carry' in front of the crowd.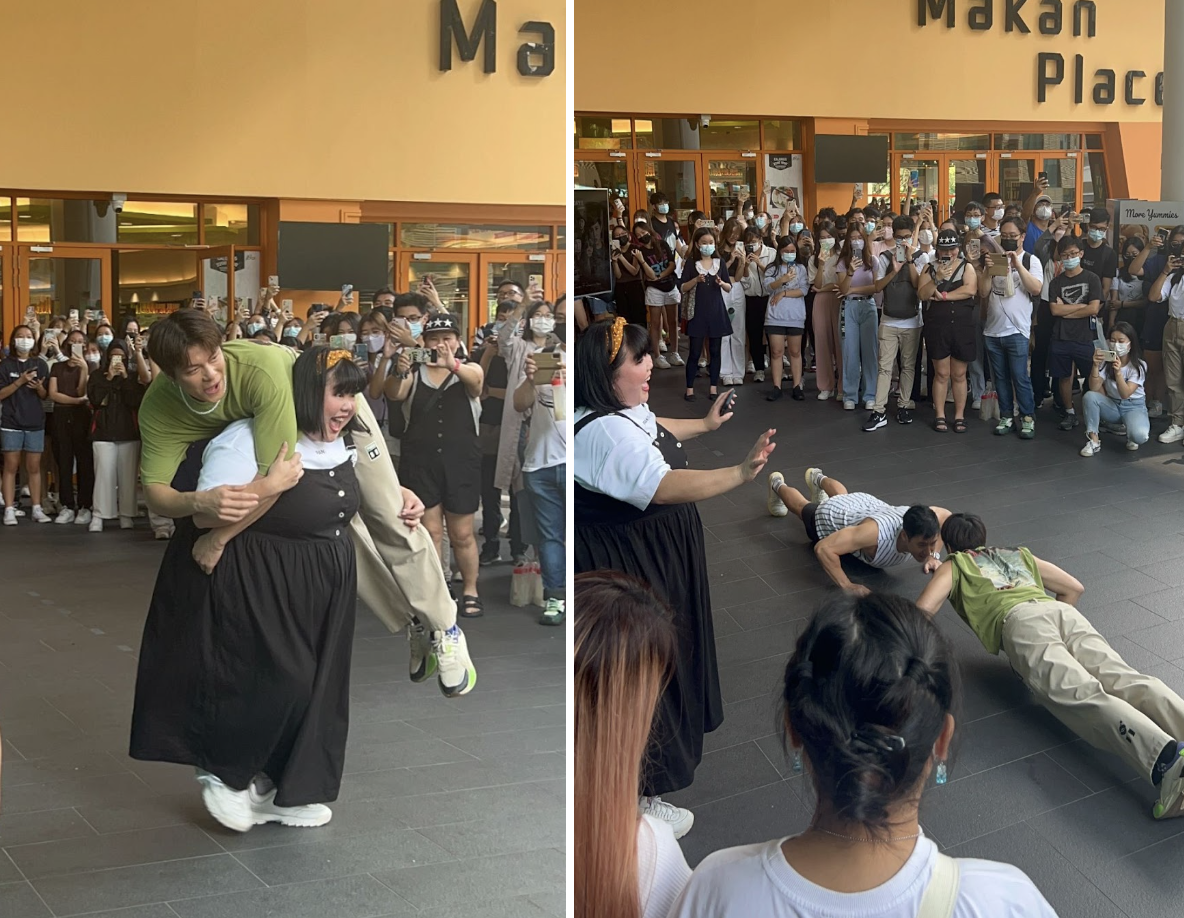 Xixi Lim carrying Glenn Yong using the casualty carry, where the casualty is slung over the shoulders of one person (left). Joshua Tan and Glenn Yong doing a push-up challenge (right). Photos taken by Amy Ang.
After the event ended, crowds of supporters followed the cast to the MIDEA office (FMS Building) where a short fan-meeting was held for everyone who wanted to take pictures and videos with the cast members. It was certainly an exciting day for many students on campus.
Harry's House Parked on Campus
But that was not the end of the events. On Jul 19, 2022, Harry Styles' Tiny House was on campus. A vintage van was parked right beside the drop-off point at the FMS Building and the area was filled with students participating in the event, which included vinyl giveaways and grape juice.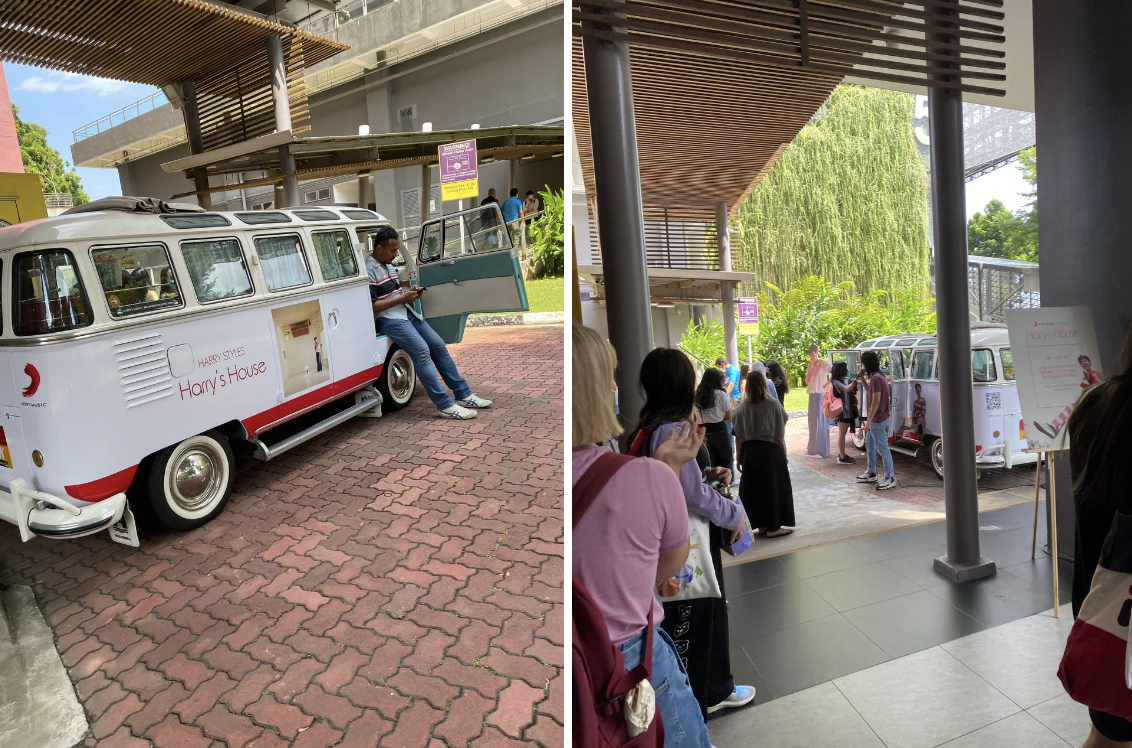 The vintage van, with the photo of Harry Styles's newest album 'Harry's House' on it (left). Crowds gathered by the van to watch and participate in the event (right). Photos courtesy of Samuel Lim. 
This pop-up event was to promote Styles's newest album: Harry's House. The music from this album was played throughout the event from 10:30am to 12:30pm and you could catch many in the crowd mouthing the lyrics of the songs. There was also a quiz, which gave Styles' fans a chance to win a vinyl version of the album. One of the questions asked was about Styles' birthday. If you were a die-hard Directioner in the past, this would have been easy for you.
Thankfully, those who couldn't answer the question were still able to receive  a complimentary can of grape juice (a purple canned Justèa grape juice to be exact), which is also an album track title. 
Green Initiative Event Organised by Our Own Students
Right after that, our very own Year 3 Mass Communication students got to host their live event for their Social Media Marketing Final Year Project, Minutetogreenit, a green living campaign in collaboration with North West Community Development Council (NWCDC). The event lasted till 3pm right outside of Makan Place, encouraging students to try out a game of filtering out the items in our daily lives into recyclables and non-recyclables.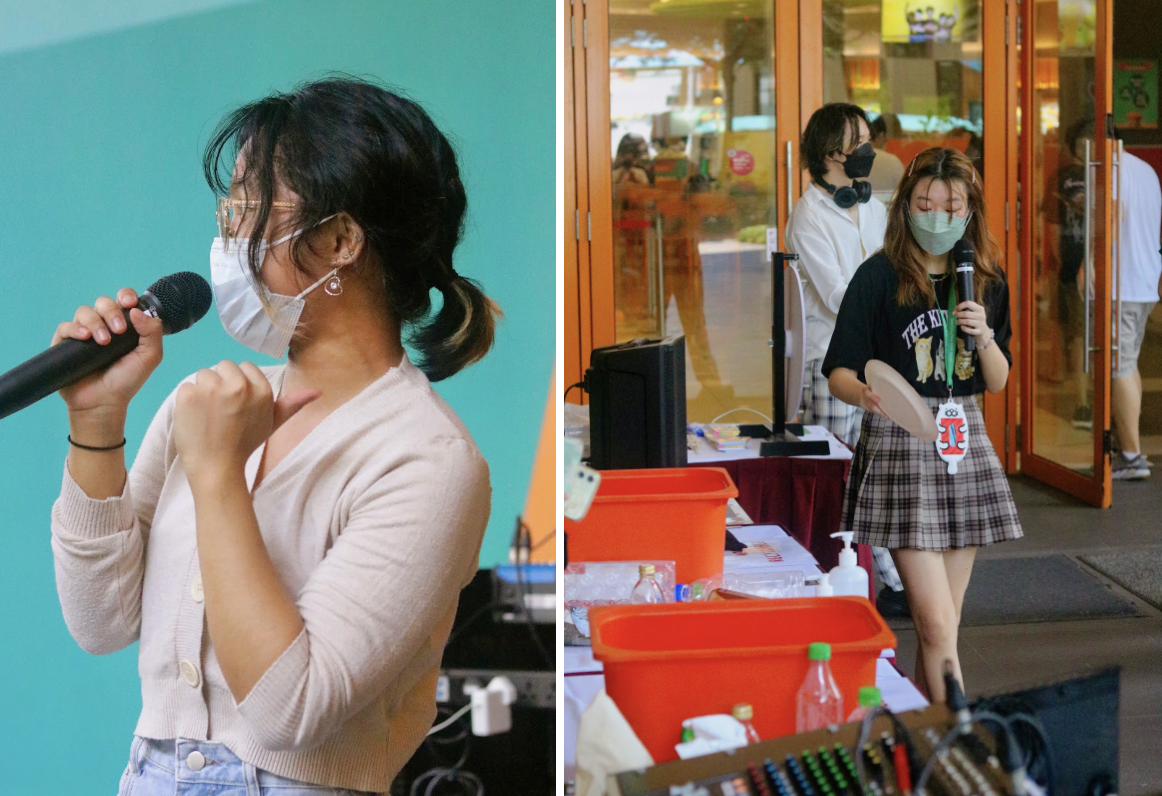 Ewanne Dumaguing, 19, host and campaign member of Minutetogreenit, encourages students to try out their game (left). The second host, Chloe Tan, 19, also a member of the team, sorts out the correct answers for the participants. Photos taken by Amy Ang.
The participants of the game got the chance to spin a lucky wheel, which allowed them to win an item from a pool of prizes. This included water bottles, tiny tote bags, notepads, torches and more. With the enthusiastic hosts, plenty of students took up the challenge, and walked away learning a little more about recycling.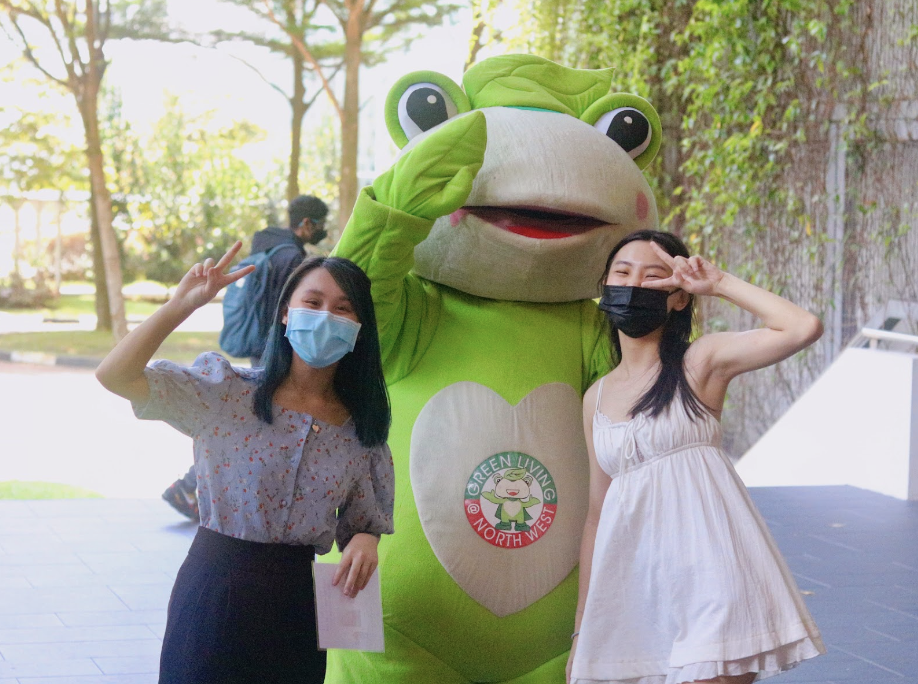 Two members of the campaign, standing beside the NWCDC Green Living initiative's mascot, Greenie. Photos taken by Amy Ang.
Of course, much attention was granted to the giant green mascot who waved enthusiastically at many students. The mascot, named Greenie, is part of the Green Living initiative promoted by NWCDC. 
While NP is situated at Clementi and is not part of the north-west of Singapore, our students all come from different parts of Singapore. With the event and the eye-catching mascot, our Year 3 Mass Communication students hope to encourage more students to be more eco-friendly in their daily lives, all the way from the north-west to the rest of Singapore.
As Covid-19 restrictions ease, more events are sure to come onto the campus, bringing about more fun and interesting interactions and adding liveliness for students who are tired after lessons. This serves as a contrast to the previous years of online activities due to Covid-19. Hopefully, students will be able to participate and enjoy more of these future events on campus with their friends and create new fond memories with each other.