Pseudo Tattoo, Try It Too
DESIREE SEAH visits art studio, State of Shiok, to experience Pseudo Tattooing for the first time.
The arduous process of tracing the outlines of the pressed stencil on fake skin. Photo by Desiree Seah.
BY
Desiree Seah
Editorial Admin Manager
Hype Issue #55
Published on
June 20, 2022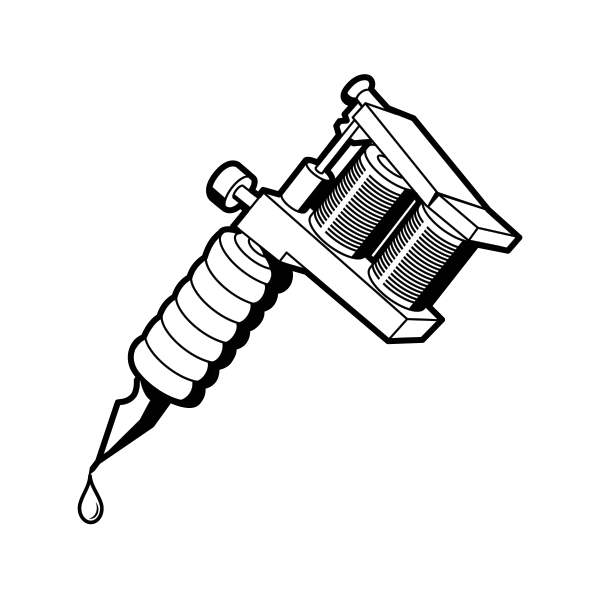 Tattoos are a common sight amongst Singaporeans nowadays. What used to symbolise tradition or attract societal stigma has evolved into an art form appreciated by many. You might think that tattoos can only be done by professionals, but State of Shiok has a Pseudo Tattoo workshop that allows anyone above the age of 16 to experience what pseudo tattooing is like.
After coming across a video on TikTok about this pseudo tattoo workshop, I had the chance to go down with a friend to see what the hype is about for myself. 
This pseudo tattoo workshop allows participants to try their hand at real tattooing, but on fake skin. It is almost the same as painting on a blank canvas: pseudo tattooing allows you to unleash your creativity without any inhibitions through a tattoo machine.
The State of Shiok studio, located on level three of Pearl Hill Terrace, hosts workshops for art activities like pseudo tattooing and bear-brick painting that will let your creativity flow.
Navigating our way through Pearl Hill Terrace for the first time felt like being in a maze, but after checking out every twist and turn (and stumbling upon many other art studios), we managed to make our way to the very end of the third floor.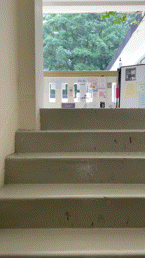 State of Shiok studio is at the left corner of the third floor after going up the flight of stairs. GIF by Desiree Seah.
Before we let our excitement get to our heads, we sat down with Mr Jerome Ang, 24, the co-founder of State of Shiok, to find out how the whole procedure of pseudo tattooing works.  
Jerome went through the basics of handling the electronic tattoo machine and explained the difference between the faux skin provided to us versus real human skin. Essentially, the fake skin is tougher than actual human skin, which is softer.
Since we had no prior tattooing experience, a demonstration was held, teaching us the proper handling of the tattoo machine.
Using the tattoo machine
There are a few components that make up a tattoo machine, and once you've learnt them, the machine becomes relatively easy to use. A set of tattoo supplies were prepared for us beforehand. These included ink caps, sheets of faux skin, Vaseline, a set of latex gloves, rolls of kitchen towels and two types of needles to choose from (for lining and shading).
1. Dipping the tattoo needle in ink
When dipping the tattoo needle in the ink cap, you must step on the foot pedal and soak the needle in ink for a couple of seconds. Then, wipe the exterior of the stained needle on the kitchen towel to remove any unwanted ink on the outside. Now your tattoo needle is filled with ink.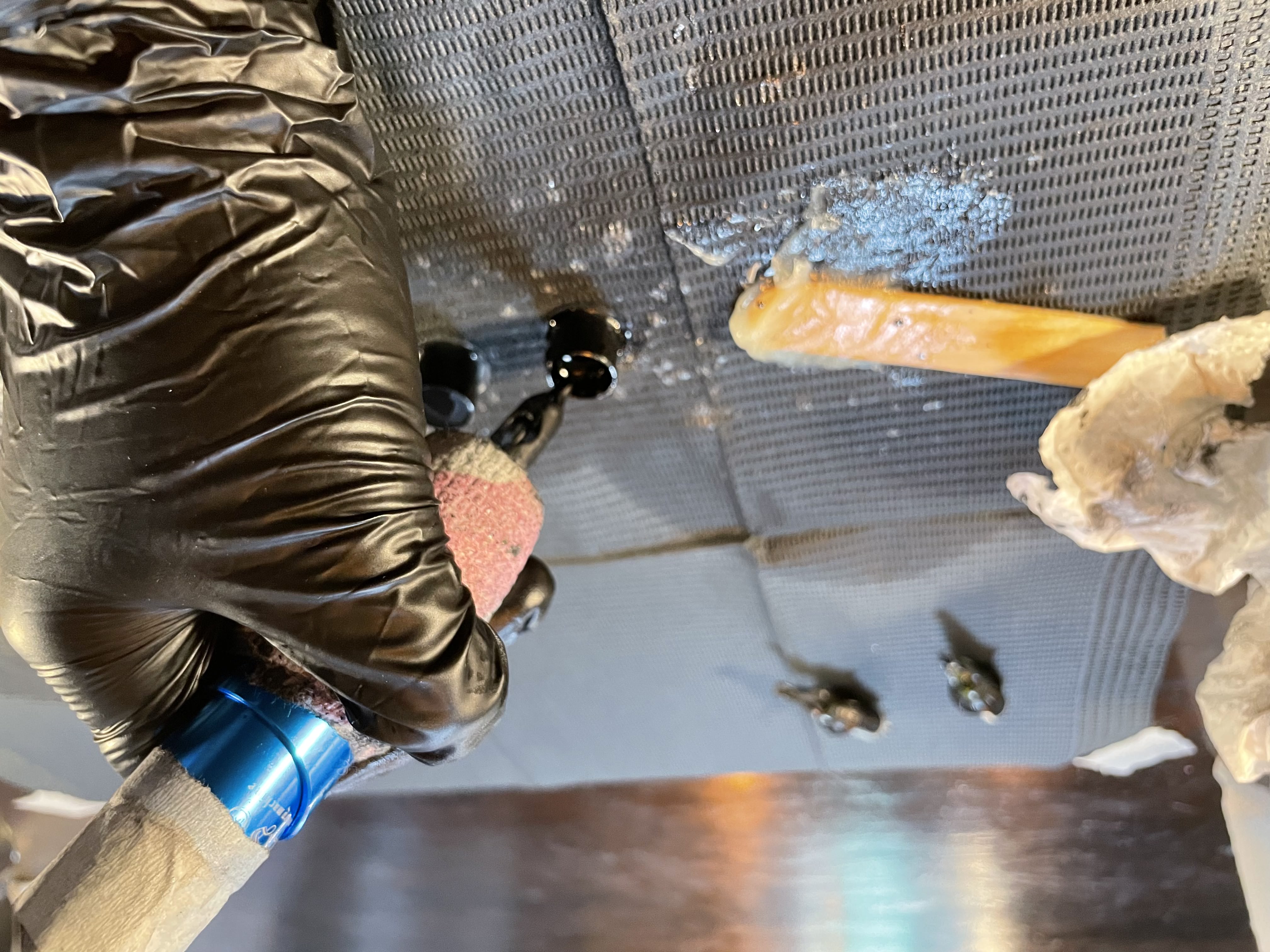 The set up includes ink caps and a stick of vaseline, along with the two types of needles; a size 5 round liner for outlines and size 7 round magnum needle for filling and shading. Photo by Desiree Seah.
2. Adjusting the voltage of the tattoo machine
Just at the side of the table, there is an adjustable knob that controls the amount of voltage supplied to the tattoo gun. For lining your stencil, a voltage of seven to 10 volts is recommended while two to six volts is ideal for shading in parts of the tattoo.
3. Stepping on the foot switch
When using the tattoo machine, you need to gently step on the foot pedal just below our workspace. The foot pedal determines the vertical movement of the needle and stepping on it will get the tattoo machine to start "buzzing", signifying that it is ready to penetrate the skin with ink. It's important to note that stabbing yourself with the tattoo gun will leave a permanent mark on your skin.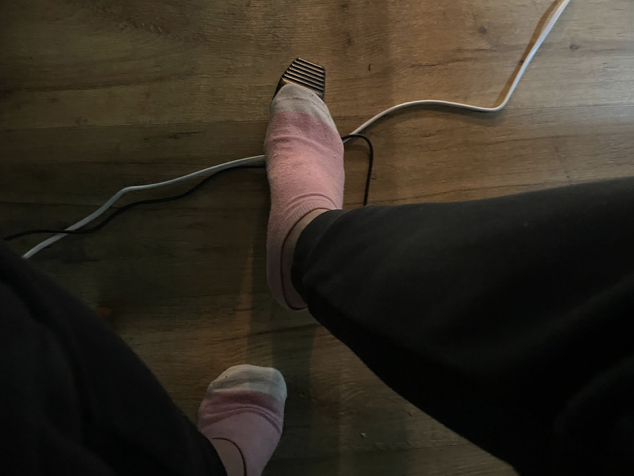 A foot pedal just underneath the working table (No free feet pictures). Photo by Desiree Seah.
Tattoo ink comes in a variety of colours as well as black and grey. However, the latter is the easier go-to-choice for first timers like us. Jerome further explains that tattooing with colours is a more complex process to get a hang of as it is difficult to control the depth and lightness of a colour when shading in. For example, a darker orange on your piece may accidentally end up looking more brown or black if not controlled well enough.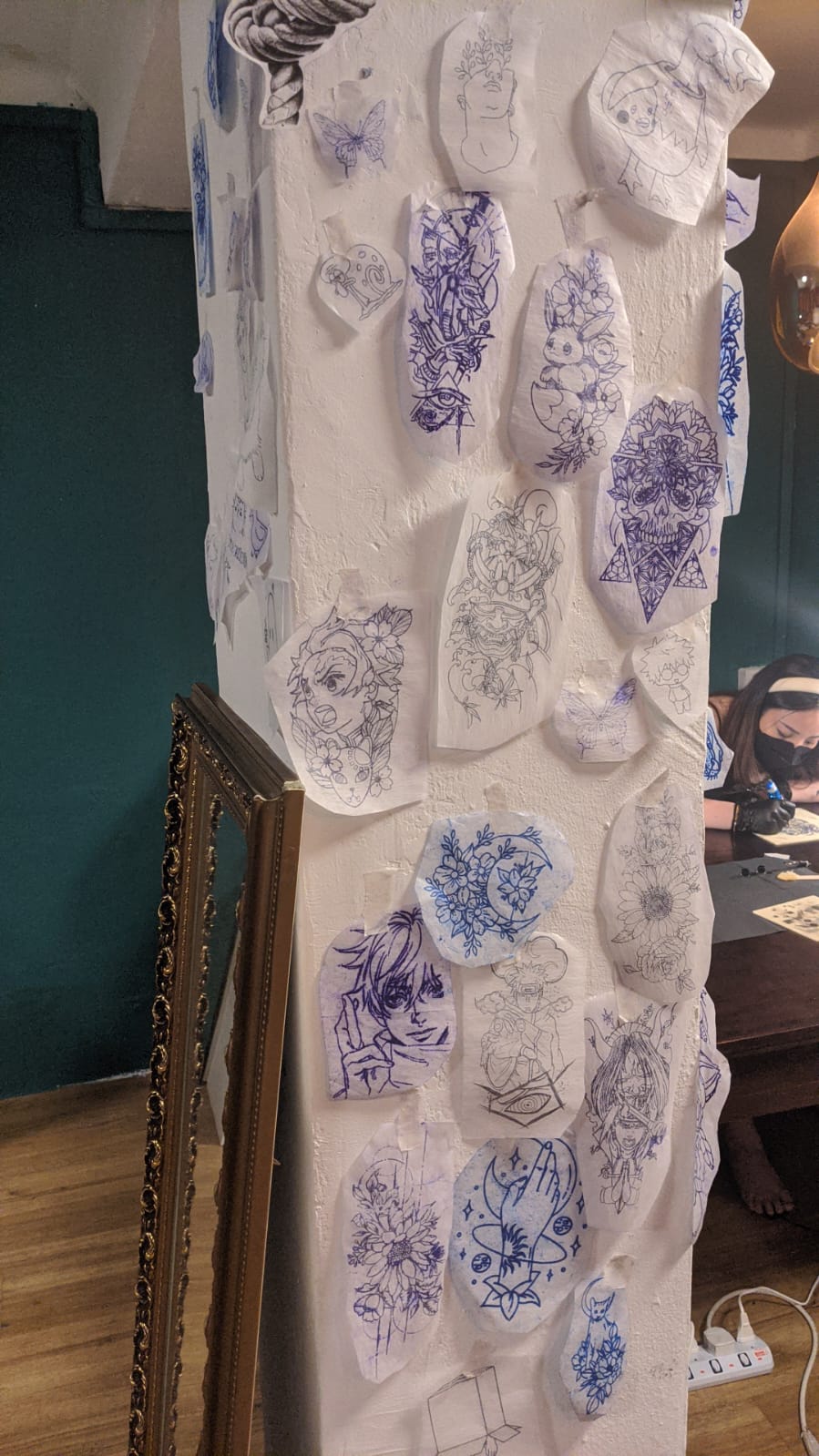 Detailed and beautifully drawn stencils pasted on the wall for participants to select from. Photo by Mr Jerome Ang.
There were also many pre-drawn stencils for us to choose from plastered on a pillar in the studio. From big to small, simple to intricate, and traditional to modern, there were a wide array of hand-drawn designs. I picked one of my favourite anime characters, 'Gojo' from Jujutsu Kaisen and a very cute 'Pikachu' from Pokémon to pseudo tattoo.
 One thing I really appreciated was the time given to us to practice using the tattoo machine before beginning on our actual stencils. The practice session on the spare faux skins gave me more confidence to start pseudo tattooing on my real piece.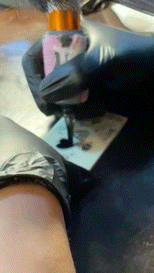 Shading in a heart shape for practice before the real deal. GIF by Desiree Seah.
Before tattooing, it is recommended that a thin layer of Vaseline is applied evenly across the faux skin to ensure the needle glides along it smoothly. If you want to tattoo on more faux skins, you can purchase an additional piece of skin for $8.  
Every time the ink on the needle ran out, we had to dip it into an ink cap again to refill it. Not to mention, there was also a ton of wiping involved while pseudo tattooing.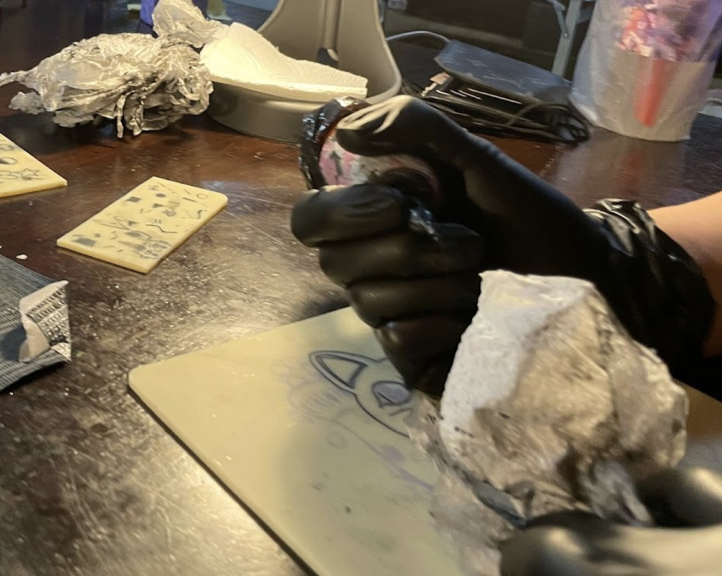 It takes a lot of effort to gather paper towels to constantly rub away ink and consistently clean your tattoo gun needle. Photo by Desiree Seah.
Sometimes the ink seeps out of the faux skin when too much is applied and you'll have to continuously wipe away excess ink with the kitchen towel as you progress with your art piece.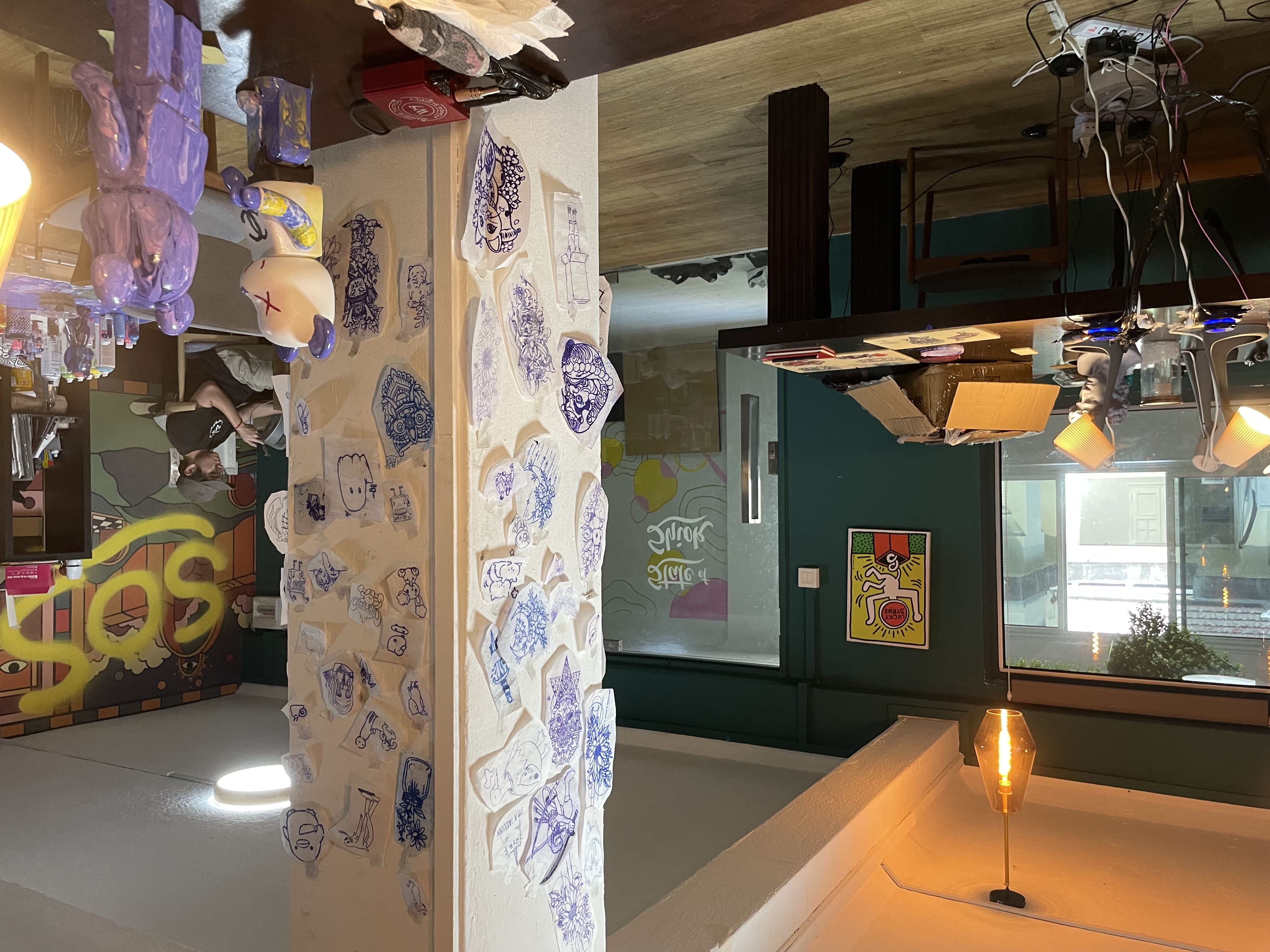 State of Shiok studio is a cosy and welcoming place for creatives to explore different art-forms and let their imaginations run wild. The interior is decorated with paintings, artworks, graffiti and wall art. Photo by Desiree Seah.
You can tell from a simple glance inside State of Shiok studio that it is really a place specially curated for artistic minds to work and chill in . The atmosphere of the studio really helped my creativity flow and allowed me to focus on pseudo tattooing.
To my surprise, pseudo tattooing was extremely fun. What I expected to be a long and tedious  process turned out to be swifter than I had initially thought.
However, it does require you to focus all your attention on the applied pressure of the needle, as well as on how accurately your hand is following the outline of the stencil.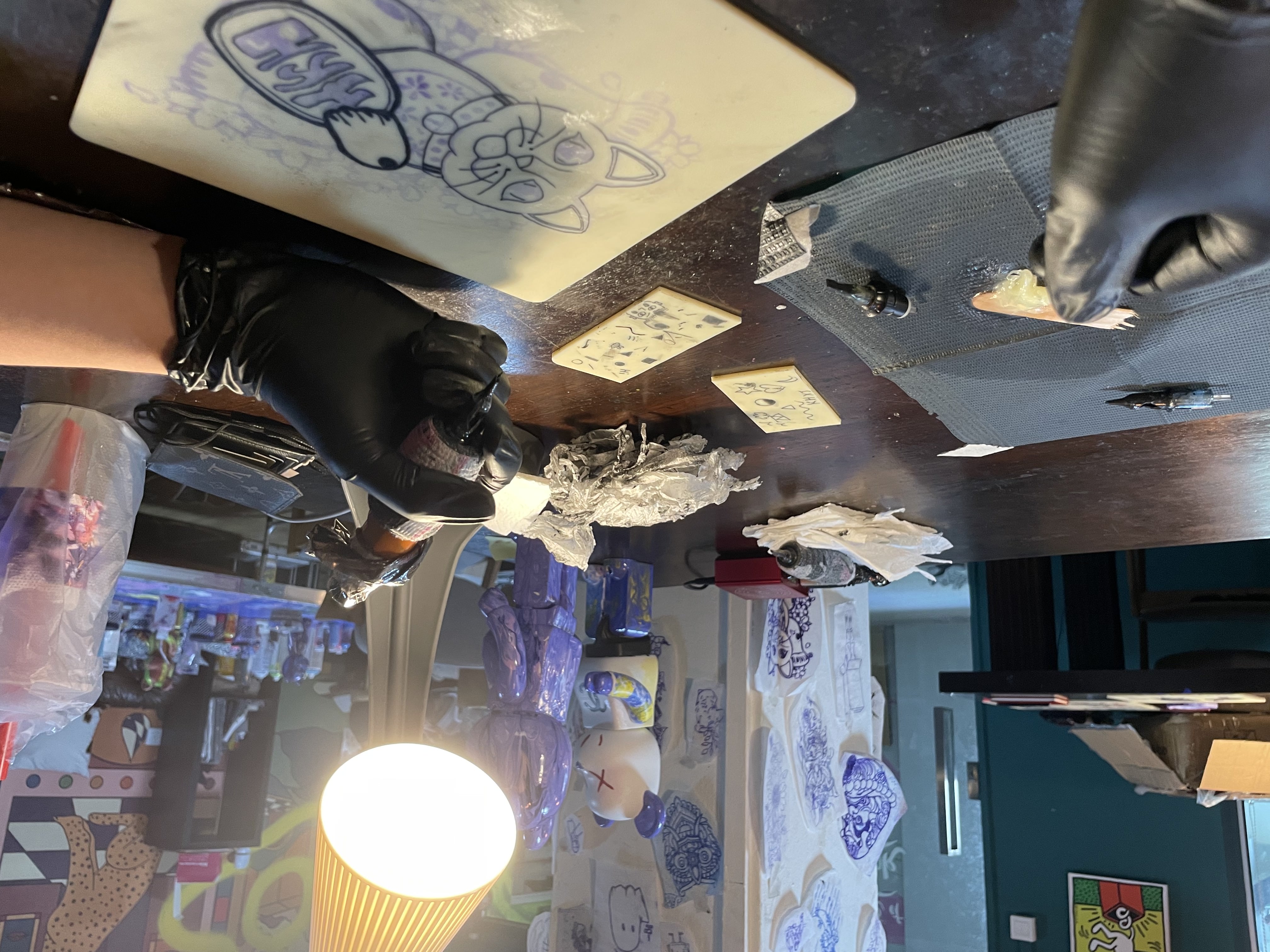 Ensuring you stick to the lines drawn by the tattoo machine requires a great amount of concentration and precision. You also have to be consistent with the pressure of your strokes and fluidity of your movements. Photo by Desiree Seah.
It does not help that the needle is constantly vibrating as you tattoo, making the movement more rigid and harder to control.
These factors, along with the toughness of the faux skin, can easily make the tattoo gun needle steer in another direction.
As such, I had to have a sturdy grip on the tattoo machine while tracing my stencil. I think the most stressful part for me was the patience to go slowly along the lines.
 My impatient self often quickly glided the needle across the skin, which regretfully led to some portions not being filled amply with ink, resulting in my line art being patchy. In order to correct this mistake, I would have to go over those lines again, which is not an easy thing to do with precision.     
There were also moments when the needle got stuck in too deep and made a mess, or when the shading came off a little darker than intended.
If you try your hand at this, rest assured that the three-hour session will go by in a blink of an eye, especially because you are so focused on completing your chosen stencils and wanting to utilise the time to the best of your potential. Nobody wants to return home with uncompleted artwork right?
Luckily for me, I managed to finish tracing and shading my stencils and was very satisfied with the outcome of my pseudo tattooing.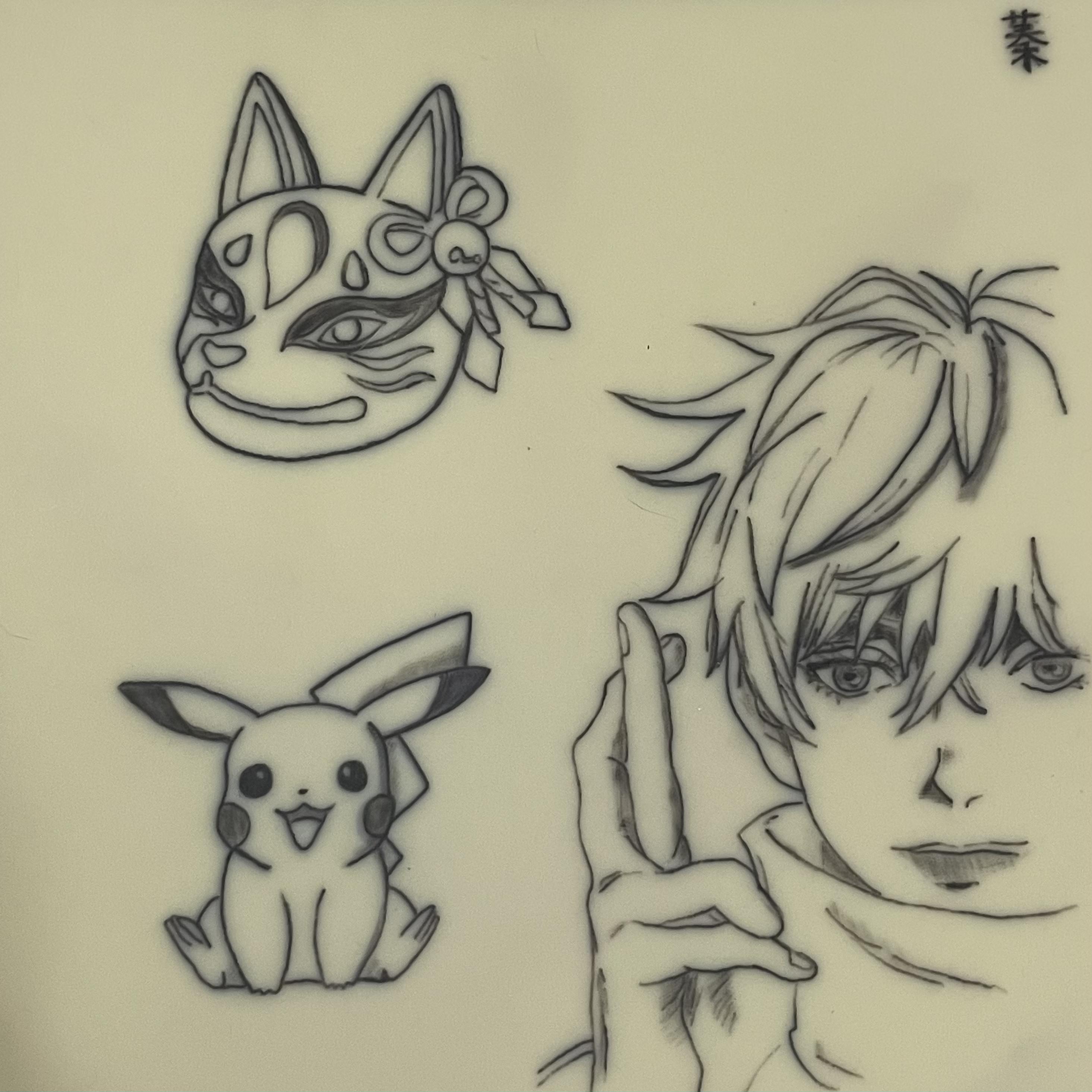 The end product of my tumultuous yet fulfilling three-hour pseudo tattoo session. Photo by Desiree Seah.
When we were done with our pseudo tattoos, we got to bring home our creations and were given the option to frame them for an extra $15 fee.
After my pseudo tattooing experience,  I was curious as to how this workshop idea came about. According to Jerome, he and his co-founder, Mr Desmond Ng, 24, were simply curious about what it was like to use a tattoo machine. 
"Usually people with tattoos (like ourselves) wonder what it feels like to use a machine but it's kind of rude to ask the tattoo artist that is tattooing you, unless you have close friends or a partner that does tattooing, it's very hard [for] someone to actually try using a tattoo machine," Jerome says.
"We want people to realise that tattooing is not as easy as it seems and also to make tattooing as an art-form more accessible." 
We want people to realise that tattooing is not as easy as it seems and also to make tattooing as an art-form more accessible. 
It is important to note that tattooing is a profession that takes many years of apprenticeship and proper practice to master. It is not a skill that can be obtained after a three-hour session with faux skin. 
"We don't encourage anyone to be a tattoo artist after trying out pseudo tattoo. Pseudo tattoo is only meant to be an experience. It is not a step-by-step course for people to become a tattoo artist as that is a completely different process," Jerome says.
We don't encourage anyone to be a tattoo artist after trying out pseudo tattoo. Pseudo tattoo is only meant to be an experience. It is not a step-by-step course for people to become a tattoo artist as that is a completely different process
Even though the pseudo tattoo workshop uses the same tattoo equipment as is used when doing a real tattoo, both types of tattooing are, in fact, on very different levels and have different scales of impact.
While pseudo tattooing is liberating and inconsequential, real tattooing has an impact that can be everlasting in someone's life.
This pseudo tattoo activity by State of Shiok is highly recommended for those who want to try out a creative activity unlike any they will have experienced before. I very much enjoyed the experience.
Do look out for future additions as State of Shiok may have plans for adding Henna and Jagua tattoo services.