Where Coffee Meets Astrology: Soul Coffee Review
If you're looking for a unique and whimsical addition to your go-to café list, Soul Coffee might be the place for you. SHAE LYNN QUEK tries it out for herself. 
Soul Coffee has a smokey entryway that greets diners as they enter. Photo by Shae Lynn Quek. 
BY
Shae Lynn Quek
Publicity Manager
Hype Issue #55 
Published on
May 25, 2022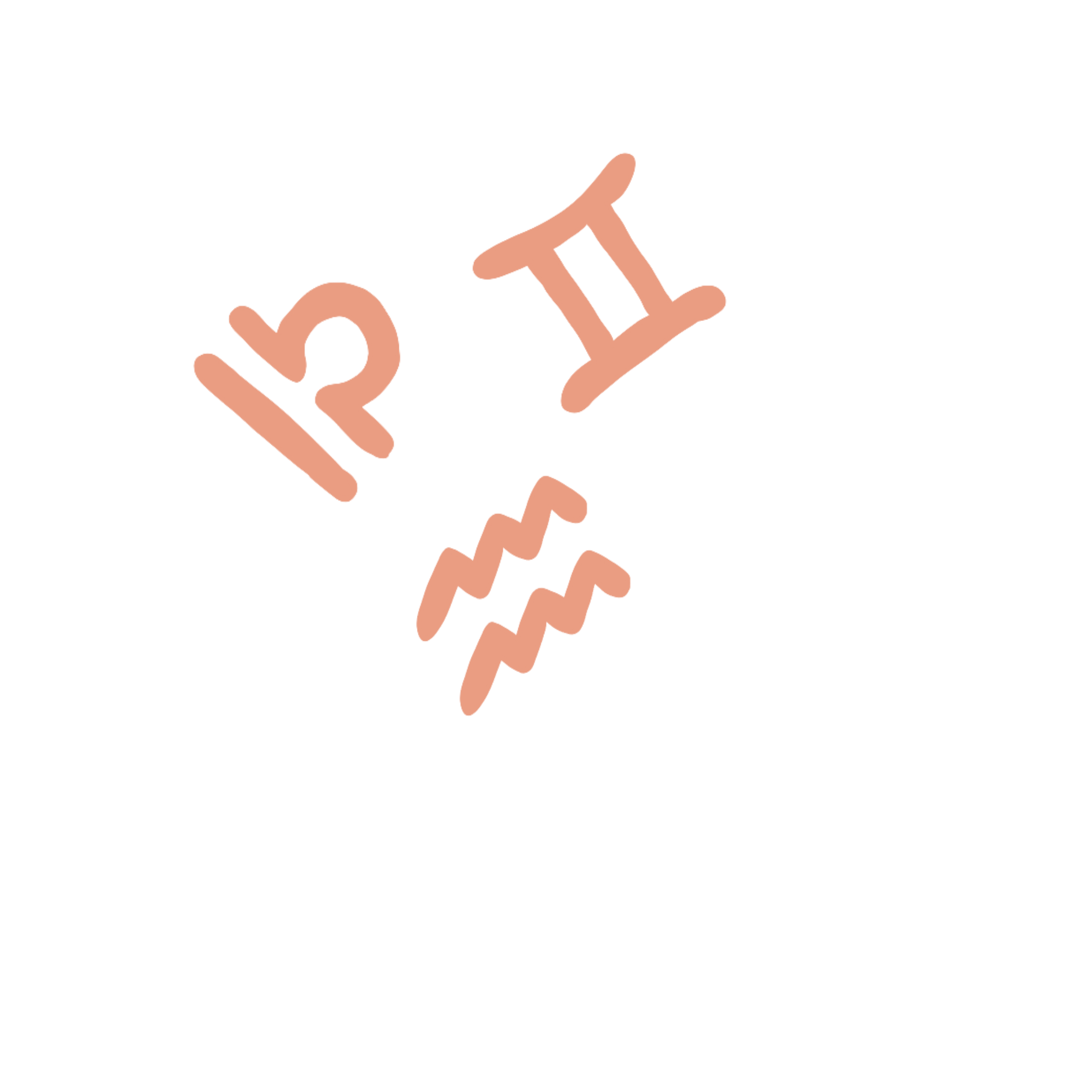 eSoul Coffee isn't like any other cafes I've visited before. You might think that it only offers coffee and desserts, but this café is one that is filled with many fascinating concepts that makes it a truly one-of-a-kind destination.
Combining horoscope, tarot and crystal readings into one place, this mystical cafe is your next go-to place if you're looking for an Instagrammable location for your next post. Soul Coffee, located at KINEX, gives diners a magical four-dimensional (4D) immersive experience. 
Although located quite a distance away from Paya Lebar MRT station, you won't have trouble finding the mall as it is only about a 10-minute walk away. 
Soul Coffee stands out from afar. With its smoke curtains and dim lights, it assimilates a different dimension.
Over to the left, you'll spot another indicator that makes this cafe seem somewhat other-worldly; their artificial intelligence (AI) Humanoid Robot Barista named Hillary.  Did you know that Soul Coffee is the first in Singapore to have a humanoid robot? Hillary was actually featured in the recent Winter Olympics as well. Catch it in action when you order their pour-over coffee ($9.90).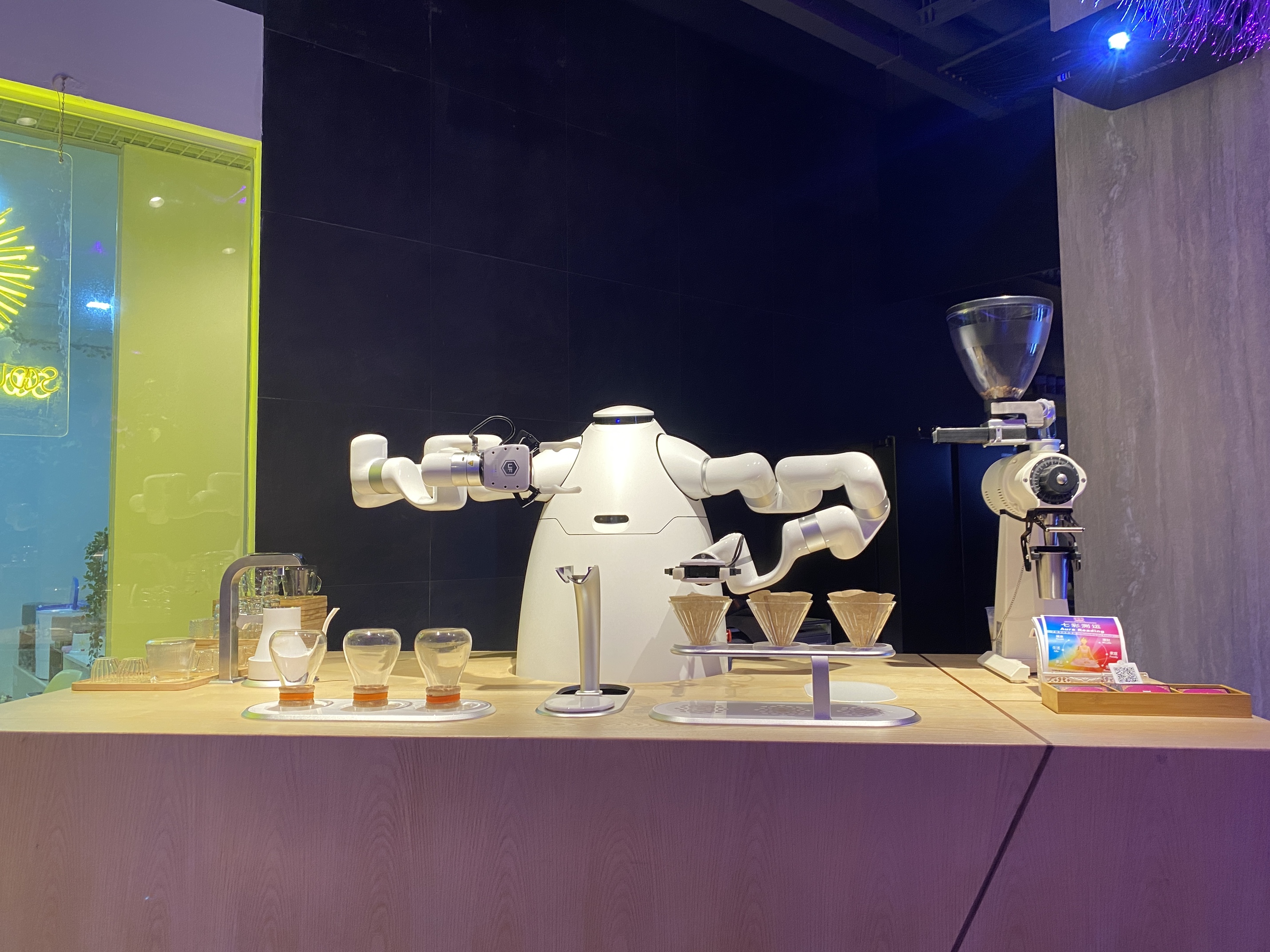 Their AI Humanoid Robot, Hillary, is timed accordingly to make sure that the brew of the coffee is just right. Photo by Shae Lynn Quek.
The cafe is surrounded by ceiling-to-floor immersive projection displays that show different sceneries based on the four different seasons. In addition, they even have an underwater theme, which is a hit amongst children. 
I visited when they were featuring their Sakura theme, so the projections displayed floating cherry blossoms all around the café. 
Ms Evelyn Lam, the tarot master and management trainer of Soul Coffee, says that Soul Coffee's 4D immersive experience and horoscope drinks "bring…a different feel of a cafe altogether".

I felt that the calming tunes and dim aesthetic of the café are enough to immerse you and bring you far away from reality. Photos by Shae Lynn Quek.
The cafe also boasts a whole wall adorned with real leaves and flowers, as well as a crescent-shaped bench  – giving you the perfect Instagram set-up.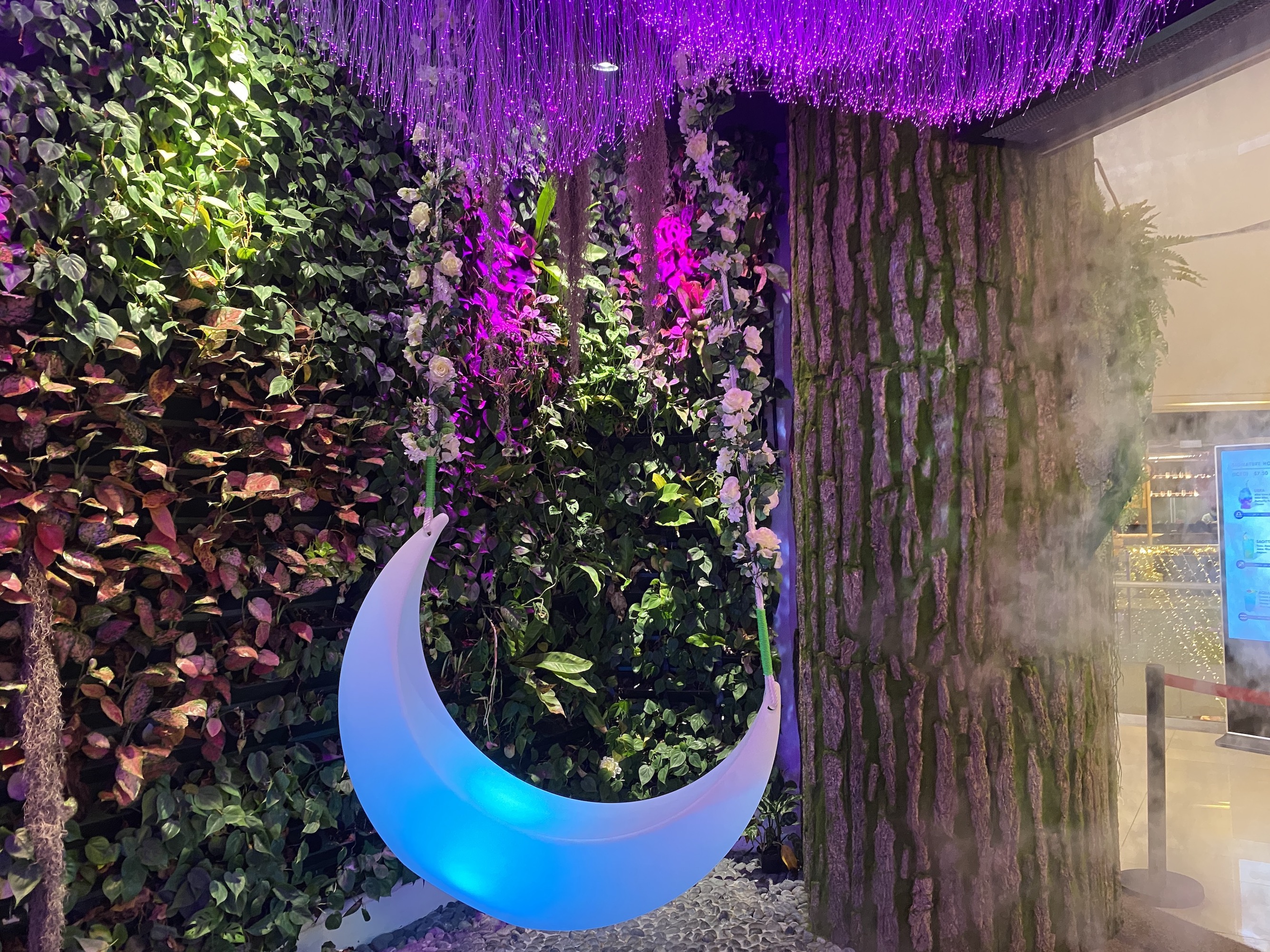 The wall is decorated with real leaves and flowers to elevate the forest theme and help people destress with the nature feel. Photo by Shae Lynn Quek.
"The whole feel here – we do it as a very thematic cafe and we actually do a [purposeful] clash between robot and nature. People are so busy [with] things and technology, but we wanted to actually [bring] people back to nature… We wanted to bring in the fresh and the whole nature feel into the whole cafe theme," says Ms Lam.
As for the food, they offer a wide selection of desserts ranging from cakes to puffs. The one that grabbed my attention was definitely the Praline dessert ($7.90). Its glossy finish and the chocolate leaves on top were enough to intrigue me. To add on, the texture was so smooth and creamy. It had the perfect hazelnut taste – though I must admit that it was a little too sweet for my liking.
I also got their matcha cake ($9.90). It was light and fluffy, with a layer on top of it resembling jelly in consistency. The taste of the matcha was pretty subtle, but not so much that it lost its earthy flavour. But unlike other matcha cakes, it didn't have the usual lingering slight bitter aftertaste. It was also a little more on the dry side where you'll feel the need to take a sip of your drink after every few bites. Overall, I feel that it is a little too pricey for a slice of cake.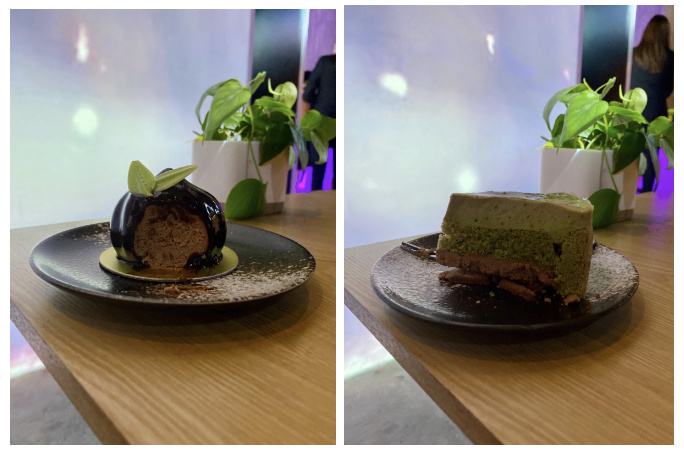 Soul Coffee's Praline dessert (left) and matcha cake (right). Photo by Shae Lynn Quek.
To accompany your choice of dessert, Soul Coffee offers espresso-based drinks ($3.50-$8.50), pour-over coffee made by Hillary ($9.90), horoscope themed signature coffees ($8.90) and mocktails ($7.50).
Jeleen Lee Ze Lin, 19, a café-goer, shares what drew her to visiting Soul Coffee.
"[I was drawn by] the pretty ambience and [the] interesting idea of making horoscopes into drinks. They look so aesthetic as well, hence I was intrigued," says Jeleen.
"[I was drawn by] the pretty ambience and [the] interesting idea of making horoscopes into drinks. They look so aesthetic as well, hence I was intrigued," says Ms Lee.
As for me, although I'm not the biggest fan of coffee, the horoscope-themed coffees piqued my interest and I just had to try one. I got the Pisces Signature Coffee which is a mint-flavoured espresso. Overall, it wasn't too sweet and the mint did not overpower the flavour of the coffee. However, it did have a strong mint aftertaste that I personally didn't enjoy. Nonetheless, I felt that it was a perfect pair for the Praline as it balanced out the Praline's sweetness.
In other news, have you ever heard of Tau Sar Piah (pastry filled with sweet bean paste) in coffee? It sounds like an odd combination, but Soul Coffee offers it in their Capricorn Signature Coffee: an espresso with soy milk, caramel, vanilla, and of course, a whole Tau Sar Piah to top it off. 
I definitely had to try this unlikely combination out – I was a little sceptical about it, but to say it was good would be an understatement. The coffee was smooth and caramelly with notes of vanilla that gave it a perfect level of sweetness.
However, if you don't enjoy espresso, Soul Coffee's pour-over coffee might be a better fit for you. They use Ethiopian beans, giving their coffee a slight fruity acidity, so it is less bitter with a nice and smooth aftertaste. While the pour-over coffee is being prepared by Hillary, you can immediately smell its beautiful aroma.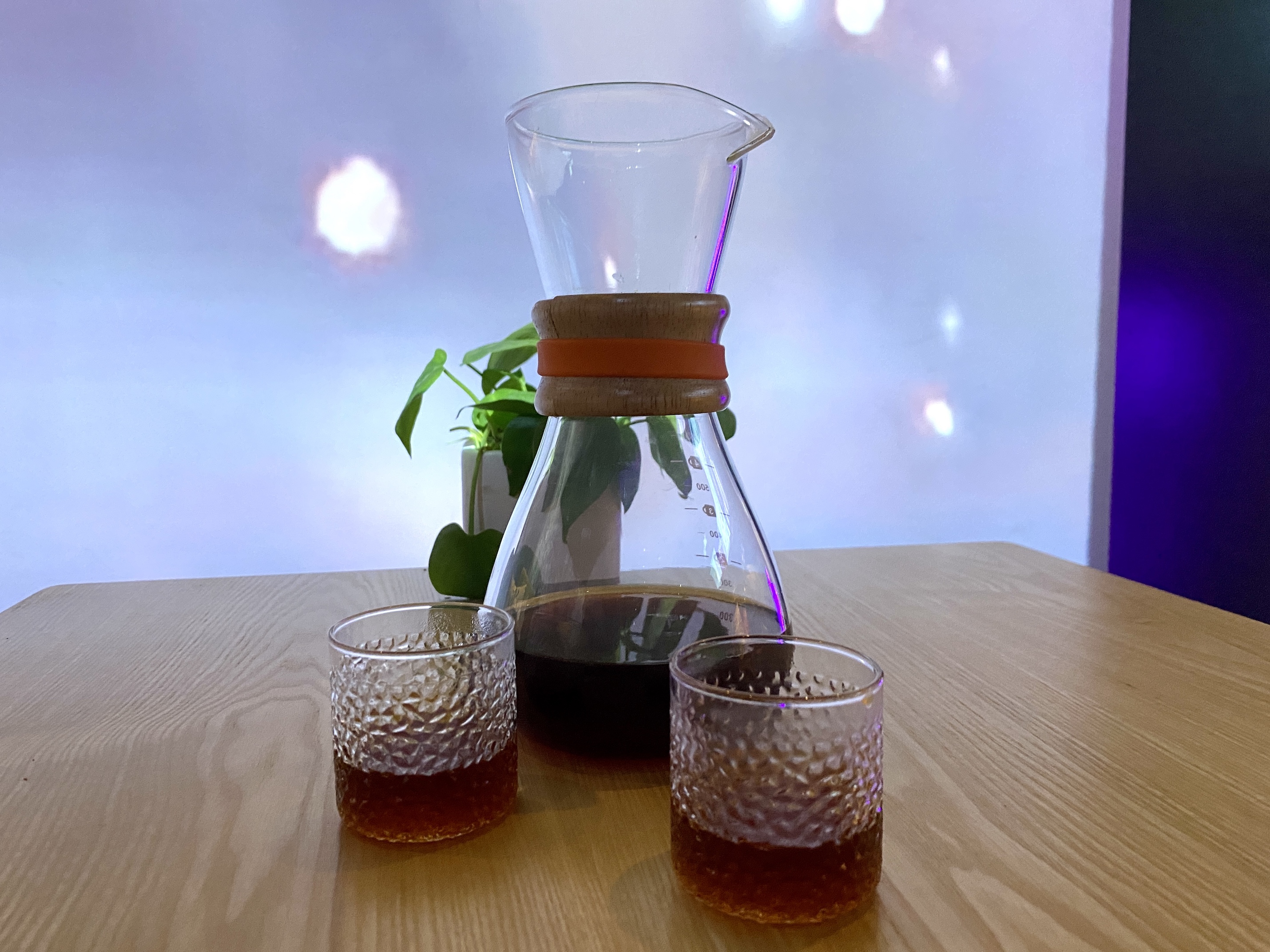 Their pour-over coffee uses Ethiopia beans, giving the coffee's body many layers and a different taste as you drink. Photo by Shae Lynn Quek.
For those curious to know about future predictions, Soul Coffee also offers tarot and aura crystal readings. You will be nestled in a private room during the readings, ensuring that you have the privacy you need.
With minimalist cafes being the trend now, Soul Coffee is an essentially disparate café, which will amaze you with its beautiful interior and ambience. Unique horoscope drinks, coffees and an assortment of desserts are also on the menu when dining at Soul Coffee. 

Information:
Name: Soul Coffee
Address: 11 Tanjong Katong Road, #02-16 KINEX Shopping Mall 
Opening hours:
Mon – Fri 11AM-10PM
Sat and Sun 10AM-10PM
For more information, check out @soulcoffeesg on Instagram
Verdict: Overall: 4/5
Ambience 5/5

Food 4/5

Price 4/5