Keshi's 'GABRIEL' leaves more to be desired
Asian-American singer Keshi has released his long-awaited first album. The rising star and beloved crooner has charmed a legion of fans worldwide, who call themselves the 'Keshi Kult', with singles such as '2 soon', 'drunk' and 'like i need u'. 
Asian-American artist Keshi in a promotional still for his debut album, GABRIEL. Photo taken from Universal Music Group. 
BY
Gabrielle Ang
Editor
Hype Issue #54
Published on
April 24, 2022

Who is this for? Fans of Keshi, BROCKHAMPTON fans recovering from their breakup, 88Rising stans.
Label: Island Records
When people think of sensual music, it's rare that they'd mention an Asian artist. Most of the time, people think of the slow, hip-gyrating beats from sensual R&B artists like The Weeknd and Kali Uchis, or the empowering rap tracks from the likes of Nicki Minaj, Megan Thee Stallion and Doja Cat. 
Maybe you're thinking of Lykke Li's so sad, so sexy. Well, this one's sad and sexy.
Enter Keshi, 27. The Vietnamese-American R&B whisperer has dropped his long-anticipated debut album, GABRIEL, after a string of releases including 2018's THE REAPER and a trilogy of EPs from 2019 to 2020. The artist cleverly blends the shy, low-key appeal of a sensitive, quiet dude with feelings with the image of a moody bad boy who looks better than you with his shirt off.
Keshi's made waves in the Gen-Z Asian community. He's a refreshing figure, especially since it's uncommon to see an Asian artist take control of their image as a mysterious heartthrob with plenty of feelings. Girls want him, and it's obvious that many Singaporean boys want to be Keshi. He's effortlessly sexy, a textbook Scorpio clad in black with tattoos, windblown hair and an aloof gaze that combines just the right amount of mystery and intrigue.  
He may not know this, but his style is emulated in mullets and wolf cuts, stacks of silver jewellery and all-black ensembles, much like his contemporaries in Asian-American record label 88Rising. I call a lot of these men 'Keshi wannabes' as a joke.  
In a press conference with the Southeast Asian media earlier this year, Keshi stayed true to his sensitive self. We're promised a much more confessional and personal album inspired by John Mayer, Radiohead and Frank Ocean.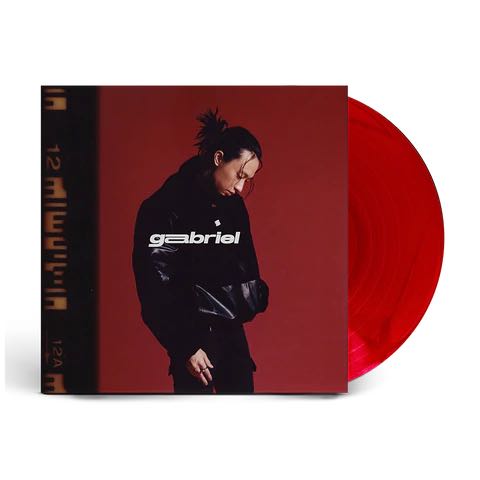 GABRIEL's vinyl release offers a unique listening experience to fans. Photo taken from Keshi's web store.
The album's first track and second promotional single, 'GET IT', recalls the now-defunct rap group BROCKHAMPTON's efforts, especially with its pitch-deepened chorus, Kevin Abstract-like singing and trap beat. It's a fun opener that promises a thrilling new direction for Keshi as an artist, a sensitive whisperer who has gently crooned his way from SoundCloud to the Shang-Chi soundtrack. 
At its essence, it's still full of the DNA that fans know and love: It's got everything from the swoon-worthy high notes, with a stronger hip-hop essence that may give BROCKHAMPTON fans a run for their money. 'GET IT'  is certainly one of the album's high points for how unique it is amongst his discography, and its music video recalls the earlier works of K-Pop rapper, G-Dragon. Weirdly, the beat reminds me of this TikTok trend from 2019. 
GABRIEL's second track and first promotional single, 'SOMEBODY', is the quintessential "sexy track" of the lot. The steamy music video shows an ethereal fantasy with alt-girl baddies who look like they're fresh off a Dolls Kill lingerie shoot, along with Keshi surrounded by flowers and smoke. It almost looks like the darker mirror image of the Garden of Eden, and it perfectly compliments the mythical, sexy lyricism of the track. In both tracks, Keshi promises unfaltering loyalty and adoration towards his lover with a ride-or-die attitude.
WESTSIDE is one of the most confessional tracks on GABRIEL, as Keshi questions everything around him, including his relationship. 
"So where the f*ck you been? And where you think you goin? Is leaving you a sin or not?" He implores. "Am I better never knowing? Where the f*ck is home? Where the fuck I'm goin'? Where the f*ck my friends? F*ck I'm waiting for? Think it's time to go, think it's time to call you." 
The third single, 'TOUCH' offers details about a lusty forbidden fling as Keshi laments what could have been. He bemoans the inability to get closer and more intimate with a partner pondering if the non-commital sex between the pair would be better than an actual committed relationship. The track almost feels apologetic and pleading with its lyricism: "Said it's only a touch/ Is it bеtter than us to you?" 
The centre of the album is where GABRIEL loses its touch (all pun intended). 'MILLI' blends into 'TOUCH', but feels like a rather unnecessary section of the album due to its repetitive nature as Keshi broods over his vices. Little texture is present in the production of this track and the lyrics fail to communicate a darker change in the album's mood. 
When it comes to the addition of spoken-word interludes, many artists try to insert a greater message within an album. Some feel incomprehensive and inconsistent compared to the rest of the album, such as Justin Bieber's poorly thought-out 'MLK Interlude' in his pop album,  Justice. Others, such as 'A Tale By Quincy' in The Weeknd's Dawn FM, transition beautifully and meaningfully into the rest of the album. Keshi's interlude 'PERÊ'  is a sweet addition that offers a French spoken word section from his father (perê means 'dad' in French) on his experience as an Asian immigrant in America, leaving all that he had behind. 
While it serves as a heartwarming and meaningful easter egg for fans, general listeners may feel confused at the awkward pause without any instrumentation, which could have been added for it to flow more consistently with the rest of GABRIEL. You'll be disappointed to know that there isn't a follow-up on Keshi's dad's experience as an immigrant on the following tracks, either. 
Follow-up track 'HELL/HEAVEN' is a signature Keshi track, with ethereal vocals that feel like a heavenly lover's adoration, and serves as one of the more memorable tracks on the album. 
'ANGOSTURA'  feels nicely consistent with the rest of Keshi's discography, but doesn't feel like a standout in any way. 'UNDERSTAND'  is one of the quieter, stripped-down and emotional tracks on the album, and feels very much like the 'La Vie En Rose' of the album. Upon realising that his lover is the only one who understands who he is, Keshi gives up his fear of commitment and his vices. In a moment that feels like a deep sigh of relief, he finally asks his lover to commit to him and stay, offering an answer to the burning question from 'TOUCH'.
'LIMBO' is a contemplative follow-up after 'UNDERSTAND', as Keshi promises to be the best he could for his lover as she ponders commitment. In this track, he is very much in limbo: far away from heaven and too hopeful for hell. 'LIMBO' is also where the artist is at his most vulnerable, as he begins to feel like a fraud for his lusty inhibitions.
"I just been goin through motions, back and forth like a ocean
I am a fraud, I am the shit, hoping that nobody notice
Bang chest in the morning, head down in the night
Drink less if I wanted, strike up with the light
And square up, I'm the mightest
Myself in the fight, hurt twice but i tried it
No advice for this shit, might die for this shit
Do I feel alive, feel alive, feel alive?"
Breakup track 'ANGEL' feels church-like and almost Mandopop-ish, with its piano and guitar instrumentation. On this track, it's like you finally hear Keshi shout his feelings out loud, and the change of dynamics feels invigorating after listening to a rather quiet, gentle album. 
"What could I do? I thought you were an angel, and lost myself when I caught sight of you," he laments in glorious, sad-boy fashion.
The album's title track and final song, 'GABRIEL', feels like Keshi's last resort to win back the one that got away. It's a lot more sad compared to say, two tracks ago, as he resigns himself to his fate. It almost ends anticlimactically with little production at the end, and its lyrical references to the biblical angel barely gel together with the rest of its concept. "Before I leave, I'll see Gabriel," he sings in the last line of the album. 
In biblical lore, Gabriel was the angel who brought the Virgin Mary news of her pregnancy with Christ. What's that got to do with Keshi, and could he explain why? 
The metaphors, lyrics and production in this track are disappointing and somewhat confusing, and leaves you wanting more: It could have certainly taken notes from other works, such as FINNEAS' production on Happier Than Ever, which was by a similarly ethereally-voiced artist, Billie Eilish.  
It almost feels like the album should have ended on 'ANGEL' instead, since 'GABRIEL' was far less powerful than it could've been. In fact, the album lacks so much change in its tracks that half the songs can't be told apart, with the exceptions of more unique tracks such as 'GET IT', 'HELL/HEAVEN' and 'ANGEL'. 
You don't always catch the lyrics on many of the tracks either, because much of it feels like a trap-based mumble, a signature trait of the Keshiverse. Sure, it's personal, but compared to other R&B greats, the production and lyricism of GABRIEL as a whole leaves much to be desired. 
At times, he's so soft I forget that he's feeling angry and confused on some of these tracks.
It's not exactly heartbreaking either, and GABRIEL may feel underwhelming to some. Pop and R&B fans looking for an easy listen will be satisfied, as the album is rather pleasing on the ears. People looking for a magnum opus would probably be disappointed.
Personally, what I want to hear from this album would be a genuine scream from someone who's been a whisperer for much of his career. I'm not asking for a heavy metal scream, but a change in dynamics would have been nice. There have been many good screams in mainstream pop. Come on, even notorious whisperer Billie Eilish screamed in this single.
After all, Casey Luong's angst needs to go somewhere, right? I almost feel like a friend telling a shy guy to just speak up for himself, because this album is full of emotion, except I can't feel it because it's not conveyed adequately enough. C'mon Keshi, I'm really rooting for you.   
After all, Casey Luong's angst needs to go somewhere, right? I almost feel like a friend telling a shy guy to just speak up for himself, because this album is full of emotion, except I can't feel it because it's not conveyed adequately enough. C'mon Keshi, I'm really rooting for you. 
GABRIEL is sad, but it's sexy. It's sexy with a tinge of guilt that feels self-conscious to the point that you can barely hear Keshi on some tracks, or comprehend what he's actually saying to you. 

At times, the grandiose imagery of GABRIEL's music videos and its promotional material may overshadow its music. However, GABRIEL ushers in a more confident era for Keshi as he outgrows his old, shy and sweater-clad self and embraces a new identity: Hopefully, it signifies greater works to come.
Listen to GABRIEL here.