HBO's Euphoria: Not Your Average Teen Drama
With provocative sex scenes and visually stimulating aesthetics that sparked cultural fervour in society, Euphoria made a return in January and has become a cult favourite among Gen Z and millennials. Noreen Shazreen finds out if the show lives up to its hype.
Euphoria is an American high school drama starring Hunter Schafer (left) and Emmy Award winner Zendaya (right). Photo taken from HBO.
BY
Noreen Shazreen
Deputy Editor
Hype Issue #54
Published on
February 8, 2022

Warning: This article contains spoilers for Euphoria Season 1 and Season 2.
The coming-of-age genre has always been an avid topic of conversation in the film and television industry. Every year, we're getting brand new shows and movies that tackle the teenage experience in a completely unique and different way.
I'll be the first to admit; there's something really comforting about watching films and television shows about high school students who live seemingly unrealistic and idealistic lives, which are almost impossible to attain, especially in Singapore. 
Whether it's privileged private school kids who live in the Upper East Side, Lara Jean who writes love letters to all the boys she's loved before, or the iconic Plastics from Mean Girls who coined terms such as "on Wednesdays we wear pink" and "fetch", teen films and television shows have always had a significant impact on popular culture.
But with an influx of coming-of-age shows set in high school settings released every year, how will these shows be able to stand out from the flooded market in Hollywood, if they're even able to? 
Introducing Euphoria, HBO's new streaming hit which premiered its first season in June 2019. Although the series finally makes its return in January after a lengthy two-year hiatus, the show remains a relevant and popular choice among Gen Zs and millennials, thanks to its all-star cast that includes Emmy Award winner Zendaya, Hunter Schafer, Jacob Elordi, Eric Dane and more.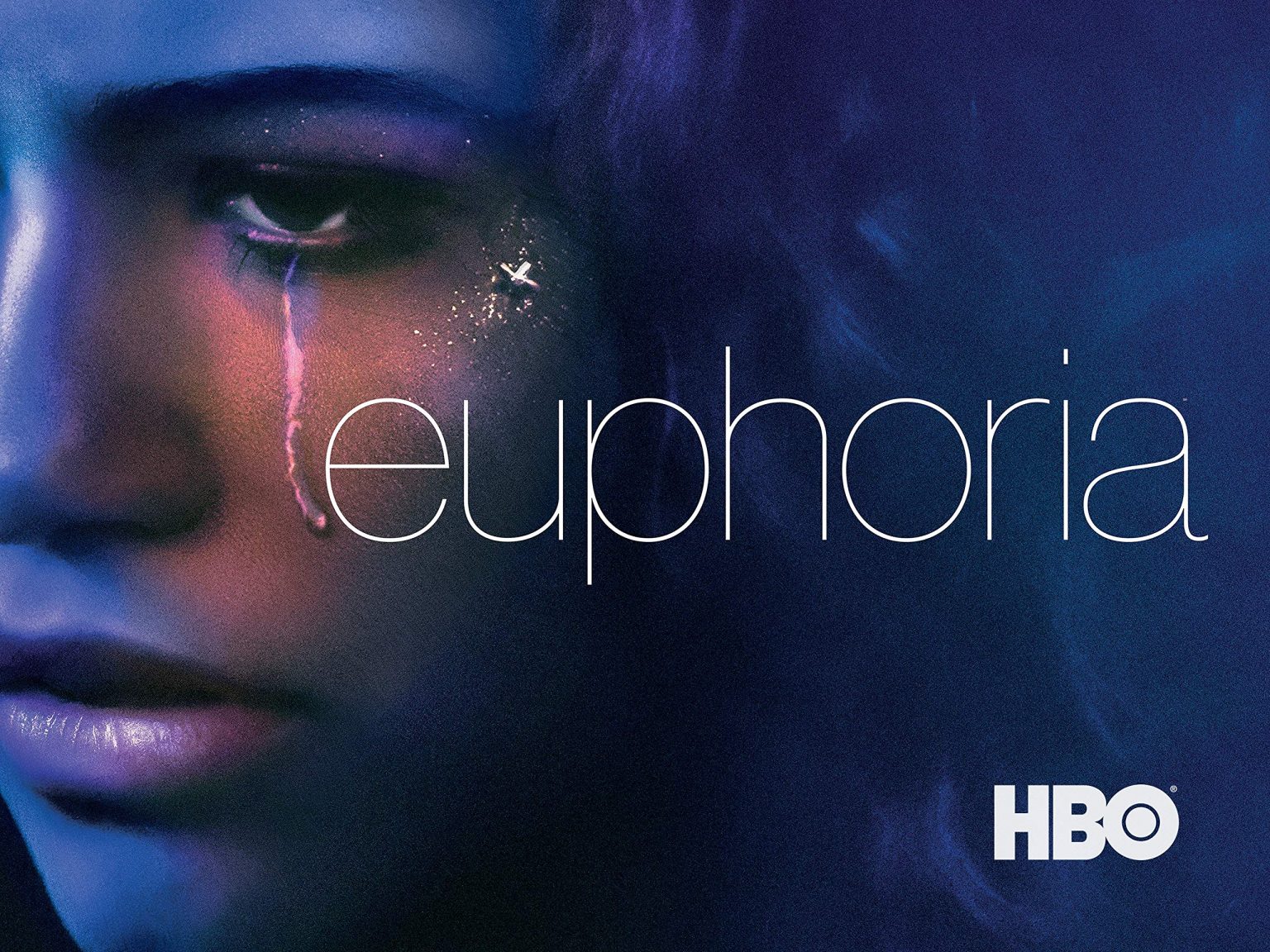 Season 2 of the show premiered in January 2022 after a two-year hiatus. Photo taken from HBO.
Unlike most teen dramas centred around comedy and romance, Euphoria takes the cake for its intriguing plot which tackles heavy and taboo issues that teenagers can relate to deeply throughout both seasons. The show centres around a group of high school students, each dealing with their own set of problems as they wrestle with drug abuse, traumas, friendships, love and sexuality. 
It is more than just a show about high school students and their escapades; it is a dark, gritty and controversial drama that delves into the varying teenage stereotypes we have grown familiar with in this genre of entertainment.
From Rue Bennett's (Zendaya) struggles with addiction to the insecure Cassie Howard's (Sydney Sweeney) overt hypersexuality to Nate Jacobs' (Jacob Elordi) toxic masculinity, Euphoria is far from your typical American high school drama.
Even though the first season's narrative primarily centres around Rue, a 17-year-old struggling with substance abuse, the show's supporting characters have each been given complex subplots that delve deeper into their pasts for audiences to gain a deeper understanding of their characters in Season 2.
Instead of giving a one-dimensional, stereotypical portrayal of a character, the show explores the individual stories of each character and delves deeper into the stereotypes that they hold. In Season 2, we see Cal Jacobs (Eric Dane) having a meltdown in front of his family as he opens up about his queer backstory, and how he's been living a double life: becoming a strict, demanding father while hooking up with gay men and trans women on the side.
By portraying the characters with complex backstories, the show makes viewers reflect on the stereotypes perpetuated in society, and how we shouldn't label or judge others without knowing their stories fully.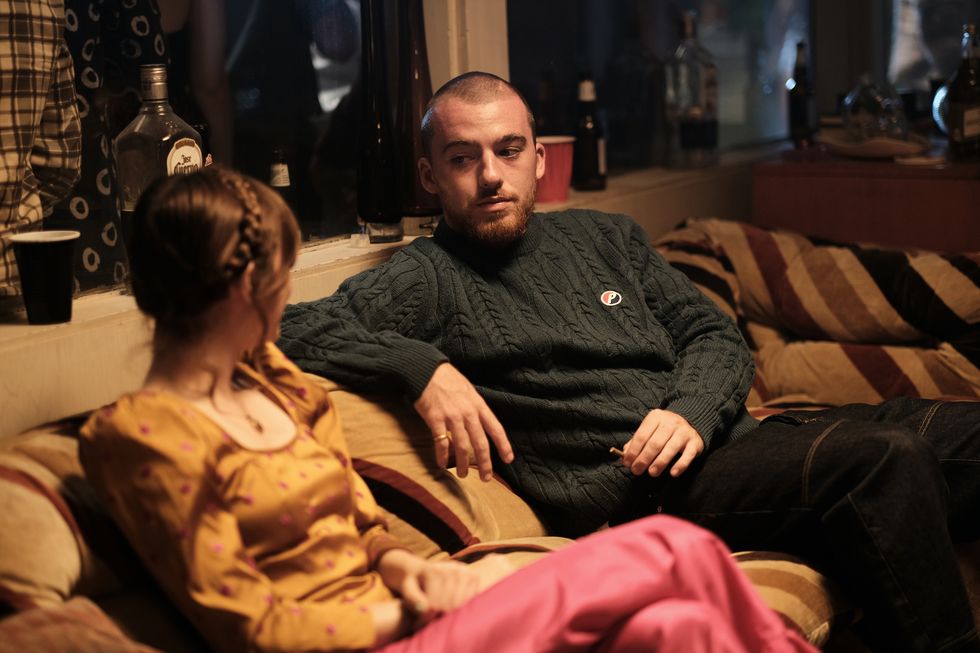 Lexi (Maude Apatow) and Fezco (Angus Cloud) having a meet-cute at a New Year's Eve party. Photo taken from HBO.
The first episode of the second season opens with an intense sequence of flashbacks, depicting Fezco's twisted childhood and how his grandmother, a drug dealer, took over raising him after shooting his father at the back of a strip club. 
With just the first scene alone, the show has me speechless as it shows full-frontal male nudity in ways I have never seen before, especially on television.
Don't get me wrong; the scene in which Fezco's grandmother shoots his father while he was having an erection would be just as disturbing without a glimpse of his penis, but the nudity felt like an unnecessary, cheap grab for headlines by increasing the show's shock value.
During the New Year's Eve party, Cassie makes a terrible decision by hooking up with the largely misogynistic, unlikeable Nate in the bathroom after getting drunk in his car. As expected, we see Cassie's breasts fully exposed in the scene, but this time, she is crying in a state of panic after almost getting caught by her best friend, Maddy Perez (Alexa Demie), for having sex with her ex-boyfriend. The intensity of the scene left me on the edge of my seat: Was Cassie ever going to get caught?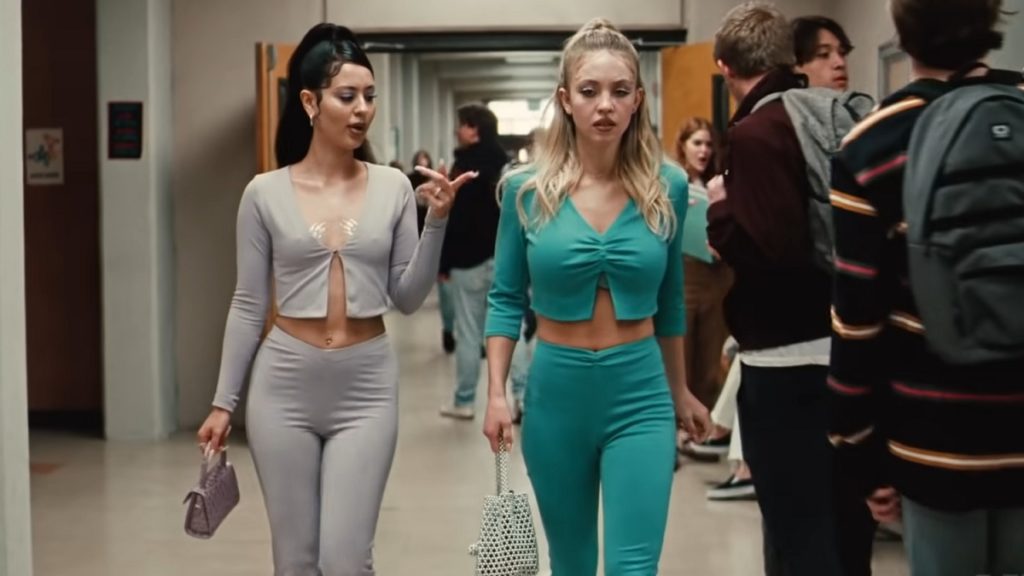 As the story unfolds, Cassie dresses up like Nate's girlfriend, Maddy, in an attempt to get his attention in school. Photo taken from HBO.
Most randomly and shockingly of all, the bathroom scene ends with a random partygoer sitting on the toilet after Nate and Maddy left. He tells Cassie he was going to take a dump right in front of her regardless of how hot she looks, and casually pulls out his penis while sitting on the toilet during this awkward, horrific encounter.
"To be honest, I did feel uncomfortable when I watched the first episode and saw some of the actors go completely naked. I did skip some parts which I felt uncomfortable watching," says Nur Khalidah, 20, an avid viewer of the show. 
In fact, the obscene amount of penises shown in the second season has sparked conversations among Gen Z viewers, with some taking to social media to count how many penises were shown in the entire series.
And of course, we can't forget the star of the show, Rue, who returns in Season 2 becoming even more self-destructive, and needless to say, somewhat unlikeable due to the bad choices she makes as the story unfolds.
It's safe to say that Rue's girlfriend, Jules (Hunter Schafer) is perhaps her strongest drug, as her motivations to get clean revolve around Jules. Rue commits herself to the promise she made and sobers up when their relationship blossoms, but relapses at the end of the first season after Jules leaves her behind at a train station.
Besides its shocking portrayal of nudity and underage hookups, another way Euphoria shakes things up is through the visually stimulating aesthetics it employs in its storytelling.
This concept is showcased from the very first episode of Season 1, where we see Rue doing nothing but having coloured beams and reflective lights projected onto her face, a visual representation of the "two seconds of nothingness" she felt after consuming drugs.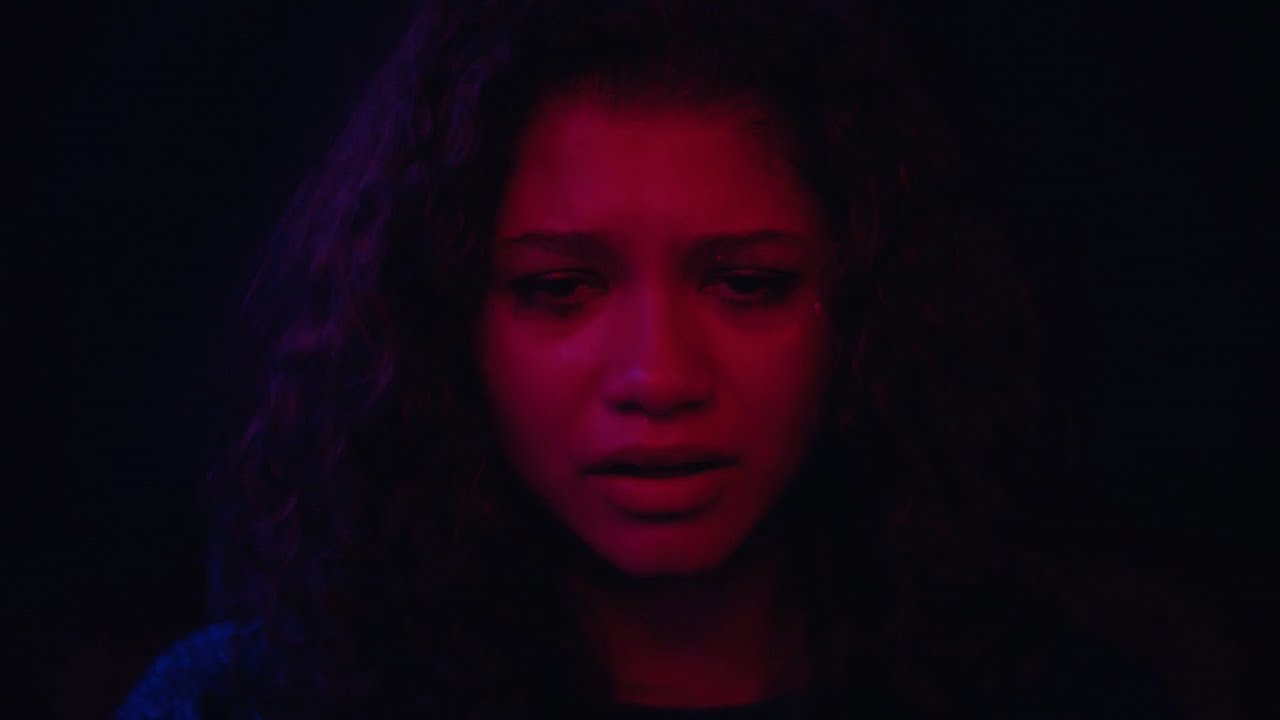 With bright colours and reflective lights projected onto her face, Rue recalls the sensation of feeling nothing for two seconds after consuming drugs at a party. Photo taken from HBO.
By portraying such high-risk activities in a glamorous light accompanied with a banging soundtrack from Labrinth, Euphoria feels a little too pretentious and does not portray the idea of addiction accurately. In fact, the Drug Abuse Resistance Education programme (also known as D.A.R.E) even called out the show for its glamourised and inaccurate depiction of drug use, sex and violence.
It's no secret that the use of colour is one of the most prominent aspects that set the mood of the show. The colour purple is used across all episodes to provide a consistent aesthetic for the entirety of the show, creating a visual commonality that links the various characters together despite how different they may be.
However, this is not the only use of colour present within the show as it is used in many more aspects. The rather intriguing aspect of Euphoria's release that caught my attention was its highly acclaimed cinematography coupled with bold and eccentric makeup looks that are not commonly seen on mainstream television.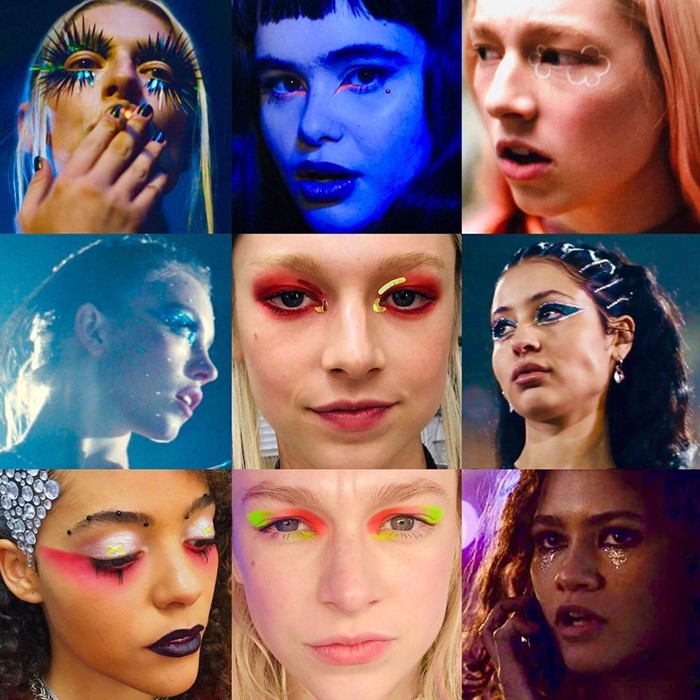 Euphoria has influenced pop culture with its creative and never before seen makeup looks, commonly featuring glitters, sequins and winged eyeliner. Photo taken from Dazed Digital.
Jules, Cassie, and Maddy are all frequently portrayed wearing glitter and contrasting coloured eyeshadows to create immaculate makeup looks, which has set a new blueprint for the beauty and fashion industry. Many fans are recreating the makeup looks inspired by the show with "Euphoria makeup trends" going viral on TikTok and YouTube.
Furthermore, the show's cinematography left me jaw-dropped for more than half the time. Several of the scenes were shot in a way that made me wonder how on earth could they move the camera in such a manner? While the entire show is filled with amazing visuals and cinematography, one scene that remains memorable to me is a scene shot in a rotating room to replicate the sensation of getting high.
"It's interesting to see how the show illustrates the emotions of drug addicts when they relapse or consume drugs based on the cinematography," says Nur Khalidah. "But other than that, the show can get quite messy and all over the place with the stories of the different characters."
With a variety of impressive cinematic elements, Euphoria looks and feels like it would be a revolutionary coming-of-age teen drama series. Unfortunately, the show falls short due to its unrealistic portrayal of what 17-year-old kids are capable of.
Perhaps, it's slightly relieving that none of the cast members resembles teenagers, as it is almost entirely made up of actors over the age of 21. Zendaya, Schafer, and Elordi, who are the main characters on the show and spend the most time on screen, are all incredibly beautiful and postpubescent, nothing like what you would expect walking into an average Singapore neighbourhood school.
At times, I had to remind myself that most of the characters are supposed to be 17 and that they're not young adults. Yet, somehow, their lives are a dreary mess of underage hookups, drugs, and violence, completely different from an ordinary Singaporean teenager, and perhaps even more intense than the most hardcore partygoer at Clarke Quay.
Does this make you wonder how the show would be if it wasn't centred around high schoolers, but around young adults instead?
Watching the series can be so unsettling that even Zendaya posted a warning on her social media platforms before the premiere of the second season, explaining that the show is aimed at mature audiences and "deals with subject matter that can be triggering and difficult to watch".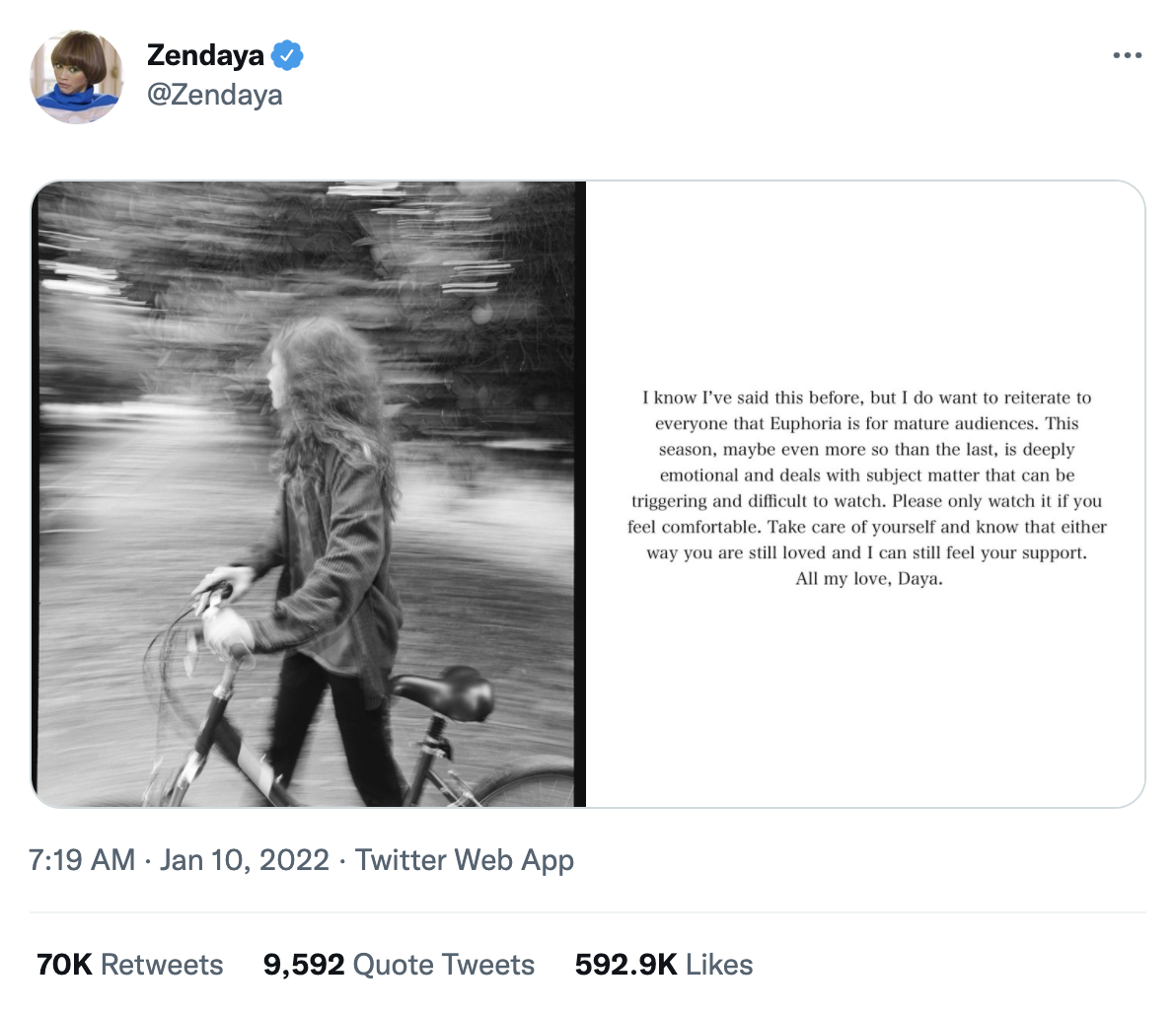 Zendaya took to social media to warn her fans that the show will tackle issues that might be difficult to watch, and that it is only intended for mature audiences. Photo taken from Twitter.
For vulnerable teens who are easily influenced by pop culture, watching the show could do more harm than good, as they would feel pressured to conform to the show's portrayal of what teens really ought to be.
All in all, Euphoria is a show that explores each of its characters with great detail, giving the viewer more than a glimpse of what the characters are thinking and feeling, with a central focus on cultivating emotional realism. It's safe to say that Euphoria is not your average high school drama as it transcends the boundaries of conventional teen dramas. The show hits the nail on the head for depicting the reality of being a teenager in an era of social media and peer pressure, even for Singaporean viewers. 
Through the use of colours and camerawork, the show adds a new dimension to the storytelling by letting viewers feel what each of the characters is experiencing. If the show can keep up with the plot and break barriers in a way that hasn't been done before, Euphoria is going to be a revolutionary show with a big impact in Hollywood.