The Duality of Health in a Pandemic-Stricken World
With spin classes held in former nightclubs and a rise in home-based bakeries, the pandemic has shown two sides of society's consciousness towards health. Claire Ng Min uncovers how fitness and healthy eating have adapted in Singapore.
BY
Claire Ng Min
Perspectives Section Editor
Hype Issue #54
Published on
January 28, 2022
Teenagers who turned legal amidst the pandemic did not have the ritualistic first taste of adulthood like the older generations did. 
There was no partying under neon lights and getting drunk to the earth-shaking beats of electronic dance music (EDM). Instead, many spent their late teens sweating on a stationary bike at a local spin studio under strobe lights and reverberating bass beats.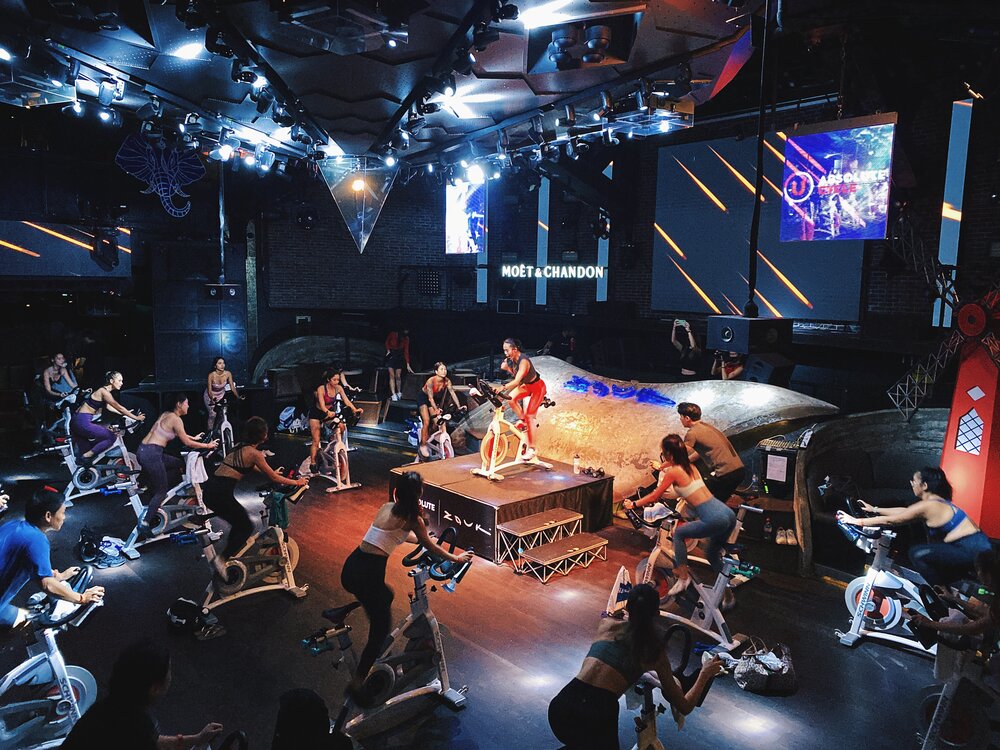 Singapore's highly ranked club Zouk has been transformed into a temporary spin outlet under Absolute Cycle. Image taken from Absolute Cycle.
In a world forced to slow down, many Singaporeans used the pandemic as an opportunity to accelerate their fitness journeys.
When the circuit breaker was imposed in April 2020, Ms Sze Wei Lin, 32, wanted to take advantage of that time to lose weight. In early 2021, the spin instructor at Aurora Singapore cycling studio tried out for a spinning instructor audition before securing the role. She has since lost over 13kg in body weight.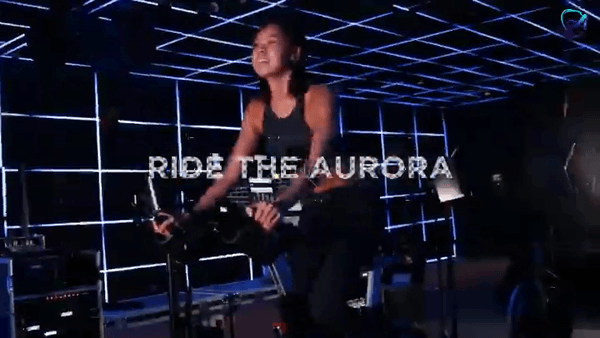 Ms Sze believes that with the pandemic, Singaporeans have shifted towards a more health-conscious approach in their lifestyle. 
She said: "There were a lot more fun activities that could be done pre-pandemic. It also doesn't help that Singaporeans love food too much. I did not step into any gyms or have a fitness routine before the pandemic." 
"After COVID-19 hit, with everyone stuck working from home, many people noticed that they gained some weight due to the lack of activity and movement. So, they started looking for outdoor activities that include cycling, running or even taking a walk in the park," she added.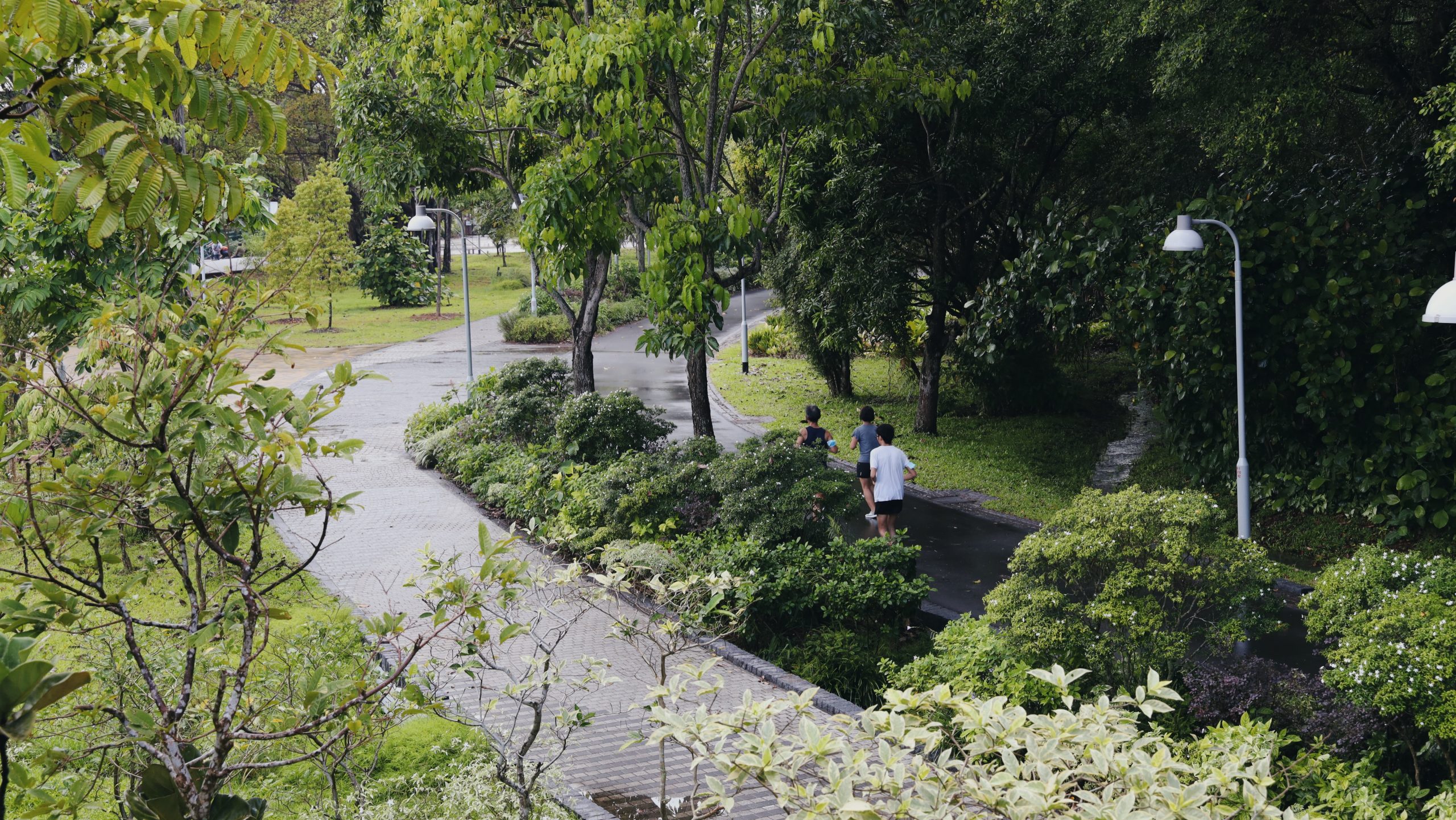 Locals jogging in the park with their face masks tied around their arms. Image taken from Unsplash.
Right before COVID-19 consumed the world, the Weight Management Clinic at KK Women's and Children's Hospital (KKH), which offers care to obese and overweight children aged six to 16, saw 481 patients.
After comparing a similar 12-month timeline from July 2020 to July 2021, there were 539 new cases; a concerning 112 per cent increase in cases. 
The Division of Paediatric Endocrinology at National University Hospital (NUH) has also seen an increase of more than 15 per cent in referrals concerning children and adolescents who are obese or overweight. This figure likely underestimates the total number of reports. 
Being overweight or obese brings many more consequences than just appearing "fat". Excess weight can affect one's bodily functions, while obesity contributes to hormonal imbalances and insulin resistance in people with Type 2 diabetes. 
Studies have shown that 70 per cent of obese children grow up to become obese adults. Obesity adds to plaque formation in the heart's vessels, which can start even before adolescence and present itself as coronary heart disease later in life.
In an interview with The Straits Times, Dr Nicholas Ng Beng Hui, an associate consultant at NUH's Department of Paediatrics said: "Stay-home conditions meant an increase in home-based learning, the cessation of outdoor co-curricular activities, reduced outdoor gatherings and a significant reduction in time spent on physical activity."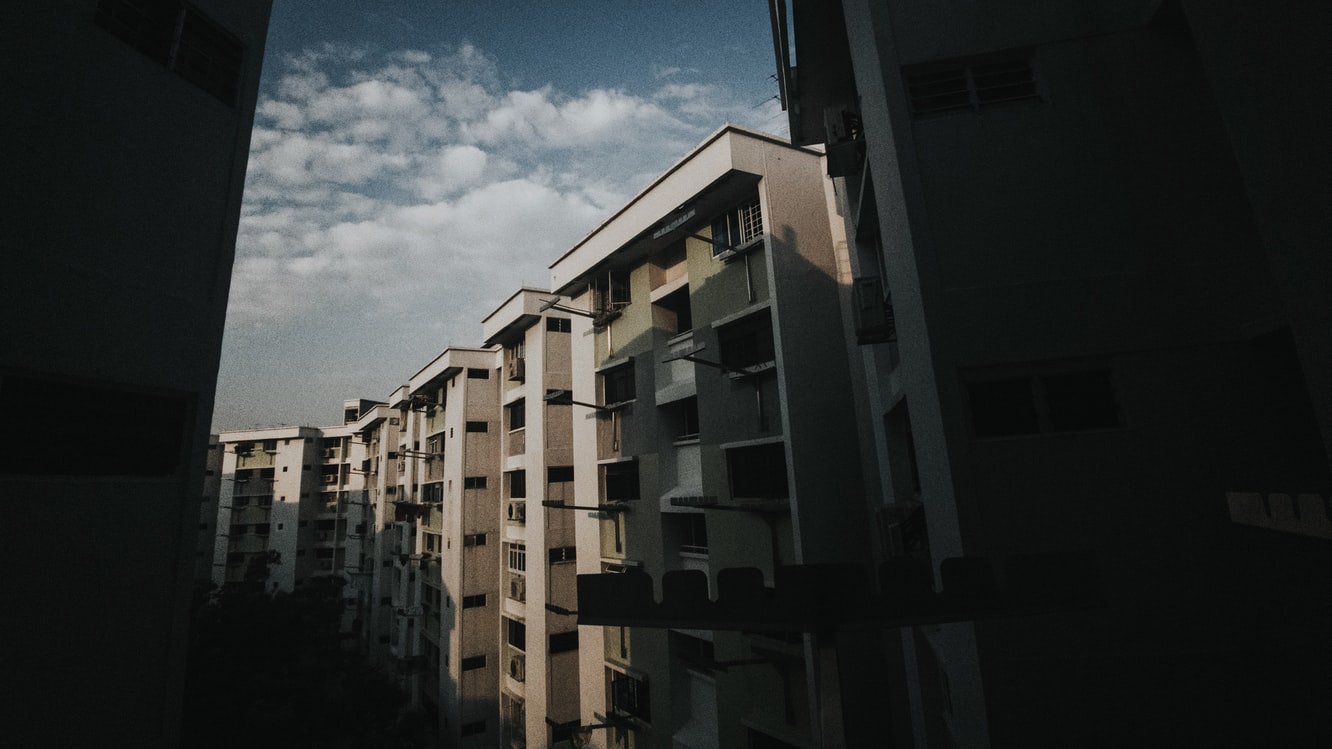 The world may seem dull and bleak for many who work from home. Image taken from Unsplash.
Marketing research company Ipsos also found that one-third of adult Singaporeans reported an average weight gain of 4.8kg. The results were obtained through a survey that was conducted on 500 respondents aged 21 to 74.
Dr Ng added: "For many households, a more sedentary, pandemic-restricted lifestyle was accompanied by excessive screen time, ordering more food deliveries, snacking out of boredom and an increased consumption of sugary drinks."
Bahiyaa Binte Basheer Ahamed, 19, said: "I saw many people online opting for food delivery because it's quick and easy. They tend to choose unhealthy food options over healthy ones."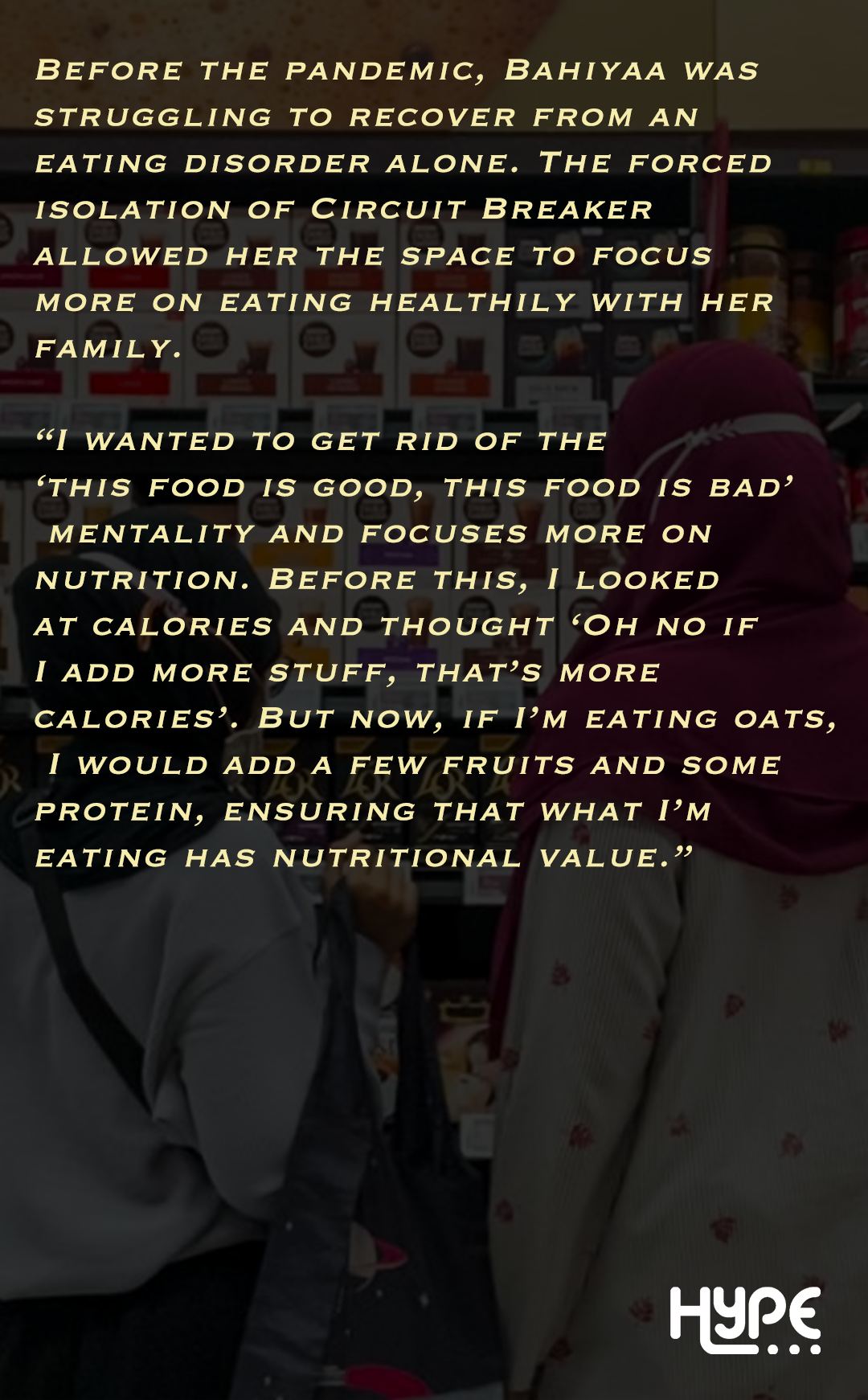 While working from home can motivate people to become more active, the availability of food delivery options may have set many Singaporeans back on their health and fitness journey.
A Censuswide survey conducted on 1,000 Singaporeans in 2021 found that 59 per cent of respondents prefer ordering food over cooking at home.
On top of that, the survey concluded that the top three most popular cuisines on delivery food platforms were Chinese at 45 per cent, Singaporean at 44 per cent and American at 36 per cent.
On the other hand, the same survey reported that 24 per cent of Singaporeans have reported weight loss during the pandemic.
Diet Adaptations During the Pandemic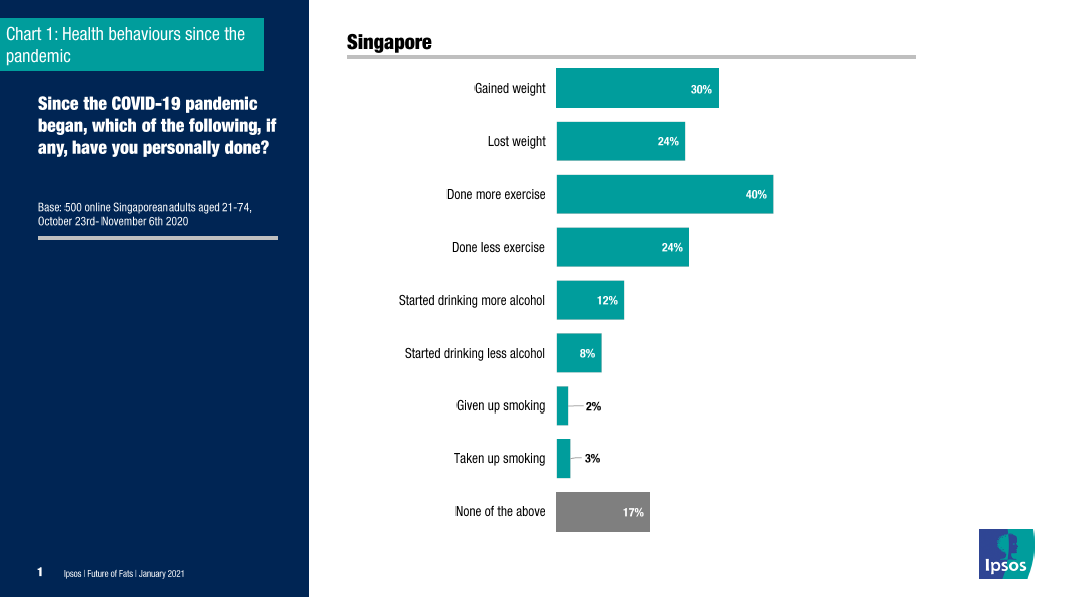 Twelve per cent of Singaporeans reportedly started drinking more alcohol as compared to eight per cent who started drinking less. Image taken from Ipsos.
Curious about the nation's divided weight-gain and weight-loss experience, I conducted an Instagram poll to ask my followers about their fitness experience during the pandemic.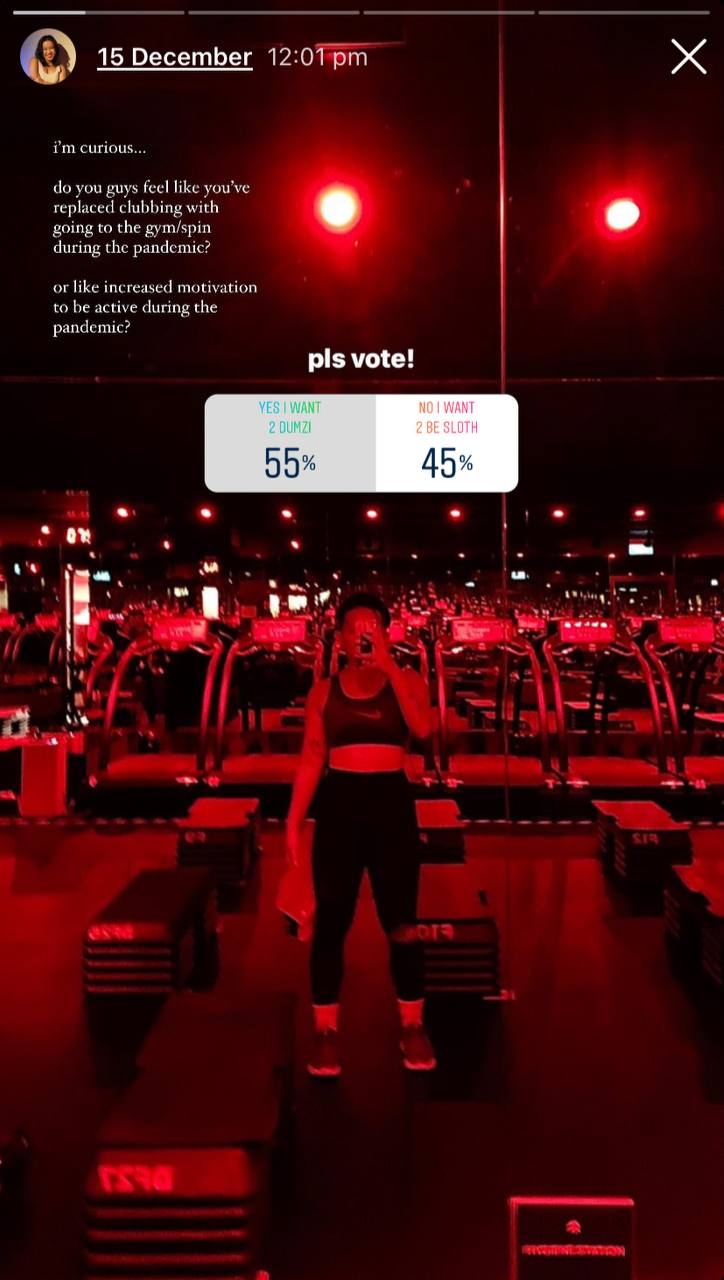 Results of my Instagram story poll on my profile. Photo by Claire Ng.
According to the Instagram poll involving 33 respondents aged 17 to 34, 55 per cent reported that they took up a more active lifestyle during the pandemic. The numbers were close, and it was baffling to see how divided my friends were on their health journeys.
In Ipsos' report, 65 per cent of Singaporeans attempting to lose weight claimed that they would reduce or remove sugar to help with weight loss.

This is followed by 48 per cent of Singaporeans reducing carbohydrates, 47 per cent decreasing their overall calorie consumption, and 33 per cent with processed foods. However, 10 per cent of Singaporeans are not as willing to give up meat and alcohol.
Ever since the pandemic began, Priscilla Lee, 19, started consuming moderated portions of her meals, which she has made healthier. Priscilla, who is against cutting portion sizes drastically in the name of weight loss, chooses to replace the calorie-packed or high-fat ingredients in her meals with healthier, cleaner alternatives.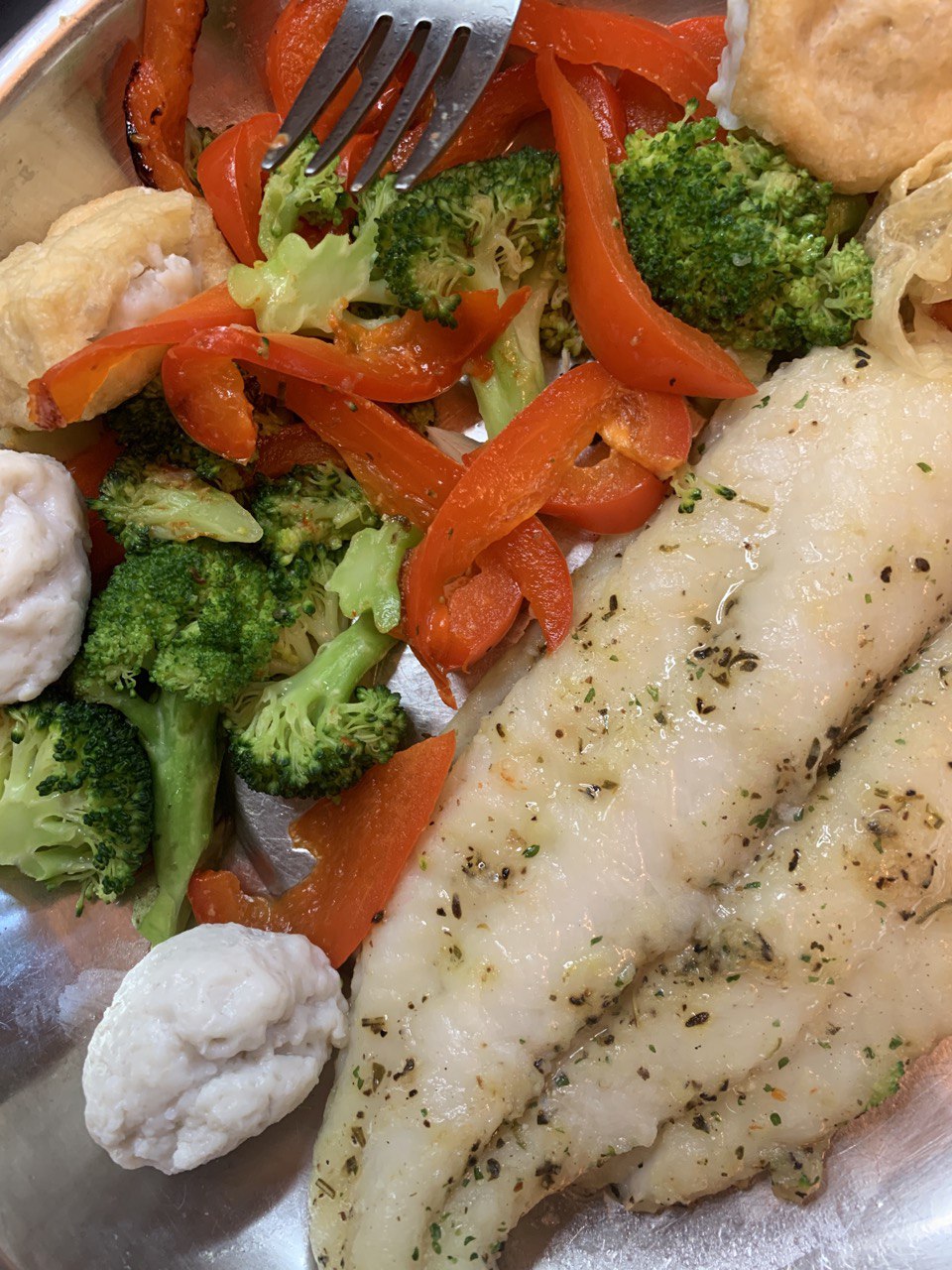 An example of a healthy homemade dish Priscilla assembled, which featured a baked herb sutchi fillet, roasted red bell peppers, broccoli, boiled tofu puffs and her grandma's special "only fish no flour" fish balls. Image courtesy of Priscilla.
"Some days, I opt for cauliflower rice over wheat rice, or I cut my meat portion in half and substitute with a protein-rich meatless alternative like tofu," said Priscilla, a home baker and food enthusiast.  
Priscilla's mindful eating habits can be helpful for people trying to tackle overeating. 
"I love my simple and sweet carbs, especially bread. Therefore, I've also started to keep a food diary to track my meals and a workout diary to keep myself accountable for my workout routines. This helps me [keep track of] how much energy I need to expend in relation to the amount of energy I consume." 
In a 2020 interview with The Straits Times, Mr Henry Law, a senior psychologist at Singapore General Hospital's Department of Psychology, said that patients were finding it harder to cope with binge-eating tendencies during the pandemic. 
This behaviour is likely to be influenced by the various stressors caused by the pandemic such as longer working hours, and might be further encouraged by the availability of food delivery options.
A Harvard study found that stress produces cortisol, a hormone that increases appetite. As such, it can be quelled by foods high in fat or sugar as they reduce stress-related responses and emotions. This can contribute to intense cravings for these "comfort foods" whenever we are under stress.
Dr Cheah Ming Hann, a family physician at Jurong Polyclinic, also told The Straits Times that some patients are having a more difficult time managing their diet as they lead a sedentary lifestyle during the pandemic.
During the pandemic, Priscilla went from only exercising whenever she felt guilty about what she's been eating, especially "during the Chinese New Year period", to consuming everything in moderation and exercising because it makes her feel strong and liberated.

Despite her shift in perspective towards a healthier lifestyle, Priscilla does not think that Singapore has become more health-conscious.
"Just as trendy home workouts have been popularised during the pandemic, home-baking and cooking have also been a huge hit. Remember the basque burnt cheesecakes and all the homemade bread and cakes?"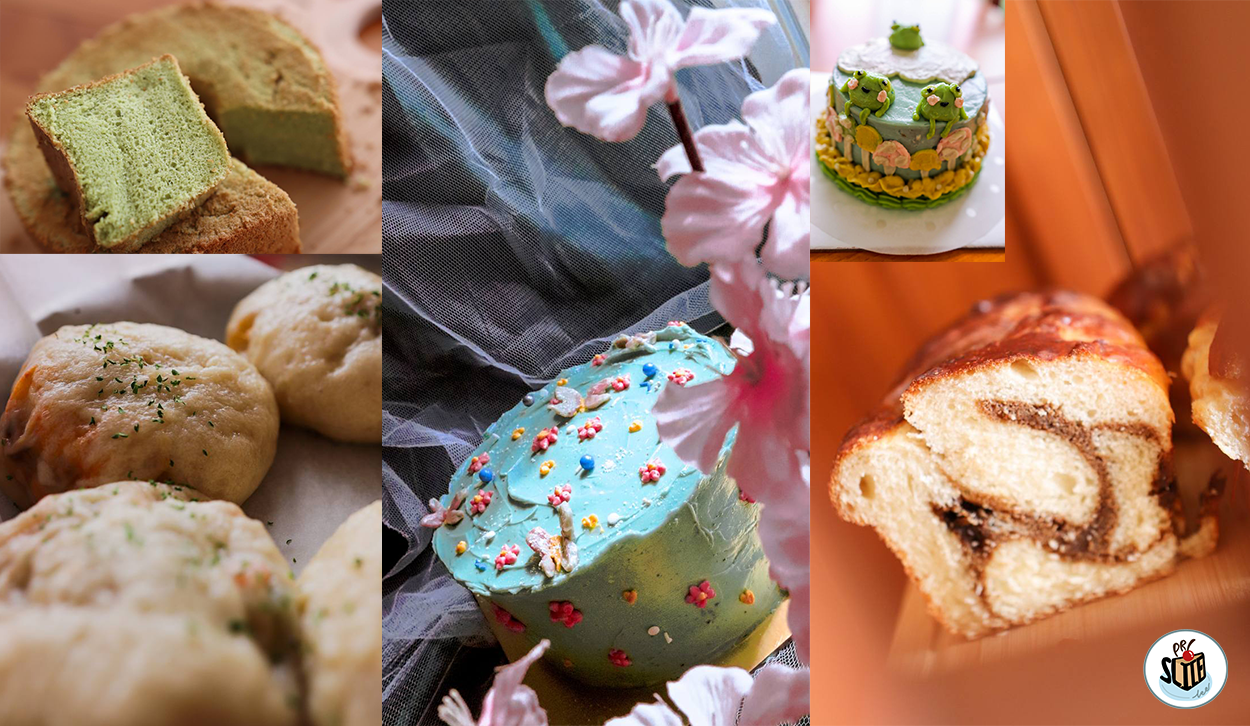 Priscilla baked a wide variety of sweet treats during the pandemic. She also owns Prislicelee, a home-based baking business serving sweet and savoury delights. Images courtesy of Priscilla.
Priscilla said: "Those sugar and high-fat desserts have conveniently made their way into our lives as part of our leisure or stress-relieving activities. Alas, it's always the 'sugar high' that brings us temporal joy, myself included."
"These sugary [home-baking] trends could have diluted the perks and excitement that health-conscious living has to offer," she added.
These sugary [home-baking] trends could have diluted the perks and excitement that health-conscious living has to offer.
The Future Lies In Leafy Greens and Impossible Meats
Food company Monde Nissin Singapore's chief executive, Mr Rufino Tiam-Lee, told The Straits Times that consumers are shifting towards "sustainable and healthy products post-COVID-19".
He even predicted that plant-based food will become "mainstream" in the next 10 years.
Contrary to Bahiyaa's claim that food delivery may have perhaps made people lazy with convenience, Deliveroo Singapore reported a 53 per cent increase in orders for Impossible Food (alternative meat) dishes from their restaurant partners amidst the pandemic.
However, plant-based food may not necessarily mean that meals incorporating them are healthier. There is always the question of how it is produced, prepared and served with other ingredients. Not to mention, vegan products are usually highly processed.
Even though plant-based diets have been proven to be linked to lower rates of heart disease, Type 2 diabetes and certain types of cancers, it may not be the healthiest diet for everyone.
There are nutrients that could be lacking in plant-based diets, not to mention how vegan meats may contain the same number of calories as regular meats, but provide less protein and more sodium.
Nicole Low, 19, believes that Singapore has become more health-conscious. She commented on the sudden demand for "quick, healthy home-café recipes" on TikTok, whose algorithm tends to promote trends through its For You page.
"People wouldn't even watch those videos unless they want to cook something like that. Back then, people would rather turn to mukbangs or videos showing sinfully good food."
She believes that the pandemic has encouraged many to not only be more aware of their own health, but that of the environment too. She saw many restaurants like Green Common and Swensen's offering plant-based food options from brands like Impossible Foods, Quorn, Heura and Moving Mountains.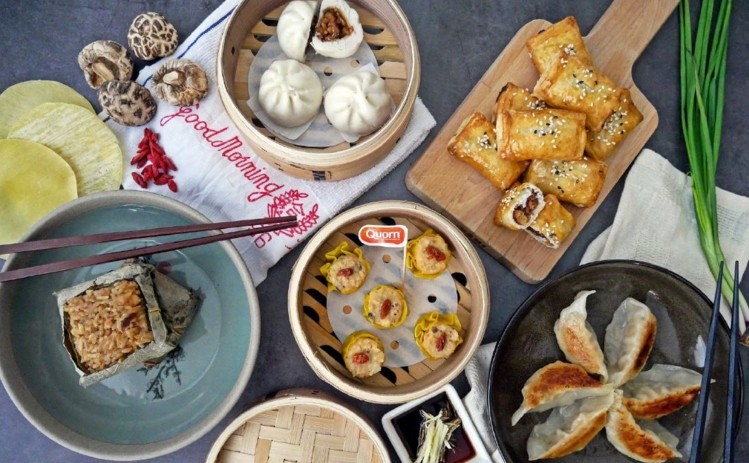 Monde Nissin Singapore brought in British established meat substitute brand Quorn in 2020. The brand even has a dim sum range featuring barbequed 'meat' buns, glutinous rice, shumai, Japanese gyoza and barbeque pastry puffs. Photo taken from FoodNavigator-Asia.
"I think this is happening as there is an existing theory that the pandemic happened because of the way we have been taking nature's beauty for granted. So right now, there's this drive where everyone is taking baby steps to go greener," said Nicole.
There is simply no correct way to ascertain whether our nation has gotten healthier amidst the pandemic, or if we have succumbed to the challenges we faced in accustoming to a new lifestyle. 
As healthy living is an ongoing conversation for everyone, it is difficult to conclude what's going to happen next. This debate will only continue as we approach a new year in the COVID-19 era. As we pray for good health in 2022, we can only seek out new ways to manifest wellness within our lives, while building healthier habits in moderation.