I Tried Three New Cafés To Hang Out At In Tanjong Pagar
Claire Ng Min reviews three new top-rated cafés to hang out at in Tanjong Pagar and spills the tea on whether they are hot or not.
Story and photos by Claire Ng Min.
BY
Claire Ng Min
Perspectives Section Editor
Hype Issue #54
Published on
December 31, 2021
The pandemic has robbed us of many things: our freedom, lifestyle and interactions with each other. However, the greatest crime was the massacre of the food and beverage (F&B) industry, which has been severely affected by closures last year due to social distancing restrictions.
With the recent change in COVID-19 restrictions that allows up to five fully vaccinated individuals to dine together, I found myself browsing through my bucket list of cafés to enjoy with my family and friends.
Several Google searches later, I came up with a list of new and interesting cafés that I could patronise and rate according to their ambiance, the affordability of their menu items, and proximity to the store.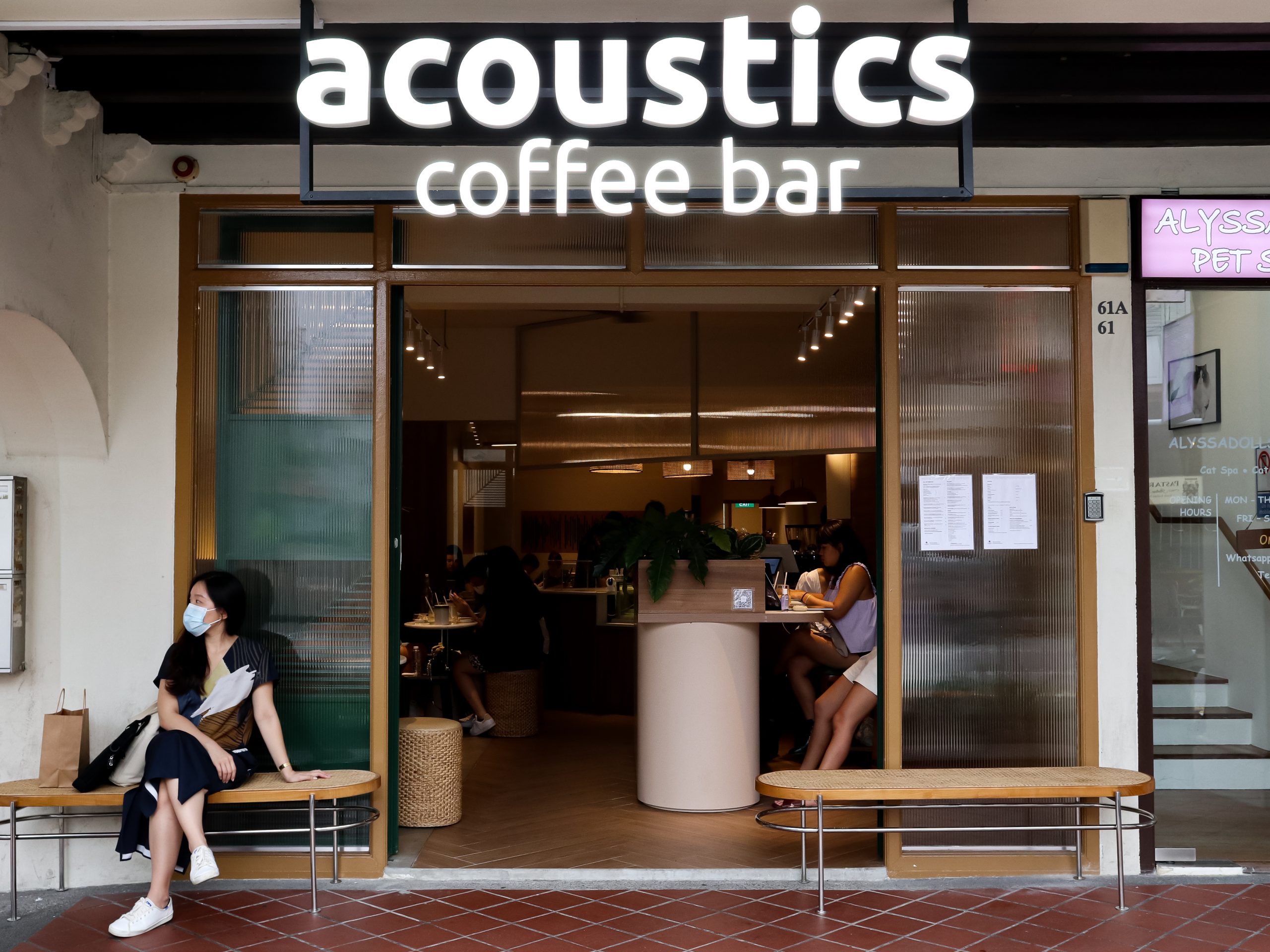 At 2:30pm on a cool Tuesday, the café was still bustling with activity.
Tucked away in Neil Road, Acoustics Coffee Bar is a 40-seater, music-centred café furnished with timber acoustic panels and fabric-covered walls that absorb background noise.
Although the café originally sounded promising, its ambiance was disappointing. I could still clearly hear other customers' conversations over the quality sound system that was playing calm and pleasant acoustic songs.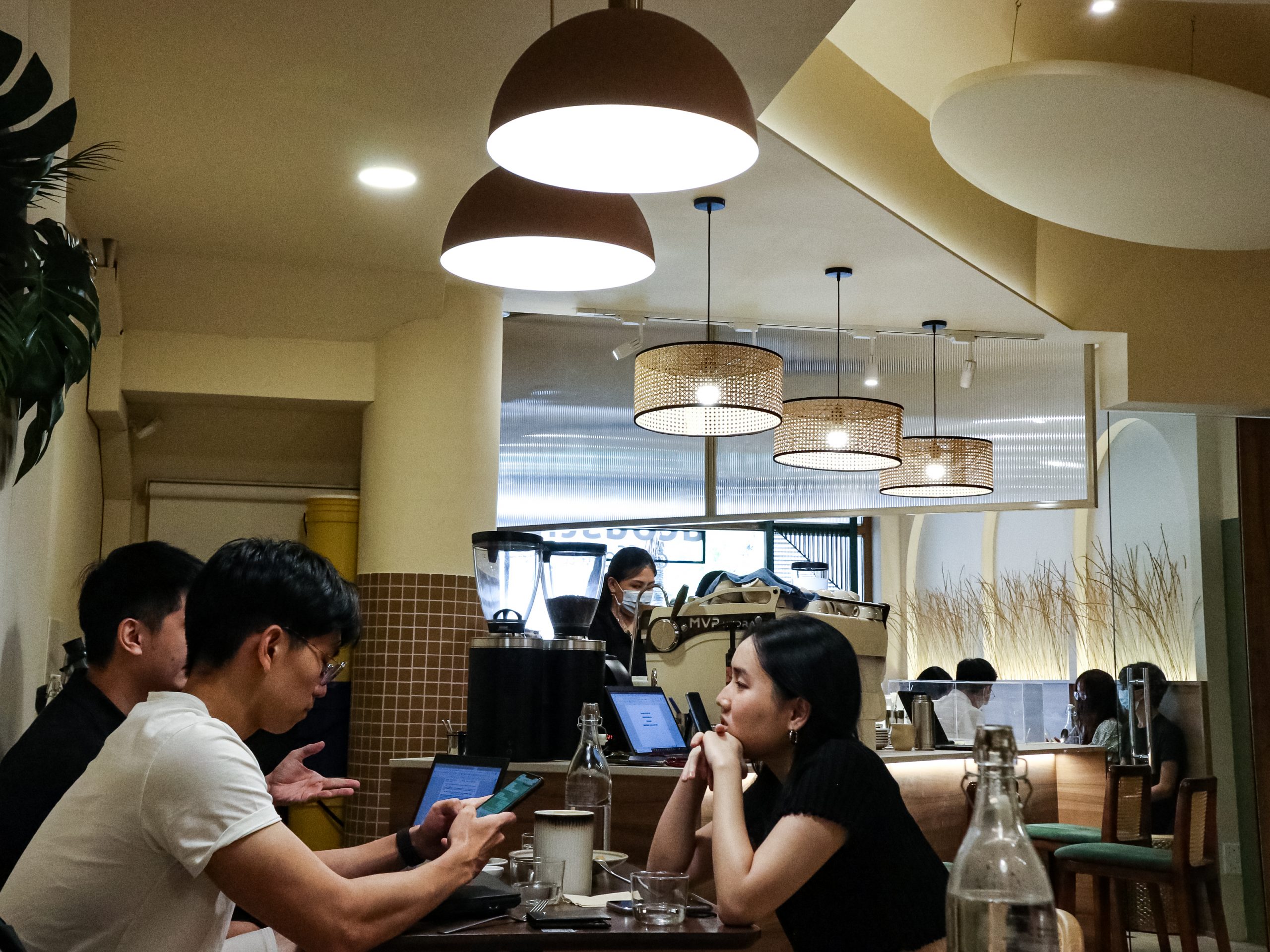 Many students are often seen with their laptops out at the café, enjoying a cup of coffee and using the many charging points available.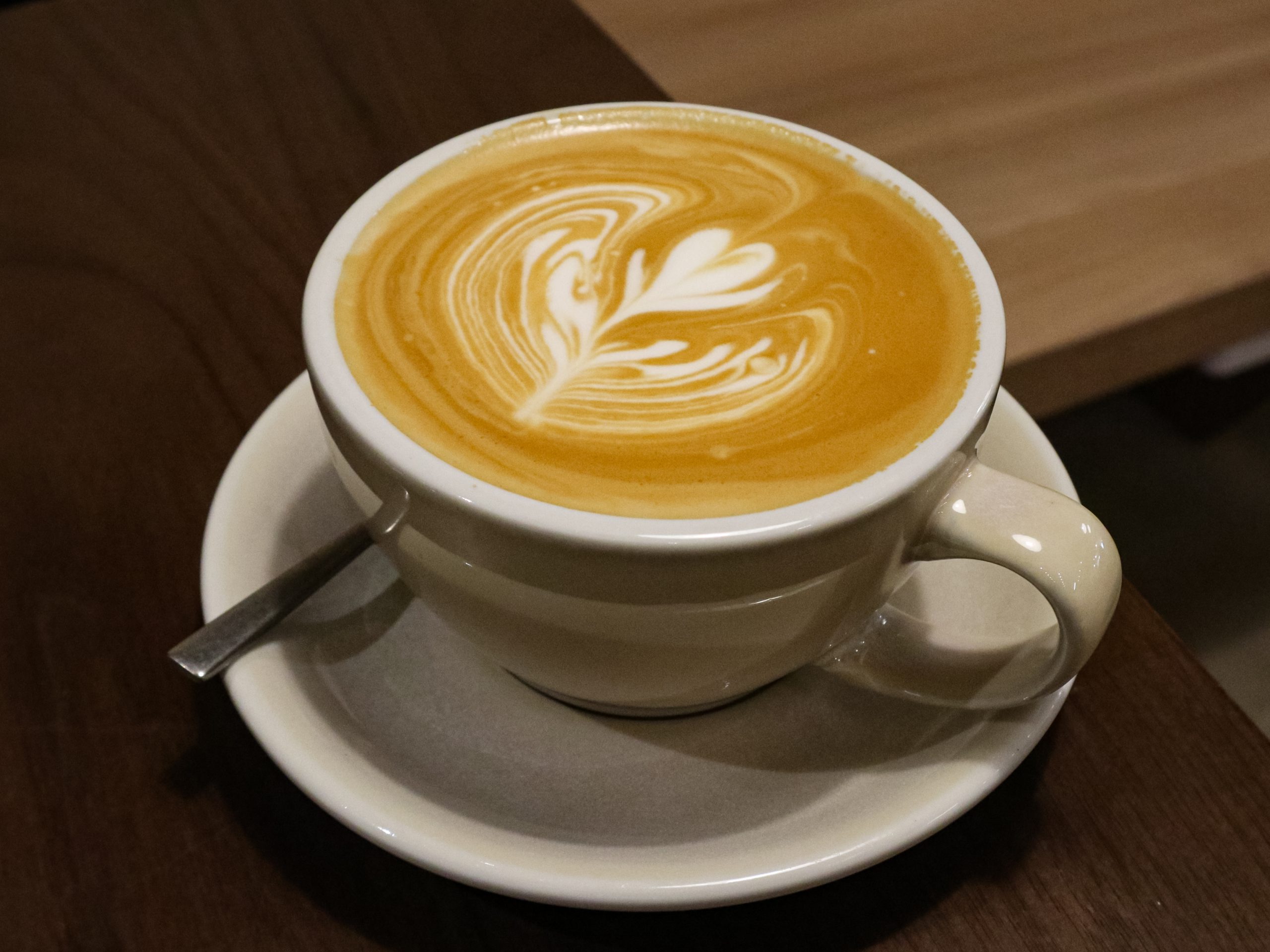 The experienced baristas were fast and swift making these beautiful beverages.
Known for its nutty, creamy and delicious flavour, the White is an espresso-based coffee that was made from Ethiopian beans with a medium to dark roast and blends nicely with smooth steamed milk. I ordered the beverage in the largest size available, which was priced at $5.50 for ten ounces.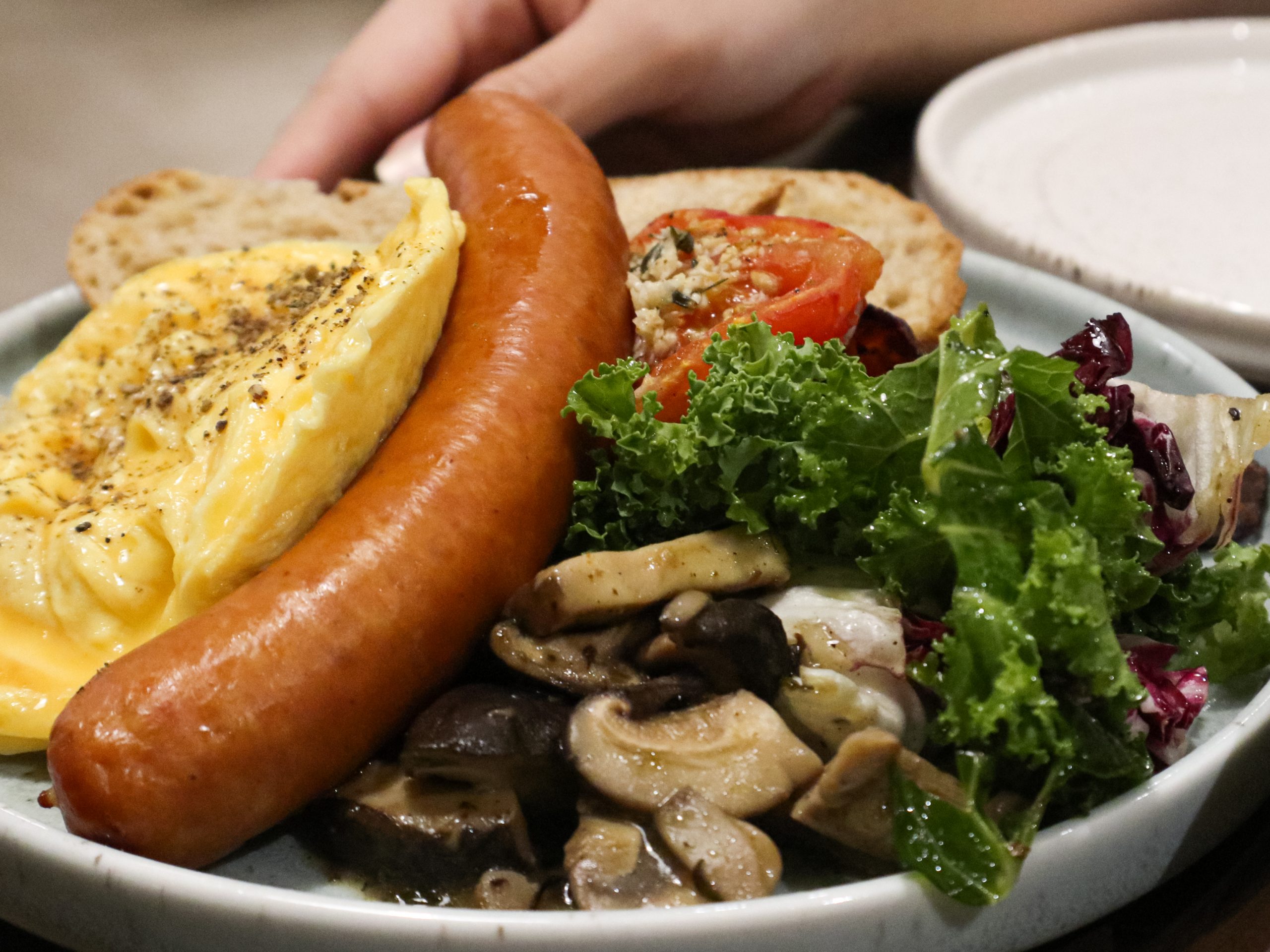 Breakfast At Acoustics includes a choice of egg (either ramen egg, scrambled egg, or sunny side up), cheese sausage, slow baked tomato, maple glazed bacon, roasted mushroom, kale salad and a slice of sourdough.
Acoustics Coffee Bar serves an all-day breakfast menu, with mains like the Roasted Chicken Pita Pouch priced at $14 available after 11:30am.
My sister and I ordered the two highly recommended items on the menu: Breakfast At Acoustics ($24.00) and Laksa Cream Pasta ($20.00).
Using flavours that are familiar to the style of a classic breakfast platter, Breakfast At Acoustics was delicious and a visual delight, albeit underwhelming on the palate.
Meanwhile, the Western twist on a local delight, the Laksa Cream Pasta, was extremely flavourful and an absolute delight to the gustatory senses!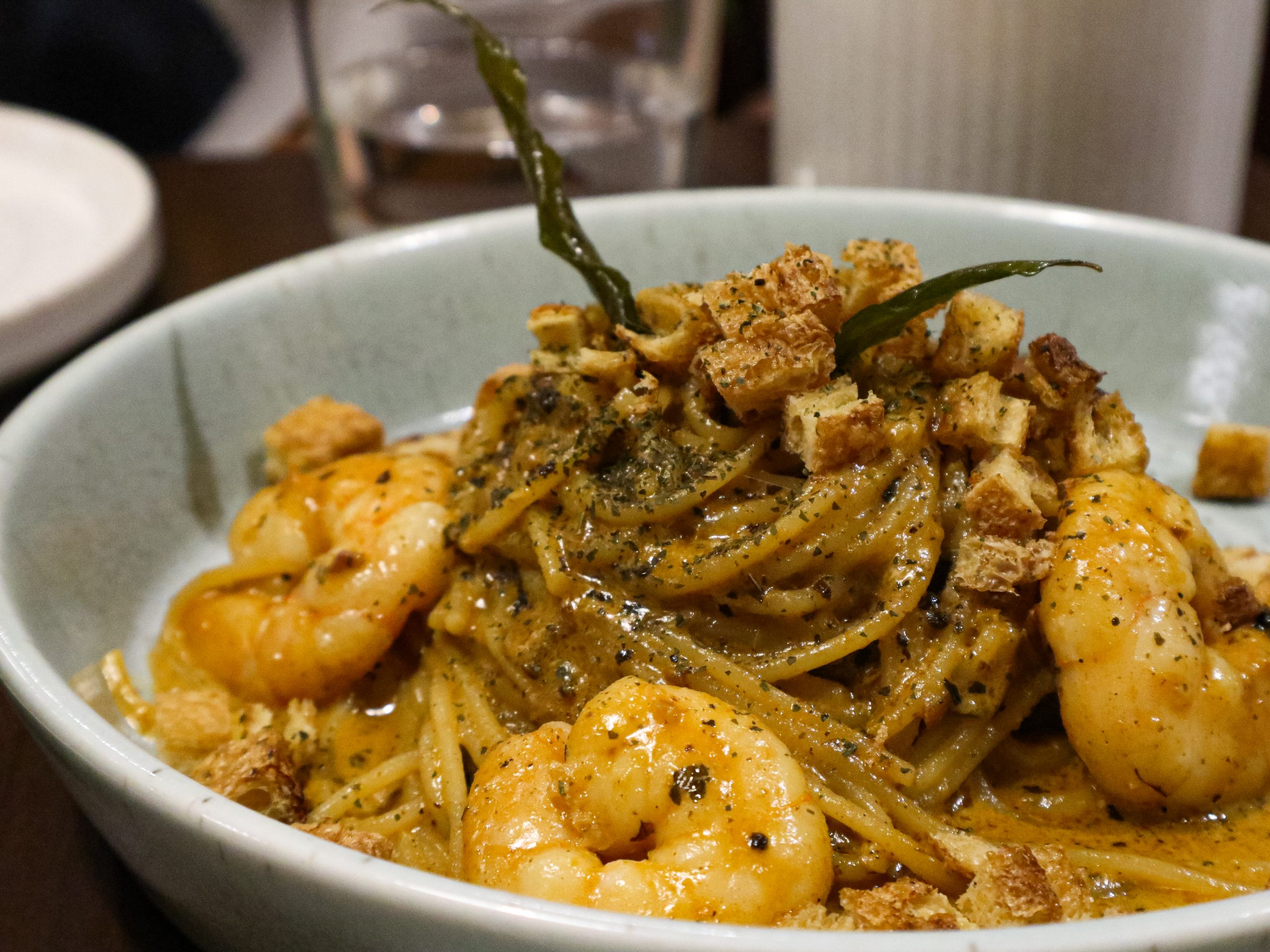 Laksa Cream Pasta is made with a creamy laksa sauce, al dente spaghetti, fresh prawns and topped with crispy fried tofu.
We wordlessly devoured the whole plate, noting the amazing combination of coconut cream, dried shrimp and spices. The other main dish was left untouched, sitting dejectedly in a corner until the pasta was all gobbled up.
The store is six minutes away from Outram Park MRT station, and 10 minutes away from Tanjong Pagar MRT station. Can't stand a sweaty walk under the sun? Maybe you'd want to find a cooler day to visit this café.
There's a charging point near every table; good news for every workaholic out there that needs a change of scenery. Acoustics Coffee Bar is a study and work-friendly space; just ask any of the friendly staff here for the password if you need access to their Wi-Fi.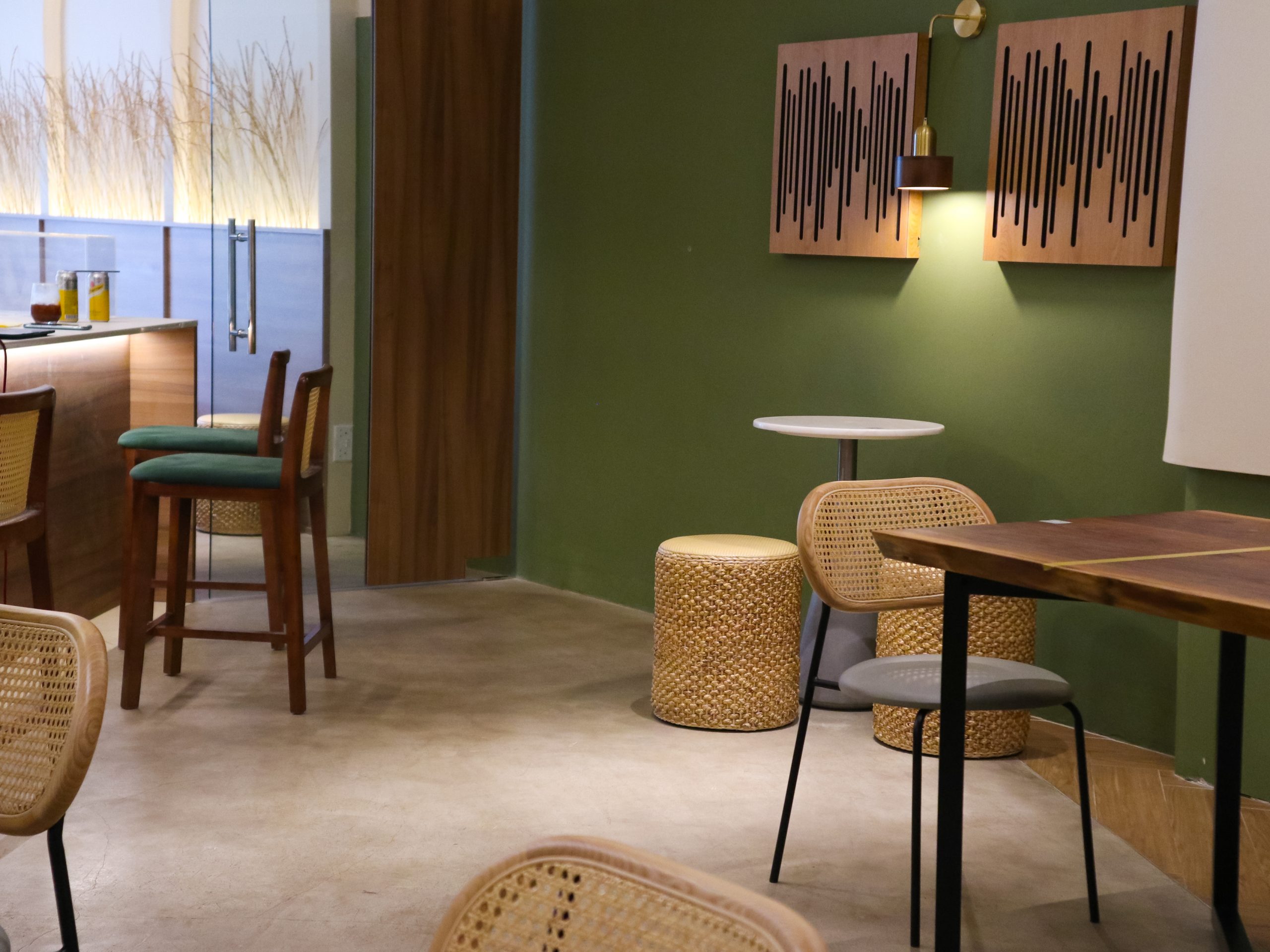 With earthy colours and natural materials decorating the space, combined with the scent of coffee brewing in the air, the café felt like a second home.
Food: 4/5
Ambience: 3.5/5
For Hanging Out: 4/5
Is it study/work friendly? Yes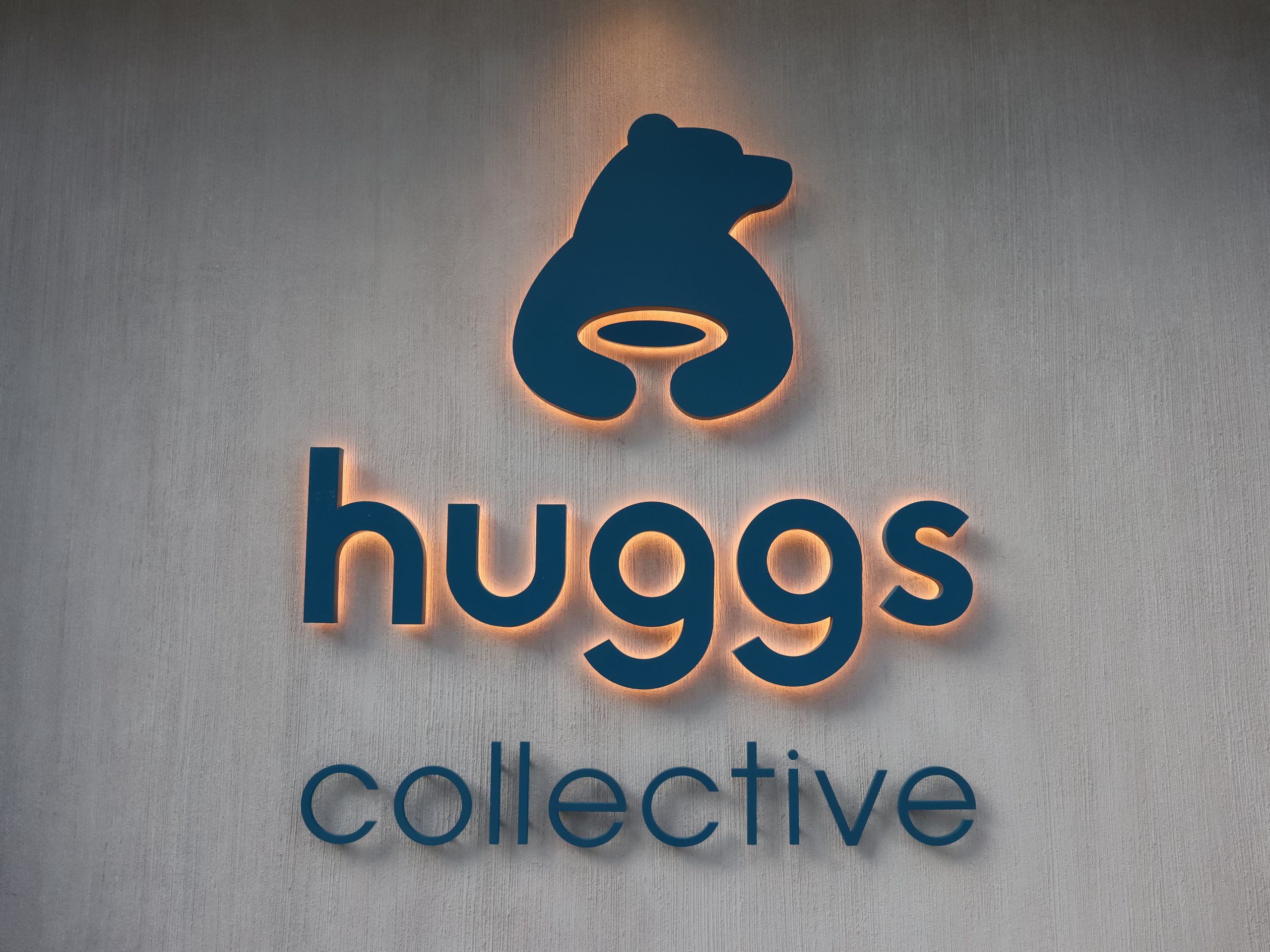 This is Huggs first flagship store that offers table service as well as a pet-friendly concept.
Homegrown specialty coffee brand Huggs has been a local company since 2008. On top of their flagship outlet launched in Thomson at the start of this year, they have now added a second Huggs Collective store at Maxwell.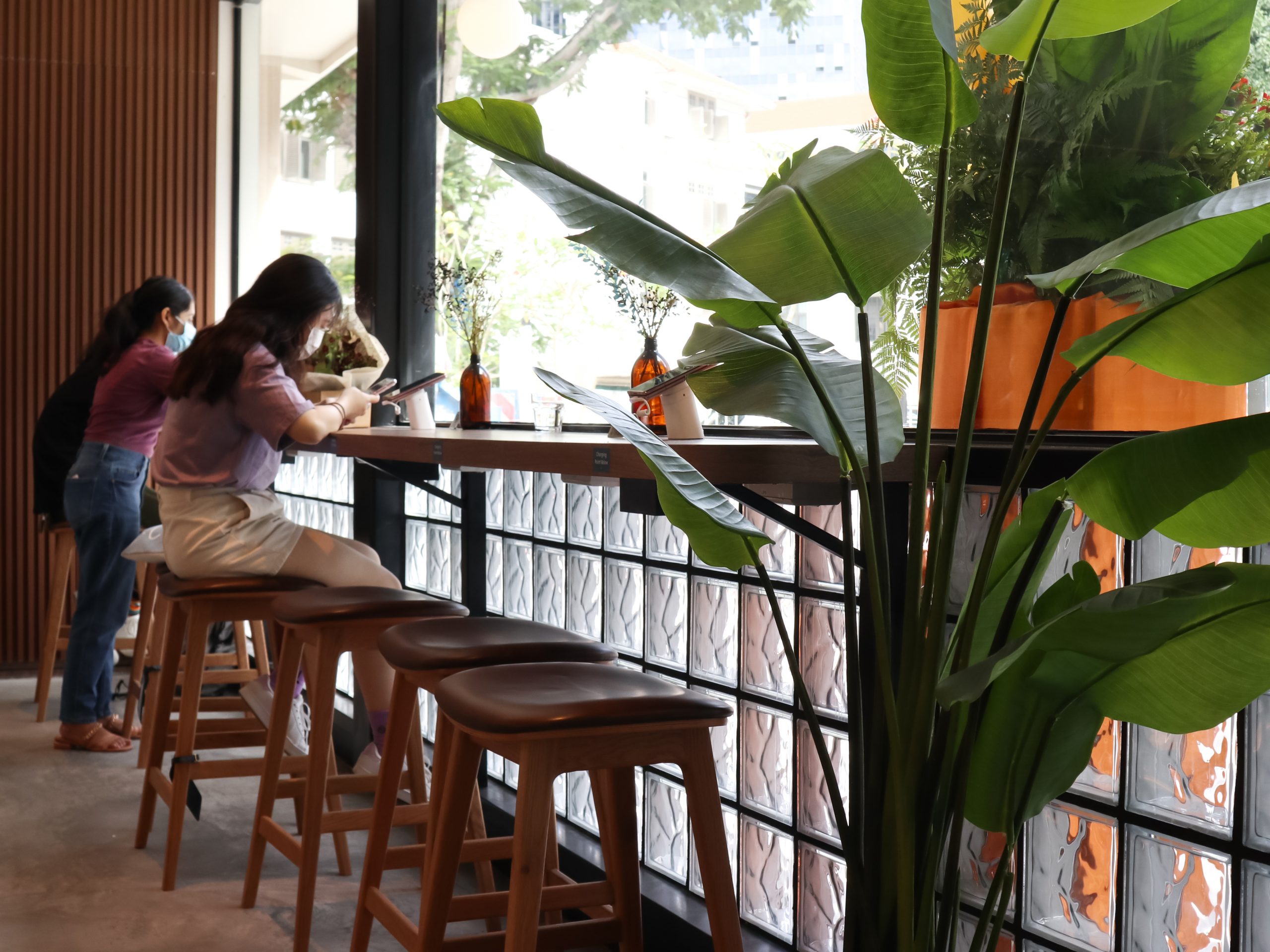 With no time to waste, the fresh reintroduction of five pax dine-in saw many students holding discussions and doing work in groups of four to five at Huggs Collective.
Standing at 3,000 square feet, their largest outlet holds space for a Huggs' members lounge, a mini-amphitheatre and a main dining hall.
The café is adorned with warm, earthy tones and beautiful plant accents. They make use of trendy Scandinavian designs to create a homey environment with a mix of complementary materials such as glass and metal with natural elements.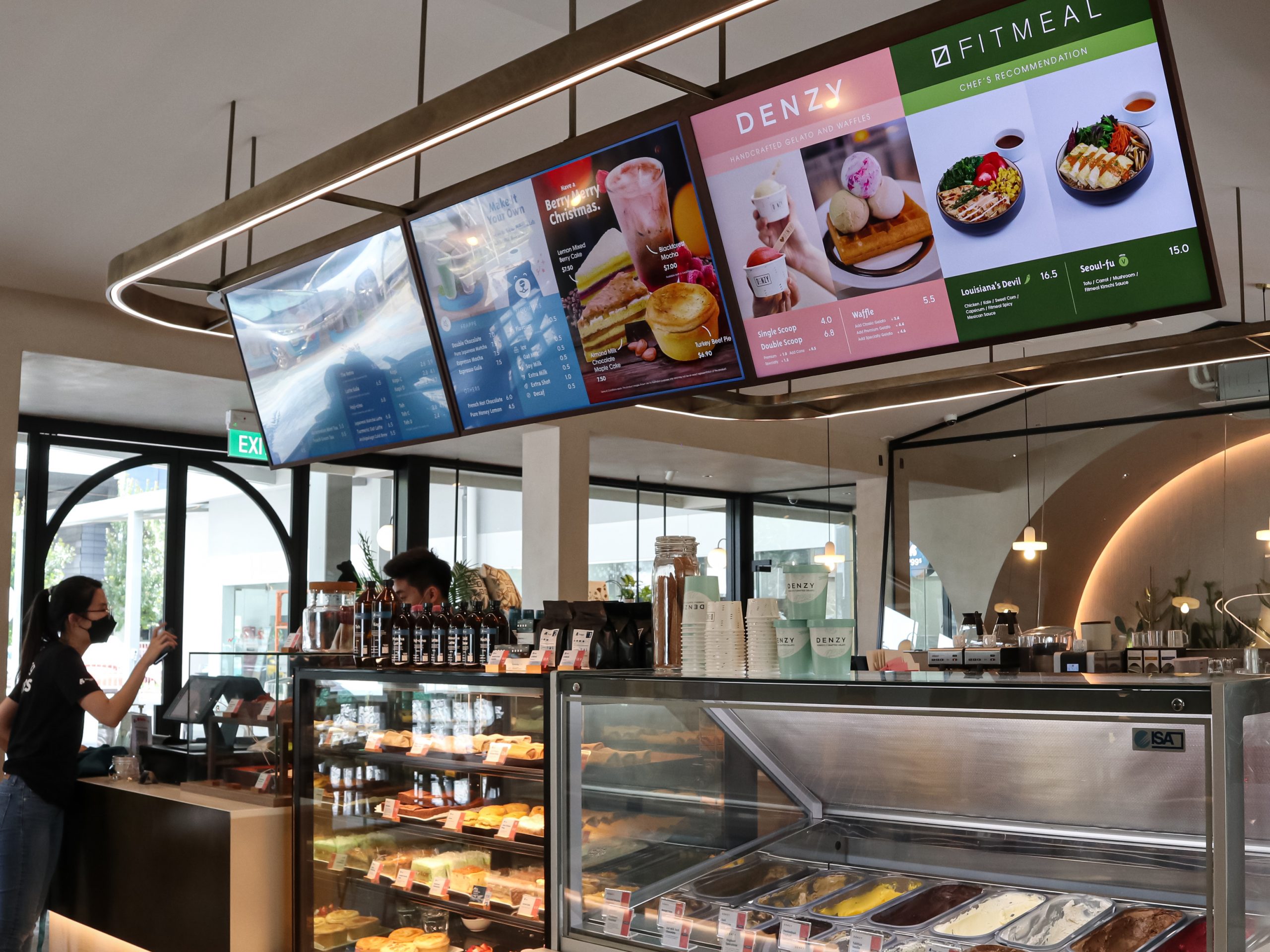 The coffee chain showcases a diverse menu by collaborating with brands like Fitmeal and Denzy Gelato.
If you're split between having a pastry break, a full meal or even dessert, Huggs Collective's menu has it all, and your stomach will definitely be spoiled for choice!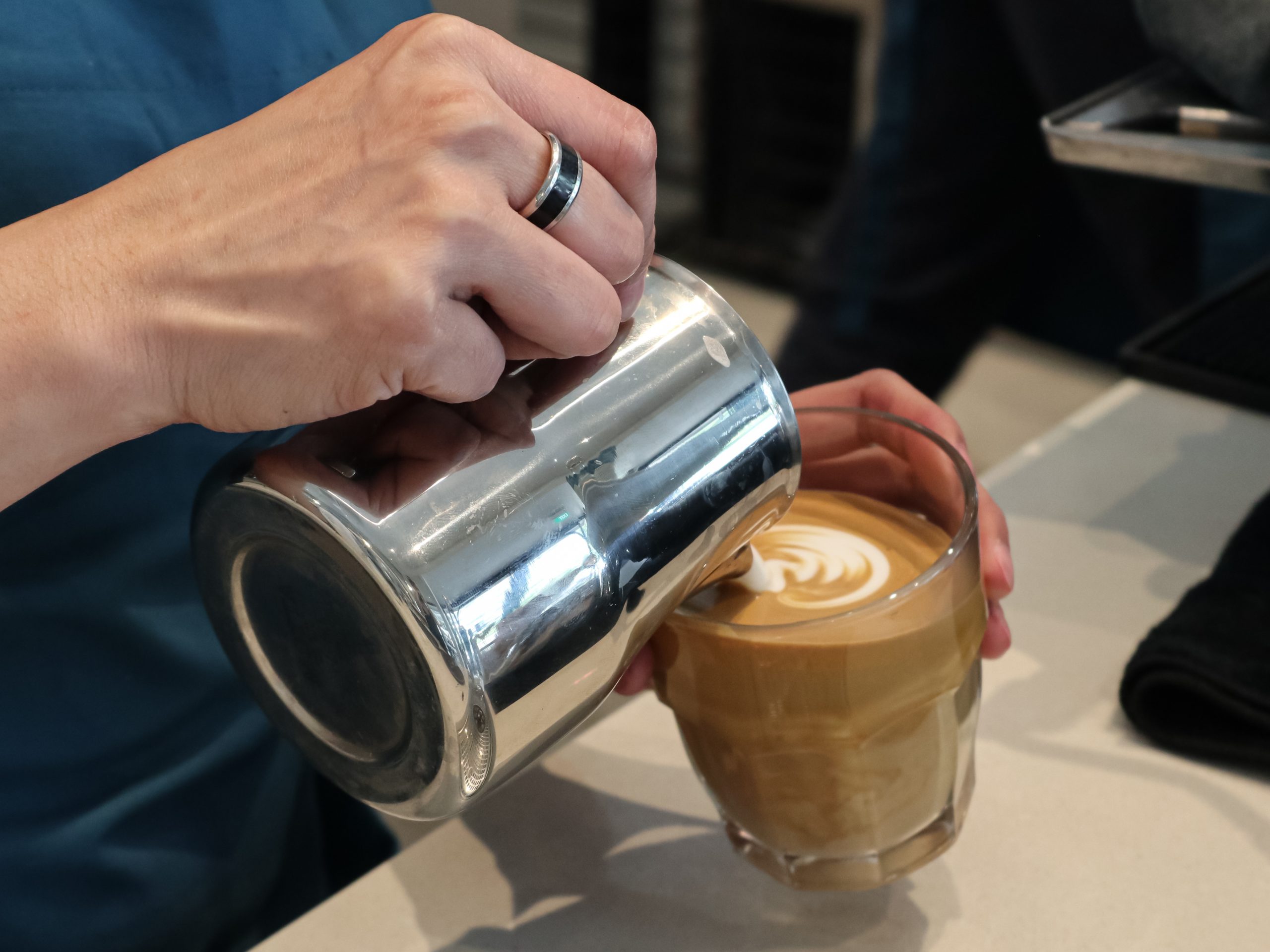 Their talented baristas produce drinks with beautiful intricate latte art designs.
Huggs Collective's classic espresso drinks are made from two different types of beans.
The H Blend is infused with a more chocolatey, fruity and floral flavour, while the K Blend offers coffee enthusiasts a more savoury and smoky chocolate flavour.
I would deduce that the H Blend is a safer option if you're a picky eater.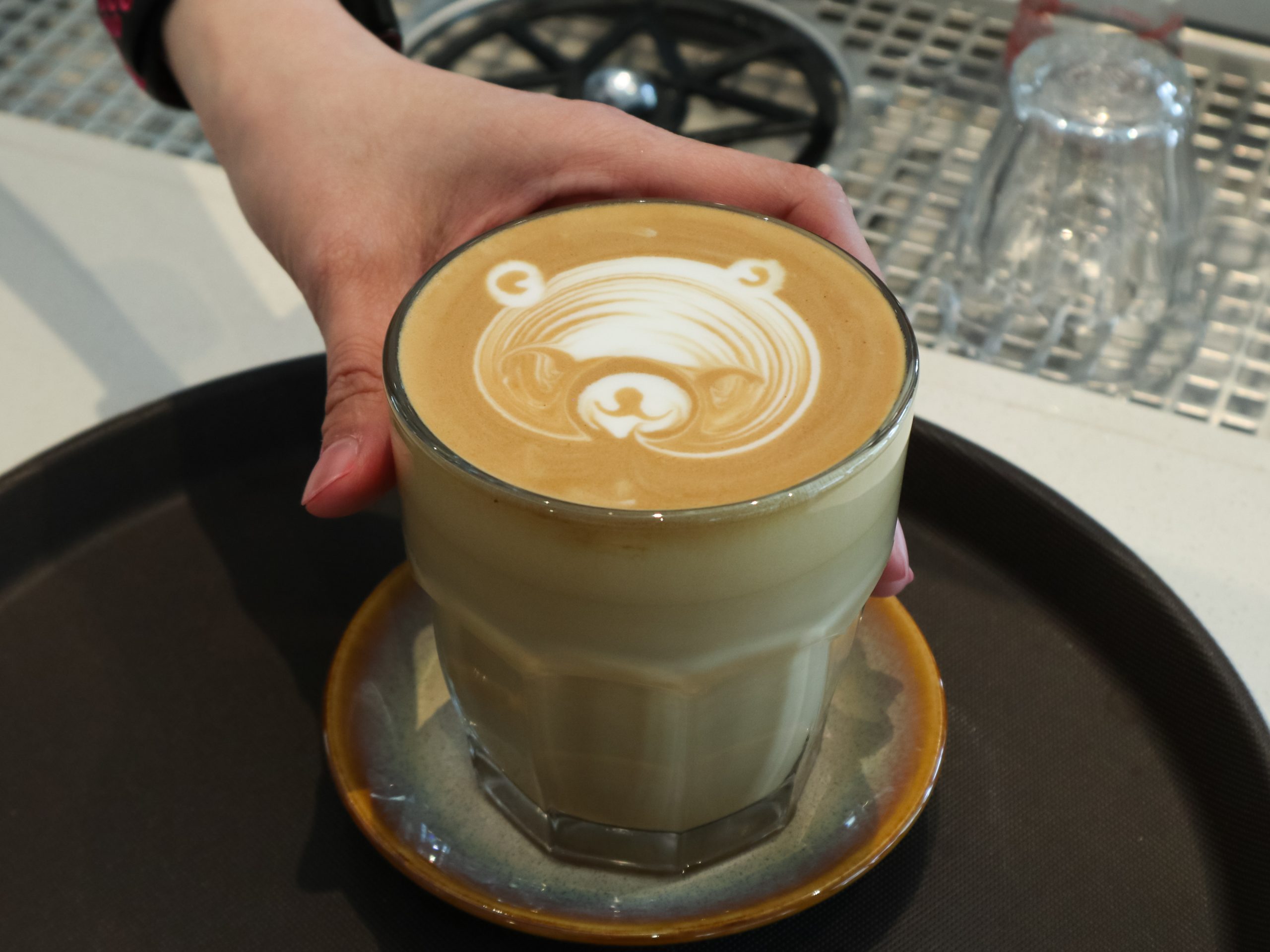 With a steady hand, the barista effortlessly poured out an adorable bear latte art design. I was reluctant to ruin the design with a sip.
I ordered the Classic Café Latte ($5.50) made from the H Blend, and was floored by the well-roundedness of the coffee. It offered a smooth medium-bodied flavour with chocolate and citrus notes.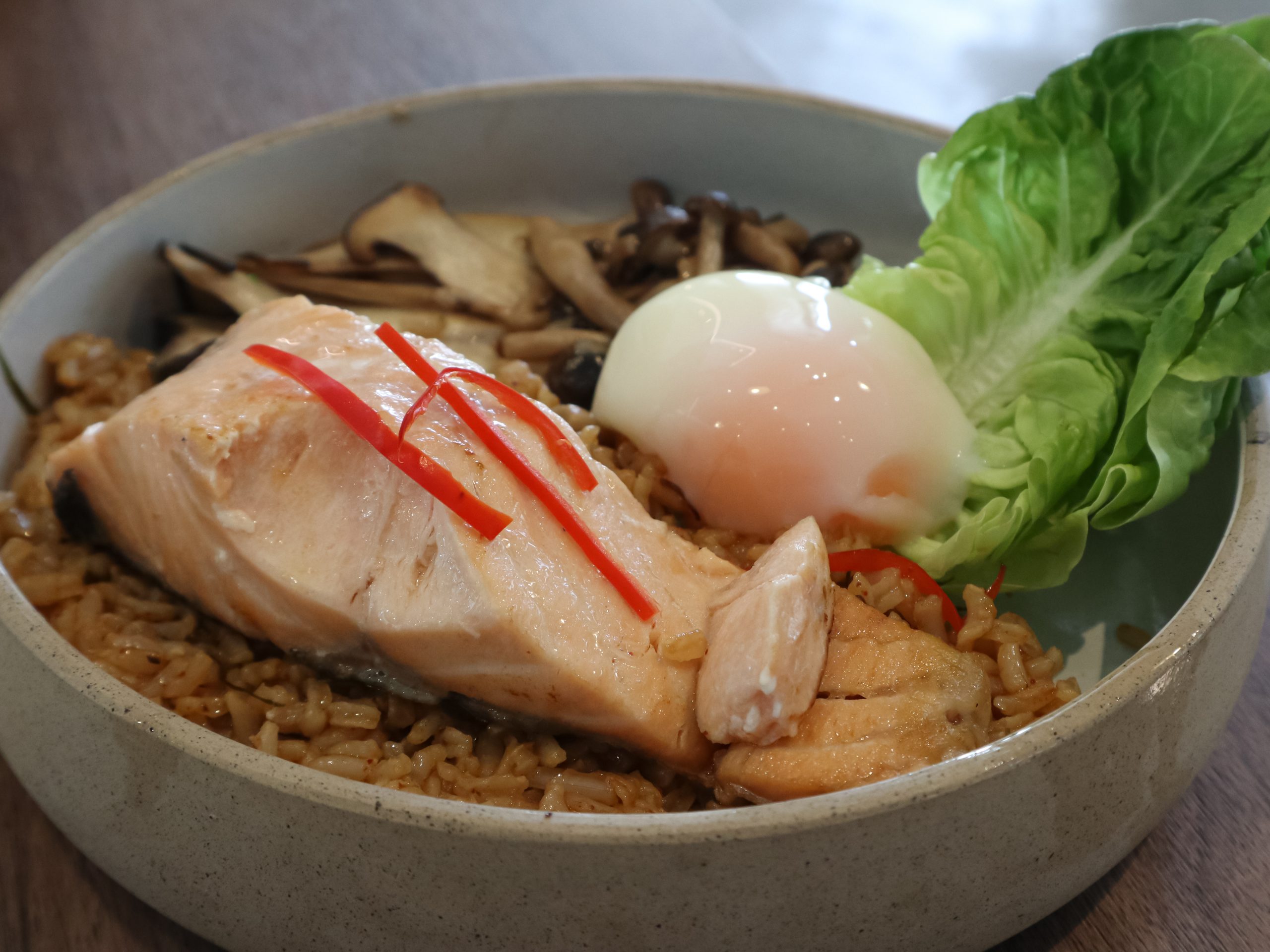 The Fried Tom Yum Rice comes with a salmon fillet, onsen egg, stir-fried mushroom mix and fried tom yum brown rice.
When asked for recommendations on their main dishes, the staff advised me to try dishes from Fitmeal's Thai-Western fusion menu. I decided to go with the crowd favourite, Huggs Collective's Fried Tom Yum Rice ($17.00).
The dish itself is guilt-free, but it does not taste overly healthy, perfect for a glutton like me. The fragrant herbs and spices were delectable, and the brown rice retained the complex sour and savoury flavours of the original soup.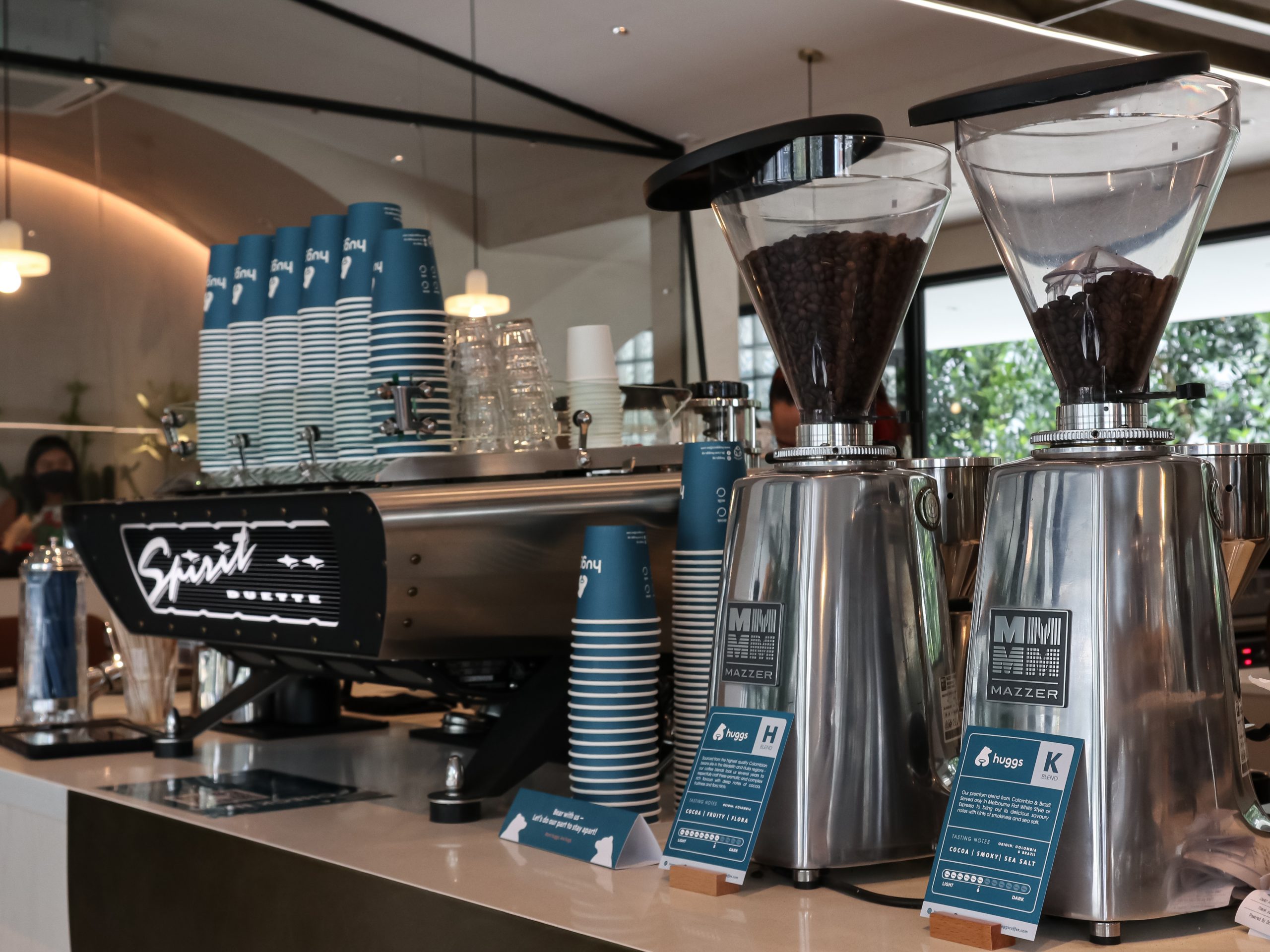 A stunning barista counter set-up greets customers at the door.
A cool four-minute walk from Tanjong Pagar MRT, this café is extremely easy to locate and visit, even on a hot day.
They provide ample seating, perfect for a meal with friends and family on a busy weekend. The Wi-Fi is free, and if you're looking to get some work done, this might be the place for you!
Food: 4/5
Ambience: 5/5
For Hanging Out: 5/5
Is it study/work friendly? Yes

The well-loved, modern Hong Kong-style bolo bun specialty shop has opened its doors at Tanjong Pagar.
With the success of its booths at the Yummy Food Fair, World Food Fair and Singapore ArtBox, the local bolo bun brand Champion Bolo Bun has finally opened its flagship store in the heart of town at Tanjong Pagar.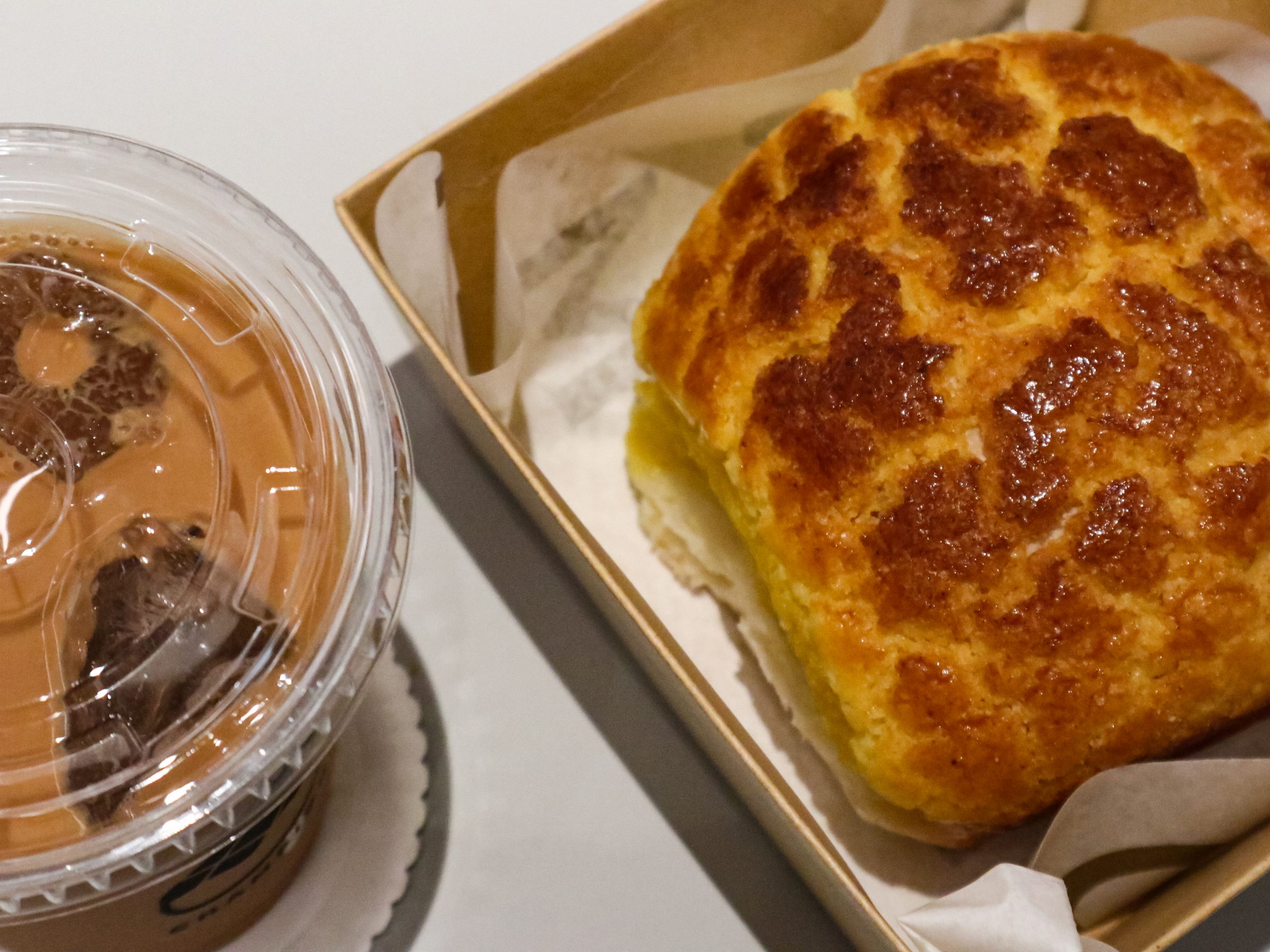 The crunchy golden cookie crust easily made this the best bolo bun experience I've had in Singapore.
The pineapple bun, better known as bolo bun to locals, is a popular Hong Kong pastry with a crispy, golden-brown cookie crust resembling the diamond pattern on a pineapple. Contrary to its name, this tasty pastry contains no pineapples!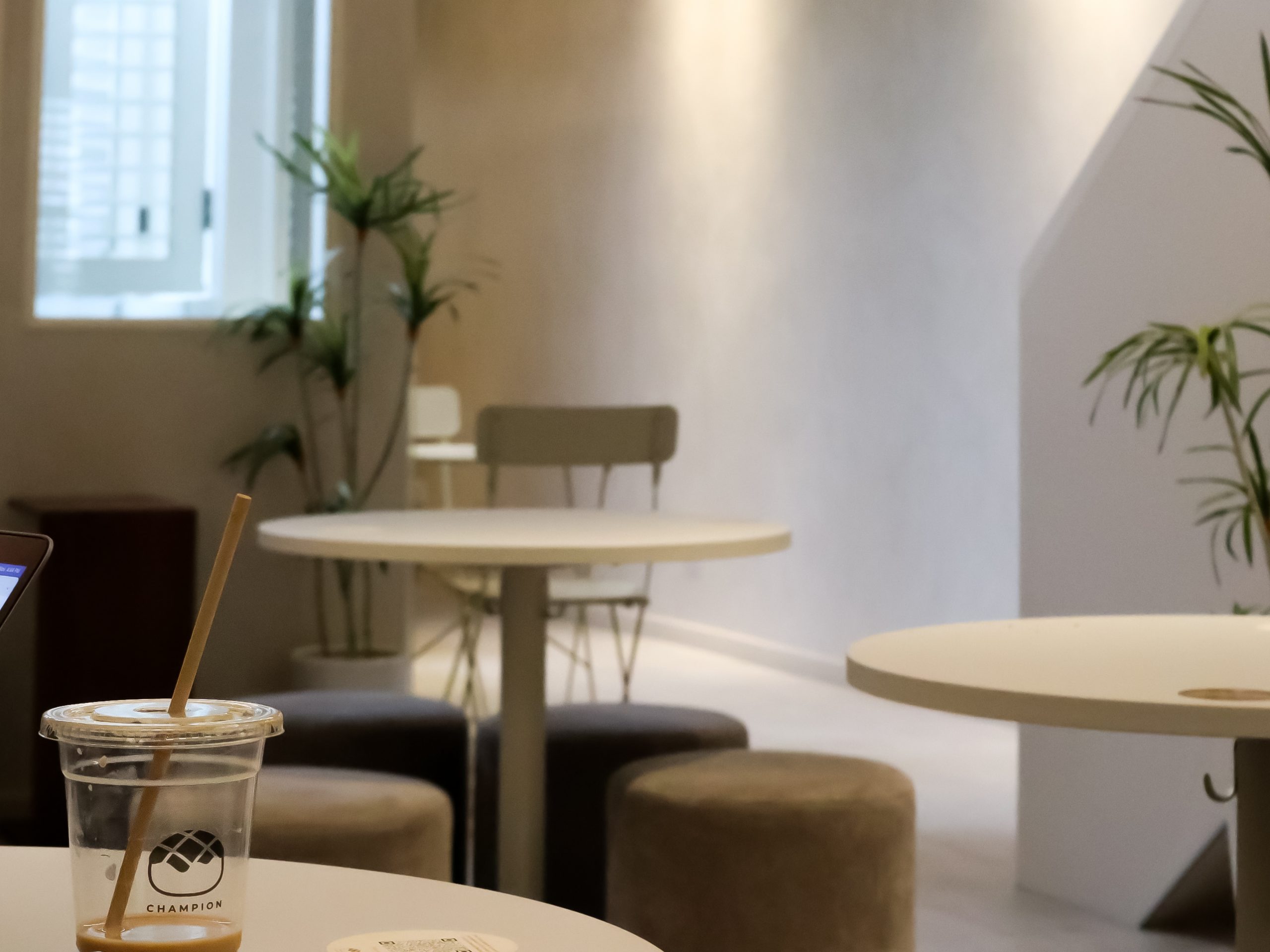 Other patrons in the store include adults seeking a fresh environment to take work calls and students looking for a stimulating space to finish their work.
The café is a unique shophouse-style eatery that has three floors with plenty of seating. The first floor is small and cosy, while the second and third floor are more spacious and intimate.
The modern décor includes popular minimalist styling mixed with traditional accents and contemporary features, like the lime-wash paint that envelopes their entire interior.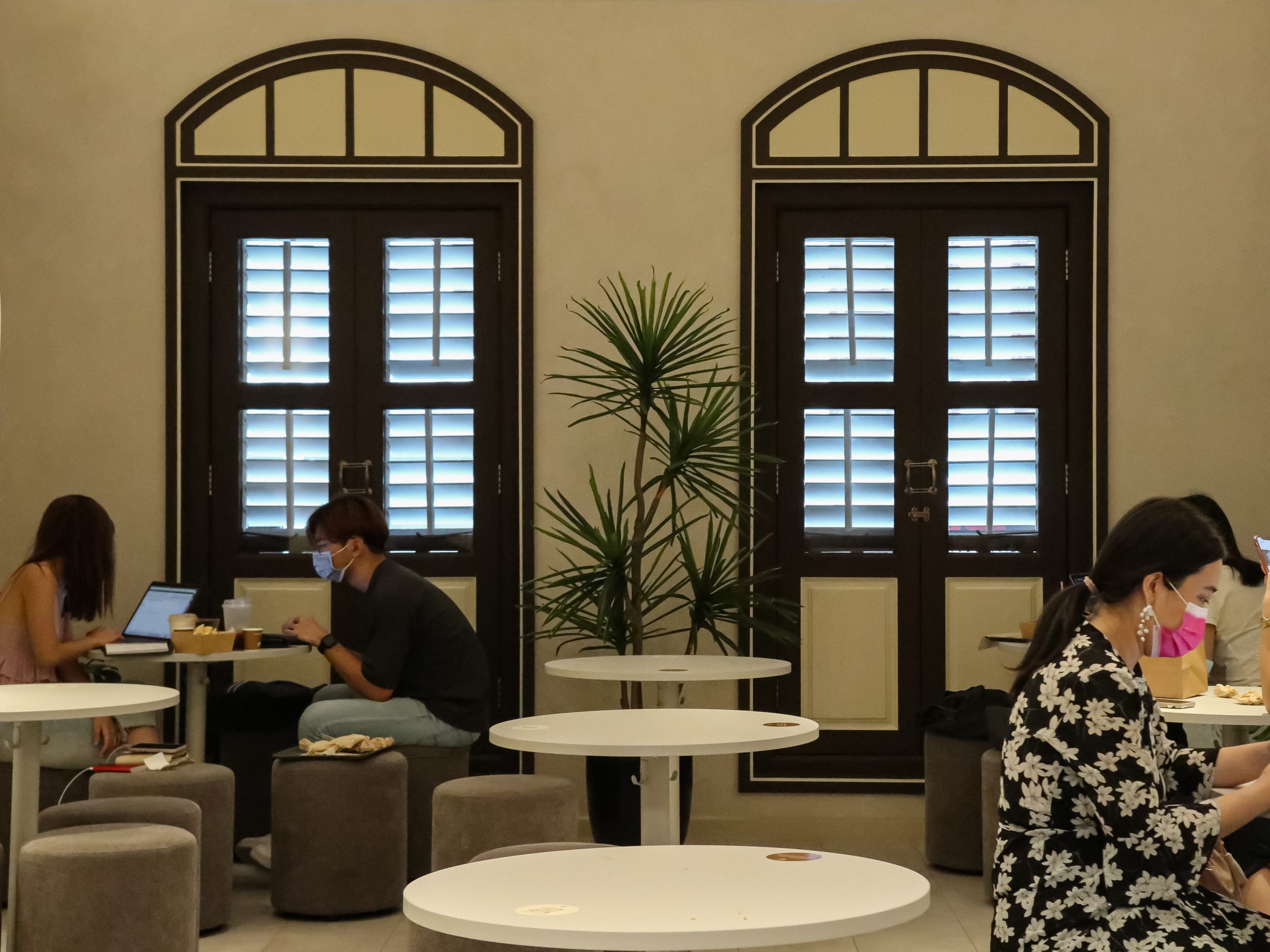 The cool backdrop is made cosy with natural sunlight streaming through the windows, plants propped between tables, and rattan-like furniture.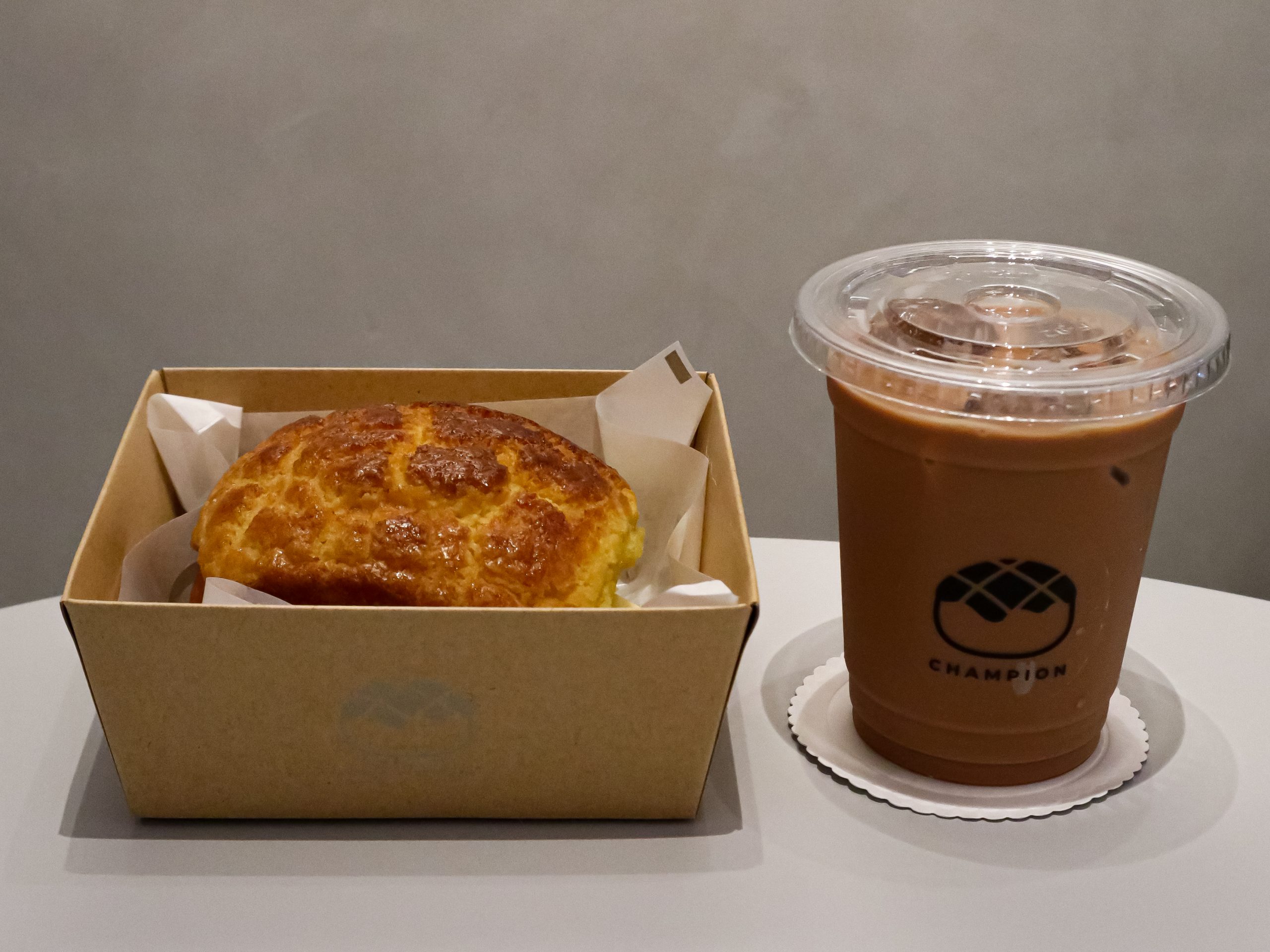 The café's 10-item menu consists of Hong Kong-style bolo buns and espresso-based drinks.
We tried out two bestsellers, their iced Signature Milk Tea ($6.00) and Classic With Butter ($5.00), a bolo bun stuffed with a wedge of butter.
The Signature Milk Tea was a Hong Kong-style milk tea; perfectly sweetened and extremely fragrant. The strong flavour of the tea was akin to a traditional blend and was extremely refreshing considering the humid weather.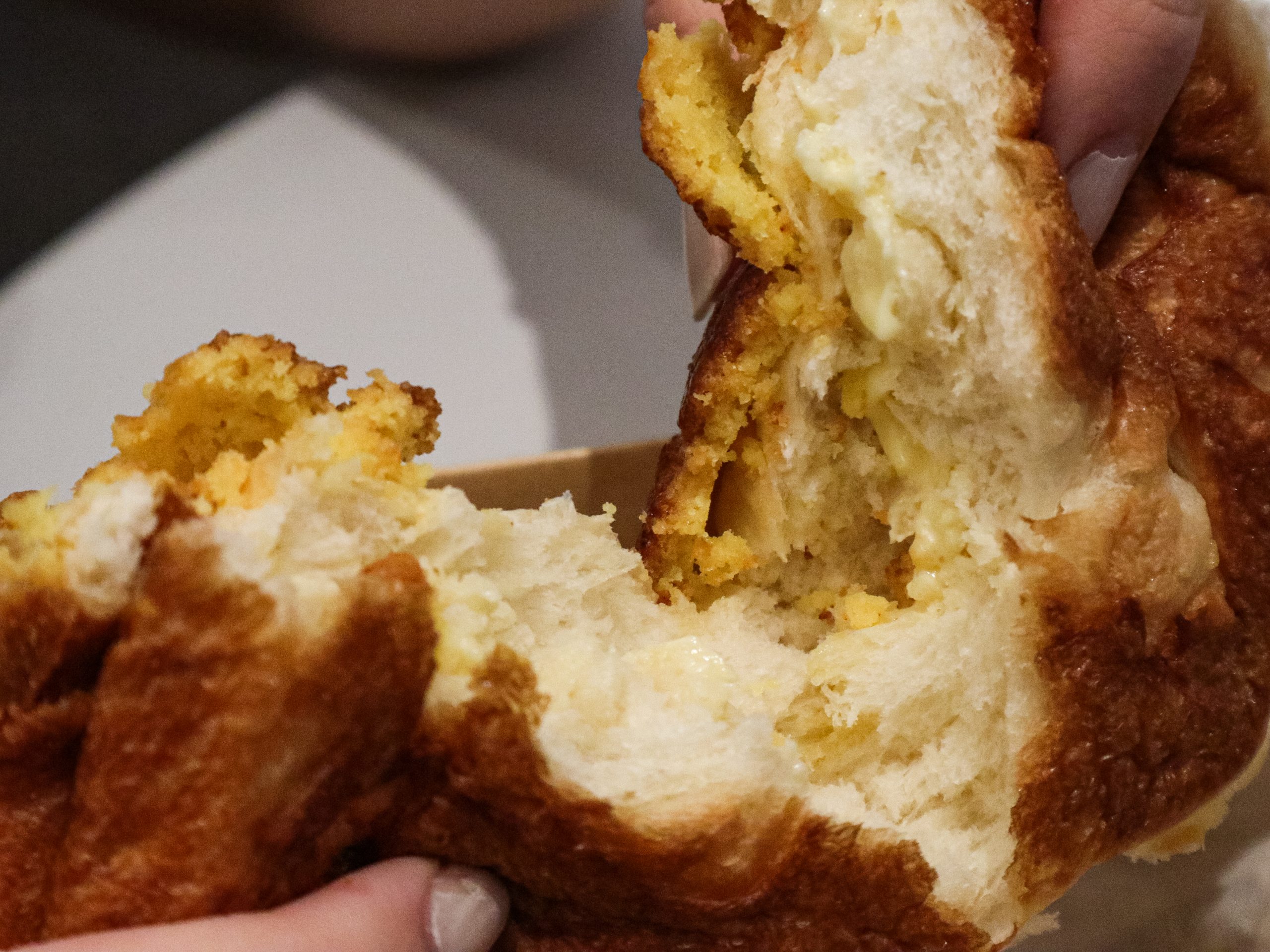 The slab of savoury butter perfectly complements the sweetness of the bun.
The Classic With Butter lived up to its hype! The bread was light and fluffy, and the butter offered a burst of flavour. The blend of savoury butter and sweet cookie crumble was simply delightful!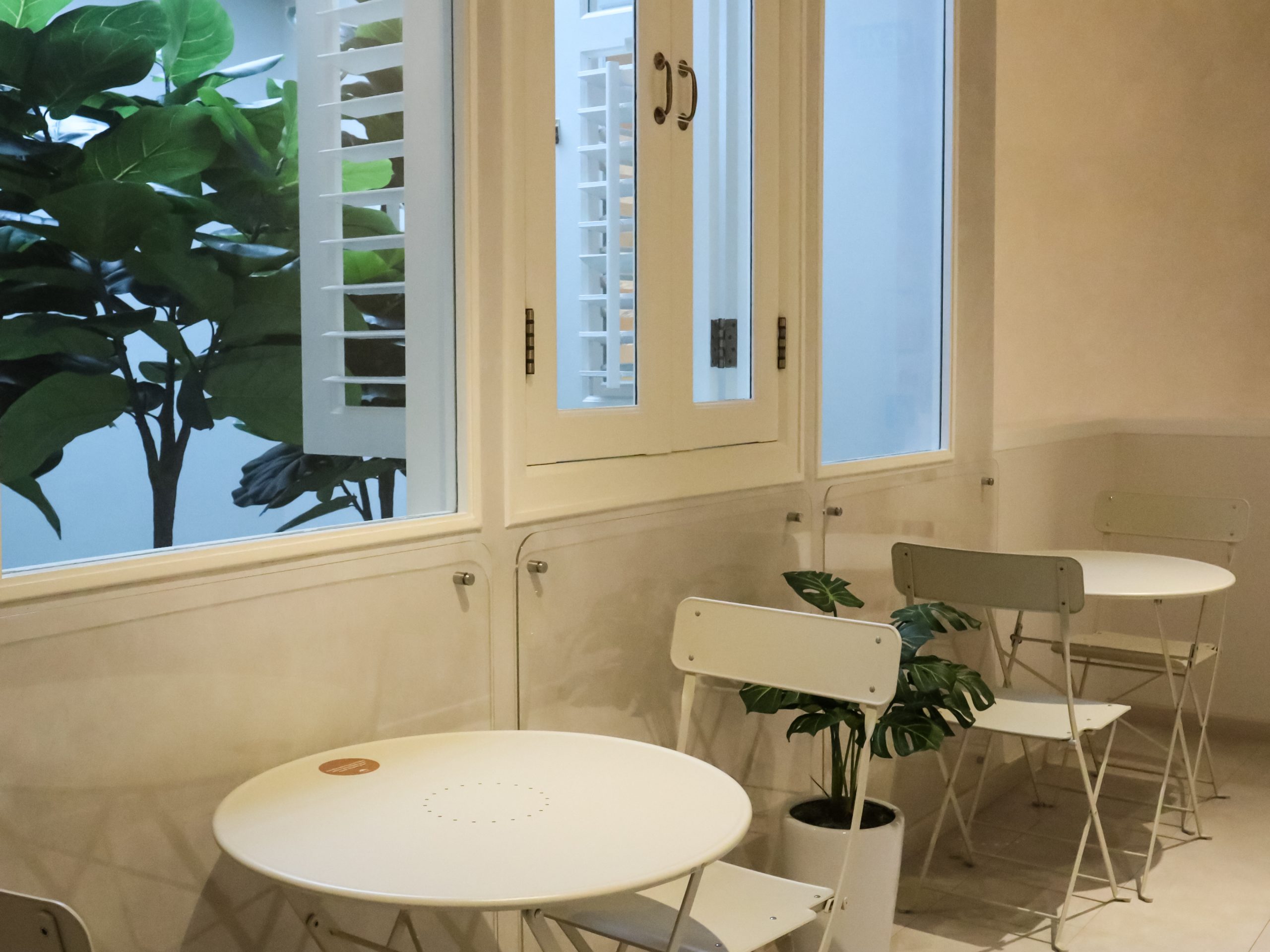 The comforting Scandinavian aesthetic allows customers to experience a conducive atmosphere for work or a midday snack.
The quiet and intimate environment of the café provides a quality space for discussions, post-meal conversations and a quick catch-up with friends.
Stationed between other shophouses along the bustling Tanjong Pagar Road, their flagship store is only five minutes away from Tanjong Pagar MRT station, a great match if you are a lazy human like me!
Food: 5/5
Ambience: 5/5
For Hanging Out: 5/5
Is it study/work friendly? Yes

I believe that cafés with unique concepts are part of an increasing number of new F&B stores developing brilliant ways to connect with Singapore's loyal food fans.
These shops are not only connecting consumers to communities with the people they dine with, but also to the ever-evolving communal love for varied food experiences in Singapore.