Sasha Ling explores the impact of the fast fashion industry and finds out how we can be more conscious consumers of fashion.
Garment workers at their workstations at a clothing factory in Ciawi, Bogor, West Java, Indonesia. Image taken from Unsplash.
BY
Sasha Ling
Lifestyle Section Editor
Hype Issue #54
Published on
November 24, 2021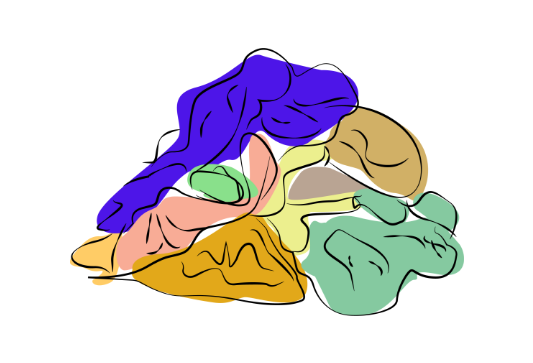 The e-commerce revenue from apparel and footwear in Singapore skyrocketed eightfold between 2016 and 2019, from $52 million to $442 million. With the prices of clothing dropping to their lowest in a decade, it is no wonder that people are buying more: the number of garments purchased by the average shopper each year grew by 60 per cent between 2000 and 2014 alone.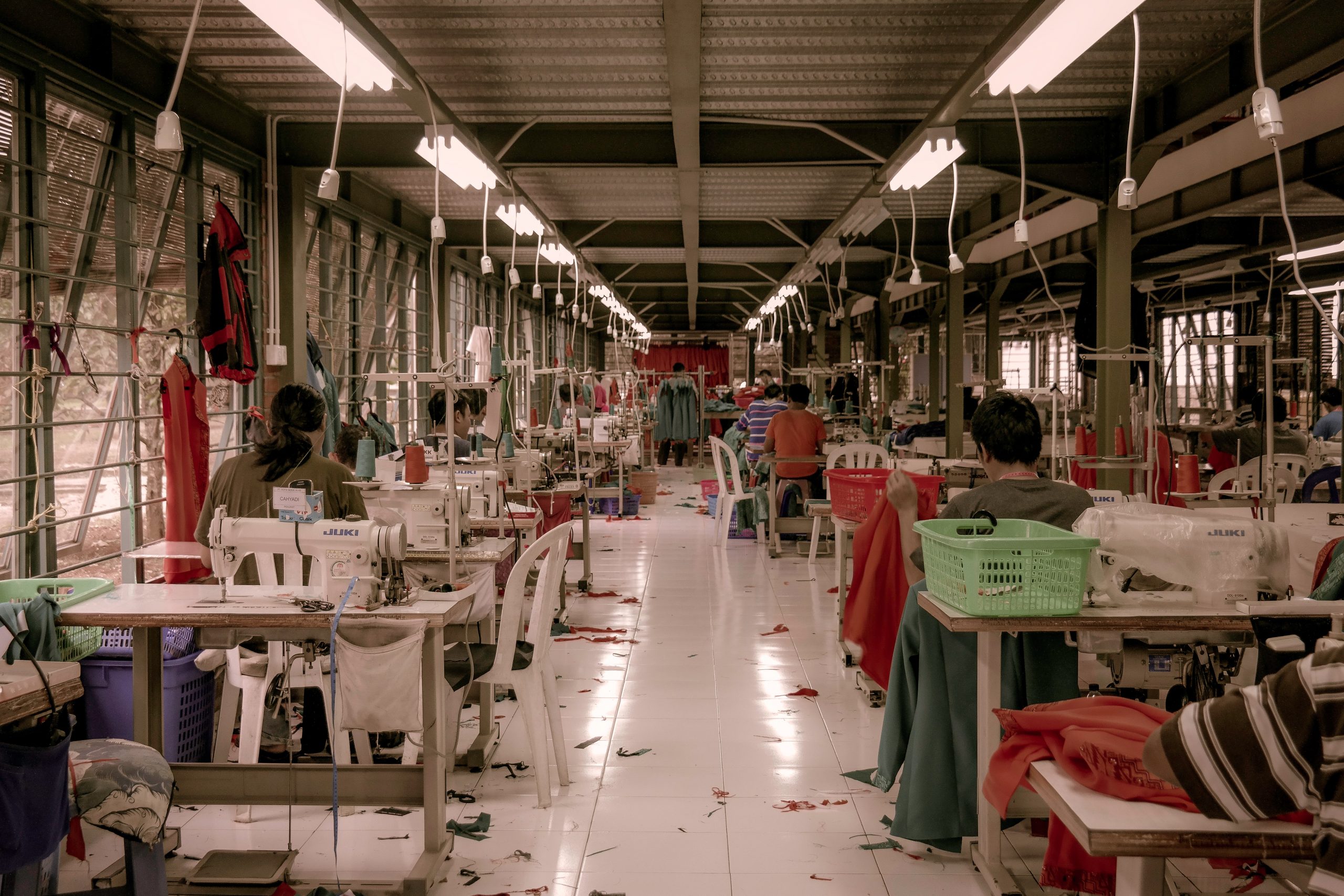 Garment workers at their workstations at a clothing factory in Ciawi, Bogor, West Java, Indonesia. Image taken from Unsplash.
However, there is a hidden cost behind these low prices. Fast fashion companies often have unethical labour conditions throughout their supply chains, including child labour, low wages, and health and safety hazards. Additionally, the fashion industry released 2.1 billion tonnes of carbon emissions in 2018, which is more than the airline and shipping industries combined.
Incidentally, aside from the environmental and social costs behind these low prices, people pay a hefty price when they buy more clothes than they require.
Xingyun Shen, 24, wearer of clothes and sustainable fashion advocate behind the page @noordinaryprotest on Instagram, pointed out that the fast fashion industry is almost entirely driven by the narrative that consumers are "scoring a good deal and buying something for less than it should cost".

Skirts, shorts, tops and dresses for sale at prices as low as $7. Screenshot from Shein website.
With the rise of online-based fast fashion retailers like Shein selling clothing for as cheap as $3, consumers are swayed to buy more, resulting in an overabundance of clothing. A survey done by YouGov in 2017 revealed that a third of Singaporeans have thrown away clothing after wearing it just once.
Ernest Ang, 20, the director of second-hand clothing store Just Cargos, said: "During the pandemic, people started going through their closets [and they realise that] there's a portion of clothing that has never been used or barely been touched."
It is a common experience to only wear the same few pieces of clothing despite having a wardrobe full of them. Ironically, this creates the illusion that we need more clothing because we choose to wear only those few pieces: the essential ones.
This cycle then repeats itself, as we buy more clothes again to make up for the "little" clothes that we have. We eventually face the perpetual burden of having too much clothing and yet, still having "too little".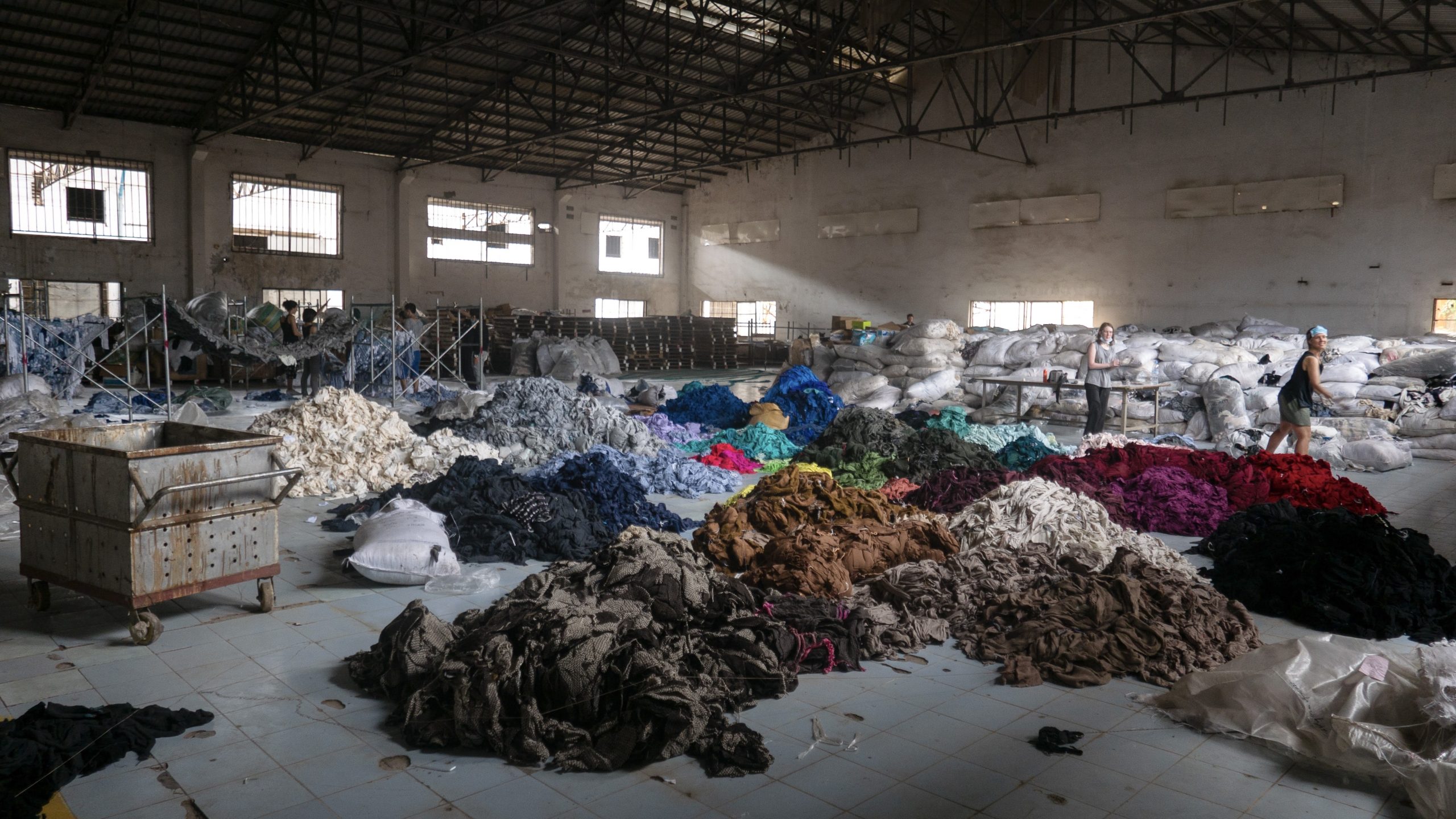 Workers sorting through hundreds of tons of abandoned clothing for a social mission called Clothing the Loop in Phnom Penh, Cambodia. Image taken from Unsplash.
In recent years, an increasing number of Singaporeans are gravitating towards more sustainable options. Among Generation Zs, vintage and secondhand clothing have become trendy.
Although secondhand clothing is a more sustainable option, if consumers still haul it the same way as they would firsthand clothing, the act of overconsumption remains.
Xingyun quoted Aja Barber, a fashion activist and writer: "At the end of the day, it is about a culture change, not a haul change."
At the end of the day, it is about a culture change, not a haul change.
Even if secondhand clothing is more sustainable, overconsumption is still overconsumption. As a result, the conversation surrounding sustainable fashion should move away from how we can be more sustainable in the form of (yet again) buying something, but how we can simply buy less.
"Just buy what you actually need and not what you want," Ernest advised.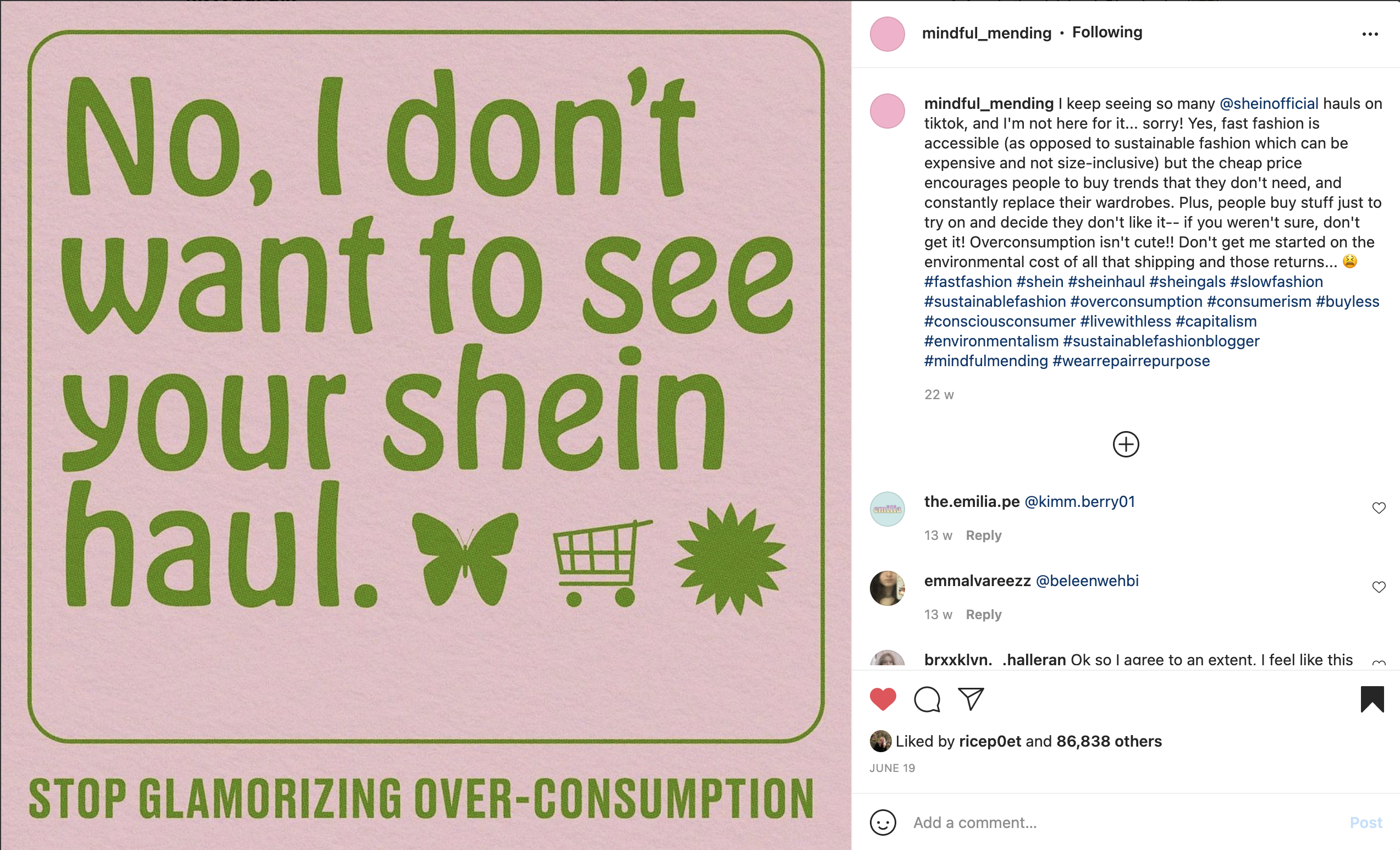 Commentary on massive Shein haul videos trending on TikTok. Screenshot from Instagram.
Additionally, for those who don't have disposable income, buying from fast fashion brands might be the only option because of their affordability and accessibility.
"When you only focus on buying better and raising awareness about buying better, you're only speaking to a very small number of consumers who can afford to buy better," Xingyun said.
However, the truth is that everyone can play a part and can be more sustainable just by accepting that the most sustainable option is already in our wardrobe.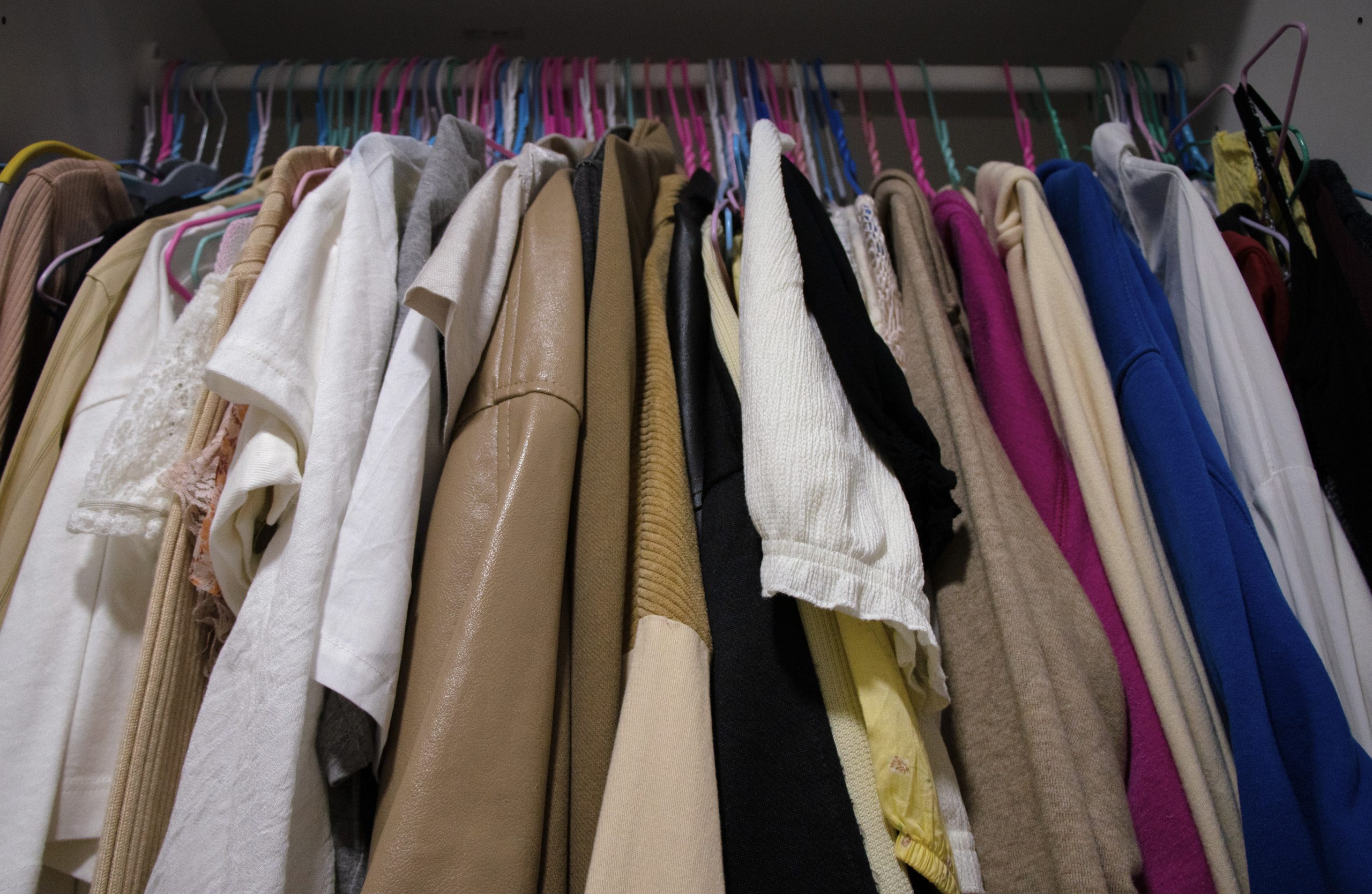 Before thinking about buying "more sustainably", why not try styling a piece you already have differently? Photo by Sasha Ling.
To do that, Xingyun suggested that we "unlearn and relearn" our relationship with our clothes, tie our value system to the clothes that we invite into our lives and re-examine how our clothes serve us.
"What we need is a culture change…to wear your values, not to buy your values," she added.
When we have a developed understanding of what our clothes mean to us, we are less likely to be taken into the narrative that the fast fashion industry wants us to believe: that we don't have enough.
"If an individual can see beyond their relationship with fashion and clothing as something that is sartorial, tangible and beyond consumption and ownership, then we have more power, we have more ammo and more reason to fight for systems to change," Xingyun said.