In a conservative country like Singapore, some things are discouraged by older generations; and that may include falling in love with someone of a different race. Nur Sabrina finds out why some parents disapprove of interracial relationships.
While Ze Xiang's family had initial disagreements, they accepted Khairun Nisa after getting to know her. Photo courtesy of Khairun Nisa.
BY
Nur Sabrina
People Section Editor
Hype Issue #53
Published on
Oct 20, 2021
The number of interracial marriages has been consistently low over the years. In 2020, 18.2 per cent of marriages are inter-ethnic. There are certain factors to consider when committing to a relationship with someone of a different race–such as religion, family and communication barriers. Despite this, there are individuals who are willing to take the risk and engage in an interracial relationship.
Although most young Singaporeans are open to mixed-race relationships, their parents may not be too fond of them. In a street interview conducted by TheSmartLocal, most interviewees mentioned that their parents would question them if they brought home a partner of a different race. The word 'parents' and 'stereotype' were repeatedly found in the same train of thought.
This was the case for Khairun Nisa Binte Muhammad Farouk, 21, who married Chin Ze Xiang, 21, in a marriage of culture and background utterly different from her own. 
Although mixed marriages have existed for centuries, some stigmas are still attached to them, such as disagreements from family members or cultural differences between the couple.
Khairun Nisa, preschool teacher of Malay and Indian descent, married a chef de partie who is of Chinese descent earlier this year. 
As with all interrelationships, the possibility of long-term religious change can be a primary concern. Nonetheless, Khairun Nisa's parents are supportive of her relationship provided that her partner converts to Islam. It was Ze Xiang's parents who were wary of the match.
"They were shocked [and] asked me to find another [partner]…They said Chinese must marry Chinese, and things like that," said Ze Xiang when his parents discovered their relationship. 
In contrast to Ze Xiang's family, Khairun Nisa's family is no stranger to interracial marriages as she herself is of mixed heritage.
Khairun Nisa shared: "Since my partner is the only son and only child in his family, I believe that his parents value continuing the generation of their Chinese family. Other reasons may stem from stigmas and stereotypes that revolve around certain races. 
"Since I'm both Malay and Indian, I am not a stranger to the stereotypes and labels that are placed onto us," she added.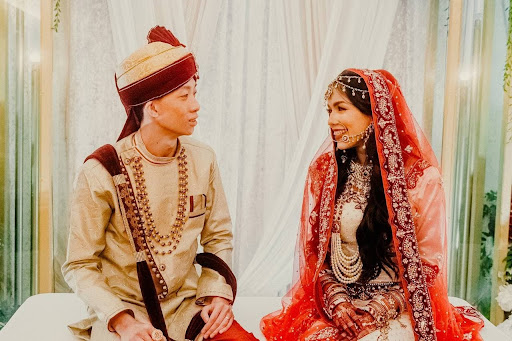 While Ze Xiang's family had initial disagreements, they accepted Khairun Nisa after getting to know her. Photo courtesy of Khairun Nisa. 
However, not all parents are strict about their children dating's choices. Dina Amani Bte Kamal, 20, a student care teacher, was surprised that both her parents were supportive of her relationship with Xavier Tan, 20, a student.
She said: "Everyone has been super supportive… But I would also like to thank Gen Zs for being open-minded with [interracial relationships] because I have always been so scared to date someone that isn't of my race in case of hatred."
Both couples explained how 'foreign' cultures integrating into families may be the reason why some parents aren't in favour of interracial marriages.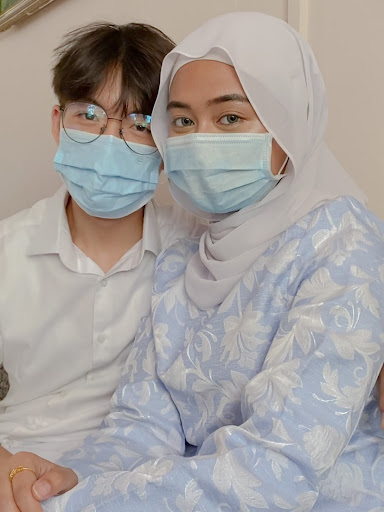 Dina's father invited Xavier to celebrate Hari Raya Haji with the family in 2021. Photo courtesy of Dina Amani.
"Maybe it's the upbringing of the family. Racism exists even if we don't want it to. To add on, the fact that it isn't normalised in the household plays a part in how they feel as well. It will be hard for them to accept something they aren't familiar with," said Xavier.
Beatriz, 32, a stay-at-home mother of Caucasian descent, has been married to a man of Indian nationality for three years, after dating for two. 
Beatriz mentioned her family made negative comments at the beginning of the relationship, but it wasn't due to malicious intentions; they just didn't know much about the other culture.
She shared: "Because I'm European, they thought I would divorce at one point… Because they say in Europe, [it] is common to divorce."
While the number of mixed-race marriages in Singapore are relatively low, it has been slowly increasing over the years. With more exposure to interracial marriages, we can continue to overcome divisions between the different ethnic groups and eliminate stereotypes. 
Older generations may not be to blame for having a narrower mindset. 
As Ze Xiang puts it, "Maybe it all boils down to traditions and culture. Our parents are brought up very differently from us… They have schools specific for races so that might be a big factor in how they grew up."
"[It] is all about education. What you see, hear and teach at home. Singaporeans are open-minded and they [have] lived with different cultures all their lives. The new generations are very modern and [are] able to understand… I think the older generations are the challenge."
The new generations are very modern and [are] able to understand… I think the older generations are the challenge.
While some things cannot be reversed, we can raise our children to be more inclusive and less prejudiced against others of different races. After all, love is love, regardless of race, language, or religion.