Are Singaporeans truly accepting of the LGBTQ+ community?
In a progressive society that aims to eradicate discrimination against minorities in Singapore, Celestina Gimino explores in-depth to see if Singaporeans are accepting of those in the queer community.
'Bicycle' enamel pin and packaging from Heckin' Unicorn. Photos taken from Heckin' Unicorn Instagram.
BY
Celestina Gimino
Publicity Manager
Hype Issue #53
Published on
July 24, 2021
Amongst the many movements and organisations that are created to help Singaporeans in the LGBTQ+ community, Pink Dot is one of the most prominent. Due to Covid-19 regulations, Pink Dot 13 2021 was a livestream event that included many Singaporean LGBT icons and allies. This organisation encourages all Singaporeans to raise awareness on LGBTQ+ issues in Singapore and acts as a protest to repeal Section 377A. 
Sidebar: Section 377A of the Penal Code criminalises consensual sex between men. In March 2020, three LGBTQ+ allies filed separate legal challenges  against Section 377A. Some of the arguments presented were that the current Section 377A was introduced in order to curb male prostitution, thus making the purpose now "uncertain or obscure", whereas another argued that Section 377A simply expresses 'good, old-fashioned discrimination' against those in the community for something they cannot wilfully change. 
With many established organisations in order to help minorities such as the LGBTQ+ community in Singapore, how safe do Singaporeans in the community really feel?
Transgender student denied therapy
In March 2020, a transgender student posted on Reddit about how the Ministry of Education (MOE) interefered with her hormonal therapy. Before the incident, she had been diagnosed with gender dysphoria and decided to undergo hormone therapy after informing MOE and her school administration. 
 However, the request was suddenly blocked after the intervention and she was forced to cut her hair to a boys' hairstyle and wear the boys' uniform. She explained in her Reddit post: "If I became unable to fit in the boys' uniform if I somehow got hormone therapy, I would be expelled from school, instead of being allowed to wear the female uniform."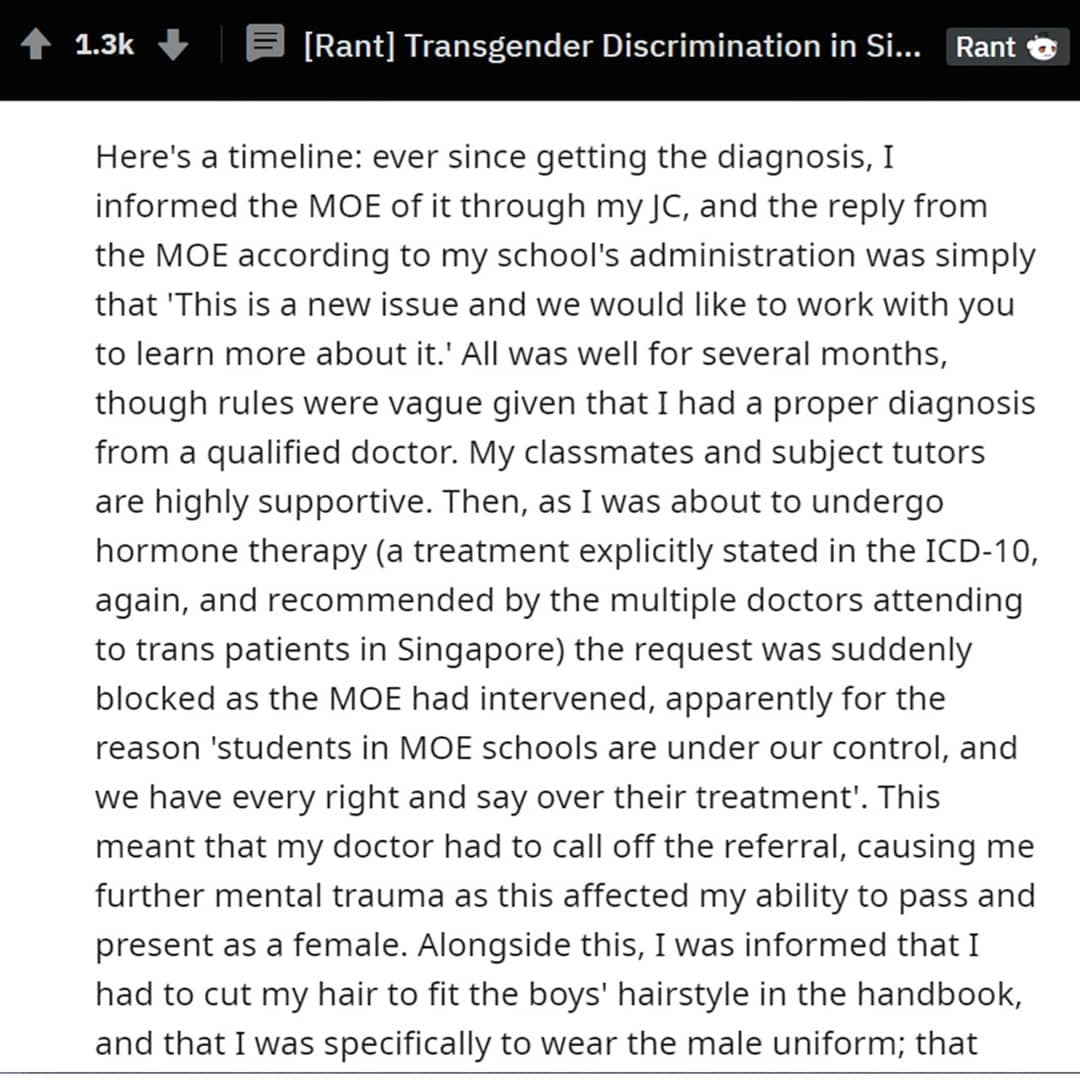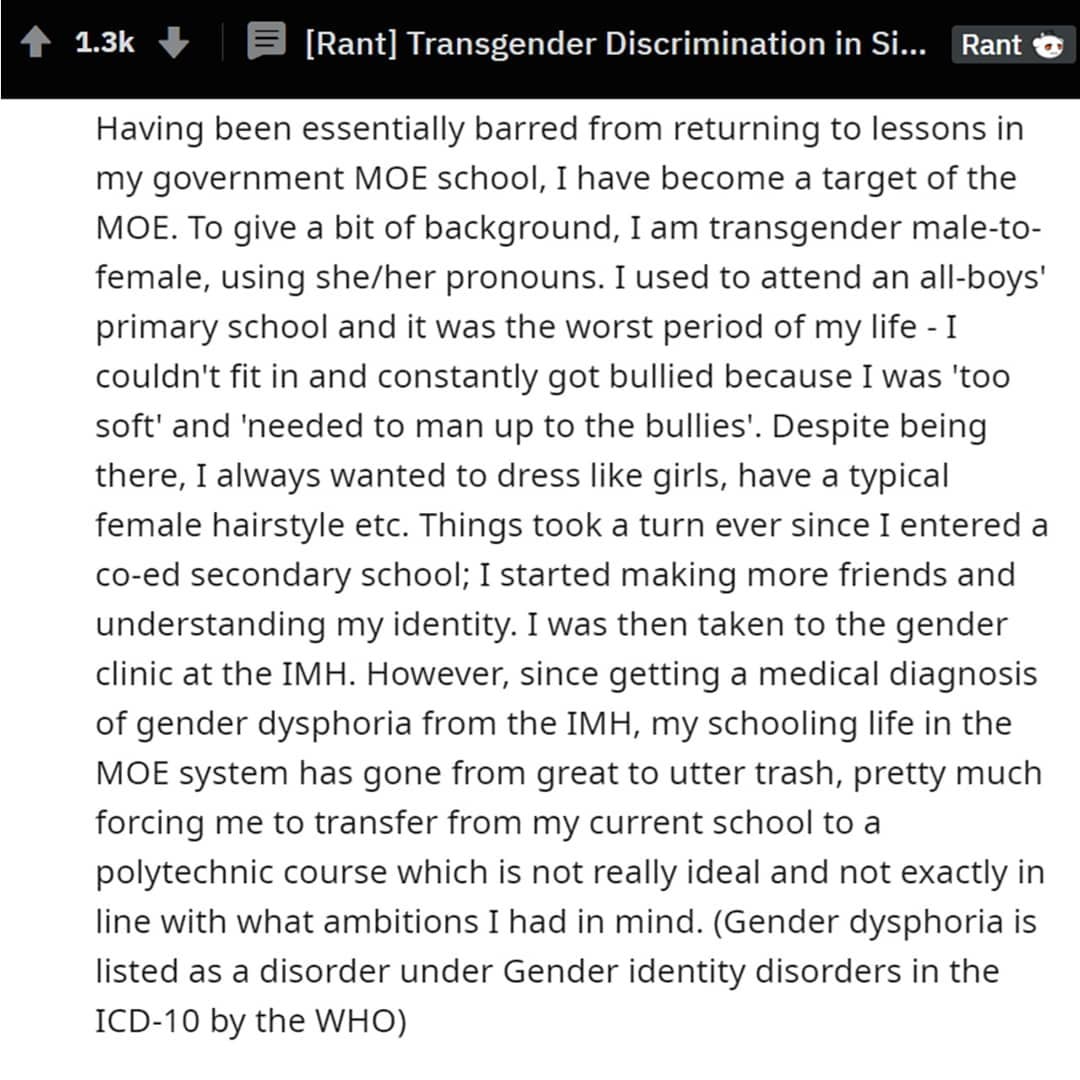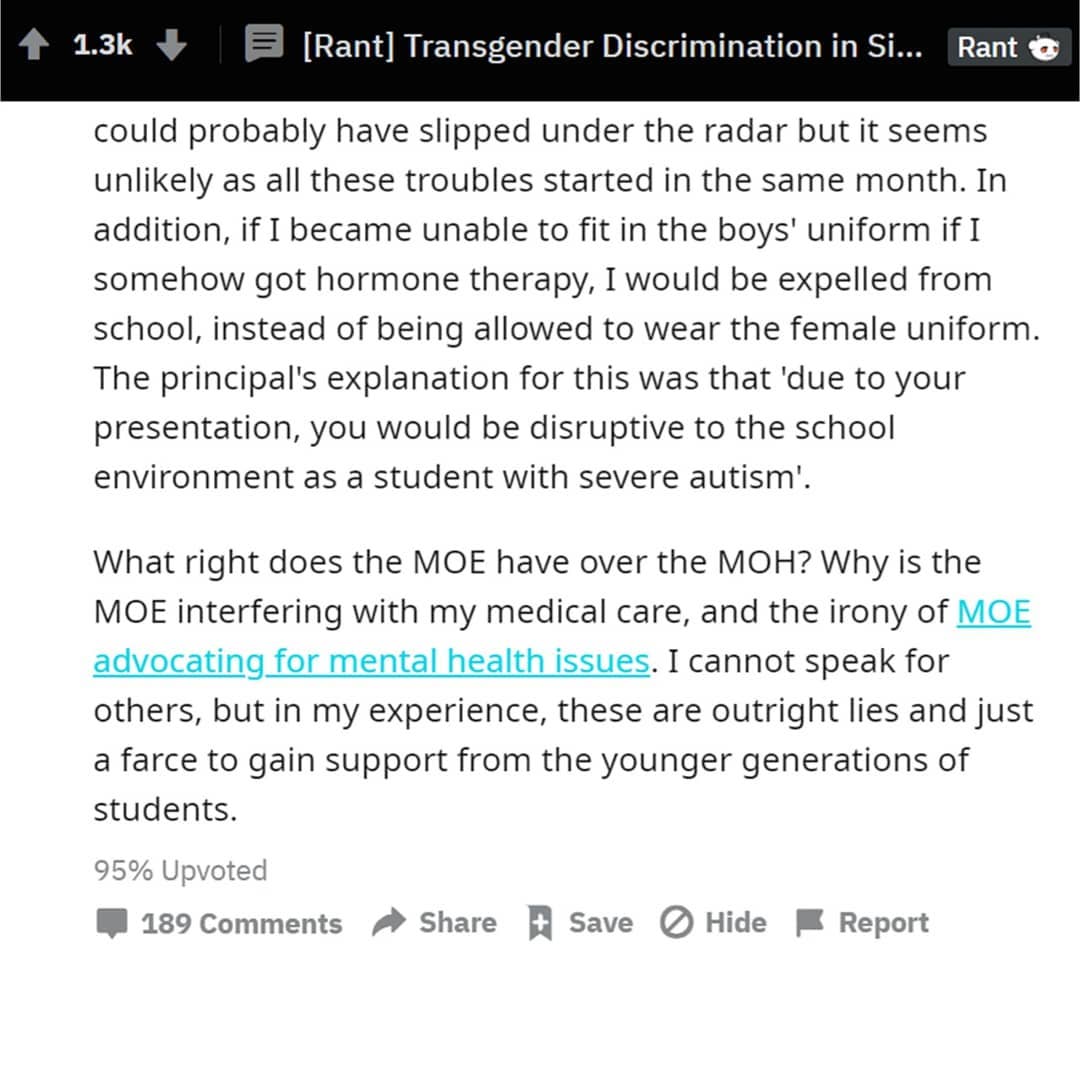 Reddit rant on "Transgender Discrimination in Singapore Schools and MOE's denial of mental health issues" by student. Screenshots taken from Wake Up Singapore's Instagram page. 
As previously mentioned, many organisations have been established in order to create a safe space for queer individuals and to spread awareness about the homophobia that individuals face.
Heckin' Unicorn was started by Mr Teo Yu Sheng and he creates subtle LGBTQ+ accessories for both allies and those in the community. Many of his accessories are subtle as they do not explicitly show the rainbow flag or a telltale title, but titles such as "bicycle" for a pin with the bisexual flag. Mr Teo is also able to wrap the accessories in discreet packaging if requested.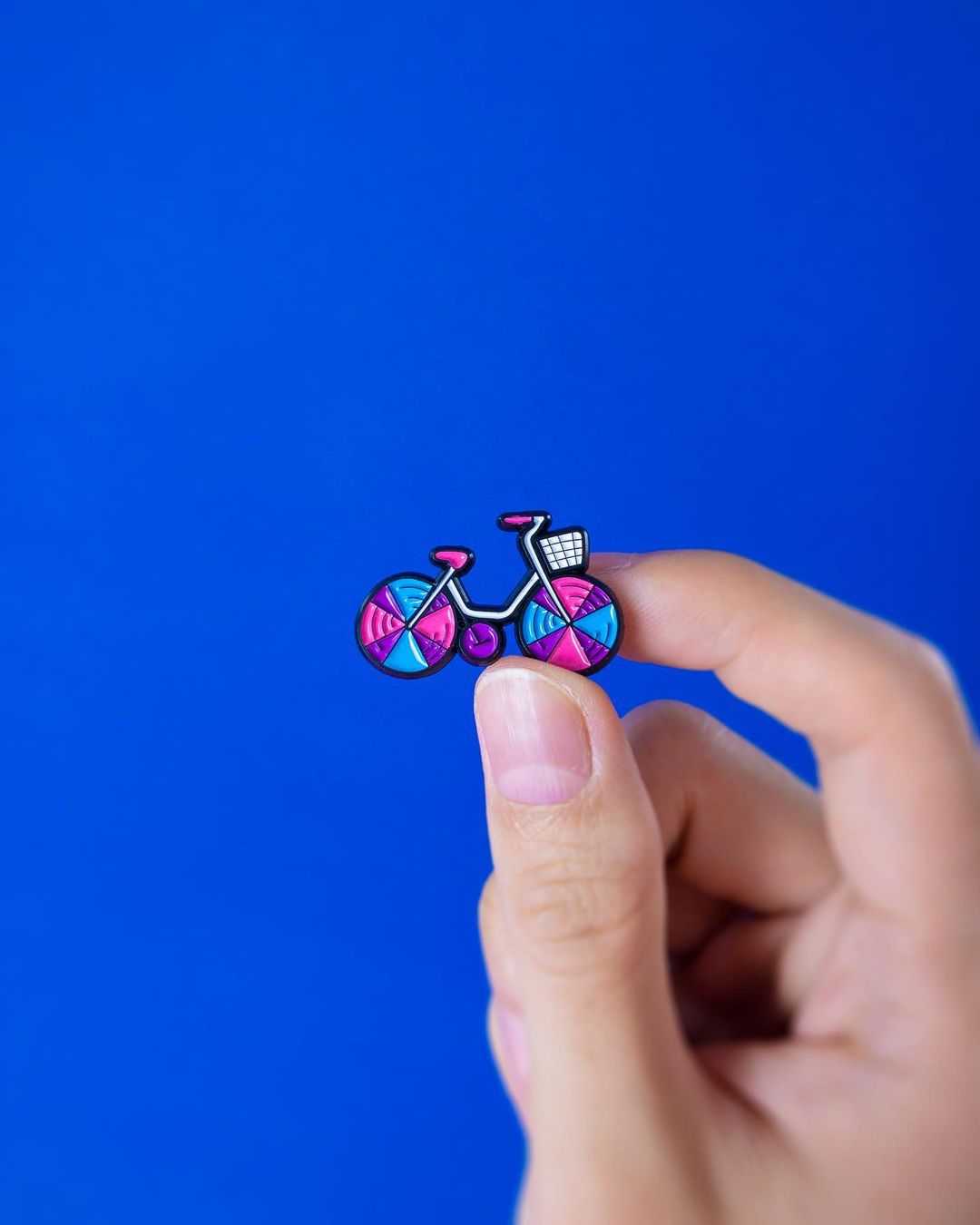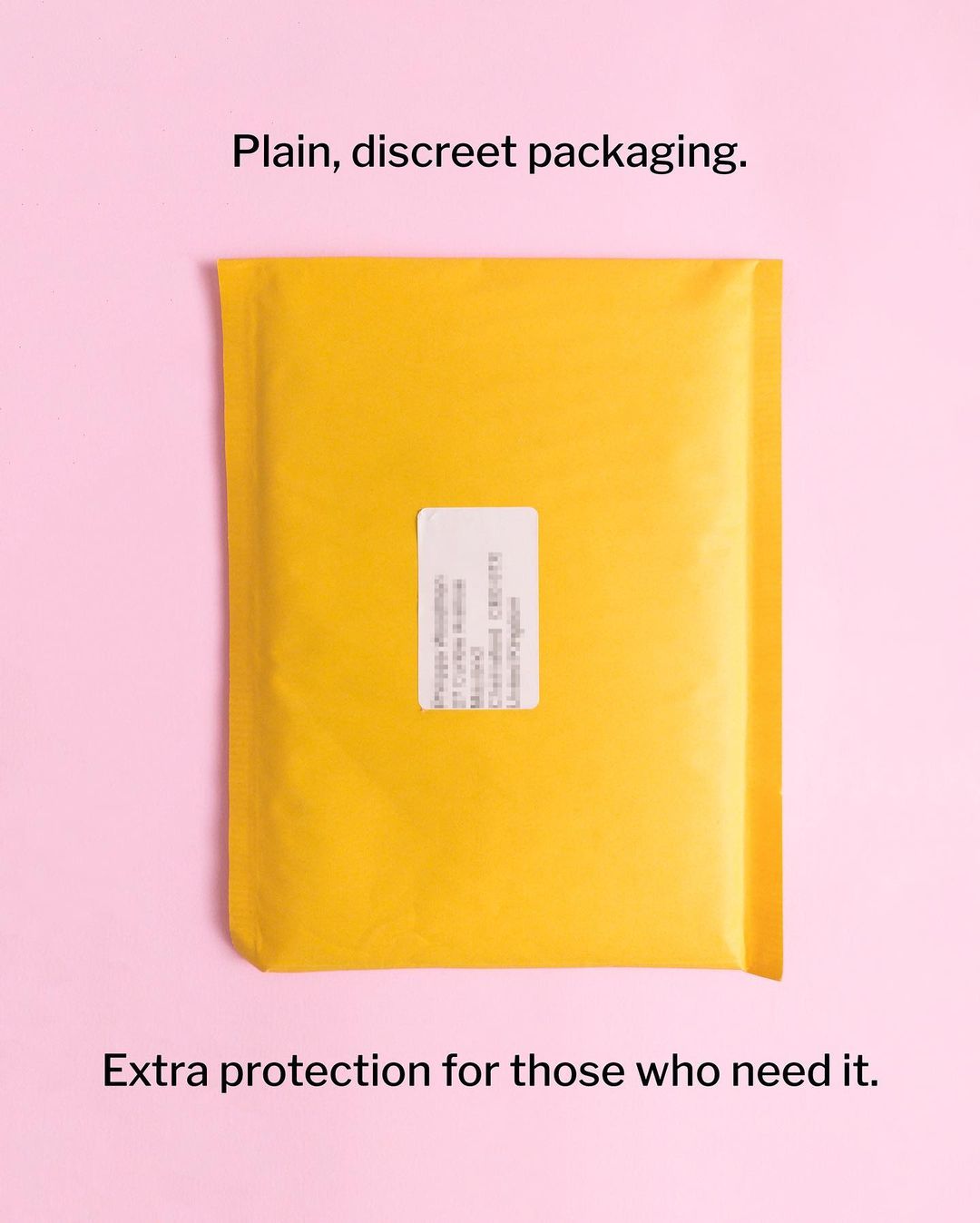 'Bicycle' enamel pin and packaging from Heckin' Unicorn. Photos taken from Heckin' Unicorn Instagram. 
Besides its accessories, Heckin' Unicorn also has a blog that writes about different issues surrounding the community, conversion therapy and how schools suppress the LGBTQ+ identities. 
Sidebar: Being a successful business that has over 50,000 followers on Instagram, Heckin' Unicorn actively donates to different organisations. Some organisations include 'The T Project ', which provides shelter to transgender people, and also to the Covid-19 Relief Fund for LGBTQ+ persons  . 
Despite these improvements, Singaporeans cannot run from the conservative stereotype as Asians. This is due to the teachings of many religions that homosexuality is wrong, some of which have been lost in translation. Thus, these teachings have been used as a reason to discriminate against the LGBTQ+ community.
For our society to become more accepting, we have to be open about how these sexualities are not something people are able to control. More young Singaporeans, both activists and those in the community, should step up to spread awareness of the discrimination the LGBTQ+ community faces. However, in the long run, the government needs to be able to step up and put in place more laws to protect the basic rights of the community.
In a progressive society, many Singaporeans are very open to wanting communities such as the LGBTQ+ community to feel included and safe, but it is also no surprise that there is a conservative stereotype among the older generation of Asians. Coming out is not an easy thing to do, thus Singapore still has a long way to go before Singaporeans can start to fully accept the LGBTQ+ community.