CALL ME IF YOU GET LOST: Tyler, The Creator's best album?
Elton Tan reviews Grammy-winning artist Tyler, The Creator's sixth studio album titled CALL ME IF YOU GET LOST.
CALL ME IF YOU GET LOST album cover and tracklist that consists of 16 songs. Photo taken from Genius.
BY
Elton Tan
Perspectives Section Editor
Hype Issue #53
Published on
July 29, 2021
Tyler, The Creator has been in the music industry for quite some time. He first gained popularity from releasing his first studio album Goblin in 2011, when he was just 20 years old. 
I first got into his music when he dropped his Grammy-winning album Igor in 2019. It was the first time I listened to a Tyler album from start to finish and I fell in love with the production and themes of the album. I continued to explore his other projects such as Goblin, Wolf, Cherry Bomb and Flower Boy.
Goblin, Wolf and Cherry Bomb represented the era of Tyler when he was young and rebellious. He was infamously known for being a Horrorcore rapper, using dark and violent content in his lyrics. The production on those albums were gritty, abrasive and experimental.
Flower Boy was an important project for Tyler as it marked his transition in production style and themes that he would rap or sing about, with more introspective themes emerging from the album, such as his sexuality and relationships. His production style also found footing, with a more beautiful and lushful production, while still retaining his signature style.
Igor saw Tyler merge and bend different genres ranging from Jazz, Pop, and Rhythm and Blues (R&B), and a selection of beautiful samples on songs like 'A Boy is a Gun' and 'Are We Still Friends'. Igor was also a breakup album, narrating the aftermath and process of Igor (Tyler's persona on the album) trying to get over the man he onced loved. 
When Tyler started his roll out of CALL ME IF YOU GET LOST (CMIYGL), I was ecstatic. Igor was my favourite album of his, and I was curious how he was going to top it. Like Igor, CMIYGL is entirely written, composed and arranged by Tyler. I had high expectations going into this album.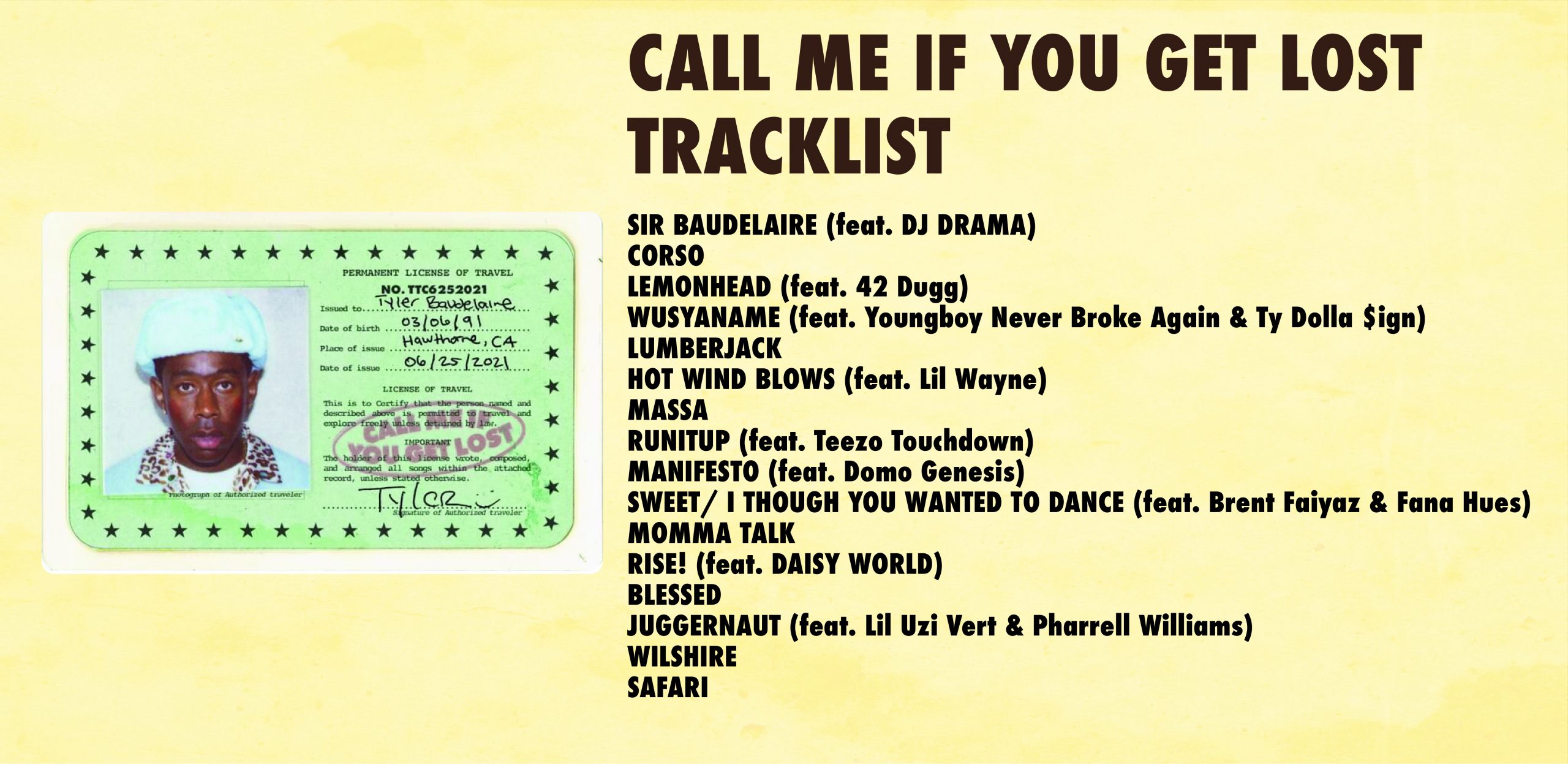 CALL ME IF YOU GET LOST album cover and tracklist that consists of 16 songs. Photo taken from Genius.
The introduction track 'SIR BAUDELAIRE' , establishes Tyler Baudelaire, the persona he adopted for this album. He teams up with DJ Drama, an American DJ known for releasing the Gangsta Grillz Mixtapes. 
The first words you hear on the album completely encapsulates the feeling of the album, a warm summer day. 
"The sun beaming
Y'all ready?"
The pianos and funky synthesisers (synth) set the tone, while the lyrics brought out the theme of luxury items such as his cars. Being adventurous and traveling the world to acquire new experiences were also big parts of the theme.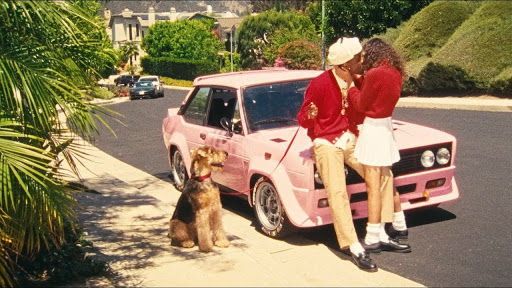 A teaser released for the promotion of the album directed by Wolf Haley, Tyler's alter ego. Photo taken from Tyler's Youtube.
Featured artists Brent Faiyaz and Fana Hues shined on the track. Brent Faiyaz complements the track well with the synth's heavy production on the bridge of the song with his beautiful voice, while Fana Hues plays the role of the woman that Tyler loves but cannot be with, on 'I THOUGHT YOU WANTED TO DANCE'. 
She acknowledges the connection between her and Tyler, but doesn't want to advance their relationship because of the person she is currently with. 
Tyler was led on, and thought that she wanted to dance with him. His jealousy is pulling him apart. The production is also reggae-inspired with the drums and rhythm giving off tropical beach vibes.
On 'WILSHIRE', Tyler freestyles his point of view of the situation, describing his pain and betrayal he felt in a candid and personal way. It was also recorded on a handheld mic and took two attempts to record the over-eight-minute track, as revealed by Tyler himself, which explains the lo-fi aesthetic of the track.
He wants the woman to leave her current boyfriend, but he knows he can't cross certain boundaries.
"The problem is he my friend, but if I'm honest, I'm really hopin' you drop him

It's morals I really have, it's lines I could never cross
But you got somethin' that make all them good intentions get lost"
'MASSA' is an introspective track in which Tyler is able to reflect on his growth as an artist and the journey he went through to be the person he is today, by travelling the world and gaining new experiences. Production on this track is much slower and boombastic with a funky bass and keys placed throughout the track. The rapping and inflection in his voice sells his emotions and passion.  
He describes his growth like a caterpillar turning into a butterfly, which is accurate, if you look at the progression of his albums. 
Later on the same track, he describes how he uses material objects to fill the void of not being able to be with the person he loves. This same theme is also mentioned in songs like 'CORSO'. 
"Yeah, I purchase more wheels when I feel like I'm third-wheeling
My favorite part of the double R is the bird ceiling"
CMIYGL is Tyler's most mature project yet. In terms of lyrical content and production, he contrasts hard-hitting beats with soulful melodies, and brings us into a dreamlike landscape. 
Compared to his previous project Igor, CMIYGL does not have a strong central story. But that isn't necessarily a bad thing. Tyler is able to creatively rap about subjects like how far along he has progressed as an artist, the businesses and luxurious things that he owns, and his love life. 
The maturity of the production from Tyler is the standout of this album. The textures and soundscapes of the album make it unique from his contemporaries. Even if you don't like rap or don't find his lyrics interesting, you can count on his production skills to please your ears. 
Placements of the featured artists are also not a hindrance to the vision of the album. Guest features such as Lil Wayne on the floaty 'HOT WIND BLOWS', as well as Lil Uzi Vert and Pharrell Williams on hard hitting 'JUGGERNAUT', all showcase the master arranger Tyler has become, using other talents to elevate the sound of his album. 
Tyler's sound is undeniably unique, and he has continued to push himself as an artist, creating music exactly the way he wants, without worrying about being on the radio. His music is authentic and his journey over the last 10 years has been inspiring. 
I cannot wait to see where Tyler is going next on his journey. I recommend those who are interested or trying to get into rap to check out this project which is available on Spotify, Youtube and Apple Music.

Tyler released an ID generator for fans to make their own ID. Photo by Elton Tan, generated here.
Double R refers to the Rolls-Royce cars which Tyler mentions throughout the album and is even seen in music videos of 'JUGGERNAUT' and 'LEMONHEAD'