SOUR: The Debut Album Like No Other 
Olivia Rodrigo released SOUR in late May 2021 and it has since become one of the most streamed albums of 2021. Celestina Gimino explores in-depth Rodrigo's song-writing process of this record.
BY
Celestina Gimino
Publicity manager
Hype Issue #53
Published on
July 28, 2021
Becoming the fifth most streamed Spotify artist in the world with her debut album, Olivia Rodrigo, 18, has proven that she is a force to be reckoned with in the music industry. The  Filipino-American started out her career as a Disney actress starring on Bizaardvark before moving on to High School Musical: The Musical: The Series (HSMTMTS)  in 2019, which helped her gain attention on Disney Plus (Disney+). 
Her debut single, 'drivers license', is the longest running number one song on the global billboard chart, keeping its place for eight weeks. This surpassed the famous Korean boyband BTS and American singer Mariah Carey. The track first gained attention when fans found out that the lyrics related to her relationship with HSMTMTS co-star, Joshua Bassett. Her current success is definitely attributed to this debut which currently has more than 900 million streams on Spotify. 
SOUR was released on May 21, 2021, containing 11 tracks including the singles 'Good 4 U'; 'drivers license' and 'deja vu'. The songs range from genres such as Pop Rock, Alternative Pop to Pop Punk.
Rodrigo explained that the songwriting process was exciting for her as she wrote from her experience with relationships and being on social media. The release of her album also drew the attention of other fandoms, such as Swifties (Taylor Swift fans), as she attributed her inspiration in songwriting and the music-making process to Taylor Swift, Kacey Musgraves and Alanis Morissette.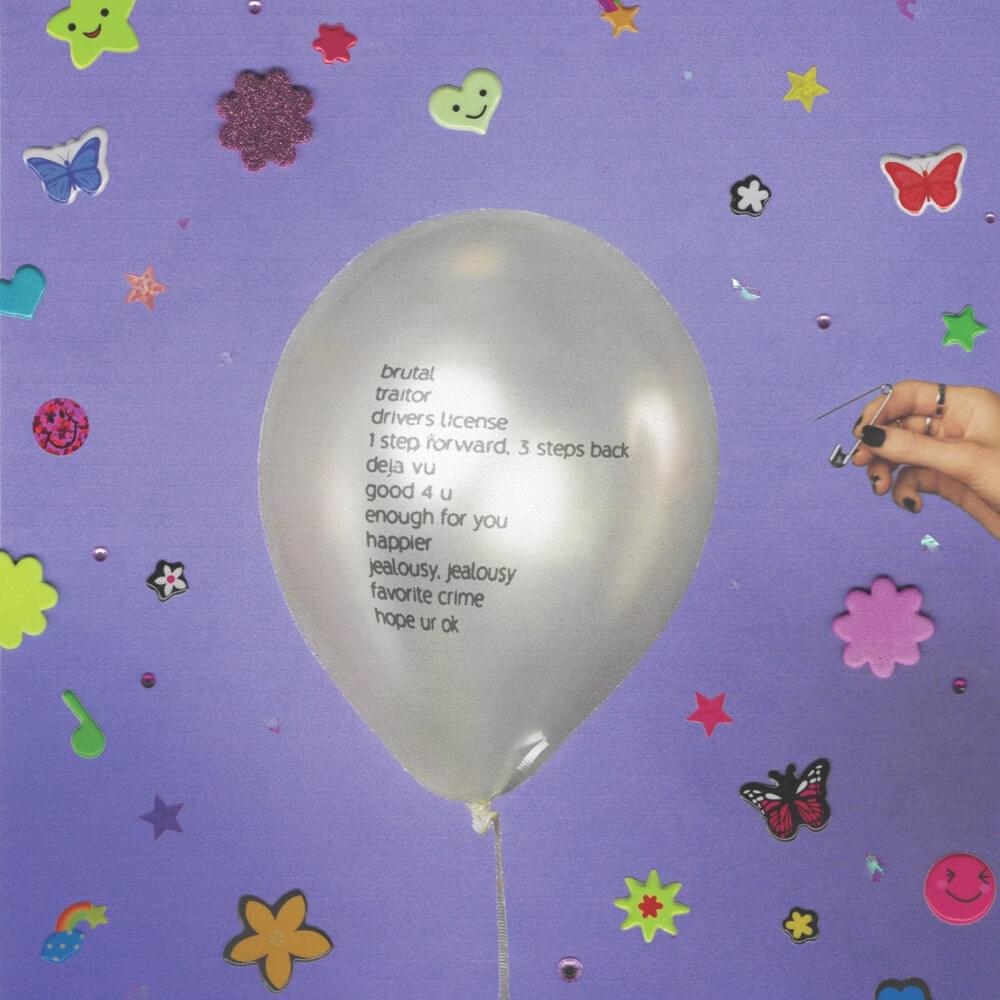 SOUR album tracklist on the back of the vinyl. Photo taken from Genius.
The entire album describes different emotions that many can relate to when going through a tough time. There have been multiple trends surrounding the songs from SOUR which have also given rise to the album's popularity. One of them included listeners humorously asking their significant other to pretend to break up with them, just so that they could truly feel the emotions of the album.
Even if you have not listened to the entire album, one song that you might have heard is 'Good 4 U'.
'Good 4 U', a pop rock song, is one of her three singles that became a global hit. The song starts off with a bassline and a subtle beat before it builds up to the upbeat chorus with the lyrics highlighting her pain from a past relationship.
"Well, good for you, you look happy and healthy, not me
If you ever cared to ask"
 One of the reasons why listeners enjoy this track is because of the sense of nostalgia as the song makes them reminisce tracks from the 2010s. Some have even identified how this track has a similar 'vibe' to Paramore's 'Misery Business'. 
The track gives listeners an outlet to scream a "depressing song over really happy chords", one of Rodrigo's personal favourite things to do from the album, she mentioned in an interview with Zach Sang. 
In the same interview with Zach Sang, Rodrigo mentioned that this track was very personal to her in terms of lyrics. 
"I kinda wanna throw my phone across the room
'Cause all I see are girls too good to be true" 
The song talks about Rodrigo being consumed by social media and being overly concerned with how others perceive her.  
It is no surprise that this track would be one that many could relate to. In the age of social media, many young people are bound by the unrealistic standards of being a 'perfect person' as portrayed by others online. 
This is one of the tracks which shows how the album is not just about feeling "sour" over heartbreak, but also about dissatisfaction with oneself. The song is set in a minor key to portray sadness.
'Hope Ur Ok' is the final song on the album, and one that was particularly hard for even Rodrigo herself to listen to. 
The lyrics talk about old friends who were going through a tough time in their lives, which, once again, feel personal and sound like something you could be reading out of a diary. 
Every chorus ends with "I hope that you're okay", which feels like a message to listeners who are going through a hard time.
Though this ballad is one that is emotional, it also represents a kind of hope for listeners as they end the album filled with tracks singing of sadness and bitterness. 
At the Brit Awards, Rodrigo also wrote notes that had the track title on them to give to some of her idols, including Taylor Swift and Harry Styles. This showed fans how meaningful the song was to her.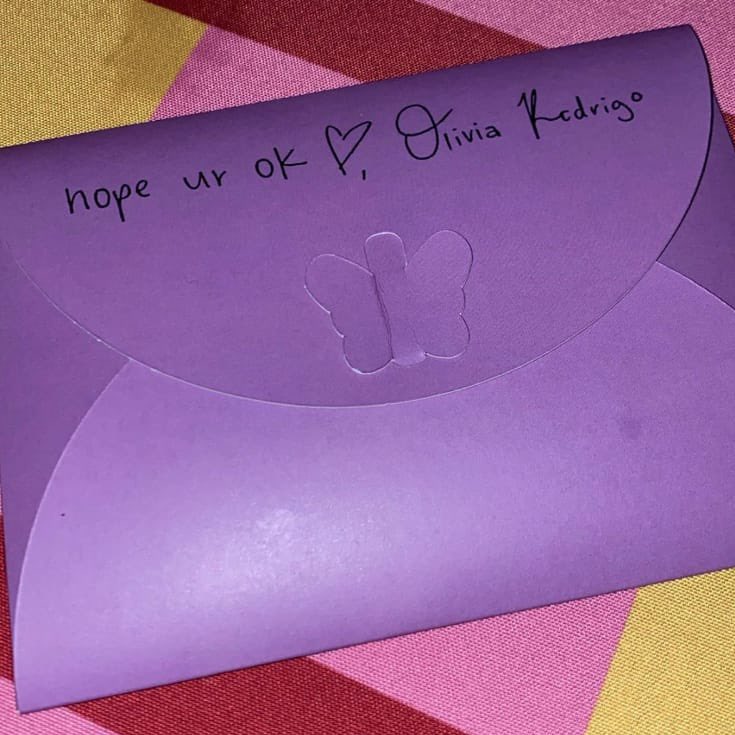 Olivia Rodrigo's handwritten letters she gave out to some of her idols at the Brit Awards. Photo taken from The Kings Updates on Twitter.
SOUR is an emotional album that many youths can relate to as the songs surround different relationships, which explains the success she has. 
I would give this album a four out of five star rating and definitely recommend this album if you are currently going through a tough time or are looking for a new artiste to listen to. Rodrigo is definitely one to look out for as she is expected to sweep the next GRAMMYs, just like fellow young musician Billie Eilish.
Olivia Rodrigo is of Filipino (her father's side), German and Irish descent (her mother's side). In an interview with Disney, Rodrigo talked about how her paternal great-grandfather moved from the Philippines when he was a teenager. Her family followed Filipino traditions and she grew up eating Filipino food. It was also very evident to the people around her that she had a natural talent for singing as she started taking vocal lessons in kindergarten.