A Bloody Fantasy tale of Revenge
A fiction novel enthusiast, Jamie Mah delves deep into a world of demons and vengeance through 'The Woodsman' by Elvin Ching.
The Woodsman is a graphic novel by renowned illustrator, ELvin Ching. Photo courtesy of Epigram Books.
BY
Jamie Mah
Editor
Hype Issue #53
Published on
July 24, 2021
Dark, exhilarating and brilliant; The Woodsman entrails its readers with the intriguing and dark storyline while drawing them in with its intricate art style.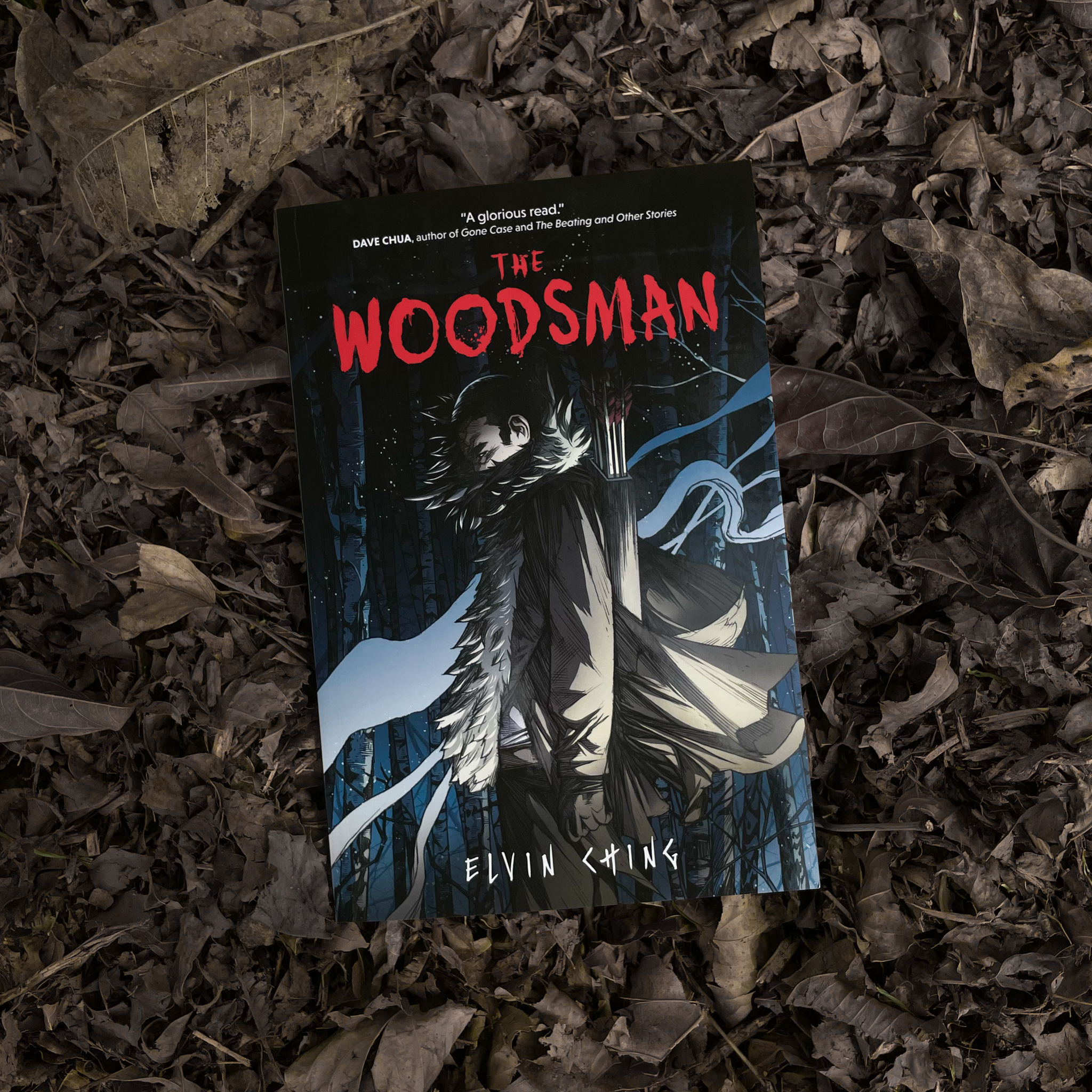 The Woodsman is a graphic novel by renowned illustrator, ELvin Ching. Photo courtesy of Epigram Books.
In his own first-ever graphic novel, renowned illustrator of the Secrets of Singapore and Danger Dan & Gadget Girl series, Elvin Ching, tells the tale of Drik Nightstar, a Woodsman living in the forest with his partner and son. 
 One of Epigram Books' bestsellers, the paperback takes readers through the story of how Drik overcomes the Demon Lord, avenging his partner, Fera, and their son.
By Oxford dictionary's definition, a woodsman is  "a person living or working in woodland, especially a forester, hunter, or woodcutter." Our main character, Drik Nightstar, can be more accurately described as a warrior and hunter living in the woodlands than by this aforementioned definition.
A dark plot with vengeance as its main focus, The Woodsman is a far cry from Ching's previous works of childrens' series. Intrigued by the elements of fantasy and suspense weaved in with the intricate art, I could not resist flipping through the pages and admiring the scenes that painted a story.
The graphic novel has elements of horror, fantasy and adventure, and is a sure-fire hit for thriller fans. Set in a freezing winter, the tale takes place in a snowy forest, with Drik living in a wooden hut in a clearing with his family.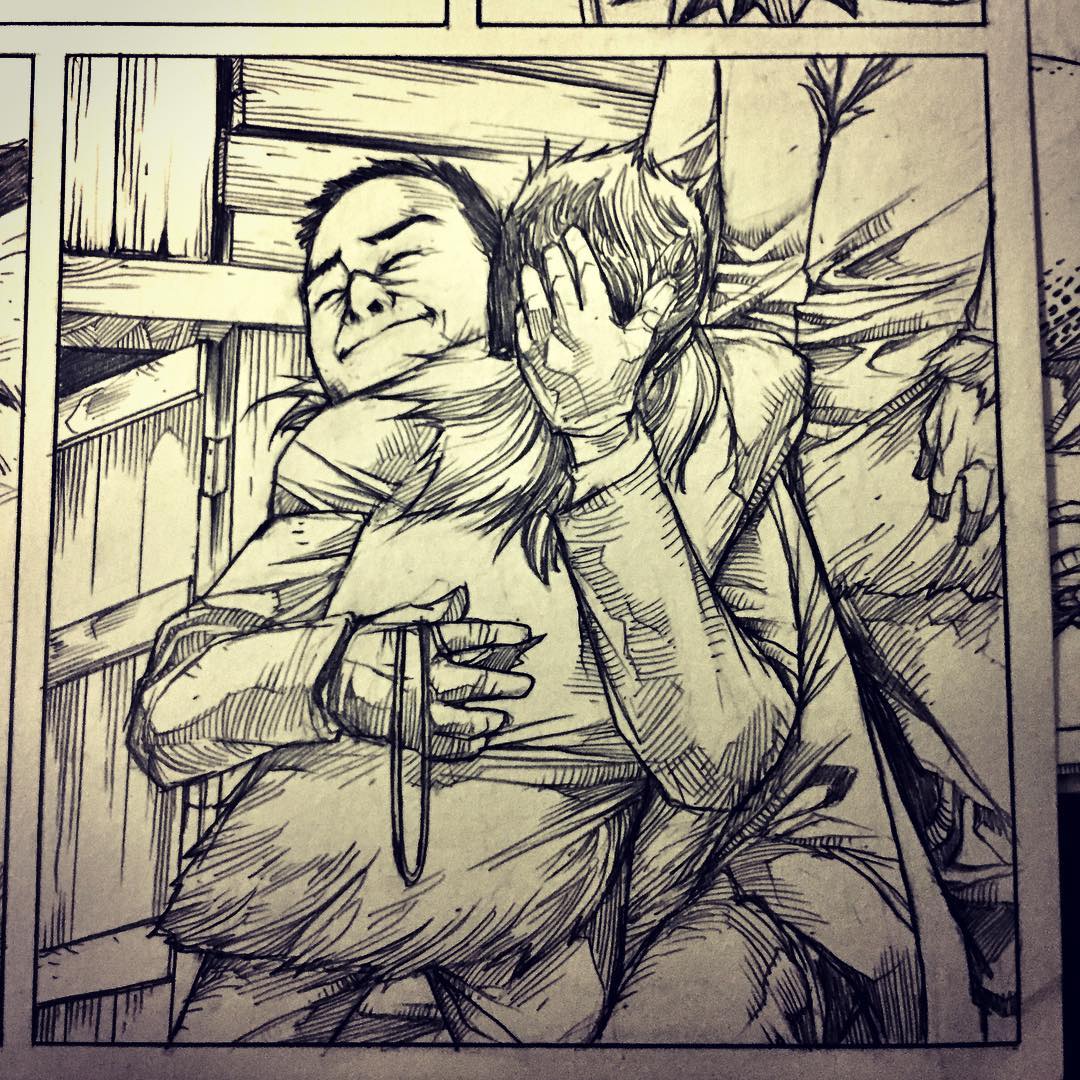 From a domestic and innocent beginning, the tale soon turns dark when Drik stumbles upon a clearing and frees a child, slaying the demons that came for the child. Triggering the plot, this was the first of many fight scenes of the book, and showed Drik's agility and fighting prowess.
Alone, Drik decides to seek out a shaman to find out what knowledge he might have that could aid Drik in defeating the Demon Lord.
Having awoken the Demon Lord and his clan due to disrupting the ritual previously and slaying the demons, it is up to Drik to defeat the creature before it can harm any others.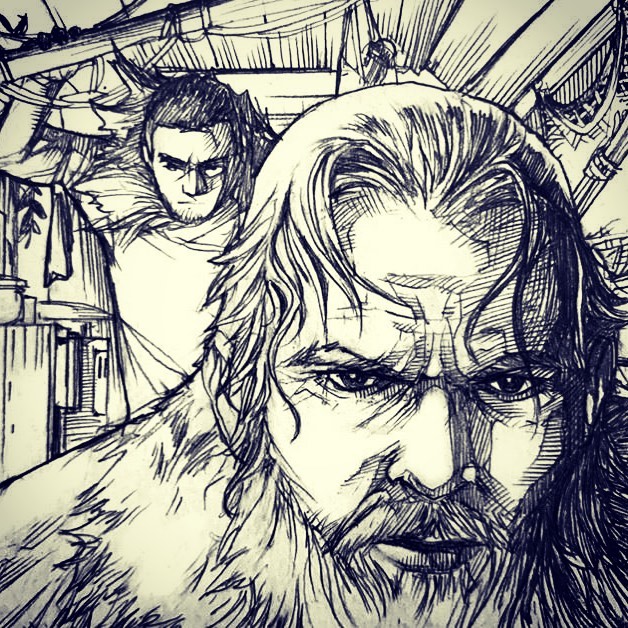 Preparing for a battle, Drik and the shaman set on with grim faces. Photo taken from Elvin Ching's Instagram account.
Just as graphic novels go, the story was fast-paced but left no questions unanswered. Within its three chapters, the story was explained well with sufficient detail and a short back story which provided insight for some of its characters.
I personally prefer fiction books to a graphic novel, but the plot drew me in just as intensely as a book would. The vivid images left no details up for imagination, with every element of each scene well-thought out.
It was enthralling to be drawn in by the images on the pages, peaking my curiosity to know more and to see just how the next scenes would unfold and be drawn out.
As an illustrator, it is important to have a unique and distinct art style so that readers recognise your work. In this graphic novel, Ching displays his sharp and intricate art style.
Using only pencils and shading to achieve the layers and depth of details in his work, he brought the images to life and managed to bring an excitable energy and adrenaline to each and every action scene.
Each scene is intricately and painstakingly hand-drawn, and I was very attracted to the adrenaline and intensity of the fight scenes, captured by the strokes of Ching's pencil. The emotions were clear on Drik's face and his skill was obvious in how he efficiently bested the demons.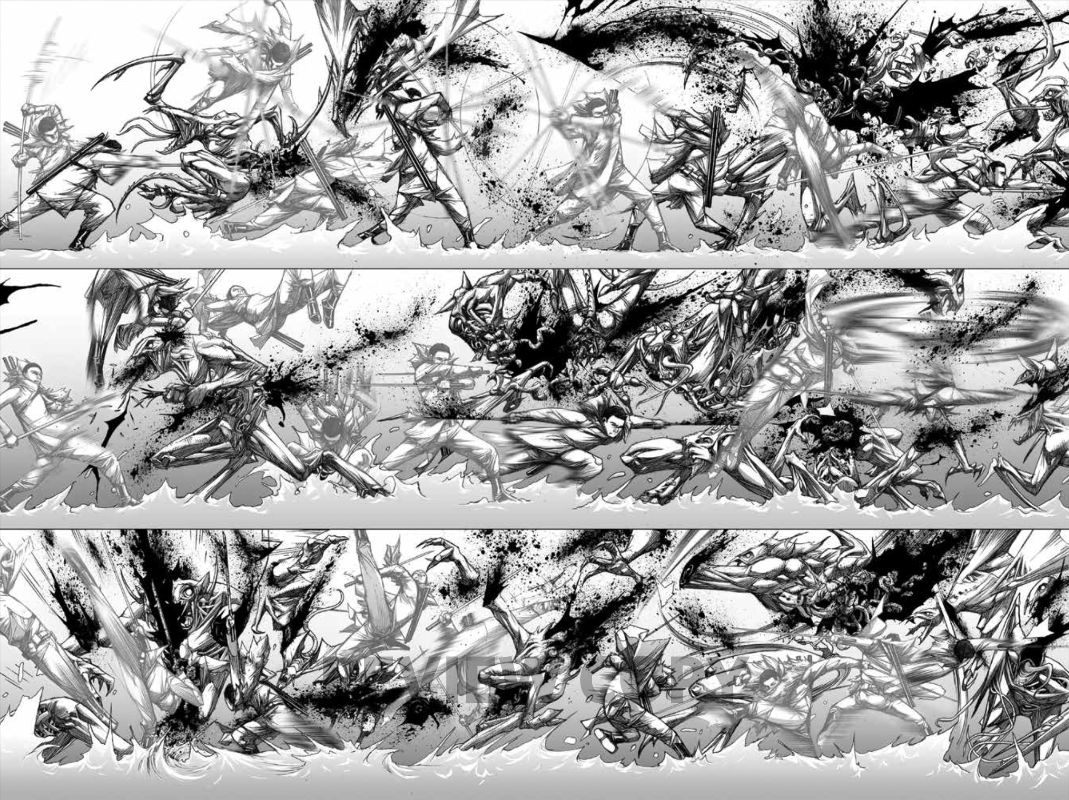 An action sequence from the Woodsman. Photo courtesy of Epigram Books.
With drawings in a graphic novel obviously being still images, Ching managed to capture the motion and action of each fight scene, with Drik's swift and agile movements as he incapacitates the demons with practised ease.
I enjoyed seeing how the characters were brought to life on paper; how the characters were so expressive and how the fight scenes were action-packed and got my adrenaline rushing.
Despite art being the main point of a graphic novel, the story and how it's written also plays a role in how well a graphic novel turns out.
Ching's writing style is straightforward and does not mince words. Simplistic words make the writing easy to follow, which only further adds to the flow of the drawings. Despite the fact that the language used was not particularly flowery, the choice of words have an impact at the points necessary and drives the plot home.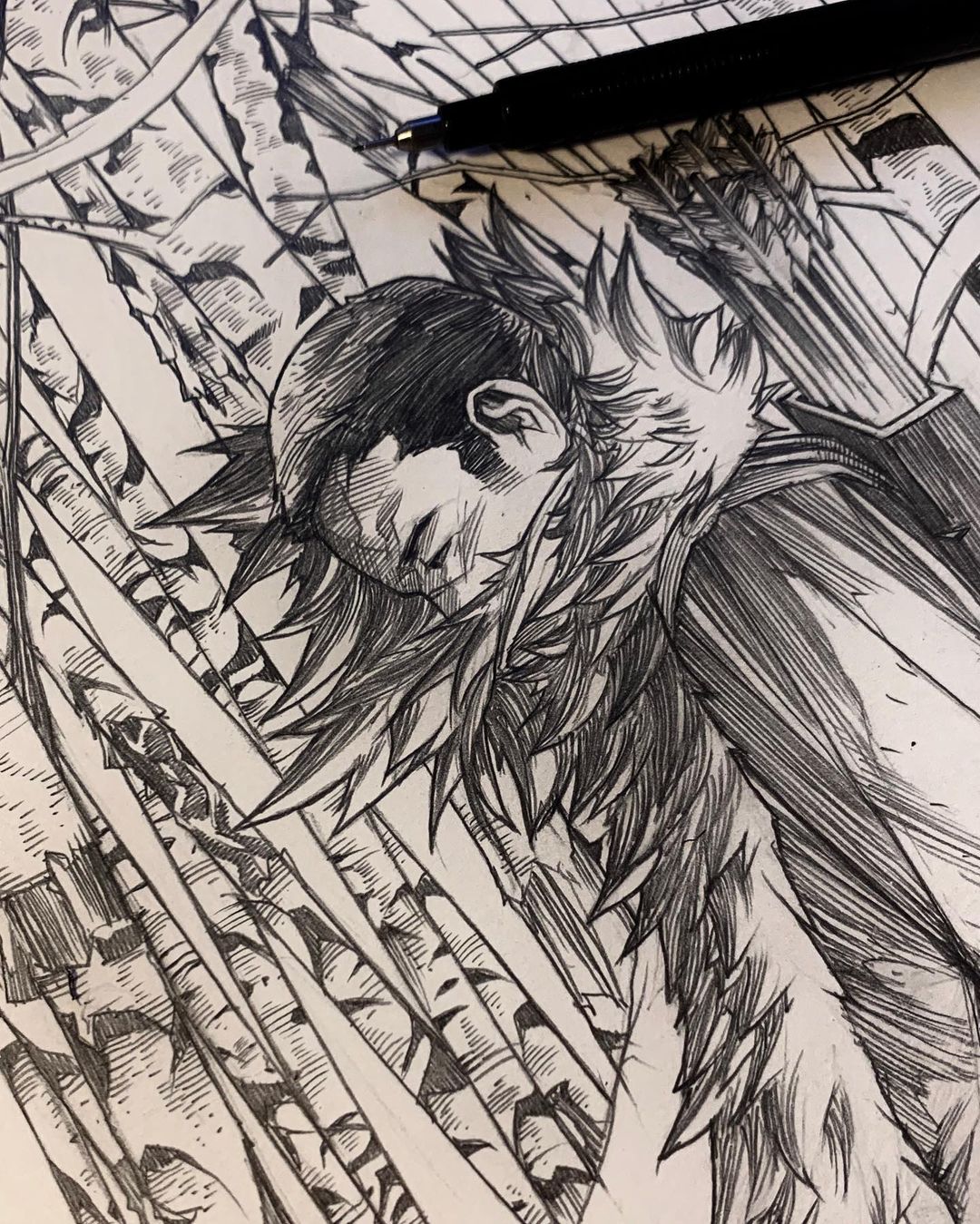 Drik Nightstar, a formidable opponent on the battlefield driven by revenge. Photo taken from Elvin Ching's Instagram account.
To sum it up, the graphic novel was a joy to read and view. I thoroughly enjoyed admiring the art while being consumed by the plot. It was a worthwhile read and certainly worth going over specific panels several times in order to fully appreciate the level of detail in each scene.
A recommended read for fantasy and thriller fans, 'the Woodsman' will invoke feelings of suspense and a thirst for vengeance. I would rate 'the Woodsman' a solid 5/5 for the intricate artwork and interesting plot.
If you are interested in purchasing this graphic novel, there is a special discount code of 20% off titles published by Epigram Books just for Hype Magazine readers! (this code is available from the August 1, 2021 until September 30, 2021)
Click here to find out how you can redeem this code. (this article is not sponsored by Epigram Books)
TABLE
Covertype: Paperback
Page Count: 112
Year Published: 2021
Size: 255mm x 170mm
Available at Epigram Books and Kinokuniya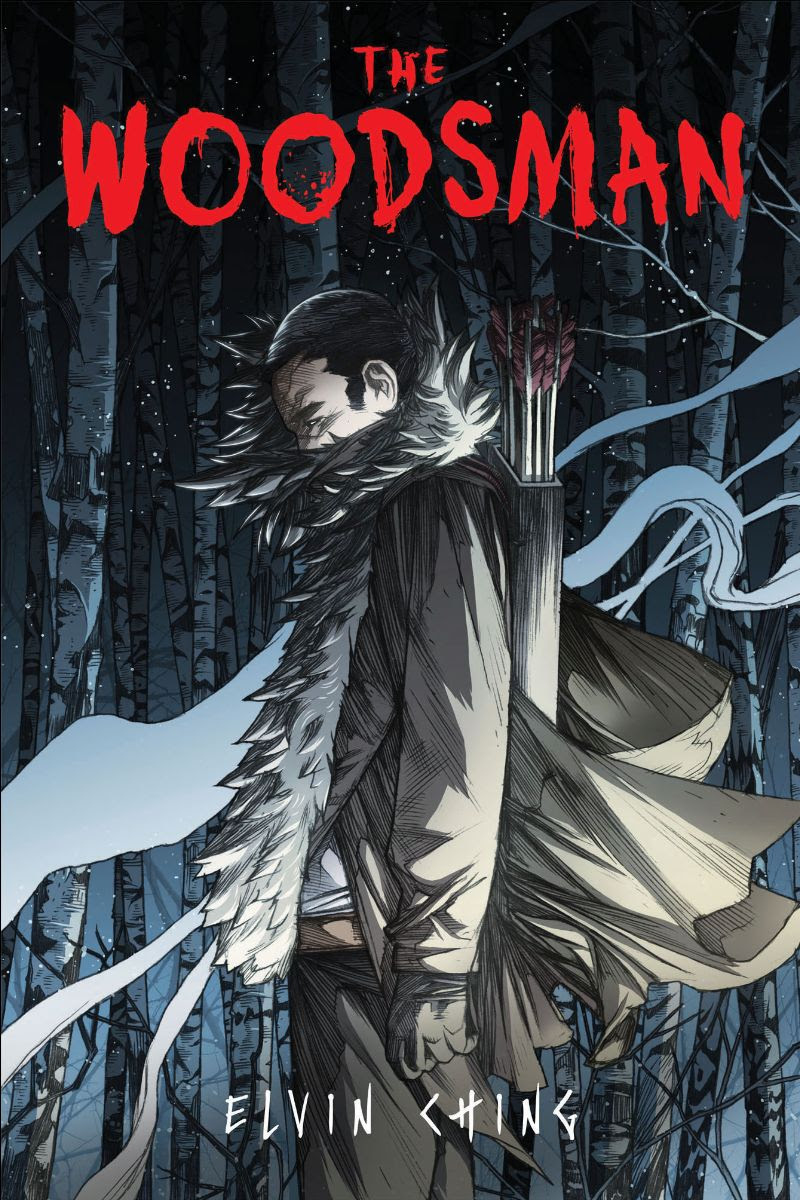 Disclaimer: Containing themes of gore, violence, and featuring a LGBTQ+ couple, the book is not suited for those below the age of 18. 
About the Author 
Elvin Ching works as an illustrator in Singapore while creating comics in his free time. He has illustrated for the Danger Dan & Gadget Girl series and the Ordinary Oliver books. His comics work include short stories in the anthologies Liquid City and LONTAR; Badang, a 6-page comic for Singapore's 51st National Day Celebration; as well as the graphic novel Unstable Foundations, a collaboration with writer Joelyn Alexandra. Elvin and his partner are slaves to very, very bossy cats.
(Taken from Epigram Books' website)
About Epigram Books
Epigram Books is an independent publisher that began as a division of the multiple award-winning communications design firm Epigram. In 2011, it was registered as a separate entity to champion Singaporean literature.
Since then, Epigram Books has published all manner of fiction and non-fiction, from novels to picture books, memoirs to cookbooks, graphic novels to poetry.
(Taken from Epigram books' website)