Dedicated to fashion enthusiasts, Isaiah Chua explores the newly opened vintage clothing store with an awe-spiring selection of clothing.
Stakeout vintage store. Photo by Isaiah Chua.
BY
Isaiah Chua
Lifestyle Section Editor
Hype Issue #53
Published on
July 23, 2021
In Singapore, the absence of a spacious, well-furnished vintage store with a wide selection of garments is blatantly obvious. Current physical vintage clothing stores that exist locally, such as Clasico Casa, are located in miniscule spaces, and mainly specialise in selling vintage T-shirts, rarely other articles of clothing.
However, Stakeout is a newly opened vintage clothing store that fills that absence and caters for Singaporeans seeking a wider variety of vintage garments. With impeccable customer service and a hearty and wholesome atmosphere, it doesn't leave a lot to be desired.
With a special, overarching purpose and concept, Stakeout aims to encourage customers to break their stylistic boundaries and fashion stereotypes. The owners of the store, FJ and Isaac, explained that no one can stop males from trying out a kilt or a skirt in the store.
In fact, they actively encourage customers to be courageous and try out different styles while they're in the store without fearing the judgement of other customers. All of this, at an affordable price.
Guys are encouraged to break the boundaries by trying out the checkered and plaid kilts/skirts they have in the store. They have the option of adopting a more Scottish style: pairing it with a striped, black and white collared shirt; or a more feminine style, pairing it with a beautifully aged, cream knitted L. L. Bean sweater and a plain white T-shirt.
Another prime example would be denim on denim on girls, which is widely considered as unappealing by many. Some may even consider it as abhorrent, but in fact, it's one of the outfits that the store has encouraged customers to try out. Matching a $50 fitted, denim trucker jacket with a pair of $40 dark blue bootcut Ralph Lauren jeans, accompanied by a pair of black boots produces a casual, yet smart outfit that onlookers will be sure to admire. Of course, the outfit isn't complete without a patterned scarf, leather sling bag, a newsboy cap, and a few rings.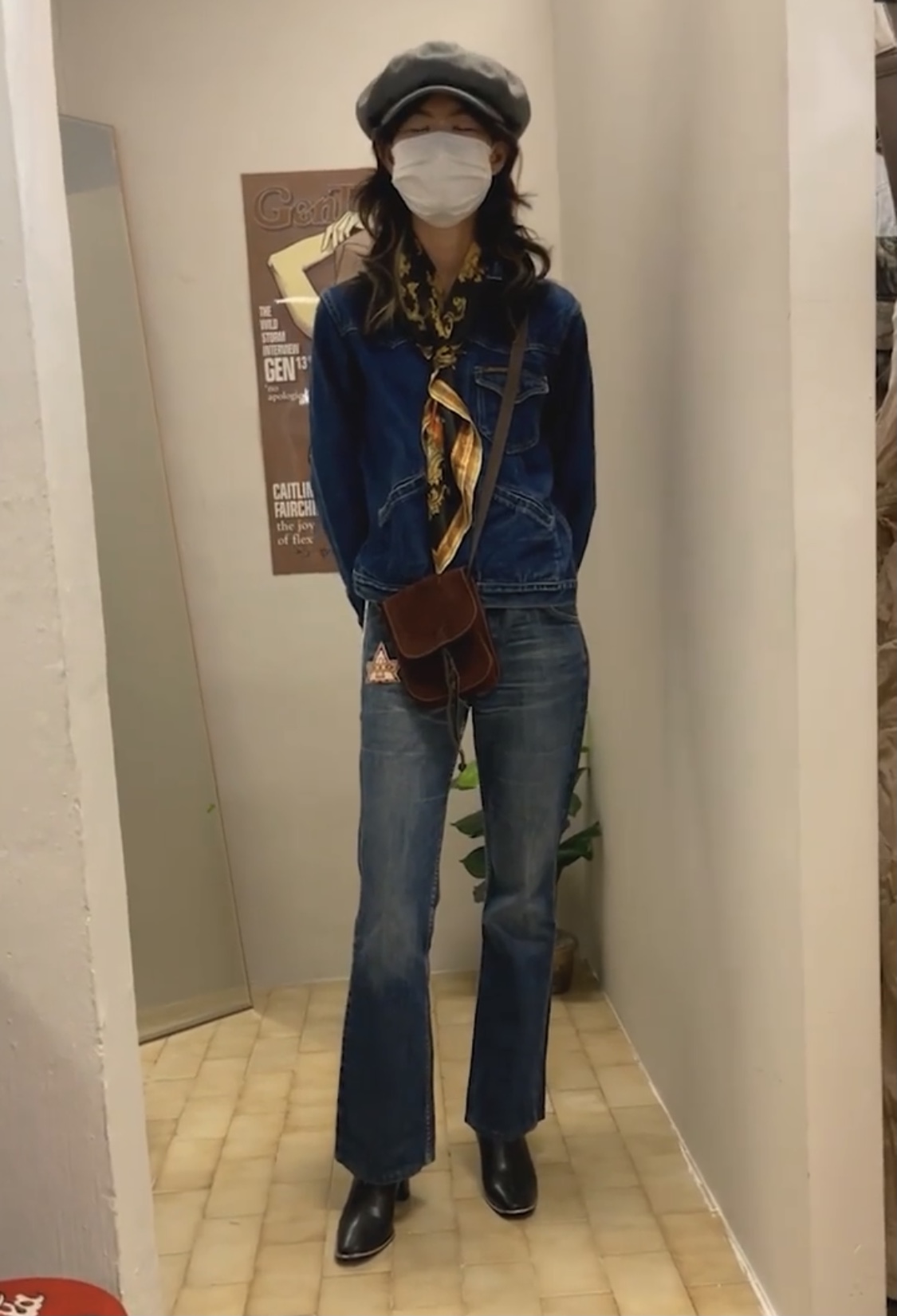 A denim on denim outfit. Image courtesy of Stakeout.
Now you may be asking, where is this place? Now, actually, the hunt for Stakeout can be challenging without a map because it's hidden and tucked away along a multitude of old provision shops. The store itself is difficult to find if you're just aimlessly walking around Jalan Besar.
To give you an idea of how unassuming it is: unless you knew what you were looking for and how to navigate there, you'd walk by the alley where Stakeout is located without batting an eye. It's an inconspicuous clothing store with a white and transparent exterior, similar to a car showroom.
If you were a bystander looking in, you'd firstly observe the fully furnished interior with black, metal racks packed with clothes from left to right. Then you'd see the squeaky clean, bright, white tiles that line the floor in a symmetrical pattern.
Inspired by Japanese vintage clothing stores and thrift stores, countless bags of unopened clothing litter the floor beneath the racks. To top it all off, two dusty vacuum cleaners sit awkwardly in a corner, giving the store a homely feel.
When we visited the store, upbeat, funky Japanese city-pop cheerfully played in the background and one of the owners of the store, Isaac, came up to us asking for song recommendations. It turned out that they have a playlist consisting of customer song recommendations playing continuously in the background, making the experience more personal, and the store feel more welcoming.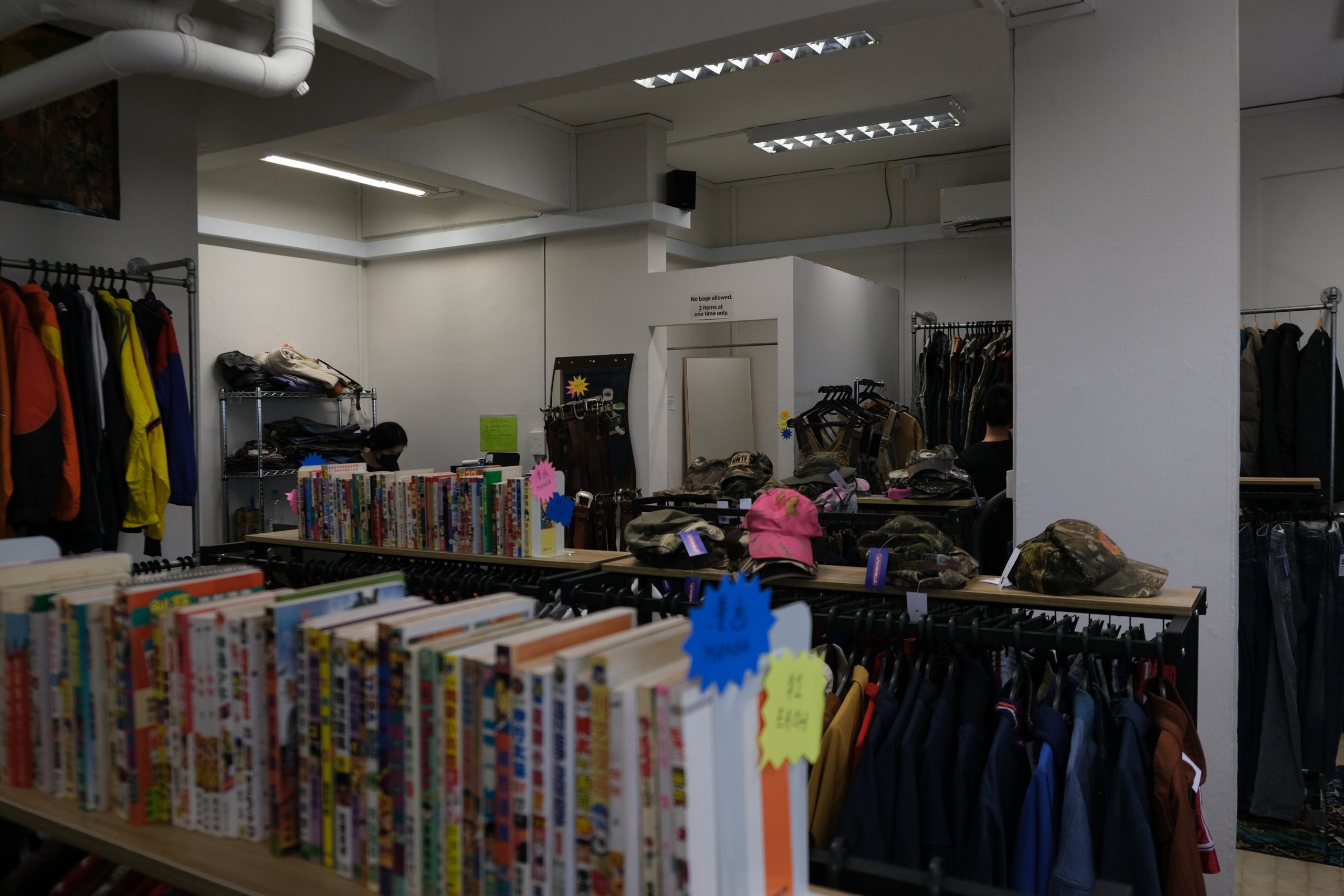 Stakeout also sells old manga for a dollar. Photo by Isaiah Chua.
Now to address one of your biggest concerns: the price. Unlike other vintage clothing stores, prices start from an affordable $20 and can go up to $100 for thicker outerwear. Sleek beige button-ups can go for $25, while black leather and brown suede jackets can sell for upwards of $90.
Nevertheless, it's not difficult to find an outfit from head to toe for under $100 at Stakeout, which is typically unheard of in other vintage stores. Comparatively, if you were to go to any physical vintage store or even shop for vintage clothes online, a button-up can easily start from $40 to $50.

If you're unsure whether you can find the right size of clothes, worry less. The variety of clothes they have is unmatched, with every size you can imagine. Regardless of whether you're petite or of a bigger build, you'll be able to find something that fits you here.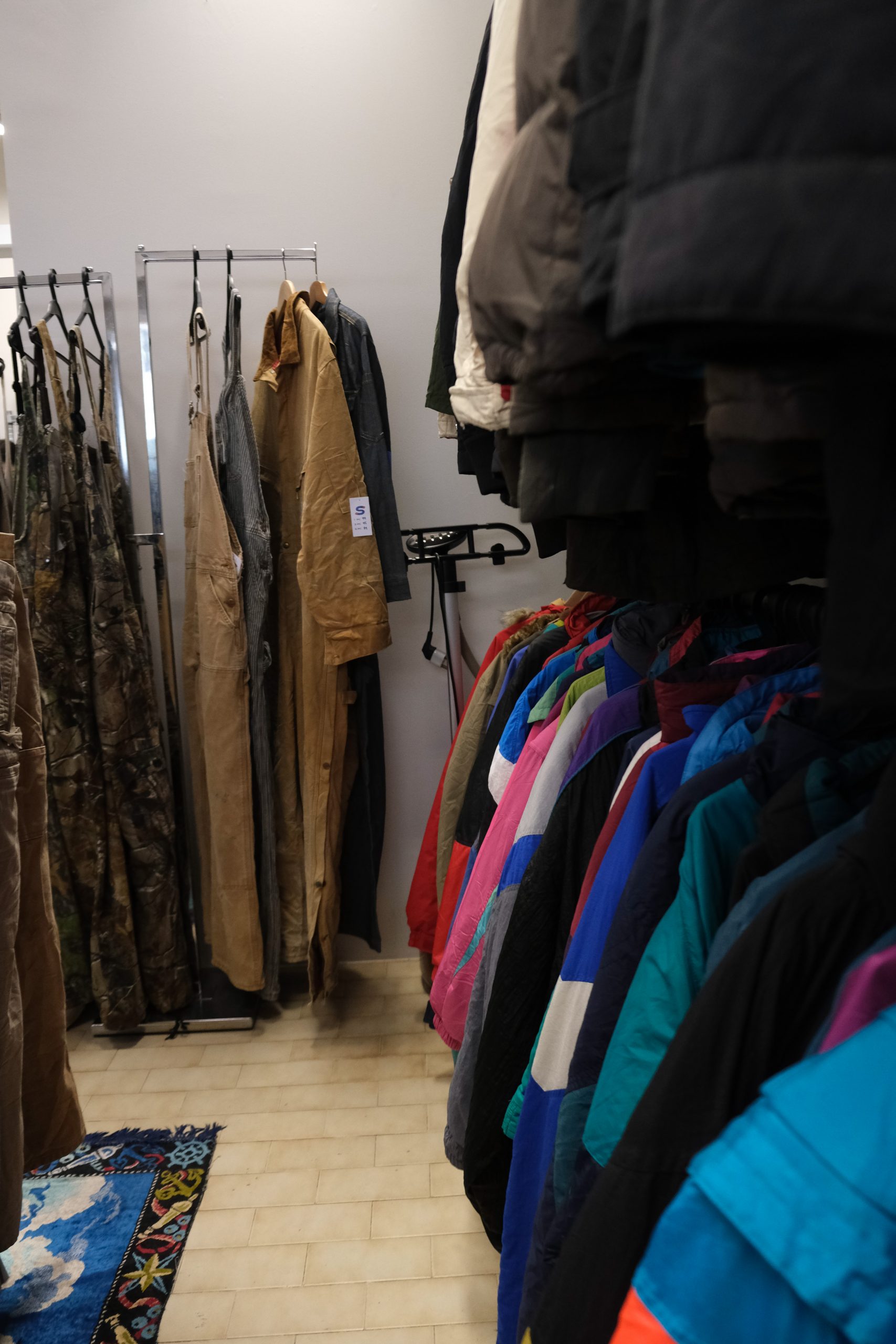 A wide selection of garments, with different sizes. Photo by Isaiah Chua. 
"Walking into Stakeout was really an experience. The sheer amount of clothing across different genres really took me away," said Mr Matthew Phua, 23, one of the customers that shopped there that day. "I loved the fact that I could combine so many and so different pieces together to form so many outfits I never thought I could rock."
The pricing system they have at Stakeout is oddly familiar and unique, also unlike other vintage clothing stores. It's similar to The Editor's Market, where the more items you buy, the cheaper each item gets. This is applicable to almost all the garments in the store.
Interestingly enough, they have 3 tiers of savings: 1 item, 3 items, and 5 items. The higher the tier, the lower the price of each item. Hence, we were recommended by FJ to bring friends along when coming to Stakeout, as we could save more if we collectively bought more pieces of clothing. We recommend you to do the same!
While perusing the racks of clothes that were carefully and specially curated, we found attractive, colourful, purple mohair cardigans on the clean racks for $40, pairs of earth-toned Carhartt double-knee work pants that are highly sought after below $90, and washed bootcut jeans from brands like Levi's and Wrangler for an affordable $50.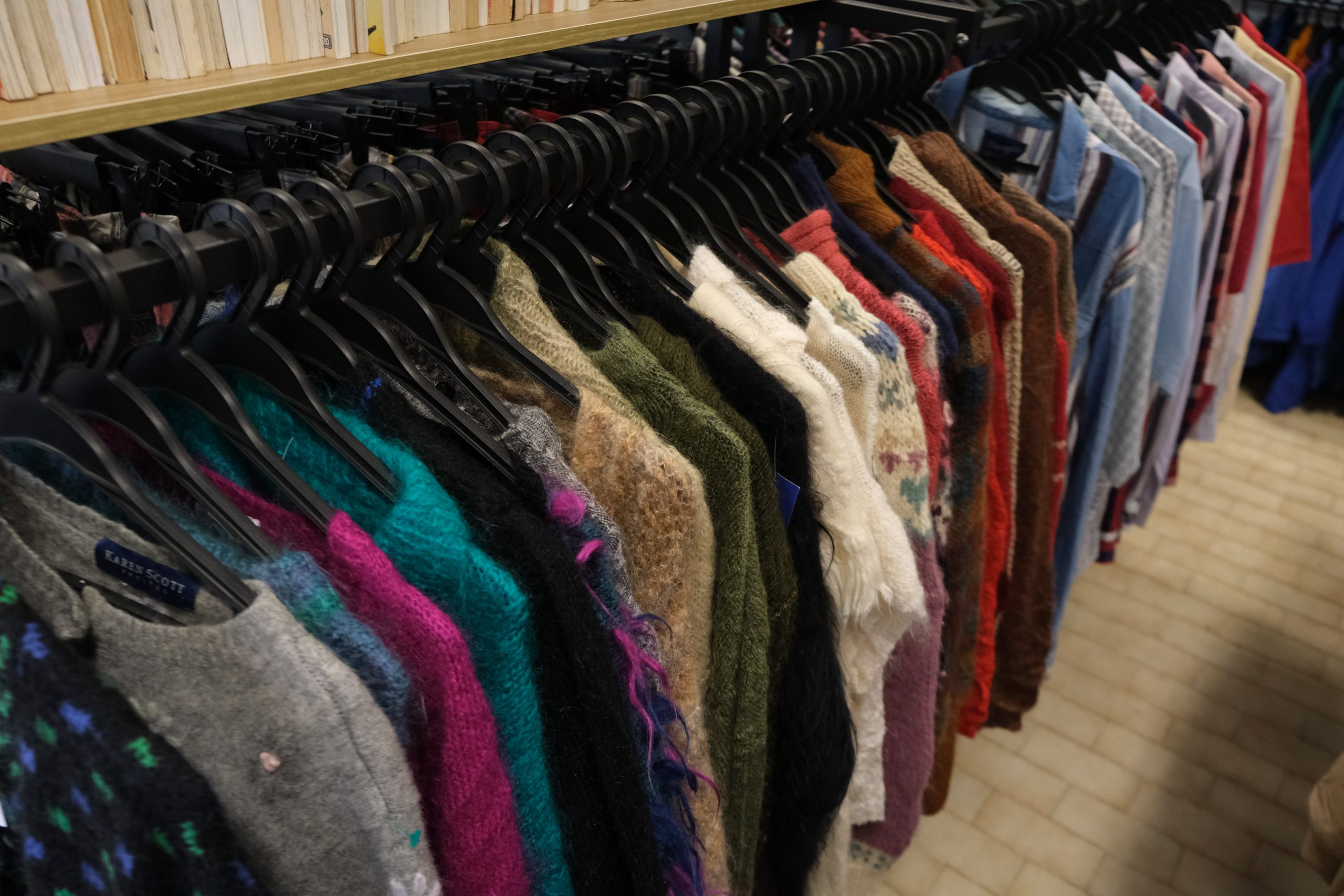 Colourful cardigans. Photo by Isaiah Chua.
Looking back retrospectively, the experience was undeniably an enjoyable one. We wholly recommend this store if you're looking to refresh your wardrobe with new pieces of clothing or looking to buy clothes that may be out of your comfort zone stylistically.
After all, they have an affordable price-point, more than 20 fully packed racks of jackets, windbreakers, overalls, jeans, and a one-of-a-kind atmosphere. Stakeout will not disappoint if you're an avid fashionista.
"Stakeout is for everyone. There's definitely a piece of clothing there that's meant for everyone. Whether you're there to buy clothes, try on outfits, or just have a friendly chat with the stakeout team, it's really the place to be on any occasion," said Mr Phua.
The official address of Stakeout is 635 Veerasamy Rd, #01-154, Singapore 200635. It is a 3-minute walk away from Jalan Besar MRT (Mass Rapid Transport) Station and is also accessible by bus. Finding your way to the store is simple with Google Maps, as Stakeout and their sister store, Loop Garms can be found on there.