The Art of Entrepreneurship: More than Making Money
Since the onset of the pandemic, many youths have started new businesses to give back to vulnerable communities, such as those heavily affected by Covid-19. Celestina Gimino finds out more from these young entrepreneurs
Nuriyah's new satin label for her products. Photo courtesy of Nuriyah Fatin.
BY
Celestina Gimino
Publicity Manager
Hype Issue #53
Published on
July 12, 2021
Threads By Sabs (Custom Embroidery)
Ms Nuriyah Fatin, 21, a student at National University of Singapore (NUS), is one of those young adults who started their own business in the past two years, particularly in June 2020. 
"We were all doing online school, so you're home all the time with nothing to do, and even jobs were not hiring, so [youths] wanted to earn money and start their own business."
She started threadsbysabs on Instagram after her mother started selling masks on Carousell and wanted to move to a different platform to reach a wider audience. 
After some time, the demand for these custom masks began to drop, so she started doing custom embroidery on clothes and totes bags as part of her business.
Ms Nuriyah also expanded her platforms to TikTok and Etsy, where she has a total of 1.4 million likes and 810 sales respectively. Etsy also provides worldwide shipping, allowing Nuriyah to reach a bigger customer base.
Recently, she launched her own website for threadsbysabs so that orders could be made directly through the website instead of messaging her on Instagram.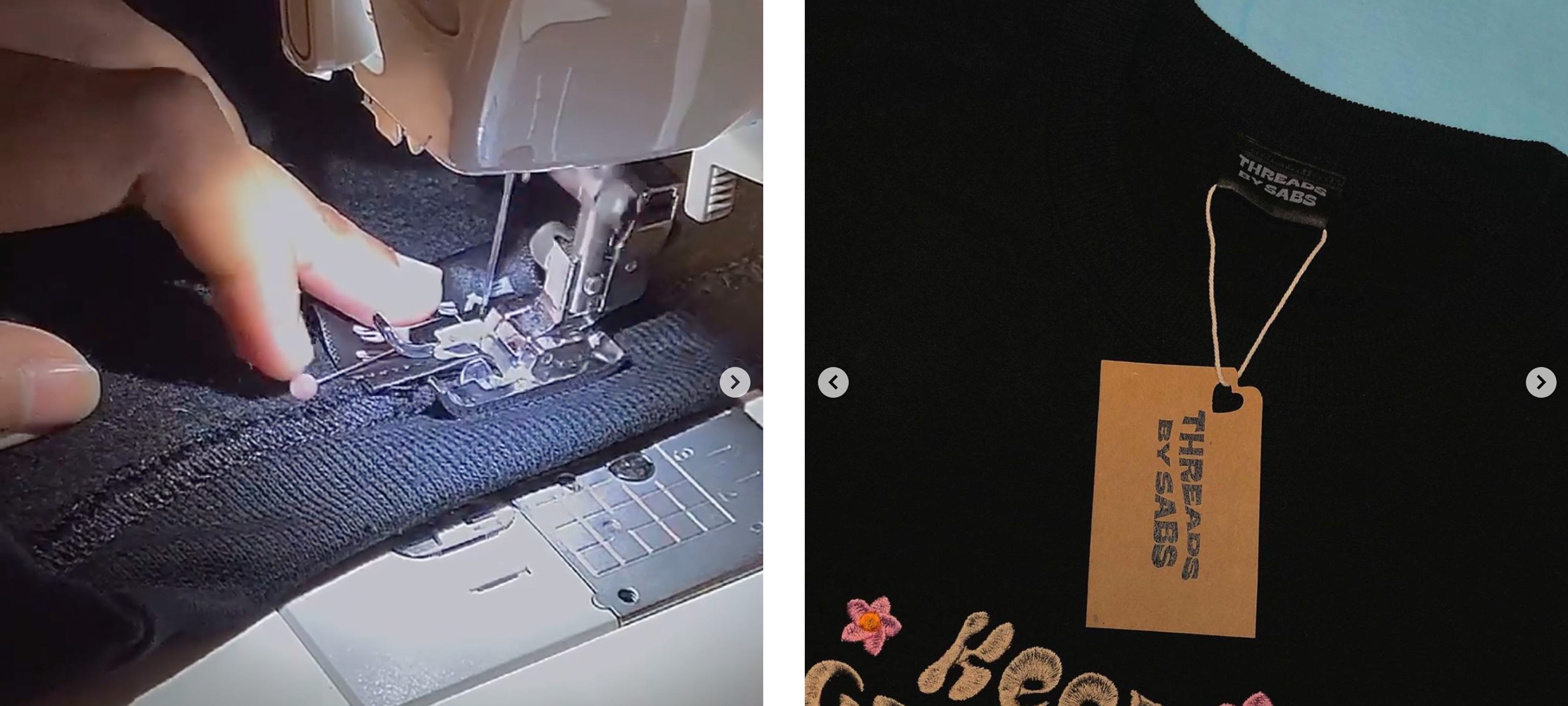 Nuriyah's new satin label for her products. Photo courtesy of Nuriyah Fatin.
As she has not experienced much loss, Nuriyah considers her business to be a success so far, but she still wishes to be able to help more vulnerable communities, such as those under the Financial Assistance Scheme (FAS). As she continues to grow her business, she hopes that she would be able to incorporate discounts for those under FAS, to help others in society. 
"More people are starting businesses for better purposes and not just to make money," said Nuriyah. "As compared to older people, younger people just want to do stuff and help people."
An article by Guardian in 2019 showed that youth businesses have increased from 500 a year in 2009 to more than 4,000 a year. These businesses mainly center around entertainment, food, beauty or technology, where all of them used means of technology and social media to promote themselves.
SunnyIsland Store (Silk Masks)
Ms Nicole Liel, 23, a student at Nanyang Technological University (NTU), is one of the young entrepreneurs who gives back to society through their start-up. She started SunnyIsland Store during Singapore's Circuit Breaker (lockdown). Some of her proceeds go to animal welfare organisations such as Save Our Street Dogs (SOSD) Singapore. 
"When there are fundraisers for charities, people tend to sell keychains or calendars. But it would make [more] sense to sell products that people need for proceeds to go to charity," Ms Liel explains the thought process that she had before she started her business.
She decided to donate proceeds to SOSD due to her soft spot for animals, with the knowledge that animal welfare organisations were also heavily affected by the pandemic.
At SunnyIsland Store, Nicole sells silk masks due to the similarities of its properties to the N95 mask. She does not simply resell masks bought from other platforms, but instead researches for materials that would be everyday-friendly. 
Subsequently, she wanted to make her products more inclusive, especially for Muslims who wear hijabs, so she worked with her supplier to have head loops and extra material at the chin area to provide greater coverage for the masks. 
Ms Vanessa Tan, 26, is the founder of Great Wall Chicken Rice. She saw how the prices of Singaporean comfort food such as chicken rice rose due to the pandemic. Though many people are able to have their meals at home, she saw that some workers, such as delivery riders, are facing difficulties eating due to difficult packaging, such as the paper packaging of chicken rice. Thus, she used styrofoam packages to pack her chicken rice and sold them at more affordable prices.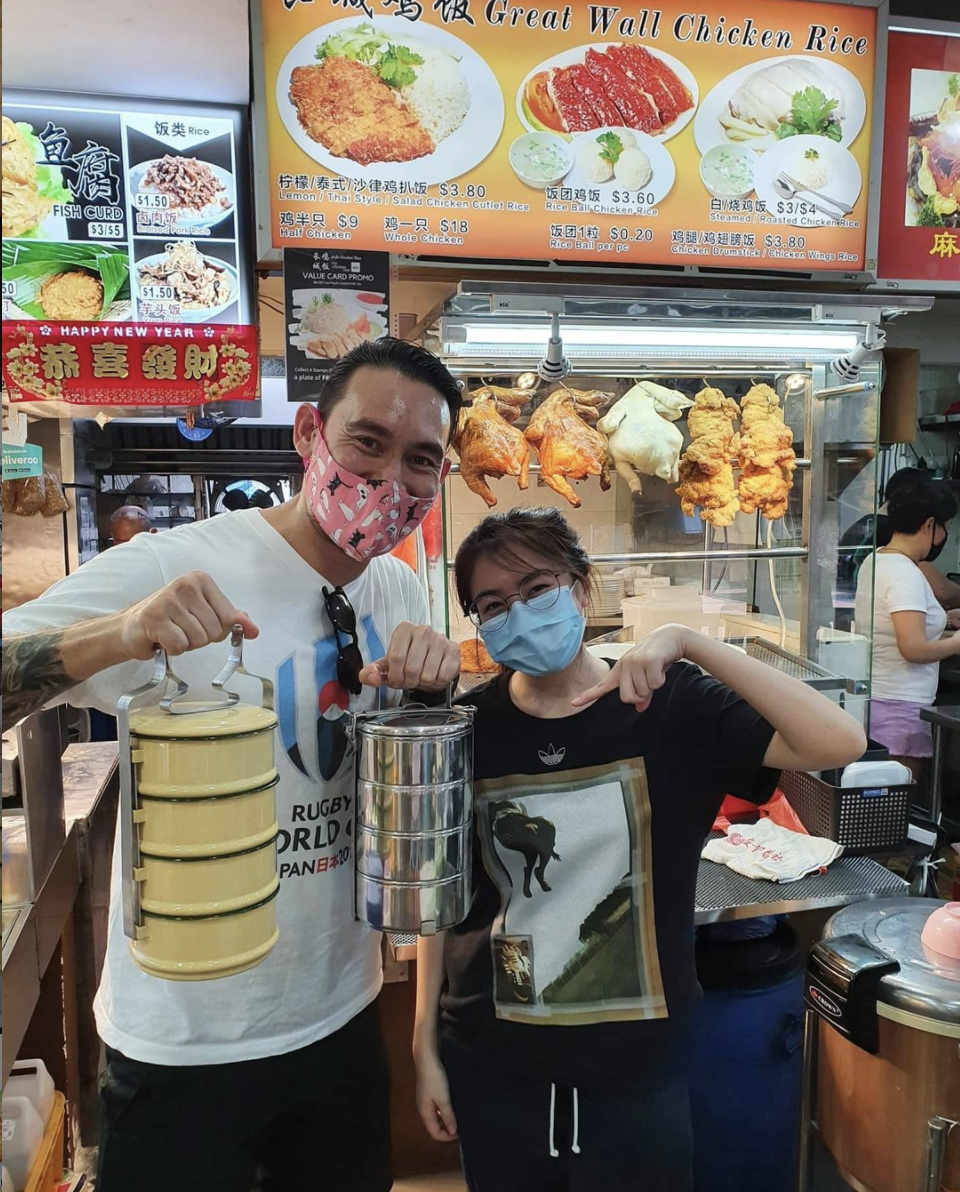 Ms Tan selling chicken rice to actor Paul Foster at her stall. Photo courtesy of Vanessa Tan.
Besides this, she collaborated with Redhill Moral Seniors Activity Centre to donate chicken rice to the elderly who live in rented flats, once a week. She explains that it is important to help the pioneer generation as some of them have been suffering throughout this pandemic and would appreciate such services.
"One pack of chicken rice to us is just a meal, but actually to them, it's quite a lot, because some of them only have one meal per day," she mentions.
Her company not only donates food, but also provides job opportunities for those who have recently lost their jobs.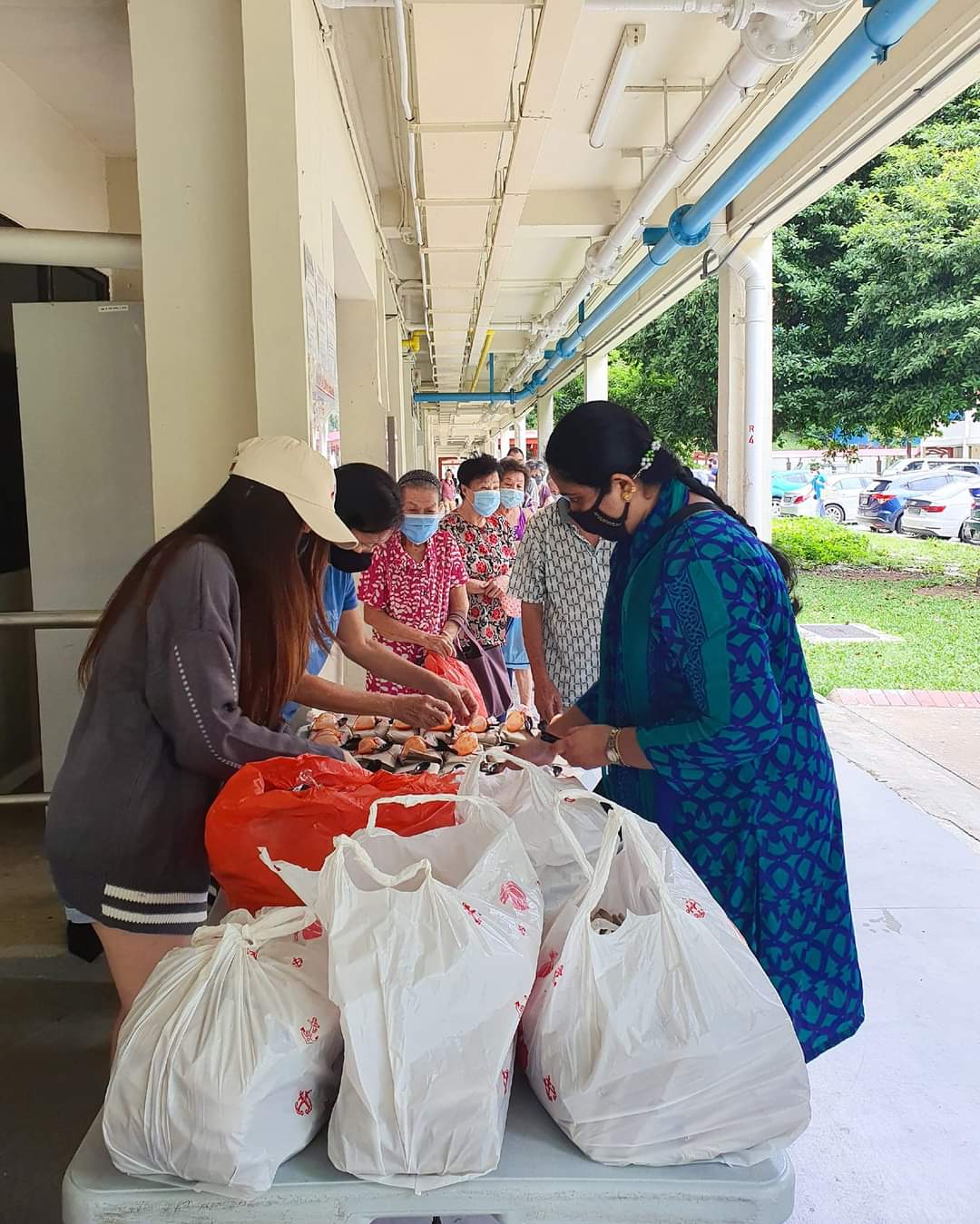 Volunteers from Great Wall Chicken Rice giving out packs of chicken rice to the elderly who live in rental flats. Photo courtesy of Vanessa Tan.
She hopes to expand Great Wall Chicken Rice, to open more branches around Singapore, so that she can assist more people.
Starting a business during the pandemic is no easy feat but yet, it is something that has become common. 
Increase of youth entrepreneurs
According to an article from The Straits Times about the 'Rise of Gen Z entrepreneurs', NTU professors "believe the number of Gen-Z entrepreneurs here has grown in the past few years".
With the growing popularity of videos of entrepreneurs narrating their packing or organising processes on TikTok, more youths have started taking an interest in entrepreneurship.
With the increase in youth start-ups since the beginning of the pandemic, TheSmartLocal released an article with eight tips on how to start an online business. It is important to research how your product can be useful to others and how you can find reliable suppliers. As seen from these tips, there is no doubt that starting an online business is not as simple as it may seem.
However, Nicole pointed out that many young people do not see the different aspects that have to be considered to start a business. 
"We romanticise and idealise this 'small business [idea]', to [the] point where it sets an unrealistic standard and reality of how running an actual business is," says Nicole.
SunnyIsland Store and Great Wall Chicken Rice were not each of the respective founders' first businesses, so they had experienced the difficulties of starting a business before. 
Vanessa recalled her past concerns when she wanted to give up, but was encouraged to continue when her father explained that "everyone has to start somewhere". 
At first, she promoted her business through different methods such as stamp cards. Vanessa then continued working hard on Great Wall Chicken Rice, keeping in mind how she would be able to help others through this. 
"It's quite fulfilling watching my business grow," said Vanessa. 
As a university student, Nuriyah's main challenge is balancing her time for school work and incoming orders for customers. She also had a part-time job when she first started, which did not make things easier. At times, these commitments resulted in her neglecting her school work. 
Other young entrepreneurs share similar experiences in starting a new business and their favourite parts of being able to do what they do. Though the businesses are mainly ways to earn extra income, they also acknowledge that the customer satisfaction is what motivates them to continue. 
Nicole appreciates it when customers message her compliments on her silk masks.  
"It makes me happy because it shows [that] you're going in the right direction and your product is helping people," Nicole elaborates.
Even with a rough start to Great Wall Chicken Rice, Vanessa came to acknowledge that: "The money is not the main part, but [it's more of] the positive impact you give people." 
As more youths venture into the business world with their own start-ups, it is inevitably amazing that they have the heart to give back to different communities and organisations. It is also commendable that at a young age, they are exploring options to use their interests and talents to earn an external source of income, instead of working an ordinary office job.
With the young people's desire to reach out to others, would this mean a different future for the business industry?