Teenage Pregnancy: It's Not The End
Two couples share with Lavonne Yew their experiences and thoughts on teen pregnancy and teen parenting.
Photos courtesy of Wynelle Tan and Nur Elfysha Binte Mohammed Zahar.
BY
Lavonne Yew
Deputy Editor
Hype Issue #53
Published on
June 26 , 2021
Teenage pregnancy is often recognised as an unfortunate mistake that would ruin the lives of adolescents. To date, it is still perceived as a taboo that would garner judgement from our society.
However, it is undeniably still a prevalent issue. HYPE spoke to two couples who went through teenage pregnancy to understand their experience.
According to The Registry of Births and Deaths, 280 teenagers in Singapore aged 19 and below gave birth in 2019. Although this was a notable drop from 2011, when there were 624 teens giving birth, the numbers are still significant.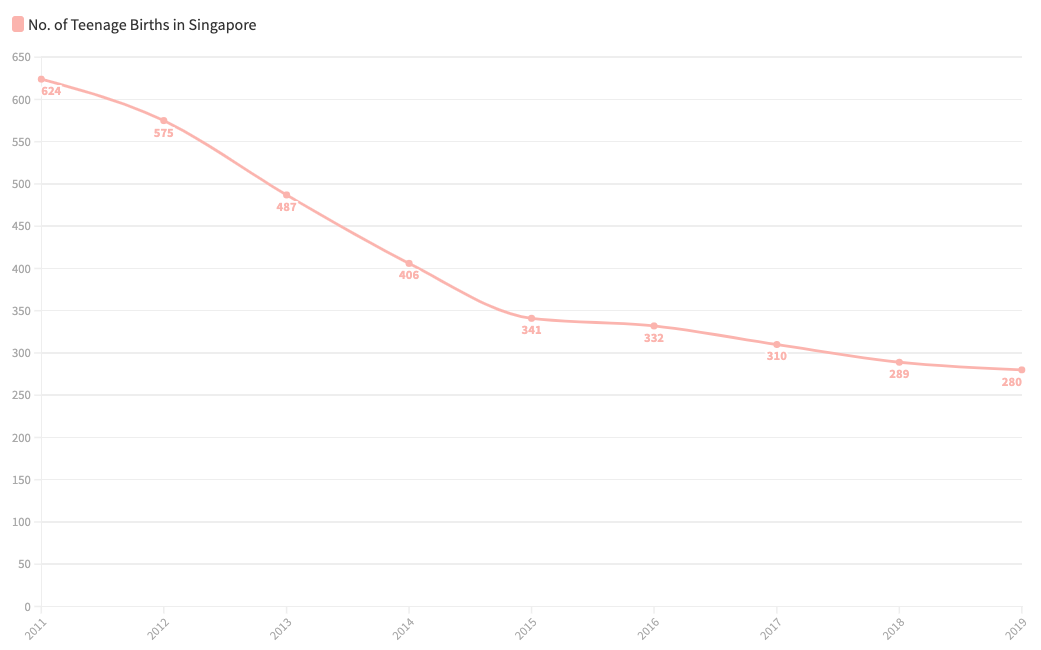 With reference to a review by Hechtman, both teenage parents and their children are at higher risks of facing physical and emotional problems such as pregnancy complications, depression and poverty.
These challenges are usually what comes to people's minds when they hear the term 'teenage pregnancy'.
Wynelle Tan, 19, is currently doing an internship at Sofitel Singapore City Centre as part of her Higher Nitec course of Hospitality Operations. After six months of dating (they took a break in between the span of a year) Mr Chua Yi Hang Ernest, 22, now a National Serviceman, she conceived Chua Ci En Erzel, now 2. 
Wynelle was 16 when she found out she was pregnant with Erzel. Unlike most teenage mothers who would be worried-stricken about conceiving at a young age, Wynelle was over the moon.
 "I told him that if you want you can walk off, I'm totally fine, but I'm keeping the baby because I'm not a person who supports abortion," said Wynelle. "To [my family], children are a blessing, because not everybody [is] so lucky."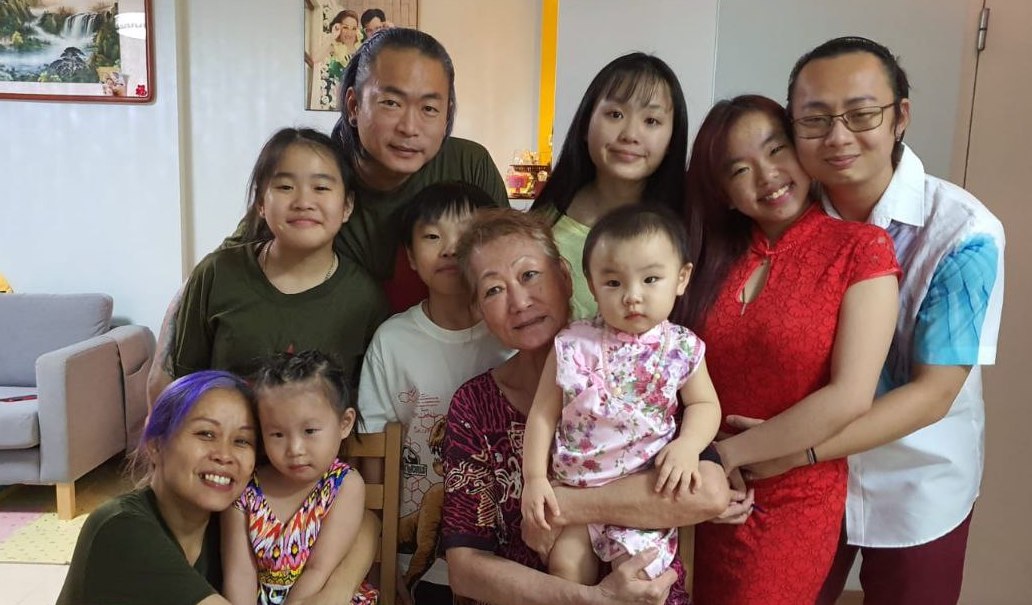 Wynelle's mother (from left, first of front row) was upset, but not to the point of wanting to disown Wynelle, like some parents would. Photo courtesy of Wynelle Tan.
Wynelle's mother showed support for whatever decision Wynelle's made.
 Ernest was more anxious due to his more conservative parents and upbringing.
 "[They] go by the book, must study, study already, get a job, then get somebody to marry, then buy a house," said Ernest. "Very stringent, law by law."
Under the Termination of Pregnancy act (TPA), a pregnant woman is only allowed to abort if she:
(a) is a citizen of Singapore or is the wife of a citizen of Singapore;
(b) is the holder, or is the wife of a holder, of a work pass issued under the Employment of Foreign Manpower Act (Cap. 91A); or
(c) has been resident in Singapore for a period of at least 4 months immediately preceding the date on which such treatment is to be carried out,
but this subsection shall not apply to any treatment to terminate pregnancy which is immediately necessary to save the life of the pregnant woman.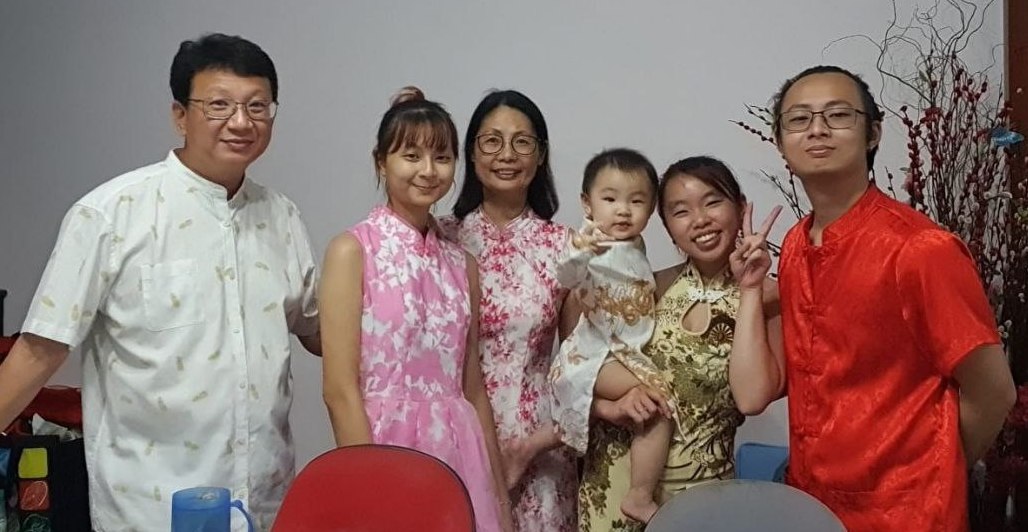 Ernest's father, sister, mother, Erzel, Wynelle, Ernest (from left). Ernest's parents gradually accepted the pregnancy and provided both financial and physical support for Erzel. Photo courtesy of Wynelle Tan.
The couple did part-time jobs to raise their finances before Erzel was born.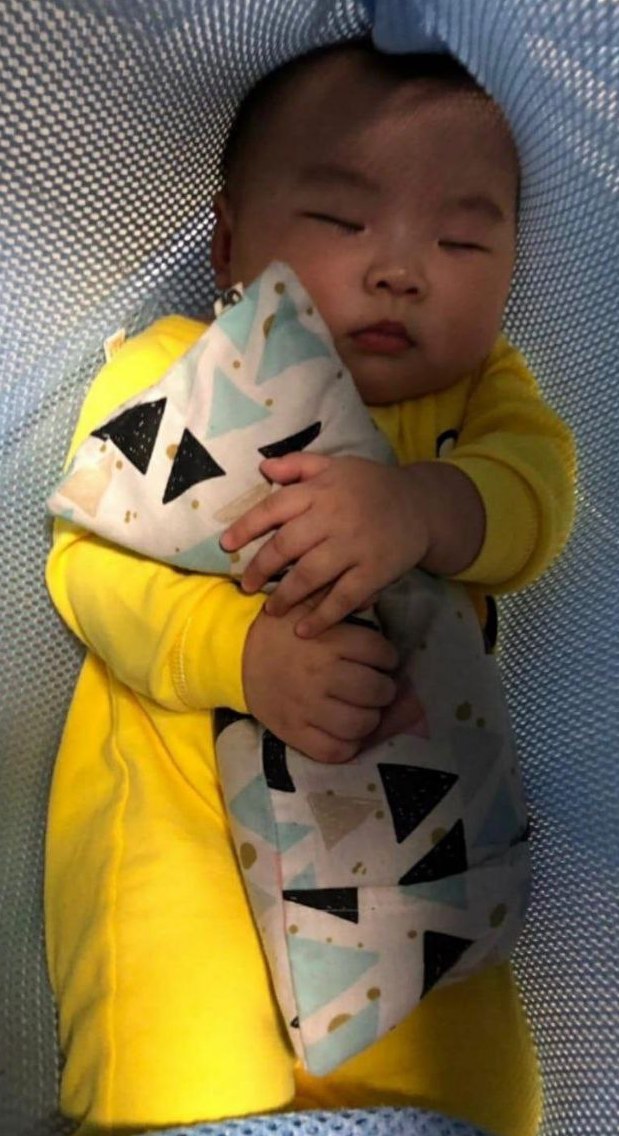 Wynelle gave birth to Erzel on Jan 6, 2019. Photo courtesy of Wynelle Tan.
Wynelle then took a year break after her O-level examinations to take care of her daughter.
"[Having] your kids waiting for you at home is a totally different kind of feeling," said Ernest. "It's a totally different definition of home."
 The couple then had a second unplanned pregnancy.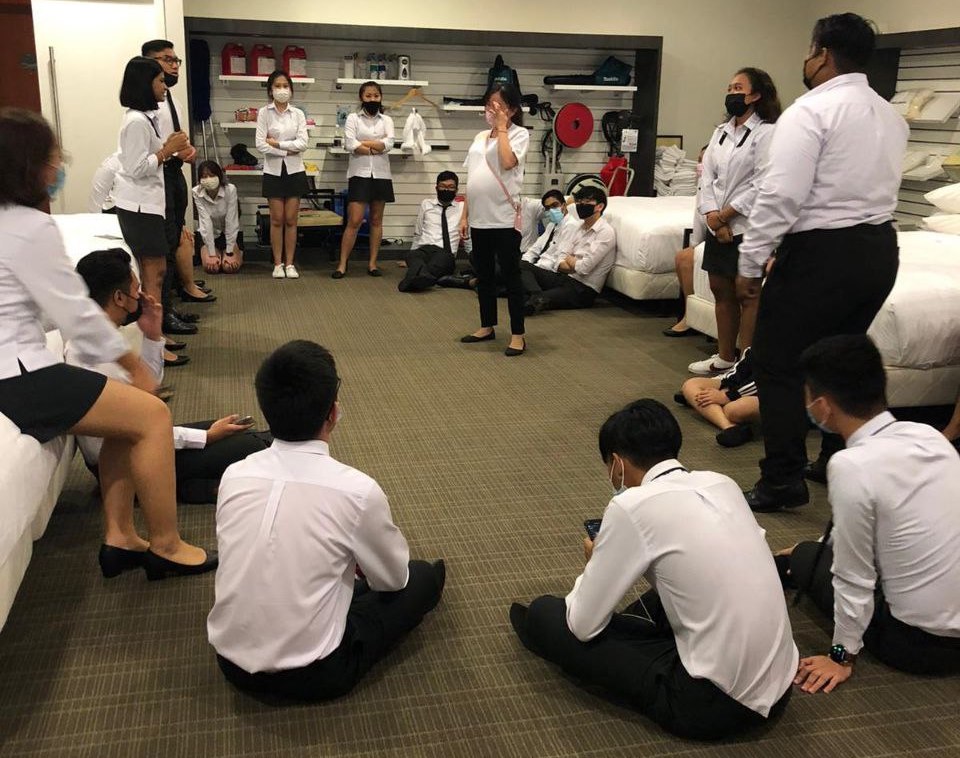 Wynelle (at the center) continued attending Hospitality Operations classes at the Institute of Technical Education (ITE) while she was pregnant. Photo courtesy of Wynelle Tan.
"I didn't feel the need to hide anything," said Wynelle. "If you accept it, then you accept it. If you don't, then you don't, that's your problem."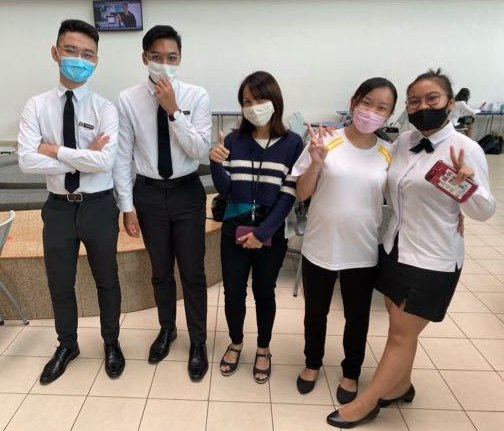 Wynelle (fourth from the left) is very open with letting her teacher and friends from ITE know about her pregnancy. Photo courtesy of Wynelle Tan.
Wynelle gave birth to Chua Xu Hao Erzen, 5 months old, on Dec 12, 2020.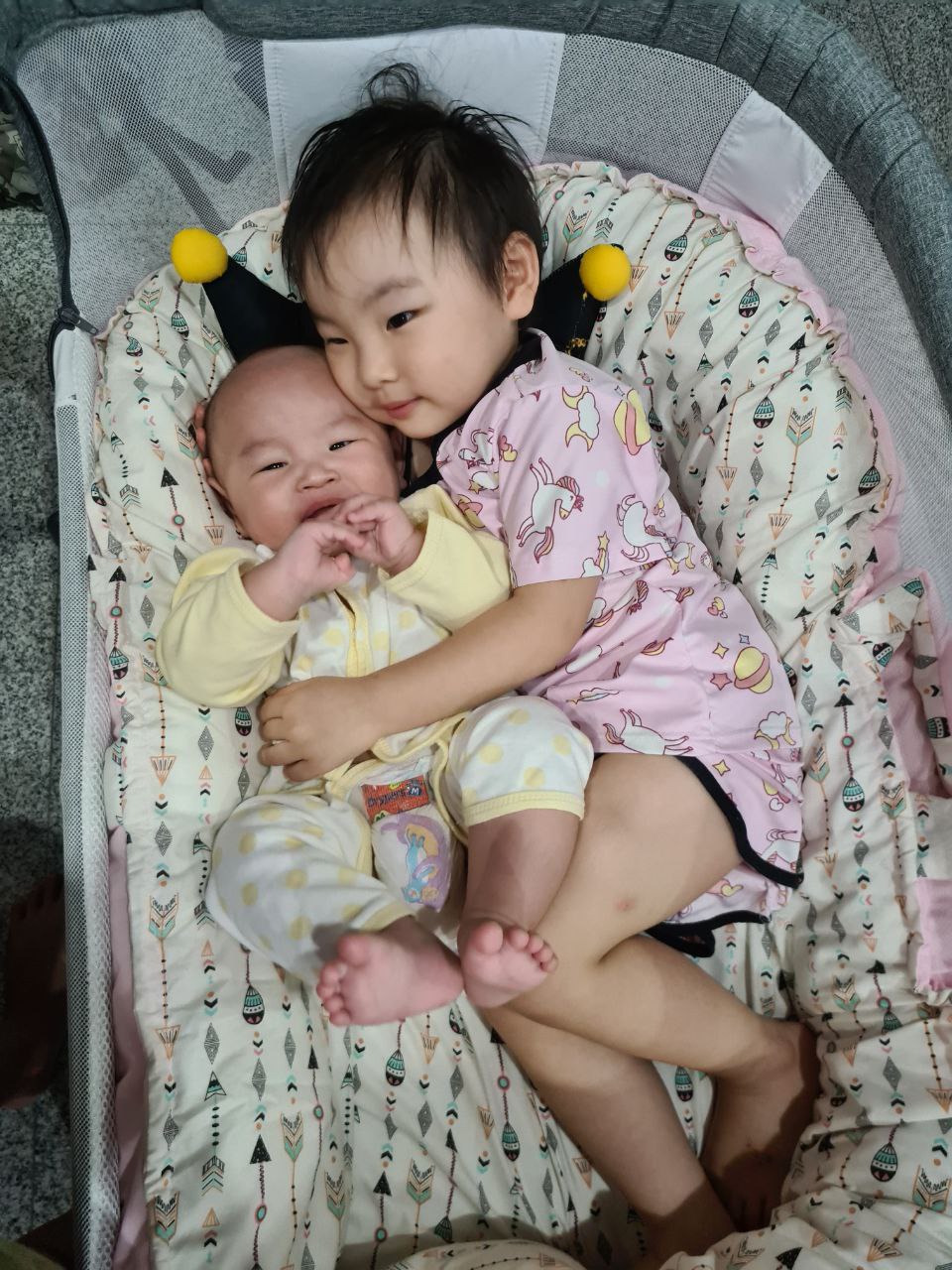 Erzel (right) acts as a big-sister figure by comforting Erzen (left) when he cries. Photo courtesy of Wynelle Tan.
"You go through everything once already, telling them, you already prepared what they're going to say already," said Wynelle. "You raised the first one before, so sort of know what to do."
Ernest plans to pursue a degree upon completing his National Service (NS).
HYPE spoke to another couple who went through unplanned teenage pregnancy.
Nur Elfysha Binte Mohammed Zahar, 20, homemaker, dated Muhammad Izzuddin Bin Ismail, 20, a part-timer, for three years before she became pregnant. She gave birth to Muhammad Izzat Ismail Bin Muhammad Izzuddin, 10 months old, when she was 19.
"I was really scared to tell his family because I was adopted. His family adopted me," said Elfysha.
Izzuddin was also fearful. He thought: "Am I ready to be a father? Can I handle this responsibility? There [are] a lot of challenges."
They eventually came to the conclusion of keeping their baby because they recognised that "it was a gift from God".
Afraid of the consequences, the couple hid their pregnancy from his family for seven months, before Izzuddin's brother-in-law noticed her baby bump and urged them to come clean with Izzuddin's mother about the pregnancy.
The couple, too, worked hard for their child. They were parcel workers, cleaners and night-shift workers.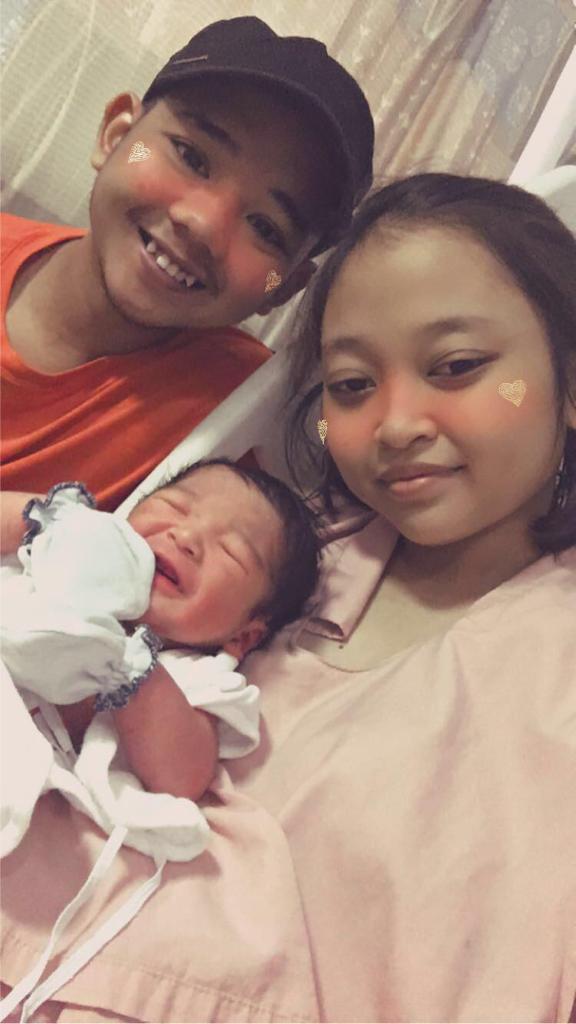 Izzuddin could not be there during Elfysha's labour because he was unable to leave work. Photo courtesy of Nur Elfysha Binte Mohammed Zahar.
Now that Izzat is born, the couple faces another challenge: Izzuddin needing to enlist for NS in August.
Elfysha and Izzuddin were already done with their studies before she conceived. However, the pregnancy led to Elfysha quitting her job as a Customer Service Officer. Initially, she really enjoyed working there and had planned to continue for as long as she could.
"It was my first trimester. I couldn't stand, I couldn't do anything at all," said Elfysha.
Both couples also cited a significant loss of time with friends as a result of the pregnancy.
Wynelle said: "We've got to plan 'who can take him?', 'how long can I be out?', 'what time [do] I have to be back?'"
"Last time we can go out [at] 2am … but with the kids we cannot, because we have to find people to take care, or in the daytime you [would] already [be] very tired," said Ernest.
However, there were also many upsides that the couples could identify.
Ernest pointed out how the smaller age gap can bring more opportunities for bonding with their children.
"We can bring them for their first clubbing, be physically able to support their ideas," said Ernest. "Whereas we have a lot of friends … they want to go and try this out with their parents, but then [their] parents [are already old and their legs are] tired."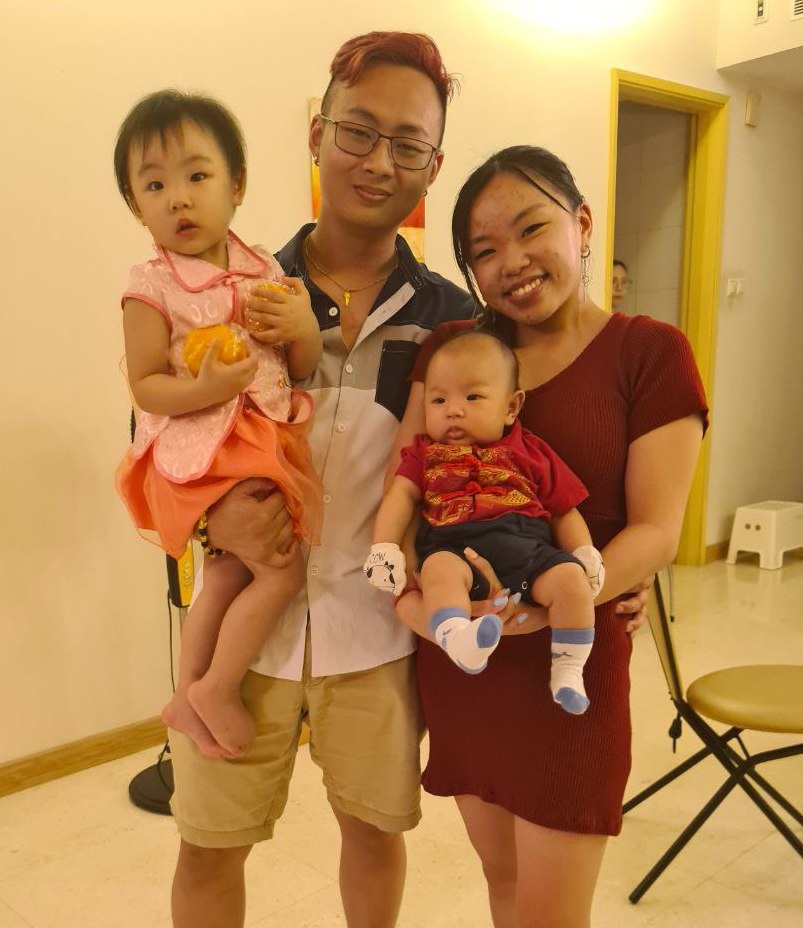 Wynelle and Ernest feel that the definition of good parenting is to each his own; although they may not be able to provide strong financial support for their children now, they shower them with all their love. Photo courtesy of Wynelle Tan.
He also highlighted how children would feel ease in sharing their thoughts and feelings with their younger parents, and how being young parents would also mean early retirement.
"We have it tougher, but we have it earlier," said Ernest.
Izzuddin felt that becoming a parent, despite the young age, made him mature and truly understand the meaning of fatherly love. On the other hand, Elfysha felt that becoming parents grew their patience.
"[Izzuddin] had anger management [issues]," said Elfysha. "After we had [a kid], he actually changed bit by bit [and became so much more patient]."
Elfysha and Izzuddin feel that it is possible for teenagers to also raise their children well with adequate finances and their partner's understanding and support. Photo courtesy of Nur Elfysha Binte Mohammed Zahar.
 Babes is an organisation that provides help for teenagers who are dealing with pregnancy. HYPE spoke to Ms Pearlyn Tan, Social Media and Volunteer Management Executive for Babes, to gain insights on teenage pregnancies in Singapore.
 Ms Tan attributes the drop in teenage pregnancies to technological advancements and accessibility to information and contraceptives.
 "Even if our schools may not be the most progressive in terms of sex education, students can easily find the information online," said Ms Tan. "You can just go to Fairprice (supermarket) or 7-Eleven (convenience store) and you can [find] condoms there."
 She also thinks that our pragmatic and risk-averse Asian culture motivates us to "take measures to protect ourselves or to prevent the worst outcome".
 Ms Tan wishes that our society would debunk the assumption that becoming teenage parents means that "their future is gone".
 "We do have girls who are very proactive, who are pushing themselves despite being a mother," said Ms Tan. "Becoming a young mother is not the end of the world, you have the power to change your situation and how you handle it."
 Although the numbers are declining, teenage pregnancy is still a real issue in Singapore and Ms Tan said that the possible factors are the lack of consequential thinking and pressure from their peers and partner.
 "They just thought like, 'you can't be that suay (unlucky), it's only once, what are the chances',"said Ms Tan. 
 Izzuddin also feels that the decision to practice safe sex still lies with the teens themselves.
 "No matter what you teach, it's their own [choice] whether they want to wear protection," says Izzuddin. "You cannot control that."