Hawker Heritage: The Singaporean Identity
Amidst a raging pandemic, Isaiah Chua discovers the importance of Hawker Culture to Singapore and what we can do to save it.
 A family dining together at a hawker centre. Photo taken from of Roots.Sg.
BY
Isaiah Chua
Lifestyle Section Editor
Hype Issue #53
Published on
June 16, 2021
No matter where you wander in Singapore, you're bound to catch sight of a hawker centre. In most parts of the country, one or sometimes even two hawker centres are present. There is a reason for this. Stemming from its frugal roots, Hawker Culture is widespread in Singapore today because of its role during the country's road to independence and growth.
This culture has been of great significance in both our modern and olden societies. Hawking was first pioneered by the early immigrants of Singapore, who were eager to make a living for themselves.
In modern times, our Hawker Culture has been nominated and added to the UNESCO (Educational, Scientific and Cultural Organization) intangible cultural heritage list.
It was awarded because of the hawkers' role in our society. In the UNESCO article, hawker centres are described as "a social space that embraces people from diverse socioeconomic backgrounds" and that "hawker centres play a crucial role in enhancing community interactions and strengthening the social fabric".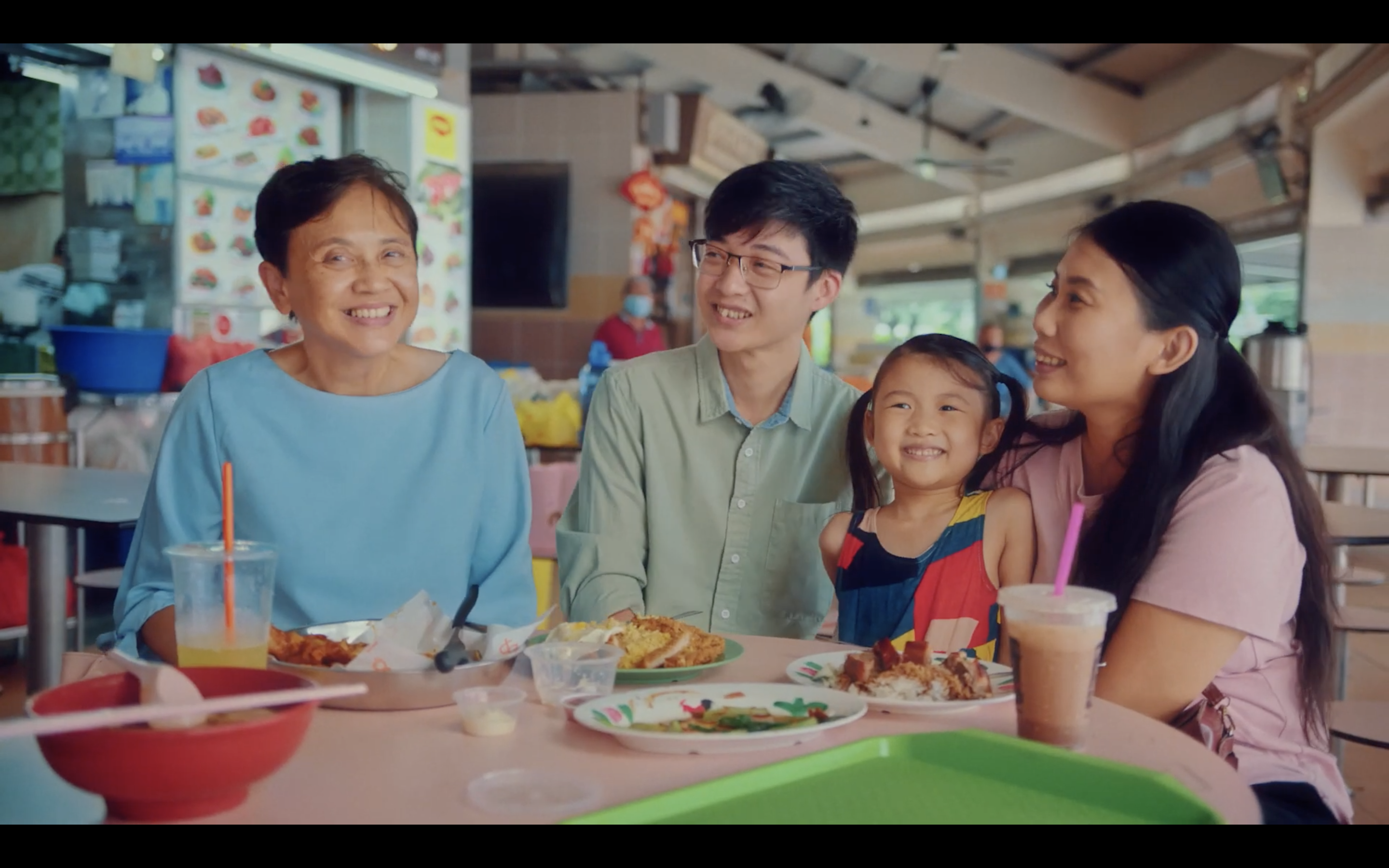 A family dining together at a hawker centre. Photo taken from Roots.sg.
A 2021 article by National Geographic expounded on the role of hawker food, especially after World War 2. After the war, unemployment could not be more rampant and many Singaporeans resorted to becoming hawkers themselves. They would sell the local food that we're familiar with today, such as Bak Kut Teh (Pork Ribs Soup) and cold drinks by the roadside.
 However, this all changed when Singapore gained its independence. These hawkers, who had been operating on the street, were relocated to what we now know as hawker centres by the government. The vicinity was free of the problems that plagued them previously, such as the lack of clean water and unsanitary conditions.
 In modern times, hawker centres have slowly but surely evolved into community spaces. In a video segment by Roots Sg, Karney Ngai, Chairman of Yuhua Village Market & Food Centre, said that hawker centres are more like community spaces.
 Ms Emily Chan, 58, owner of Tropical Drinks Station, has been a hawker for over 40 years and agrees: "In hawker centres, whether you are rich or poor, you eat at the same place and Singaporeans should be proud of that."
 Unfortunately, many challenges have also risen for the culture and the hawkers themselves amidst this modern time and pandemic.
Today's hawkers are plagued with a myriad of difficulties, excluding the Covid-19 pandemic. From competition with newer stalls to pricing difficulties, they all contribute to the ever-growing burden that weighs on today's hawkers.
The pandemic itself undoubtedly poses a problem to all hawkers, as most of them experienced a sharp decline in sales.
"The biggest and recent challenge is the decline in business due to Covid-19 and the restrictions made. Sales have been affected and we have lost some regular customers because of the restrictions made on dining in," says Mr Yang Zhen, 45, owner of Zhong Xin Ban Mian.
Older hawkers are also unable to set up online platforms that allow them to deliver food to patrons.
"Actually, in this pandemic, there are a lot of heritage stores closing down because they do not have delivery and it's not easy for them to set up," says Mr Edwin Tan, 39, fourth-generation owner of the hawker store Authentic Hock Lam Street Popular Beef Kway Teow.
Furthermore, there are hawkers who are unable or unwilling to pay the additional charges that accompany the installation of these platforms. These hawkers are unknown to the Singaporean eye and do not have as much recognition as famous stalls.
Mr KF Seetoh, founder of Makansutra and a strong advocate for Singaporean Hawker Culture, said: "They (hawkers) cannot afford to pay the maintenance cost plus the 30 per cent (platform fee)."
It's just not economically friendly.
However, the pandemic aside, another hardship affecting hawkers is the emergence of newer stalls that sport fresh concepts and exhibit more extravagant designs, which have made business and competition more gruesome.
"Now young people want new flavours, but older hawkers cannot keep up with this. They only sell the original flavour and never change," says Yang Xiao Ling, 44, co-owner of Tanjong Rhu Wanton Noodle.
Walk into any hawker centre nowadays and you're almost guaranteed to find a young hawker, eager to sell you his newest creation: a fusion of different Singaporean cuisines, or an aptly decorated, modernised store serving coffee made from imported coffee beans.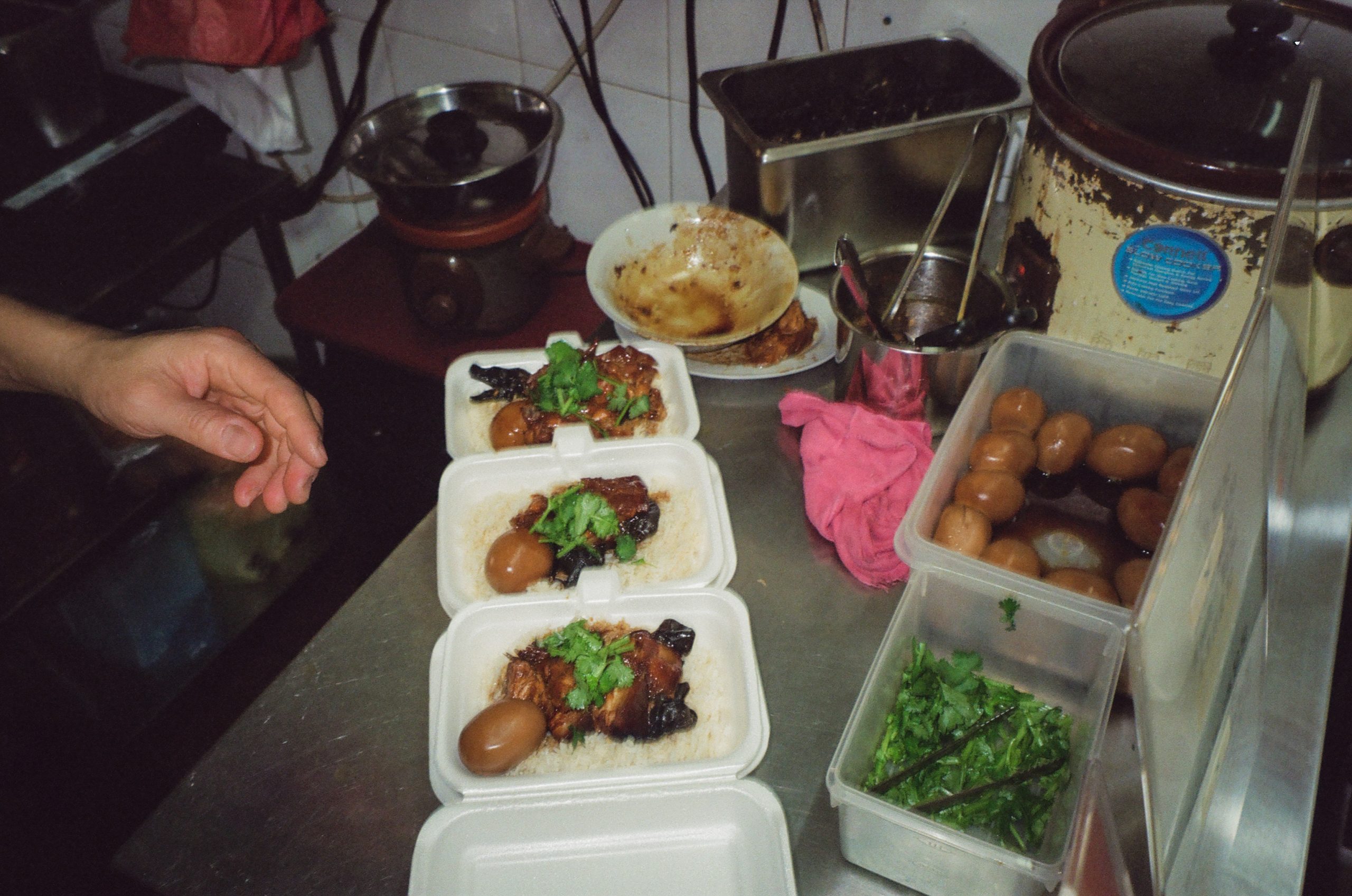 A newer hawker preparing Lu Rou Fan (Braised Pork Rice), a dish that's not a traditional hawker food. Photo by Isaiah Chua.
"A lot more people are opening stalls and selling, and you have to compete with a lot of people," Ms Yang adds.
 This has developed into a full-fledged problem. As time goes on, the stores supported by the younger generation will end up surviving, but traditional stores that are supported by the older generation will inevitably be left in the dirt because of Singapore's ageing population.
 Oversaturation has also emerged as a thorn in the side of Singaporean hawkers today.
 "Honestly, Singapore has too many hawkers," remarks Ms Ye Shi Hua, 45, owner of Old Taste Yong Tau Foo.
 According to the National Environmental Agency (NEA), there are 114 hawker centres operating currently. Additionally, a report on data.gov.sg stated that there were a staggering 13,828 hawker stalls in Singapore.
"If you're comparing, last time for F&B (Food and Beverage Industry), maybe there were 100 stores in the neighbourhood, but now there are 2,000 stalls," Mr Tan agrees.
Interestingly enough, hawkers aren't the only ones lamenting over this trend. Avid foodies such asBrandon Au, 32, have their reservations about the trend.
"In every neighbourhood, you have two to three hawker centres. Each hawker centre has about 100–200 stalls. You're looking at 300 stalls serving a small neighbourhood. This is not including neighbourhood food courts," he says.
"What happens when you have oversupply? You have mediocre food. When you have mediocre food, people don't want to pay. So, we're in a situation where we have an oversupply of mediocre stores and a lack of good quality stores, and everyone suffers," he adds grimly.
Lastly, hawkers face the ultimate dilemma of pricing in relation to modern eatery prices, a predicament many of their forefathers did not face when they were selling in hawker centres in the past.
Why has this problem arisen? It's due to the rapid rise of the restaurant industry and the intriguing switch of many Singaporeans' food preferences.
"You won't be eating a Char Siew (fork-roasted pork) Noodle for $10, but you're willing to pay for a spaghetti for $20. That's the problem with Singaporeans. You cannot change the fact of it," explains Mr Tan.
The fate of hawkers may simply rest on whether this problem yields a solution.
"As long as Singaporeans have the mindset that local hawker food is not good enough for us to pay $8 or even $10. The future of hawkers is dead," adds Mr Au. "In Singapore, once you have a Bak Chor Mee go over $4, people say you're crazy."
Once a hawker cannot make a decent profit, there's no future.
Despite the long list of difficulties, being a hawker has its fair share of benefits as well.
The Blessings of Being a Hawker
As most hawkers shared, being a hawker has its unique benefits you cannot find in any other profession. It is carrying on the long-lasting legacy of a certain traditional dish, about community service, and building relationships with customers.
"You can have the satisfaction when the customers say 'wah, very nice food' or 'thanks for continuing the legacy', it makes me feel worth it," says Mr Tan.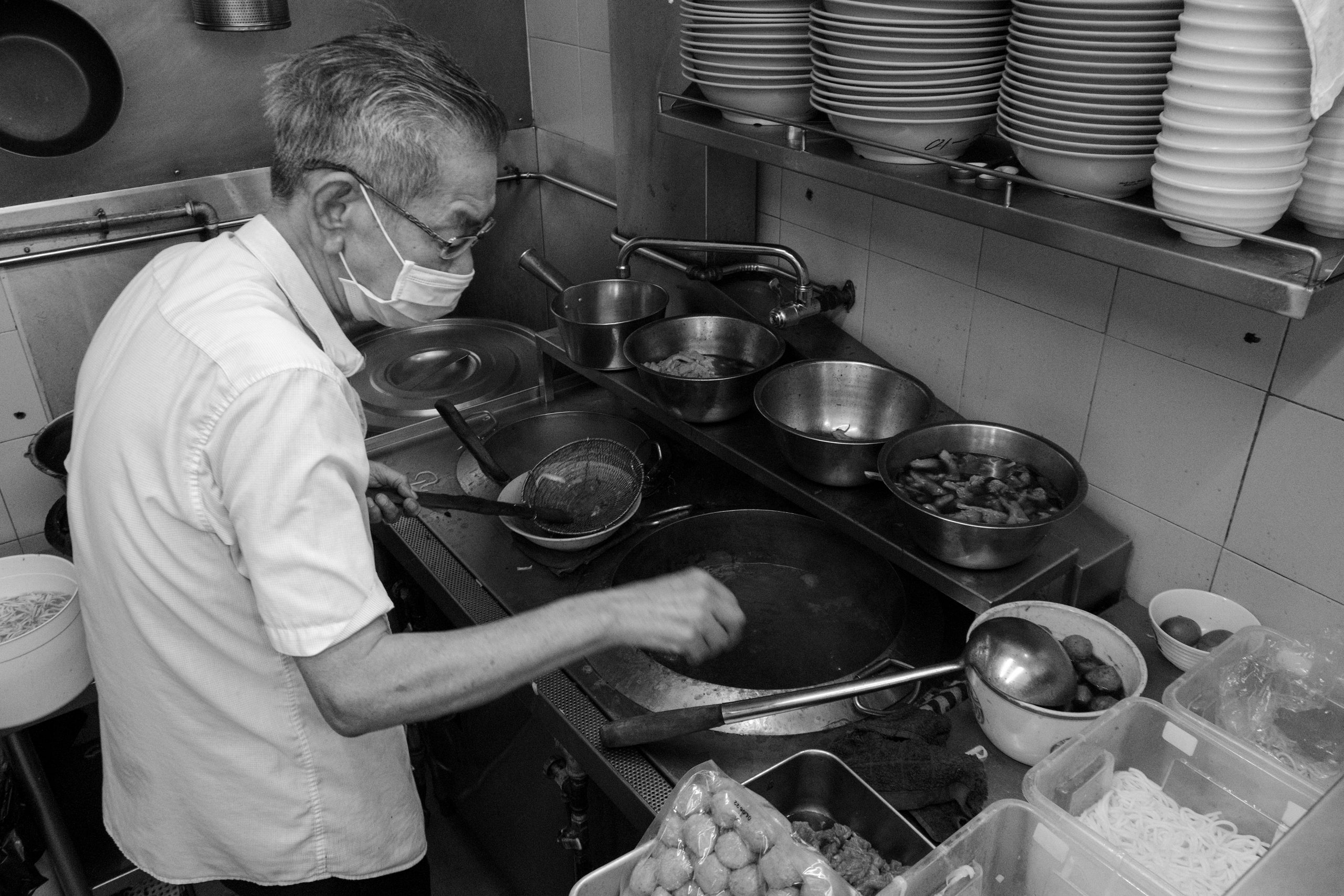 Mr Tan's father assembling a bowl of Beef Kway Teow (flat rice noodles). Photo by Isaiah Chua.
"As a young person, I had the idea that tradition should never fade away. So, I opened my store, because I wanted to preserve that traditional flavour. So, a lot of 50-year-old uncles will come and eat, and they say that the food has a distinct flavour," explains Ms Ye. "Traditional taste is one of Singapore's key selling points."
Community service is also a big reason why Ms Ye finds joy in opening her store.
"I feel very happy when I can help lower income people. We use a different way of charging. When the 90-year-old auntie comes to eat and doesn't have enough energy and cannot finish the food, so we have to provide service for her, and charge her less, $3 instead of $3.50," she says, explaining how her store is located in an older estate, hence the older age of most of her customers. "I also help her to take all the condiments, section them and help her however I can."
"So, this is a duty and I feel proud that I'm able to help lower income people, despite the nature of the hawker industry. Most people in Singapore think that hawking is a low-class industry," concludes Ms Ye.
Finally, forging healthy customer relationships is imperative for every hawker and might be the most rewarding part of being a food seller.
"Seeing the regulars coming back for your food and building a connection with them, it's very rewarding," says Mr Yang.
Inheritance of the Hawker Culture 
The future of the hawker culture now lies in the hands of young consumers and the next generation taking over hawker stores. It is as simple as that.
Hawkers themselves think that most young people increasingly patronise restaurants and malls due to the more comfortable environment instead of the hawker centres, which causes hawkers to lose out on young customers.
"It's because the malls have air-conditioning. Hawker centres are very warm. Young people will go to the shopping centre and eat Japanese, Mala (spicy, numbing seasoning), and Steamboat," remarks Ms Yang.
Mr Tan even said he'd patronise food courts instead of hawker centres if he'd had a choice.
"To be honest, the food court prices are very near the hawker prices already. If I'm the one, I would go for the more comfortable place to eat," he explains.
Simply, uncomfortable dining environments themselves are a detriment to hawker business.
"The reality is that if you're going to be in a hawker centre with no aircon, poor dining conditions, no music, no quality beverage, no slick marketing, and you have the best tasting Char Kway Teow (stir-fried flat rice noodles), you can't charge above $8," comments Mr Au.
Whether a solution can be conceived is in the government's hands and out of the control of these hawkers.
Younger people also disregard taking over their parents' hawker stores because of the lack of economic benefit, as passion cannot solely drive a hawker's business, marking the end of the hawker stall.
"Young people need to have the interest. If they don't have interest in the first place, it's no use. You cannot force them," says Mr Desmond On, 55, co-owner of Boon's Chicken Rice.
"The younger generations are not as willing to take over the business and continue the hawker culture. It is a tough job and not many are willing to take over the business as compared to working in an office," adds Mr Yang.
Hawkers themselves need to change their mindset also.
"From my own experience talking to a few hundred hawkers … actually half of them have children that want to take over, but in the whole growing up period of the children, they have never encouraged them to take on. One of the biggest reasons for this is economic benefit," explains Mr Au.
"Working in a nine-to-five job, with progression, your salary is going to increase for the next 10 years. Very stable. You have benefits, you don't have to work in terrible conditions."
Many hawkers also agree with this hypothesis, as they want their children to have a more comfortable and progressive job.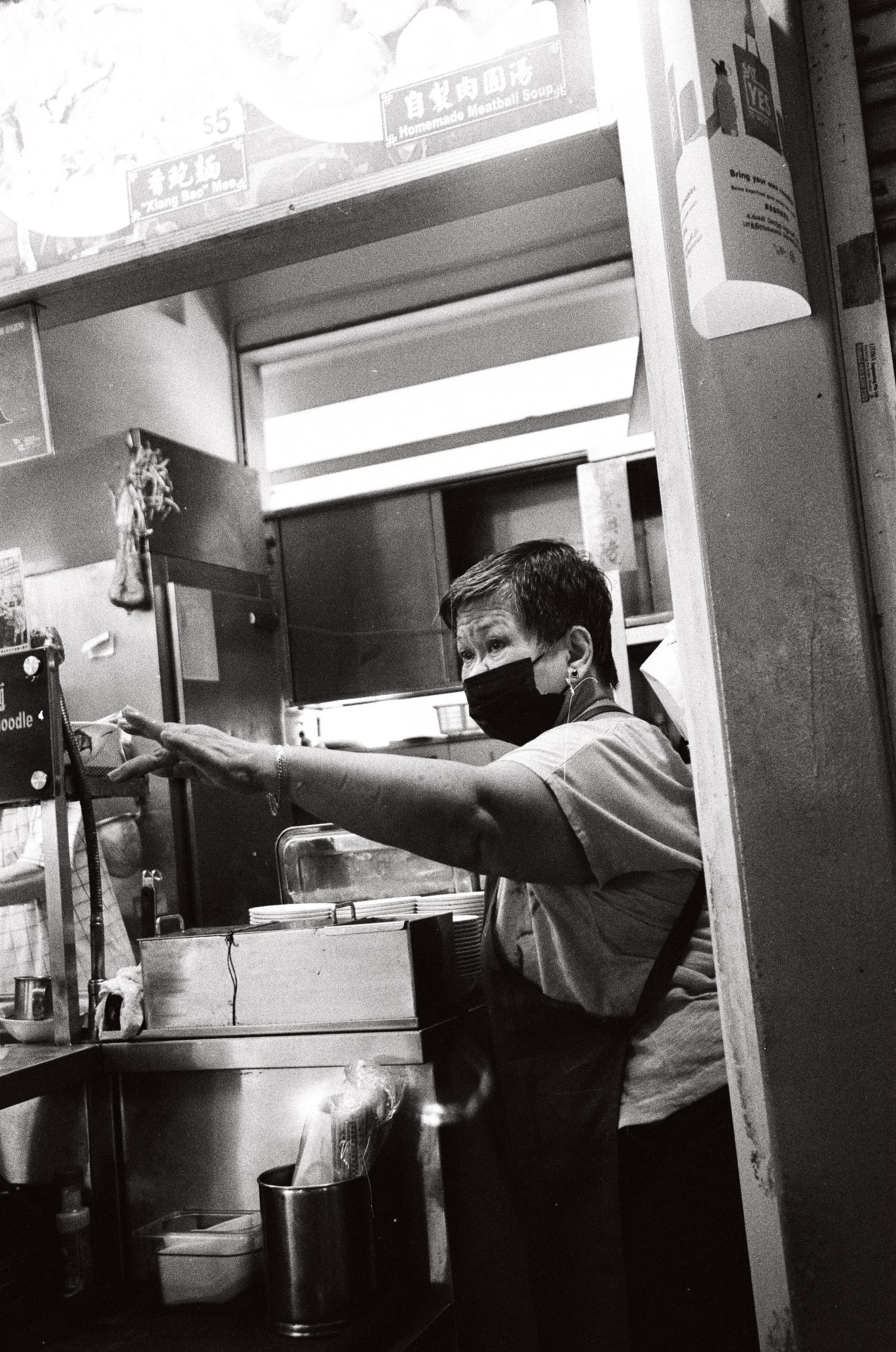 An older hawker selling fishball noodles taking orders. Photo by Isaiah Chua.
"Hawker, Saturday and public holidays you still have to work. There is no leave, and you have to settle MC (Medical Certificate) on your own. Work timings are very long. You cannot wear so nice. You have to wash dishes," mentions Ms Chan.
There is a crucial need for the young generation to take up the responsibility to change their perception of hawker centres and hawker food, to prolong the life of hawker culture in Singapore. Disregarding the different woes of not only becoming a food seller, but also a patron of a hawker centre, will enable it to live on a bit longer.
The Future of Hawker Culture
Hawkers themselves have both grim and hopeful predictions for the future of hawker centres and hawkers themselves.
On one hand, some are hopeful for the "reinvention" of the hawker centre.
"Make hawker centres into an air-conditioned place. I believe a lot of people will go also. Just like a majestic food court," says Mr Tan.
However, most hawkers see a decline in the authenticity of hawker food.
"This hawker culture will still stay, but the hawker's traditional items will slowly be lost. Because younger people don't want to inherit the tradition," says Ms Ye.
"The authentic taste will disappear over time. The real, authentic, old, local taste will become less and less," adds Mr On.
The situation may even develop into an unthinkable one.
"Maybe you will start to find the truest form of Singaporean food outside Singapore," said Mr Seetoh.
It's a predicament. Locally, Singapore already has a lack of top local restaurants proudly representing local food. Most of thems sell foreign cuisine.
You look at all of our top-tier restaurants. French, Italian, Thai, but nothing Singaporean.
Who is flying the flag for Zi Char (home-cooked Chinese food) or Peranakan food?
Who is flying the flag for a simple curry fish head?
Perhaps it's time for us to seriously reflect on whether we want our hawker culture to stay for good and reevaluate our eating habits. Clearly, it has played a bigger part in our national identity than we think it has. Whether we want it to stay solely reflects through our actions.
The Singaporean population is ageing. According to Statista.com, the average age of the population in 2020 was 42.2. Yet, the responsibility now falls on millennials and youths once again, to decide whether we want this culture to survive.
Young Singaporeans are also increasingly having more spending power, which opens up more dining options for them. They can choose whether to partake in food from hawker centres or restaurants.
Despite the delicious food available and the prestigious title of being on UNESCO's intangible cultural heritage list, the choice is still obvious.
In an article by BURO. magazine, the young writer labeled hawker food as "neither glamourous nor is it sexy". Nowadays, Singaporean youths expect eateries to be adequately furnished and air-conditioned, but that reality is far from what most hawker centres offer, as they cannot compete with modern cafes. That is the undeniable reality.
"Young people want to bring their girlfriend [or boyfriend] to eat, but the girlfriend will say 'I don't want to hawker because my makeup will melt', so they decide to eat at an air-conditioned place," says Ms Ye.
These small decisions made by many young people today adversely affects the hawker scene. With less young people patronising their stalls, it is impossible to survive long term (with regards to the ageing population)
If hawker centres go extinct in our lifetime, we can only blame ourselves. 
"Don't cry when we are 50-year-olds and we don't get authentic Singaporean food anymore, because we deserve it," Mr Au warns.
 Let's do our part to save a part of our national identity, by supporting our local hawkers and hawker centres.