The Many Facets of Mrs Sng
Mrs Sng-Fun Poh Yoke's reputation often precedes her. But beyond her intimidating demeanour, the HYPE Team chats with Mrs Sng to find out her goals and motivations that shaped her to be the teacher that she has become.
BY
Lai Shueh Yuan
Editor
HYPE Issue #52
Abigail Chua
People Editor
Hype Issue #52
Aqilah Salim
Perspectives Editor
Hype Issue #52
Cheryl Yau
People Editor
HYPE Issue #52
Published on
May 21, 2021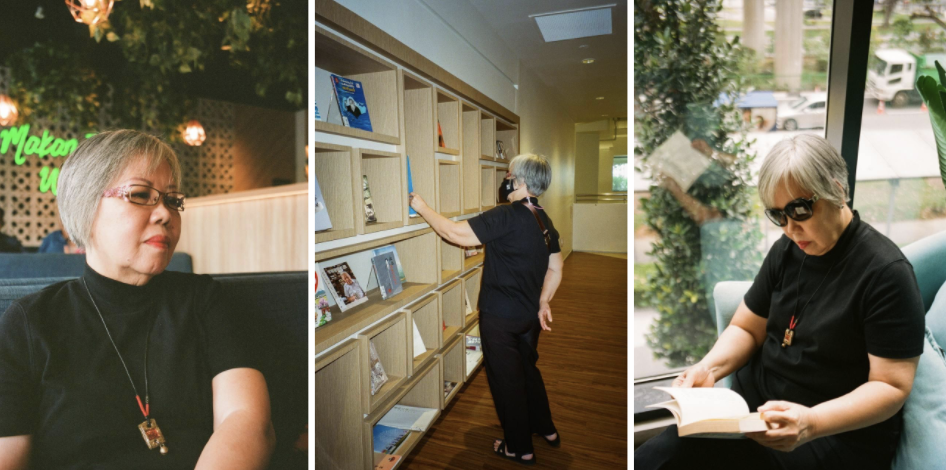 Having served HYPE since 2006, Mrs Sng is the longest-serving HYPE supervisor.
Her iconic disapproving frown and beady eyes glaring through her maroon Thierry Mugler glasses with intricate floral imprints. Her commanding figure behind the desk as she throws story ideas out.
"[Mrs Sng's] absolutely terrifying, no-nonsense; don't mess with her," Ng Jing Zhi, Main Editor of HYPE Issue #43 recalls her first encounter with Mrs Sng-Fun Poh Yoke, 67. Known for her sharp tongue and fierce demeanour, Mrs Sng has acquired an infamous reputation as a stern lecturer.
Beyond this daunting facade, who is Mrs Sng, really?
"Mrs Sng eats people alive," Mrs Sng recalls one of the pieces of feedback she received from a student reflection.
"A lot of people will tell you that 'Mrs Sng is very harsh'. But if I don't tell you how good or bad you are, [then] when am I going to tell you? I [usually only have] one chance to connect with you and the opportunity to tell you as much as I can in hopes that you can become a better person," she explains.
Her harsh comments may offend and demoralise some students, but she always means well and wants to help her students improve. With a strong passion for teaching deeply rooted in her beliefs, she isn't stern just for the sake of it, but rather for the betterment of her students.
Shafiq Luqman Guee, 19, Deputy Editor of HYPE Issue #51, agrees: "Gradually you would come to understand she's fierce for a reason, a lot of people can't work with this because they just get stuck with their first impression but [working] closely with Mrs Sng [helps you] understand that she has your best interests at heart."
The harshness of her words could hurt, but they are imbued with pure intentions derived from years of wisdom and experience. Editors under her wing have witnessed themselves flourish into independent individuals that can withstand the cold reality of the real world.
Having worked closely with Mrs Sng for over two years, Jing Zhi noticed how she became more decisive and sharp as an editor with a keen eye for story ideas that can work. Owing it to Mrs Sng, Jing Zhi shares: "Her training feels like you're put in a pressure cooker but it defines the way you express yourself as a writer."
Mrs Sng reminisces the good old days as seen by one of her many shorthand notebooks that have accompanied her throughout her journey as a journalist for The Straits Times.
When asked for any advice for budding journalists, Mrs Sng says with utmost resolute: "Be open, be fair, be objective."
At the core of her beliefs in teaching, Mrs Sng sees potential in each and every student. Beneath her merciless criticism and ruthless exterior, lies a compassionate educator who trusts that there is good in every student.
"If you can influence youths and help them to see the good in themselves, then the world will be a better place," Mrs Sng shares.
Having a deep sense of empathy for C-average students, she understands that these students usually see themselves as how the world views them. But if a student shows their determination to want to learn in spite of the negative comments, then Mrs Sng believes that they have the potential to succeed with flying colours and even achieve A's, and that is where her role as a teacher steps in.
"You want the best, you've got to do the work," she says. To her, being an educator means helping students discover their talents outside of the academic curriculum, but first, it also takes a student's hunger to learn for them to be helped.
"It takes more energy to be angry," she continues. "But I get angry because I believe they can be helped. I want them to think deeper. It is not the grades that'll be taking them far in life but their moral compass."
As an educator, Mrs Sng has also worked hard to incorporate service learning into journalism modules. One of which includes working alongside cancer patients, where students listen and share their stories with the masses.
Phoebe Rae Tan, 20, Editor of HYPE Issue #49; Contributing Editor of HYPE Issue #48, says: "I think she's a very passionate person, and I think that really shows 'The want to have a good impact with the world at large.'"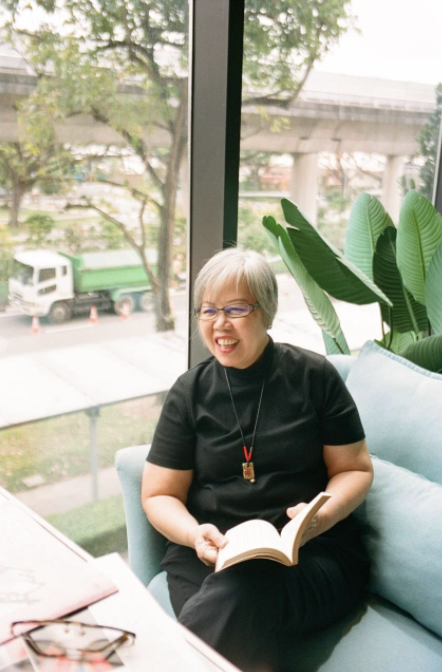 Mrs Sng is more than just a Polytechnic lecturer, she is also a lady brimming with many interests and passions.
In Mrs Sng's dictionary, each and every student is deserving of her time, patience and help. 
 "If you can influence youths and help them to see the good in themselves, then the world will be a better place," Mrs Sng shares.
Reminiscing her student days, the dedicated teachers she met along the way have also helped inspire her to go beyond learning. This, coupled with her already existing love for traditions and history, adds a whole new dimension to Mrs Sng's identity.
Mrs Sng's love for history can be traced back to her younger days when her grand-aunt would tell her stories of Chinese history after dinner each night. Fascinated, she would read about the different dynasties and tune in to Rediffusion (a TV network) which sheds light on great stories of the past.
Her interest in Chinese culture grew exponentially with the tales and stories told by her grand-aunt and Rediffusion programmes. This was further fuelled by her Chinese teacher, Mr Foo, during her junior college days.
"He's a jolly and jovial man who made Chinese fun," she says with a smile. "He taught us about Chinese culture and I found Chinese applicable. It opened me up to a world I never knew."
Besides Mr Foo, she also recalls fondly Ms Tan, her secondary school Chinese language teacher. Mrs Sng attributes her passion for teaching to their sincerity and creativity in how they conducted their lessons, which exposed her to a world beyond what the textbooks could offer.
"I'm not just learning a language to pass the exams, but because it opens me up to a world I never knew," she says.
She elaborates: "As a teacher, I want to teach beyond the textbook; beyond the curriculum, because everything that you learn has its application in the real world."
The lessons that operas and Chinese history carry is something Mrs Sng wishes to preserve. Following her retirement, she will be working on a book on opera which includes a collection of writings from her time at The Straits Times on profiles and plays while including how she feels about them today.
She hopes that through her book, readers can learn something new. With her passion imprinted on the pages of the book, Chinese opera is a heritage she preserves because of her fondness for this enduring art.
Mrs Sng has made an impact on many students' lives, and is not someone who is afraid of what others think of her. She is true to herself and loves what she does with a strong passion. Whether or not you loved being taught by her, Mrs Sng is one who will leave a lasting impression.

1. Will you be teaching until your last breath?
If I'm wanted. If not, I'll be writing until my last breath.
2. You once said that you have plans to write until eighty, could you elaborate on that?
As long as my brain is still functioning lah. I mean, I don't want to get dementia or something.
Now that I've finished managing writers, I will go into writing myself. I have two books planned, so I'll start working on them. It will always have an educational objective. "Why are you writing?" It is to show people something, right?
One book is about our life and times during the '60s. It is actually a book about my grandmother who had a big influence in our life and what she did for us. Most of our parents are working, so we were always kept in the care of our grandmother who did a lot for us.
A lot of people often relay stories from their grandparents, and so forth. But a significant chunk of the stories will get lost in between when you pass it on to your children, so I thought that wasn't very effective. Even though there are videos and all, it's nothing like a good book.
It's still a work-in-progress but it's more or less there.
Any sneak peaks as to what we can expect?
One chapter title will be called 'Pulp Fiction or Fact?' I plan to use popular film titles so that people will get the reference. This chapter in particular is inspired by the movie Pulp Fiction. I thought it's an interesting memory to write about my family. The book goes back to the good ol' days and witnessing how we enjoyed life, and bringing these stories back to this day and age.
It seems like a really meaningful project, or rather, a labour of love.
The interesting thing is that I want to involve my family members in this project. In my family, I have designers, photographers and all that. So, this book was originally meant to be a family book. That means I write and print enough to give to my brothers and kids and grandchildren. It's only for the family.
I told a lot of people about it and somebody said, "When your book is ready, let me know 'cause I want to buy it." I got a number of preorders so I better write it!
What about the second book?
The other book is based on one of my greatest passions of my life besides teaching: Chinese Opera. I think our young people, regardless of their races, have forgotten or chosen to ignore their heritage. But actually, there's so much you can learn from your heritage.
I believe Chinese Opera is one of the great art forms developed by the Chinese, just as the Malays have Bangsawan, and the Indians have Kathakali and Terukkuttu. I wanted the young people to know more about them. Just because you don't know about it, doesn't lessen the greatness.
This book that I'm preparing will include a collection of my writings from The Straits Times about opera, although not all. I'm kind of building around plays, profiles. I've already gotten permission from Straits Times to reproduce those articles but I want to re-edit them because I want to have my original writing back again. I also plan to include an update on what I feel about the person, or about that play.
6. Do you have any other projects you plan to embark on?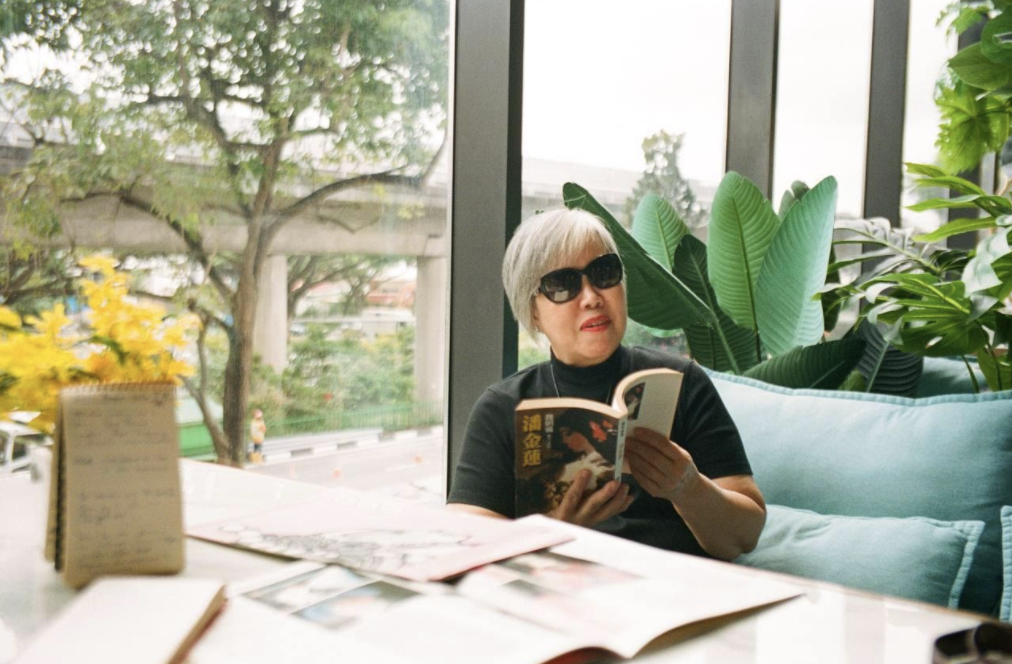 Mrs Sng reading 潘金莲 (Pan Jin Lian), which was gifted to her by the playwright himself. This is one of the three books she intends to translate.
In total, there are three other books I plan to translate, although I haven't got permission from the right people to do it.
One of the books I'm going to translate is a cookbook about the origins of Teochew food in China itself. In most communities, food is a very special thing as it has a lot of stories behind it.
The next one is a book showcasing a glossary of Chinese Opera terms.
Another, is by one of the playwrights I admire very much in China, 魏明倫 (Wei Ming Lun). I met him years ago when I brought his play over to Singapore and he gave me this book. He sees in me someone who really loves literature and opera, so I want to translate his book.
He wrote about 潘金莲 (Pan Jin Lian): known as one of the most famous sluts. She's supposed to be a bad woman in Chinese literature. So he wrote a play to talk about her life from her point of view. Everyone sees her negatively as a seductress, so he writes from her perspective.
This is our tribute feature of Mrs Sng-Fun Poh Yoke, HYPE's dearest managing editor for the past fifteen years, since 2006.