Forgotten Traditional Snacks: Trick Or Treat
To find out more about our heritage, the HYPE team walked the grounds of our little red dot to showcase a few lesser-known traditional snacks from our diverse culture.
BY
Alicia Sim
Main Editor
HYPE Issue #52
Muhammad Harun
Editorial Admin
HYPE Issue #52

Nur Rasyikah
Places Editor
HYPE Issue #52

Edited by
Jamie Mah
Deputy Editor
HYPE Issue #53
Lavonne Yew
Sub-Editor
HYPE Issue #53
Published on
May 20, 2021
Old trends are often cast aside to make way for the new. But there are things we mustn't forget or put aside: our roots. There's no faster way to connect than through the unique foods of our various ethnic groups.
Singapore is a melting pot of cultures, and this is most vividly shown in our food. With that in mind, we sampled a range of traditional snacks that many youths may not have heard of.
These treats are certainly not as popular as bubble tea is today, but they were once widely enjoyed by both young and old. So, take a bite!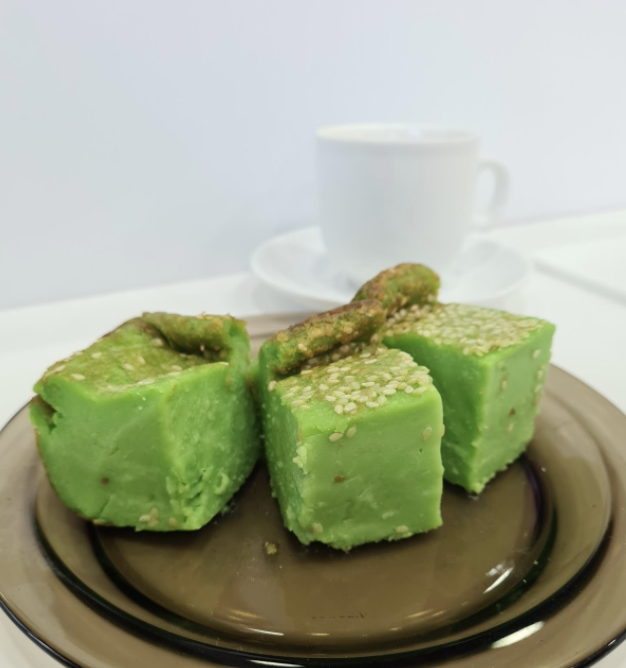 With its burnt cheesecake-like appearance, albeit in green, the kuih bakar, or baked snack, is sure to appeal to youths. Taking that first bite, the dense yet bouncy texture combined with the aromatic pandan flavour is sure to leave your tastebuds dancing in enjoyment.
The slightly burnt top layer combined with the pandan fragrance enhances the aroma and taste of this snack, elevating the dish.
Made with basic ingredients such as flour, pandan leaves, coconut milk, sugar and sesame seeds, this snack can also be baked at home. Click here for a step-by-step guide on baking your own kuih bakar!
Price: $2.50 for a pack of three
Shop: Hajah Maimunah
Address: 11 Jln Pisang, Singapore 199078
Opening hours: Monday to Saturday (7:30am to 7:30pm)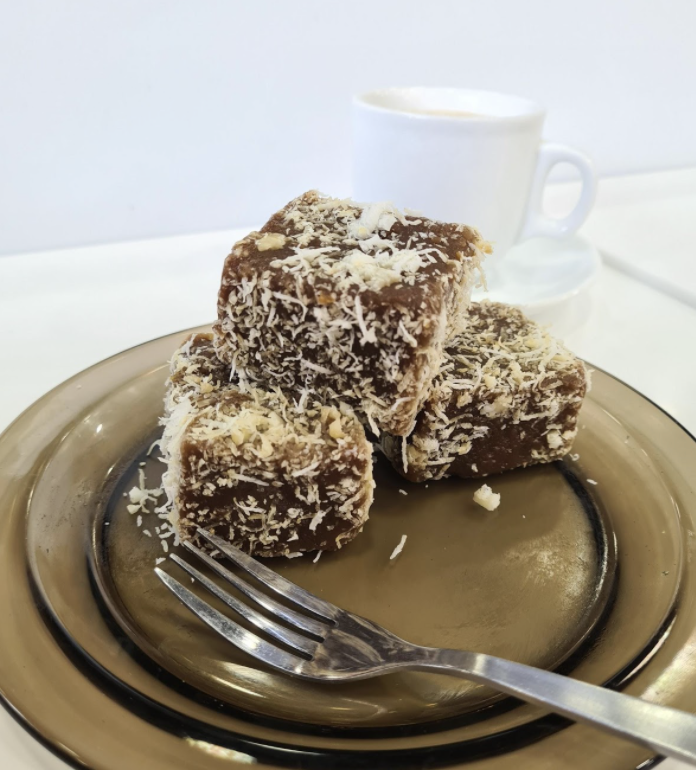 Known either as kuih kaswi or kosui, the difference in its name lies mainly with its Peranakan or Malay roots.
What's a Malay snack without coconut? The kuih kaswi has got you covered, literally, as the kuih is oh-so generously dusted with grated coconut flakes on top. This finishing touch adds texture and provides a contrast to the sweetness of the gula melaka (palm sugar). A jelly-like texture coupled with a nutty taste, reward your tastebuds with this delectable snack. 
Despite the nutty flavour, this kuih does not actually contain any nuts. Instead, the rich taste can be attributed to the combination of tapioca flour and pandan flavour. So if you have a nut allergy, there's nothing to worry about. 
We found both of these Malay snacks at Hajah Maimunah, but they can be found at most Malay snack and sweet shops.
$2.50 for a pack of three
Shop: Hajah Maimunah
Address: 11 Jln Pisang, Singapore 199078
Opening hours: Monday to Saturday (7:30am to 7:30pm)
Chinese Treats:
Black Herbal Kuih (鼠壳粿)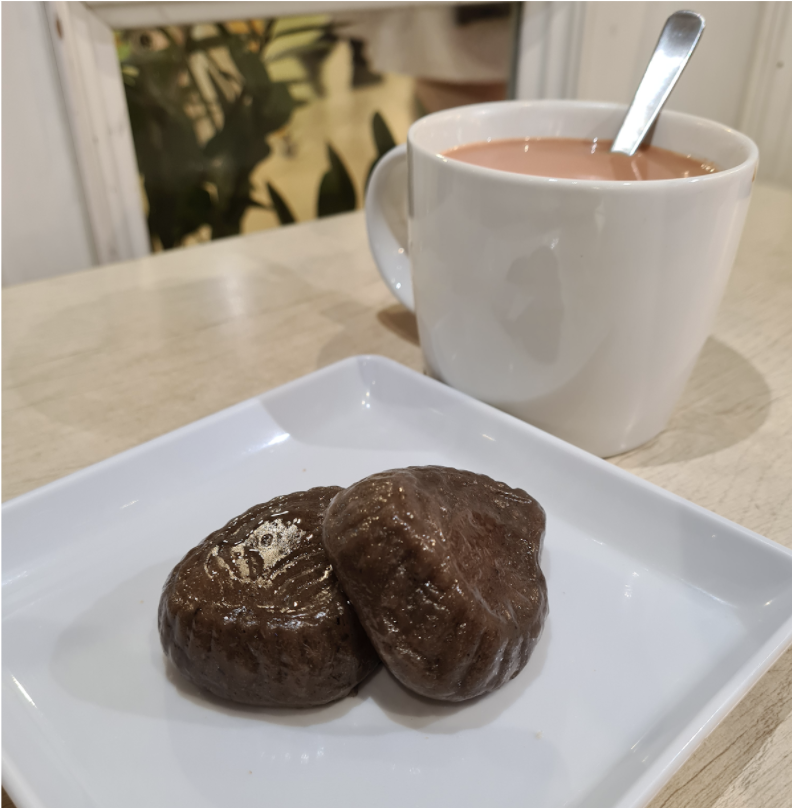 Considered a sweet kuih, the shu ke gao is derived from the Chinese herb, shu ke cao (鼠壳草), the leaves of which are used in the kuih to give it a fragrant aftertaste. However, most recipes substitute shu ke cao with mugwort to be more affordable. The kuih was traditionally eaten during the Lunar New Year period and it is believed that the shu ke cao aids in digestion.
Filling-wise, you can choose between black sesame, green bean or ground peanuts. We decided to try the ground peanuts. The skin is soft and chewy; the peanut aroma was mild and creamy. As most kuih muih (snacks) are made from glutinous rice flour, which is sticky when cooked, the black herbal kuih is coated with a thin layer of peanut oil to prevent the pieces from sticking together. 
Price:
(Big) $11 for six pieces
(Small) $7 for six pieces
Shop: Ah Ma Kueh (老婶阿嬷潮州粿), FARRER ROAD OUTLET
Address: Block 7 Empress Road #01-84 Empress Market, S260007
Opening hours: Monday to Sunday (8:30am to 7pm)
Indian Treats:
Kaju Burfi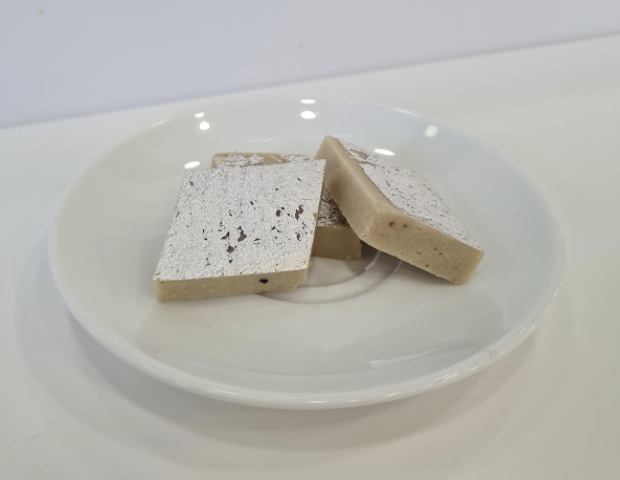 Kaju Burfi, also known as Kaju Katli, is a simple fudge made from cashews and sugar. Kaju means cashew and Burfi is usually made by thickening milk with sugar and other ingredients. The taste of cashew is really strong and you'll go nuts munching on this!
A delicious melt-in-your-mouth dessert, it is highly recommended for those with a sweet tooth. In spite of its sweetness, this snack is gluten-free and low-fat.
Price: $5 for six pieces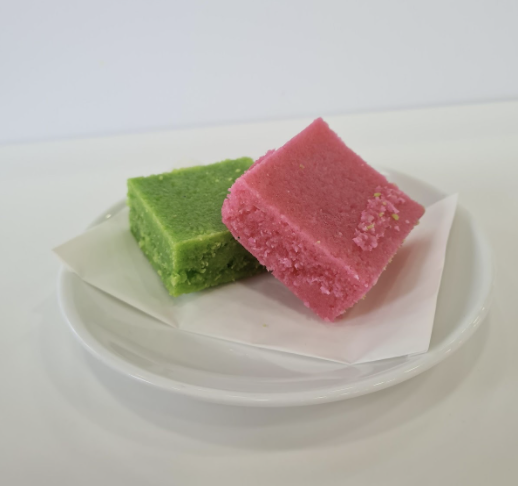 Once upon a time, this coconut candy was a favourite sweet among children. Made with dried grated coconut, condensed milk and food colouring, the snack can be a little too sweet for some. Try replacing your popcorn for this mess-free finger food when watching your favourite shows. 
If you want to try making this treat, you can click on this link for the recipe! All it takes is an hour (inclusive of preparation and cooking time), and you've got some sweet treats to sink your teeth into!
This snack can also be bought with the kaju burfi as a whole pack for $5 at Mogul Sweet Shop.
Price: $5 for six pieces
Shop: Moghul Sweet Shop
Address: 48 Serangoon Rd, #01-16, Singapore 217959
Opening hours: Monday to Sunday (9:30am–9:30pm)
Peranakan Treats:
Kueh Dadar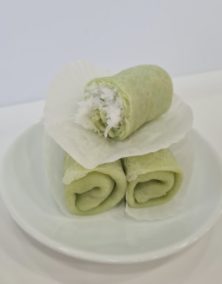 One of the many Peranakan snacks, kueh dadar is a crepe with coconut and gula melaka filling. 
Peranakan cuisine is a fusion of Chinese and Malay or Indonesian heritage.
Wrapped in a thin dough and filled with gula melaka and grated coconut, this sugary snack is a hot favourite at Galicier Pastry. The airy and pillow-like texture of the kuih dadar rolls, coupled with creamy filling, provides a wonderful, balanced taste. 
There are several versions of the kuih but the fan favourite usually contains gula melaka, topped with coconut milk and flakes. Queues for the kueh dadar at Galicier Pastry start from as early as 10am!
Price: $4 for a pack of five
Shop: Galicier Pastry
Address: Blk 55 Tiong Bahru Rd, #01-39, 160055
Opening hours: Monday to Sunday (6:30am to 10:30pm)
Indonesian Treats:
Lemper Ayam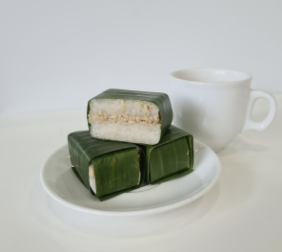 Wrapped in banana leaves, Lemper is an Indonesian snack which comes with two components: beras ketan (glutinous rice) and a meat filling of your choice. The most common filling is spicy chicken floss This snack is also similar to zhong zi (Chinese Sticky Rice Dumpling).
We tried the original version and it was filled with a generous amount of chicken floss. The glutinous rice is cooked with santan (coconut cream), and though slightly salty, it complemented the savoury chicken floss well. This savoury snack was like a breath of fresh air after all the sweet snacks we tasted!
Price: $5.80 for a pack of three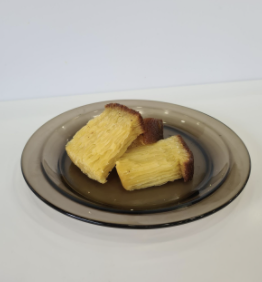 Also from the same shop, we tried the bika ambon, also known as kuih bingka or honeycomb cake.
It was our first time trying something like this. With its honeycomb-like exterior, the yellow-coloured snack has a springy and chewy texture that enhanced the whole tasting experience. We also noticed a strong floral aroma, which could be from the addition of lemongrass, kaffir leaves and pandan leaves.  
Contrary to its fragrance, the taste was not as sweet as we expected. In fact, it tasted slightly bland, which was quite disappointing. It tastes of caramel with a hint of coconut milk. However, the charred caramel slightly overpowered the taste of the coconut. 
We would definitely recommend you to go for the lemper ayam! If you're heading down to the store, it would be better to go earlier in the day as they close the moment they're sold out.
Price: $3.50 for four slices
Shop: Ratu Lemper
Address: 31 Arab Street Singapore 199730
Opening hours: 
Tuesday, Wednesday, Thursday (10am to 2pm)
Friday, Saturday, Sunday (10am to 6pm)
A Hearty Conclusion
These snacks serve as a nostalgic reminder of how our ancestors created and enjoyed simple treats that have withstood the test of time. Not only that, but they are an example of the rich and culturally-diverse society in Singapore. So, which snack would you want to try first?