Tenacity of Artistic Expression
Elton Tan delves deep into how artistic expressions have thrived even whilst the pandemic rages on.
Behind the scenes of Poly Stage Factor's play. Photo courtesy of Tricia Kuan.
BY
Elton Tan
Perspectives Section Editor
HYPE Issue #53
Published on
May 18, 2021
Art has evolved over the past year. Due to numerous restrictions on live performances, many different Co-Curricular Activities (CCAs) and clubs were forced to rethink how they could express themselves during Arts Fiesta.
Arts Fiesta started in 2011, with the aim of promoting cultural diversity in Ngee Ann Polytechnic (NP) through performances. Every year during Arts Fiesta, a fundraiser is held to provide support to less fortunate students.
However, in light of recent circumstances, this year's Arts Fiesta is non-ticketed and online. Funds raised through donations will help out students who are financially affected by the pandemic.
Tricia Kuan, 19, former President of Poly Stage Factor (NP's English Drama Club), faced the challenge of bringing their plays online.
"The whole essence of theatre is that the live performance itself is the main component of theatre. Being able to see the actors perform in real-time is theatre. Moving it to a digital platform was something very different for our CCA," says Tricia.
Poly Stage Factor presented two plays titled 'I don't want to talk about it' and 'Check please'.
Due to the Covid-19 restrictions, many CCAs also faced delays in the planning and production process of making their videos for the online Arts Fiesta.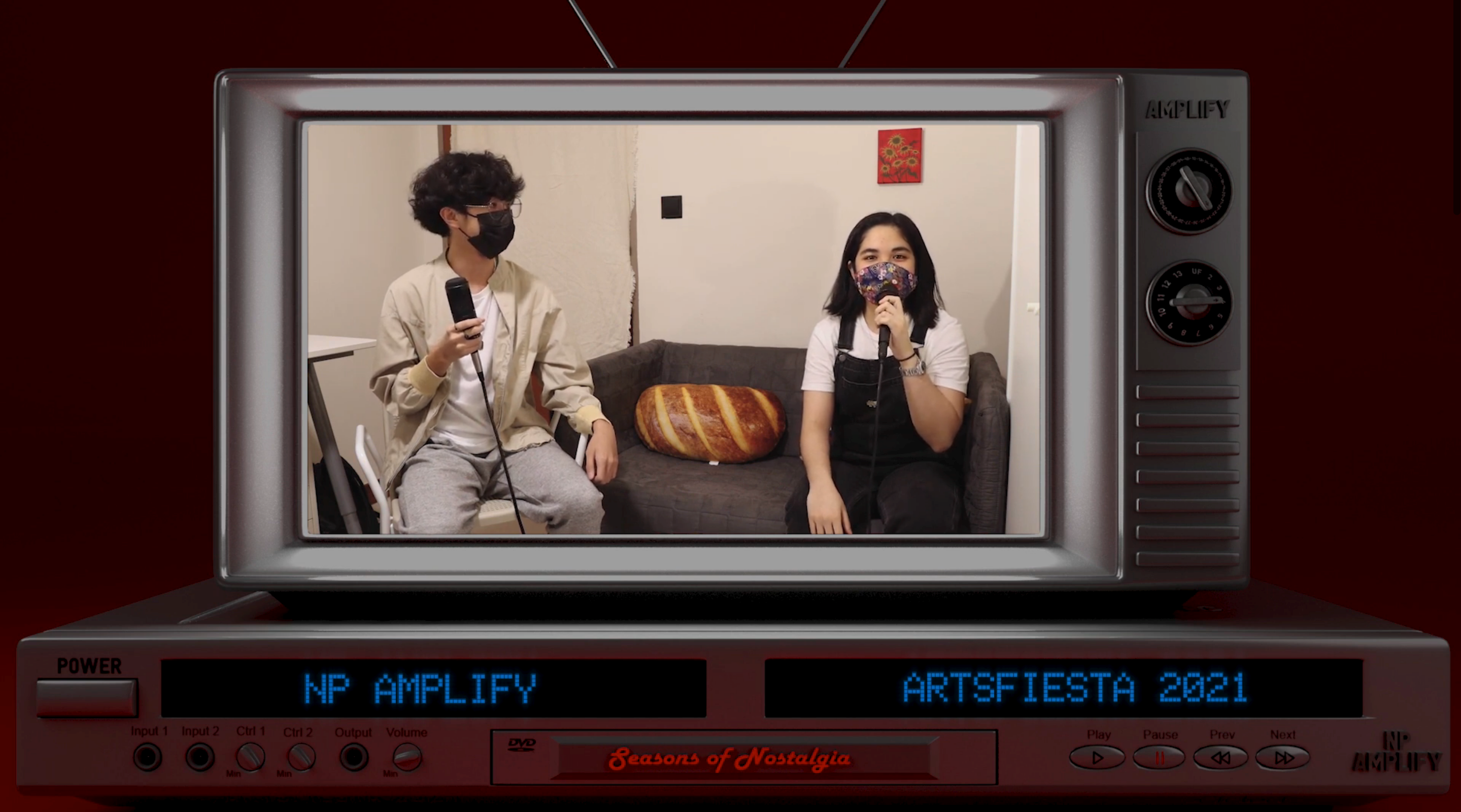 Members of NP Amplify hosting 'Seasons of Nostalgia'. Photo courtesy of NP Amplify.
NP Amplify (Song Composing Club) presented 'Seasons of Nostalgia' featuring 11 musical performances, all filmed personally by the individual bands due to the restrictions.
"Some of the bands had to re-record because they don't meet the guidelines, or can't tell that the guidelines are there. There were a few things that we needed to change that took up at least one or two weeks," adds Naomi, 19, former Vice President of NP Amplify.
This problem also plagued Poly Stage Factor.
"The school wouldn't let us film during the break. We decided to extend and lengthen the production time so that we can practise more and try to figure it out," says Tricia.
In line with the restrictions set out by the government, members in the same video have to be at least one metre apart from each other.
NP Silat (Malay Martial Arts), however, faced different challenges. Filmed at Fu Yong Park on a weekend morning, NP Silat was one with the outdoors in their performance named 'Perspective'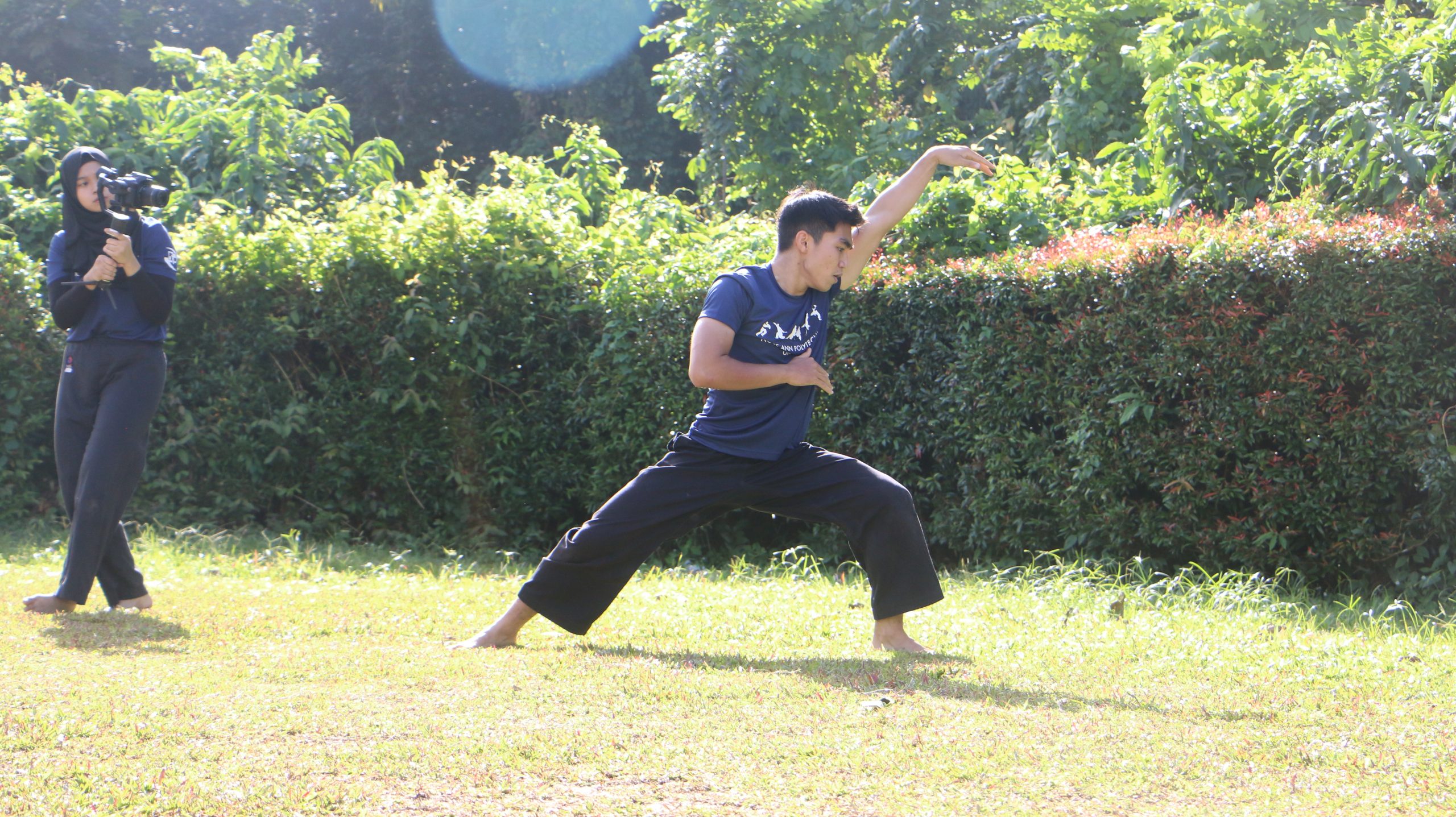 A NP Silat member practising for their 'Perspective' shoot at Fu Yong Park. Photo courtesy of NP Silat.
"People go there to go hiking. It was on a weekend, so there were more people. It was difficult to get people out of our shots," says Siti Nur Aisyah Bte Sabtu, 19, Student Captain of NP Silat.
Despite the many setbacks, the CCAs still managed to reap the rewards of their labour in the form of a successful online performance.
During her experience as Vice President, Naomi found it fulfilling and enjoyed watching band members showcase their creativity and showing their passion through their videos.
"I enjoyed looking at how each band brought out their creativity in making the video. They made the videos in the way of music videos. The amount of effort they put in to record and create a good video is nice to see as a committee member," says Naomi.
There was more room for creativity as the limitations of live performances were removed and NP Silat could think of different ways to film their video and choreograph their performance.
"Usually, our moves are quite static, just in one place. But being able to move around with the camera, the audience is considered to be everywhere. It gave us a chance to play around with our choreography," says Aiysah.
This entire process also made Tricia and her team appreciate the theatre experience even more.
"For the team behind everything, it was a way for us to understand what theatre really meant to us and not to take whatever we had for granted. All in all, these new experiences meant we had to adapt and improvise along the way," reflects Tricia.
"I think a lot of the time, we just sit down and reminisce about the old days, but at the same time, there were new things that came out of it that we wouldn't have done in the past if we were not forced to do it."
You can view all the performances from Arts Fiesta here, and donate to the fundraiser here.