The Timelessness of Denim Culture
Isaiah Chua finds out how denim jeans have evolved with society since its birth, while still staying relevant.
BY
Isaiah Chua
Lifestyle section Editor
HYPE Issue #53
Published on
May 14, 2021
Denim, as a garment and culture, has stood the test of time. Invented over one hundred years ago, it has evolved from a pair of pants designed for work, to a fashion staple, to an article of clothing beloved by so many
 Workwear Roots
According to historyofjeans.com, denim jeans were originally invented in 1873 by Levi Strauss and Jacob Davis, and were originally purposed as workwear. They were especially made for miners who underwent hard labour on a day-to-day basis during the era of the Gold Rush.
 Jeans have come a long way. Denim companies have since branched out of workwear and grown exponentially into the lifestyle market. With that, the prices of jeans have also skyrocketed. Now, a pair of brand-new Levi's jeans can easily break the bank, making it unsuitable for individuals who want a sturdy, inexpensive pair of denim for everyday wear or work. 
There are few stores like Ashitagaaru in Singapore, that cater to the needs of migrant workers and the general public by providing them affordable, durable, and unique pairs of denim.
"Indian, Thai and Burmese people buy my jeans for work … from domestic workers to bosses," says Mr Peter Phua, 81, owner of the hole-in-the-wall establishment. 
"For example, if you notice nowadays, you can see that out of 100 Malay people, 99 of them wear jeans. 99 per cent of Burmese do the same. So, I definitely have to stock jeans, not suits!"
He also prides himself for not selling any duplicates  of jeans in his store, even the jeans that are under 10 dollars, ensuring exclusivity with each pair. His customers, whether young or old, are obsessed with unique cuts and fits of jeans, hence they patronise his store.
"Everything is limited edition; every pair is different. Even for the cheap pairs, it's very hard to find a duplicate," says Mr Phua.
Mr Phua sorting out denim in his store. Photo by Isaiah Chua.
Passion for Denim
However, as denim jeans have become more popular, they are no longer solely utilised as workwear. For some, they have evolved into a full-blown passion. 
Enter denim collecting.
"Being durable itself allows it to last through time … Initially used for industrial workwear, you can see the evolution of denim cuts and style through the decades of fashion," says Mr Yap Chang Yen, 44, a denim-head (someone extremely passionate in denim) who has been selling jeans for over 25 years in his humble store located at Far East Plaza.
Fast fashion brands reign supreme, denim collecting may seem archaic, ridiculous, or even unnecessary in our society nowadays. After all, there are so many other hobbies to take up. 
Large, fast fashion brands like H&M and Cotton On artificially replicate the characteristics of the worn in jeans. For instance, rips in jeans. What was once the result of natural, constant wear is now widely available for Singaporeans to consume, except that they are exempted from the trouble.
Conversely, avid denim-heads see their pairs of denim jeans as personalised fashion statements that they can wear. This is due to the unique wear and tear that denim jeans naturally develop after prolonged wear. Most importantly, they differentiate themselves from mass produced denim. 
"It's like a piece of art," explains Mr Yap, referring to the whisker and honeycomb patterns that develop on the jeans after accomplishing that wear. It's a trait that cannot be accurately replicated by modern factories, only through wearing.
Mr Phua explains: "The appearance of vintage jeans is more pleasing because they're worn in. You can't wear jeans that are too new … [However] the longer you wear the jeans, the more aesthetically pleasing it becomes."
To put it simply, after many wears, a pair of jeans becomes unique to its owner. From the fit to the wash, it progressively becomes personalised. At that point, it transcends into something more than fabric.
"Jeans are your own identity," states Mr Tan Hong Yi, 23, who has been a passionate denim-head for more than two years and owns more than 35 pairs of denim. 
Denim is more than a fabric to him. "If you wear it, it becomes your identity. If not, it's just a piece of clothing," he says.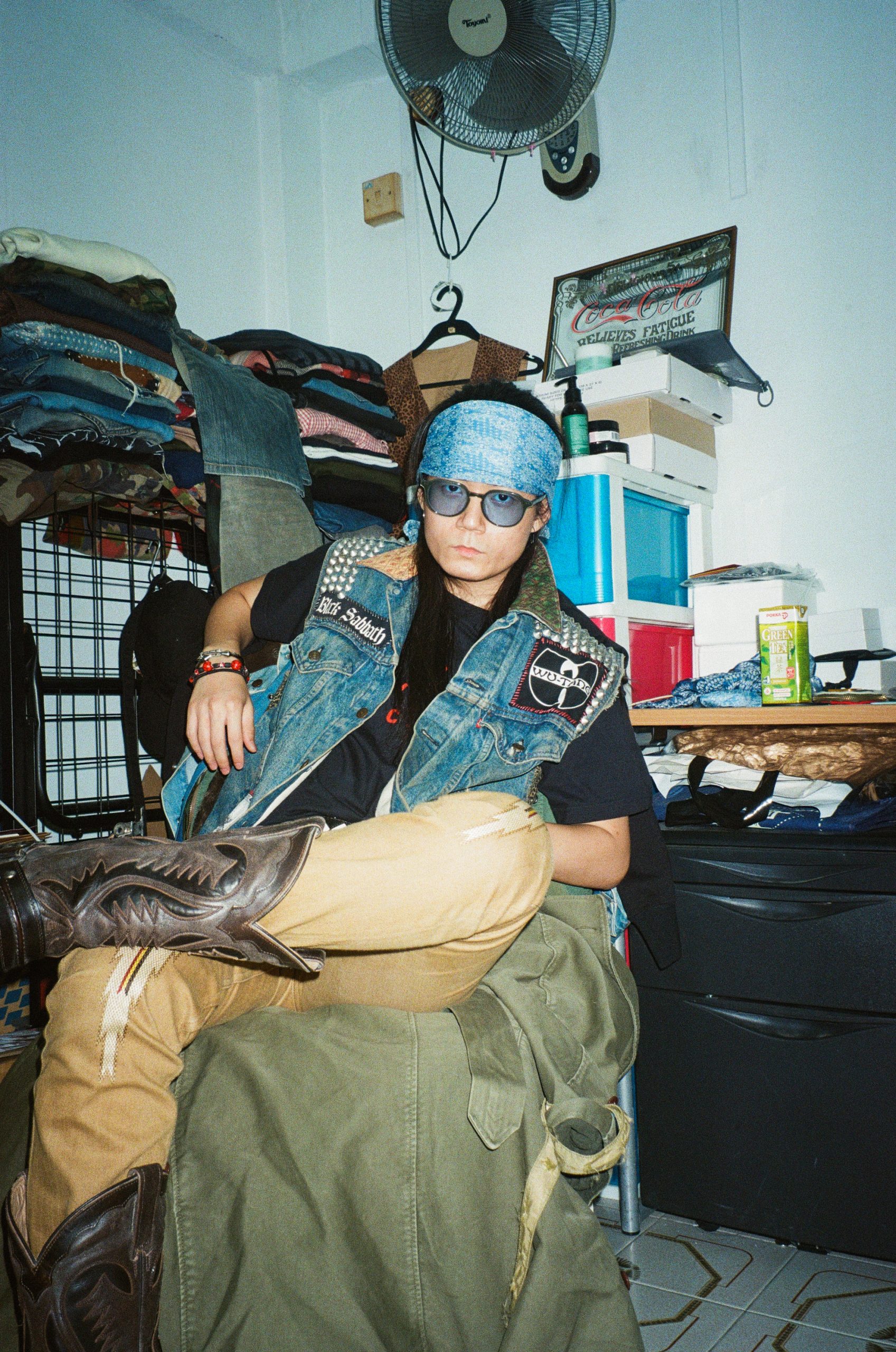 Mr Tan with his collection of jeans in the background. Photo by Isaiah Chua.
To achieve distinct wear, denim-heads have been notoriously known for their overkill and outlandish practices that are not for the faint of heart. Most notably, not washing their jeans. What may seem as unsanitary to most people, is a rite of passage for new denim-heads.
"To me, the dirtier it is, the better it is … I don't wash it for six months, one year, or even one and a half years, so that the jeans can become brownish or yellowish … It's like colouring your jeans' whiskers, which is quite nice," says Mr Tan.
This is because the unique characteristic of worn jeans can only develop after a considerable amount of time has passed. 
Mr Isaac Ang, 29, a vintage clothing enthusiast and co-owner of the vintage clothing store 'Loop Garms', reflects. 
"I had friends who wore the denim to the point where it actually spoke about their lifestyle. Like where you put your keys, where you place your wallet … it really is a blueprint to a person," he says.
"Like the term 'putting your heart on your sleeve', this is like putting your life on the denim," he concludes.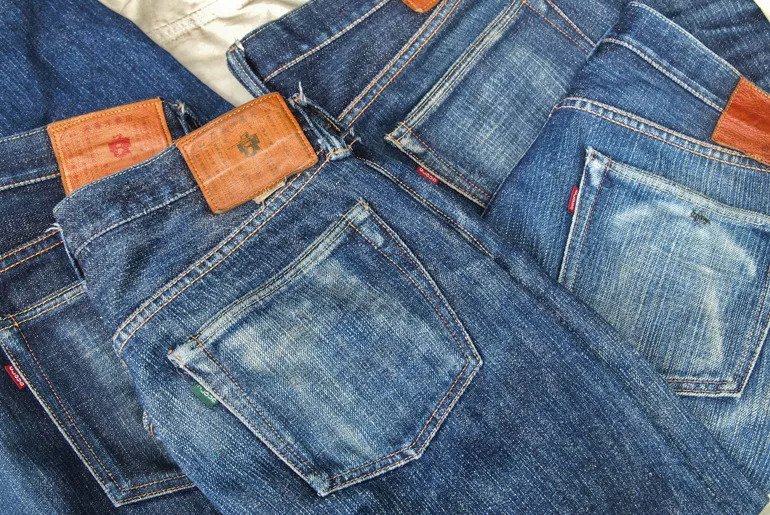 Everyone's Denim
Denim's list of benefits can go on and on. In an article published by Cosmopolitan on Mar 18, 2014, they praised denim for its timelessness, stylishness, and comfort. It can even go unwashed for a few days because of the robustness of the material itself.
At the end of the day, denim is celebrated across the world for its versatility, durability, and its plethora of upsides. Due to its varying price points, it can be enjoyed by both denim-heads and the general public, and therein lies its beauty. 
It has become a staple in the closets of many, from heavy labour workers to doctors, and has evolved from being a mere fabric to a worldwide movement.
"There are so many [denim jean] options… that are available now, as compared to the past," advises Mr Ang. "If you want to find a certain [jean] style, you definitely can find a brand that does it."