A Glimpse into Singapore literature
Nur Sabrina shares her insights on a locally written poetry book by Crispin Rodrigues while exploring the meaning within its pages.
BY
Nur Sabrina
People Section Editor
HYPE Issue #53
Published on
May 16, 2021
I glanced through the poetry books that were on the shelves in the Kinokuniya bookstore. I noticed the names of international authors Rupi Kaur and Lang Leav, but a smaller book caught my eye. I picked it up and read the author's name: a very unfamiliar one. I figured that this book is of a local product. I had never read books by local writers and this is simply because I have never come across one that caught my attention. Perhaps Singaporean writers might be just as good as foreign ones and should be getting the recognition they deserve. I decided to give it a chance. This is my review on Singapore's literature: 'The Nomad Principle'.
Poetry books have been gaining popularity among youths lately. Kaur's 'Milk and Honey' landed as the number one New York Times bestseller, according to Amazon. Poems hold sentimental value and meaning, left for readers to break down. That is what makes poems so special; each reader can interpret them differently. 
Crispin Rodrigues' poems are split into three sections: 'Fear of Waiting', 'Field of Vision' and 'Safety in Numbers'. Throughout the book, I realised how the whole collection of poems told a story even though each poem had no relation to the next. Following a chronological order, these poems revolve around the ideas of anxiety, doubt, having hope and finally, security. 
Since 'The Nomad Principle' is written by a local writer, there is some essence of Singapore in the poems. While perusing, the slangs used would probably be familiar. Even places in Singapore are mentioned. For example, 'Sim Lim Square' and 'Bishan'. However, that is not the only Singaporean element in this book.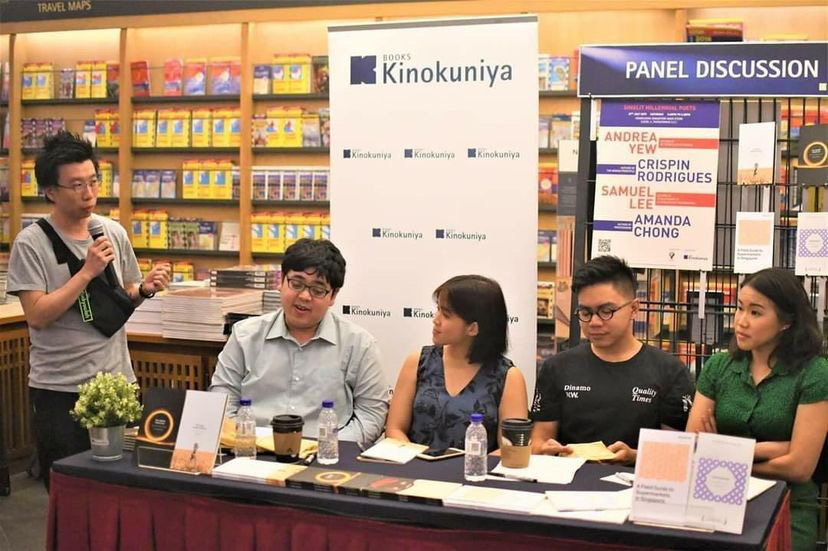 Crispin Rodrigues at a public book event at Kinokuniya in 2019. Photo courtesy of Crispin Rodrigues.
Hidden Agenda
Crispin Rodrigues expresses his thoughts on inclusivity through his poems. This has been a 'sensitive' issue for our community but some things have to be discussed. Have we truly been united 'regardless of race, language or religion'? We know these words by heart but not all Singaporeans practice what they preach. 
One particular poem caught my attention: Native Devil.
Two aunties…whispering in Mandarin
about how there are so many of us 
in HDB estates these days when
we should be elsewhere – Bukit Timah,
Holland Village, or Queen Astrid Park.
Saddening enough, such experiences are no surprise among our mixed-race friends. Is it fair for them to not be able to feel a sense of belonging just because of different facial features? 
Towards the end of the book, a similar poem is written, again about feeling like an outsider in your own land but this time, Rodrigues shifts his negative focus to a positive one. 
She swirls small whirlpools, and the rest follow,
She caresses a small pool in her hands, pours over herself.
They watch the streams pass over like an unseen hand.
She does not care who she souses with spray.
'She' embraces the feeling and chooses to stand out rather than feeling bad about it. Here, we can see how the sections play a part in telling the full story of growth and recovery. 
You may have to read the poems more than once to truly uncover the meaning behind them. It might feel like Literature class in secondary school all over again, but I can assure you that these topics are far more relatable now. It is not all about rhymes and the play on words. It is also about telling a story. 
Though these poems are page-turners, they are definitely not for all to enjoy. It takes patience and focus to dig deep into poetry. Personally, I'd give it a four out of five. If you are an avid poetry reader who wants to understand more about distinctively Singaporean social issues, 'The Nomad Principle' is the one for you. Remember, everyone's interpretation may be different.
Here is my own attempt on poetry about Singaporean culture:
Beware of those empty seats
tempting, but for sure are an Aunty's icks.
It says; 'Priority use'
but those are just the olds' excuse
I left my wallet and tissues and said 'Chope'.
They'll be there when I return right? I hope.
I call them Uncle and Aunty
For in Singapore, they are not just for family.
The Author
Crispin Rodrigues is a Singaporean novelist, the author of 'The Nomad Principle' and 'Pantomime'. His poems have appeared in other collections featuring local Literature. When he isn't writing, Mr Rodrigues spends his time teaching. 
Author's Inspirations 
Believe it or not, he was mainly motivated by heartbreak. The idea of the book was 'birthed' when he broke up with an ex-girlfriend while being alone overseas.
"I felt a profound sense of loneliness that came with that isolation and it informed most of the poems' desire for connection through relating with other people or travel," he added. 
Though he does not have any expectations for his readers, he wishes to provide an open interpretation of his poems.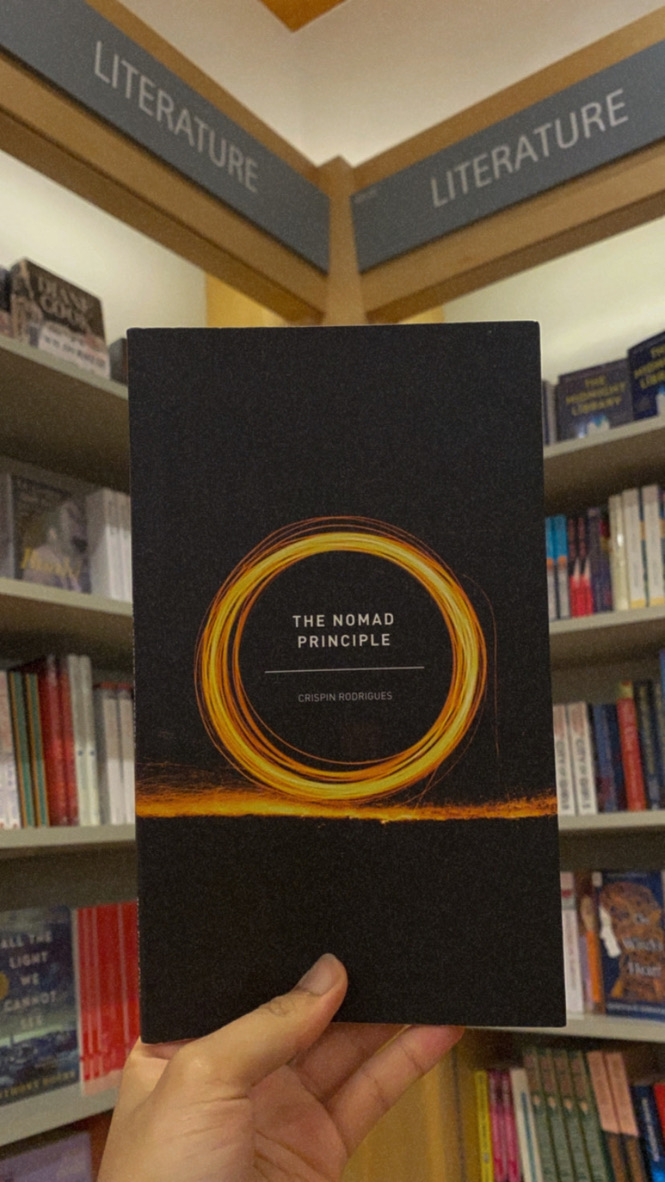 Dive into Singapore Literature through the pages of 'The Nomad Principle'. Photo by Nur Sabrina