Breathing New Life into Singapore's Hawker Culture
The School of Film & Media Studies' (FMS) Integrated Brand Communication Campaign (IBCC) capstone team speaks to HYPE on how they hope to shine a light on Singapore's Hawker Culture  to help local youths appreciate the importance of preserving it.
Photo courtesy of the IBCC capstone team.
BY
ALICIA SIM
Deputy Editor of HYPE Issue #52
CHERYL YAU
Publicity Manager of HYPE Issue #52

Published on
Feb 04, 2021
On Dec 16, 2020, Hawker Culture in Singapore was inscribed on the United Nations Educational, Scientific and Cultural Organisation's (UNESCO) Representative Lists of Intangible Cultural Heritage.
For many Singaporeans, this marked a new milestone for our Little Red Dot. Yet one group – Singapore's youths – was rather quiet about the award.
"Most of us tend to prefer trendy cafes, restaurants and fast food with our friends. However, we shouldn't skip out on hawker centres as meeting places. After the UNESCO inscription, I realised that most people may not be aware of it and thus we want to reintroduce Hawker Culture  through its first ever Instazine," said Gomes Nathalia Estelle, 20, project leader of the IBCC capstone team.
Hence, for its final-year project, FMS's IBCC team has partnered with @sghawkerculture in a campaign named 'our space ', to breathe new life into the subject that is a mainstay in Singapore's rich heritage.
To reach youths, this campaign will feature the very first hawker-themed Instazine (a handy digital magazine) on SG Hawker Culture's Instagram account (@sghawkerculture), which explores the quirks and charms of our unique hawker culture in the form of IG story posts.
The campaign starts on Feb 3, 2021 and will end on Feb 11, 2021. The full week of postings will then be saved under an Instagram highlight of the same title, and compiled as a collection of fun quizzes, filters, podcasts and short documentary-style videos.
In partnership with our space, HYPE will be hosting a giveaway featuring two "Kopi Dabao Bag (M size)" from wheniwasfour! There will be a lucky draw to pick two winners. The giveaway will be held from Feb 6, 2021 to Feb 9, 2021 on HYPE's Instagram page.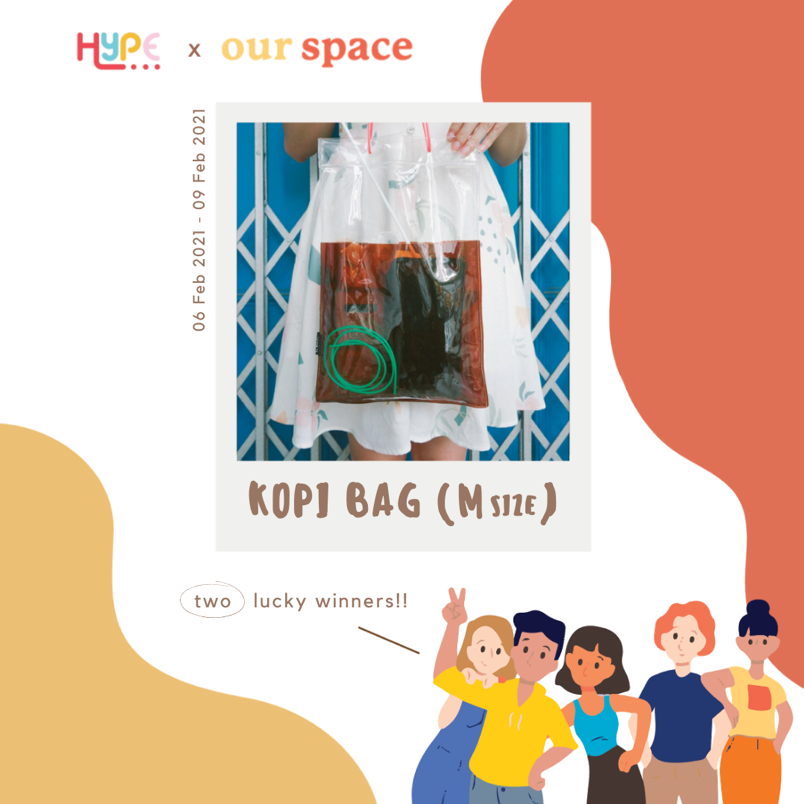 Made to resemble Singapore's iconic takeaway coffee style, the wheniwasfour "Kopi Dabao Bag (M size)" retails for $15 and is up for grabs in our giveaway.
Graphic by Cheryl Yau; Image from wheniwasfour.
For full details on entry requirements, visit HYPE's Instagram via this link!